This is a sponsored conversation written by me on behalf of Kroger. The opinions and text are all mine.
Easy Greek Salmon Salad with delicious baked salmon. This salad is loaded with cucumbers, tomatoes, red onions, feta cheese, Greek olives, spinach, and delicious sockeye salmon, and dressed in a tzatziki ranch dressing! And you only need about 20 minutes to get it on the table!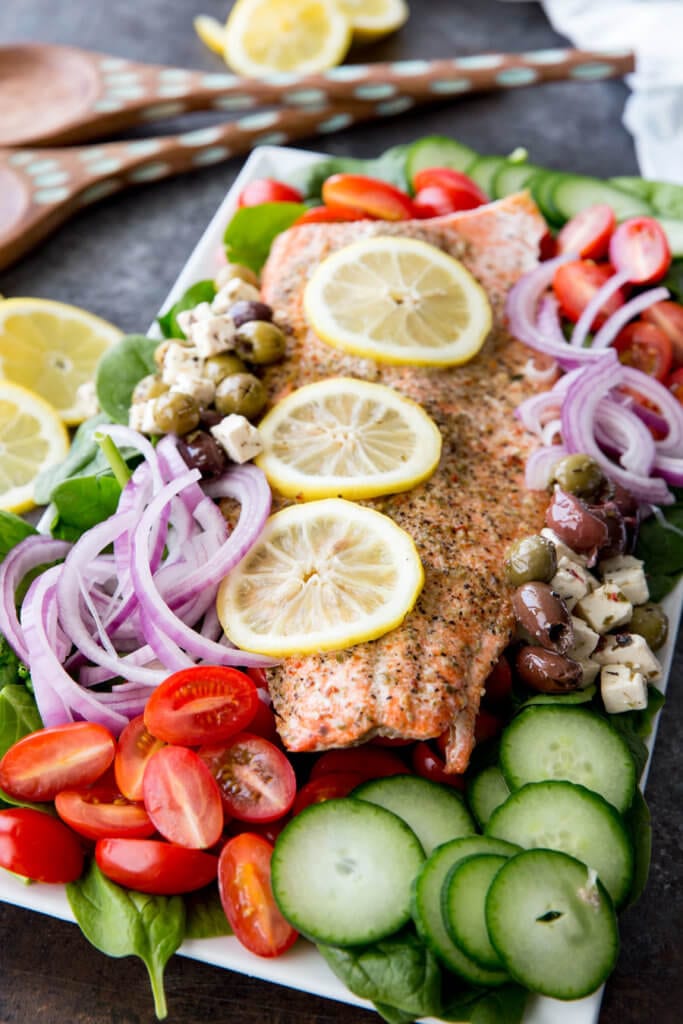 Easy Greek Salmon Salad is a dream! Healthy, Simple, Delicious… I mean does it get any better?
Well, it actually does because the salmon is perfect, and I didn't even have to prep it myself? Have you guys tried the Easy For You! Oven Ready Seafood from Kroger (or Kroger banner stores like Smith's) yet? You NEED to! You go to the meat counter, and select your seafood. Then you pick the seasonings you want. They have different spices you can add, as well as fresh herbs, butter, lemon, etc. It is awesome! They prep it for you, and give it to you ready to go. You just bake it.

MY LATEST RECIPES
I love buying my seafood at Kroger because I know they care about sustainability. Kroger is very mindful of sustainable seafood. They want the seafood we enjoy today to be available to future generations, and have taken strides to make sure the seafood offered in their stores meets the sustainable seafood practices, whether it is wild caught or farm raised. Kroger's goal is to source 100% of their top 20 wild-caught species from fisheries that are Marine Stewardship Council (MSC) certified, in MSC full assessment, or engaged in a fishery improvement projects. I love that I can buy seafood from Kroger in good conscience.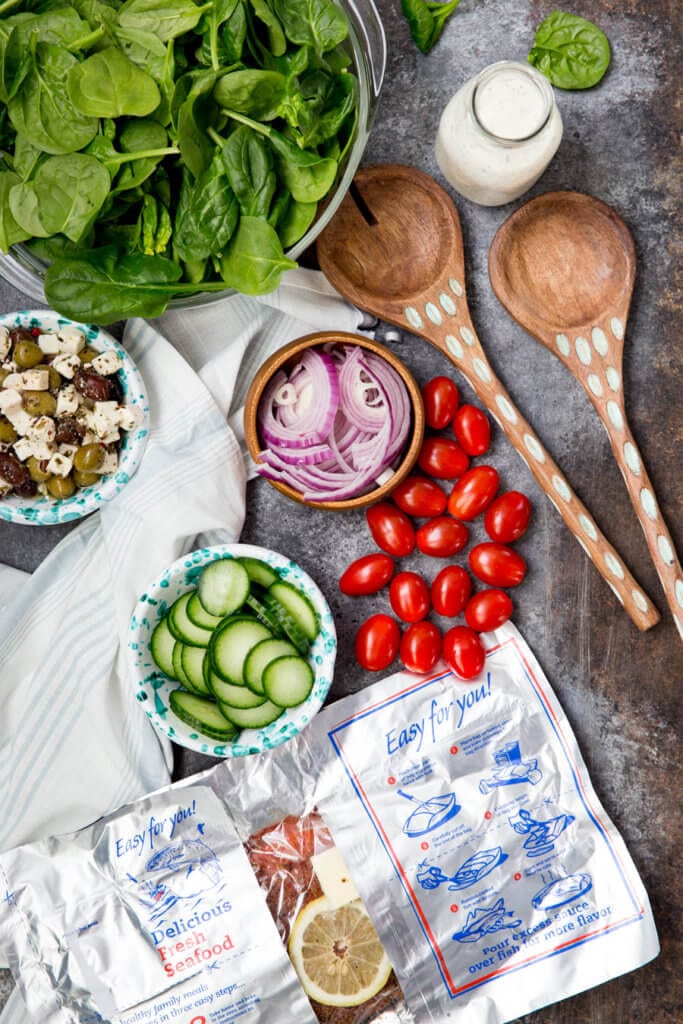 For this Easy Greek Salmon Salad, I got a 1 lb filet of sockeye salmon, and asked them to add the California Garlic Medley, butter, and lemon! They prepped it all for me and put it in a super convenient bake-able bag. Then all I had to do was bake it! So while the salmon baked, I sliced cucumbers on my mandolin slicer, halved tomatoes, chopped up some onion, and cleaned my spinach.
I had everything else prepped while the salmon cooked. Easy prep, low mess, big flavors!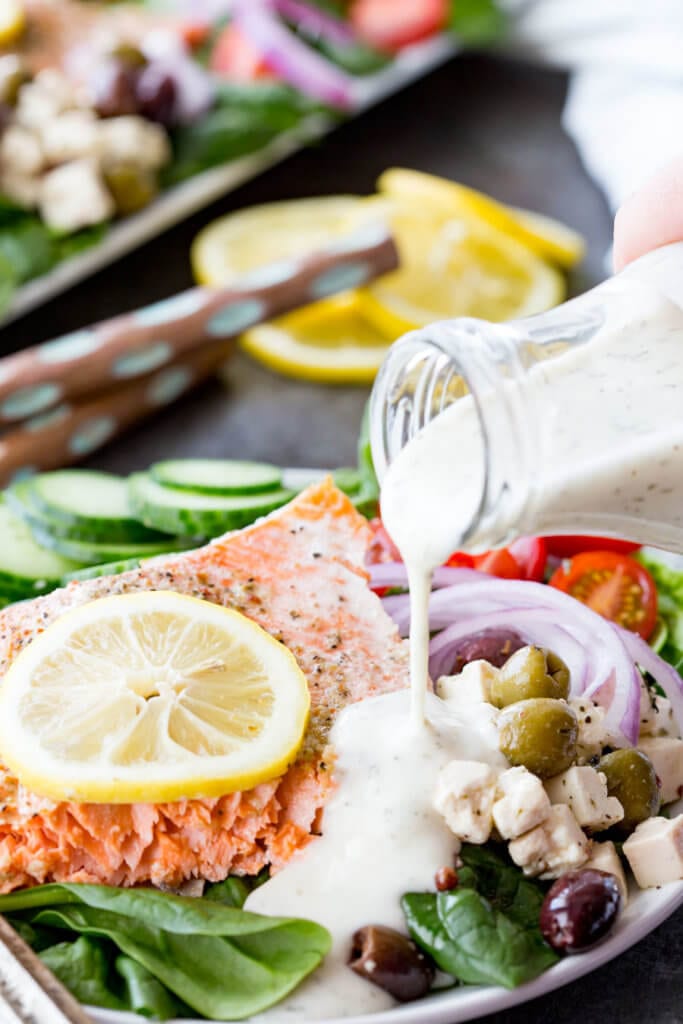 I bought a tzatziki ranch dressing, and grabbed some marinated olives and feta from the olive bar at my local Kroger store. To say this Easy Greek Salmon Salad was hearty and delicious is a given, but I can't even believe how easy it was. Such a simple but elegant meal. And one that makes a great lunch or dinner!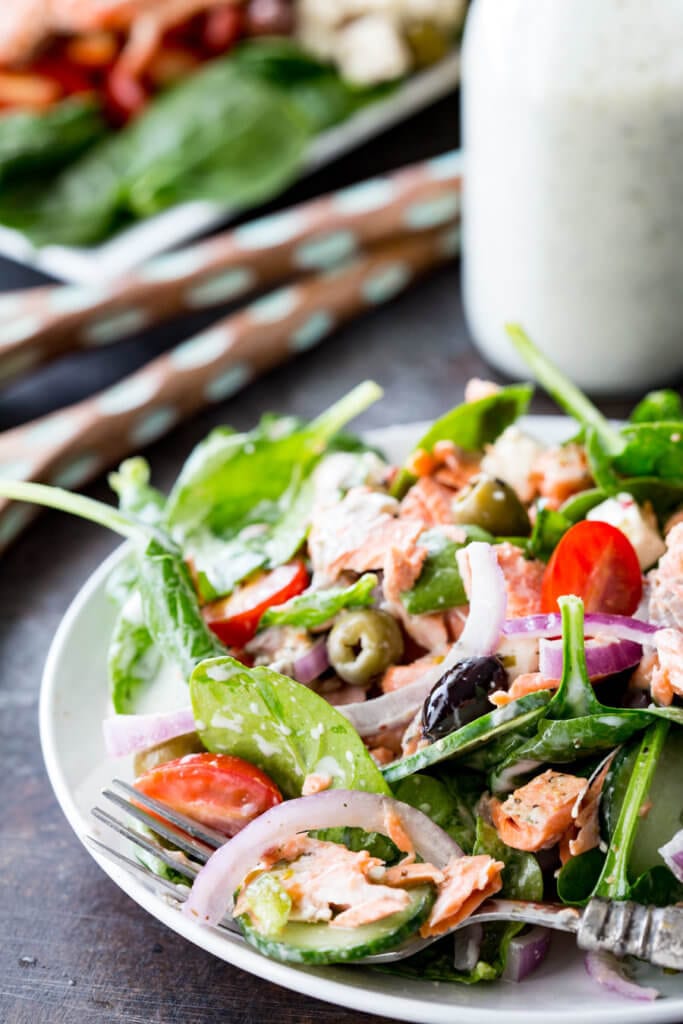 Here is what I loved most about this recipe:
Healthy
Fresh seafood is a great source of protein, vitamins and minerals. So the addition of the sockeye salmon made it not only more flavorful, but a great option for my family. And because it is baked, and I didn't add a lot, I got to retain a lot of the valuable nutrients and still enjoy the flavors!
Simple
Easy for you! Seafood is a free service. They do all the prep, which means minimal clean up. And it also meant a ready made option. I like anything that makes my life easier, and this certainly does. I will be buying more fish now because I can have them season and prep it, and I can have dinner ready to go in under 30 minutes.
Delicious
Easy for you! Seafood offers exciting flavor pairings. I went with some classic flavors because I love garlic with Greek flavors, and I knew it would be amazing. Next I want to try the Jamaican jerk rub with shrimp and make fajitas! Just add a veggie or side and wow!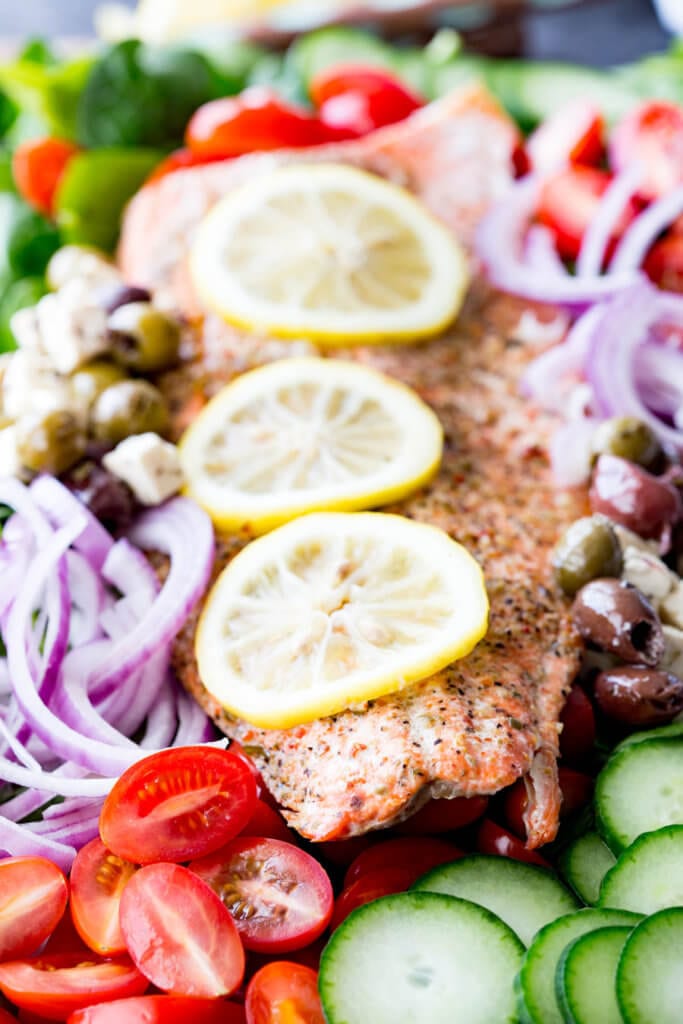 Don't you just want a big old bite?
Other recipes you might enjoy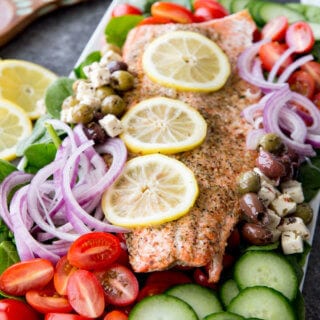 Ingredients
Salmon
1

lb

Salmon filet

California Garlic Medley

2

Butter pats

3

Lemon slices
Salad
5

ounces

baby spinach

1/4

a medium sized red onion

sliced fine

1

cup

cucumber slices

1

cup

grape tomatoes

halved

1/2

cup

marinated feta chunks

1/3

cup

marinated greek olives

Bottled tzatziki ranch dressing
Instructions
Get Easy for you! salmon from Kroger store, and ask for the California Garlic Medley, butter, and lemon

Cook according to bag directions (Preheat oven to 350 degrees, and bake for 22-25 minutes).

While salmon is cooking, wash spinach and prepare veggies.

Assemble salad by putting salmon on top, with veggies, dress to your preference, toss and enjoy!
Notes
Salmon is seasoning with a garlic medley, lemon slices, and butter, and placed in a baking bag. To simulate, season, and wrap in foil and bake for 22 minutes (or more depending on thickness of filet)
Pin to your Salad board on Pinterest: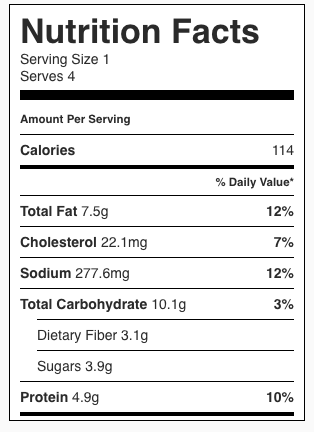 This is a sponsored conversation written by me on behalf of Kroger. The opinions and text are all mine.
Get EZPZ Updates In Your Inbox!