Compensation was provided by Dr Pepper/Snapple via MomTrends. The opinions expressed herein are those of the author and are not indicative of the opinions of Dr Pepper/Snapple or Momtrends.
How to Build the Perfect Root Beer Float!: I am raising a tall frosty glass, filled with creamy vanilla ice cream, and signature A&W Root Beer to celebrate National Root Beer Float Day, on August 6th. How about you?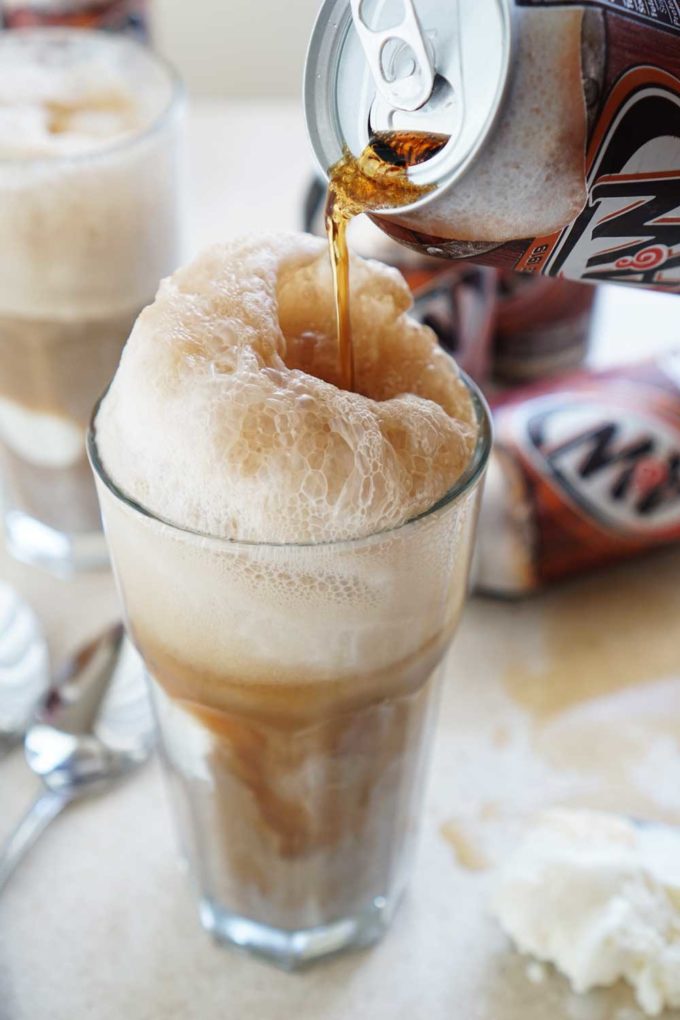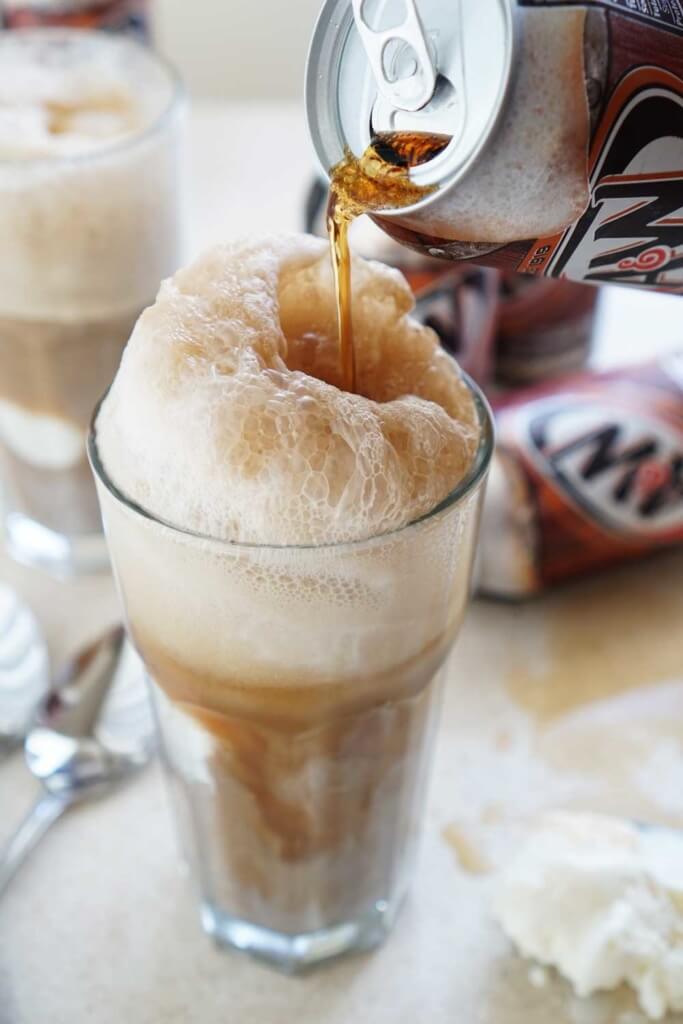 How to Build the Perfect Root Beer Float
©Eazy Peazy Mealz by EazyPeazyMealz.com
Pin it to your Dessert board to SAVE it for later!
Follow Eazy Peazy Mealz on Pinterest for more great tips, ideas and recipes!
I am a drinks girl. I love a good drink, and really just can't get enough of things like Root Beer Floats when the weather is hot and I have a sweet tooth. But I have found that not all Root Beer Floats are created equally. One time I was on vacation with my family and it was soooo hot out. So we decided to head to an ice cram parlor to get a cool treat. Well, I ordered a Root Beer Float. And when it came the root beer was slushy, the glass was frosty, the vanilla ice cream was creamy and oh so delicious. And that is when I realized there could be a quality difference in Root Beer Floats.
So let's talk about How to Build the BEST EVER Root Beer Floats.
Step one: Frosty Glasses
If you want a really magical experience with your Root Beer Floats, you have to plan ahead, and that means frosting those glasses. Stick them in your freezer so they can get nice and cold, and take them out right before you pour your floats.
A chilled glass will keep things crisp and cool longer. If you don't have room to stick your glasses in the freezer for 2 hours, you can put them in a refrigerator for 3-4 hours prior to making your floats.  Or if you are pressed for time and did not plan ahead, fill an ice bucket with ice, and plunge your glass, bowl side down into the ice bucket and leave for 15-30 minutes.
Step two: Good Root Beer
I love a good root beer. In fact, last summer my kids and I went on a hunt for the best crafted root beer. We were on a road trip and stopped anywhere we saw a crafted root beer sign. My husband was not with us, so we collected them for him as well. I think we came home with 8-9 bottles of root beer. Up to that point I did not realize what a variety there was in flavor. Some had more spices, some had more bubbles, some had a sweeter flavor, some have extra berries, or herbs, Basically the variety is huge. And what appealed to me most was not necessarily what my kids or husband liked best.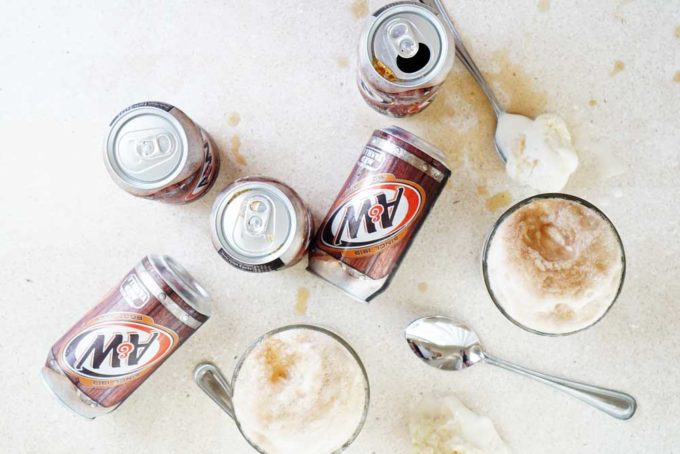 For these Root Beer Floats, I went with root beer from the Dr Pepper Snapple Group (DPS), A&W. DPS is one of the leading producers of flavored beverages in North America, and have over 50 brands, including several root beer brands. They must have realized what I did during my root beer road trip…there is a variety of flavor, and not everyone likes or wants the same thing.  IBC, A&W and Stewarts are all DPS brands, isn't that awesome?
So when building your Root Beer Floats look for root beer everyone will love. I went with A&W because it is a classic, and they offer a diet option. My kids love it because it is sweet. I love the history. So in a nutshell, there was this young entrepreneur named Roy Allen, who set up a drink stand at a parade. And he was serving a drink concoction he came up with, for a nickel a glass. It sold really well, so he approached Frank Wright as a partner, and that is how A (Allen) & W (Wright) got started. A & W Root Beer is caffeine-free and made with a proprietary blend of herbs, bark, spices and berries to achieve its signature taste.
Step three: Ice Cream
When choosing what creamy, frozen, deliciousness to put in your root beer, understanding the difference between soft serve, gelato, custard, frozen yogurt, and hard ice cream is key to proper enjoyment.
I always choose a standard ice cream. Ice cream consists of 20% cream and 10% milk. And most ice cream have 10% fat, though some will be as much as 20% fat. That fat content is what makes the root beer floats so creamy and delicious. And I love the ice-y root beer soaked ice cream that sits in the bottom of the glass.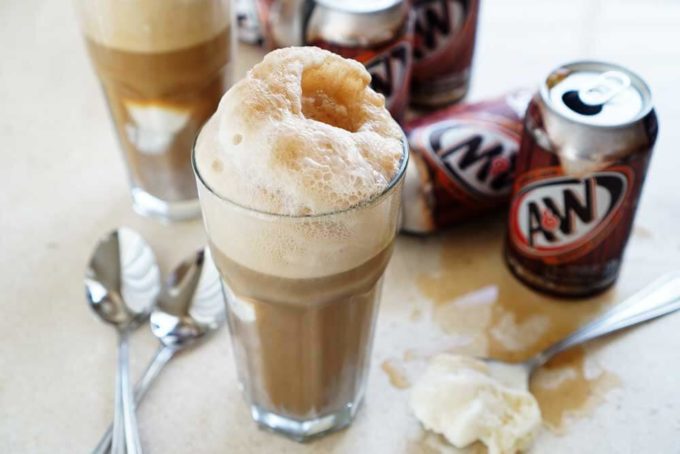 If I can't get ice cream, I go with soft serve. It is basically the exact same thing, only it has been processed in a machine that incorporates more air, and doesn't allow the ice cream to harden as much. This is great for swirling with root beer.
Gelato is the next option. It is like ice cream, but much more dense because it is churned very slowly. However, it also contains far less fat. About 5-7% less fat, due to the higher ratio of milk to cream.
You could go with a custard, which is like ice cream but has more egg yolk, which produces a far thicker and creamier product.
Or you could go with fro-yo which is a combination of ice cream and yogurt, and contains probiotics, and has a tangier flavor to it.
Make your choice! I choose ice cream.
Step four: Presentation
One of the charms of a soda fountain Root Beer Float is the
, the long and the cute that tend to accompany your float. These are highly recommended!
I hope you enjoy your float and celebrate National Root Beer Float Day with the BEST EVER Root Beer Float.
Other recipes that you may enjoy: