This post is sponsored by Vital Proteins, all opinions are my own.
A flavorful, healthy, and absolutely delicious homemade turkey stock, using the turkey carcass from Thanksgiving, and a few veggies. This stock can be frozen and used for months. It is better, more flavorful, and healthier than what you will find in a box, and so easy to make in your slow cooker.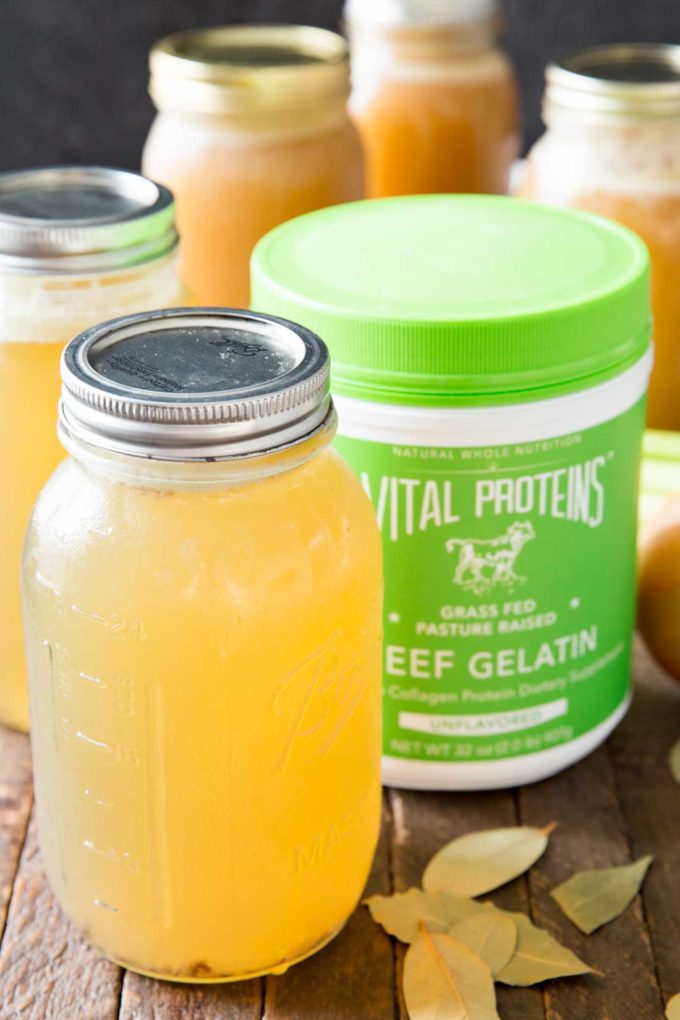 If you made a turkey for Thanksgiving and have a carcass hanging out in your fridge somewhere, you have to do yourself a huge favor and make homemade turkey stock. This method works for chicken too, so you can make it any time of year.
Homemade stock is magical. It tastes so much better than the kind you can buy. I still buy stock because I don't always think to make it. But the reality is, every time I do make it I realize how truly easy it is, and tell myself I need to to it more often.

MY LATEST RECIPES
A good stock or broth will be fluid and liquid when hot, and will start to thicken and congeal as it cools. This is because of the gelatin found in the cartilage and connective tissue found in the bone and carcass of the poultry. I like to add a little extra of that gelatin with Vital Proteins. I use their beef gelatin, which has so many great health benefits. Why would I add extra gelatin?  The main reason is because I can't get the best parts of the chicken to get enough gelatin in my stock. The best parts for stock are the head, feet, knuckles, etc. but you won't find those on a Thanksgiving turkey. So I add some gelatin. It is easier, and way less gross than buying chicken feet and heads.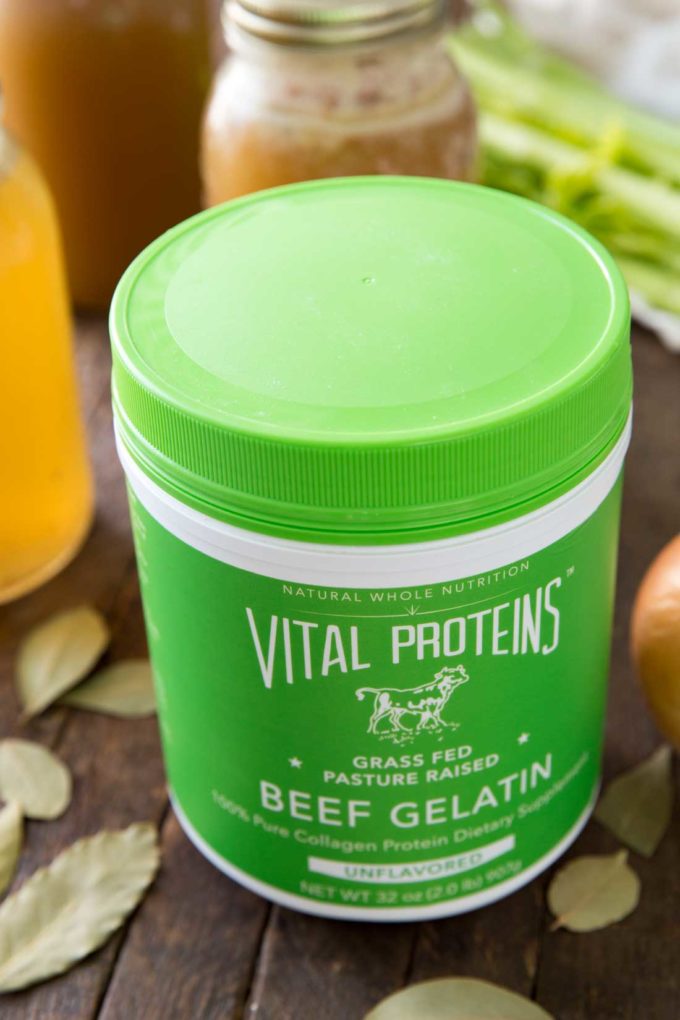 Not only do I already love Vital Proteins for so many reasons, which you can read about in my Yams with protein glaze post, or healthy peanut butter cups, or many others on the blog, but I also love the health benefits. Gelatin is great because it aids digestion, especially of things that the body sometimes struggles with, like beans (beans, beans, the wonderful fruit, the more you eat, the more you toot). and dairy. It is also great for helping our bodies better utilize protein, and can help with all kinds of other things. I am obviously not a doctor, so be sure to talk with one if you are thinking of using bone broth to treat any kind of disease or illness. But in general, this homemade turkey stock is going to be great for the immune system (hence the old wives tale of chicken noodle soup for the sick), and tastes great too. I love having a few jars in the freezer!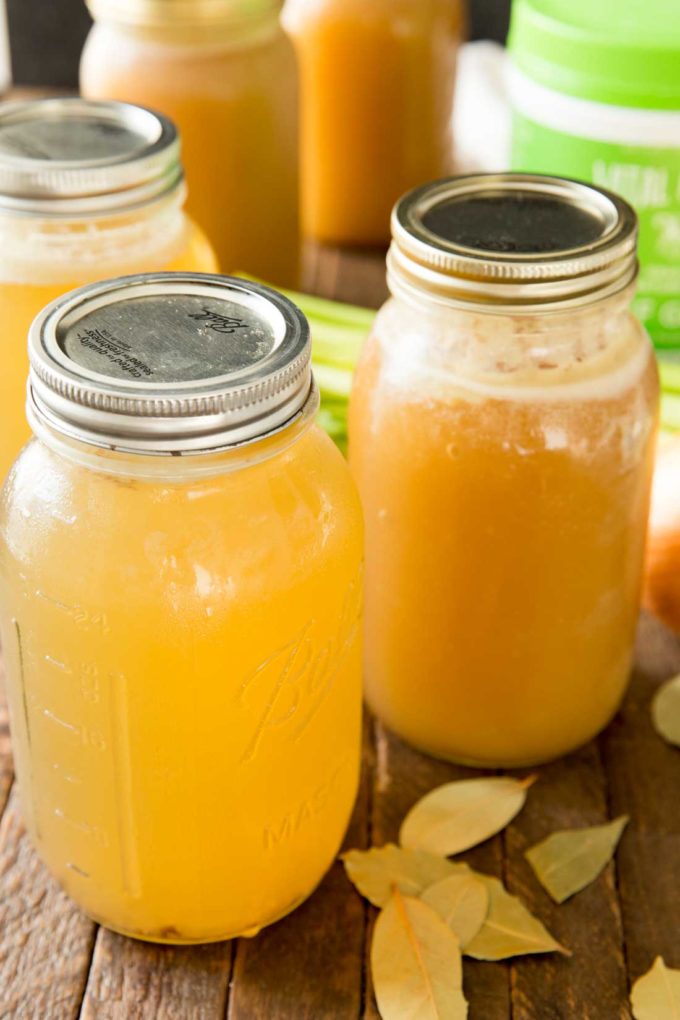 The great thing is, to make this stock you literally just throw all of your ingredients in the slow cooker (except the gelatin, though you can), and let it cook for 24 hours. Strain, and enjoy! If you haven't ever tried it before, you really should.
Ingredients
1 Carcass of cooked turkey, 12-13 pound bird
1 Tbs apple cider vinegar
1 large onion, peeled and quartered
2 large carrots, washed, but not peeled
3 ribs of celery, rough choped
2 sprigs fresh rosemary
2 sprigs thyme
1 tablespoon whole peppercorn
1 apple, quartered (optional, makes it just a tiny bit sweet)
Cold water
salt and pepper to taste
4 scoops Vital Proteins Beef Gelatin
Instructions
Get an 8 quart slow cooker, and put the turkey carcass in it, make sure the skin and meat are gone, and it is just the bones.
Add onion, carrots, celery, thyme, rosemary, vinegar and peppercorn in the base of a slow cooker.
Fill with cold water to just below the top. Leave room for an additional 8 ounces liquid to be added later.
Cook on low for 12-24 hours.
Bloom Vital Proteins Beef Gelatin by mixing 4 scoops collagen protein into 8 oz. cold liquid, let sit for one minute then add 8 oz. of hot liquid from your slow cooker to dissolve.
Then add all of it back into the slow cooker.
Let cool, when almost cool, strain stock using a collander and mesh strainer.
Season with salt and pepper to taste, and pour or laddle into glass jars. Leave an inch on the top if you plan to freeze for later use.
Notes
7.8.1.2
876
https://www.eazypeazymealz.com/how-to-make-homemade-turkey-stock/
Pin to your Must Have Recipes board on Pinterest:

Get EZPZ Updates In Your Inbox!