I was gifted a trip to Israel by Vibe Israel to facilitate this post, all opinions, and my love of Israel are my own.
Israeli Friday Night Dinner with Betzavta:
If you want to experience real Israeli culture, don't miss out on this amazing experience of connecting and dining with a local family through Betzavta.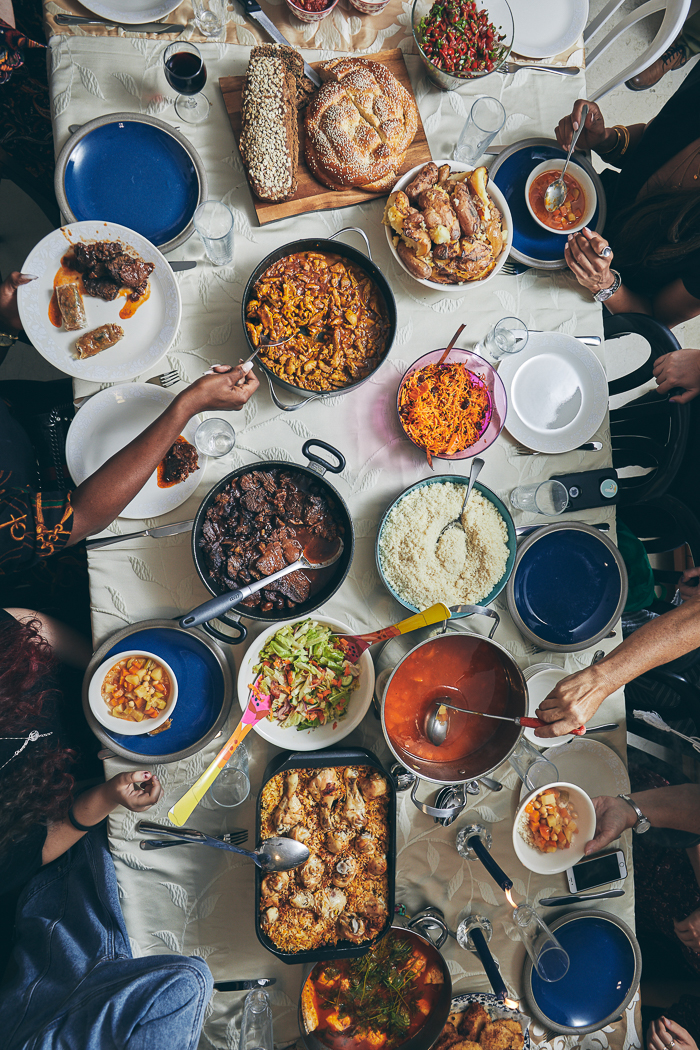 As an avid traveler, one of my favorite things to do when visiting a new locale, is try to immerse myself in the local culture. 
When we were visiting Costa Rica, for example, my favorite experience was an unplanned day spent at the river with the family of our taxi driver. In Sicily, it wasn't the beautiful Duomos or ancient ruins, but cooking in the kitchens of Sicilian housewives, and dining with their families. 
While I can appreciate a good tourist attraction, and love to visit the sites, and see those #bucketlistitems when visiting a new place, there is just something so incredibly amazing about immersing yourself in the real culture of a place. And getting up close and personal with locals going about their daily lives. 
It is what makes the world a smaller place in my eyes and helps me to not only relate to a new place, but love it. When you get the chance to interact with families who hold different beliefs and customs, you learn that at the heart, we are all the same. We love family. We crave connection. We want to be seen and heard. And loved. 
Going Local
When I visited Israel recently with Vibe Israel, I was afforded many opportunities to interact with, and learn from the people. Sure we took tours, and visited the well known spots like the Wailing Wall, and the Church of the Holy Sepulchre. But we also talked with business owners, dined with a family, went into the homes of several people, and cooked, and ate, and laughed. We even celebrated a birthday with one couple who guided us through a local market. 
And that, those personal connections, is a huge part of what made that trip so incredibly special, and my favorite trip ever. From visiting the local markets to see how the locals shop, and being force fed Uza by the Yemenite deli owner, to having Friday night dinner with an Israeli family in their home.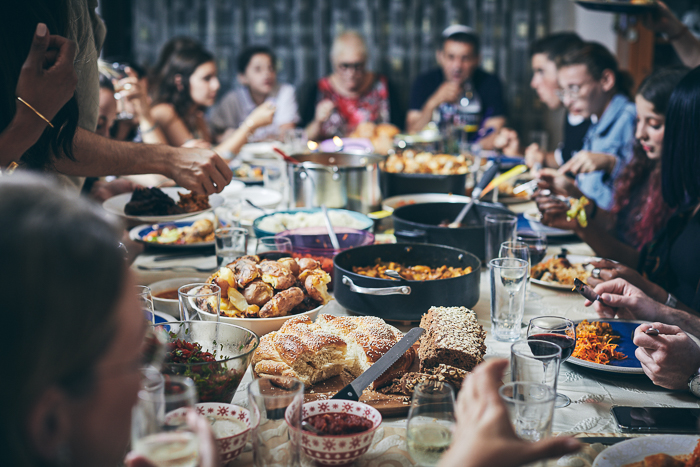 What a magical experience. 
I was thinking long and hard about what made this trip so special, and it was the connections with the people. And that is hard to duplicate. I can't just give you an itinerary, or tell you where to go, and have you experience the same kind of connection I did. Even though it is there and waiting for you. 
Before I left for Israel I was talking with my friend Beki, from The Cookie Rookie. She had the opportunity to visit Israel with Vibe Israel the year before, and told me it was a wonderful experience, but her favorite part was the Shabbat dinner they shared with a local family. 
To say I was excited to get to experience this myself, is an understatement. I come from a huge family, with 10 children, and our family meals are some of my fondest memories. I love that the Israeli culture celebrates family, and many families reserve Friday night dinner for family get togethers. 
Being able to take part in one was a gift. Which brings me to Betzavta! 
The best way to duplicate the experience I had is to spend time with the locals.  For you to get to feel the heart of Israel, and see this beautiful, happy, giving, generous lovely people the way I did is to interact with, dine with, and learn about the families that make up Israel. So how can you do that? With Betzavta!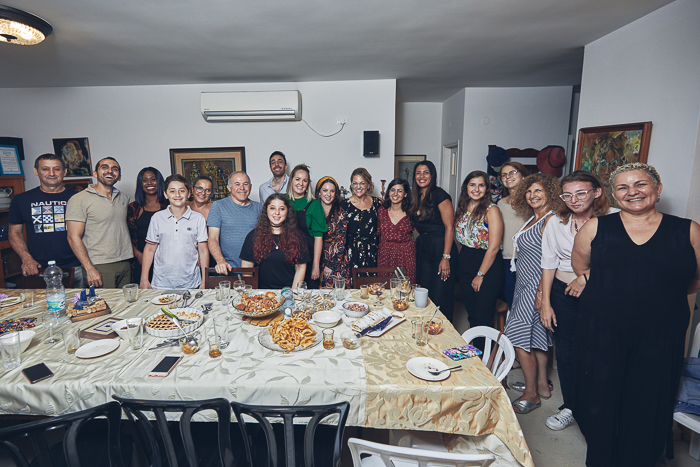 Betzavta
Betzavta means "together" in Hebrew. And my friends Niv and Ori have created a beautiful company called Betzavta that brings locals and travelers together! 
The Betzavta initiative is focused on forging friendships and connections through food! How perfect is that? The idea is to bring travelers and locals together to create true friendships through the unique experience of sharing a home cooked meal. What better way is there to bond than through food? 
The way it works:
You go to the Betzavta website:

https://www.betzavta.me/

and submit a request. These dinners are mainly hosted in Tel Aviv and Jerusalem and on Fridays. But Betzavta can help you find a host any day of the week and in any city in Israel, as long as you give them enough time. 

Niv and Ori match you with a host family they feel is right for you! The host families are locals who aren't trying to earn a living through this, but rather just want to get to know you and share their culture. 

The host family opens their home to you to share a casual Israeli dinner. It is sure to be a blast!
And that is where the magic begins. 
Our group was lucky to get to visit with the Shtaif family. Our hosts Shiri and Gadi were the most gracious of hosts, and excellent cooks as well! They instantly made us feel as if we had a friend in Israel. 
Their teenage daughter greeted us at the street, and there was no awkwardness at all, she just started chatting and made us feel at ease. She chatted and chatted, and told us all about her life, her family, the people we would be meeting.  
Then we went up to their home, and were greeted by a huge crowd. Their family and friends had all gathered together, and there was a literal feast waiting for us. We were told to take a seat, and that we couldn't sit by someone we already know. 
It was the perfect way to get to know the family. We chatted about their love of running, their kids, their travels. We talked about family, religion, politics, school, and burekas! Their teen daughter waxed strong about her love of burekas, and I have to say I agreed with her whole heartedly.  
It was a blast chatting with her about her favorite foods (some of which I included in this guide to Israeli food), and to learn about their lives. 
It was a unique experience, and forged lasting friendships between us and Niv, and a deep appreciation for the Shtaif family.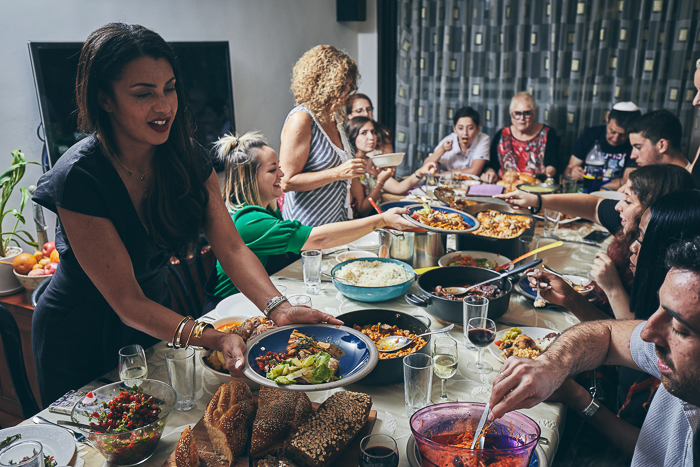 The food was wonderful, and we got to enjoy some traditional dishes! This experience was a highlight of the trip, and one I can't help but recommend. 
To learn more about Betzavta visit their website: https://www.betzavta.me/
To learn more about Vibe Israel, and their vision of sharing Israel's story with the world, visit https://www.vibeisrael.com/
All photos courtesy of Amir Menahem!
Other Recipes: