Let's talk about what makes Prepear such a fantastic app for home cooks that I can't stop recommending it.
In this post I shared with you what Prepear is–an app that allows you to save, plan, shop, and cook your favorite recipes.
But today I wanted to do a deep dive into the many features and perks of Prepear and why it is the best meal planning app on the market.
If you don't already have Prepear downloaded, download and use it for free.
Why Prepear is the Best
This is the quick and dirty list of why I love Prepear personally, and I will share more details below.
Digital – don't have to print, smaller eco footprint. 
Creates shopping list for you– no more missing ingredients. 
Connects directly to Walmart.com to make grocery shopping easier. Delivered or in-store pickup! 
Easy to Customize. Customize your shopping list if you already have stuff, customize meal plans to your preference. 
No work. You can get "made for you" meal plans (instant pot, 30 minute meals, etc) that require no planning from you, and can be connected to Walmart.com for easy shopping making meals eazy  peazy! 
Social sharing. you can share with your family and friends what you're making, how you liked it, etc. 
Reminders. The app allows you to set reminders in the app to set your crockpot, defrost, etc. You can do it all in one place. Which helps you actually get dinner on the table. 
Rate each recipe, so you remember what you loved, or add it to a collection. 
Haven't downloaded the FREE app yet, do it now.
Okay, let's talk about some of these perks!
Groceries Delivered
One of my personal favorite parts of the Prepear app is that it has a built in grocery list feature, which you can customize, or have it auto-populate from the recipes you chose.
Well now, not only do you get that made for you list of needed ingredients, but your Prepear grocery list connects directly with Walmart.com, so you can have your groceries delivered to your door (for a small charge,) or pick them up at the store (for free!).
I have been with Prepear from very early on, and beta tested in the app, trying new features and functionality, and I said over and over how much I wish it could not only plan my recipes for the week, but order the groceries too. 
Well, the developers have tested and worked on this feature for months, and here it is! You can save so much time and money getting groceries this way.
Think about how nice it will be to not only grocery shop without your  kids,  but also avoid impulse buys, and never forget an ingredient requiring another trip to the store.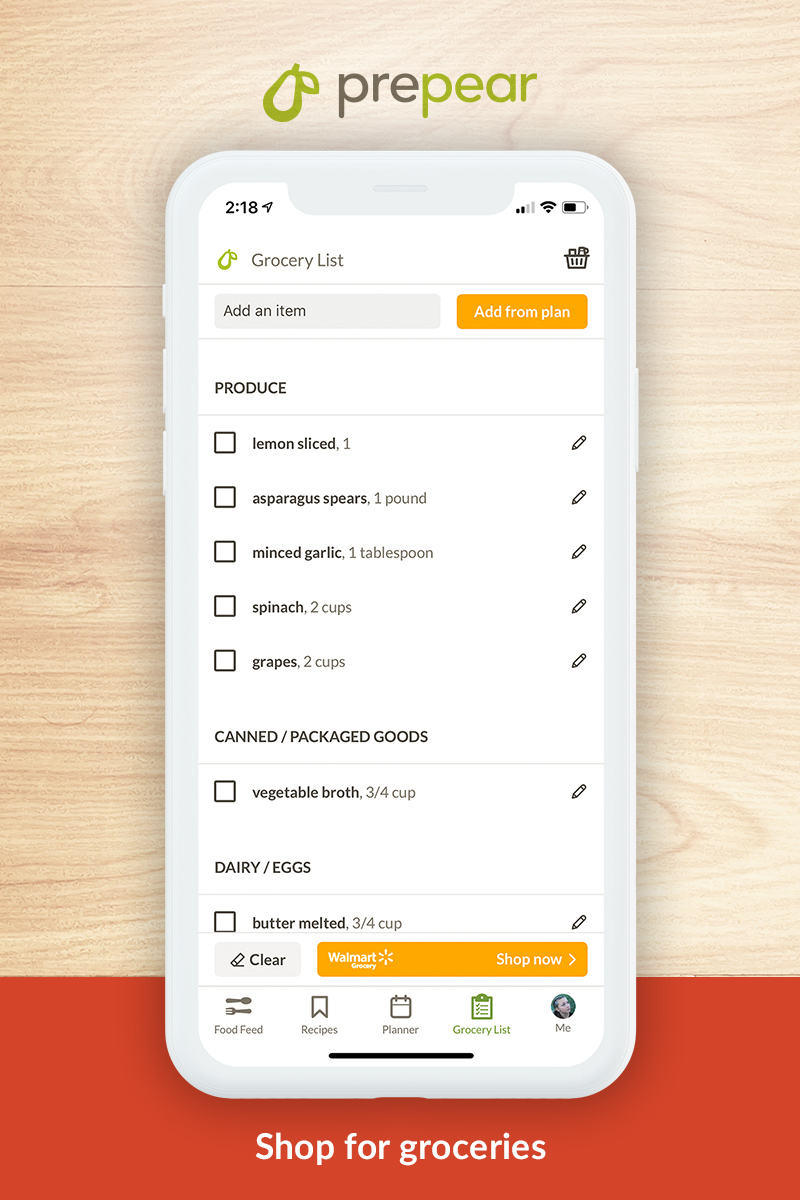 Shopping List
Ok, I kind of already touches on this, but basically if you create a meal plan in Prepear, you can auto generate a shopping list to go with that meal plan. BUT… that is not all!
Prepear creates your grocery list in seconds, automatically matching  your plan. You can also quick-add any extra items, like napkins, your favorite beverage, etc. 
Once  your list is complete Prepear lets you get your groceries delivered, or have them ready for pickup at the store, or if you love to show in person, you can simply check off each ingredient in the app as  you shop. 
Add Ingredients to a Shopping List Straight from a Recipe
You can now add ingredients from any recipe on Prepear straight to your grocery list. No need to make a meal plan!
Just click the shop icon at the top of the recipe, and it will automatically drop the recipe into your planner, and add all the ingredients to your list.
Amazing!
Smart Shopping List
The shopping list is such a great feature and has only gotten better over time. The list remembers shopping hints and categories you used in the past.
So ingredients show up how you like in future lists! For example, if you love 2% milk, then each time "milk" is on the list without a specification, it will give you   2%. 
Click the pencil next to an ingredient to teach Prepear how you want it displayed.
Save and Organize ALL Your Recipes
While I would love if you only used my recipes, I am aware that you probably have some favorite recipe you just love.
With Prepear, you can save and store any recipe. These can be from your friends, your favorite food bloggers, or your own family recipes.
Collect all your favorite recipes in your own digital, shareable Cookbook, and organize them into collections so you can find what you're looking for, fast.
It is so nice to have everything in one place, no emails, websites, or scraps of paper to remember.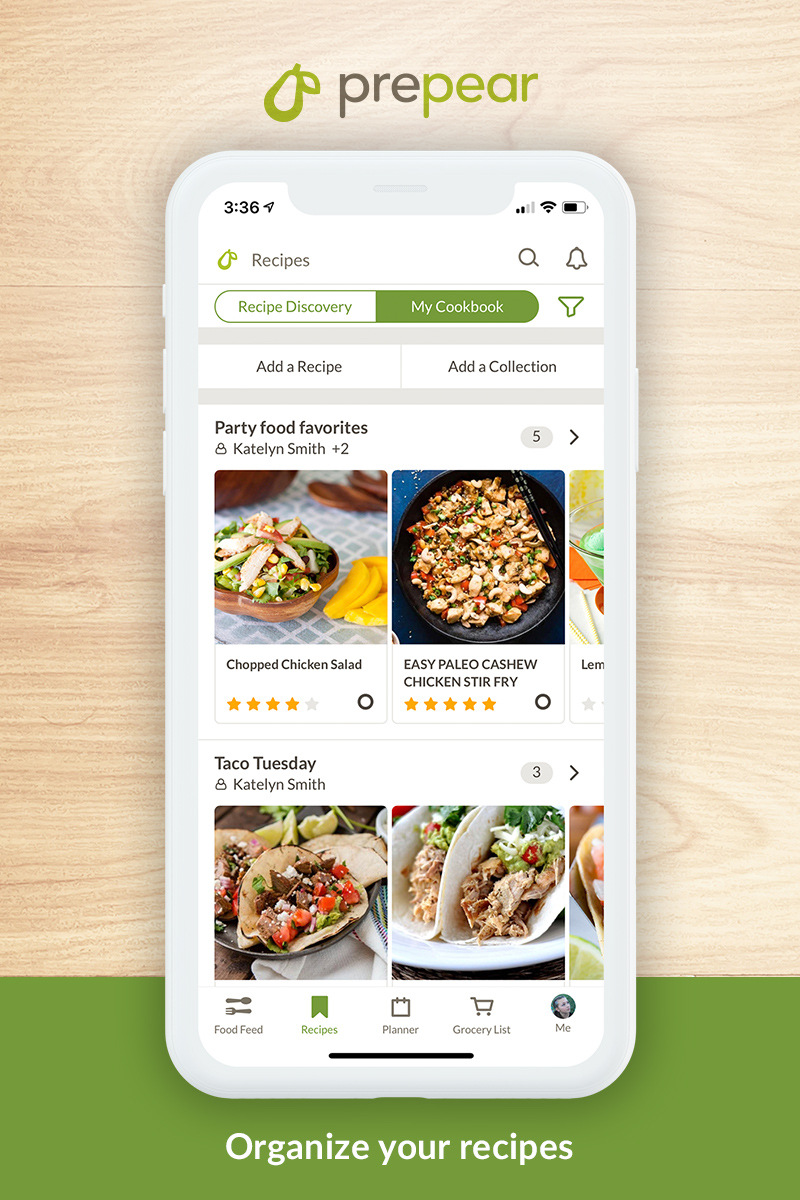 Meal Planning
Obviously my favorite part of Prepear is how it simplifies meal planning.
Because it is already loaded with  recipes, you can simply create your own meal plans. Add your own recipes in to create those meal plans. Or Subscribe to done for you meal plans.
Prepear's intuitive Meal Planner lets you create a weekly menu in just a few minutes. You can customize and share with a tap of your finger. It has a drag and drop functionality that can be used on desktop of in app.
Plan just dinners, or plan a full menu, including snacks! It is so easy to do! 
Check out my done for you meal plans:

Make Cooking Simple
Using the Prepear app to make your recipes is easy! You simply hit the "Prepear Mode" button at the bottom of the recipe when you are ready to cook.
The recipe screens in Prepear are thoughtfully-designed, and created by people who actually cook a lot at home:
You can m

ove the slider up and down to reveal more or less of the ingredients list and directions.

You can check off ingredients and steps as you go to keep track of where you are in the recipe. No more missed ingredients!

Your phone stays awake and so you don't have to constantly touch your screen (with dough on your hands, ugh) to wake it up.

And  you can add your own recipes and food pics right into your Cookbook to use anytime, and share in the community. 
More Features Added All Time Time
Like I said, I have been with Prepear for a very long time, almost the beginning, and I have helped in the process and watched as the app evolved to be the best app possible to help make dinner time with the family the best and easiest possible.
The developers are continually working on it, and adding new features all the time. Like soon you can add your own edits and notes to recipes in your collections, there will be improved search functions, and more!
So go ahead, download the app and explore. It is free to use, forever. Or you can pay to have someone else do the meal planning for you, with a membership to Prepear Gold. but still take advantage of all the perks Prepear has to offer with a few extras.
PrePear Gold
So Prepear is FREE, and always will be. But there are some extra features you can get if you want to pay for them, and trust me it is worth it. But honestly, even the free version is amazing. But in case you were wondering, here are the extra benefits you get from Prepear Gold:
Plan Smarter: Get unlimited access to all the done for you meal plans in Prepear.
Save Time: Get unlimited access to all the meal plans in Prepear.
Enjoy New Flavors: Switch meal plans as often as you like.
Full Access To Pro Recipes: Enjoy a total ad-free experience, while you cook.
Try Prepear Gold FREE for 30 days by joining here.