Crispy, savory, egg rolls prepared with I Can't Believe It's Not Butter!, come together in just minutes, and can be either baked or fried for a great meal or snack!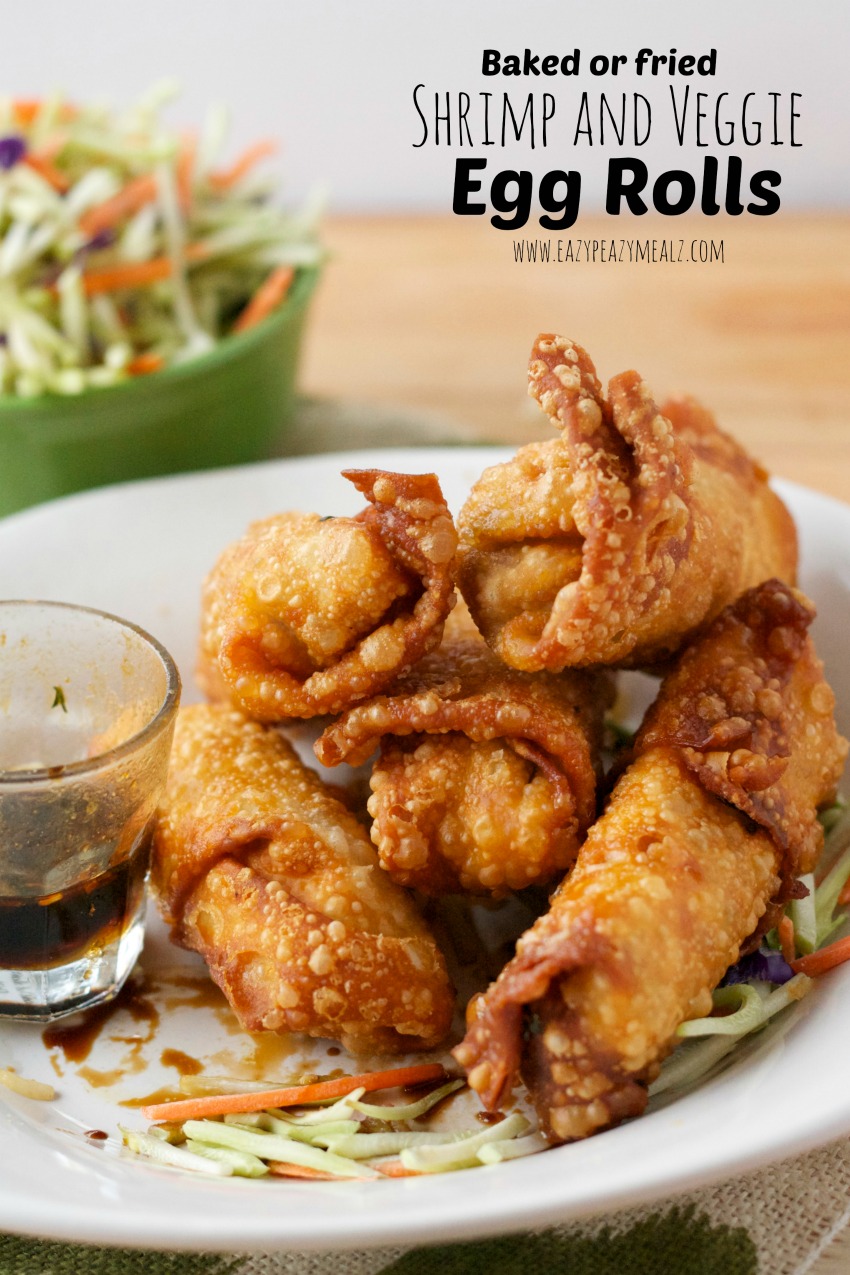 First of all, I just want to say I am in love. I'm in love and I don't care who knows it. (Elf…anyone? anyone?) But seriously. I have always loved anything Asian inspired or themed, and egg rolls are always rating up high on my list because they are stuffed full of yummy goodness, but also because they are deep fried. Wontons rate high for the same reason even if I hate the consequences of deep fried.
One amazing thing about these particular egg rolls is they are great baked or fried!!! These egg rolls are a bit of a spin off the traditional as I use a broccoli slaw instead of cabbage, and I sauté the broccoli slaw in I Can't Believe It's Not Butter! with garlic, ginger, sesame oil, and honey to get a lovely added flavor. They are so good they don't have to be fried, although you can if you want!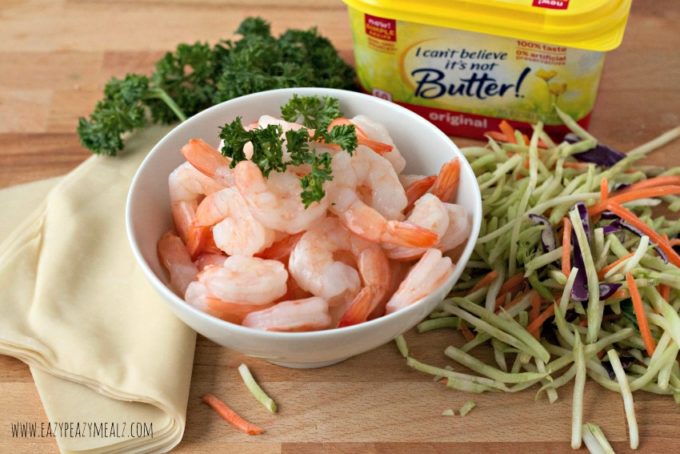 I remember in high school I used to eat I Can't Believe It's Not Butter!® over at my friend Jill's house on toasted bagels. We loved the taste, but did not care back then about things like natural ingredients, etc. Luckily for me, I Can't Believe It's Not Butter!® has been recently reformulated to have simple, natural, non-GMO sourced ingredients, and of course the great flavor of butter with 40% fewer calories and 70% less saturated fat than actual butter.
The new I Can't Believe It's Not Butter!® is much better for you, but also very important (to me) it tastes great! And it is available in grocery stores nationwide (as of October 2014) for a suggested retail price of $3.09. So don't take my word for it on how great it is. Go pick up a tub for yourself. And leave a product review at www.TheNewICB.com.
I loved using it for sautéing the veggies and shrimp for these egg rolls. And I just loved the egg rolls in general.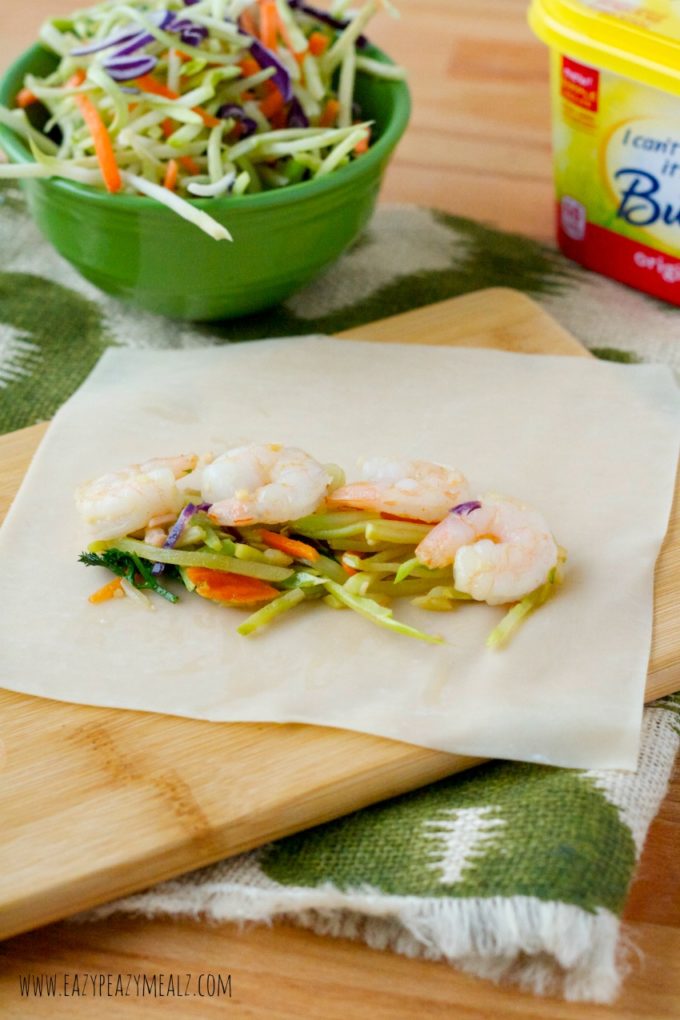 But my love is deepened further by the simple fact that these egg rolls not only taste great, but are so easy to put together. I buy the broccoli slaw mix (i.e no chopping, shredding, or peeling), already cooked shrimp, and already made egg roll wrappers. The I Can't Believe It's Not Butter!® is soft right out of the fridge, so I didn't have to wait for it. Basically the only thing I had to do was sauté the ingredients, and make the dipping sauce! With this busy season, convenience is so important. And these fit the bill!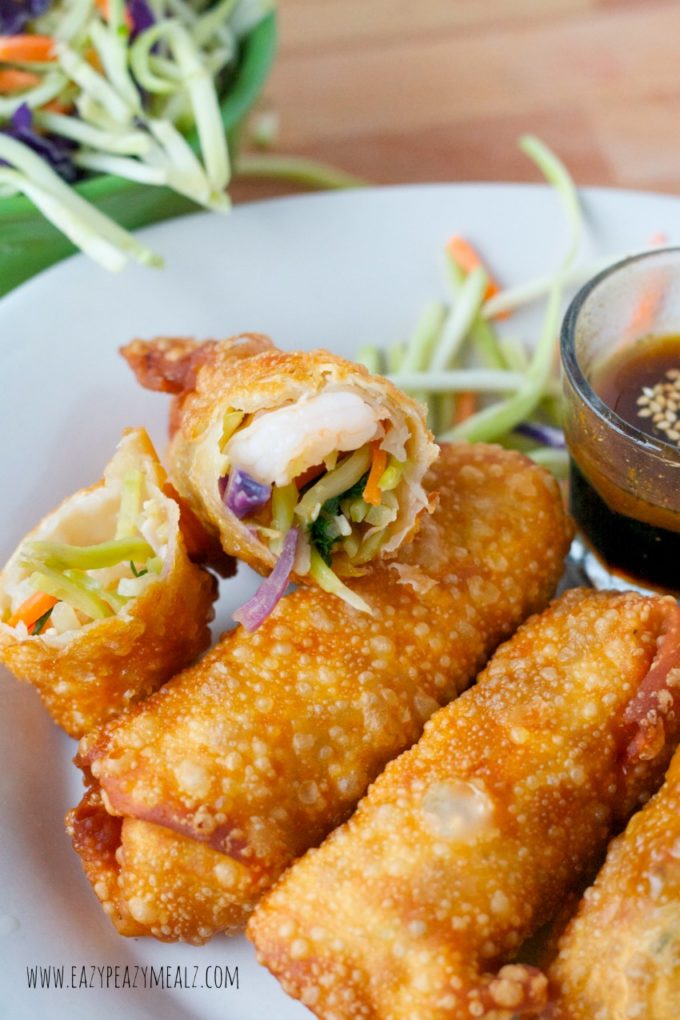 And these are great for kids. I made a chicken version as well as the shrimp because I have one child who is not a fan of prawns. But everyone loved them and scarfed them down. They were the perfect after school snack. And I felt great about them because they are chock full of veggies, and the new I Can't Believe It's Not Butter!® is made from real, simple ingredients – 100% taste, 0% artificial preservatives. It is made with plant-based oils and are a source of both monounsaturated and polyunsaturated fatty acids, as well as a good source of omega-3 ALA.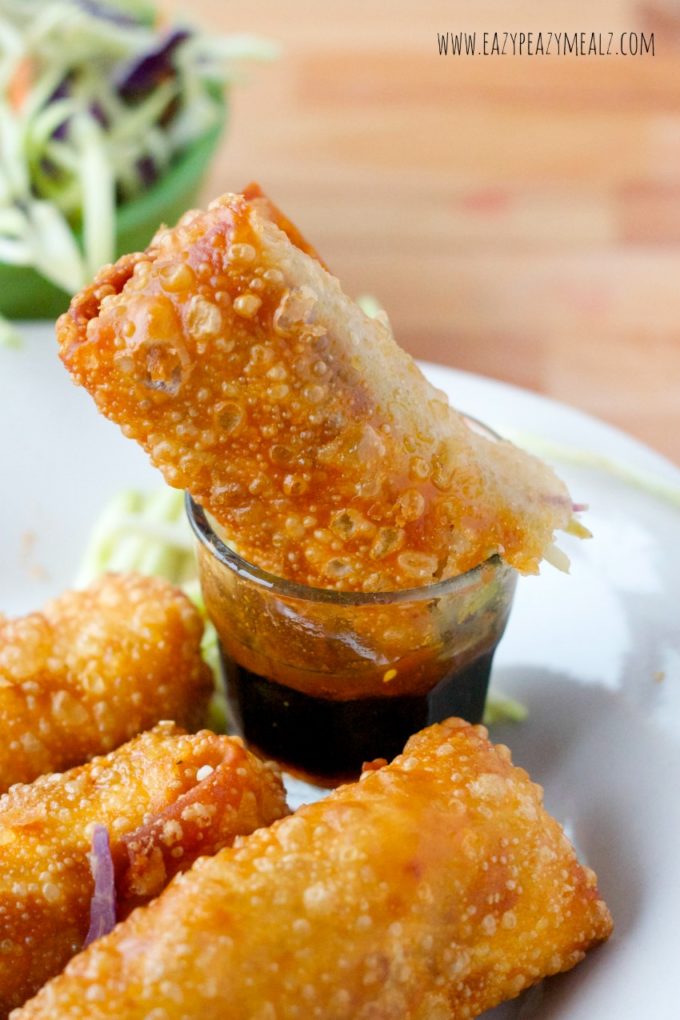 I am pretty sure it is safe to say that you will love these! All of my many taste testers agree they are a "must-make" item!

Yields 8
Baked or Fried Shrimp and Veggie Egg Rolls
5 minPrep Time
12 minCook Time
17 minTotal Time
5 based on 1 review(s)
Ingredients
2 cups broccoli slaw mix
2 Tbs parsley, chopped fine
2 Tbs I Can't Believe it's Not Butter!
1 1/2 Tbs minced garlic
1/2 tsp ground ginger
1/2 tsp sesame oil
1/2 Tbs honey
1 1/2 cups pre-cooked shrimp (shelled, should have about 25 small shrimp)
8 egg roll wrappers
water (to stick the egg roll together)
oil for frying, or additional I can't believe it's not Butter! for baking

Dipping Sauce

1 1/2 Tbs honey
2 Tbs soy sauce
1/2 Tbs sesame oil
1 tsp ginger
1/2 tsp sesame seeds
Instructions
If baking Preheat oven to 400 degrees, if frying, heat oil to 375 degrees
In a big pan, Saute broccoli slaw, parsley, and minced garlic for 1-2 minutes in I Can't Believe it's Not Butter!
Add in ginger, sesame oil and honey and saute for another minute
Add in already cooked, shelled, shrimp and toss, then remove from heat
Put about 2 Tbs of vegetable and shrimp mixture onto an egg roll wrapper
Roll into an egg roll (the back of the package shows how to do this)
To fry:
Fry at 375 degrees until golden brown (2-3 minutes)
To Bake:
Brush with I can't believe it's not Butter! and put on sprayed baking tray
Bake in preheated oven at 400 degrees for 10-12 minutes
Mix dipping sauce ingredients together (feel free to adjust slightly for preference, i.e. more honey if you want it sweeter, etc)
Serve hot egg rolls with dipping sauce
7.6.7
411
https://www.eazypeazymealz.com/shrimp-veggie-egg-rolls/
I fried the first batch I made and we had them as an after school snack. Then I baked another batch and served them as dinner. The hardest thing about these is deciding whether to bake or fry!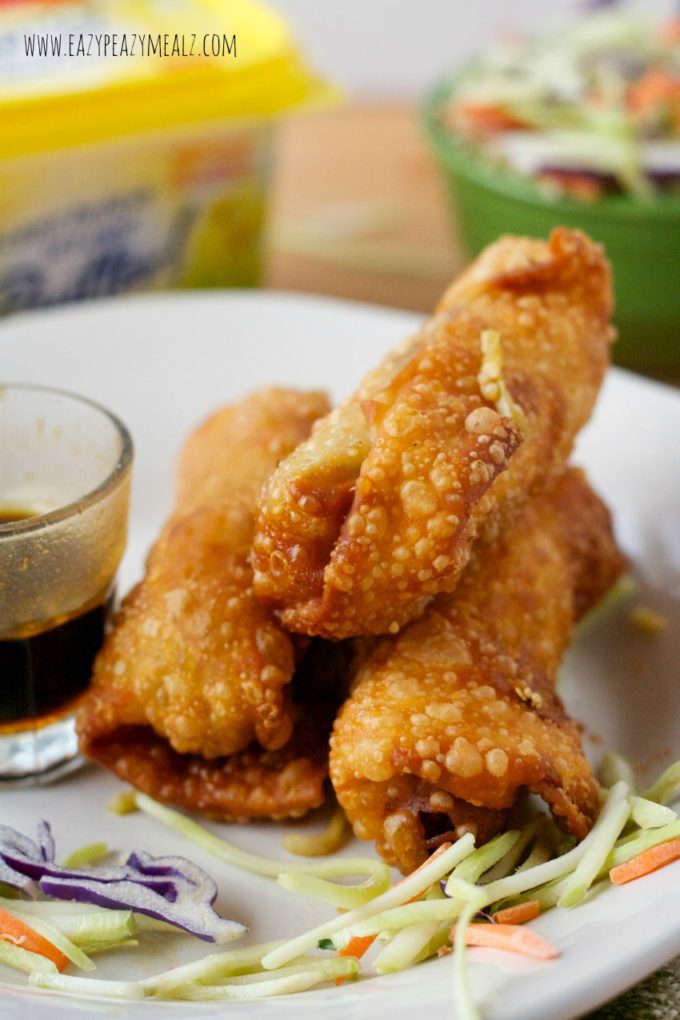 Be sure to pick up some of the new I Can't Believe It's Not Butter!® , and whip yourself up a batch of egg rolls. You will find it is a great topping for toast or muffins, for quick and easy sautéing, cooking or baking (not that I am the best baker). Visit www.icantbelieveitsnotbutter.com/recipes for more ideas and ways to use it.
Enjoy!
I was selected for this opportunity as a member of Clever Girls and the content and opinions expressed here are all my own.
If you love Asian inspired dishes, be sure to check out this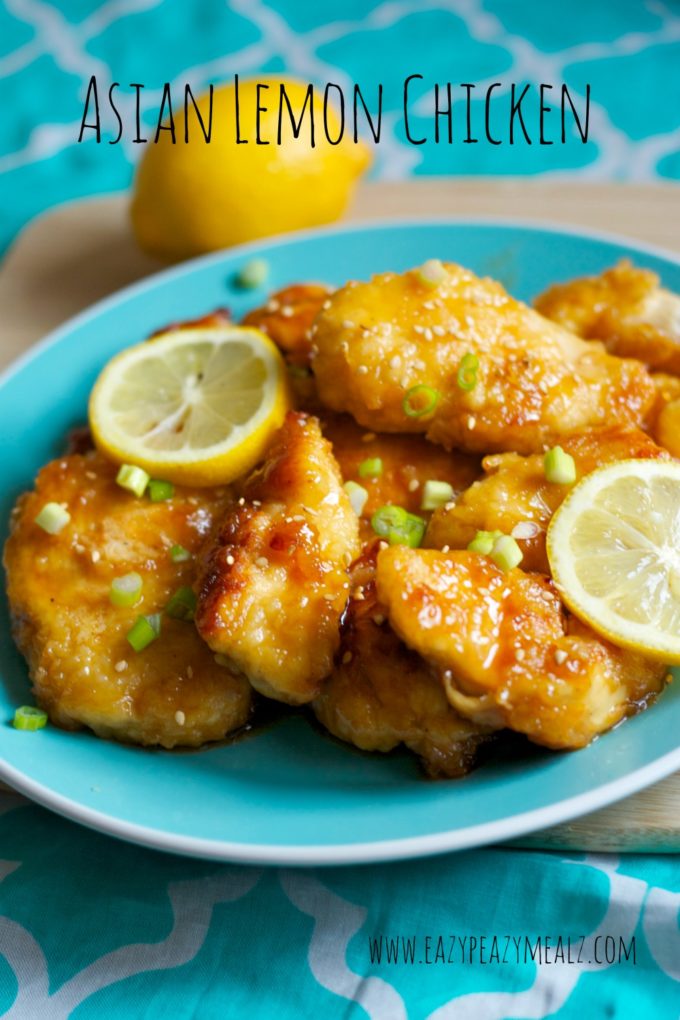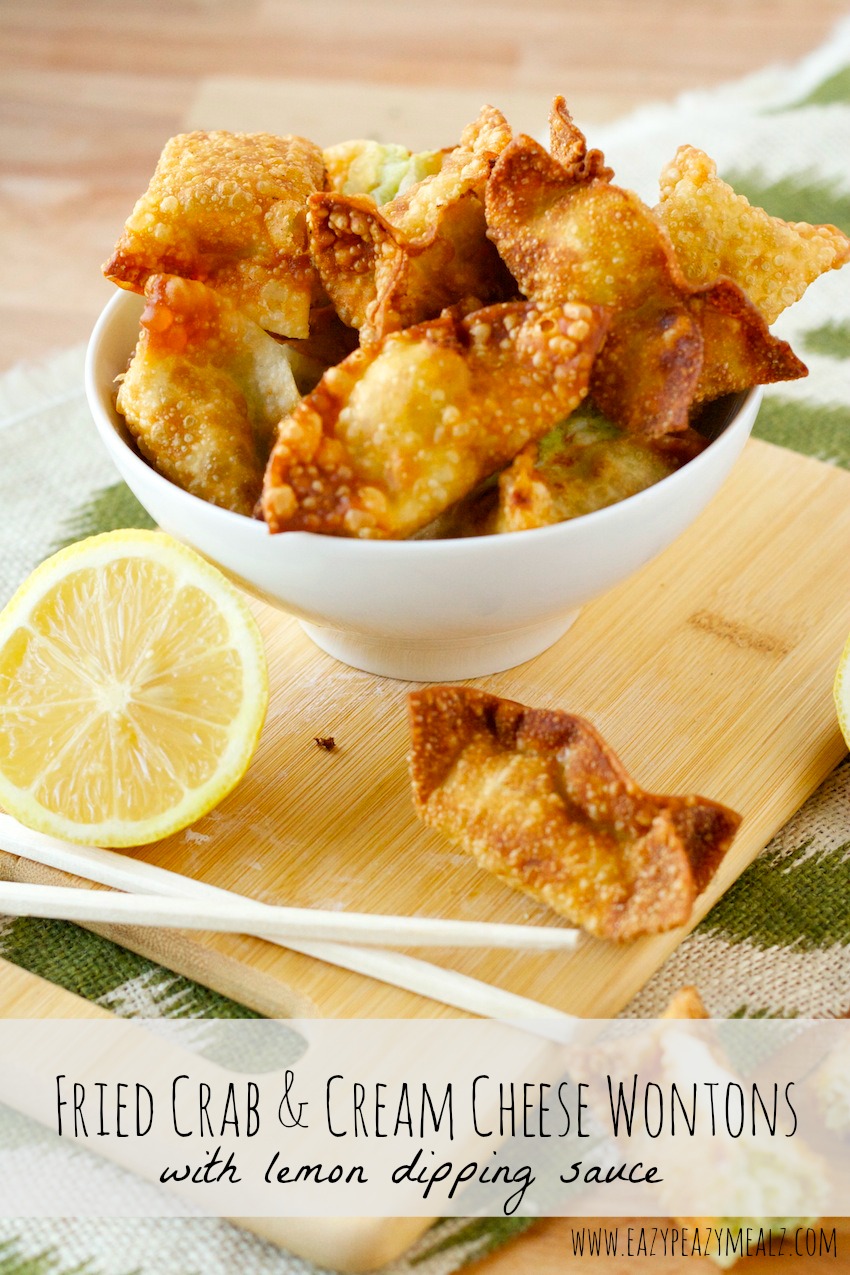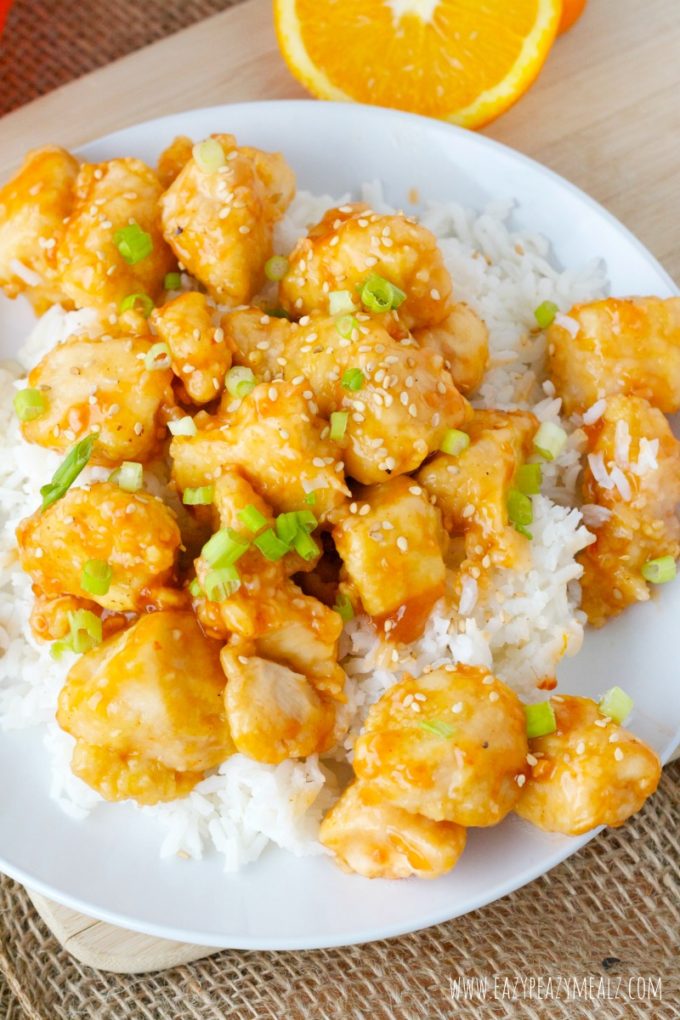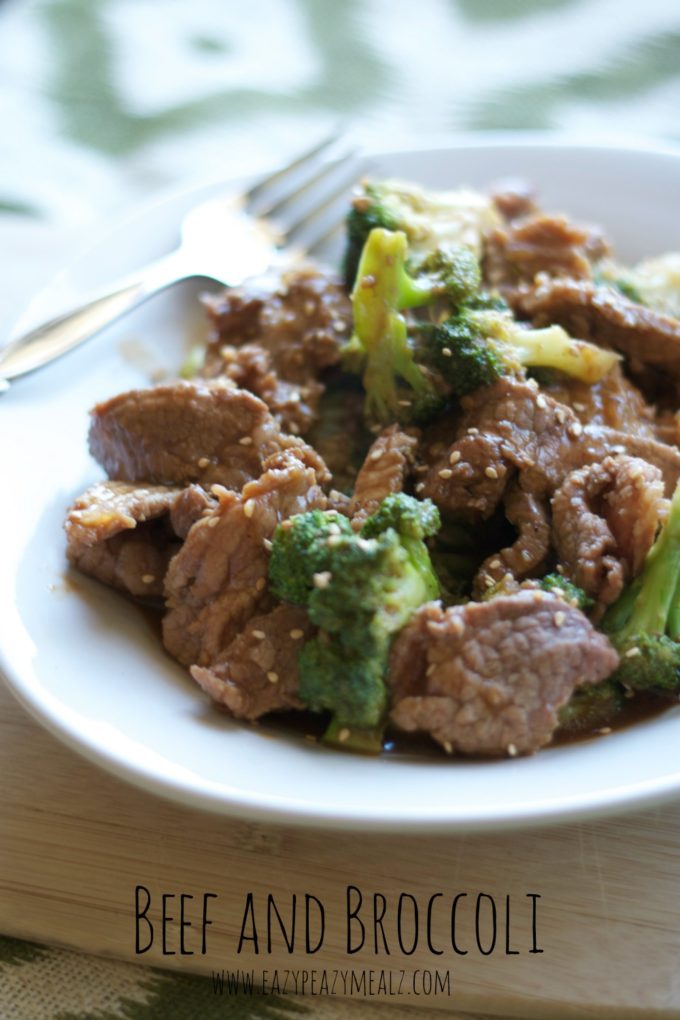 Get EZPZ Updates In Your Inbox!