Packing for a Caribbean Cruise
Everything you need to know to pack for a Caribbean Cruise. This guide will help you appropriately pack for your next cruise in the Caribbean, with everything you need, and nothing you don't.

What to pack for a cruise
Cruising is the ultimate vacation, and while it is a blast, packing for it can be tricky. You will need a range of clothing options, and you will have limited space in your stateroom.
And because you are living onboard, if you forget something you may or may not be able to buy it on the ship (my son forgot swim trunks once and we couldn't find children's swimwear anywhere).
While you can often buy the things you forget from the ship's stores, or using the OceanNow app for OceanMedallion cruises, there is no guarantee, it is best to come prepared.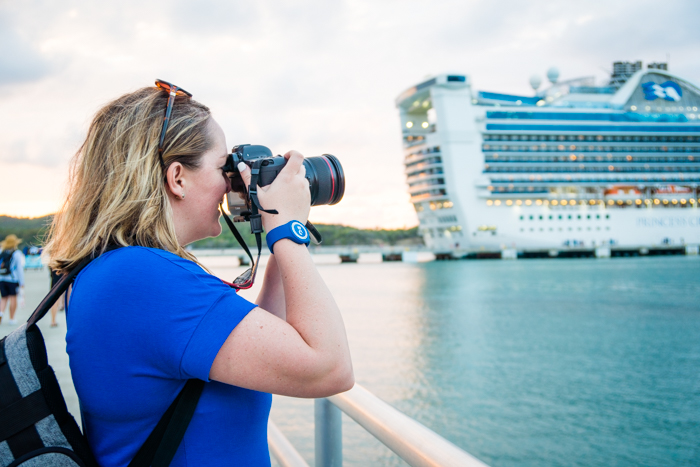 I recently returned from an amazing cruise to the Caribbean with Princess Cruises. I was onboard the Caribbean Princess which is a MedallionClass ship. I shared why this is my favorite cruise experience in this post about the Ocean Medallion technology, but wanted to talk specifically about how to pack for this cruise!  
I have cruised many times, from the Mediterranean to the Caribbean. And I have made a lot of packing mistakes. I have under-packed, and over-packed. Brought stuff I didn't need, and forgot stuff that would have made the cruise far more pleasant. Like swim trunks for my son.
On the Caribbean Princess I got to cruise with some of my best friends who happen to be cruising experts, SweetCsDesign.com and SugarandSoul.co, and I learned a lot about how to pack for cruising.
As a result, I have created this guide to packing to help you avoid some of the mistakes I have made, as well as go prepared for the greatest vacation of your life.
How to Pack for a Cruise
Cruise Packing Necessities
Passport – You need to have it!
Sunscreen –  Maybe you don't need it, but I know it is a necessity for me. And if you don't bring  your own, you will be paying "tourist" prices for it.
Swimwear – Caribbean cruises mean lots of beach and pool time, don't forget your swimsuit. Ladies, this is one of my current favorites for the bottoms, and I bought some other fun tops to go with it.
Don't worry I will be sharing lots more cruise packing list essentials.
The first thing you want to do is make sure you plan on packing at least 2 bags. One larger suitcase for the majority of your items, and a smaller carry-on bag.
Carry-on
When you cruise, you check your luggage in when you board, or give your luggage to the porter. Several hours later you are going to find it in your stateroom. It is so nice that it gets delivered right to your stateroom  and you don't have to navigate the corridors with bags in tow. However, it can sometimes be awhile before you get your luggage, so I always suggest you start by packing a separate bag with anything you might need on your first day on-board.
Travel docs – YOU NEED A PASSPORT

ID – On the MedallionClass ships, this will be your Ocean Medallion (so convenient). 

Medications and anything you can't live without

Swimsuit and Sunscreen

Sunglasses

A good book or way to be entertained

A change of clothes
Bonus: The carry-on sized bag can double as a handy tote for shore excursions, or to bring home trinkets and souvenirs.
What Clothing Should I Pack for My Cruise?
When it comes to cruising you actually need A LOT of clothes. It is the travel I pack the heaviest for because you have some outfit changes during the day. You will essentially want to pack day time wear and evening wear.
But of course, where you cruise to will impact what you want to pack. For the sake of keeping this guide readable (aka shorter), I am writing this as a guide to packing for a Caribbean cruise.
Maybe one of these days I will write a guide for cruising Alaska or colder destinations. But for now, let's assume sand and sunshine.
Day Time Clothes
During the day you can dress as you like, my recommendations for packing are:
Several pairs of shorts (quick dry shorts are the best) or capris or skirts (Note: If you are prone to chafing from thigh rub, shorts are better than skirts)
Several loose, breathable tees, tanks, and tunics. I am obsessed with these bamboo tees, they   stay nice and cool and go with everything. 

2 bathing suits, so you always have a dry option to wear

Bathing suit cover-up or quick dry options

1 pair of versatile pants

Exercise wear

Clothing for excursions  (casual, lose, breathable clothes you can move in, check excursion for any dress code)

Evening Clothes
While days onboard cruise ships are usually casual, the evenings often have a dress code or theme to them. Typically on cruises you will encounter a smart casual dress code, which means pants and a collared shirt for men and no jeans with holes or tanks.
Smart casual attire is typically defined as:
Men:  jeans/pants with closed-toed shoes and collared shirts
Women: jeans/pants, dresses/maxi dresses, skirts/tops.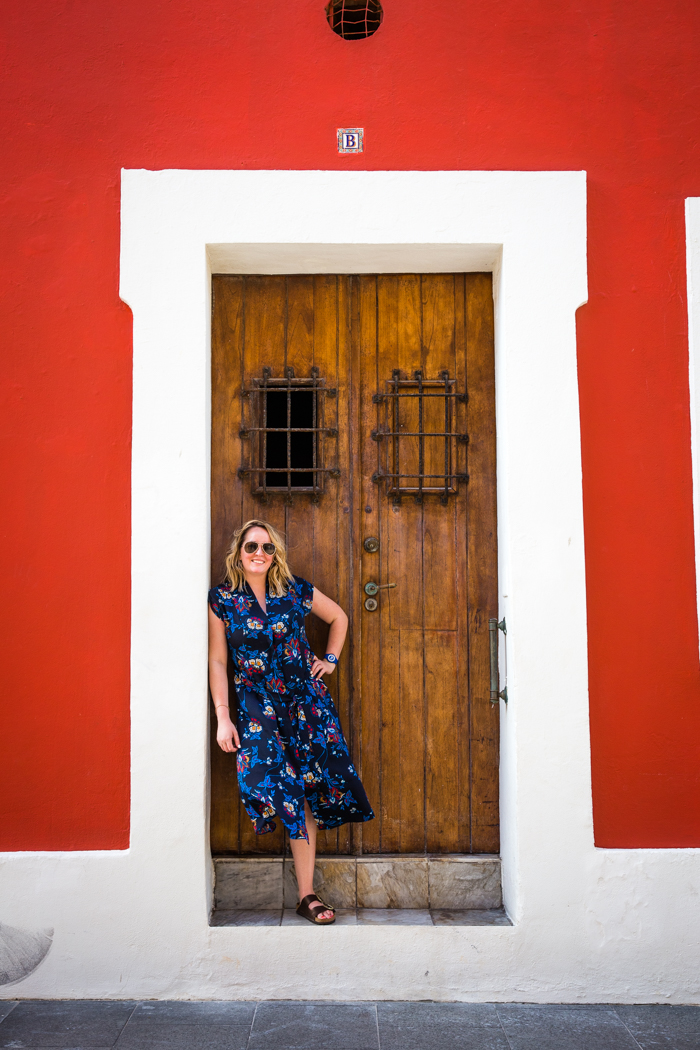 Most ships have formal nights, and you'll want to dress up if you want to eat in the dining rooms or specialty restaurants.
Ladies should bring a cocktail dress or nice pants suit, and men should pack a suit or at the very least slacks and a collared shirt.
You will see the whole gamut when it comes to dressing up. From full ball gowns to simple dresses. So dress to your preference, but remember the dress code.
Slacks or pants

A collared shirt

A cocktail dress

Closed toed shoes for men

Heels or sandals  (not flip flops) for women
On the Caribbean Princess we had two formal nights, and I wore a cute cocktail dress for both and was very happy. I felt like I fit right in.
Fabrics
I am a big fan of telling people to pack what they feel comfortable in, but if you are heading to the Caribbean, you will want lightweight fabrics, such as cotton and bamboo.  
Skip polyester and nylon fabrics, or combinations of, as they don't breathe in humidity and heat, and will leave you feeling extremely uncomfortable.
Go for lighter colors as well.
The darker colors attract and trap heat, so lighter colors will leave  you feeling far cooler and more comfortable in the hot sun. Additionally, if you are like me, chances are you will want to take photos during your trip, so consider packing bright, fun colors that will really pop in your photos.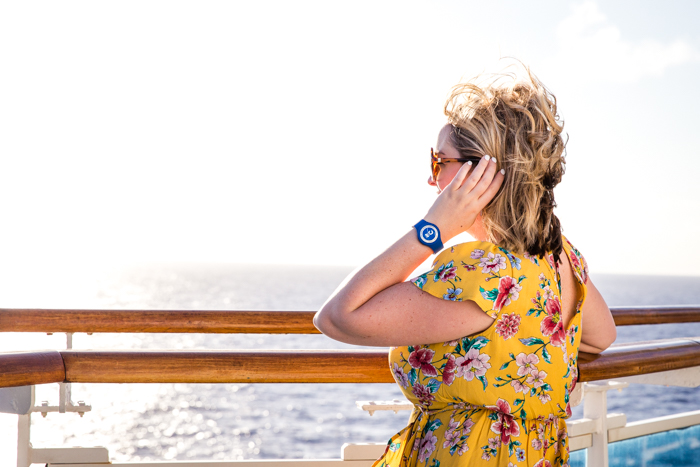 Layers
Layers are so great for cruises as you can go from extreme temperatures. It can be very hot in the sun, but when you are out on open water, the wind may be chilly.
So bring a wrap or pashmina to help you stay comfortable on breezy nights. And pack a light jacket or sweater.
You will also want a light rain jacket or poncho on a Caribbean cruise for those less-than-perfect island days. You often get scattered sprinkles, so go prepared with a light weight, breathable rain jacket.
Shoes
When it comes to cruises, you may find you need several pairs of shoes. Sneakers for hitting up the on-board gym, close-toed shoes for any shore excursions that require it, sandals or flip flops for beach and pool days, heels or dress shoes for formal nights.
Shoes for formal night

Sandals or flip flops for beach or pool

Closed toed shoes for excursions

Sneakers for exercise/walking
Cruise Packing List Extras
Sunglasses
The Caribbean sun is bright and hot, and when it reflects off the water it is even brighter. A good pair of sunglasses are a cruise essential. I recommend a polarized pair for protection while at the beach or exploring different ports. And of course Ray Ban is a great brand. Look at some great options here on Amazon. 
My favorites are the Ray Ban Wayfarers that fold! My good friend Ashley  showed them to me, and I am obsessed. They fold up into this tiny little case that makes taking them along so easy. 
Power Strip
One of the biggest pains on a cruise is the lack of power outlets in the rooms. They just don't have many, and let's face it, we live in a digital world where technology is a big part of life.
When you only have one outlet in the room and need to charge your phones, your tablets, your cameras and go-pros, laptops, etc. Plus you want to be able to plug in a flat iron or curling iron, lack of outlets is a pain.
And let's be honest, cruising isn't the only time outlets are problematic. I have been in many a hotel room with sparse outlets. Now I always travel with a power strip to give me extra outlets.
Wrinkle Release Spray or Steamer
One thing to note is that unlike a hotel, you aren't going to find an ironing board in your stateroom on most cruise ships. Fire is a big safety concern on a ship.
To ensure you have wrinkle free clothes, I suggest bringing wrinkle release spray or a handheld travel steamer to keep your sun dresses and formal wear looking great!
Wrinkle Release Spray: You can get it almost anywhere, but make sure to get the travel size option so you  can carry it on if you want.
Travel Steamer: I bought this one off amazon, and loved that it was small enough to easily fit in my luggage, but really did the job! Plus it was only around $20. 
Day Pack
One of the joys of cruising is the excursions you get to go on and the destinations you visit at the various ports.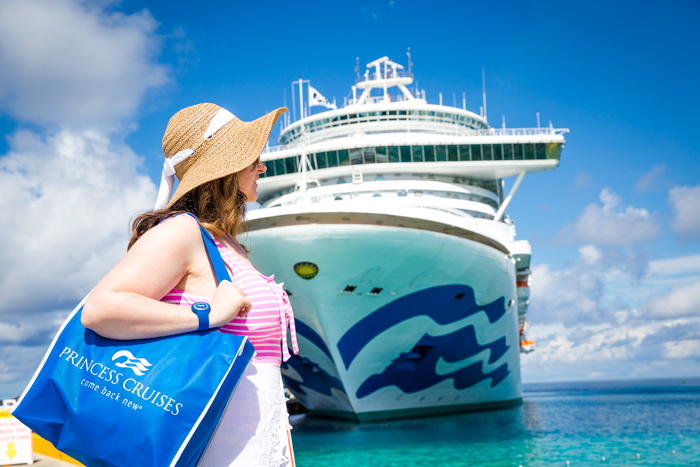 Chances are you will want to carry a few things with you, like sunscreen, water bottles, your ID, and a camera. If you are hitting up a beach destination you will likely want a towel too! A small backpack or totes is very useful for this.
This is my favorite day bag for travel, the Anello Backpack: It is a poly-canvas blend that is great for resisting stains but is durable and sturdy.
The bag holds a lot, is comfortable to wear, and has side pockets and easy access to the back compartment. Plus it comes in a few different sizes and lots of fun color options!
Or go for a beach bag or tote. I love this one beach bag as it is mesh, so you don't end up back in your room with a bag full of sand.
And it has a cooler bottom so you can keep drinks cold, and even stick your phone etc. in there so it won't overheat.
Sunscreen
Ok, we talked about this, but it is worth mentioning again. Pack all the sunscreen. And aloe.
On my recent Princess Cruise you could use your OceanNow app to get Aloe delivered to your room, which was awesome, BUT by the last day there wasn't any more available on the ship. So my suggestion…bring some with you!
Lounge Chair Towel Clips
If you are going on a Caribbean cruise, chances are you will relaxing poolside or on the beach at some point. I love these Lounge Chair Towel Clips because frankly, it can be windy, especially on the ship, and they help keep your towel on your chair.
Not only do they keep the towel in place, but they also indicate the chair is saved, and help you distinguish which ones is yours amongst the sea of other ship towel clad chairs!
And the fun thing about these towel clips is they come in tons of different shapes and colors, so you can find the ones that match your personality. I personally loved these little alligators.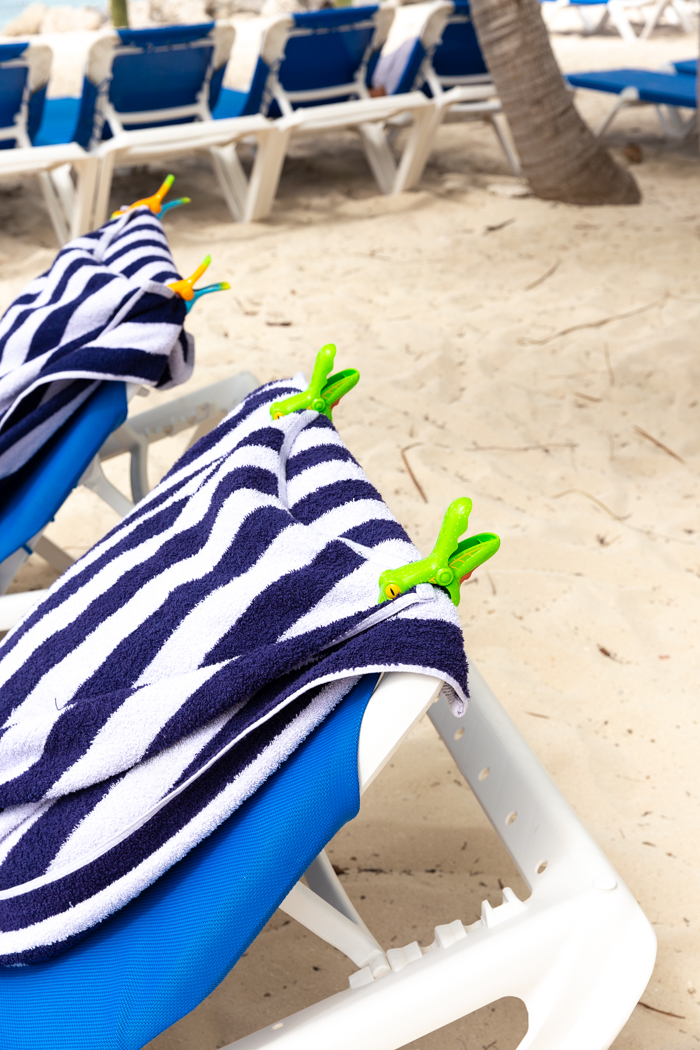 One trick I learned on my most recent cruise with Princess Cruises is the walls of your stateroom are metal, and you can bring magnets to hold the papers you get etc. I loved it!
It cleared up valuable space in the stateroom and kept several of the things we needed handy and easy to access, like our excursion tickets.
If you are a cruises, buy some magnets and also some magnetic hooks.
The hooks are perfect for holding your beach bag, towels, hats, and other items you need while cruising. I loved lining them  up on the wall so everything I needed was easy to grab.
I even hung my GoPro on a hook so I wouldn't forget it as I was running out the door.
These hooks can hold up to 25 pounds, so you could even pre-pack a beach bag and hang it if  you wanted to. 
Travel Games and Cards and Books
Cruising is so fun, and the cruise director is going to do a lot to keep you entertained onboard with shows and games and activities.
But sometimes you will have lazy sea day afternoons with nothing on the schedule, or a beach day where you want a little entertainment.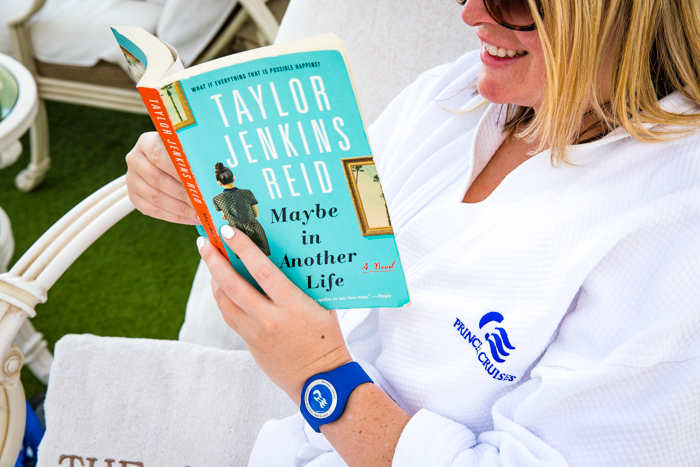 This is where having a few travel games or cards can really come in handy. As  well as a couple great books. 
We bought this waterproof deck of cards and have loved being able to play poolside, etc. with them without worrying about them getting ruined. They are basically plastic cards.
Find other fun travel games here: https://amzn.to/2VxAJmA
Waterproof Phone Case
I take my phone with me everywhere, and even though it says it is waterproof I have trust issues. Which is why I love these waterproof cases you can get for phones.
There are tons of options from the inexpensive (under $10) waterproof phone pouches, which are effective but if you want pictures etc. you are going to have some distortion, to the nicer, more expensive cases that are drop proof, waterproof, and cruise tested
I grabbed a couple of these LifeProof waterproof phone cases for my family's iPhones, and they weren't too expensive and really did the job. Each case was under $50 which is cheaper than my insurance deductible, so well worth it.
Cameras, smartphones, tablets, GoPros, and even portable fans aren't any fun if they don't work. Have you ever wanted to get a photo to have your camera die? Or your phone die?
Avoid that while you are onboard by bringing a portable charger with you. These little power banks can be super lightweight and easy to use, and keep you charged all day.
My favorite one I own is by MyCharge, you can get it for under $100 on Amazon. I love it because it is small, holds plenty of charge, and has the cords built right in, which means I don't have to search for my cords or unplug them from my wall chargers to use the power bank.
It goes everywhere with me.
Portable Fan
The Caribbean sun can be brutal, and honestly, sometimes it is too hot to be comfortable while you are out and about. That is why a portable fan can really come in handy.
I discovered this on my first cruise when I bought one from a street vendor because I was dying. But it was cheap and crappy and did not last long.
The second one I brought along was one a client sent me as a gift that plugged into my phone power source. I loved that I did not have to charge it or bring batteries. But it wasn't that powerful.
Now I have this easy to take along personal fan that is rechargable battery operated, and lasts 2-5 hours depending on the fan speed. It is the size of a phone, so super easy to slip into a beach bag or hiking sack and provide a little comfort.
I just charge it each night before I head out for the day. 
Water Shoes
I don't recommend water shoes for cruising in general, as you won't really need them, but if you are doing any kind of shore excursion where they might come in handy, they are worth buying.
If you are going to buy some, look for lightweight, airy, with a rubber sole with traction (water is slippery). You want a pair that can drain as well, so your feet aren't sitting in water all day.
We spend a lot of time at the river in the summers so I have purchased Teva's for each of my kids which they wear as their river shoes. Chacos, Northside, and other brands work well too. However, for the cruise excursion I had to have water shoes that were closed toe, which is why I was super excited about these Columbia Drainmakers.
They are like sneakers, but are designed to be worn in the water, and even have drains, and dry quickly. These are great for hiking in jungles, traipsing up and down waterfalls and rivers, and of course other activities like kayaking.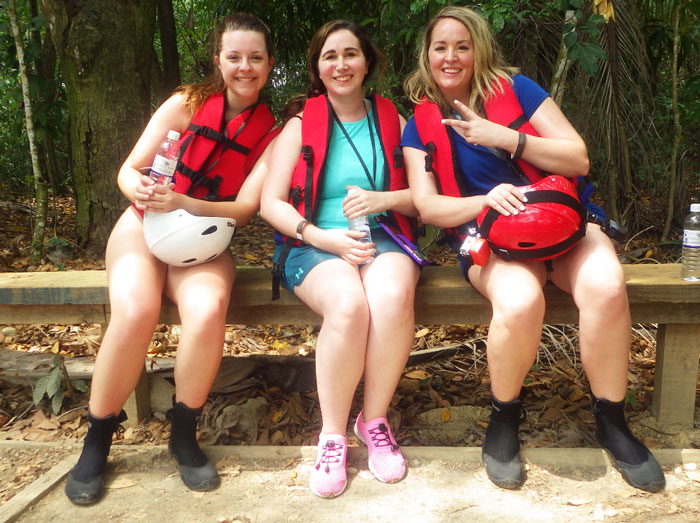 Camera
For me a camera is a no brainer as something you pack for a cruise. Especially since I often cruise for work, getting photos is a necessity. But obviously I am not going to recommend a $5k+ camera to someone who just wants to capture some fun photos of their vacation.
So here is what I do recommend:
A GoPro: They are light, small, portable, many of them are waterproof, and they capture pretty decent video and photo. You can buy a bunch of different accessories for them to make them more user friendly for whatever you are doing. And they are pretty easy to operate.
You don't need to know anything about aperture, shutter speed etc. to use one.
I have the GoPro Hero 6 and bought this Hohem Gimbal to use with it, and I am obsessed with it. It gives me such smooth great video. But again, I am using it for work, so probably not necessary.
As for a camera, chances are your phone has a great camera on it which can help you capture fun memories of your trip. But if you want something that is a little more robust and allows you more flexibility with settings, this Sony Alpha a6000 is an excellent choice.
It is easy enough for beginners with a lower price point (under $500 for the body) and while it is a crop sensor camera, it capture beautiful images. My best travel buddy has been traveling with this camera for years and gets amazing photos with it. 
Luggage Scale
Because I tend to overpack for cruises, and then I buy souvenirs etc. too I like to make sure my spending doesn't cost me with luggage fees if I go over airline weight restrictions. Having this little travel luggage scale has really helped me. It is accurate and easy  to use, and great for getting cruise ready, as well as for figuring out how to distribute items between bags when leaving a cruise. For just $13, I buy peace of mind.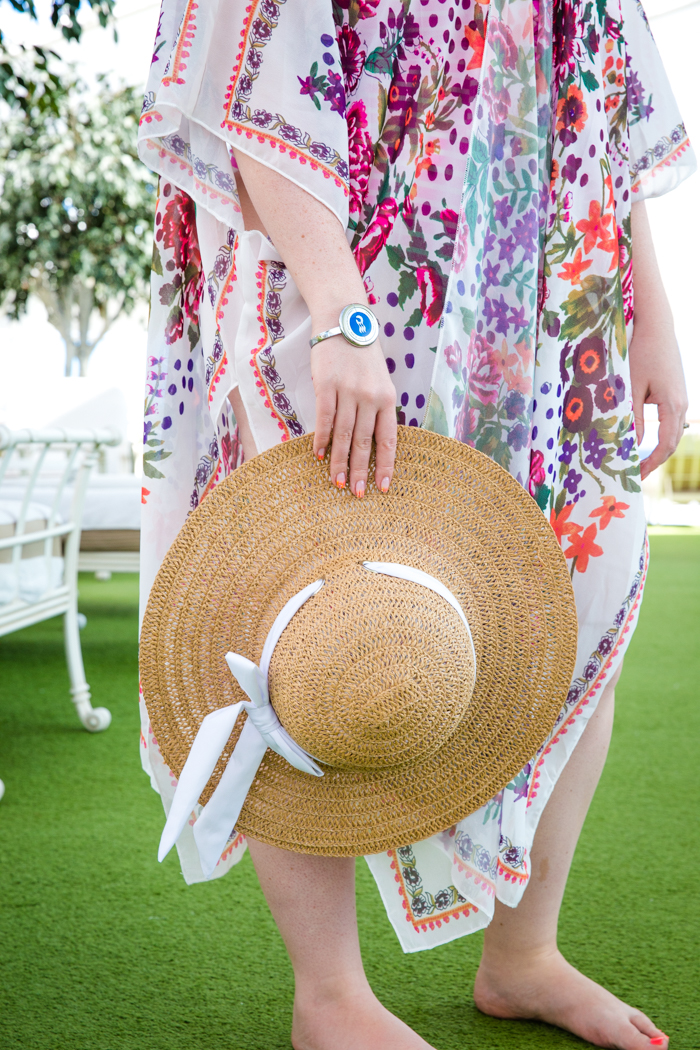 My Top Recommended Items:
Magnets: for in the stateroom to hold schedules, tickets, papers, and small items like hats and bags.
Power strip: to give you more outlets.
Closed toed shoes: For activities and excursions
Sunscreen: Because it is the Caribbean and you don't want to burn.
Aloe: For when you don't re-apply enough.
Swim cover ups and beach hats: Cozy and cute. I love this one I got on Amazon. 
Bright fun clothes: You want to look fun in pictures, right?
Pieces that mix and match: So you can pack less and have options.
Power bank: So your phone is always charged. My favorite one I own is by MyCharge
Sunglasses: It is super sunny, you will want it!