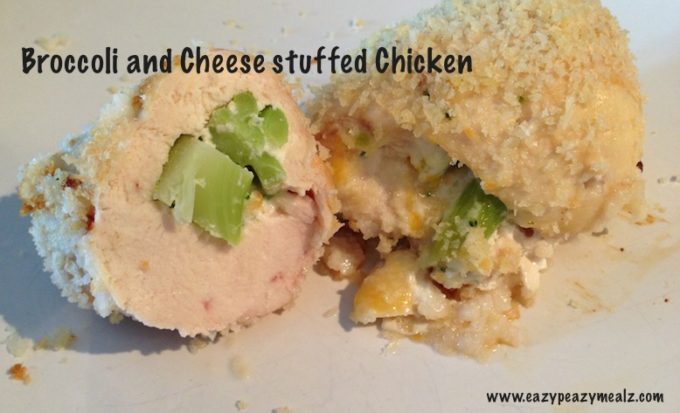 This is probably one of my kiddos favorite meals. And I can't complain either. It is pretty tasty, and very easy to make.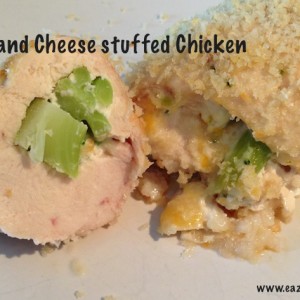 Ingredients
4

chicken breasts

1

cup

shredded sharp cheddar cheese

1

cup

frozen broccoli floret pieces

1/4

c

cream cheese or ricotta

2

eggs

whipped

2

cups

Panko bread crumbs
Instructions
Pound, cut, or flatten chicken breast so it is even.

Lay out flat, and set aside.

Mix frozen broccoli, sharp cheddar, and cream cheese or ricotta

Put a spoonful of mixture on center of flattened chicken breasts

Roll together and secure with lots of toothpicks

Use beaters to whip eggs into a froth.

Dip chicken rolls in eggs

Roll in Panko until fully coated

(Freeze at this point)
Cooking Instructions
Bake at 350 for 35-45 minutes, until chicken is fully cooked

Remove toothpicks and enjoy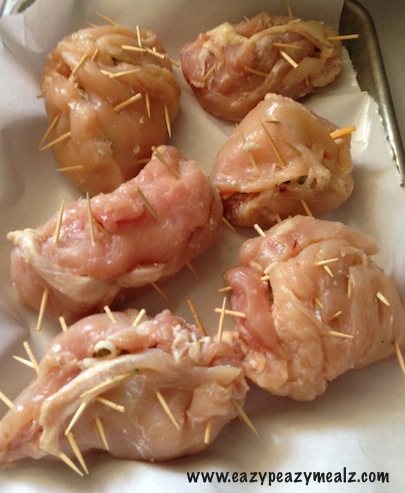 This is what your chicken will look like after you have stuffed it and used toothpicks to hold it together. Don't stress over using lots of toothpicks. It won't be pretty, but after you coat it with Panko, you won't even be able to tell where the toothpicks held it together.

MY LATEST RECIPES
I found it was a bit tricky to dip the chicken into the egg mixture, so after a few I gave up, and just pressed the Panko into the chicken, it stayed on pretty well because I had not patted my chicken dry, so feel free to do it this way if you run into trouble. I also opted to freeze them at the stage shown above, without the Panko, as I figured it would be easier to dip them in egg from frozen, so I will try it and let you guys know once I use a frozen one. Mostly, I skipped the rolling in Panko step because my kids needed me, and I was feeling lazy.
One more note: If you want a nice crisp Panko that browns well, try spraying a bit of cooking spray on it just prior to baking.
Get EZPZ Updates In Your Inbox!