This post is sponsored by Princess Cruises, all opinions are 100% my own.
Caribbean Cruise
7 day Caribbean cruise, how to prepare for it, pack for it, and enjoy every port so you can come back feeling new, and refreshed.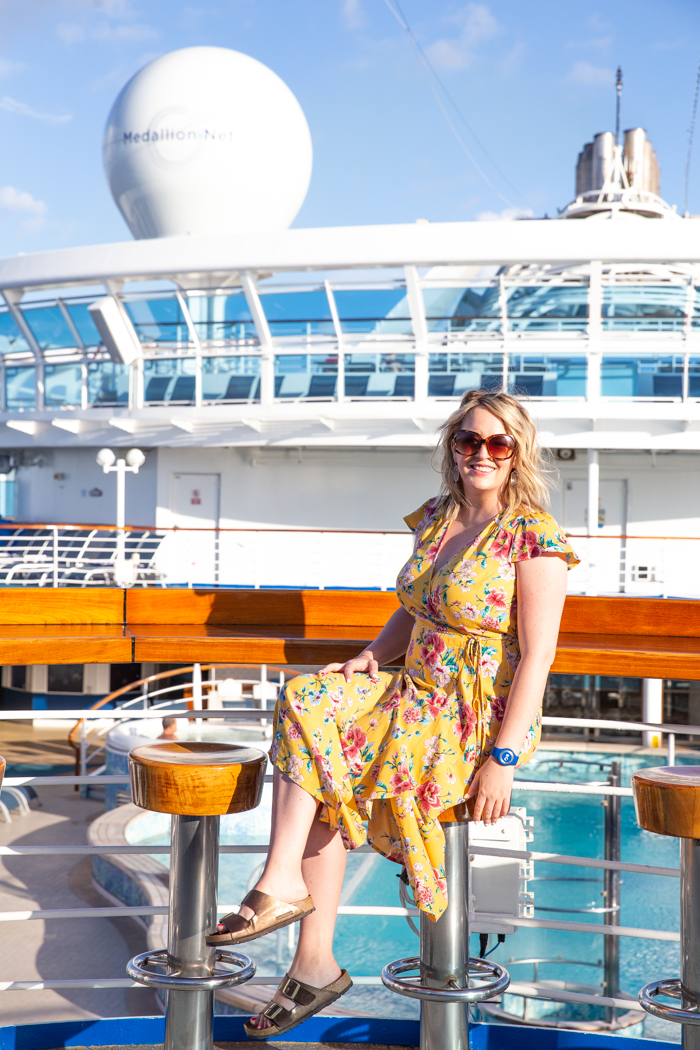 Cruising is one of my favorite ways to get away and relax. The all-inclusive nature, the ability to go multiple places and see many things without having to pack and unpack, or navigate for yourself is dreamy.
And a Princess Cruise on a MedallionClass ship is the ultimate in cruising relaxation.
The OceanMedallion technology means everything you want  is at the touch of your fingertips!
You can read all about what the OceanMedallion cruise experience is here, and how it takes cruising to a whole new level with things like the best internet at sea, easy embarkation, food and drinks delivered to you wherever you are onboard, and a system to find your shipmates at a touch of a button.
But today I wanted to share a little more about this Caribbean cruise, getting ready for it, the itinerary, the ports, etc.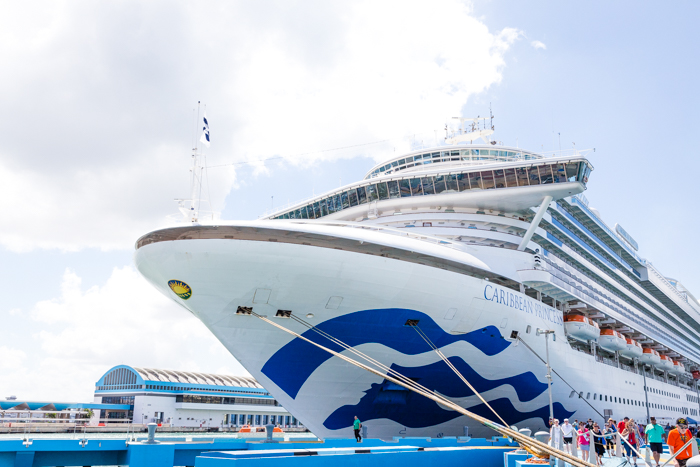 Caribbean Cruise Itinerary
The Caribbean Cruise I took with Princess Cruises was roundtrip out of Port Everglades in Ft. Lauderdale. The stops included Princess Cays, Bahamas; San Juan, Puerto Rico; Amber Cover, Dominican Republic; and Grand Turk, Turks and Caicos.
Day 1: Leave Ft Lauderdale, Port Everglades

Day 2: Princess Cays, Bahamas

Day 3: At Sea

Day 4:San Juan

Day 5: Amber Cove

Day 6: Grand Turk

Day 7: At Sea

Day 8:  Arrive at Ft. Lauderdale, Port Everglades
This itinerary is amazing because you get sand, sun, gorgeous turquoise waters, history, great food, and plenty of fun!
Planning and Packing
Planning a Cruise:
Your cruise planning involves 3 basic things: travel arrangements, excursions at the various ports, and your on-board activities (spa, dining, etc.). Let's take a look  at each of these.
Travel:
When will you arrive in Ft. Lauderdale?
Where will you stay?
When will you leave?
One thing to keep in mind is that sometimes weather can impact flights, and you don't want to miss your cruise by being delayed. While most cruises leave in the afternoon, I find it is best to fly in the day before and spend one night in a hotel before embarkation.
This alleviates the stress of possibly missing the cruise. And allows you to have a leisurely morning before boarding.
There are several great hotels near the port, and you can take a quick uber ride to the port for under $20.
Excursions:
Once you select your Caribbean Cruise, it is time to plan your excursions. You can plan them right from the Princess.com website.
Simply select your port of call, and browse the excursions.
One thing I loved about selecting my excursions online is they are rated. You can see the estimated amount of time the excursion will take, how difficult it is, how many beaches you may visit, what you need to wear etc. You can see photos of the excursion and more. 
Once you narrow your list, you can go into Cruise Personalizer to book! It is that simple. 
Note: When you are onboard the Princess ships, you can actually check out some of the excursions on the television in your stateroom.
There are several shows available, and some of them include the different excursions for the various ports. This helped me decide what to bring with me to the excursion, and how to best prepare for it.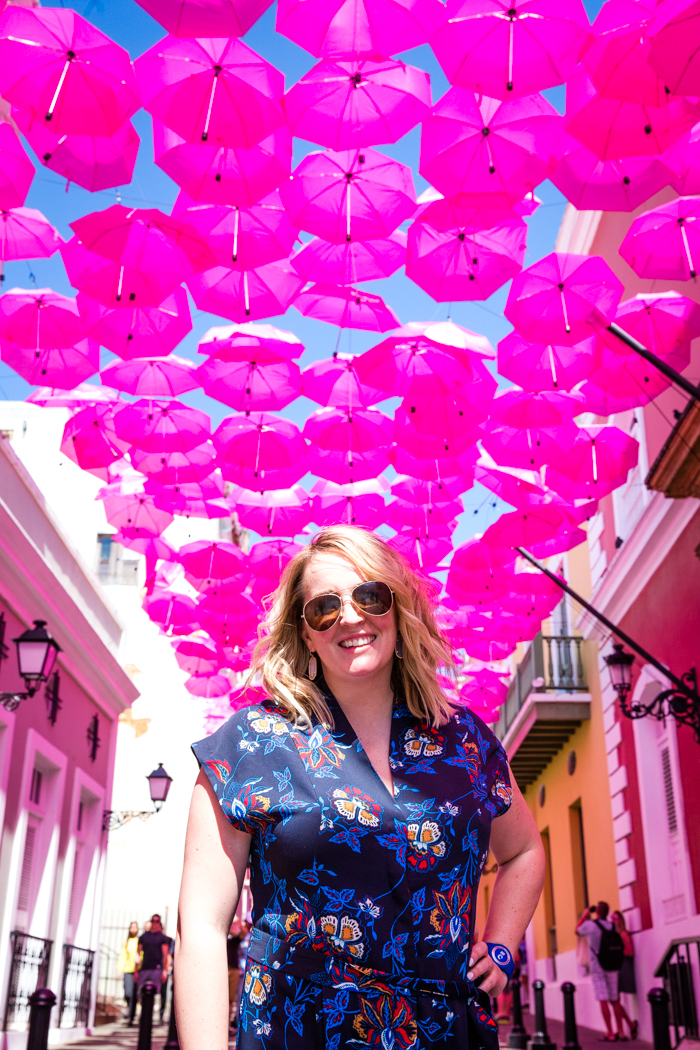 On Board Planning:
The rest of your planning will involve things like how you will spend your time onboard the ship. And most importantly, where to eat onboard the ship.  
I love booking a day at the Sanctuary for resting and relaxation, so I suggest looking at your excursion list, and book your Sanctuary day for a sea day after a more physically demanding excursion. It is an adult  only area of the ship with cushy lounge chairs, a quiet atmosphere, fruited water, and more.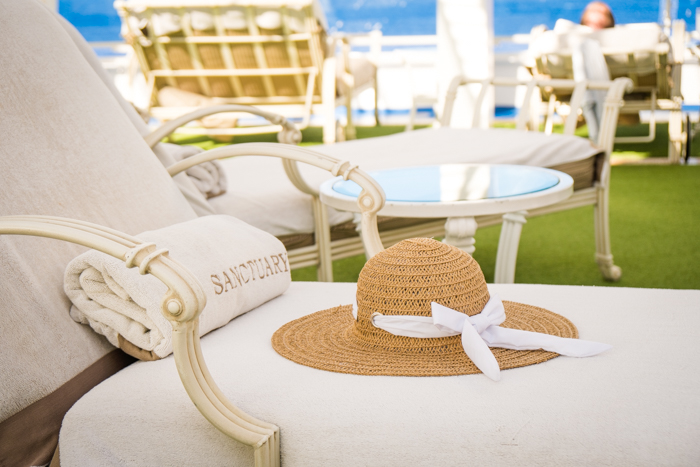 And the spas on the Princess Caribbean Cruises are awesome. Whether you get a seaweed wrap, a massage, or simply pamper yourself with hair and nails, a visit to the spa is a highlight.
But let's talk about the food…
The traditional dining is amazing, the International Cafe is a delight, the 24 hour room service comes in really handy, and the specialty restaurants are incredible.
Sabatini's for example offers amazing Italian fare from Chef Angelo Auriana—executive chef of renowned Los Angeles restaurants The Factory Kitchen and Officine BRERA.
Crown Grill has the best steak I have ever had at sea, as well as amazing seafood options. And do not even get me started on the deliciousness of the sides! So awesome.
The new Planks BBQ and Steamers restaurants offer amazing entrees and the best desserts I had onboard. Try the banana pudding, and go for seconds on the Jalapeno Honey Butter and Cornbread. Steamers offers a variety of amazing seafood like crab legs and oysters. And Planks is BBQ style dining with messy sauces, baked beans, and more. 
Check out the dining options here.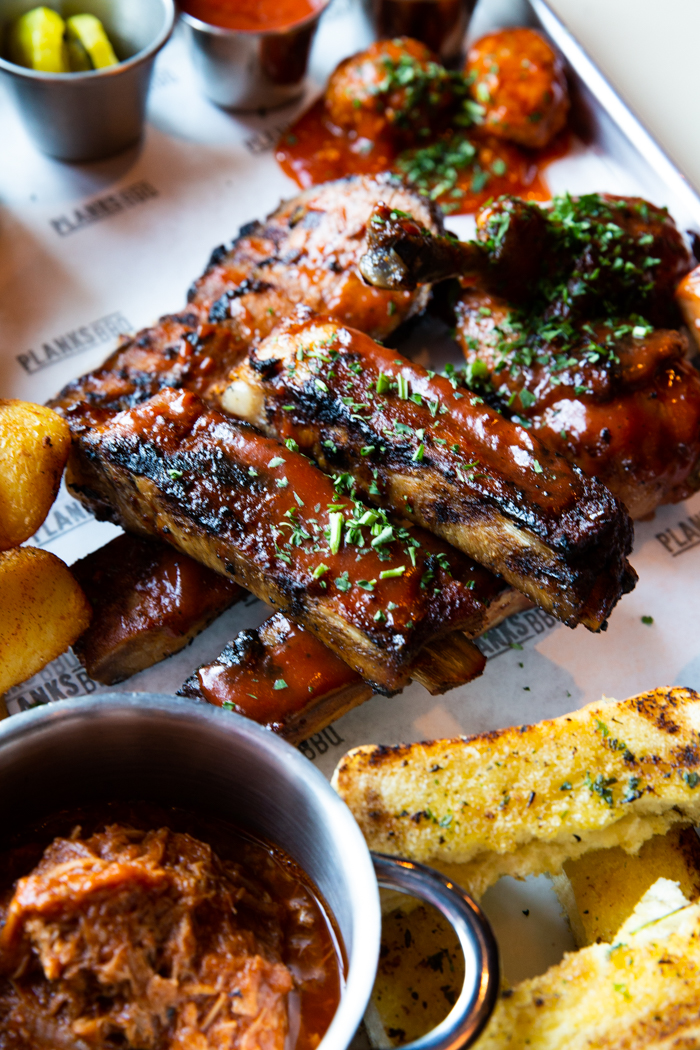 The great part of planning for a cruise is you really don't have to plan much. The cruise director will make sure you stay entertained with lots of options of things to do onboard, and with a new destination nearly each day, you will have plenty to keep you occupied.
Packing for a Cruise:
One thing I learned while cruising is that packing properly can really impact your experience, so I have an entire post dedicated to What to pack for a cruise. A few of the fun items worth mentioning include:
Magnets– Ship walls are magnetic and this is a great way to hang up the itineraries, tickets, schedules, and papers you get while onboard to keep everything straight.
Power strip– Ships are notorious for very few outlets in the staterooms, so bring a power strip to be able to charge all of your devices.
Sunscreen– The Caribbean is sunny, so bringing your own sunscreen onboard is always a good idea.
Powerbank– So you can stay charged and connected on the go.
Sunglasses–  The ocean reflects the sun, and it is bright onboard, so bring some shades. They are also a great way to hide dark circles from staying up all night dancing, or in the piano bar or at Good Spirits!
Dramamine– No one wants to get sea sick! So just in case you are prone to a little motion sickness, bring a patch or a pill to help you out. Of course, check the label and bring non-drowsy so you don't sleep your way through the cruise.

Passport
Your passport is the most important thing to pack because it is not something you can NOT get on board or into port without. A valid passport is necessary for getting on and off the ship.
While the Medallion acts as your ID and in a sense replaces your passport for the duration of the cruise, you still need it initially to sync up with the Medallion, and I am a firm believer it is always smart to carry it with you when you leave the ship just in case.
My sister in law once missed the ship, and got stuck at the port and had to make her way home, and her passport was still onboard. It caused a lot of headache.
Don't make that mistake, bring a valid passport.
Before you Go:
The anticipation and prep for a vacation are often as fun as the actual going. So get ready for your Caribbean cruise by downloading all the right apps, printing your luggage tags, etc.
The MedallionClass ships are equipped with a lot of awesome features, and the best way to take advantage of these is to download the associated apps. You can check out the Princess Cruises website for more details on each of the 6 Medallion apps.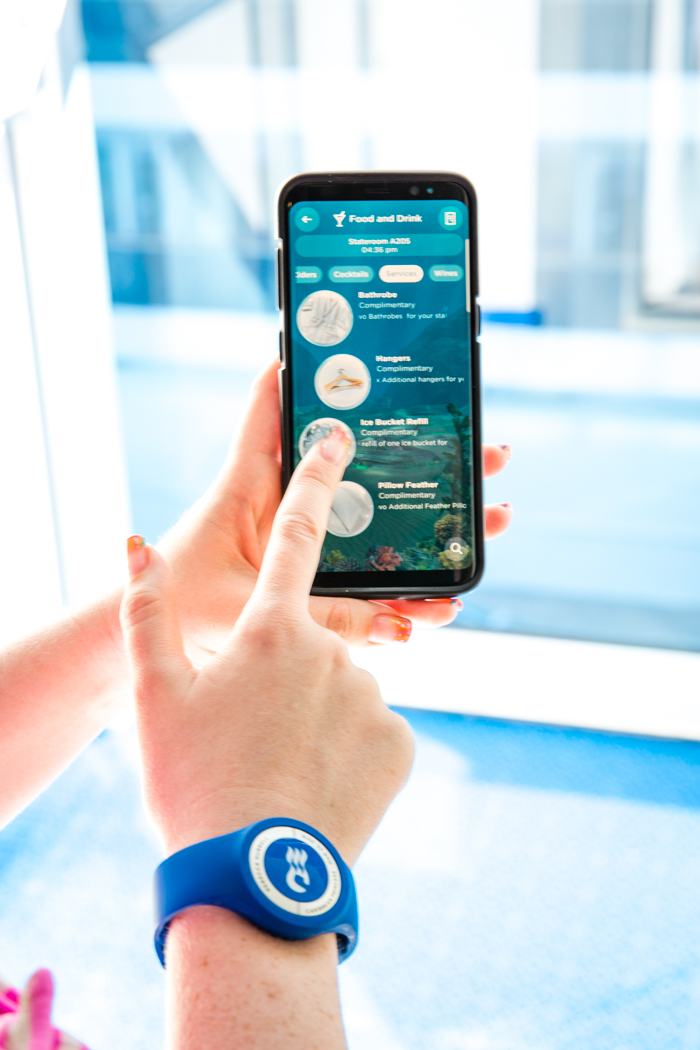 I  recommend  at the very least you download:
OceanReady allows you to upload your docs and get your MAP etc. before you go. It reduces the hassle once  you arrive at the port.
OceanNow which allows you to order food and drinks on demand, and more.
OceanCompass which gives you a map of the ship, and the ability to find your shipmates
Truthfully, all of the apps are great and offer advantages. The only app I didn't download was OceanCasino because I do not gamble!
NOTE: If you do nothing else, fill out the info in the OceanReady app as it will speed up the check-in process significantly and get you onboard and vacationing faster. 
Boarding Passes & Luggage Tags
Embarkation:
When boarding your cruise for the first time here  is what you need to have handy:
Your OceanMedallion (wear the lanyard to make it easy)

Your passport for visual identification

Medallion Access Pass (MAP) screen pulled up on your phone or a screenshot  of it.

Luggage Tags
How to get your MAP:
Click into the OceanReady app.  
Look underneath your photo and you'll see "Open & Save Medallion Access Pass." It doesn't look clickable, but it is, so just click on that link, and take a screenshot so you can show it to board the ship.
You can just pull up the screen within your app at the terminal, but since I never know if the service is going to be good, etc. I prefer to just have it as a screenshot on my phone.
Luggage tags:
Print out a tag for each piece of luggage you have that you want  delivered to your stateroom.
Wait to attach these until the day of embarkation.
When you arrive at the port, give your tagged bags to the porter! Don't forget to tip.
Embarkation
Check-in is typically from 11:00 am – 2 pm.
When  you arrive at the pier you will go through the check-in process which is very simple, especially with the OceanMedallion apps, if you filled them out ahead it will  be very quick.
Then you get onboard the ship! While you wait for your stateroom to be prepared and for the ship to depart, you can hang out on the different decks, eat delicious food, order some drinks, sunbathe, and more!
Don't forget to bring a few things onboard with you, like sunglasses, sunscreen, a book, comfy shoes, etc. If it is all in your luggage you will have to wait to get to it. 
Once You Embark
There are a lot of exciting activities, entertainment, and dining options onboard.
After the initial safety drill, where you go to your assigned muster station to learn about where to go and what to do in an emergency situation, the rest of your time onboard is yours to do with as you please.
Have fun! Eats lots.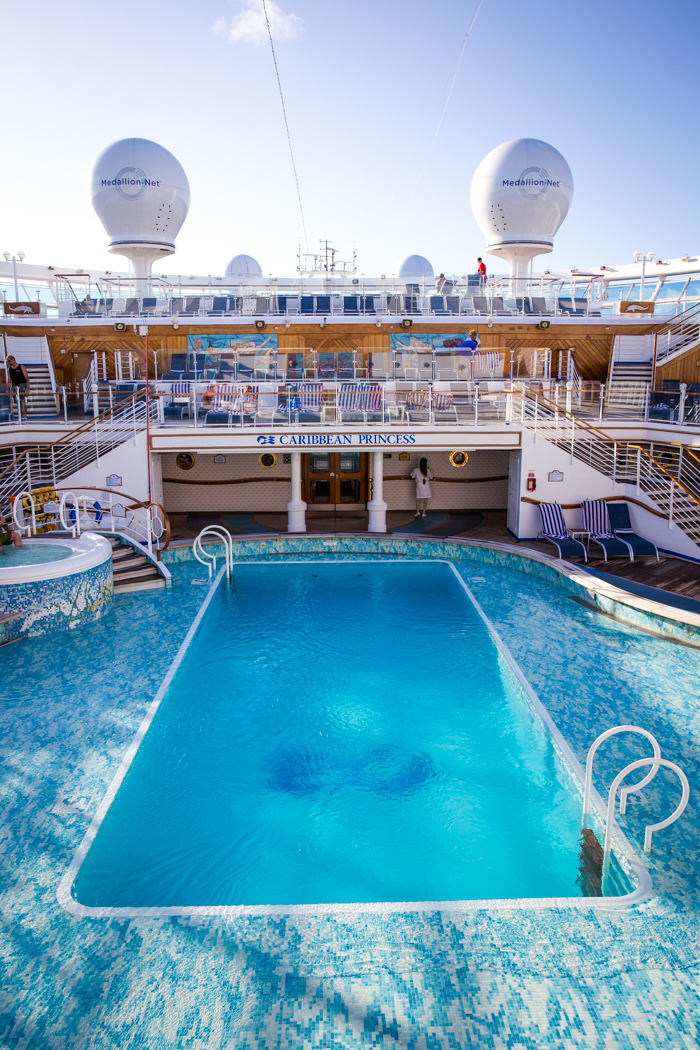 MedallionNet Internet Access
It used to be internet while cruising was a joke. You paid exorbitant fees. By the minute. For crappy wifi.
Things have changed. It is better and cheaper than ever. So go ahead and take an unplugged vacation, but if  you want to utilize the apps, and enjoy wifi at sea, MedallionNet is how you do that.
WiFi is available aboard Caribbean Princess and throughout the public spaces. Again I want to reiterate that it is in FACT awesome internet and very affordable.
I was so surprised how great it really was. I was able to FaceTime with my kids, stream movies, upload photos and videos into Google Drive to share with my family, access social media and more. There were a few times it slowed down a little, or I had trouble uploading a video, but overall I was so happy with it. 
Once onboard, here are the steps to purchase:
Turn on airplane mode

Open a web browser

Go to

login.com

Input the required information and select your preference, such as multiple devices, and WiFi access for the entire cruise

Purchase package
Ports
There is so much that could be said about each port. So much so,  I will eventually get an entire post up about each. In the meantime. I have included a few highlights and the info you should know when visiting:
Princess Cays, Bahamas
This is the private port, where you can take advantage of the white sands and turquoise waters. While there are some historic tours you can take, I suggest making this your beach day.
You can also snorkel, swim with stingrays, ride big water bikes, and more. So find a chair, get cozy, and have fun! If you want a reprieve from the sun for a bit, consider renting a bungalow. Order drinks and enjoy.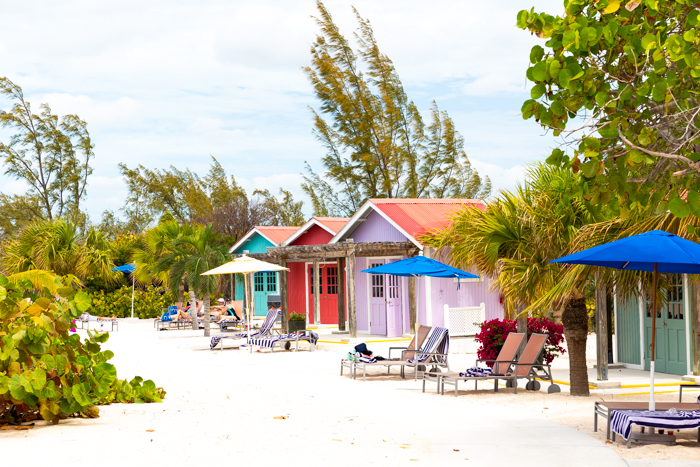 San Juan, Puerto Rico
This is the port where you want to do a historic tour. The charming colorful buildings, 3 forts, the street with all the umbrellas. There is a lot to see and do.
Don't forget to try the Mofon'go, a cultural classic dish. And a mojito is a good idea too. This Pineapple Mojito was inspired by this stop.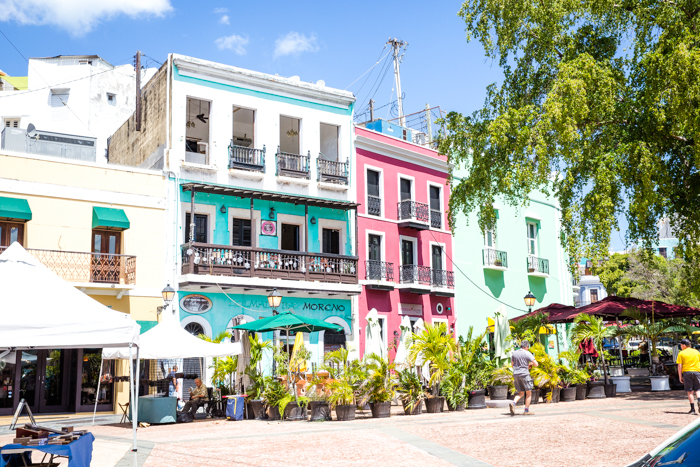 Amber Cove, Dominican Republic
This was my favorite stop on the trip. The port itself is beautiful and new, and has lots of shopping and dining options. But the excursion I took was the best!
VIP Waterfalls of Damajagua with Lunch: This is an excursion you need to be physically fit for (it was borderline too hard for my out of shape bum). Anyway, you hike up to some waterfalls, then make your way back down by jumping into the water, as well as sliding down natural slides.
It was absolutely amazing. And the perfect way to spend a day of adventure.
Grand Turk, Turks and  Caicos
Turks and Caicos has the most beautiful water, so if you love sea life, this is the place to go to enjoy some snorkeling, sting ray encounters in the wild, time at the beach, and delicious food at the Jack Shack, like these Jerk Wings.
The sting ray encounter was particularly awesome, since the sting rays are wild, and not in any kind of enclosure. You can touch them, kiss them, and watch them swim around your feet.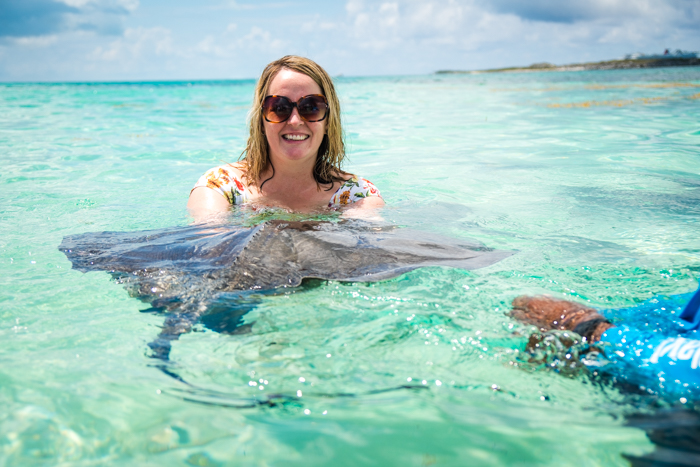 Save this  post for later by pinning it to your cruising board on Pinterest: