This post first appeared on Real Housemoms where I am a contributor.
Chicken Lettuce Wraps, these P.F. Chang's Copycat lettuce wraps have a simple sauce, full flavor, tender juicy chicken, and plenty of crunch.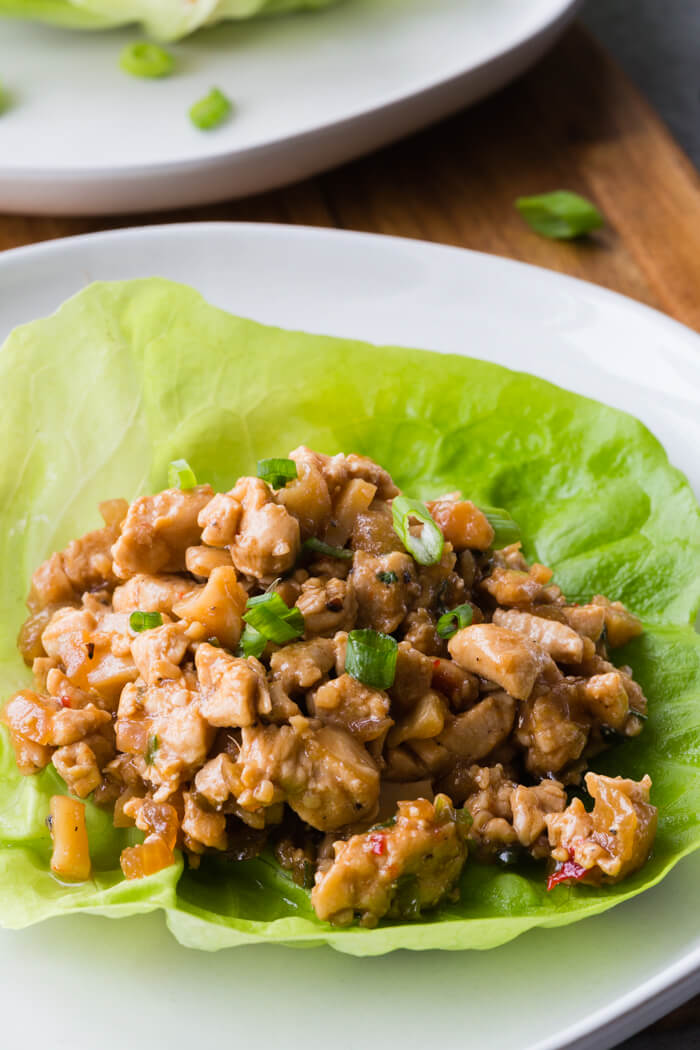 These Chicken Lettuce Wraps are a copycat recipe for one of the most popular menu items at P.F. Chang's. They are packed with so much flavor, delicious chicken, crunchy water chestnuts, and can be made in the comfort of your own home. 
P.F. Chang's Copy Cat Lettuce Wraps
Like this recipe? Pin it to your Appetizer pinboard!
Follow Eazy Peazy Mealz on Pinterest
MY LATEST VIDEOS
I will never forget the first time I ate P.F. Chang's Lettuce Wraps. They were sooooo amazing, and that sauce you get to mix up yourself and adjust the heat on to put on them was mind blowing. And frankly I liked them way more than I liked whatever it was I ordered to eat that night.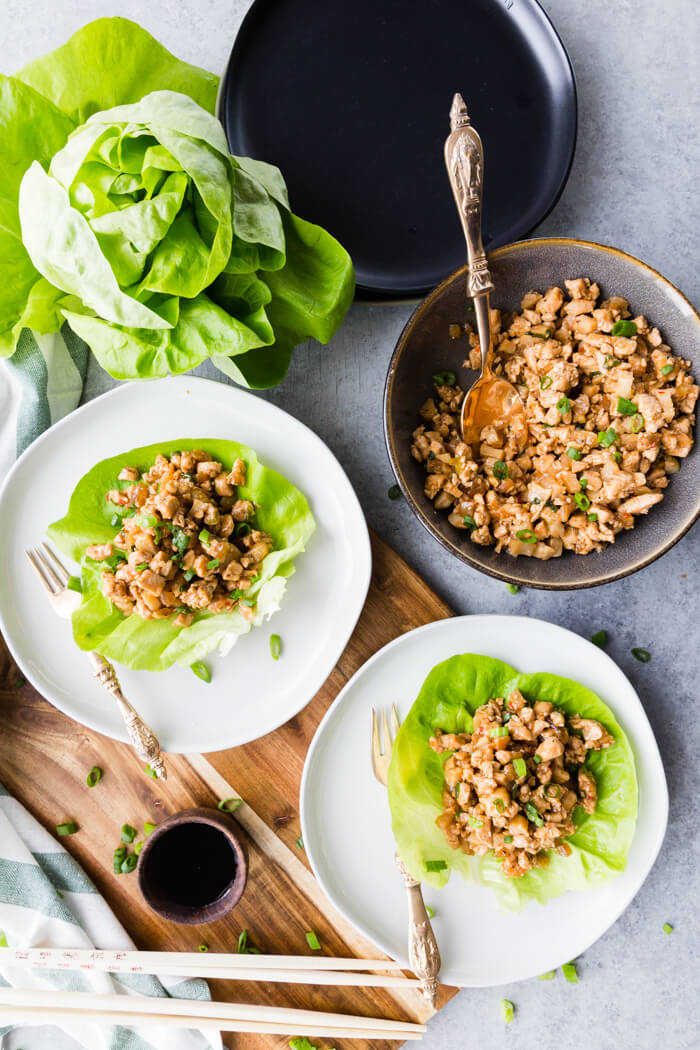 I love lettuce wraps. And I crave them constantly. But I live like 30 minutes away from the closest P.F. Chang's, and well it would be unseemly if I ordered them daily. Right? So I decided to figure out how to make my own that taste as good (maybe better, but I don't want to brag).
And once I realized how totally easy it is to make them I kicked myself for not trying to make my own earlier, I probably could have paid off my house or bought a Maserati or something with all the take-out I could have saved on. Slight exaggeration, but you get the point.
They are delicious. Here are all the reasons you should be making these Chicken Lettuce Wraps:
Easy- I mean the goal of this site is to only give you Eazy Peazy recipes, but these really are. The biggest pain is just chopping up the chicken.
Delicious- They taste awesome, if they did not I would not share them, so I mean I guess you could have assumed that. But you guys, they are copycat. And they are delish!
Better than the restaurant- Ok, I did not want to say it, but I am saying it. These lettuce wraps may even be better than what you get at the restaurant.
Perfect appetizer or Meal: Maybe my favorite thing! You can eat them as an appetizer, OR just skip the meal and make them the whole meal. You will want to eat so many of them it will feel like a meal anyway.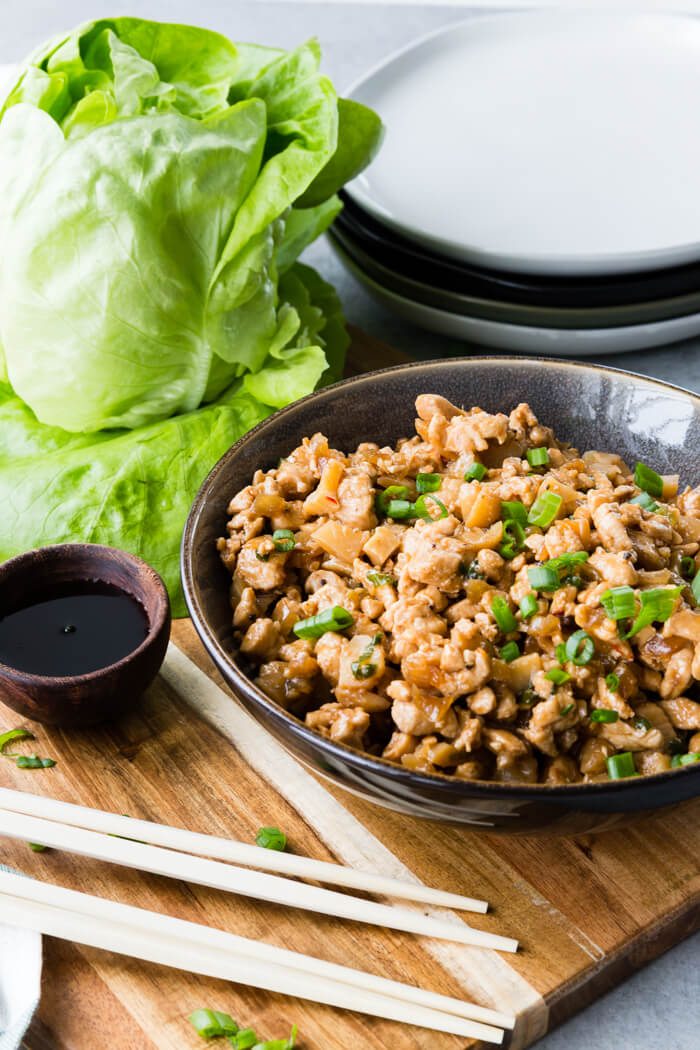 Other recipes you will love:
Chicken Lettuce Wraps (PF Chang's Copycats)
Ingredients
1 tablespoon olive oil
1 pound ground chicken or chicken breast cut into small chunks
Salt and pepper to taste
1 Tbs minced garlic
1/2 cup yellow onion diced
1/4 cup hoisin sauce
2 TBS oyster sauce
2 TBS soy sauce
1 TBS rice wine vinegar
1 tsp ginger paste
1 Tsp red chili paste
1 8-ounce can whole water chestnuts, drained and diced
2 green onions thinly sliced
1 head butter lettuce
Instructions
Heat olive oil in a large skillet over medium-high heat.
Add ground chicken and season with salt and pepper, or chunked up chicken breasts
Brown and crumble chicken, about 3-5 minutes, drain fat. Or cook chicken breast chunks, drain fat.
After draining, return to heat and stir in garlic, onion, hoisin sauce, oyster sauce, soy sauce, rice wine vinegar, ginger, and chili paste and cook until onions have become translucent, about 2-3 minutes.
Stir in chestnuts and green onions cooking until tender, about 1-2 minutes;
Taste and season with salt and pepper, to preference.
spoon several tablespoons of the chicken mixture into the center of a lettuce leaf and enjoy
7.8.1.2
1115
https://www.eazypeazymealz.com/chicken-lettuce-wraps-pf-changs-copycats/
Pin to your Appetizer board:

Get EZPZ Updates In Your Inbox!