Buttery, sweet, and crunchy, these delicious corn pop treats are a family tradition at Christmas, and addicting-ly delicious. They start with corn puffs, and are topped with a sweet sauce, making them as fun as caramel popcorn, but without the annoying kernels.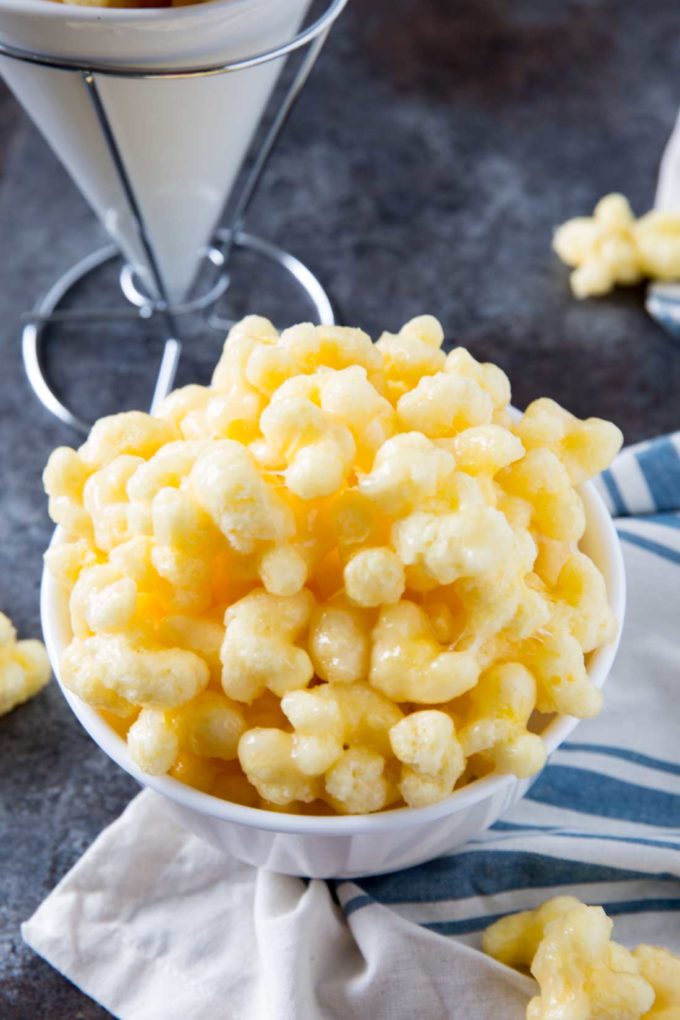 I'm not going to lie here, I have really struggled writing this post, as I had no idea how to describe the tastiness that is these corn pops. They are kind of cross between a caramel popcorn, and a cheetoh, minus the cheese flavoring. See what I mean, hard to explain! But when it comes to delicious snack food that you won't be able to stop eating, this is the bomb. Bomb diggity. Bomb.com.
Have I dated myself enough with my early 2000's pop culture slang yet? Well if you are hanging with me, keep reading, because you are in for a really tasty, fun, and easy to make treat.

I mean look at that deliciousness! I know you want some!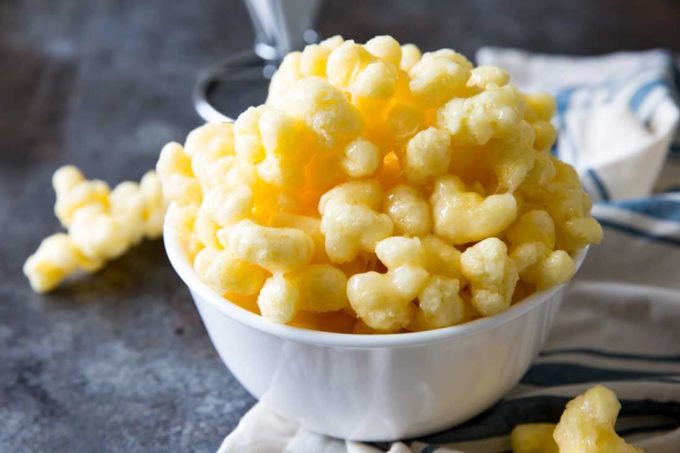 Do you guys know what corn puffs are? I grew up eating them, and am not sure if they are available everywhere. They are Clover Club brand, or Barrel O Fun, you can find them on AMAZON HERE. They come in a big bag like a popcorn bag. They may be by the cereal aisle, but are not cereal, they are more like popcorn. Actually, they are basically the consistency of a cheese puff, but without the cheese flavoring.
Anyway, they are buttery, and salty, and the ultimate junk snack food. And when you top them with a sweet caramel like syrup and eat them like caramel popcorn, you sink into that happy blissful warmth that feels like a hug from your grandma. You know of which I speak, the kind of bliss you only get by eating something devoid of nutrition but chock full of delicious flavor.
Did I mention these are ridiculously easy to make too? I buy the puff things, then make a fun caramel-ly syrup coating. It is not a caramel flavor, because it uses white granulated sugar, not brown, but it has the same consistency, and is just special. It takes 10 minutes, tops, to make. And then you snack away.
As a kid we would always make these during the holidays, and I loved picking the gooey, caramel like syrup off the bottom when all the corn puffs were long gone. We would package them up and send them to neighbors, and never fail they would ask my mom for the recipe.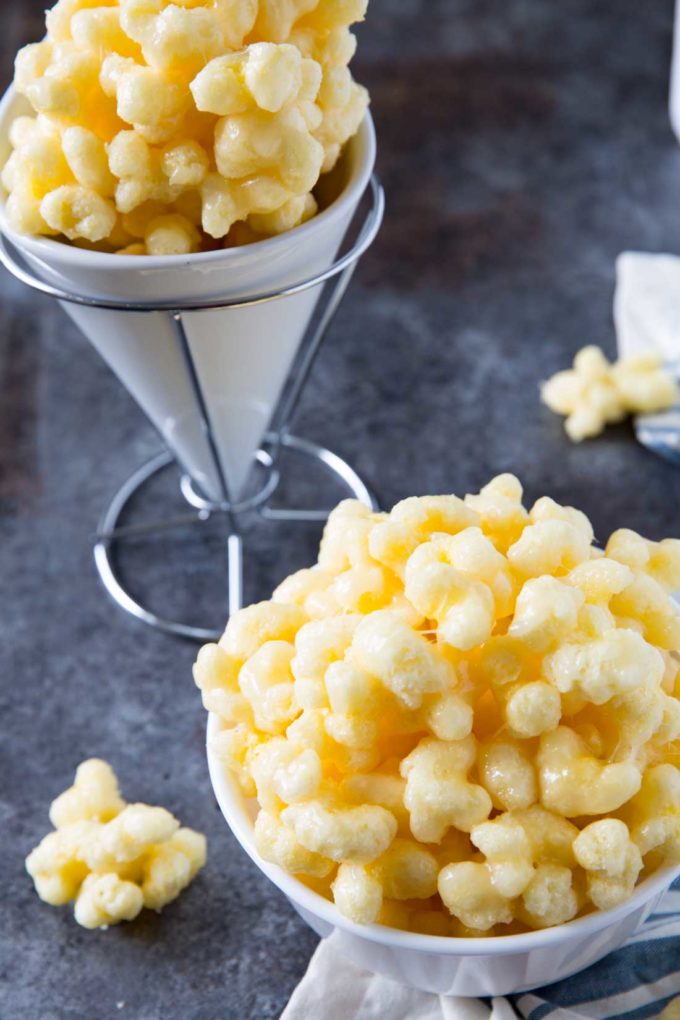 There is actually a recipe right on the bag for a topping for the puffs, but it is more caramel like, and more complicated. And not nearly as good as this version. So let's get to that recipe so 10 minutes from now you can be in sugary, buttery, salty, crunchy, empty-calorie blissdom!
Yields 4
Corn Pops
10 minPrep Time
10 minTotal Time
Ingredients
1/2 cup butter
1 cup sugar
3/4 cup light Karo Syrup
15 ounces Corn Puffs (Not the cereal, see image)
Instructions
In a medium sized saucepan, combine butter, sugar, and Karo syrup and heat over medium-high heat.
Bring to a boil, and let boil for 5 minutes, or until you reach 225 degrees, if you want to cook with a candy thermometer, though this is not necessary.
Do not cook too long or it will get harder.
Pour Corn Puffs into a big bowl, pour syrup over the top, stir, let cool and enjoy!
7.6.4
890
https://www.eazypeazymealz.com/corn-pops/
Pin to your Holiday Treat board: