This post is sponsored by Martinelli's, all opinions are my own.
Sparkling cranberry apple raspberry punch is the perfect way to celebrate Christmas or the New Year. This brunch punch is tart, crisp, sweet, and satisfying, and everything you want in a tasty drink!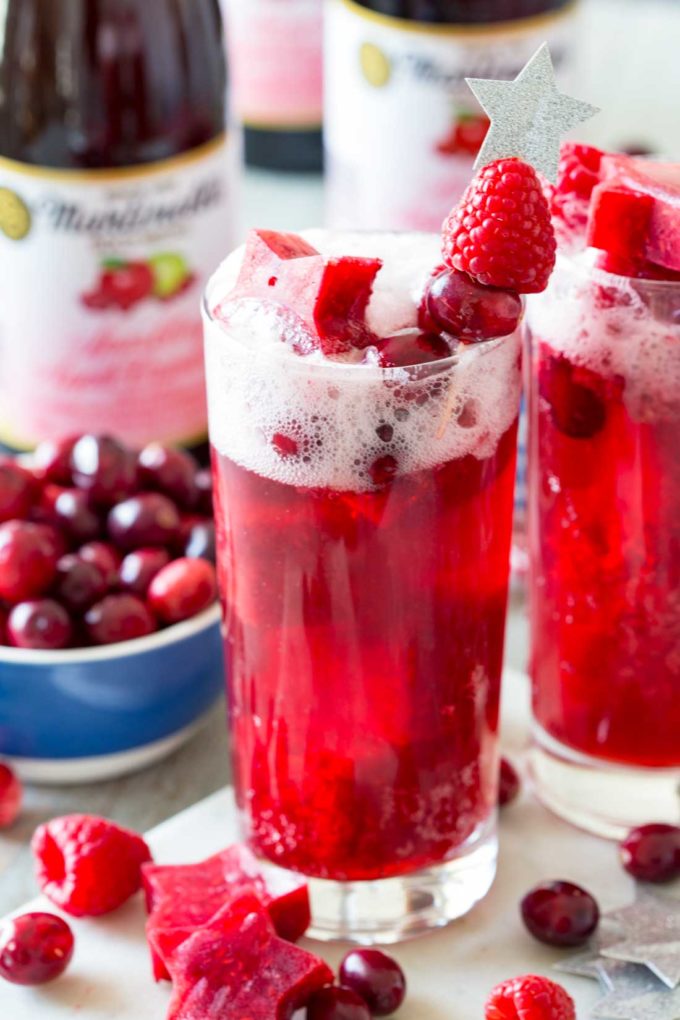 A few years back my family celebrated Christmas together by having a brunch on Christmas Eve morning. We had sweet and savory crepes, French toast, breakfast meats, and all kinds of other foods, and a delicious punch. It was so much fun, I knew I wanted to always celebrate the holidays with a brunch, and a brunch punch.
Today, I am sharing my latest obsession: Cran-Apple Raspberry Brunch Punch. Oh my gosh, it is so good. And it is ridiculously easy to make too since it is basically Martinelli's, and some super fun ice cubes and garnish.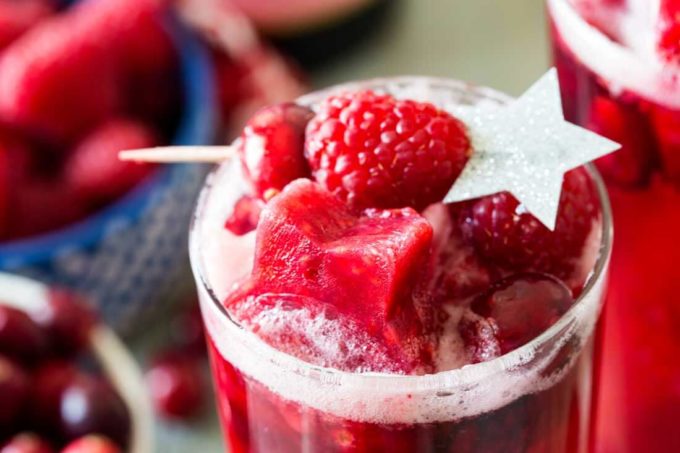 I am a huge fan of Martinelli's sparkling cider products, and use them frequently to celebrate birthdays, holidays, and other events. Our Thanksgiving celebration always has Martinelli's, our Christmas always has it, and of course New Year's too! It is our "bubbly" and my kids always feel so fancy getting to drink it out of stem wear, and with fun garnishes.
Because my extended family has some pretty crazy schedules, once again, we will be getting together to celebrate the holidays with a brunch. Only this time it is the day after Christmas. I wanted to come up with the perfect beverage for our party. While I will always love the Original Martinelli's sparkling cider, I have been enjoying the festive flavor combinations they offer, particularly the Apple-Cranberry! And one of my favorite things to add to both apple and cranberry is raspberry, so I knew I had a winning combination.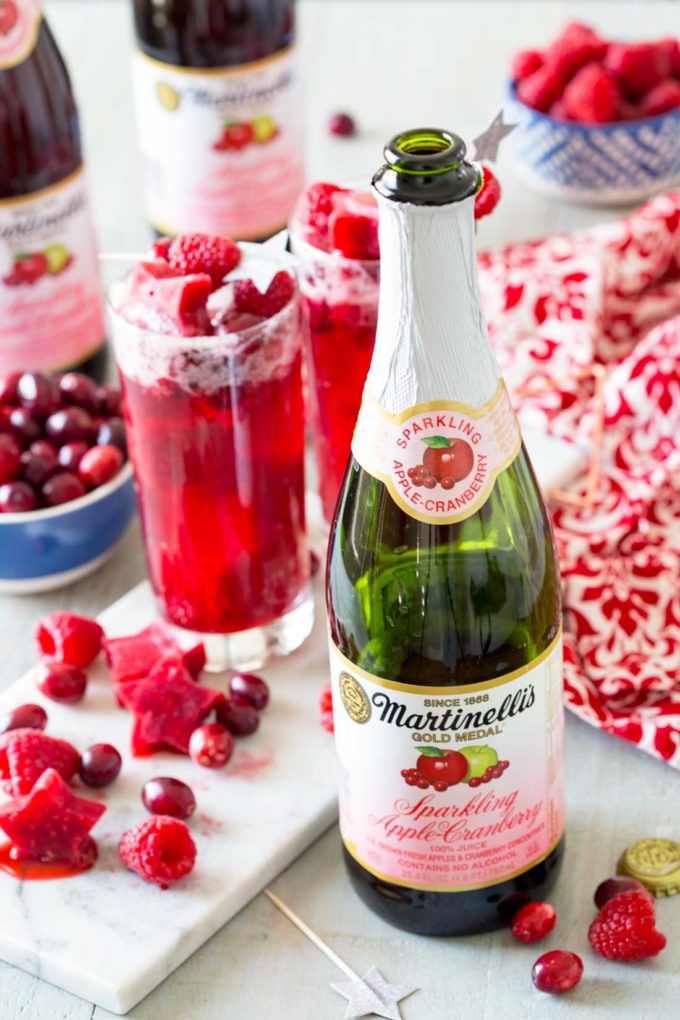 Martinelli's is so good on its own I really didn't want to change the flavor of the drink much, so instead I decided to have some fun with the ice cubes, and garnish. They add not only visual appeal but subtle flavors. I don't like when my drinks get watered down, so flavored ice cubes are always a great idea, and when they are gorgeous and make the drink look awesome, well that is a win!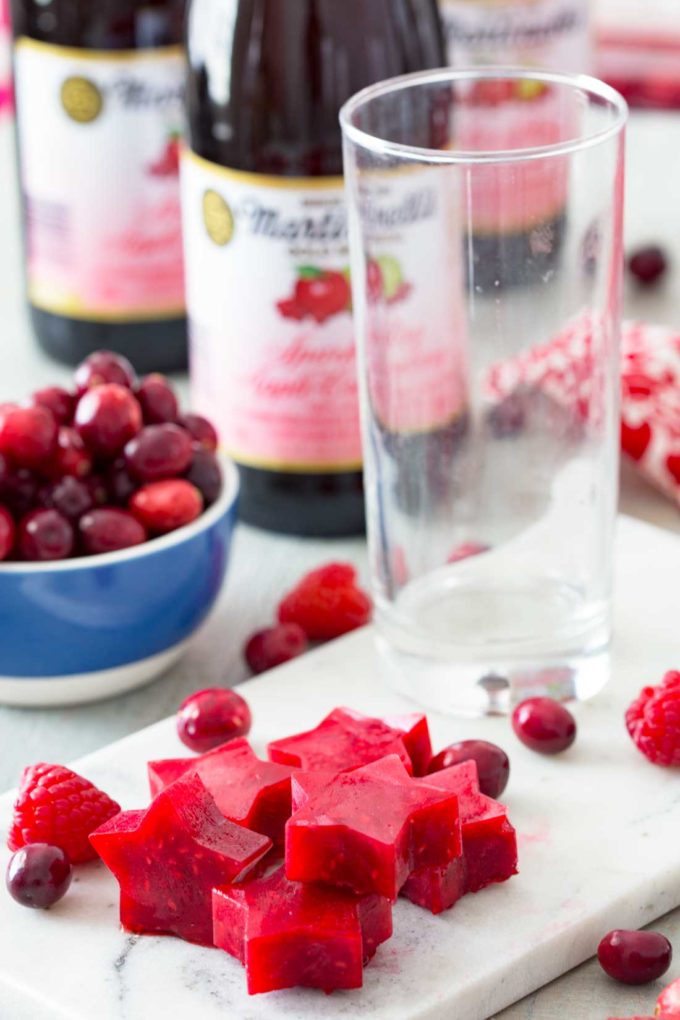 To make my ice cubes I took some raspberries and cranberries and macerated them in my food processor, then mixed them with some gingerale, and froze them in ice cube molds. I have some fun silicone ice molds that come in cute shapes, and I thought the stars would be perfect for both Christmas and New Year's. But I also made some square cubes!
Once they were frozen, all I had to do was pour the Martinelli's Apple-Cranberry sparkling cider over the cubes, and garnish with fresh raspberries, cranberries, and cute picks!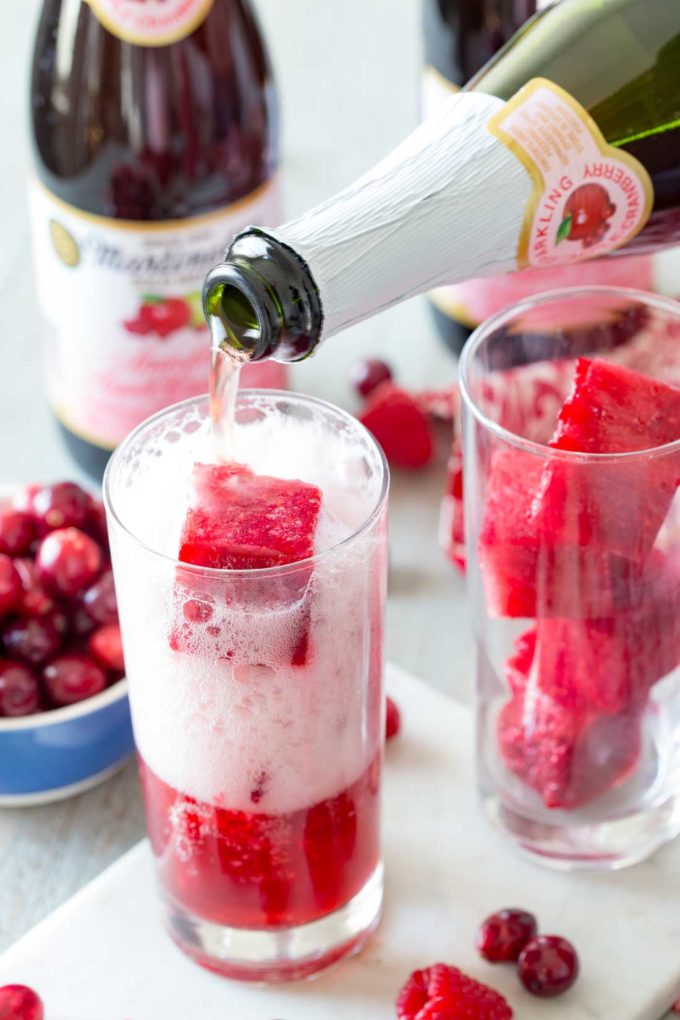 Didn't it turn out so pretty? Luckily it is not just pretty, it tastes pretty amazing as well! My kids loved it when I made them be my guinea pigs, and my husband made a point of telling me how much he liked it. High praise indeed.
So whether you are celebrating the New Year with a brunch, want a fun non-alcoholic drink for your midnight celebrations, think some festive flavors might brighten your Christmas, or just want something delicious, this is the recipe for you!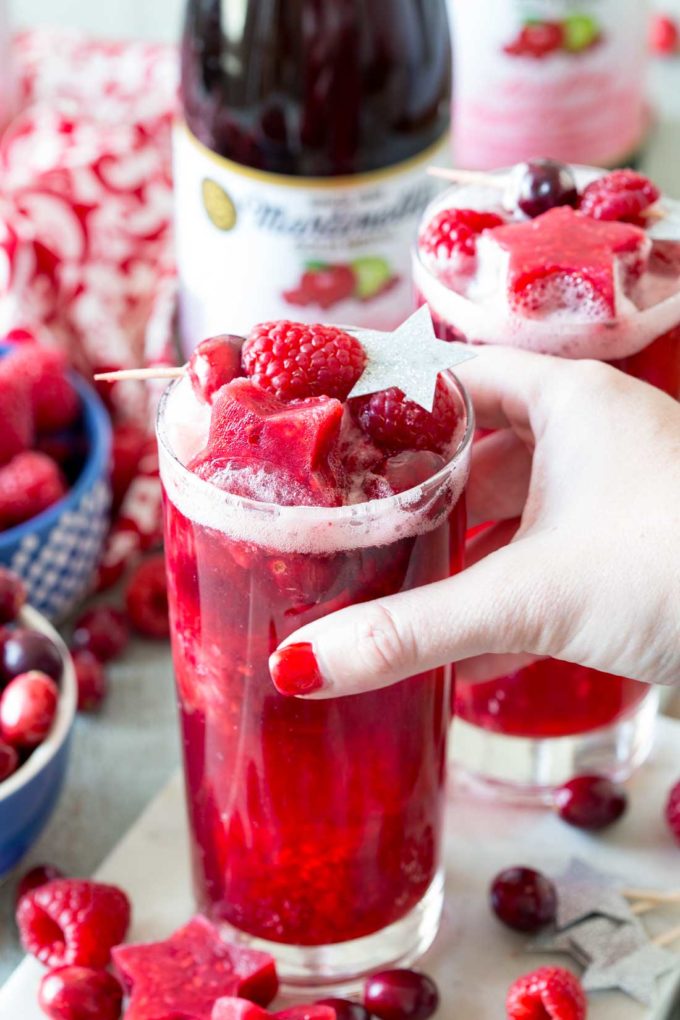 Cranberry Apple Raspberry Brunch Punch
Ingredients
½ pint fresh raspberries
½ cup fresh cranberries
1 cup gingerale

The Rest

2 bottles Martinelli's Sparkling Apple Cranberry
Fresh berries for garnish
Instructions
In a food processor, or by hand, mash raspberries and cranberries together
Pour gingerale over the top, and stir well.
Pour into Ice Cube Mold , and freeze
Once frozen, place cubes in glass
Pour Martinelli's Sparkling Apple Cranberry over the top
Garnish with fresh berries and serve!
7.6.4
898
https://www.eazypeazymealz.com/cranberry-apple-raspberry-brunch-punch/
Pin to your DRINKS board: