This crudite platter with roasted vegetables is sponsored by Sabra, but my love of all things bean dip and vegetables is all my own.
The perfect Crudite Platter with roasted and raw vegetables an other assortment of other dippers, and the best Mediterranean Bean Dips from Sabra!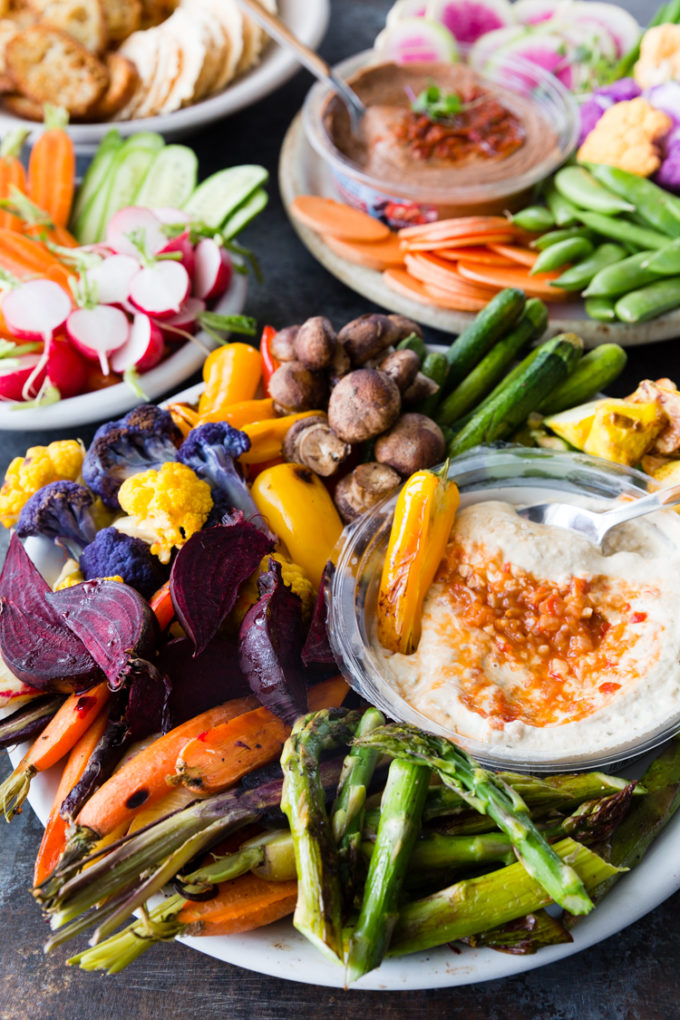 This healthy and delicious crudite platter is my current obsession. It is loaded with flavor from the roasted and raw veggies to the Sabra bean dips. It is gorgeous. And it is easy to put together. It is like the trifecta of perfection when it comes to a great crudite. This is great for entertaining, or just for simply healthy snacking at home. 
Crudite Platter with Roasted Veggies
Like this recipe? Pin it to your Entertaining or Appetizers pinboard!
Follow Eazy Peazy Mealz on Pinterest

MY LATEST RECIPES
I have a slight hummus obsession, and will forever be grateful to Sabra for making individually portioned hummus cups so I can have something ready to go for healthy snacking at the drop of a hat. But…my current obsession is the Sabra Mediterranean Bean Dips. They are new. And oh. em. gee. delicious.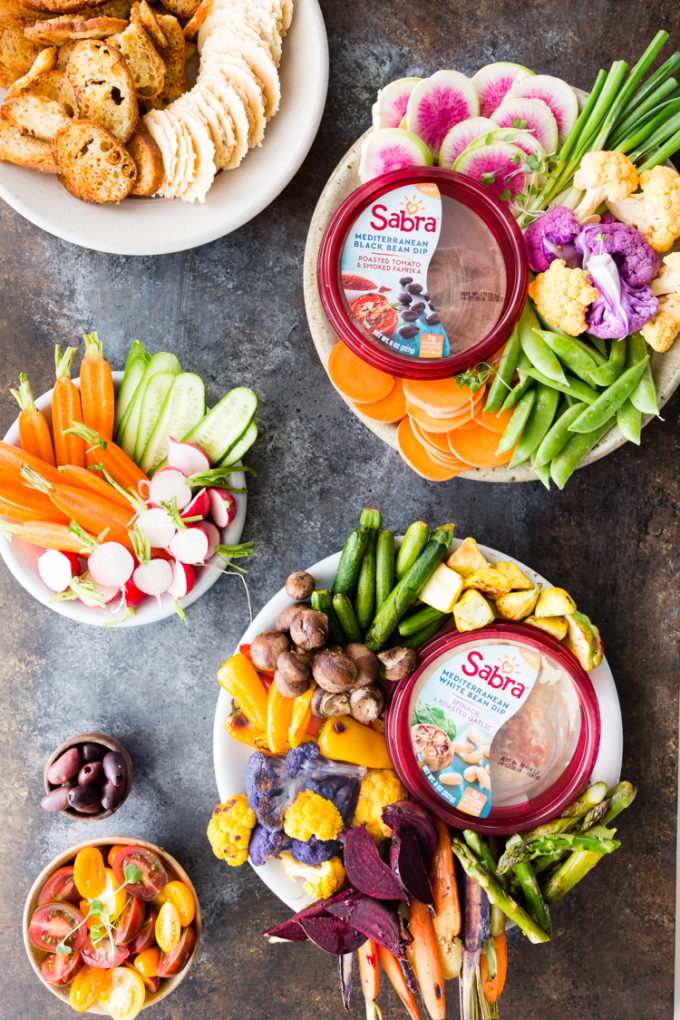 These Mediterranean Bean Dips come in three flavors:
White Bean with Spinach and Roasted Garlic
Black Bean with Roasted Tomatoes and Paprika
Red Bean with Sun Dried Tomatoes and Basil
These dips are just as tasty as hummus, but are unique because they are made with white/red/black beans instead of chick peas. If you are looking to live a more plant-based lifestyle, or just want a delicious dip with bold Mediterranean flavor, these are for you.   They are nutrient rich beans blended with real vegetables, and Mediterranean herbs and spices. They have 2 grams of protein per serving, and taste awesome with these roasted and raw vegetables. Even my kids gobbled them up.
Find them in the deli section of your grocery store!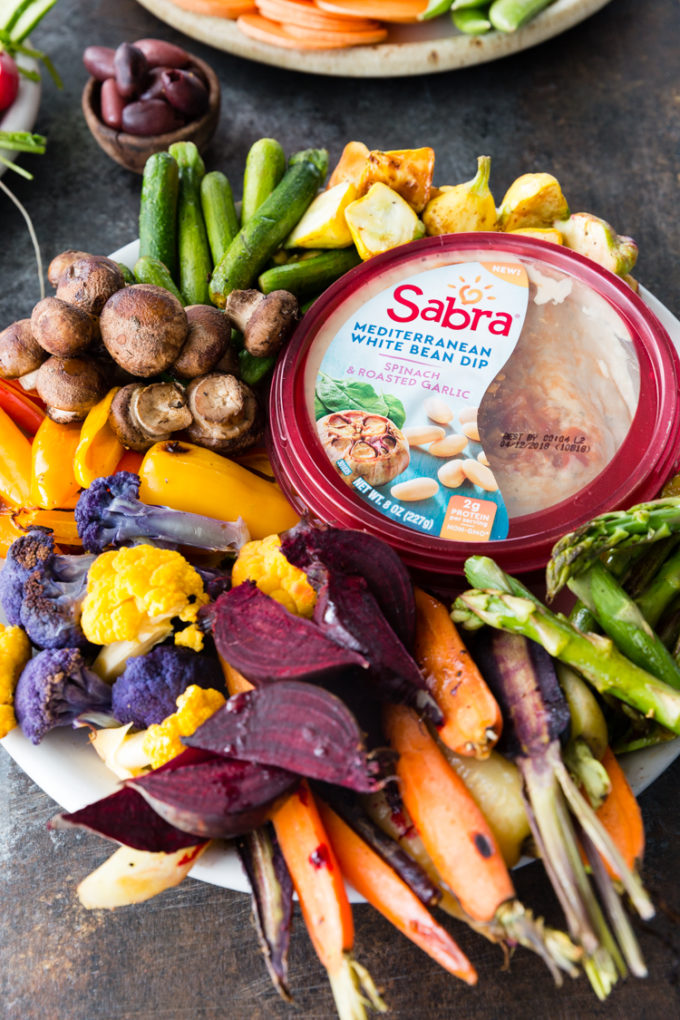 With all the travel I have been doing recently, I have not been eating all that healthy. I love to snack, and often when I am home I am running from this to that, and so I need foods I can just grab and eat quickly. So I decided to make myself a big crudite platter of raw and roasted vegetables, and other snacks and dippers, and serve it with these bean dips.
It was an awesome lunch. It was satisfying, and so delicious. Plus so pretty. I loved it and my little one ate SO MANY VEGGIES I decided I needed to make it again. So we had some friends over, and I made it a second time, and served it at game night with friends. And it was a huge hit.
Needless to say, this is now going to be part of my go-to entertaining and healthy snacking repertoire!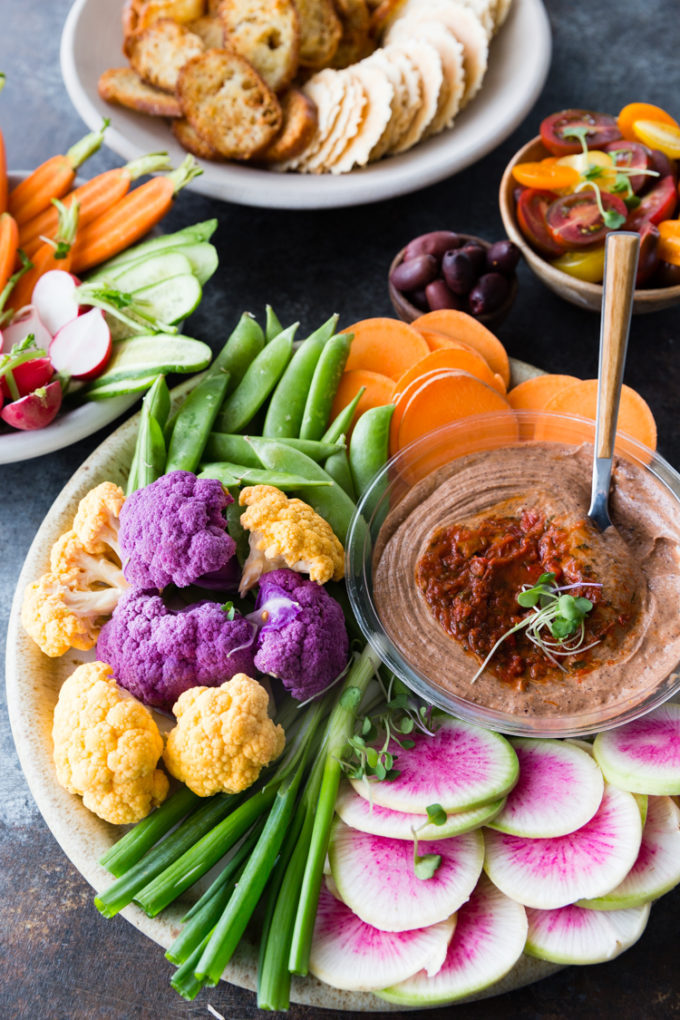 To make this Vegetable Crudite Platter I wanted a combination of roasted and raw veggies, and bright colors and flavors. I simply browsed the produce section of my local grocery store, getting anything in season that looked good to me. Then I prepared it in a way that made it look appetizing to my kids.
Tips for Assembling a Crudites Platter
Use vegetables that are in season, and look for vibrant, rich colors! Check out that Watermelon Radish above.
Serve baguette or pita chips on the side, or other crisps and dippers.
Include variety.
Include a dip, or multiple. Give options.
Blanch or roast some vegetables, and serve others raw.
Cut the vegetables within 2 hours of serving to keep them fresh and colors vibrant
Use fun veggies like heirloom carrots and tomatoes, and colorful cauliflower to add interest to your board.
Raw Vegetables
My favorite tool for making a crudite platter is my mandoline slicer- It is a dream, and so necessary for getting those even and perfectly beautiful disks of veggies. I used it with the watermelon radishes as well as the sweet potatoes, and they were a huge hit. I even sliced my baby cucumbers with it to get nice even slices. The possibilities are endless.
Then I arranged the vegetables so that the bright colors were on display, and they were shown in their best light. It is like a fun little work of art, and so satisfying to eat too!
Roasted Vegetables
The roasted vegetables were my favorite. Roasting vegetables always brings out so much flavor, and it is really simple to do as well.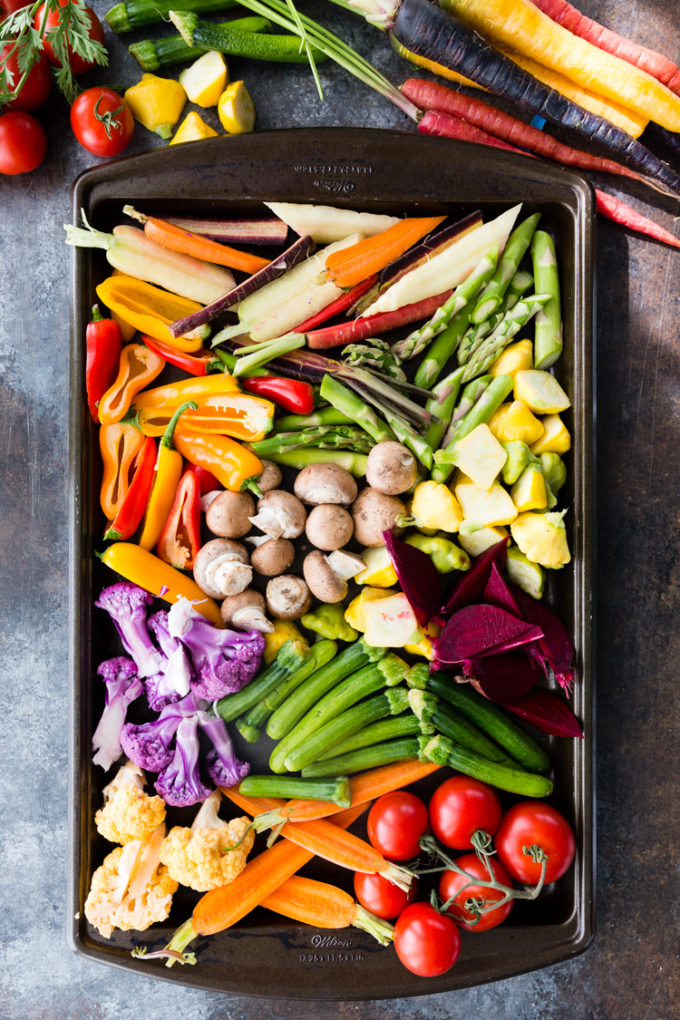 I started by slicing and arranging my vegetables in a single layer on my baking sheet. They were a tad crowded because I wanted so many different things, but if you aren't cooking for as many people as I was, you can definitely use fewer, or less variety. Just use what you have and what you love.
Then you drizzle on a little olive oil, and some salt and pepper, and put in a pre-heated oven and roast until the doneness you desire is achieved. For me, I like them to be cooked through but with a little crispness still, so for a tray this size, and this crowded, I usually roasted for 25-30 minutes. Less if you have fewer vegetables on your tray.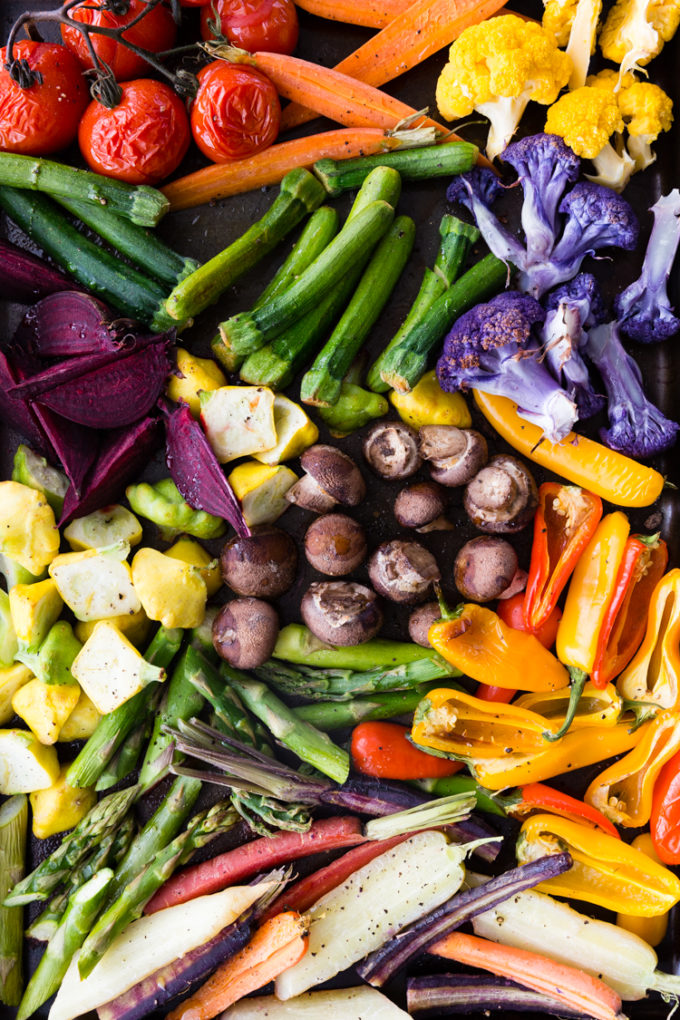 Then arrange everything on your trays and enjoy! If you make this, tag me on Instagram so I can see how yours turns out.
Other appetizers you might love:
Crudite Platter with Roasted Veggies
Ingredients
Raw Vegetables

Baby Cucumbers, sliced thin
Heirloom Baby Carrots with stems on
Snap Peas
Yellow cherry tomatoes
Red cherry tomatoes
Radishes
Microgreens
Watermelon radishes

Other

Sabra White Bean with Spinach and Roasted Garlic dip
Sabra Red Bean with Sun Dried Tomato and Basil dip
Sabra Black Bean with Roasted Tomatoes and Paprika dip
Kalmata olives
Crostini
Crisps and crackers

Roasted Vegetables

Small Patty Pan Squash
Small/baby zucchini
Heirloom tomatoes
Asparagus
Red beets
Heirloom carrots, sliced in half lengthwise
Baby Bella Mushrooms
Sweet mini peppers, halved lengthwise
Colorful cauliflower
Other veggies of choice
Instructions
Roasting Vegetables

Preheat oven to 450 degrees F
Place your vegetables on a large baking dish, and spritz or drizzle with olive oil
Season with a little salt and pepper as desired
Roast for 25 minutes, or until a slight char appears on peppers or other delicate vegetables, and everything is cooked to desired doneness.

Assemble Crudite Platter

Arrange all the roasted vegetables on a large platter in piles.
Add the Sabra bean dip of choice (Recommended: Mediterranean White Bean Dip) to the same platter.
Arrange raw vegetables, crackers, breads, and other ingredients around platter as desired.
Serve.
7.8.1.2
1103
https://www.eazypeazymealz.com/crudite-platter-with-roasted-veggies/
Pin to your Appetizer board on Pinterest:

Get EZPZ Updates In Your Inbox!