A tart lemon cheesecake that is sweet, awesome, and made in the slow cooker!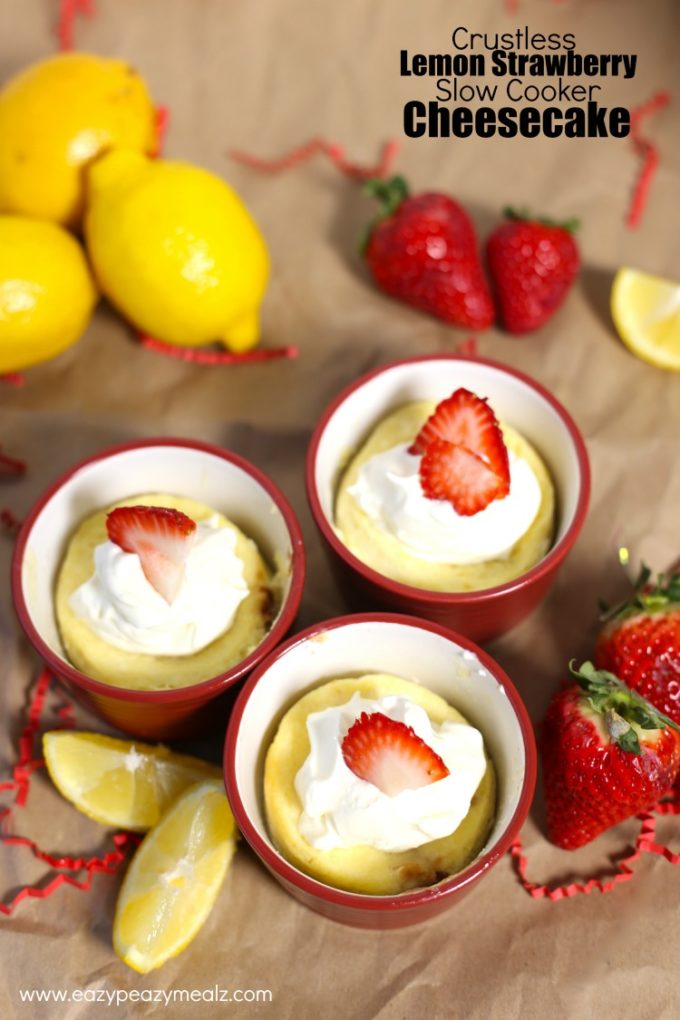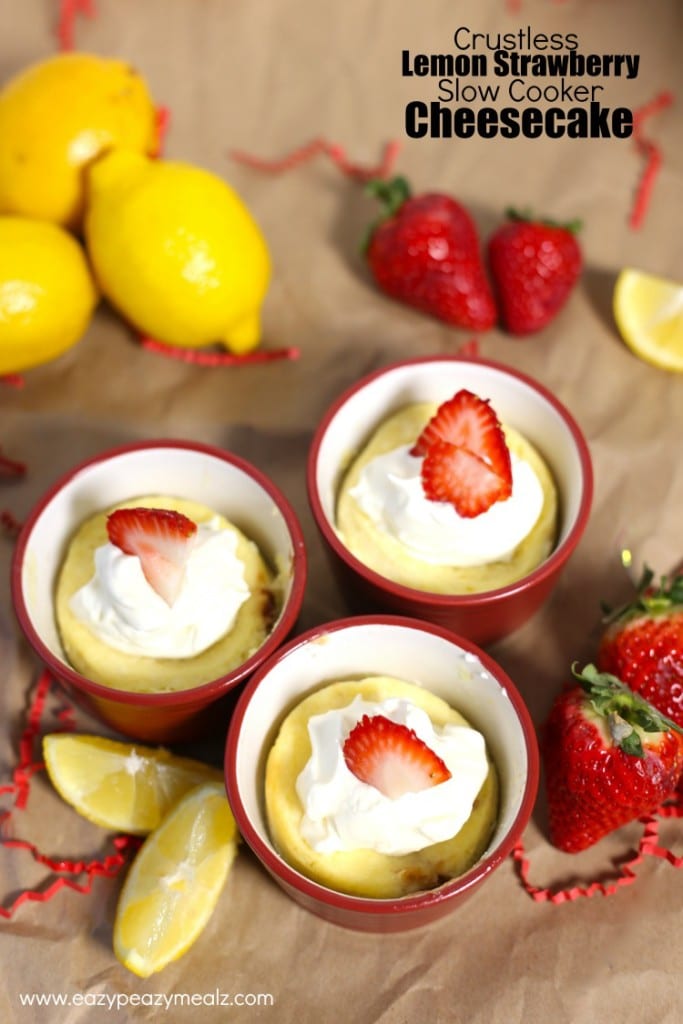 I know, I am totally obsessed with lemon right now. And cheesecake for that matter. Yesterday I gave you Lemon Whipped Cheesecake, and today a slow cooker version. What is coming next? I originally shared this over on Cupcakes and Kale Chips in the bread loaf pan version that I made in my crock pot, but I thought over here I could show it to you in the mini form too…individual sized portions, made in ramekins. So cute right? And so tasty!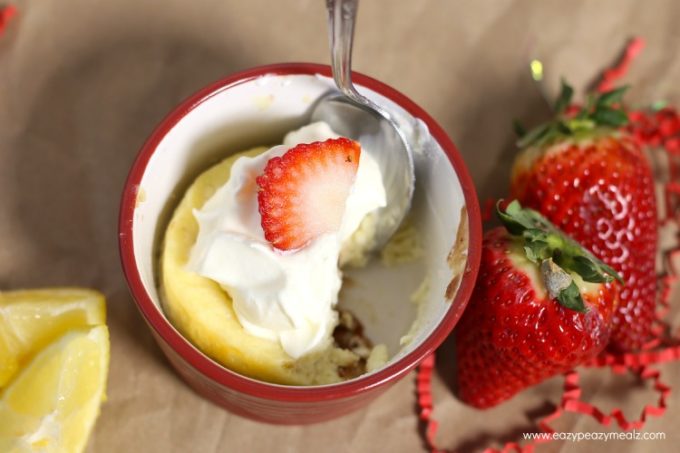 I mean seriously, I love to use my slow cooker for making things like bread, and one of the most popular recipes on this site is my Slow Cooker Beef Stroganoff. And who doesn't like a good soup made in the slow cooker? But Cheesecake??!! But trust me, it is ridiculously easy to make, and so delicious. You will not regret making it!
You just need a slow cooker and a few simple ingredients you may already have on hand:
Softened cream cheese
White sugar
Lemon Juice
Flour
Vanilla
Sour cream
Eggs
Strawberry Jam
Crustless Lemon Strawberry Slow Cooker Cheesecake
Prep time:
Cook time:
Total time:
Ingredients
Cheesecake
12 ounces softened cream cheese
½ cup white sugar
2 TBS lemon juice or ½ tsp lemon essential oil
1 TBS gluten free or all-purpose flour
½ tsp vanilla
½ cup dairy sour cream
3 eggs beaten
2 tsp lemon zest
Strawberry Swirl
½ cup strawberry jelly
2 TBS water
½ tsp lemon juice
Additional
1 cup warm water
fresh berries and whipped cream for garnish
Instructions
Spray 4-6 1 ½ inch deep or deeper ramekins with non-stick cooking spray
In a large mixing bowl, beat cream cheese, sugar, lemon juice or lemon essential oil, flour, and vanilla on medium speed until combined.
Beat in sour cream until smooth
Slowly, beat eggs on low speed until combined
Stir in lemon zest, and stir in to the cheesecake mixture.
Combine the ingredients for the Strawberry Swirl, dollop over the cheesecake mixture and swirl in with a skewer.
Cover ramekins with tin foil.
Place ramekins into crock pot and pour water around them, try not to let them touch if you can help it.
Cook on high heat setting for 1½ to 2 hours until center is set
Cool completely on wire rack, chill 4-24 hours before serving
Serve with fresh berries and whipped cream
Don't miss these other easy to make cheesecake options: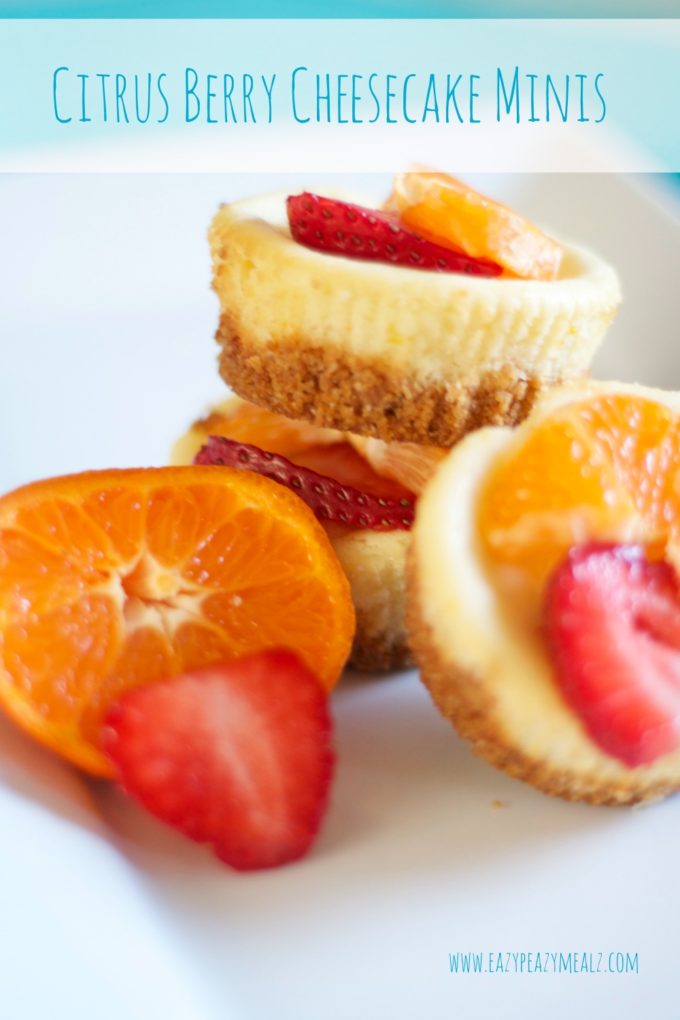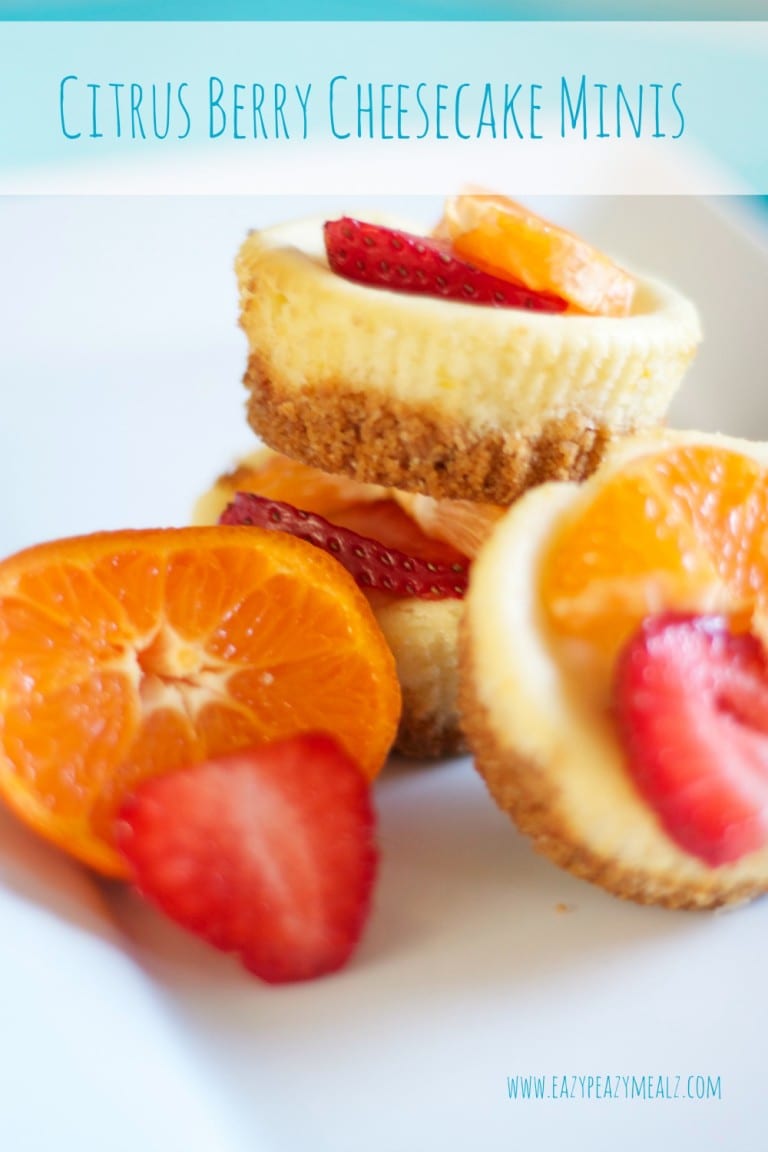 Lemon Whipped Cheesecake Trifle