This post is sponsored by Eckrich, all opinions are my own. 
EASY SALAMI CALZONE RECIPE
Easy calzones and how to make them, with all the tips for keeping the filling inside and maximizing flavor. These easy calzones are loaded with melty cheese, delicious Eckrich Hard Salami, banana peppers, and hearty tomato sauce.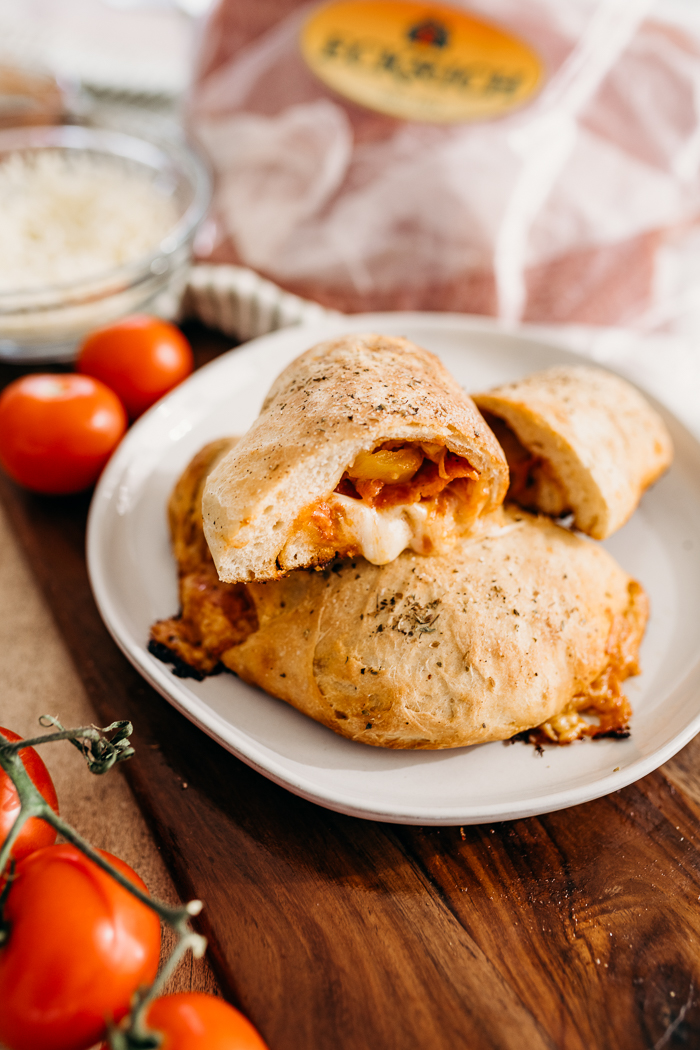 You guys are going to absolutely love this calzone recipe – it is a revamp of a traditional recipe for calzones, with simpler steps and easy to find ingredients. It is so straightforward, I was able to get my daughters in the kitchen to cook with me and we whipped up a delicious dinner in just a few minutes.
This is the perfect recipe for feeding holiday crowds and company because it can be made ahead and frozen to be pulled out when you are ready. And even if made day of, it can be prepared in less than 30 minutes. Talk about eazy peazy.
And did I mention, everything you need can be found at your local grocery store? From Eckrich Hard Salami, found in the deli section, to shredded mozzarella cheese.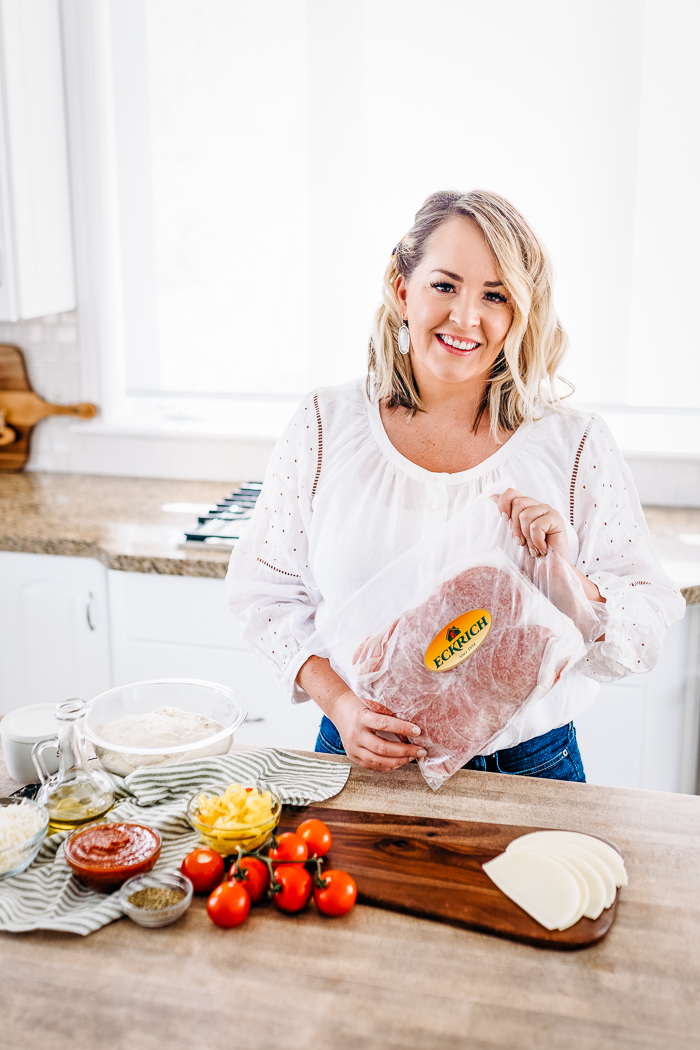 What is a Calzone?
Calzones go back to 18th century Naples, and the concept is to fold the pizza dough around the various fillings so you can eat it without losing cheese or filling.
A calzone is made with pizza dough, and traditional calzones use ricotta cheese and are served with tomato sauce on the side, not inside.
But today, we are mixing things up and departing from the traditional to make things effortless with this simple recipe. It only requires a few ingredients, can be assembled in a matter of minutes, and is all-inclusive, meaning no side dipping sauce is required, because the tomato sauce is inside.
This is an uncomplicated version that is just as tasty, and an ideal way to get dinner on the table quickly. No need to mix up a filling, or serve with a side of sauce!
Easy Calzone Ingredients:
When I was a kid, we ate a lot of calzones. My dad lived in Italy for a time, and had a love affair with the food. Which means, I can be pretty picky when it comes to what goes inside my calzone. And in true Italian fashion, I like to keep it simple so the natural flavors of the food can shine.
These calzones are ridiculously easy, but because they include the right combination of ingredients, they are absolutely delicious. With just a few simple ingredients, many of which you probably already have on hand, and all of which can be found at nearly any grocery retailer, you get calzone perfection:
Eckrich Hard Salami
Pizza Dough
Provolone Cheese
Mozzarella Cheese
Pizza Sauce
Banana Peppers
Topping
Olive Oil
Salt and Pepper
Italian Seasoning
Parmesan Cheese
To make life easier, especially between hosting out of town guests, whipping up snacks and meals for holiday parties or unexpected visitors, we all need a few shortcuts. My shortcut: use a pre-made pizza dough and pre-made pizza sauce. 
Are Calzone and Pizza Dough The Same?
Yes! Which is what helps make this such a quick and easy dinner solution. You can use a kind that comes in a tube, a mix, make it from scratch, or buy it already made.
Use whichever pizza dough and sauce you like best, or make your own. My local grocery store offers fresh made pizza dough, and there are plenty of bottled pizza sauces available.
This calzone recipe calls for three different cheeses, which I love because it adds depth of flavor, and also makes for a nice cheesy center and a salty and flavorful crust. But you can just use one in the filling and skip the exterior parmesan cheese if you want.
The banana peppers add a nice layer of flavor, and are not going to add any heat to the dish, so even kids will love these calzones.
And the salami is the show-stopper of this recipe. I use Eckrich Hard Salami, which can be found in the deli section of your grocery store. I was able to pick it up at my local Walmart.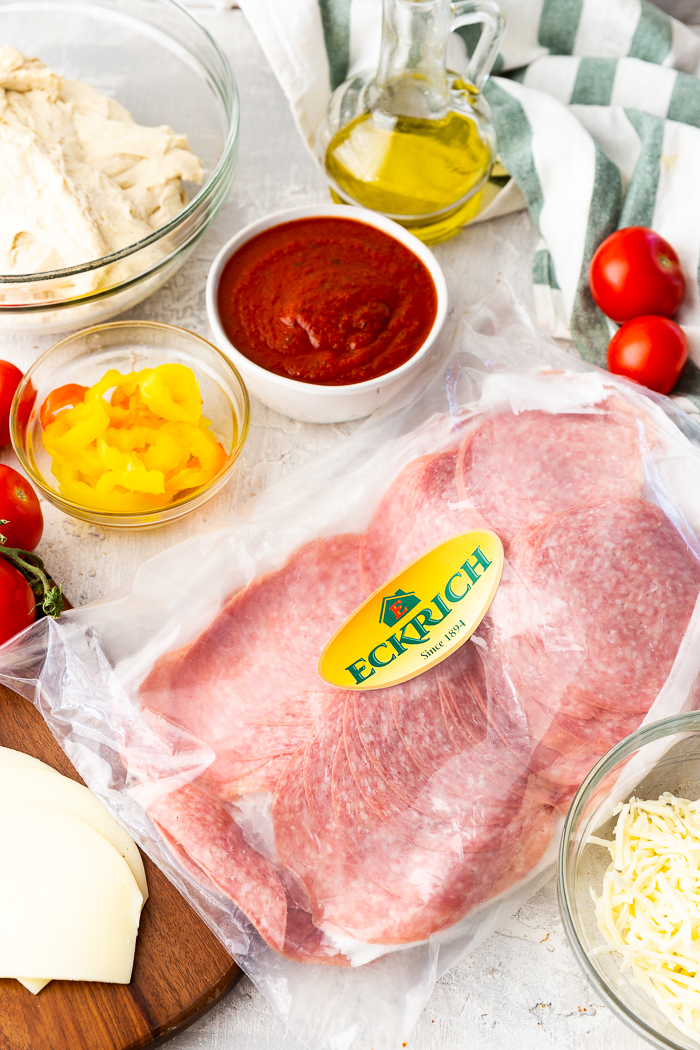 Eckrich Hard Salami:
You've probably seen Eckrich in the deli case of your local grocery store without even realizing it. If you haven't tried it, now is the time.
Where to find it: You won't find this variety with pre-packaged lunch meats – rather it is in the deli section, behind the counter. You just have to ask the deli counter attendant to slice it for you. Which is awesome because it means you can get as much or as little as you need.
For recipe inspiration, product information, and where to buy visit www.Eckrich.com.
Why I love it:
Versatile: Eckrich offers a variety of products, making it easy to meet all of your holiday entertaining needs. I love the Hard Salami in salads, pastas, and of course these calzones! Find ideas and inspiration for use at Eckrich.com.
Easy: Eckrich deli meat or smoked sausage is so easy to cook with. They can be folded, sliced, chopped, layered, and more. And because they are already perfectly flavored, they make the chef's job easy.
Delicious: Eckrich products are crafted with just the right blend of spices added to top quality deli meats and smoked sausage, are 100% gluten-free, and come in a lot of varieties like Original Skinless Smoked Sausage Rope, Jalapeno & Cheddar Smoked Sausage Links, Ham Off The Bone, and of course, the Hard Salami.
I just think holidays are meant for spending time with loved ones and creating memories that last a lifetime. And my favorite way to do this is through food. Eating together, cooking together, and enjoying the simple pleasures of a good meal together.
What I don't believe is that cooking a great meal should be hard and time consuming. And these calzones are perfect for that. They are comforting, filling, and delicious, but also super easy to make and  customize.
Take the stress out of holiday cooking by incorporating quality, versatile products, like Eckrich into your favorite family recipes. Then gather with all generations of your family, to create flavorful, delicious twists on the classics you have always enjoyed.

How to Make Calzones
I grew up making calzones, where we would start early and cook all day. We would proof the dough, simmer the sauce, and create an assembly line to fill, fold, and crimp the calzones. It was a lot of fun, and a lot of work.
But these days I am making it easier –  I just use a few simple ingredients and about 30 minutes of time. I still love to make it about family and working together to create a meal that we can enjoy. But instead of an all day event, I just need 30 minutes, 20 minutes of which is the baking time. Leaving more time for enjoying time together eating!
Making calzones is done in 3 easy steps:
Shape Dough

Fill Dough

Seal Dough
Then you can freeze for later, or top and bake right away!

Shape dough
This is easy, fun, and the perfect chance to get kids involved in the prep and cooking.
Get your dough to room temp. The best thing to do is just pull it out of your refrigerator half an hour before you are ready to start.

Divide your dough into 8 even pieces.

Then working with one piece of dough at a time, press into a flat disc, and use your hands to stretch it to about 8 inches round.

Be sure the dough has even thickness throughout. If you have any areas that are too thin, correct that, as this can cause the dough to tear, or the filling to burst through.

Tip: If the dough shrinks back after you stretch it, or is difficult to roll, the trick is to simply let it rest for 5 minutes and then try again.

Repeat with the remaining pieces of dough.
Fill Dough
This is where you get to add all those amazing ingredients to come together and make some magic.
The tips for filling your calzone:
Do not go all the way to the edges, so you can seal it up.

Don't overfill it.

Fold your Eckrich Hard Salami so you get more layers of deliciousness.

Seal Dough
Fold the dough over the meat, cheese, and sauce, making sure not to pull the dough too tightly or tear it.
Press the edges tightly to seal it, then crimp it by rolling the bottom edge up and over the top. This creates a sort of second seal to help keep the filling inside where it belongs.
How do you fold a calzone?
Lift the side of the dough without filling and gently pull it across to the other side. This creates a half moon shape.

With wet hands, press the edges together to seal it. The watercan help make the dough sticky so it seals together.

Then roll the sealed edge up so you get a second layer of protection and crimp it.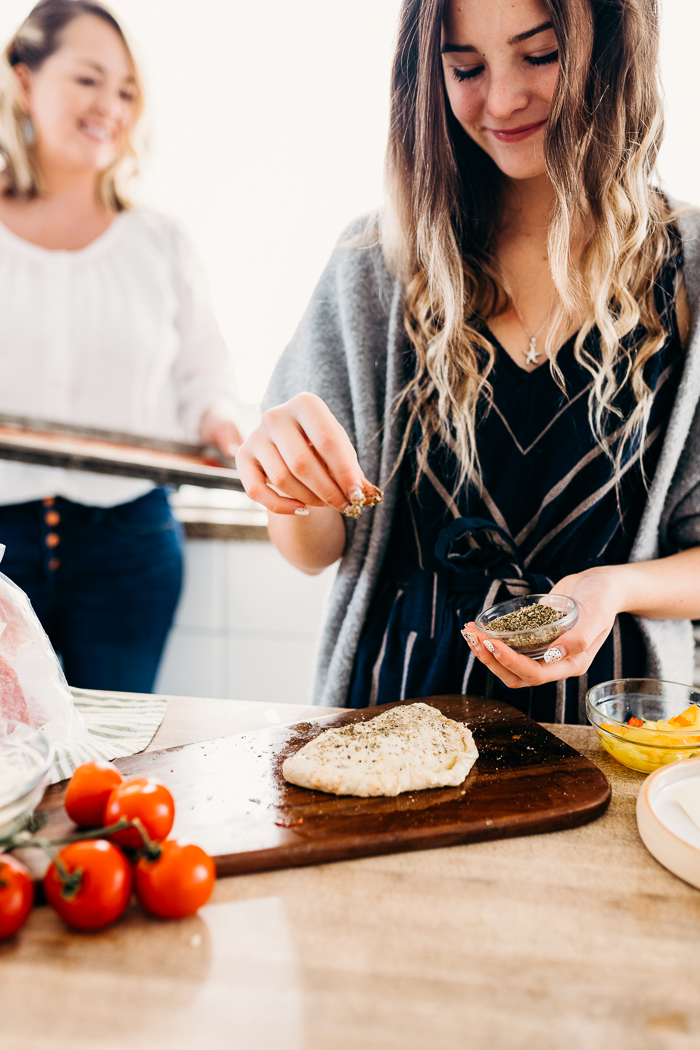 Bake
Ok, once you have the dough shaped, filled, and sealed, you can either bake or freeze.
Baking instructions:
Transfer the calzones to the baking sheet.

Brush with olive oil.

Sprinkle seasonings on top: salt and pepper, Italian seasoning mixed with parmesan cheese.

Using a sharp knife, cut 2 to 3 steam vents on the top of each calzone.

Bake in a preheated oven at 475 degrees Fahrenheit for 20 minutes, or until golden brown.
Another option would be to do an egg wash on the outside instead of olive oil. Create an egg wash by beating a whole egg with a little water, milk, or cream, then brush it over the top of the calzone. Season. Then bake. This will help to keep it sealed and gives it a beautiful color. But I find it to be a step that you don't need, as the oil does the trick.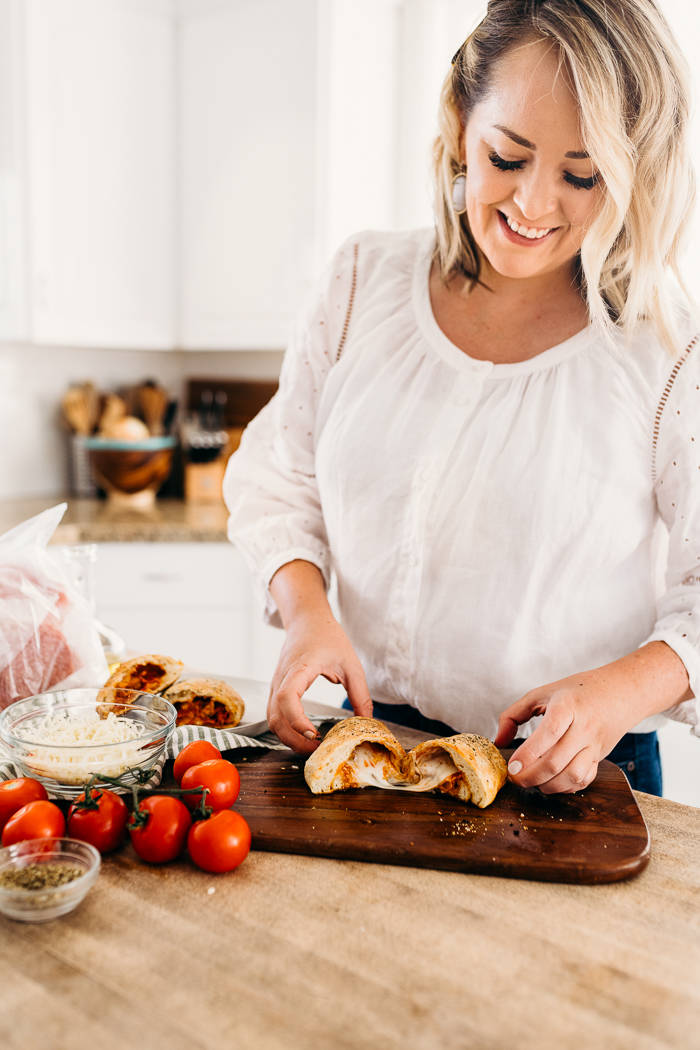 Tips for Making Calzones:
Pull the dough out of the fridge for 30 minutes to an hour before making the calzones so it's easier to handle.

Do not roll the dough too thin. You don't want the calzone to burst. It should be half a centimeter thick or so.

Do not overload the calzone with filling. The ingredients can give off steam when baking and can cause the dough to burst or overfill, so just use the amounts listed and you should be good to go with minimal leaking.

Fold the dough over the filling. Don't pull it too tight.

Seal it well, and crimp the edges to give it a double seal.

Cut steam vents in the top of each calzone. This keeps the dough from being soggy on the inside and prevents seams from bursting as well.

Optional: Sprinkle tray with cornmeal to give the bottoms a nice crunch.
How to make calzones ahead and freeze for later:
Traditional calzones with a ricotta filling should be frozen after being baked, but for these you can freeze before baking because the ingredients are not super watery. I really love this because it means I can still get fresh baked calzones whenever I want.
I just keep a bunch in my freezer at all times.
Assemble and seal the calzones, but before brushing them with oil and adding seasoning, lay them on a baking sheet lined with parchment. Then pop into the freezer for a couple of hours to allow them to freeze.
After fully frozen, remove from tray and put in a zip top freezer bag.
When ready to eat, thaw the calzone for a few hours in the fridge or extend the cooking time to cook from frozen.
To cook from frozen:
Brush with olive oil, season.

Bake at 400°F for 30 minutes or until the filling reaches 160°F.
Another option is to make the calzones start to finish, then chill in fridge, and then move to the freezer.
They will keep for 3 months in the freezer, and can be reheated in the microwave or oven.
To reheat:
Thaw the calzones in the refrigerator.

Reheat in 1-minute bursts in the microwave, 2 to 3 minutes total.
Note: The calzones won't be as crisp when reheated in the microwave. So if you want a crispy exterior, reheat in the oven.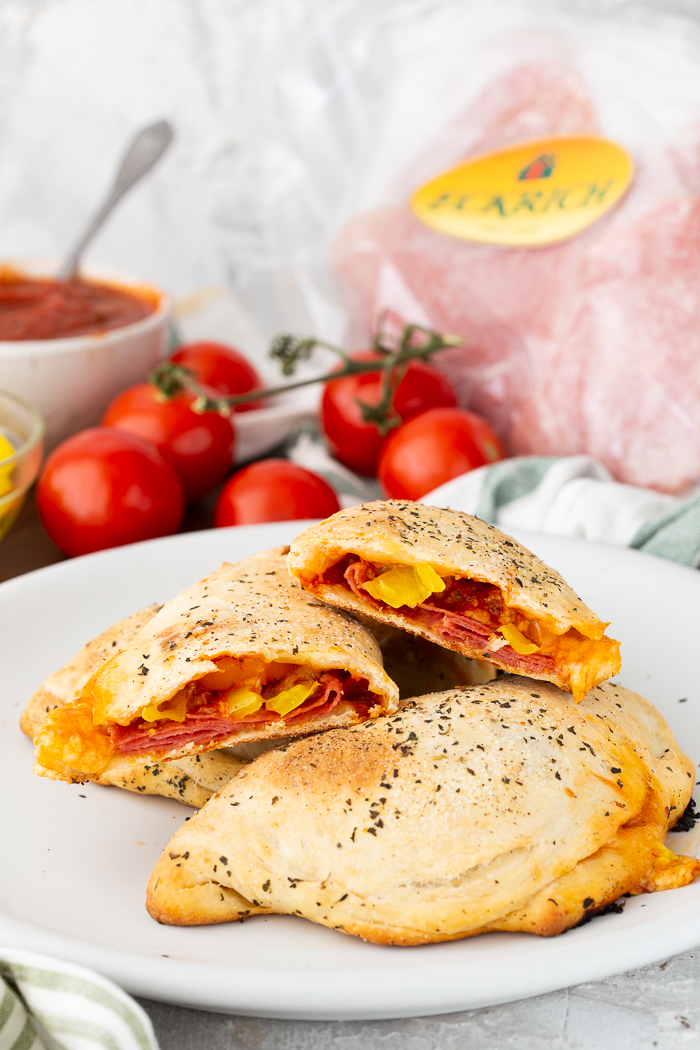 Things to note:
Storage: 
Baked calzones can be refrigerated in an airtight container for up to 3 days.
Frozen baked calzones can be in the freezer for up to 3 months.
Make ahead: 
Freeze unbaked calzones in a single layer on a baking sheet. Once frozen, transfer to a zip-top bag and freeze for up to 3 months.
Customizing:
These calzones are the perfect combination of flavors, but the beauty is you can adjust the filling to your hearts' desire. Add olives, more cheese, green bell peppers, etc. Or remove banana peppers etc. Just remember to not overfill your dough.
For me, the combination of Eckrich Hard Salami, creamy cheeses, and the tartness of pickled banana peppers is the perfect combo. And I love knowing Eckrich is here to not only equip me with inspiration, but also great quality products that are delicious and simple to cook with.
Calzone Video Tutorial:
Other Recipes: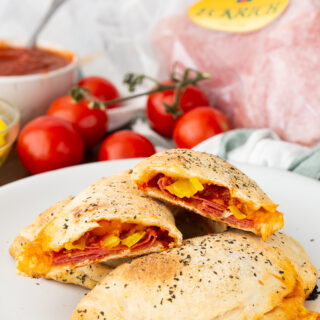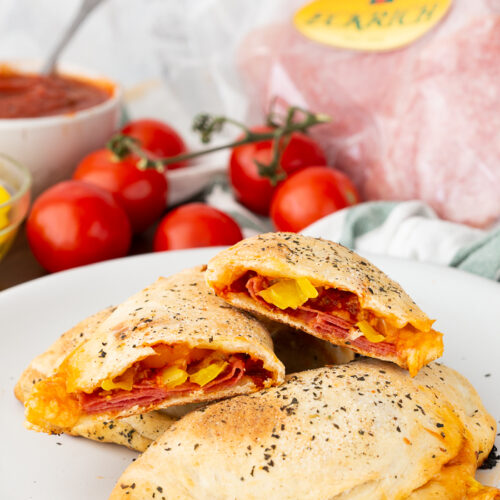 Easy Calzone Recipe
Salami, mozzarella, provolone, tomato sauce, and banana pepper stuffed calzones topped with a delicious Italian seasoning mix, and baked to golden brown perfection. This simple meal comes together in just a few minutes time, and is great for a busy weeknight or an indulgent weekend.
Print
Pin
Rate
Ingredients
1/2

pound

Eckrich Hard Salami

2

lbs

Prepared Pizza Dough

4

ounces

Pizza Sauce

4

slices

Provolone Cheese

cut in half

1/2

cup

Pickled Banana Peppers

1

cup

Mozzarella Cheese

shredded

1

Tablespoon

Olive Oil

Salt & Pepper

to taste

1

Tablespoon

Italian Seasoning

1

Teaspoon

Parmesan Cheese
Instructions
Line a baking sheet with parchment and set aside.

Preheat oven to 475 degrees F.

In a small bowl combine Italian seasoning and parmesan cheese, and set aside.

Divide pizza dough into 8 even balls of dough.

Hand stretch each ball of dough into a round about 8 inches across.

Then to each ball of dough: Spread 1 Tablespoon pizza sauce onto one side, leaving a space along the edges for sealing the calzone later.

Place half a slice of provolone cheese down onto the sauce.

Top provolone cheese with 3-4 slices Eckrich Hard Salami, folding each piece in half to make it fit inside the calzone better.

Top with some banana peppers, mozzarella cheese, and a little more pizza sauce.

Fold the empty half of the dough over the top of the filling, and pinch the edges together to form a crescent shape.

Then crimp edges all around to reinforce the seal. Repeat with each calzone.

Transfer to prepared baking sheets.

Brush tops with olive oil and sprinkle with salt and pepper.

Sprinkle the Italian seasoning and parmesan mixture over the top.

Bake in preheated oven for 20 minutes or until golden brown and cooked through.

Enjoy
Our recipe card software calculates these nutrition facts based on averages for the above ingredients, different brands, and quality of produce/meats may have different nutritional information, always calculate your own based on the specific products you use in order to achieve accurate macros for this recipe.
Want to use this recipe in a meal plan?
Try PrePear, my FREE Meal Planning App that allows you to save your recipes, plan meals, shop for groceries, and cook simply in one place. Join Here!