Juicy Roast Turkey:
How to Cook A Turkey –This Roast Turkey is the perfect Thanksgiving Menu highlight! If you have ever wondered how to cook a turkey so it turns out perfectly every time, with crispy skin, tender, juicy, breast meat, and a savory but sweet flavor, this is it!
It is time to reclaim the juicy roast turkey. If you want a fantastic turkey recipe that turns out every single time, then look no further. With a few simple steps. The right cooking tools, like the Copper Chef Wonder Cooker. And a tiny bit of patience, you can get a golden brown turkey, worthy of being your holiday centerpiece, with moist, tender, juicy meat everyone will devour along with your favorite sides like sweet potato casserole.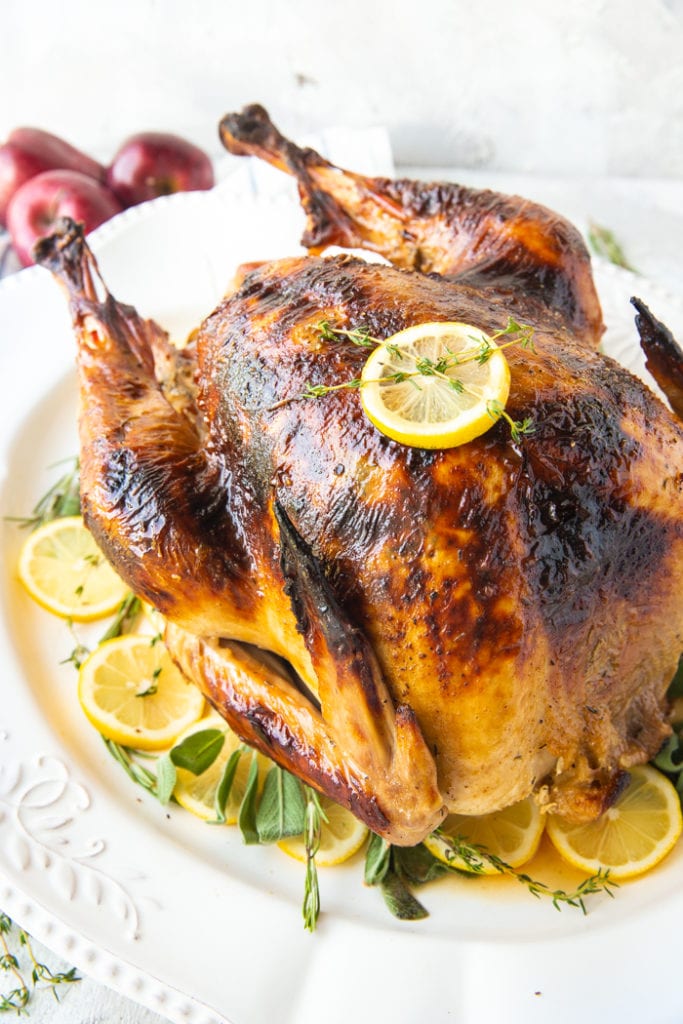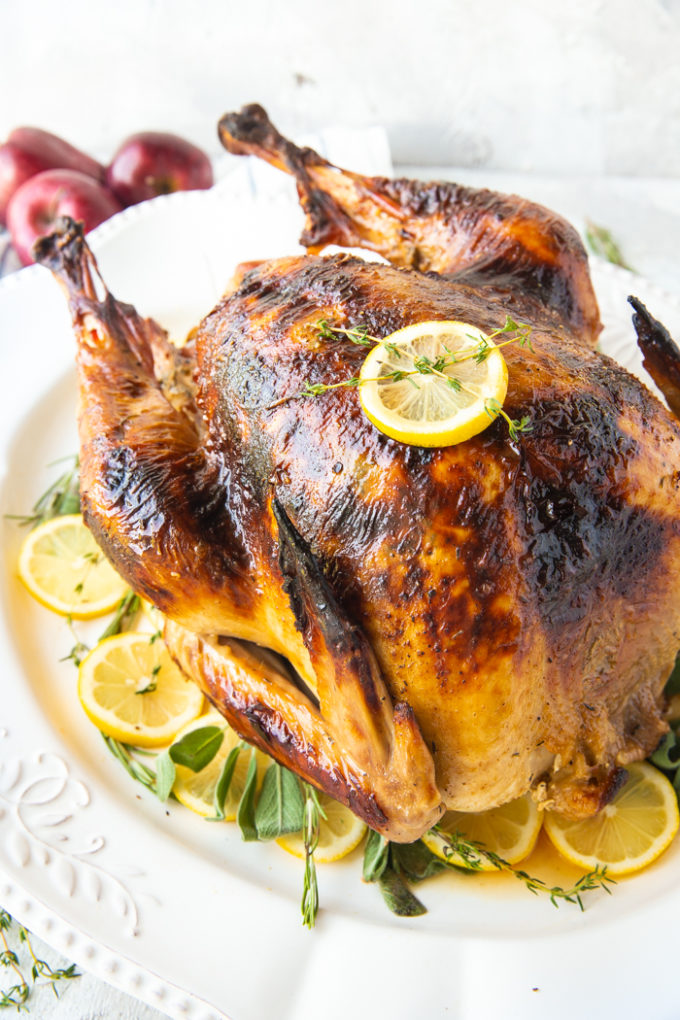 This post is sponsored by Copper Chef Wonder Cooker, all opinions are my own.
Turkey Recipe
Turkey is an amazingly flavorful and tasty bird. And when cooked right is the highlight of any meal. There is a reason theme parks often sell roasted turkey legs. And why it is the main event at Thanksgiving dinner menus across the country. However, when cooked incorrectly, the bird becomes tough, chewy, and inedible.
However, don't worry one bit, armed with a little know-how, you can get the perfect turkey every time. This juicy roast turkey is a turkey recipe worth archiving. It is one you will want to pass down through generations of family members. It is the kind of recipe you will want to print out and not-so-subtly give to whomever will be preparing the next turkey you will be eating.
For a juicy Thanksgiving turkey, you need to follow these easy steps:
Brine your turkey.
Slather your turkey with an herb butter rub which will baste it.
Crisp the skin with a little oil and salt.
Roast the turkey in the perfect pan.
Cook to the right temperature, and rest the bird before carving.
Turkey Brine
In order to achieve an insanely good turkey that stays moist, has lots of flavor, and is up to the task of being your Thanksgiving Menu centerpiece, you do NOT want to skip brining the turkey.
While brining, the turkey will absorb the extra moisture, which means it will help it stay totally juicy during and after cooking. And because the brine also has salt, herbs, etc. it also gets a nice seasoning inside and out. That way, the flavor isn't only in the skin.
A basic brine is a solution that is 1 Tbs salt to 1 cup of water, where you use enough water to cover your turkey, or mostly cover it. But for the best ever roast turkey, we don't want a basic brine. Instead we will create a brine with the required salt and water, but add some herbs, garlic, and lemons. By doing this you get the amazing added flavor in your bird!
Make sure your turkey is completely defrosted, then let it sit in the brine for up to 24 hours. At least 3-4 hours is needed. I like to brine overnight.
In order to brine this turkey, I used my Wonder Cooker by Copper Chef, and placed the turkey in the deep pan, then added the brine. Then used the shallow pan as a lid, it fit perfectly into my fridge, and meant no leaks or spills! You can use a turkey bag for the brining process as well. And place it inside the bag, and the whole thing in your roasting pan.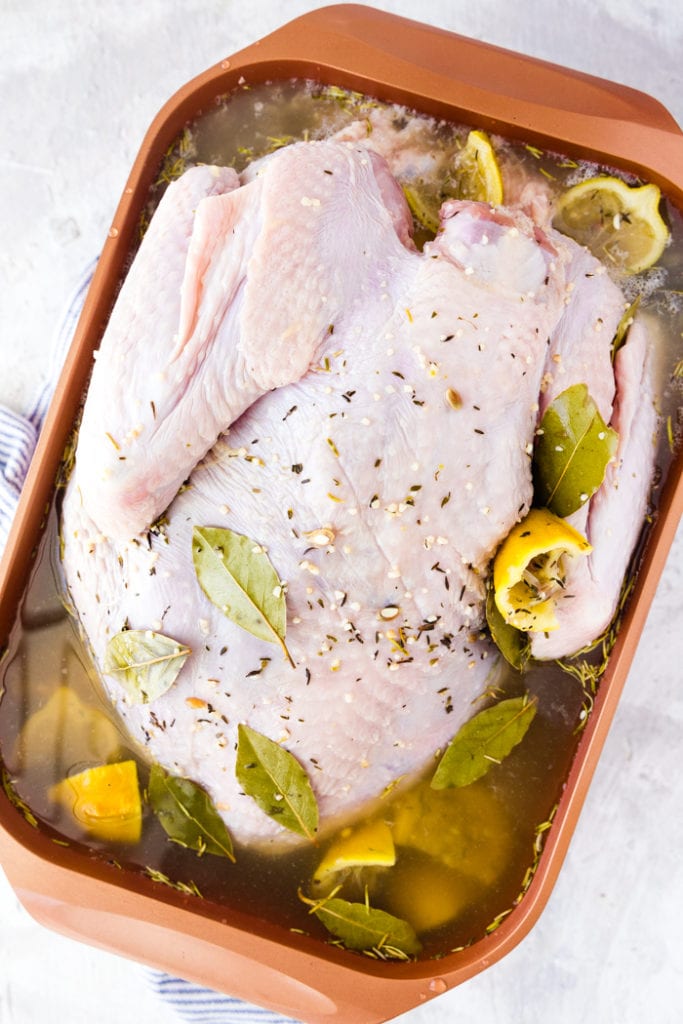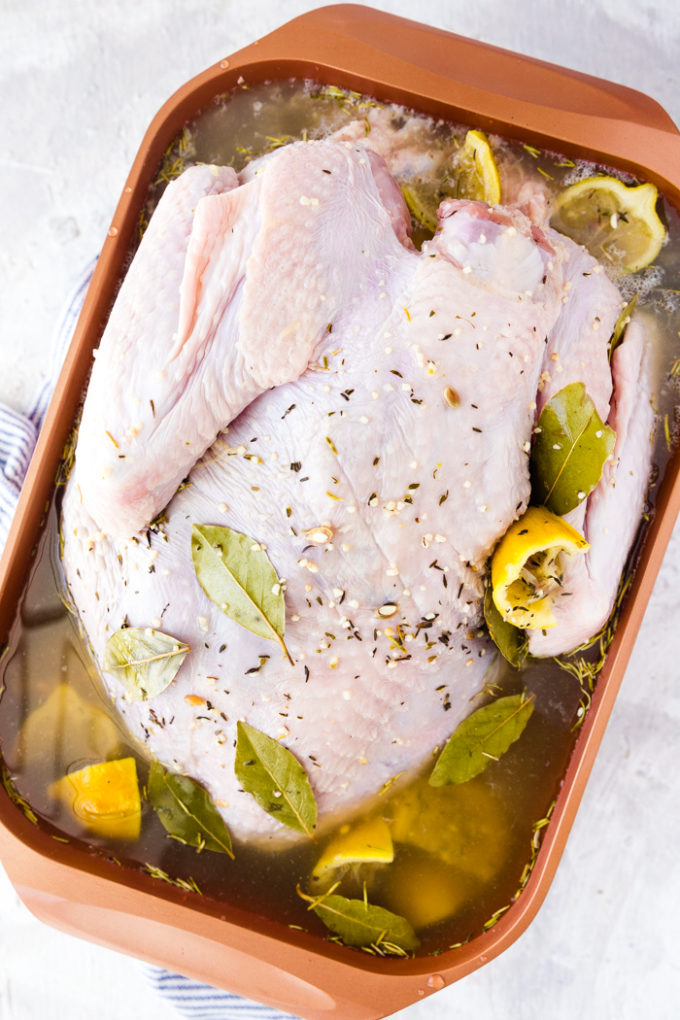 Herb Butter For Turkey
Once the turkey has brined for up to 24 hours, you rinse it out really well, and pat it dry. Then you add the herb butter mixture. This is a mixture of seasonings, herbs, and butter that you will place between the skin and the breast.
As gross as it sounds, DO NOT skip this part either. The butter will baste the turkey as it cooks, and adds so much tasty flavor. Simply insert your fingers between the skin and meat near the rear of the turkey with the breast side up, and gently work the skin away from the breast.
Then add the butter mixture into the pocket you created. When finished, you will rub your hands, and the excess butter mixture across the outside, which will add additional flavor to the skin, and help it brown.
I always add a little olive oil and salt to the skin as well to help it really get golden brown and crispy. The more evenly you do this, the more evenly it browns (Whoops…even though it isn't perfect in these pictures, it tastes amazing, trust me)!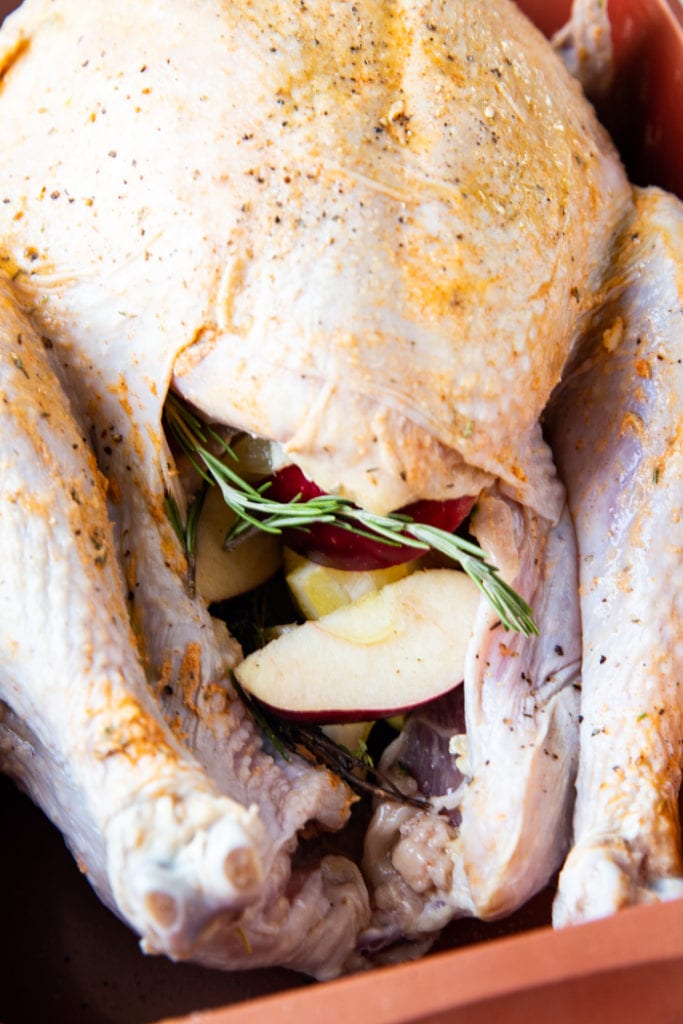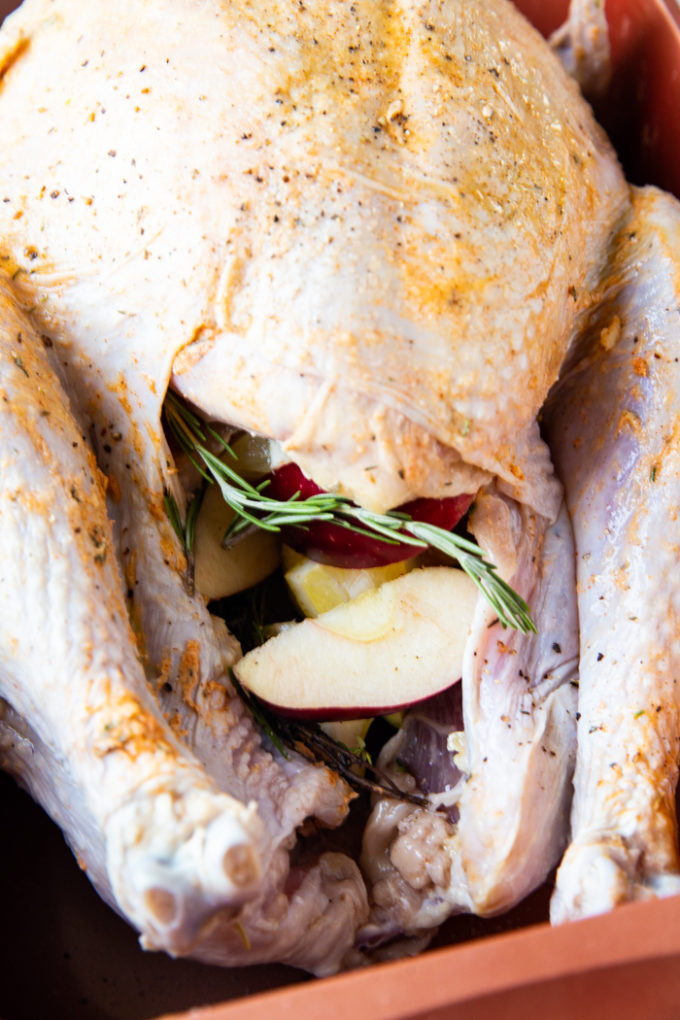 After the herb butter rub, I like to stuff the cavity with a few goodies to help flavor the meat even more. For this recipe I used apple, lemon, and fresh herbs. You could also use onions, garlic, etc.
Roast Turkey
Now it is time for that beautiful bird to go in the oven. You want to place it breast side up in a roasting pan.  My new favorite roaster is the Wonder Cooker!
The Wonder Cooker is actually so much more than a roaster. It is a 14-in-1 multi-use cooker. It replaces your deep or shallow roasting pan, crockpot, double roaster, bakeware pan, casserole pan, deep fryer, steamer, crisper, slow cooker, electric skillet, electric grill, chafing serving dish, and even your grill pan. Crazy right? You can learn all about it, and how to use it, and EZPZ followers get 20% OFF, with the code: WC20E when they visit https://www.getwondercooker.com/
I love it for this recipe because it is large enough for the turkey, it is non-stick, and so easy to clean. Which who doesn't love when you are cleaning up after a big meal? It is made with thick cast aluminum with Cerami-Tech Non-Stick Coating, and has built-in, stainless steel induction plates on both the bottom of the Casserole Pan as well as the Lid/ Shallow Pan.
Basically, it is heavy duty, and an awesome roasting pan.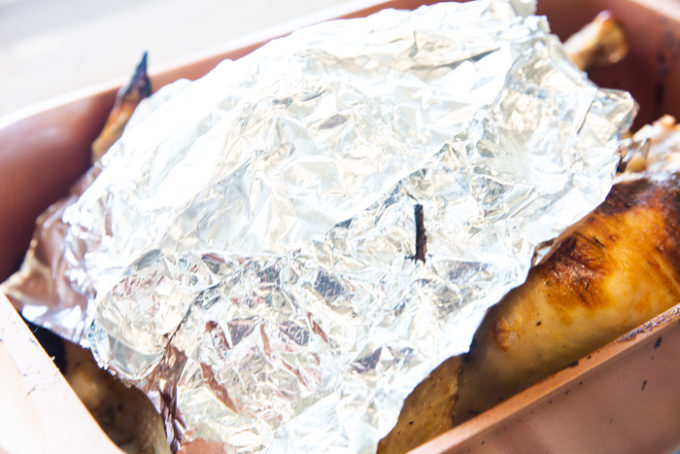 When roasting this turkey, you will want to start your oven at 500 degrees. Don't worry the Wonder Cooker can stand up to 850 degrees F. You will cook at 500 degrees for only 30 minutes, which gives the turkey a chance to brown up. This is part of what gives you that beautiful crisp skin.
After 30 minutes is up, turn the oven down to 350 degrees, and make a foil hat to cover the breast of the turkey. This will slow the cooking there so it stays moist and juicy while the darker meat cooks.
Use a meat thermometer and keep and eye on things, remove the turkey when a thermometer inserted in the thigh (not toughing bone), reads 165 degrees. This should take about 2-3 hours, I say check at 1 hr 45 minutes, and gauge how much longer from there.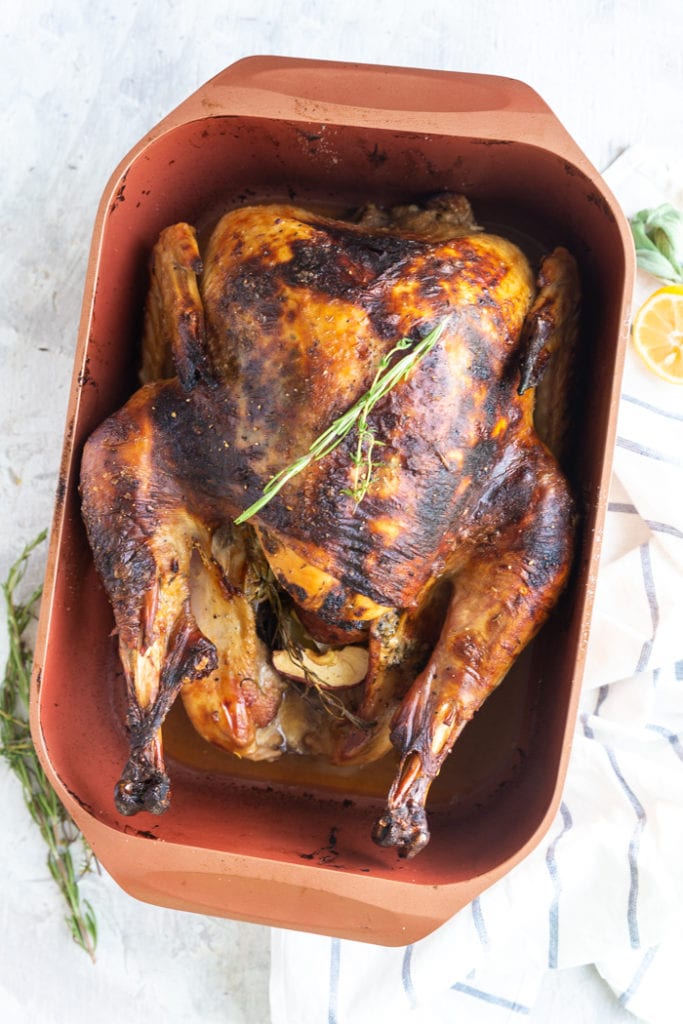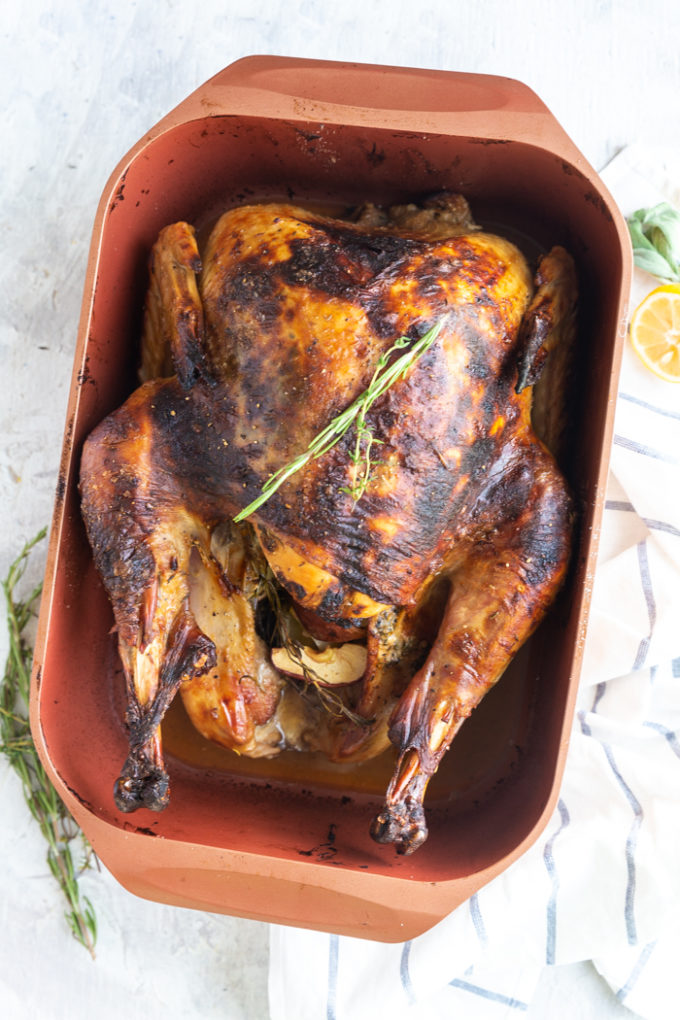 How Long To Cook A Turkey
How long should you cook a turkey? The simple answer is to cook it until the interior temperature reaches 165 degrees. The best way to insure the turkey stays moist and juicy, is to use a meat thermometer and pay attention to the internal temperature.
But, if you are anything like me, chances are you are going to have plenty of distractions and other dishes to cook, so a good rule of thumb is to plan on 12-14 minutes per pound when cooking at 350 degrees. So a 13 pound turkey will take about 2.5- 3 hours. Of course, this can vary significantly between ovens.
If you do not use a good roasting pan, like the Wonder Cooker, which has a high quality, thick cast aluminum construction, and stainless steel inductions plates, it could take longer as well. So keep in mind when using a great roasting pan, the time could go more quickly.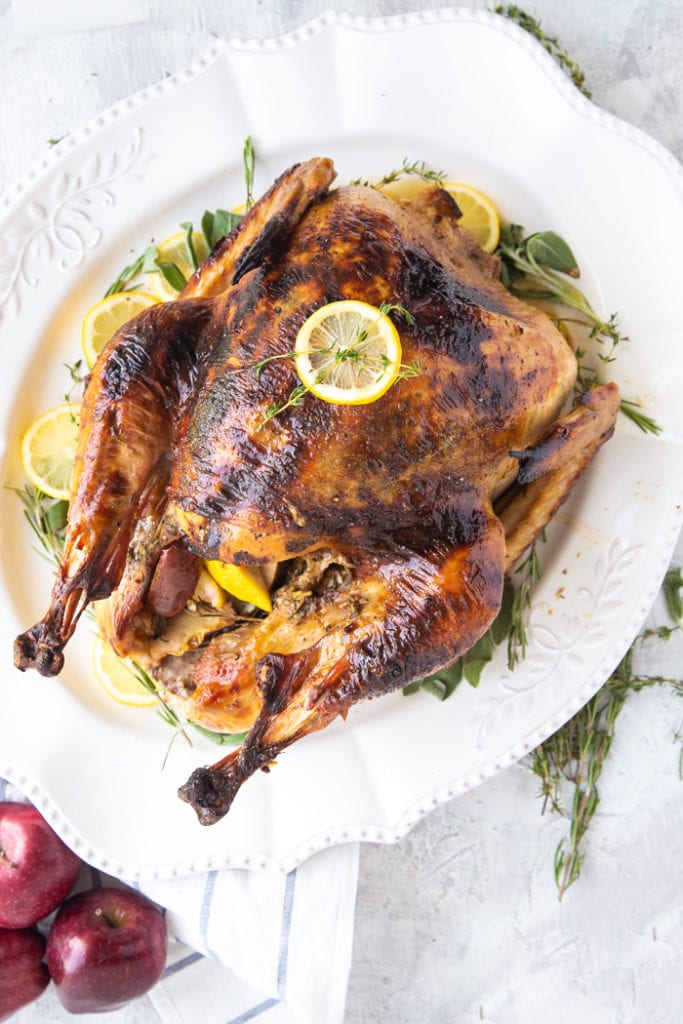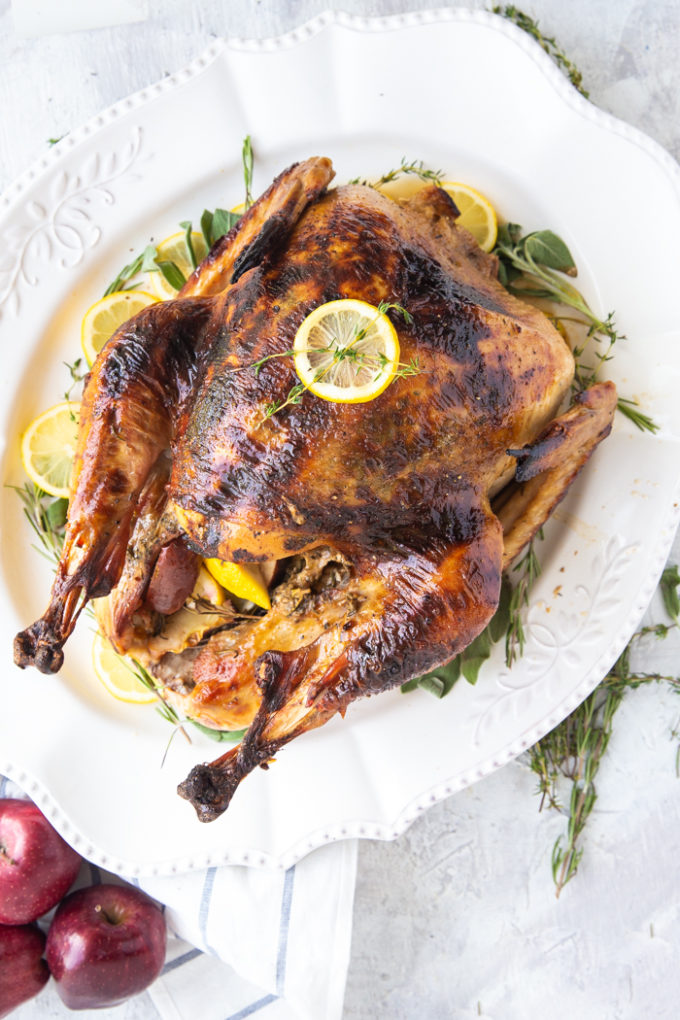 Once your turkey has reached an internal temperature of 165 degrees, you will remove it from the oven, and let it rest for at least 20-30 minutes so the juices can reabsorb and the turkey will stay super moist and tasty!
Thanksgiving Menu
Ok, now that you have the Thanksgiving menu centerpiece covered, it is time to address the rest of the menu, much of which can totally be cooked in the Wonder Cooker as well.
Smoked Turkey
This same recipe can be cooked in the smoker instead of the oven. The Wonder Cooker is the perfect roasting pan for the smoker! It can stand the high temps, will clean up quickly and easily after, and will help maintain the temperature around the bird for quicker, even, cooking.  Read this post for how to smoke a turkey.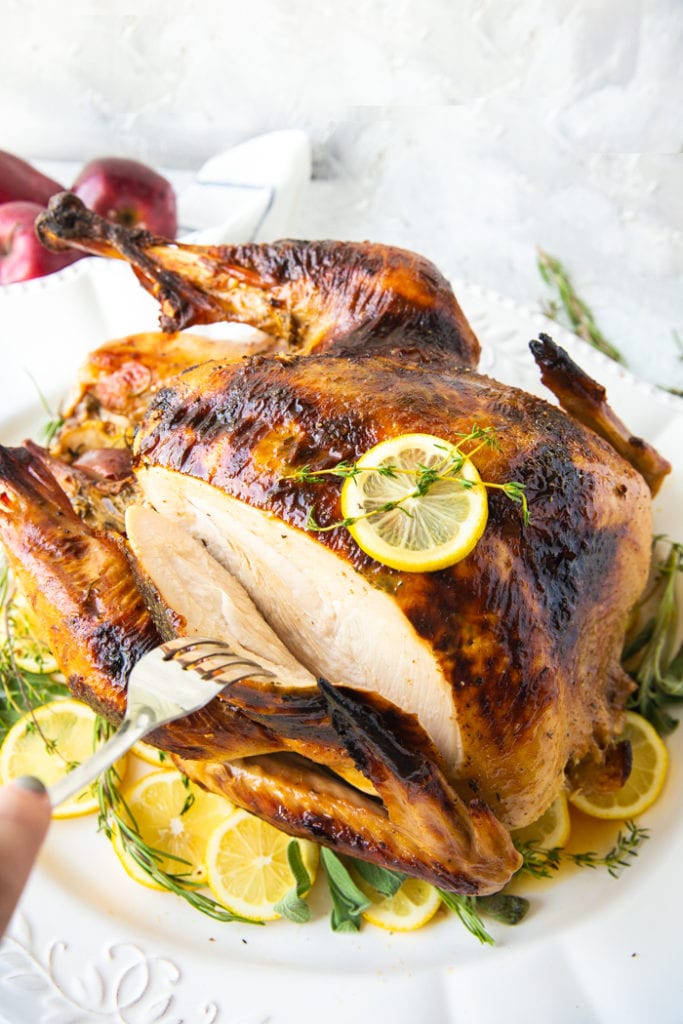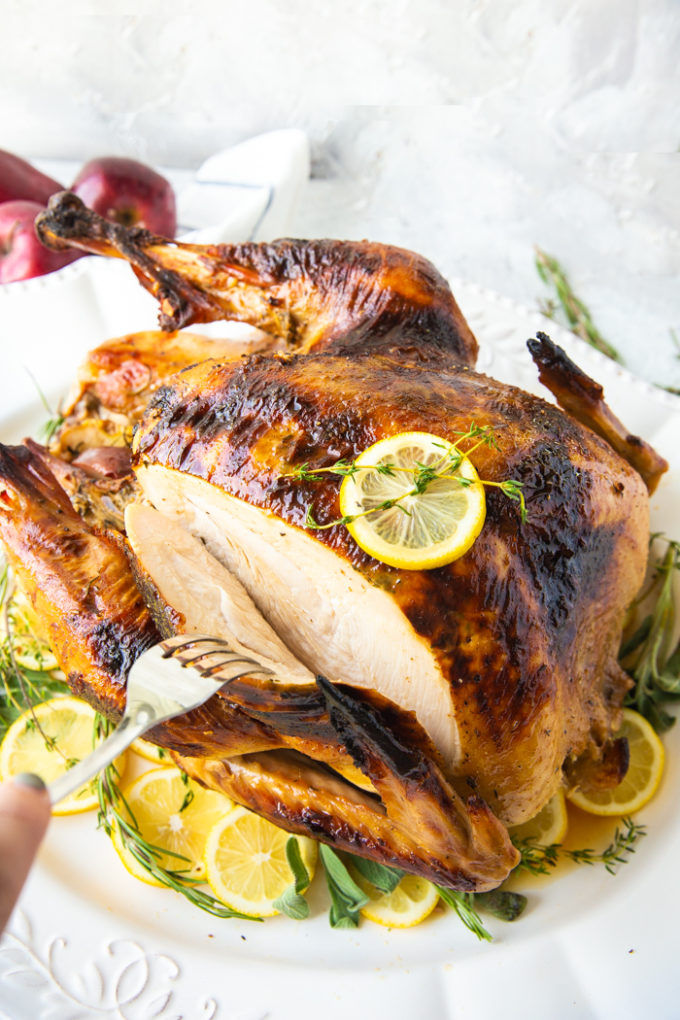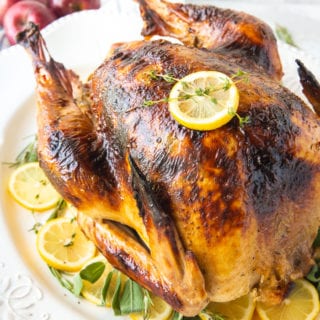 Roast Turkey
The juiciest Roast turkey ever. This is the perfect Thanksgiving turkey recipe, sure to be the perfect centerpiece to your Thanksgiving menu.
Print
Pin
Rate
Ingredients
1

Turkey

12-18lbs

1

Tbs

olive oil

Salt and Pepper

1

red apple sliced

1

spring rosemary

2

springs thyme

1

cup

chicken or turkey stock or apple juice
Brine
1.5

heaping cup salt

1.5

gallons

water

10

bay leaves

3/4

cup

dark brown sugar

5

lemons washed and quartered

1

Tbs

dried rosemary

1

Tbs

dried thyme

2

Tbs

minced garlic
Herb Butter
4

Tbs

softened butter

1/2

cup

chopped parsley

1/2

cup

chopped basil

1

tsp

onion powder

1

tsp

garlic powder

1

tsp

dried rosemary

1

tsp

dried thyme

1/2

Tbs

fresh sage

chopped fine

1

tsp

paprika
Instructions
Brine
Combine all ingredients in large pot and bring to a boil for 2-3 minutes, or until salt and sugar is dissolved. Remove from heat and let cool completely.

Once completely cooled, soak turkey in brine 1.5 hours per pound.

Once bird has soaked for required time, remove bird from the brine and rinse well with cold water.

Discard the brine.

Pat the turkey dry with a paper towel, and be sure to drain the turkey out, there might be some water in the cavity.
Herb Butter
Combine all ingredients and mix well

Place the bird into the Wonder Cooker's Casserole Pan.

At the rear end of the bird, slide your fingers into the space between the skin and the turkey breast. Slowly pry the two apart starting at the rear and working your way up to the neck on the breast side of the bird.

Stuff your herb butter into this pocket you have just created, using your hand to rub it around and cover the entire breast.

Use the leftover butter mixture that is on your hands, and rub it all over the exterior.
Roast Turkey
Preheat your oven to 500 degrees Fahrenheit.

Tuck the wings underneath the bird.

Coat the skin liberally with the olive oil. Generously sprinkle the skin with salt and a little pepper.

Fill cavity with apple, lemons, thyme, and rosemary.

Roast the turkey on the lowest level of your oven at 500 degrees Fahrenheit for 30 minutes to crisp the skin and make it golden brown.

After 30 minutes, cover the breast portion of your turkey with a foil hat and reduce the oven temperature to 350 degrees Fahrenheit.

Pour 1 cup of liquid of choice into the cavity of the bird.

Cook until the thickest part of the turkey thigh reads at 165 degrees Fahrenheit, make sure the thermometer is not touching a bone. (a 14-16 pound turkey usually takes approx. 2.5 hours AFTER the 30 minute high roast)

Remove the turkey from oven, let rest 20-30 minutes before carving.
Notes
You do not need to baste the turkey, the herb butter mixture will help baste the turkey for you!
Nutrition
Calories:
5220
kcal
|
Carbohydrates:
265
g
|
Protein:
574
g
|
Fat:
211
g
|
Saturated Fat:
70
g
|
Cholesterol:
1983
mg
|
Sodium:
4588
mg
|
Potassium:
7536
mg
|
Fiber:
26
g
|
Sugar:
198
g
|
Vitamin A:
7735
IU
|
Vitamin C:
348.2
mg
|
Calcium:
975
mg
|
Iron:
37
mg
Our recipe card software calculates these nutrition facts based on averages for the above ingredients, different brands, and quality of produce/meats may have different nutritional information, always calculate your own based on the specific products you use in order to achieve accurate macros for this recipe.
Want to use this recipe in a meal plan?
Try PrePear, my FREE Meal Planning App that allows you to save your recipes, plan meals, shop for groceries, and cook simply in one place. Join Here!
Pin to Your Thanksgiving board on Pinterest: