Ksiaz Castle in Wałbrzych, Poland is somewhere I never even knew I wanted to visit, but am so glad I did. Have you ever had one of those places? Somewhere that was certainly not on your bucketlist, but after a visit you wondered why it wasn't on everyone's list of dream travel destinations?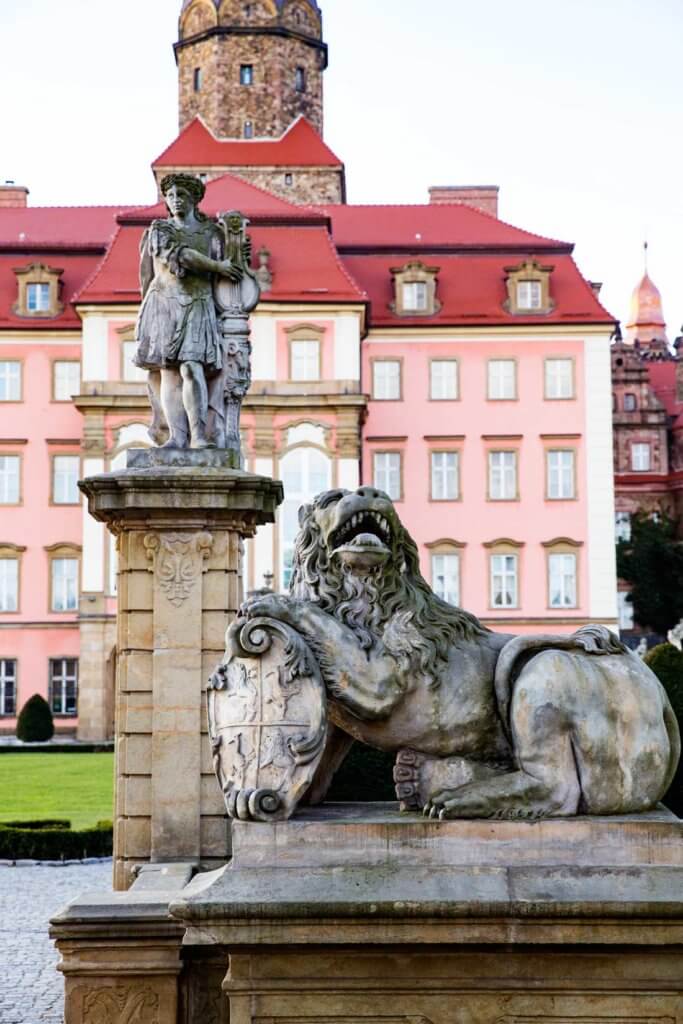 Ksaiz Castle is not only an interesting place to visit, it is affordable, steeped in history, and offers a great hub or base for exploring the surrounding areas.
Set in the countryside a few hours outside some of the better-known areas of Poland, this eclectic and interesting castle is something that any traveler looking for something interesting and fun off the beaten path should check out.
I visited Poland with two friends, Rebecca and Courtney, and left much of the itinerary to them, as I had visited before, and did not want to dictate what we did and didn't do while we were there. Because of this, I did not know what we were in for when we visited this Castle. But I am a girl, and castles are awesome, so I was all for a visit. Especially when I learned we would be staying right on the Castle grounds in a charming Gatehouse hotel Zamek Ksaiz.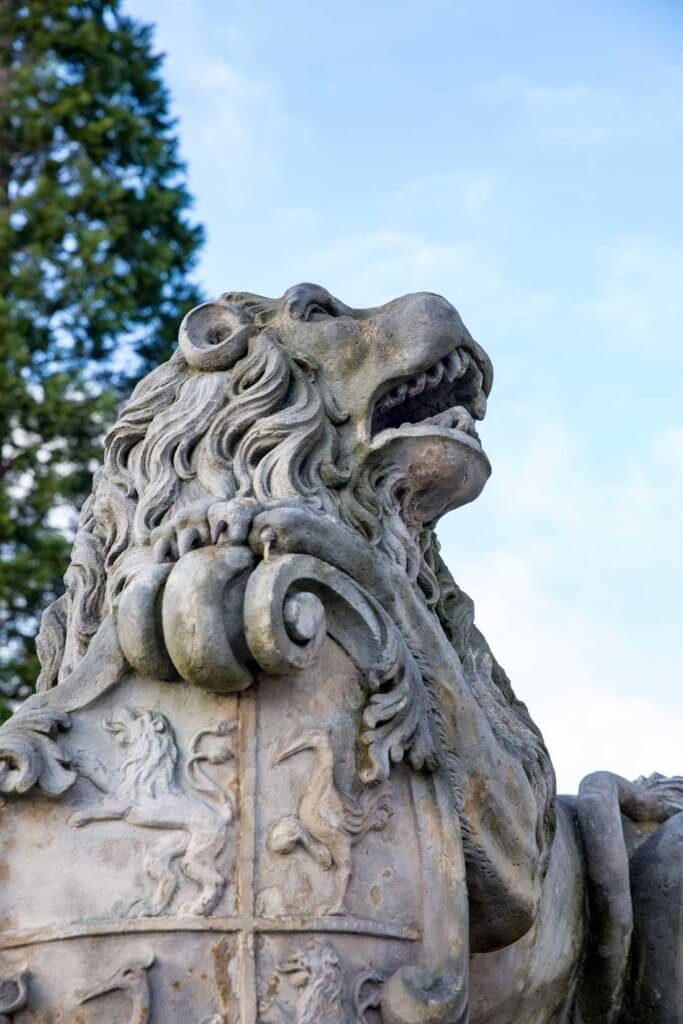 We drove to the Castle, but Walbrzych is about 2 ½-3 ½ hours drive from Krakow, Dresden, Berlin or Prague, making it easy to get to no matter what direction you are coming from. Walbrzych is also easily accessible by train.
We arrived too late at night to tour the Castle initially, so we checked into our quaint and charming little hotel right on the Castle grounds, and went to sleep.
The next morning we got to enjoy this interesting and eclectic pink building. I loved the manicured lawns, the beautiful gardens, and all the statuary outside the building, but what we found inside was even better.
This Castle has a unique history. At one point it was seized by German Nazis in 1941 to become a residence for Hitler, there are even stories that Nazi treasures are hidden in tunnels under the structure, and around the property. No idea if that is true, but if it is, they haven't found it yet.
But you can tour the grounds, and the tunnels, so keep an eye out!
Even before the infamous Todt (Nazi fource) took over the castle, and built the tunnels, other well known figures called Ksaiz Castle home. The most notable family was the The Prince and Princess of Pless, who raised their 4 children in the castle.
Princess Daisy is the better known of the two, as she was a progressive woman who not only divorced the Prince at age 50, but also wrote an expose about living life as a Princess. She was also the step-aunt to Winston Chruchill, who stayed at Ksaiz Castle on many occasions.
So as you can see, this castle offers mystery, intrigue, beauty and more. It is an interesting place to visit, and one I am so glad we opted to stop at.
One of the stark truths about this castle is that much of the finery and furnishings had to be sold in order for the family to afford the upkeep. When you tour it, many of the rooms are empty. But some are staged to help you get a feel for what a grand place it once was.
The walls are beautifully designed, the ceilings offer frescos, there are terraces, and gardens, and exploring the castle is kind of like going through a maze. Luckily there are numbered signs, and guides along the way to help you to not get lost.
You can of course, take a guided tour, if you need English, arrange it in advance. Or do like we did, and explore on your own.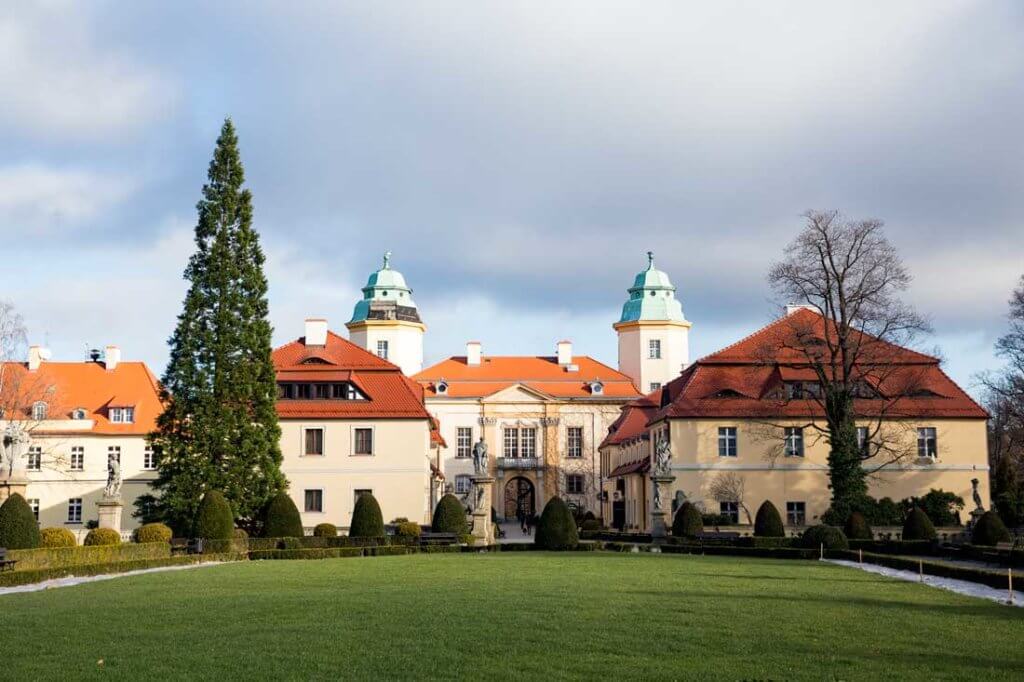 Ksiaz Castle is worth a visit, and staying overnight in the charming Hotel Ksiaz is convenient and affordable. At under $100 a night, for a three bed suite, it is the ideal place for family travel. Though single rooms are under $40, making it an excellent place for the solo traveler to visit as well. The fee includes breakfast, if you don't sleep too late to enjoy it. And it is only 150 meters from the Castle itself, and offers wonderful views of the Castle Ksaiz as well as the nature preserve. I was pleased to find out the reception person spoke English, making it easy to check in.
Honestly, I loved our time at the Castle Ksaiz, and am so glad I got to glimpse a bit of its unique history. Do yourself a favor and read more about it in my friend's posts (linked above), and let me know if you ever get a chance to visit!
During this trip we also visited Auschwitz, you can read about that here.
I received a complimentary stay to facilitate this post, all opinions are my own.