Krakow and Wroclaw Christmas Markets are like stepping into a dream filled with the sights, sounds, and tastes of Christmas!
The Polish Christmas markets are a must see, bucket list travel item, and one I highly recommend doing sooner rather than later. Pack a warm coat, and your stretchy pants (because you will want ALL to food), and go to the markets.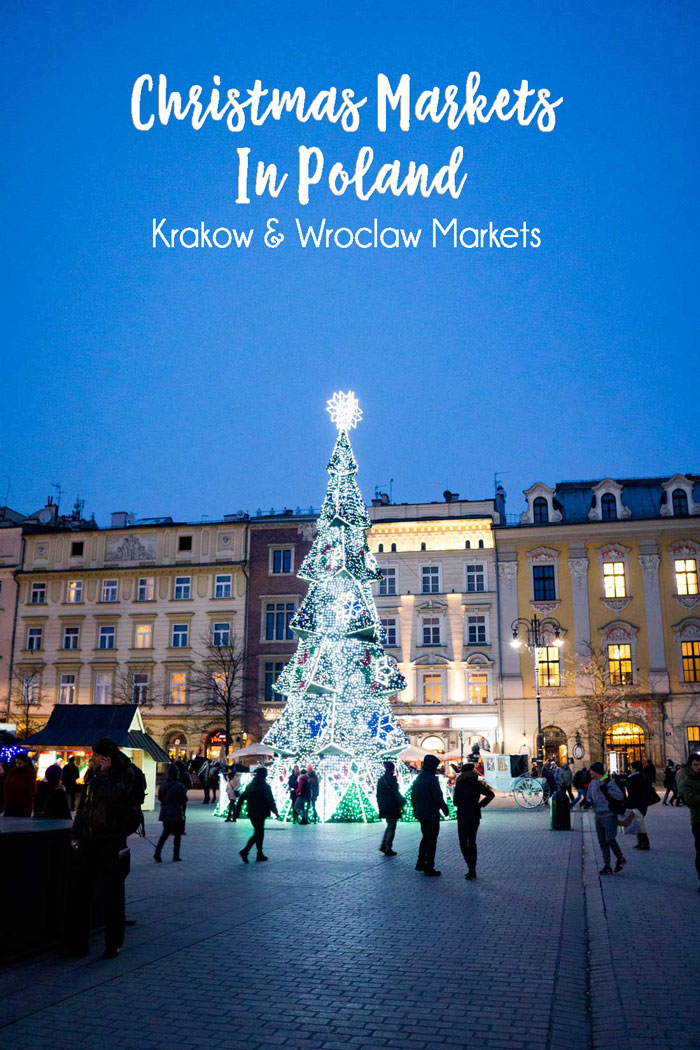 One of my lifelong bucket list items was to visit a Christmas Market in Germany. While I have not yet been to Germany for this, I got my first taste of Christmas Markets in Krakow Poland. And my second in Wroclaw. And I LOVED them both.
I am so excited to share them with you, because they really are magical.
When my friend Courtney asked me if I wanted to take a trip with her to Poland, I was hesitant. I had been there before, and while I really loved it, I only have so much time and so many vacation dollars, so going someplace I have already been, even somewhere I truly loved, when there is a big wide world to explore was something I had to consider. But when she mentioned the Christmas Markets would be in effect, all my hesitations vanished, and I couldn't wait to jump on a plane and go.
I was so excited to finally get to see what all the fuss was about, and I wasn't let down.
Polish Christmas Markets
Christmas time in Poland is pure magic. The squares are decked out with trees, lights, and all the shops, food, and fun you can imagine. Everyone is festive. Everything is festive. And you can just soak it all in.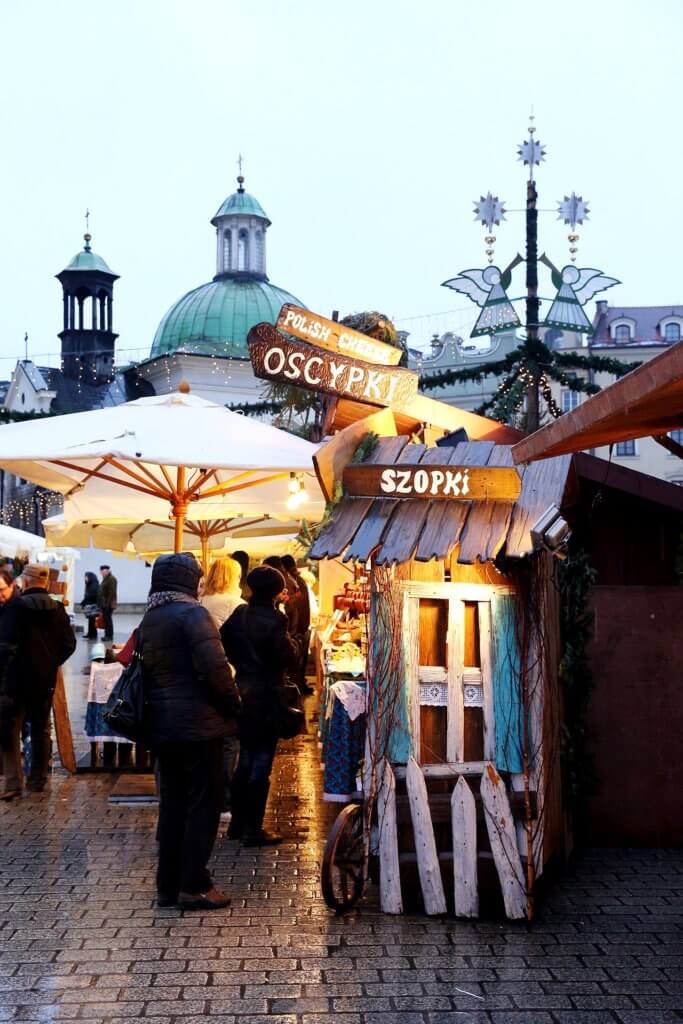 There is live music, and performances, and stands with all kinds of delightful offerings, from delectable samplings of food, gingerbread, and Christmas punch, to beautifully crafted ornaments, wooden toys, and more.
What the European Christmas Markets Offer
Lights
Ornaments
Handmade gifts
Delicious foods
Music and festive fun
Christmas magic!
When you enter a Christmas Market in Poland you almost feel like you stepped into another dimension where everyone is happy, and everything tastes amazing, and Santa Claus is real.
I can't even properly explain just how magical the whole thing is, it is kind of, you have to see it to believe it kind of thing.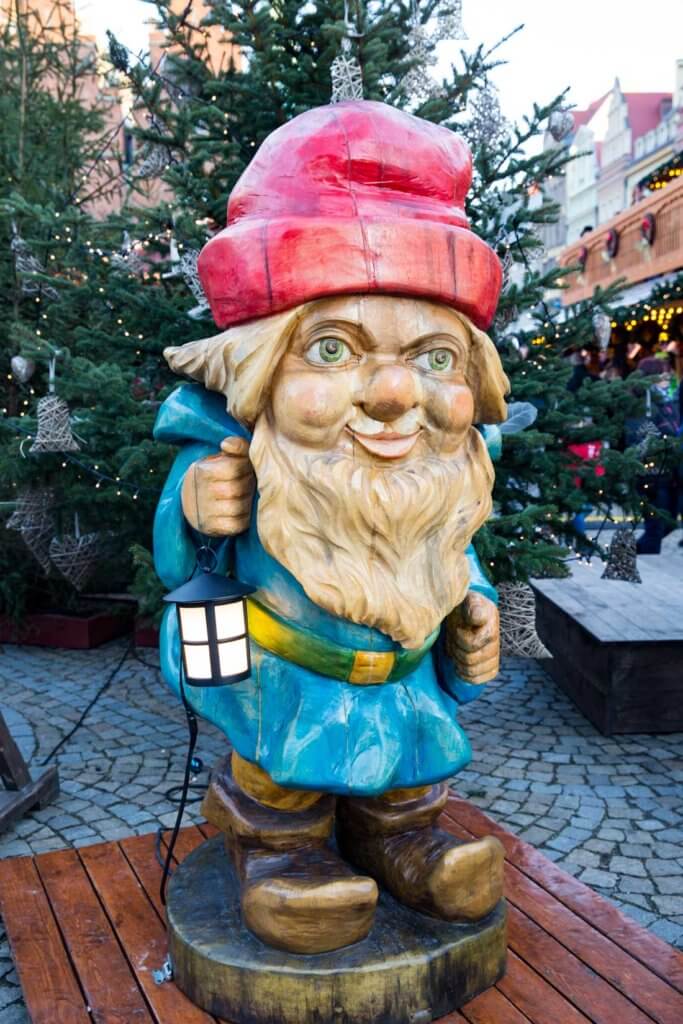 When my kids asked me what I did at the Christmas Market, I wasn't even sure how to answer them.
There are carnival type games, and little rides for the kids (in Wroclaw), and there are choirs, and performances (Krakow), which are a fun way to spend some time. But mostly I wandered, gawked, shopped, and ate. It is the kind of place where you don't have to "do" anything to enjoy your time there.
It is more about soaking in the Christmas magic, the festive atmosphere, and the enjoyment of the season.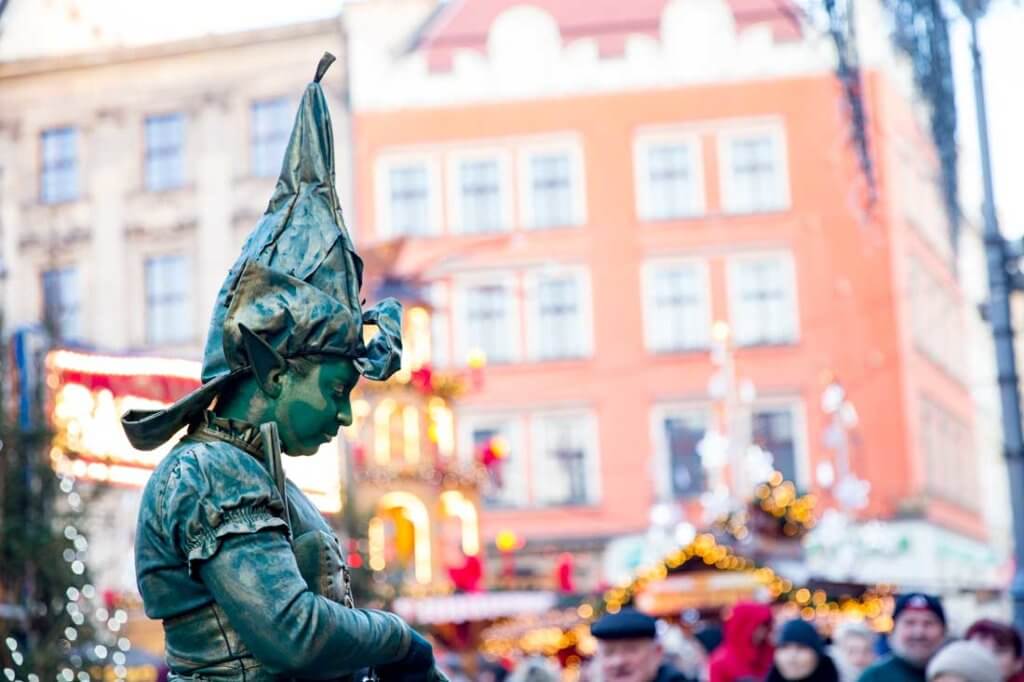 The market is lined with stalls and vendors are selling their wares. But the amazing thing is, almost everything is handmade, unique, and super high quality.
You can find toys like hand puppets, wooden swords, and other darling things. Sweets, like ornate gingerbreads, and candied nuts. You can find clothing, a blacksmith making ornaments, silverware, jewelry, and toys. And, stand with famous Polish pottery, all unique, many hand painted. There are ornaments, chess sets, delicious scents, and a festive atmosphere. And nativities. Cribs. And all the festive holiday and seasonal wares you can think of.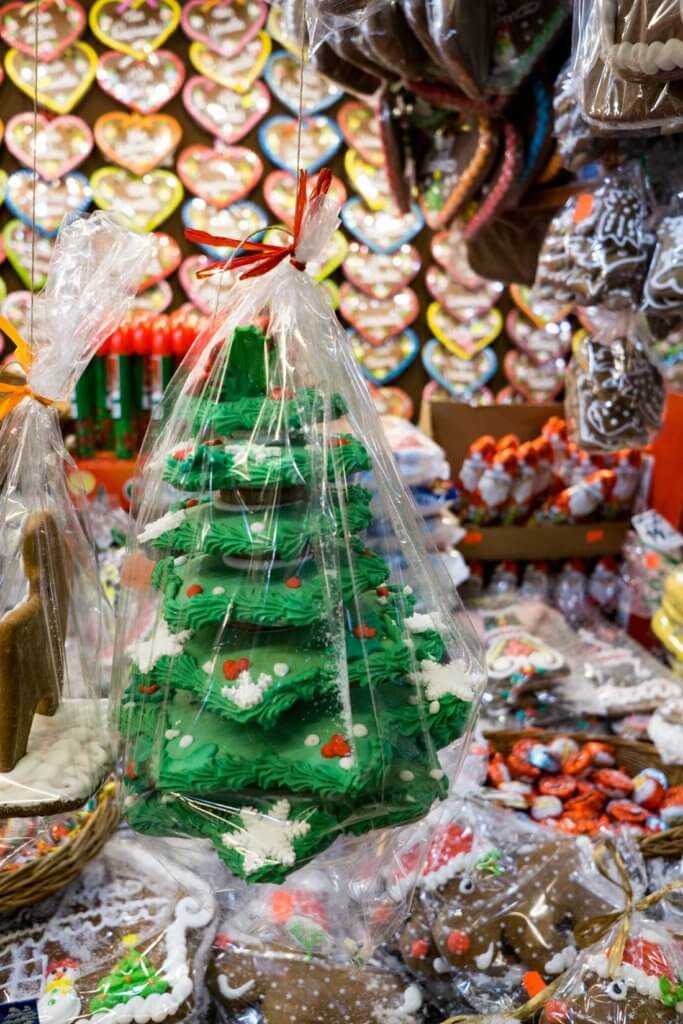 Christmas Market Food
My favorite part of the Christmas markets were the food offerings. This should come as no surprise to anyone, but I was in food heaven. From thick chunks of bread slathered in melted onions, and roasted meats, to sweetly spiced gingerbreads, and the punch…oh the Christmas punch. You can get it alcoholic or non, and it is aromatic, and warms you clear to the bone. It is delicious.
But my favorite morsel to eat while perusing the vendor stalls was the grilled cheese bites. They are these pieces of smokey, aged, delicious cheese (not found in the US), that are then served with a cranberry relish. You can get them with bacon and figs, too. But I liked them best plain with the relish. They are salty, and so pair perfectly with the sweet, but hint of sour cranberry. And they are very inexpensive. I won't even tell you how many I ate because it is embarrassing.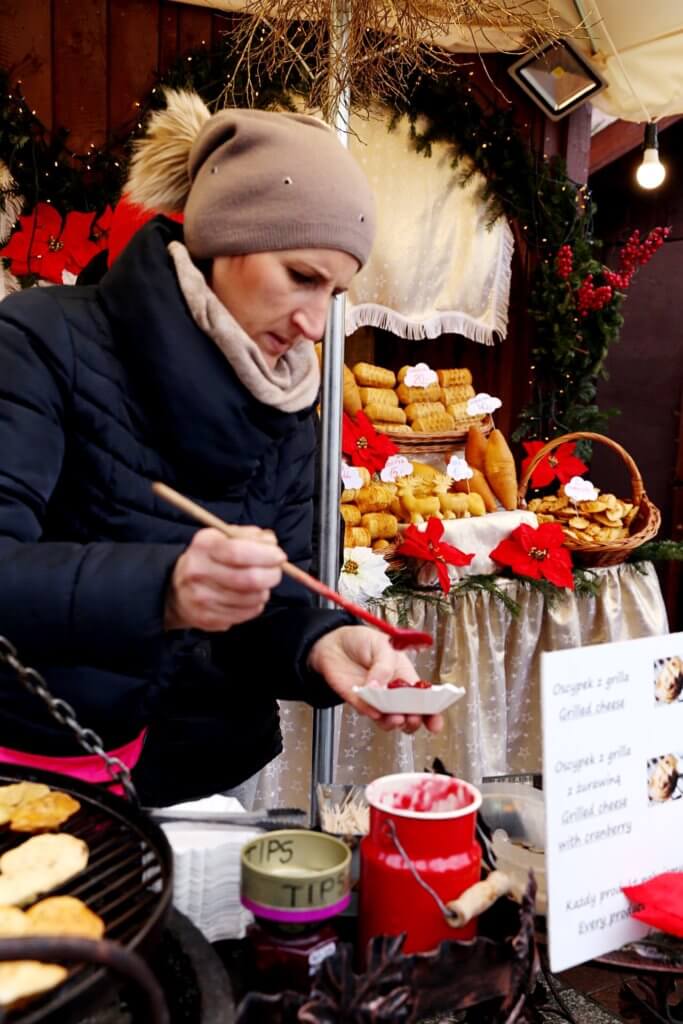 Of course, there are far heartier options as well, from polish sausages smothered in anything you can imagine to langosh, gyros, and more. The sweets are out of this world too, from bubble waffles stuffed with goodies, to candied nuts, and these amazing treats I can't remember the name of that look like a cone, but are the consistency of a churro. Delicious.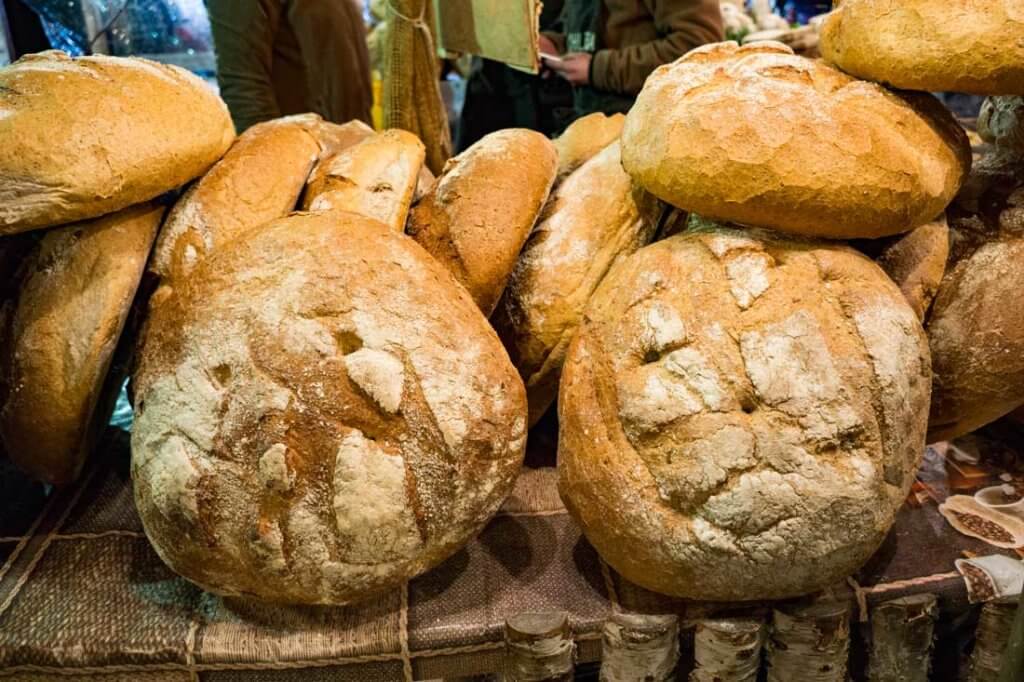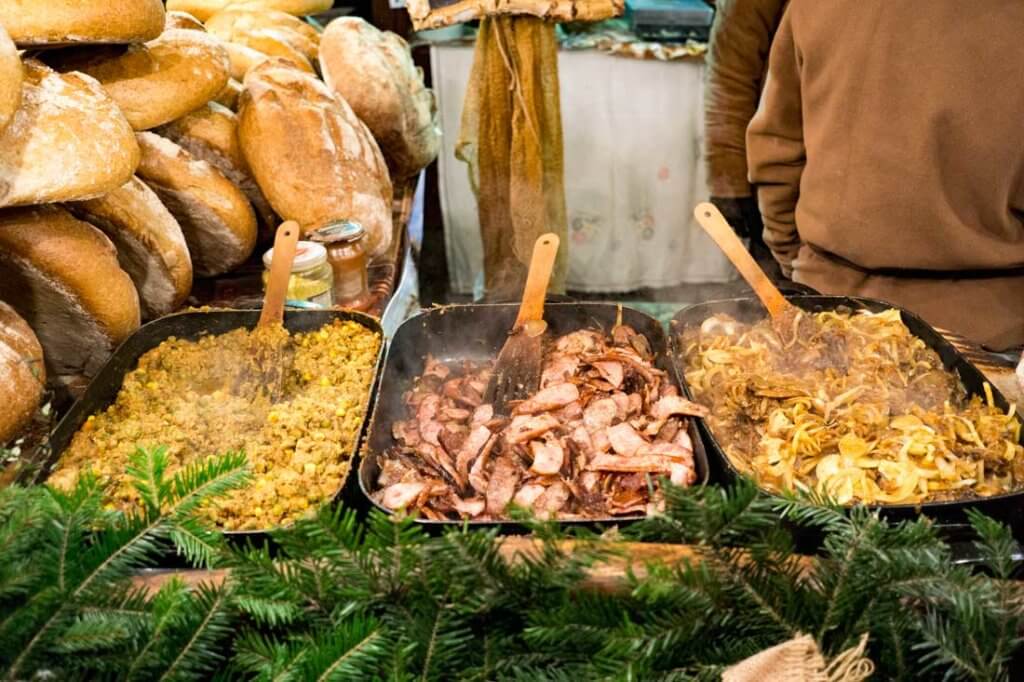 Are Christmas Markets Expensive?
Not the Polish ones. Did I mention it is so inexpensive? A visit to the Christmas Markets in Poland will not preclude you from having a Christmas. The exchange rate is great for the US. But additionally, things are just not that expensive. I got handmade swords, shields, and dolls for my children for about $6-8 a child. I ate everything my heart desired and probably only spent $20 the whole evening. And trust me, I did not hold back.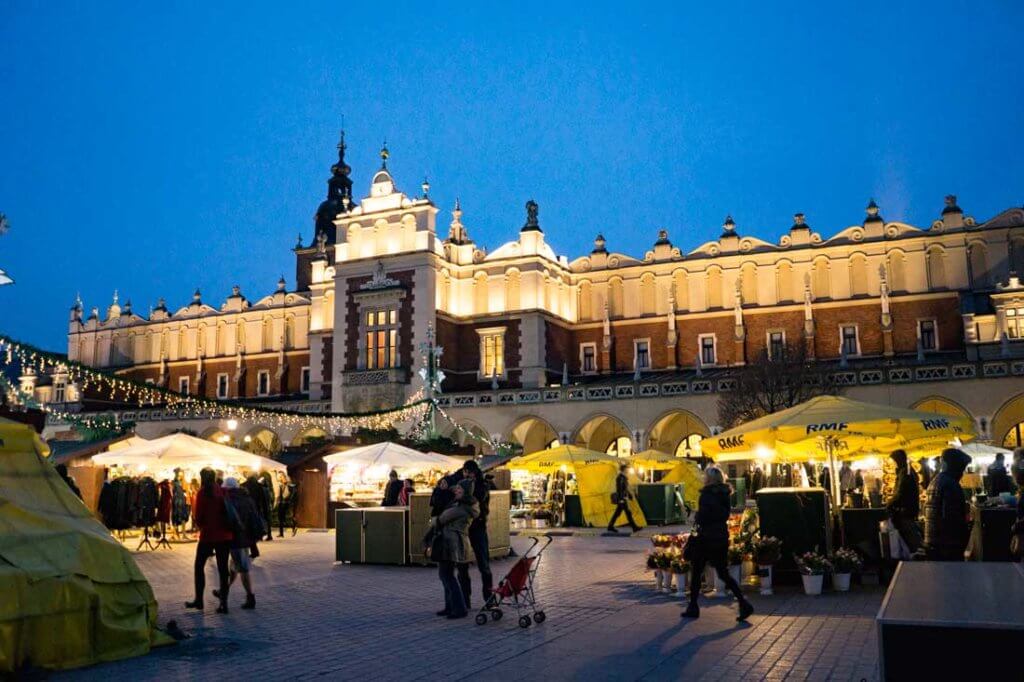 So if you ever have the chance to visit the markets in Poland, I can't say enough good. I have been to markets all over Europe, and they are all amazing in their own way, but know that you will not regret a visit to the markets in Poland. Because who can regret magic???
Pin to your Travel board on Pinterest: