Lunchbox Ideas:
16 eazy peazy Lunchbox ideas you will love that aren't sandwiches, and that adults and kids will love! Perfect lunches for going back to school.

Lunchbox Ideas
©Eazy Peazy Mealz by EazyPeazyMealz.com
Pin it to your (Board Type) board to SAVE it for later!
Follow Eazy Peazy Mealz on Pinterest for more great tips, ideas and recipes!
Going back to school is fun and exciting for a lot of reasons, especially for mom's. But one area I never look forward to is the whole lunch situation.
It can be frustrating at best to deal with getting lunches made everyday. This year I am doing things differently, and have gone to a lot of trouble and thought to come up with solutions to the lunchtime saga.
And one of those solutions is to come up with some fun, healthy (or at least healthy-ish) lunchboxes that my kids will love.
If I am being honest, these aren't just for the kids. Once a week I am stocking my fridge, and I am enjoying the benefits of ready to eat lunches, snacks, and even breakfasts as well.
What you need:
To be successful you are going to need a few things:
2 ounce portion containers: These are disposable, and if you are anti-disposable, feel free to buy some little containers about this size. I love having these, and have taken the time to pre-fill hundreds of them so assembling lunches is super quick. We have them filled with granola for parfait boxes, nuts of various varieties, M&M's, snack crackers, olives, etc. and they are ready to go.
Lunchbox containers: I love these ones because while they look disposable they are actually totally reusable and a great quality. They are microwave, freezer, and even DISHWASHER safe. I recommend these, but I know that they are plastic. So while we use them all year, if you want to use something more eco-friendly, feel free. There are tons of options. You can find a variety of disposable and non-disposable options here.
Reusable ice packs: These aren't strictly necessary, but I like that these are reusable, easy to wash, and are an excellent way to keep lunches cold until lunch. I pop the containers into an insulated lunch box with an ice pack and they stay cool until lunch.
Insulated Lunch Box/Bag: If you won't have access to a fridge, it is good to keep lunches cool. The lunchbox container and reusable ice packs fit into this insulated lunch box. It comes in a few different patterns and colors, and zips closed at the top. So if you need something to keep your kid's lunch cool, this is a great option.
Printable List in Recipe Card At Bottom of Post
Notes:
These lunch options are NOT nut free, we do not have a nut ban at our school. You could sub out nuts of something else like roasted chick peas. But don't worry, I have heard you, and will have a Nut Free Lunchbox Ideas post coming soon.
The containers listed above are what I use. You can find them at Costco, Sam's Club, or Amazon. They are reusable, and we do not throw them out, we use them over and over. But for a more eco friendly version, I recommend this one: Glass Meal Prep Containers
I would love to do a Picky Eater post, so comment below with what your picky eater will eat so I can put together lunch ideas for picky kids! Thanks
If you do not think this is enough food for your child, adjust! These are great for my elementary aged kids, and even for me! But they make great snacks too.
Parfait Lunchbox:
This one may seem more like breakfast, which means it is doubly awesome because it can serve for a lunch or a breakfast on the go. This particular lunchbox is my daughter's favorite. She is a huge fan of parfaits, and I am a huge fan of keeping her happy.
I pre-portioned out the granola, coconut, and nuts, and have them all in a drawer so she can assemble these herself too! Just add yogurt and berries.
4 ounce yogurt cup
2 ounces each: granola, roasted almonds, blueberries, raspberries, and coconut flakes

The Cheese Plate Lunchbox:
One of my favorite things to eat is a cheese plate, so why not make one into a lunchbox? I am stocking my fridge with these little cheese plates to go so I can enjoy them for lunches and snacks myself, not just send them off to school with my kiddos.
It offers protein, carbs, and all kinds of delicious fruits, so it is both filling and nutritious.
Chunk each of Brie, Gouda, and Sarvecchio

Apple Slices

Dried fruit (apricots)
Pretzel crisps
Grapes (red and green)
Almond, roasted and salted
The Chicken Salad Lunchbox:
Chicken salad is an awesome lunch item, and lucky for me, I can buy it already made and portioned into these perfect 4 ounce cups from Costco.
This is a fun and filling option that doesn't take a ton of work for me, and adds a nice variety. Pair it with a croissant or crackers, fruit and veggies.
Chicken Salad Cup
Grapes
Carrots
Wheat Crackers
The Wannabe Cheeseburger:
My husband loves cheeseburgers for lunch, so I thought it would be fun to make a kind of deconstructed burger, and offer it as a lunch option.
So instead of a burger patty it is roast beef, then all the fun components of a regular cheeseburger meal. Minus the chips/fries. So feel free to add a bag of potato chips to this one to make it even more fun!
Roast beef
Slider bun
Cheese Stick
Olives
Grape tomatoes
Dill pickles

Protein Lunchbox:
Have you seen the protein boxes at Starbucks? I wanted to have something like that in my fridge for days when I am super busy, and need sustenance.
And guess what? My kids liked them too. So they definitely made the list for lunchbox options. This ones is delicious, but of course, feel free to add your favorite form of protein.
Black forest ham
Roast beef
Cheese chunks
Hard boiled egg
Cashews
Almonds
Hummus

The All American:
Of all the lunchbox ideas, this one is the worst! It is not the healthiest of the options,which is probably why it is one of my kid's favorites.
It is a fun option though, and a great go to when I don't have time to make anything, as most of it can be purchased, and just assembled.
Pretzel sticks
Applesauce
Cheese stick
Trail mix
Granola bar
Mandarin orange cup

The Apple Sandwich Lunchbox:
Have you ever had an apple sandwich? It is basically slices of apple with peanut butter spread over the slice, and topped with fun things like mini chocolate chips, granola, and nuts. I loved the idea, and thought it would be fun to make it for my kids.
For their lunches I would pre-slice the apple into rounds, and stick a clean rubber band around it so that it doesn't brown during the day while it is in their lunchbox. Then let them assemble as they see fit.
Apple
Peanut butter
Coconut
Granola
Dried fruit
Mini chocolate chips
Roasted, salted nuts

Blueberry Bagel Lunchbox:
My kids are big fans of breakfast foods, so incorporating them into the lunchbox ideas was a given. And this one is a particular favorite because it is filling and flavorful. You could pre-toast the bagel if you wanted, but I just pre-slice it to make it easy for the kids at lunch time.
Blueberry bagel
Whipped cream cheese
Grapes
Berry medley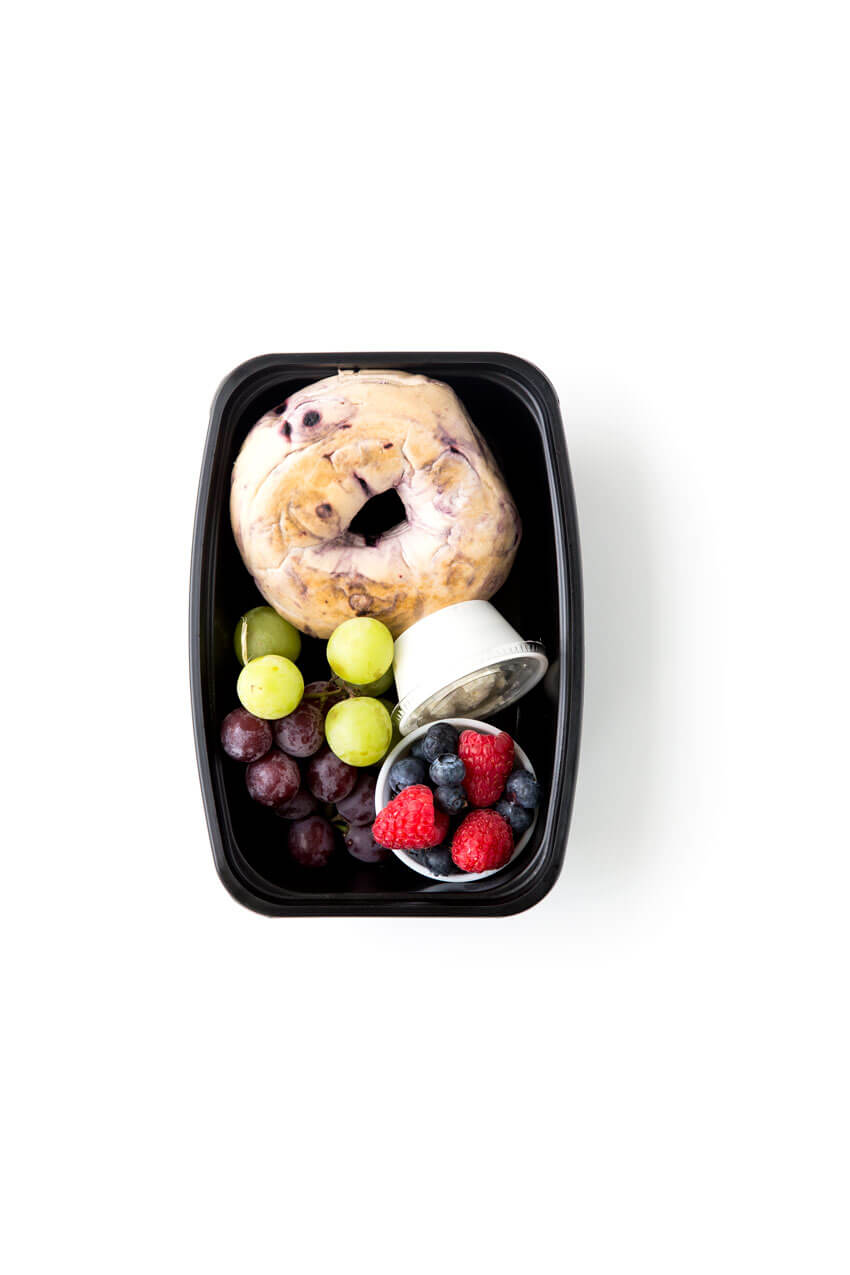 Chicken Salad Fruit and Veggie Lunchbox:
Okay, I admit it, this one is a little boring, at least the name, but it is one of my favorites because it is filling and tasty, and hits all the right notes. It offers a great chicken salad to be eaten with pretzel crisps, but also cucumber slices, fruit, and nuts.
4 ounce chicken salad
Cucumber slices
Nectarine
Roasted almonds
Pretzel Crisps
Deconstructed Pizza Lunchbox:
Who doesn't love a good slice of pepperoni pizza? And while many argue cold pizza is fine, it isn't my favorite, but I love the various components, and they make a lunch box my kids can't get enough of.
Pepperoni
Cheese chunks
Olives
Grape Tomatoes
Wheat crackers
Frogs on a Log Lunchbox:
As a kid there was nothing I liked more than a stick of celery slathered in peanut butter and topped with "frog" raisins. But these are given a slight upgrade. They offer delicious nut butter (choose your favorite), whipped cream cheese, and more! You will love this one.
Nut Butter (almond, peanut, cashew, you pick)
Whipped cream cheese
Dried fruit (cranberries, raisins, etc. )
Roasted nuts
Celery sticks
The Fruit Salad:
Fruit salad is always a fun thing to eat, especially when it has a fun dressing. This embodies that idea, in lunchbox form. Fruit and yogurt, and combine to make a fruit lover's dream. Feel free to add in some nuts, chia seed, hemp, or something else if you want more heft. This is another one of those great for breakfast options!
Yogurt
Apple slices
Grapes
Berries
Homemade Lunchables Lunchbox:
Please tell me I am not the only one whose kids beg for lunchables? Like seriously! So I decided to make my own so that they have quality cheese, great quality deli meats, a fun treat, and fresh fruit.
Ritz crackers
Colby jack and provolone cheese slices
Black forest ham
2 ounce cup of M&M's
Grapes or fruit of choice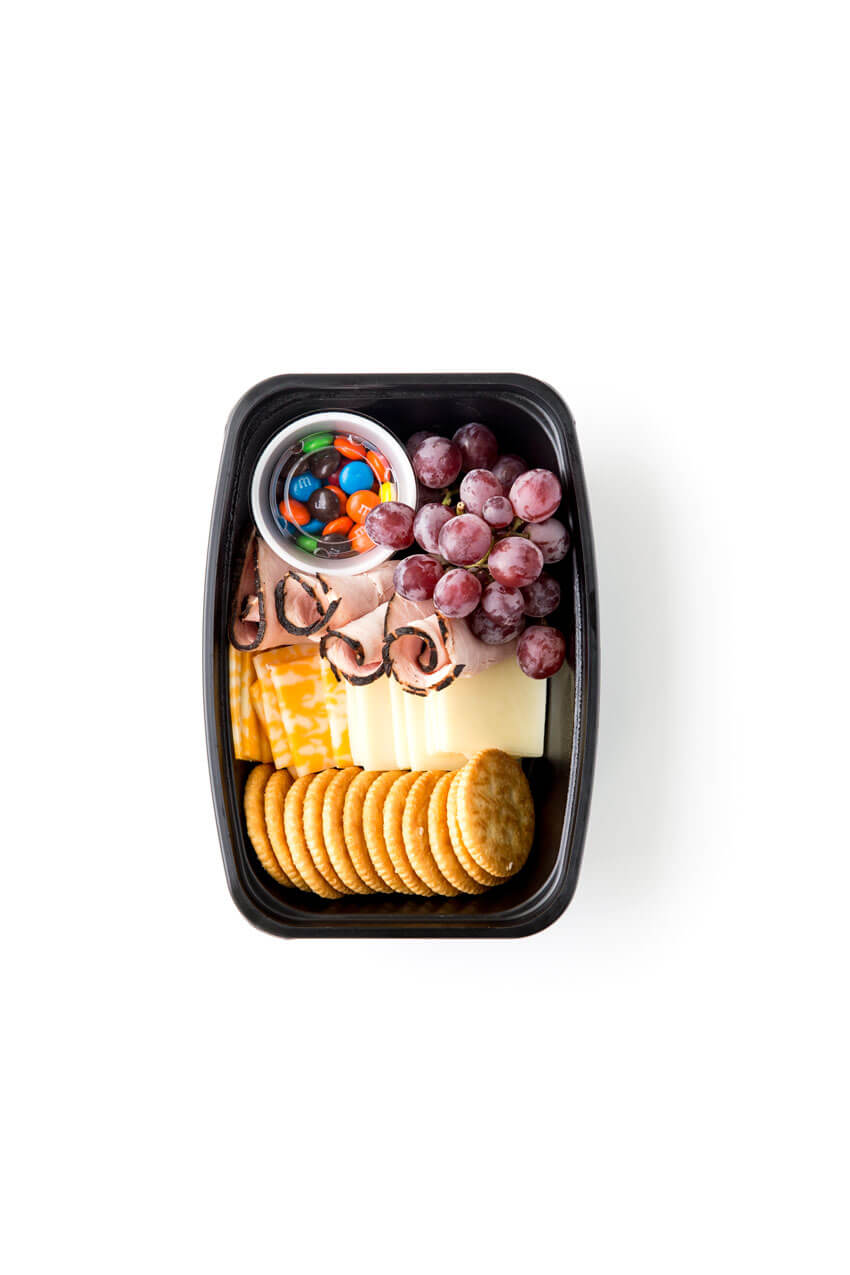 The Hummus Dipper Lunchbox:
Hummus is such an awesome lunchbox addition, especially when you can add tons of great dippers. And what better way to increase veggie intake? This is another one I like to make extras of so I have nutritious snack options at the tip of my fingers.
Sabra Hummus Cup
Celery
Cucumber
Carrot sticks
Pita Chips
Green olives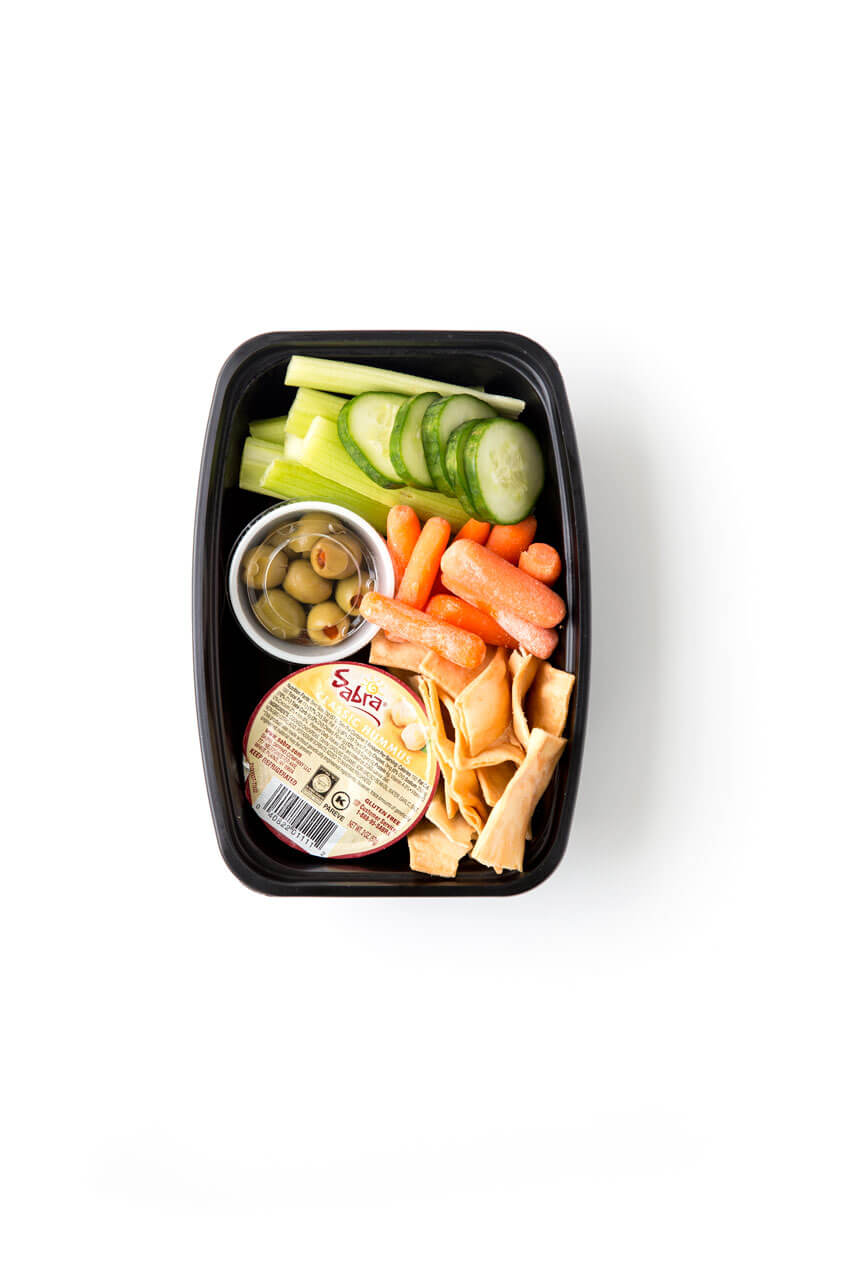 The Mediterranean Lunchbox:
Speaking of my love of hummus…this lunchbox is amazing. It offers all the fun flavors of the Mediterranean in a great snackable or lunchbox form! Yet another one I make extras of for me!
Pita or mini naan
Roasted Chick Peas
Green Olives
Sabra Hummus
Cucumber
Sugar Snap Peas
Grape Tomatoes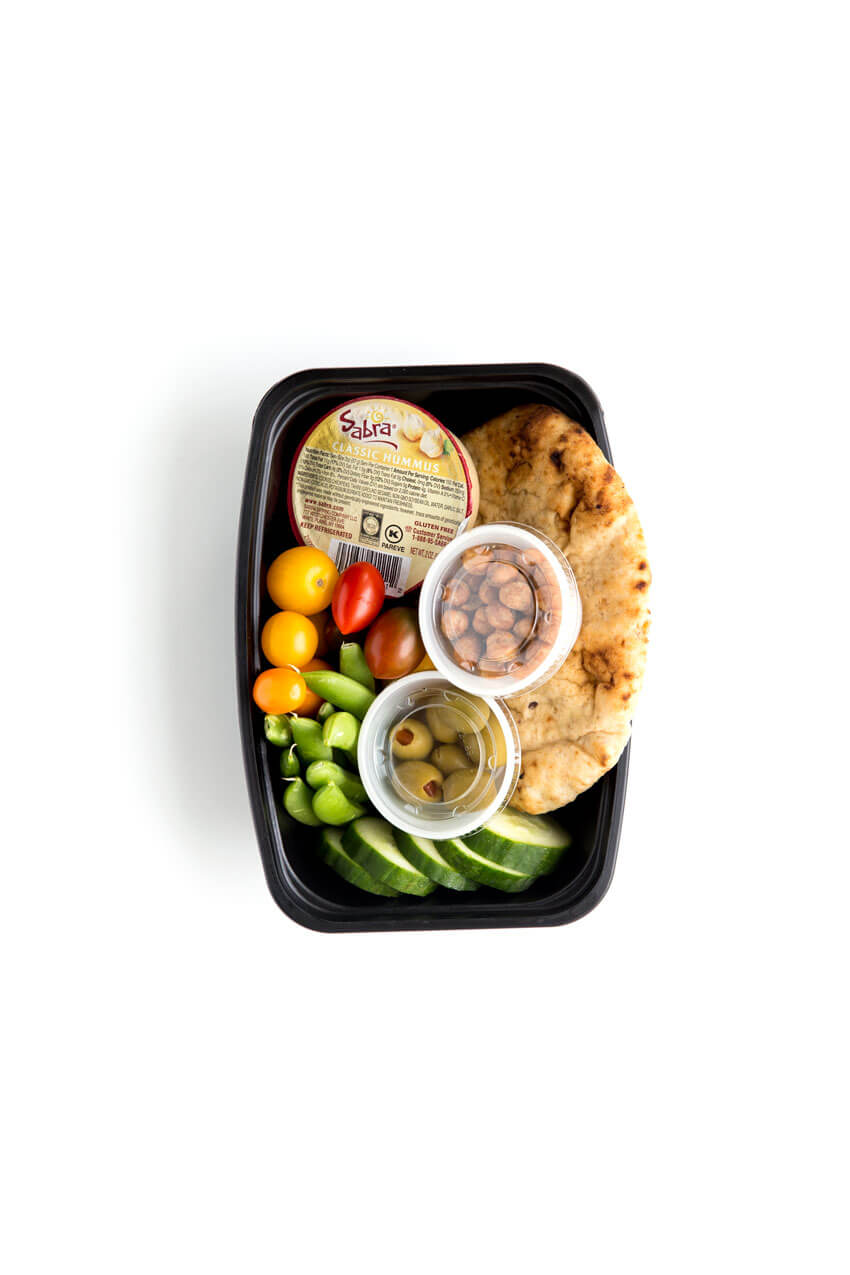 The Nacho Lunchbox:
Nachos are so tricky for lunch boxes, especially if you don't have a to heat up your cheese, but that doesn't mean you can't enjoy all the yummy flavors of a good plate of nachos. This one is a kid and husband favorite!
Tortilla chips
Guacamole cup
Pickled jalapenos
Salsa
Olives
Tomatoes
Cheese stick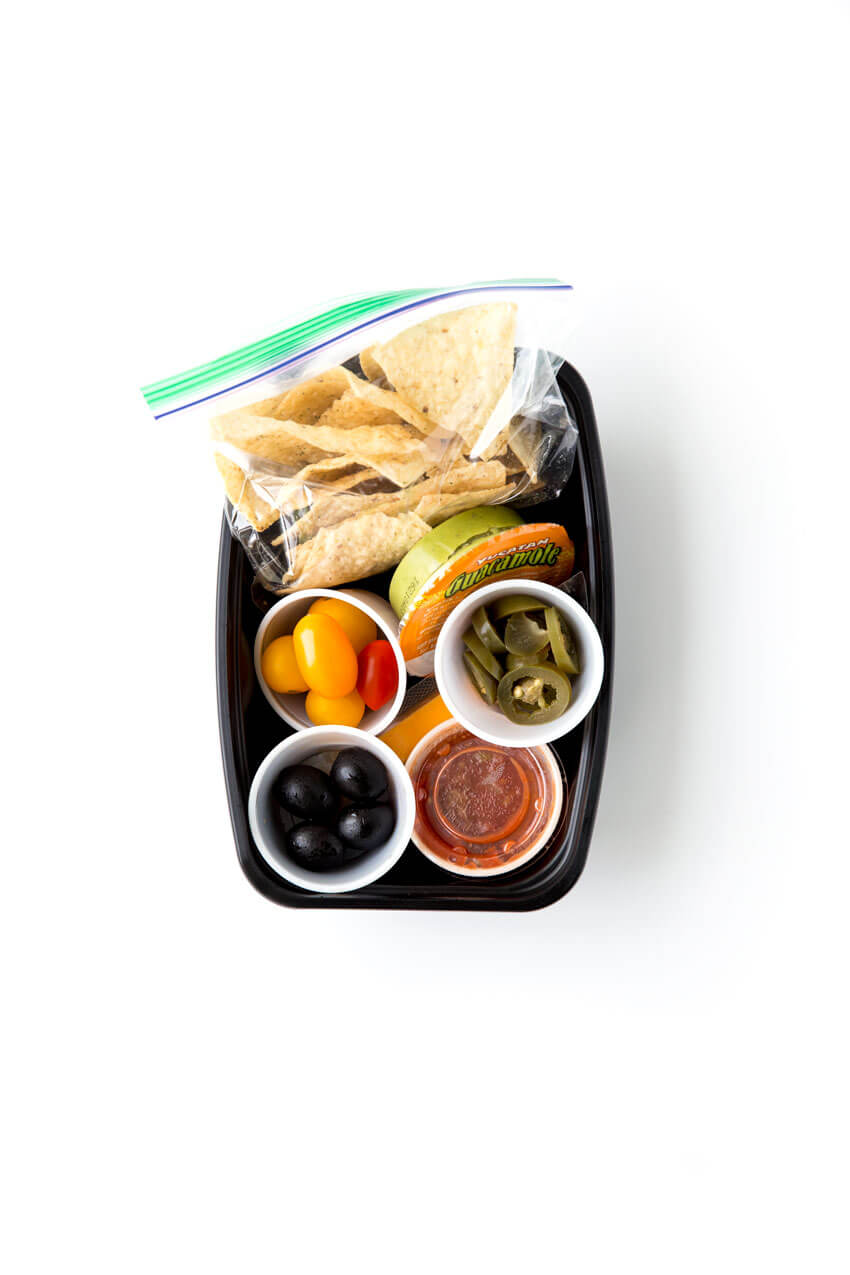 There you go! A bunch of fun lunchbox ideas. And chances are now that you are thinking about it, you are probably coming up with several more of your own!
Lunchbox Success Tips:
Check with those who will be consuming to figure out what they love. No one wants wasted food.
Shop at Costco or other places where you can buy these fun pre portioned items like the chicken salad, hummus, and guacamole.
Prep ahead. School starts for us soon, and we are going to be assembling lunches once a week and stocking the fridge with them so mornings are smoother, and we don't have to worry about what each kid will eat during the week!
Prep what you can ahead of time. I don't like assembling too many of these in one go because the fresh fruits and veggies have an expiration date. But taking time to pre-portion things like nuts, granola, treats (M&M's), goldfish crackers, peanut butter filled pretzels, etc. into those 2 ounce portion cups means faster assembly when you do put lunches together. And it is a fun family activity. I just laid out a bunch of the cups, and handed each kid a tub or container of something to portion out. They had fun, and it was a team effort!
Adjust how much you put in each box to the appetite of your child. My 12 year old is a bottomless pit, so he gets more nuts and proteins, and larger portions then I make for my 4 year old, who prefers more variety in smaller quantities.
Containers are reusable, and should be. I am not encouraging waste. However, feel free to use glass products.
Other Back to School Resources: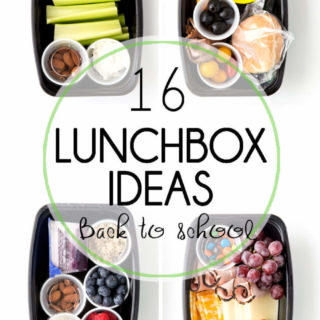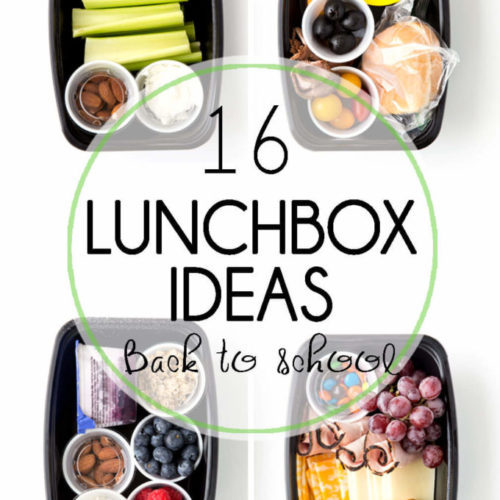 Lunchbox Ideas
16 Lunchbox Ideas: Eazy Peazy lunchbox ideas that are not sandwiches and that kids and adults will enjoy!
Print
Pin
Rate
Ingredients
Parfait Lunchbox
4

ounce

yogurt cup

2

ounces

granola

2

ounces

roasted almonds

2

ounces

blueberries

2

ounces

raspberries

2

ounces

coconut flakes
The Cheese Plate
Chunk of Brie

Chunk of Gouda

Chunk of Sarvecchio

Apple Slices

Dried fruit

apricots

Pretzel crisps

Grapes

red and green

Almond

roasted and salted
Chicken Salad
Chicken Salad Cup

Costco, or make your own

Grapes

Carrots

Wheat Crackers
The Wannabe Cheeseburger
Roast beef

Slider bun

Cheese Stick

Olives

Grape tomatoes

Dill pickles
The Protein Lunchbox
Black forrest ham

Roast beef

Cheese chunks

Hard boiled egg

Cashews

Almonds

Hummus

*Optional: Veggies for the hummus
The All American
Pretzel sticks

Applesauce

Cheese stick

Trail mix

Granola bar

Mandarin orange cup
Apple Sandwich Lunchbox
Apple

Peanut butter

Coconut

Granola

Dried fruit

Mini chocolate chips

Roasted

salted nuts
Blueberry Bagel Lunch
Blueberry bagel

Whipped cream cheese

Grapes

Berry medley
Chicken Salad Fruit and Veg Lunch
4

ounce

chicken salad

Cucumber slices

Nectarine

Roasted almonds

Pretzel Crisps
Deconstructed Pizza
Pepperoni

Cheese chunks

Olives

Grape Tomatoes

Wheat crackers
Frogs on a Log
Nut Butter

almond, peanut, cashew, you pick

Whipped cream cheese

Dried fruit

cranberries, raisins, etc.

Roasted nuts

Celery sticks
The Fruit Salad
Yogurt

Apple slices

Grapes

Berries
Homemade Lunchables
Ritz crackers

Colby jack and provolone cheese slices

Black forrest ham

2

ounce

cup of M&M's

Grapes or fruit of choice
The Hummus Dipper
Sabra Hummus Cup

Celery

Cucumber

Carrot sticks

Pita Chips

Green olives
The Mediterranean
Pita or mini naan

Roasted Chick Peas

Green Olives

Sabra Hummus

Cucumber

Sugar Snap Peas

Grape Tomatoes
The Nacho
Tortilla chips

Guacamole cup

Pickled jalapenos

Salsa

Olives

Tomatoes

Cheese stick
Instructions
Assemble, adjust quantity of items to your personal preference and appetite of the person consuming,
Our recipe card software calculates these nutrition facts based on averages for the above ingredients, different brands, and quality of produce/meats may have different nutritional information, always calculate your own based on the specific products you use in order to achieve accurate macros for this recipe.
Want to use this recipe in a meal plan?
Try PrePear, my FREE Meal Planning App that allows you to save your recipes, plan meals, shop for groceries, and cook simply in one place. Join Here!