Miso Salmon
Delicious miso salmon. This baked salmon has a fantastic miso glaze that is sweet and savory. And is served over rice with a creamy ginger lime sauce that is so good you will want to drink it. 
This recipe offers a complete meal of delicious rice, vegetables, and the most tender, flaky, salmon with a sweet and savory sauce made with miso soy bean paste.
Serve with Best Ever Roasted Broccoli and Easy Rice Pilaf for a great meal.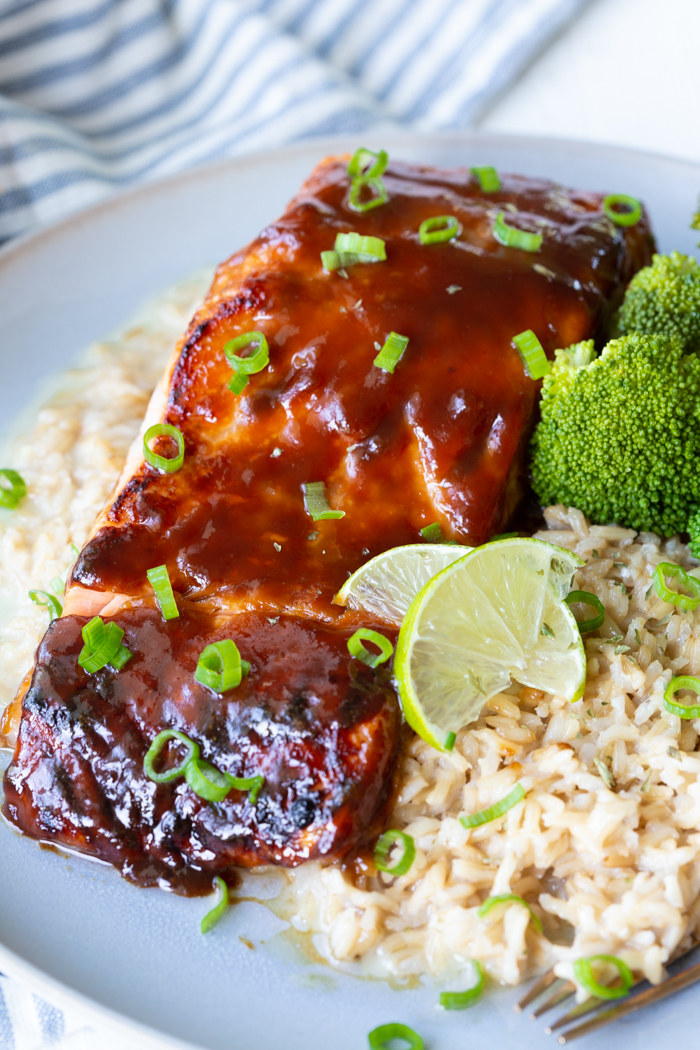 Miso salmon is a favorite dish of mine when eating out, and something that is simple to make at home and quite tasty. It comes together in about 15 minutes, and has so much flavor you can't even imagine how easy it is. 
This salmon contains both miso–soy bean paste, and soy sauce. It is one of my favorite easy meals that is bursting with flavor, but also contains lots of health benefits thanks to the salmon and the soy. 
Salmon is a favorite lunch around here, so I am either making these Salmon Rice Bowls or this Miso Salmon weekly!
Best Food Facts Soy Tour
I recently got the chance to attend Best Food Facts Soy Tour in Ocean City, Maryland. This was a tour that covered everything soy. For three days we immersed ourselves in the world of soy beans, from how they are grown, to how they are processed, and even how soy is used for both animal feed and human consumption. 
Best Food Facts is an excellent resource when you want information about food. It is a website that uses experts, like dietitians, doctors, and the farmers themselves to share objective, fact-based information about food.
I learned so much during this trip, and got answers direct from the source (growers and processors) so I could share everything soy with you! So before we get into this Miso Salmon, and talk about just how mouthwatering it is, let's take a look at soy! 
Many of you asked me questions on Instagram about soy, how it is farmed, sustainability, what technology is used, GMOs, how it is processed for food production, if it is bad for you, can it cause cancer and more. And I am going to do my best to answer all of those questions, as well as point  you to qualified sources for finding answers to any questions I don't cover. 
There has been a lot of misleading information about soy, and so many are left wondering, is soy good for you or not?  Does it contain estrogen? Has soy been linked to breast cancer? And more. So let's take a look
Is Soy Good or Bad For You?
Soy is good for you! It is a delicious, wholesome plant, that has gotten a bad rap, but that has been consumed for centuries by some of the world's healthiest populations, and has a lot to offer nutritionally. Take a look:
Plant-based protein: Soy is a great source of plant-based protein, and a complete protein with all the essential amino-acids. 

Nutrient rich. 

High in fiber. 

Great source of calcium, potassium, phosphorus and iron as well as B vitamins. 

No cholesterol

Low in saturated fat.  According to Dr. Garden-Robinson: "The fat found in soy includes heart-healthy polyunsaturated and monounsaturated fats, including essential fatty acids."
The Concern About Estrogen
Soy foods do not contain the hormone estrogen.  So why are people so funny about this? Well, they do contain isoflavones, which are "phytoestrogens", in other words, plant estrogens, that are structurally similar to estrogen but function more weakly and do not affect humans.  
So do you need to be concerned? Nope. The amounts of phytoestrogen you would need to consume for a negative impact or "feminization" is so large, it would be nearly impossible to consume that much soy! And recent research has shown it isn't causing breast cancer, but might actually even help. 
According to Dr. Garden-Robinson: "Some research has shown breast cancer survivors may reduce their risk of reoccurrence with a fairly small amount of soy (e.g. 1/2 cup of soymilk per day). Other research has shown that having soy foods early in life may decrease the risk of breast cancer later in life."
Ok, so now that we got that out of the way, and we know that soy beans are a wholesome part of a balanced diet, let's chat about how they are grown, sustainability, etc. 
Soybean farming
One of the highlights of the tour for me was getting to meet and interact with a soy bean farmer. We visited the farm, got to meet the farm dog, learn about how their family has been farming soy for generations. And chat with them about the technological advancements, and what they are doing to keep crops healthy and profitable. 
Here are a few of the things I learned: 
Uses:
Did you know a lot of soybean production is used for chicken feed? As well as vegetable oil? 
In fact, all of the vegetable oil you find at the store is going to be soy oil. But I also learned an interesting fact, that even if you have a soy allergy you don't have to avoid it (consult your doctor) because it is refined, and the proteins are removed, so the allergens aren't there.
GMOS: 
When we asked the farmer about GMOs he told us that they are definitely growing GMO soy beans, and these beans are typically used for the chicken feed and oil, and the Non-GMO, high protein soy beans are used for snack beans and tofu. 
When we talked about GMOs the overriding message was they are simply trying to produce crops that stay alive and yield a decent harvest. And there are many things they are doing to try and achieve this, not just using GMO. 
Sustainability and Technology:
Soil testing is used to get better yield. 
They are very particular about how they treat their soil. For example, they only use nitrate at certain times because it is water soluble. Potassium is used and injected into the soil. They kill the weeks before and after planting. And use 3 different kinds of pesticides: Herbicide- kills weeds; insecticides- kills insects; fungicides – kills disease. But these are highly regulated by the EPA
EPA tells them how they can use the pesticides, and when. 
They have to be certified on how to spray and follow labels. And this certification has to be renewed every 3 years. And they must go through yearly re-education. You can't even buy the pesticides without certification. 
Planting:
Soy beans are planted around May 1st.
One thing I found really interesting is soy plants don't need nitrogen. 
They are legumes so they produce their own nitrogen. The modules on the roots converts the nitrogen in the air into usable nitrogen for the plants. Which means fertilization is different for soy than it is for other plants. 
Speaking of fertilization, it is super high tech and done by the planter. The machine puts seed in and 2 inches away they put the fertilizer. It is very precise! 
And what they add to their fertilizers is also very precise. They use PSNT tests to see how much nitrogen the soil needs, etc. and only add what is needed.  In fact, the farmers use what are called cover crops to help get rid of anything in the soil they don't need between planting.  
Cover crops are used to suck up extra nutrients. And they can help reduce soil compaction. 
For other plants, not soy, they can add nitrogen fertilize to the soil.  In fact, the farmers we talked to use a no till method, which means, they don't till their soil, so they need something else to help it not compact, and the root systems of the cover crops do a great job of this. These cover crops are not removed. They either die or they kill them and the organic matter stays in the field. They cover the soil so it is not being washed away. It is all very well thought out!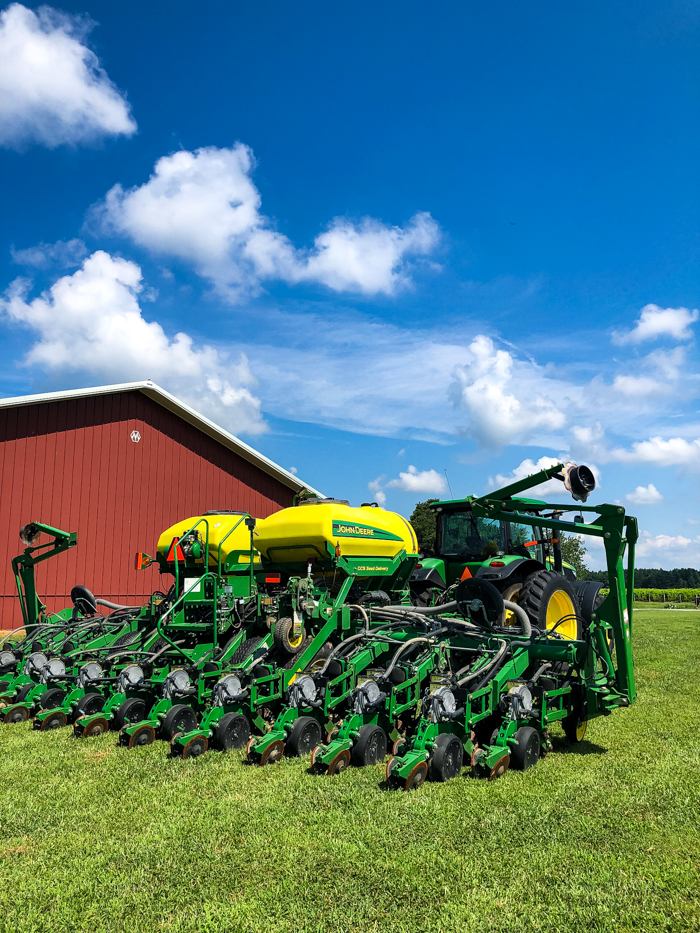 I grew up on a farm so I felt like I knew a lot about farming, crop rotation, etc. and was super impressed by the amount of technology they use, from essentially self-driving GPS steered planters and fertilizers, to the soil testing. 
What I did not know much (anything) about is how soy is processed. 
Processing Soy
On one of the days of the tour, we visited Perdue, and learned how soy is processed. 
The most interesting part of this to me was the fact that not one part of the soy bean is wasted. Whether it is used for animal feed, plant protein, or oil, every piece of the soy is utilized. So efficient. 
Soy bean oil is used to create cooking oils, and salad dressings. But it is also used for things like biodiesel. It is good to be educated. I had no idea it had some many uses. Did you?
This chart shows the process, and simplifies it far better than I ever could. 
Food production
When it comes to food production there are a lot of soy products available for human consumption, a few of the most popular include:
Soymilk

Tofu

Soysauce

Edamame (immature "green" soybeans)

Soynuts 

Fermented soy products such as tempeh and miso
We did not get to spend as much time learning about food production side of soy bean, other than oil. So I do not have a lot to share with you on this. But I will say, I love to cook with soy products, and got to play in the kitchen and try  my hand at a few different soy recipes.
We also go to try several different soy based dishes during the tour.
It is safe to say it is a versatile food, and delicious. I particularly love this miso salmon. So try it for yourself and see what you think!
Where to get more information:
This post is already getting long and we haven't even talked much about the recipe, but I definitely wanted to share my tour and what I learned about soy with you. I realize there is probably even more you want to know, so two great resources for information about soy are:

Miso Salmon
Ok, let's talk about this salmon.
First, it takes only 15-20 minutes start to finish to make this complete meal, which tastes like restaurant quality!
Second, it is sooo good. I could not stop snitching as I made it. The miso glaze is rich, so if you want to cut it in half you can. But the sauce that goes over the rice is so creamy and delicious you might find yourself wishing you had made more.
How Do I Make Miso Salmon?
Start by whisking together the ingredients for the glaze. It is a very simple glaze made of Miso, Soy Sauce, Brown Sugar, and Water.
Then pour it over your salmon filet.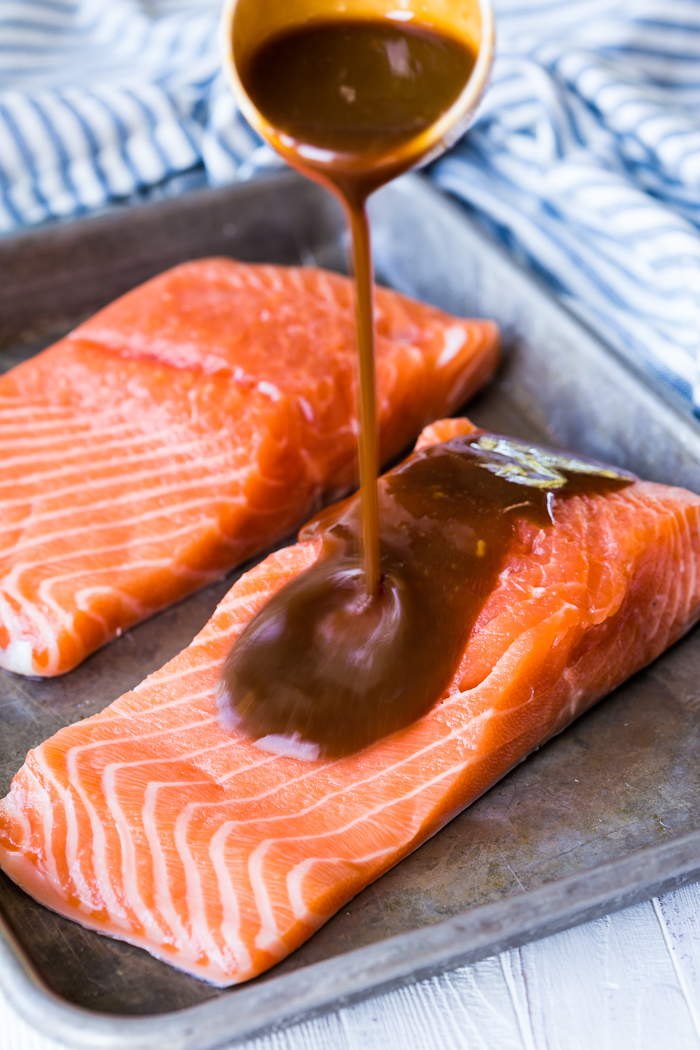 Broil for 10 minutes.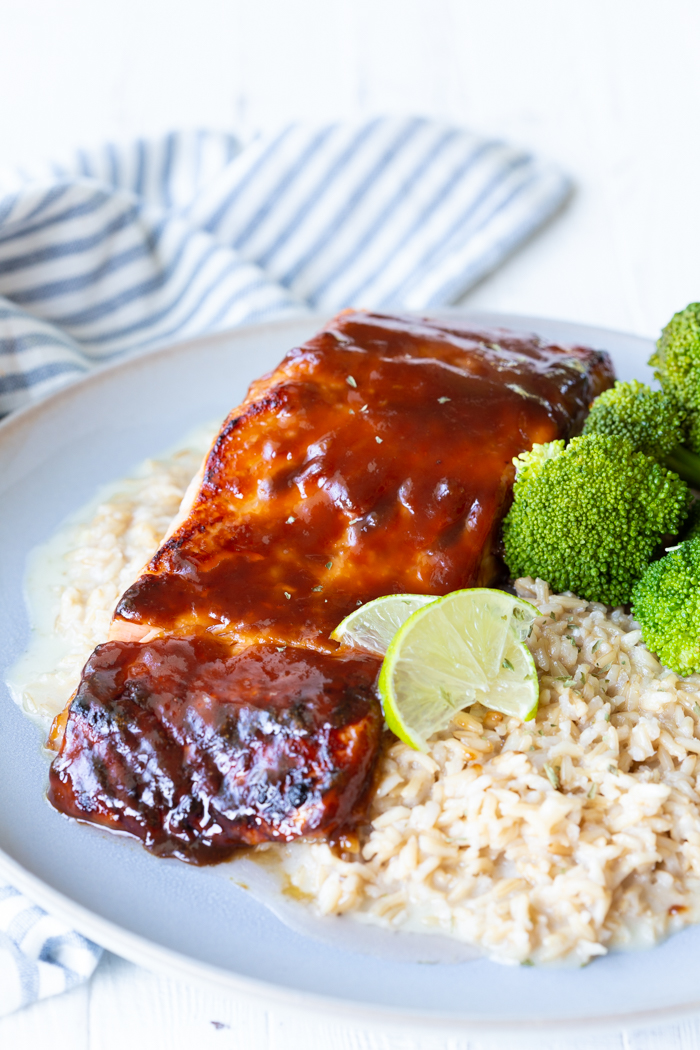 It is that easy!
While the salmon cooks, you can assemble the simple sauce for the rice. You melt some butter, add in the garlic and ginger. Then slowly add the rest of the ingredients.
It will be done just about the same time the salmon is done. So make sure you got your veggies on to steam and your rice going before you started the salmon.
Then enjoy!
Other Recipes: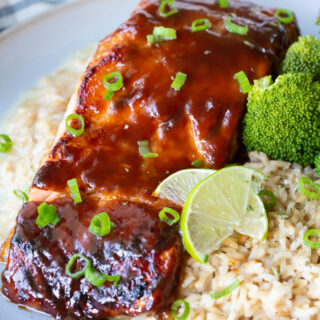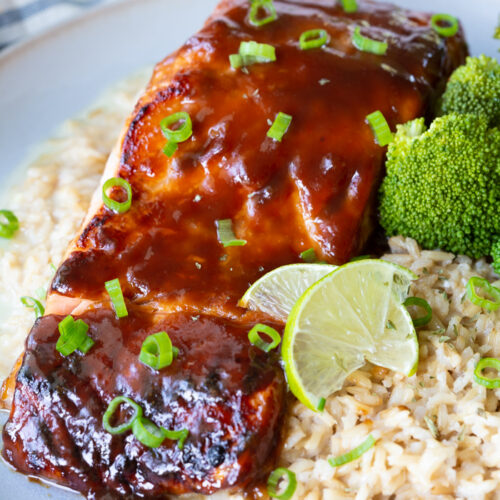 Miso Salmon
Deliciously glazed miso salmon, this baked salmon recipe is a Cheesecake Factory Copycat and just so easy and delicious. Baked on a sheetpan.
Print
Pin
Rate
Ingredients
½

cup

brown sugar

4

tbsp

soy sauce

¼

cup

water

hot

4

tbsp

miso

soybean paste

32

ounce

salmon

fillet
Sauce
1

tbsp

butter

2 1/2

tbsp

ginger paste

1

tbsp

garlic paste

½

cup

mirin

2

tbsp

heavy cream

1/2

cup

butter

cold, cut into pieces

1

Tbs

lime juice
The Rest
Steamed snow peas

broccoli, and carrot

Steamed Jasmine Rice
Instructions
In a small bowl, whisk together brown sugar, soy sauce, hot water, and miso paste. Whisk until combined.

Lightly oil a baking dish and place salmon in it, cover with miso mixture.

Broil in oven for 10 minutes. During the 10 minutes, baste the fish with the miso sauce twice.

While fish is broiling, prepare the sauce by melting 1 tbsp of butter over medium heat in a small sauce pan. Add in the ginger and garlic paste. Cook for 2 minutes until fragrant and combined.

Add Mirin and bring to a boil for 3 minutes.

Add in heavy cream and return to boil for 2 minutes.

Cook until you have reduced the mixture by half, which should take 2-4 minutes.

Once reduced, whisk in cold butter, one piece at a time, and once all is combined and sauce has thickened, remove from heat.

Whisk in lime juice. Taste, and season with salt if necessary.

Serve by topping rice with the sauce, and placing salmon on top.

Add steamed snow peas to the side.
Nutrition
Calories:
521
kcal
|
Carbohydrates:
31
g
|
Protein:
33
g
|
Fat:
29
g
|
Saturated Fat:
14
g
|
Cholesterol:
136
mg
|
Sodium:
1472
mg
|
Potassium:
825
mg
|
Fiber:
1
g
|
Sugar:
23
g
|
Vitamin A:
676
IU
|
Vitamin C:
2
mg
|
Calcium:
55
mg
|
Iron:
2
mg
Our recipe card software calculates these nutrition facts based on averages for the above ingredients, different brands, and quality of produce/meats may have different nutritional information, always calculate your own based on the specific products you use in order to achieve accurate macros for this recipe.
Want to use this recipe in a meal plan?
Try PrePear, my FREE Meal Planning App that allows you to save your recipes, plan meals, shop for groceries, and cook simply in one place. Join Here!
Pin to your Salmon board on Pinterest: