Oatmeal Raisin Cookies
Oatmeal Raisin Cookies:  A classic oatmeal cookie recipe that produces thick and delicious cookies loaded with oats and studded with raisins, with hints of spices. 
These cookies will hit the spot. Are easy to make. Can be frozen in the dough stage or after baking. And are basically everything  you want from a cookie. Soft and chewy inside, crisp outside.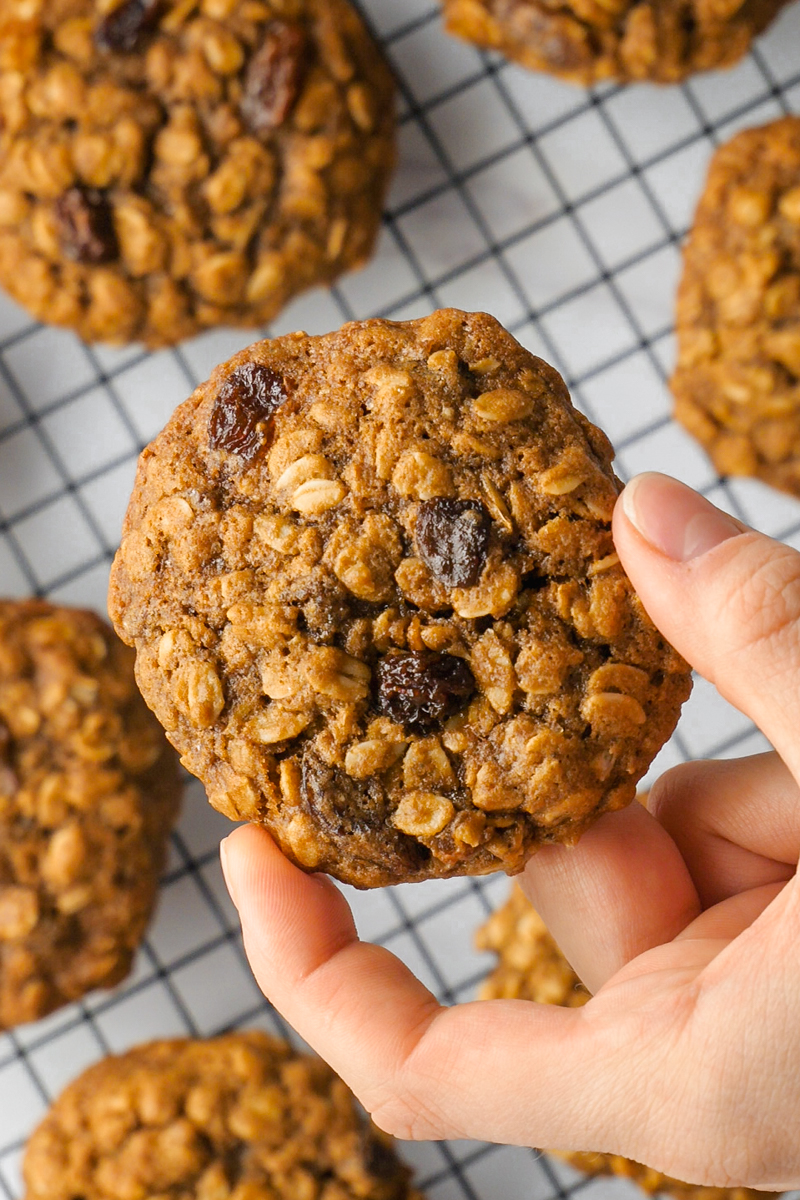 This post is sponsored by Visit California, all opinions are my own.
I recently got the opportunity to visit California with Visit California, and participate in their Restaurant Month. I got to eat at several amazing restaurants in Placer, El Dorado, and Sacramento Counties. In addition, I was lucky enough to visit several farms, vineyards, farmer's markets, and more.  (I will be sharing a post about all the good food, where to eat, what to do, see, etc. soon.) 
I got to see the passion for food this community has, and the care, and love they put into their produce, their menus and the food in general. It got me excited about how great food can be. 
During the trip, I had a decadent oatmeal raisin cookie from a farmer's market in Auburn: Placer Grown Farmer's Market. And I have been thinking about it ever since. 
So I immediately went home and started playing with a recipe to try and duplicate the thick, chewy consistency, the plump, amazing raisins, and that deep, sweet flavor. 
And you guys, I nailed it!! It took several tries, but I feel like this is the ultimate oatmeal raisin cookie! 
These cookies are loaded with oats, and California raisins, delicious spices, and even a little molasses for added flavor. These cookies can be classified as both a sweet and a little serving of healthy too.
These Oatmeal Raisin Cookies are easy to make and are a convenient treat.  Make ahead of time and freeze them for up to 3 months, providing you a treat that you can have on demand anytime.
Why Are These Oatmeal Cookies So Good?
These cookies are simply put the best Oatmeal Raisin Cookies.  The End.
Soft and Chewy

Moist and Tender Centers

Loaded with Full and Flavorful California Raisins

Perfect Amount of Sweetness

Easy To Make

Can Be Made Ahead of Time and Stored for Later
This super convenient and delicious dessert is so good because not only is the flavor profile spot on, they store nicely so you can have cookies now or later.
As I walked through the Farmer's Market, trying produce from the Live Placer Grown farmers, and seeing all the beautiful citrus, fresh baked breads, and grass fed beef, I happily munched. And trust me when I say, if you want to happily munch, a thick, chewy cookie is where it is at. 
These cookies turn out soft, thick, chewy, and studded with full flavorful California raisins. 
California Raisins
So why do I use California Raisins specifically? Well, not only are they a nutritional powerhouse, but they are just better! They are plumper, juicier, more flavorful, and easy to get. 
Do you guys remember the California Raisins? The singing, spunky, raisins with comical expressions that brought awareness to the world of the naturally sweet raisins you can get from California? Those were icons of my childhood. 
Touring the vineyards, orchards, farms, and eating at some of the most amazing restaurants ever in Placer County, El Dorado County, and Sacramento, California, really got me thinking about where my food comes from, and why that is important. 
At each restaurant, as I spoke to the managers, chefs, and staff, there was one clear message: We buy local, quality ingredients, grown right here in California. And let me tell you, I could taste the difference. 
California is home to the farm to fork movement – with Sacramento being known as America's Farm to Fork Capital, the surrounding area has amazing soil for growing all kinds of things, like apples in Apple Hill (El Dorado County), to citrus in Placer County, and vineyards studded throughout California. And the California Raisin is just one example of the amazing results of the climate and soil in the area.
Sweet, naturally so, and sun dried, to give you plump, flavorful, fruit that is the perfect addition to these cookies! 
And of course, I had to buy some. And they are the perfect addition to this recipe:
¼ cup of California Raisins is a full fruit serving. 

They have no added sugar. 

They have concentrated nutrients, which is fun because it makes these cookies just a little better for you. 

They are rich in fiber, potassium, and iron! 
As you can see, choosing great raisins makes a big difference in these cookies. BUT…if raisins aren't your thing, craisins, chocolate chunks, white chocolate, or chocolate chips would make a great substitution.
Can't wait for you to try these cookies!
This Oatmeal Raisin Cookie recipe makes for the perfect after school snack or no fuss dessert.  
Ingredients in Oatmeal Raisin Cookies:
You probably have most of the ingredients you need on hand already. These cookies have no weird or hard to pronounce ingredients. 
Butter- I got some amazing butter at that same farmer's market, which I used in this recipe, just look for a high quality butter, and get unsalted. 

Ground Cinnamon

Nutmeg

Dark Brown Sugar

Granulated Sugar

Eggs

Molasses

Vanilla Extract

All-Purpose Flour

Baking Soda

Salt

Old-Fashioned Whole Rolled Oats

California Raisins
The list may seem long, but majority of the ingredients are pantry staples and the spices that give this cookie the ultimate flavor. 
The only ingredient you may not already have on hand is the molasses. Which I highly recommend keeping a bottle of it in your fridge. 

How To Make Oatmeal Raisin Cookies:
Follow all these steps to make the perfect cookies.
Soak raisins

: This is what makes them big and juicy in your cookies instead of hard and flat. Raisins are dried fruit. So while the California Raisins are tender, and juicy, you still want to reconstitute them some. 

Cream butter with sugars, cinnamon, and nutmeg:

Fat combined with spices enhances the flavor. And creaming together the butter and sugar is what makes your cookies fluffy. 

Add eggs and mix.
Add vanilla, molasses, and mix.
Combine dry ingredients:

In separate bowl mix flour, baking soda, and salt: It is always a good idea to mix dry  ingredients first, so you don't over-mix when you combine them. 

Combine the two:

Add wet ingredients to flour mixture. DOn't over-mix

Fold in oats and raisins.
Cover and refrigerate.
Form Cookies:

Roll dough into balls and place on baking sheets lined with parchment paper.

Bake

: Bake until lightly brown on the sides.

Cool and Enjoy:

Remove from oven and cool for 5 minutes.
In a nutshell:
Soak raisins. 

Cream butter with sugars and spices. 

Stir dry ingredients.

Incorporate wet and dry ingredients. 

Refrigerate dough, roll into balls, and then bake.
Note:  For more specific instructions, see recipe at the end.

Why Cream Butter and Sugar Together?
Here is a little science for why you don't want to skip the step of creaming your butter and sugar together.
Butter is an emulsion of water in fat. When  you cream (aka beat it) with sugar, the water in the butter will start to dissolve the sugar. And air you are beating into it will be  trapped in the fat. When you add the flour later, the air will continue to be trapped by the protein in the flour, which will give you lighter, fluffier cookies.
Unlike stirring or mixing, creaming doesn't just combine ingredients, it aerates them. Creaming is essentially folding the butter and sugar together over and over, creating little pockets of air with every turn. Until you have a big bunch of sugar crystals, fat, and air.
You get lighter, fluffier cookies, and more of them!
When you cream the butter and sugar properly, and the cookie dough will be loaded with micro pockets of air. This air means the cookie dough is insulated from the hot baking sheet (air is not a good conductor of heat), and this means the sugar and butter melt slower, so you don't have flat, hard cookies. Instead, the air swells with steam, and gently pushes the cookies up so they are puffier, and they form a really nice crumb.
Trust me, it is worth the time to cream them together.
Why Chill Oatmeal Raisin Cookie Dough?
This recipe calls for chilling the dough for 30-60 minutes.  Now if you are anything like me, it may be tempting to skip this step and get baking, but trust me don't.
Why Chill Dough:
 Thick cookies instead of thin cookies 

 Produces a more flavorful cookie
When you don't chill the dough the cookies have a tendency to spread on the pan while baking, producing a thin cookie instead of a thick cookie.  We want thick not thin.
Not only that, it will help the cookies be more flavorful. Think about what happens when you marinate your food.  You let the food sit for a little bit so flavors can meld together.  
It's kind of the same with letting the cookies sit in the fridge.  It gives time for the flavors to join forces, making a more flavorful cookie.
Make sure to let the cookie dough sit in the fridge for 30-60 minutes for a thicker more flavorful oatmeal raisin cookie.

Oatmeal Raisin Cookie Dough:  What You Need To Know
Cream sugar and butter together.
This gives you nice thick cookies with great crumb.
Chill Dough For 30-60 Minutes.
Chill dough prior to cooking to ensure a nice thick cookie and so that the flavors will meld together.
Dough Can Stay In Fridge For Up to 2 Days.
Dough can stay in the fridge for up to 2 days.  Allow time for dough to sit out at room temp before rolling it into balls and cooking.  Should be ready after about 30 minutes of sitting out at room temp.
You Can Freeze Dough.
You can freeze the dough and bake cookies later.  Roll into balls and freeze up to 3 months.  
Don't Need To Thaw Frozen Cookie Dough.
Just simply bake frozen balls of cookie dough for one additional minute.
Whether you make the dough and bake it the same day or freeze it and make it later, either way you will love these Oatmeal Raisin Cookies.

Why Soak Raisins?
Another step in the instructions that may seem unimportant is soaking the raisins.  Don't blow past this step.
Remember how I said these cookies are the best Oatmeal Raisin Cookies?  These little extra steps set these cookies apart from the rest. Don't skip.
Starting with quality raisins is a must, but the next step is soaking. Soaking the raisins help the raisins become soft and full.  
I mean raisins are obviously dried fruit.  We don't want them all shriveled up and tough, do we?  That doesn't sound too good.
Remember the raisins are the star of the show.  Let's make these babies shine. Soaking them for just a quick 10 minutes in warm water will make all the difference.  
Plus it's not wasting any time because you can be prepping while the soaking is taking place.  Yay!
What Does Soaking Raisins Do?
Makes softer, fuller raisins.
So when in doubt definitely soak those raisins.  You will be so glad that you did. Trust me you can definitely tell the difference.

Baking Tips:  
Baking Tips For Oatmeal Raisin Cookies:
Tip 1:  Don't Use A Measuring Cup To Scoop Flour Out Of The Bag.
I know it's surprising but how you transfer your flour from the bag to the mixing bowl matters.  First mix the flour around and then with a spoon fill your measuring cup with flour. Lastly, even the top of the flour off, using the back of a knife.
Tip 2:  This Recipe Can Be Easily Doubled.
Double this recipe and have tons of cookies to share with neighbors and friends.  Doubled the recipe makes 4 dozen cookies.
Tip 3:  Flatten Rolled Balls Of Dough.
As already mentioned, you will roll the dough into balls prior to baking.  However, don't just stop there. Lightly flatten all the cookies.
Follow these tips and get ready for perfectly baked Oatmeal Raisin Cookies.
Make These Amazing Oatmeal Raisin Cookies Right Away!
Enjoy these delicious Oatmeal Raisin Cookies.  This classic recipe is one to save to your recipe card.  You will want to make this Oatmeal Cookie Recipe tons.

Make Ahead Instructions
Cookies stay fresh covered at room temperature for up to 1 week. Baked cookies freeze well – up to three months.
Unbaked cookie dough balls freeze well – up to three months. Bake frozen cookie dough balls for an extra minute, no need to thaw. 
Other Cookie Favorites: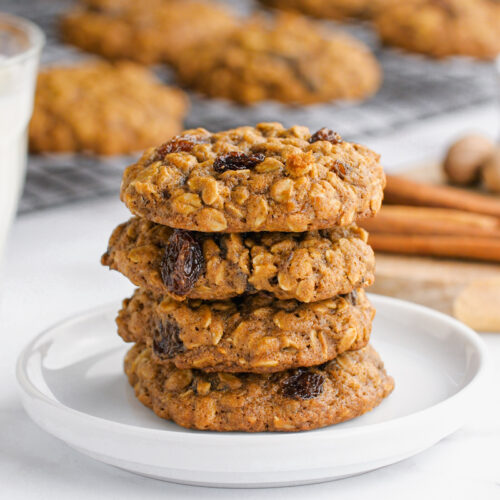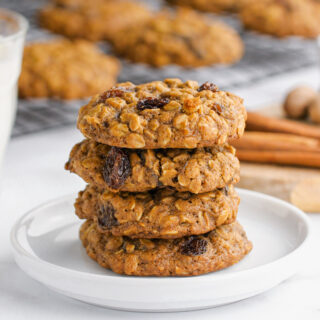 Oatmeal Raisin Cookies
This classic oatmeal cookie is thick and delicious and loaded with oats, raisins, and hints of spices.
Print
Pin
Rate
Ingredients
1

cup

unsalted butter

softened

1

teaspoons

ground cinnamon

¼

tsp

nutmeg

1

cup

packed dark brown sugar

1/4

cup

granulated sugar

2

large eggs

room temperature

1/2

Tablespoon

pure vanilla extract

1

Tablespoon

molasses

1 1/2

cups

all-purpose flour

spoon & leveled

1

teaspoon

baking soda

1/2

teaspoon

salt

3

cups

old-fashioned whole rolled oats

1

cup

raisins

soaked
Instructions
Soak your raisins in warm water for 10 minutes,, then dry them well by blotting them with a paper towel.

Meanwhile, cream the butter, cinnamon, nutmeg, dark brown sugar, and white sugar together using a hand mixer or a stand mixer fitted with paddle attachment. Cream until smooth.

Once smooth, add eggs, one at a time, and mix on high until combined, about 1 minute.

Add vanilla, molasses, and mix together. Set aside.

In a separate bowl, combine flour. Baking soda, and salt, whisking them together.

Slowly add the wet ingredients to the flour mixture, until combined.

Mix in the oats and raisins, on low speed. The dough should be pretty thick and sticky.

Cover dough and refrigerate for 30-60 minutes to prevent spreading.

When ready to bake, Preheat oven to 350°F

Line two baking sheets with parchment or a silicone mat, and roll the dough into balls of about 2 Tablespoons of dough.

Place them on the prepared sheet 2 inches apart.

Bake for 12-14 minutes until lightly browned on the sides, but soft and doughy looking in the center.

Remove from oven and cool on the baking sheet for 5 minutes. Then transfer to a cooling rack.
Notes
If chilling for longer than 60 minutes (up to 2 days), allow cookie dough to sit at room temperature for at least 30 minutes before rolling and baking.
Make Ahead & Freezing Instructions: Cookies stay fresh covered at room temperature for up to 1 week. Baked cookies freeze well – up to three months. Unbaked cookie dough balls freeze well – up to three months. Bake frozen cookie dough balls for an extra minute, no need to thaw.
Nutrition
Serving:
1
cookie
|
Calories:
204
kcal
|
Carbohydrates:
29
g
|
Protein:
3
g
|
Fat:
9
g
|
Saturated Fat:
5
g
|
Cholesterol:
34
mg
|
Sodium:
106
mg
|
Potassium:
127
mg
|
Fiber:
2
g
|
Sugar:
12
g
|
Vitamin A:
256
IU
|
Vitamin C:
1
mg
|
Calcium:
23
mg
|
Iron:
1
mg
Our recipe card software calculates these nutrition facts based on averages for the above ingredients, different brands, and quality of produce/meats may have different nutritional information, always calculate your own based on the specific products you use in order to achieve accurate macros for this recipe.
Want to use this recipe in a meal plan?
Try PrePear, my FREE Meal Planning App that allows you to save your recipes, plan meals, shop for groceries, and cook simply in one place. Join Here!
Pin to your Cookie Board on Pinterest: