Skillet Garlic Lemon Chicken with White Wine Sauce. Skillet chicken in a delicious garlic, lemon, and white wine sauce. Crispy skin, and an aromatic and flavorful sauce! This chicken dinner will make you feel fancy, but it only takes half an hour (give or take) to make! An easy, delicious, 30-minute meal!
Although I am not a drinker, I love using wine in my cooking. This white wine sauce is awesome! Luckily for me, Wines of Garnacha sent me 5 bottles of wine to play with, including the white I used in this recipe.  I am super excited about the recipes I will be creating with these wines, starting with this amazing Skillet Garlic Chicken with White Wine Sauce.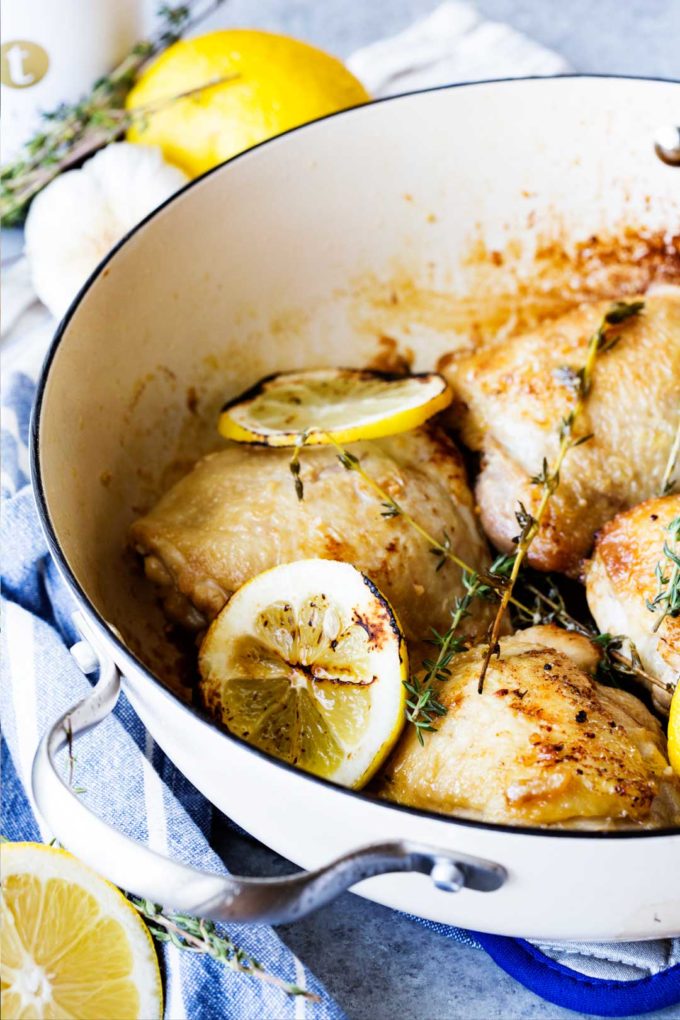 I just spent a week in Hawaii, and I really wanted to do this post from there. I had these wines sent to me in Kauai, and I knew the girls I was with would absolutely love being able to drink them because they are not just a great value, but Garnacha is also the only major grape variety with red and white variants, allowing them to produce: red, white, rosé and sweet. I had big plans to make an amazing cheese plate, and let my awesome blogger friends help figure out the best pairings. But the wines did not arrive until the last day. So I got a fun pic of them on the balcony, but had to make my recipe at home. While I was bummed about this, it meant I had a chance to play around more with the wines, and I am so glad I did because the chicken turned out awesome.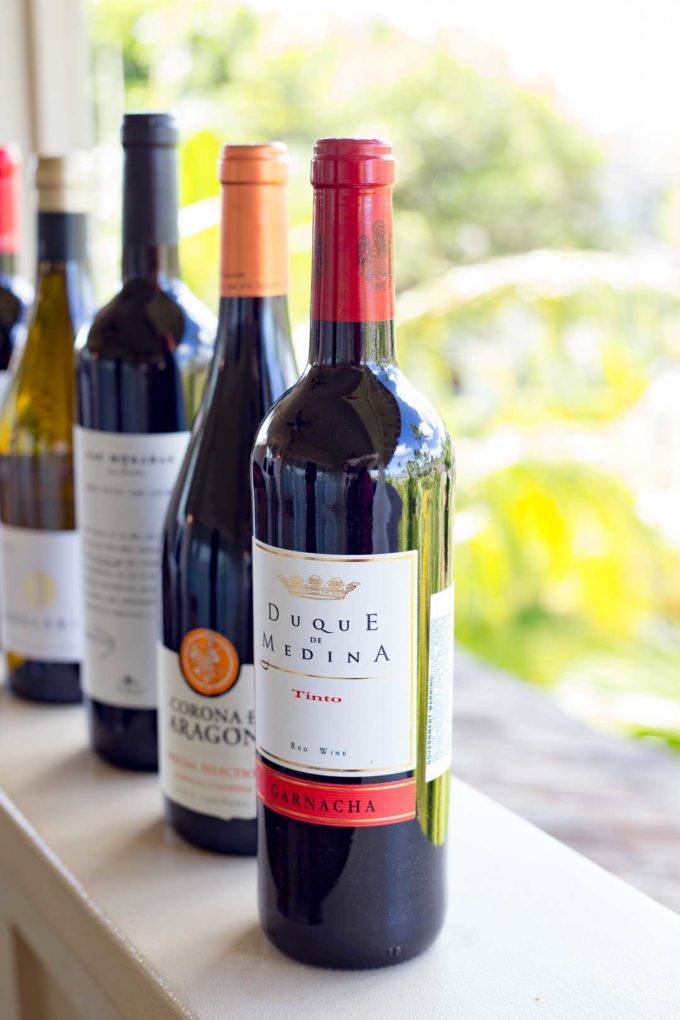 This chicken is amazing, and tastes like something you would order in a restaurant, but first, let's talk about the wine:
Garnacha originated in the region of what is now eastern Spain, but has a long history in southern France, Corsica, Sardinia, southern Italy, Sicily, Croatia and even Greece, as well as non-European regions. Garnacha grapes have a long history in wine, it has been used as a workhorse variety, blended with other varieties and now has stepped into the spotlight on its own as a varietal wine.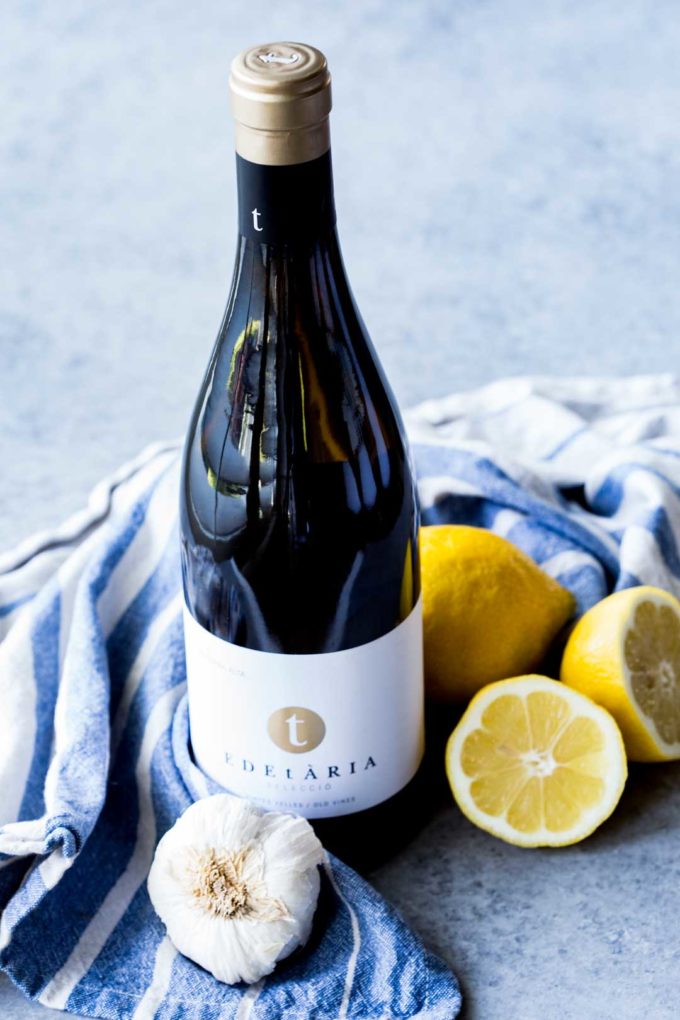 Garnacha offers expressive wines with a wide range of aromas from sweet, fresh and fruity to intensely mineral in some cases.  And it is great as a young wine, or aged. Not to mention it is accessible on any budget. Garnacha wines are adapted to American tastes, and offer both variety and value. So while today I am cooking with the white, all of the wines speak loudly of their place of origin and are great for cooking or drinking.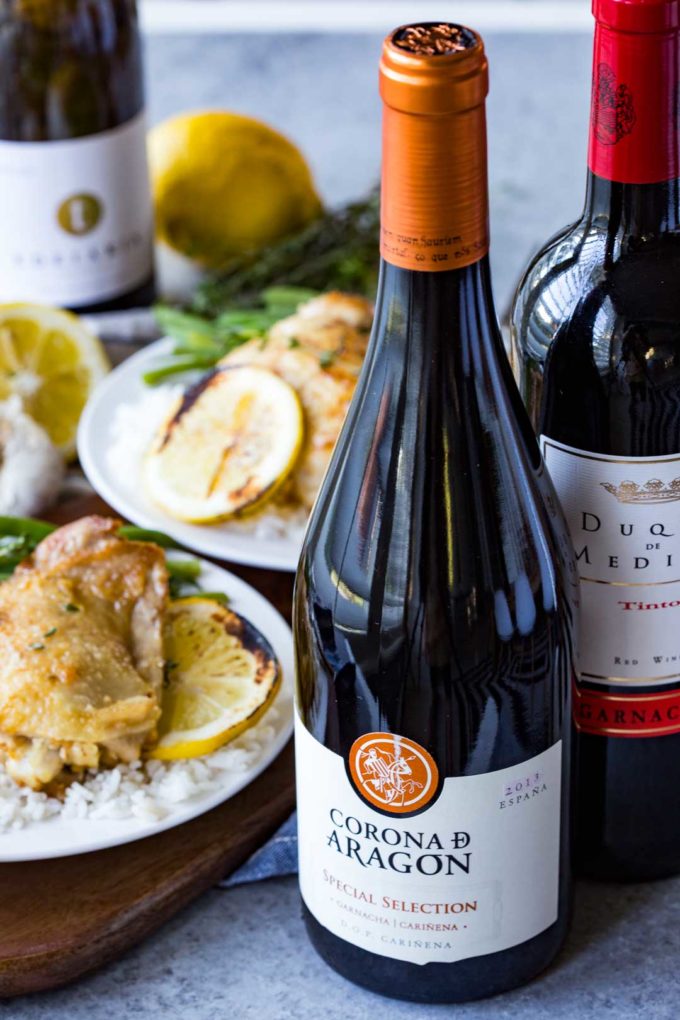 I have never used a monovarietal Garnacha before but loved the way it worked in this recipe! The flavor was subtle, but awesome, and paired well with the garlic, lemon, and chicken. It was great for deglazing the pan, and gave an awesome aroma. It reminded me so much of the time my husband and I spent in Spain a few years ago, and made me want to plan a trip back across the pond. Plus, because it comes at a great value, I may be able to save enough to head back to Spain soon.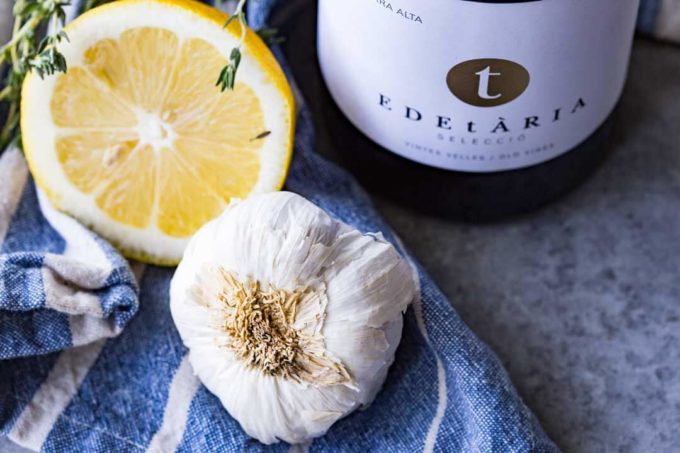 This chicken dish is cooked in one skillet. I love that I only have to dirty the one pan to make it. And it pairs really well with red potatoes, pasta, or rice. So choose your starch of choice.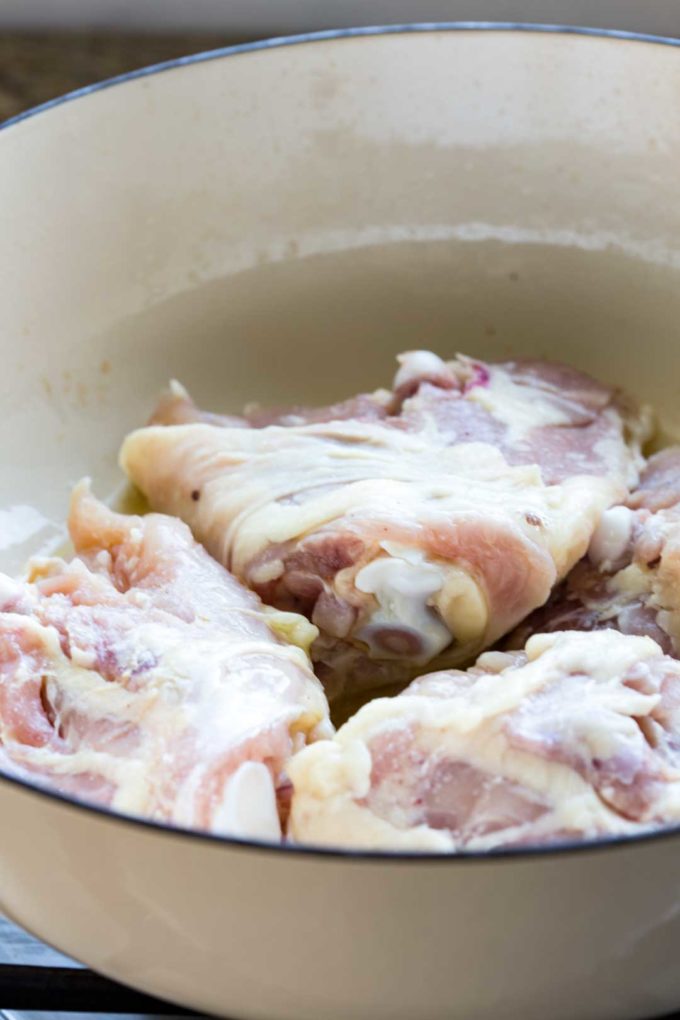 You brown your chicken.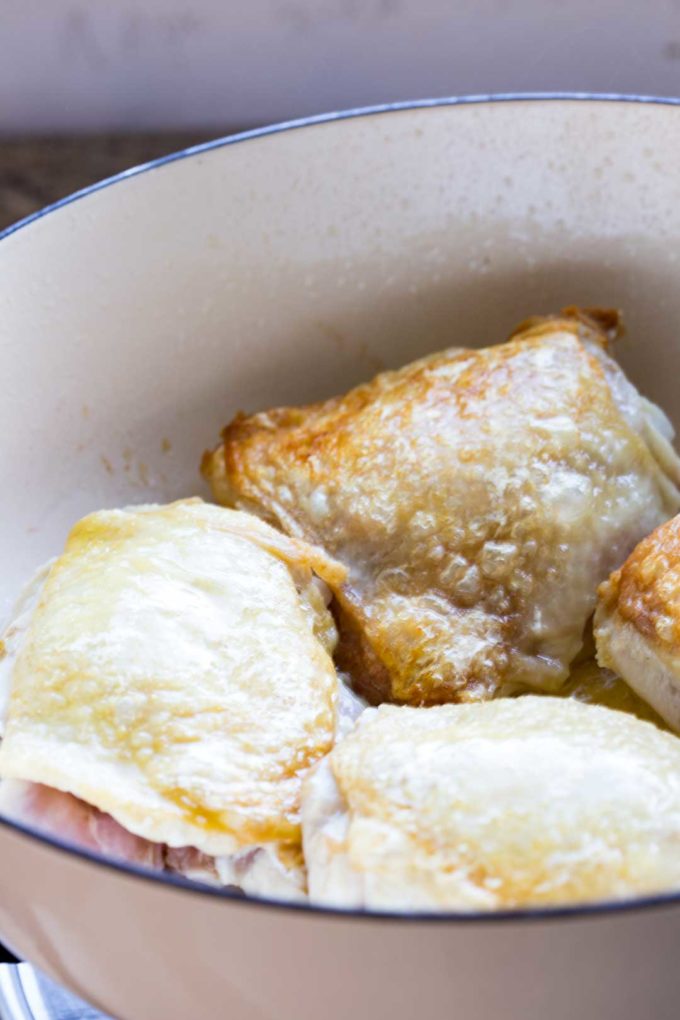 Remove it from the pan, and add the garlic, chicken stock, lemon, and white wine.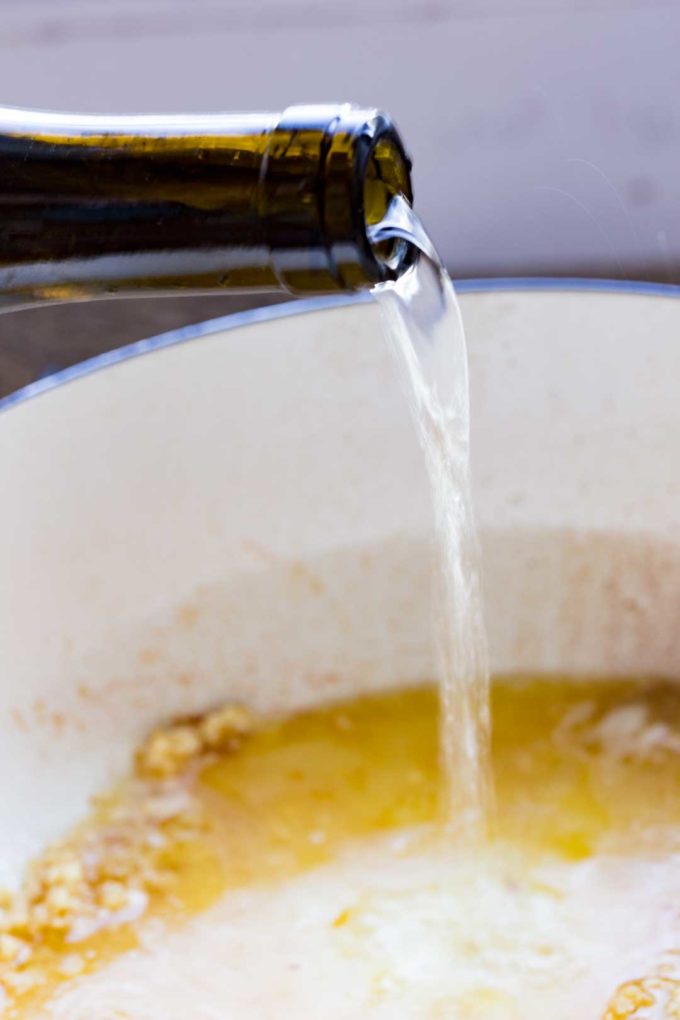 Add the thyme and bring it to a boil.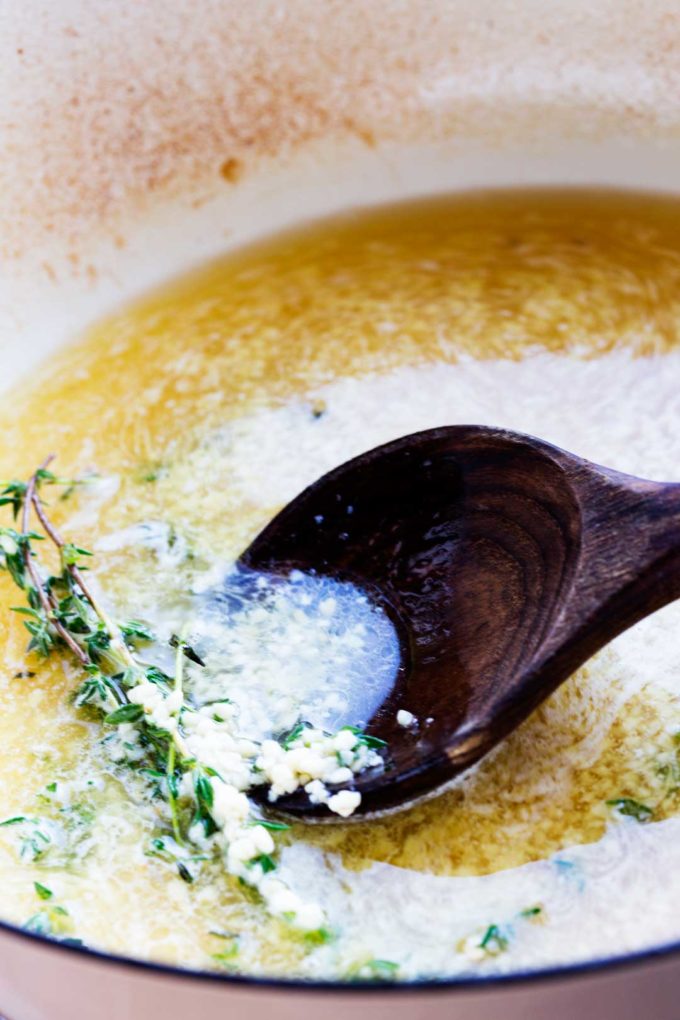 Add the chicken back in and cook until done!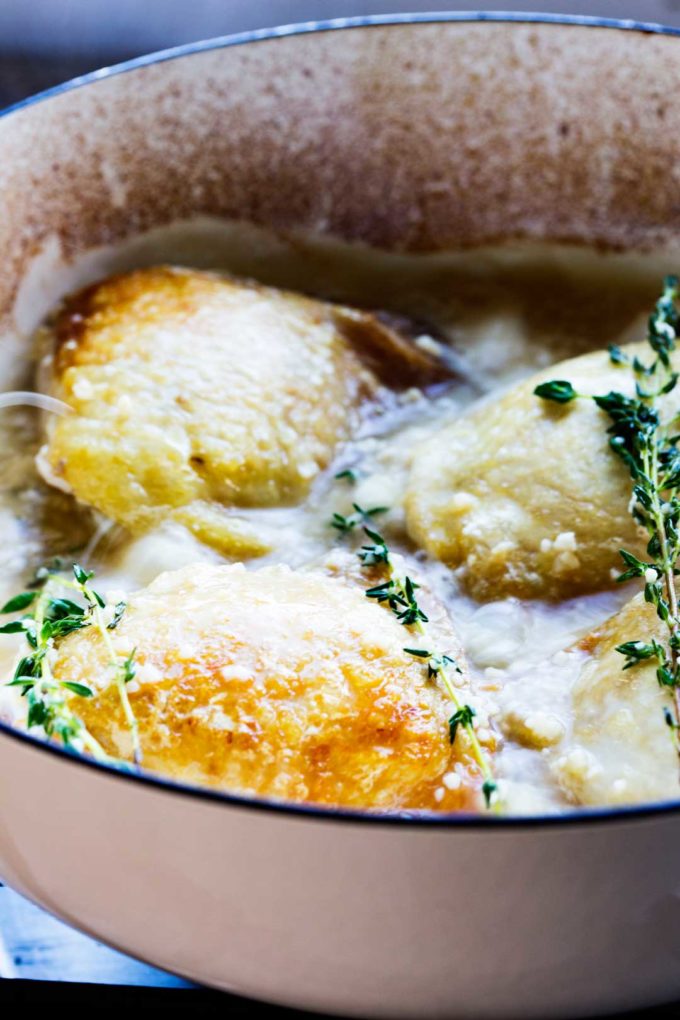 Then enjoy!
Skillet Garlic Chicken with White Wine Sauce
PPrep Time
PCook Time
PTotal Time
Ingredients
2 1/2 pounds Bone-in Skin-On Chicken thighs
Salt and Pepper
2 Tbs Olive oil
1/2 cup minced garlic, or 30 whole garlic cloves
1 cup Garnacha White Wine, Edetaria Seleccio White
1/4 cup Chicken Stock
2 Tbs fresh lemon juice
Sprigs of fresh Thyme
Instructions
Trim the excess fat off your chicken thighs, and salt them lightly.
Heat olive oil in a large skillet
Brown chicken in the heated oil by cooking 2-3 minutes per side.
Remove chicken from pan, and add in garlic.
Saute garlic 1-2 minutes.
Add wine, chicken stock, lemon juice, and thyme into the pan. Bring to a boil.
Add chicken back in, and cover. Turn down slightly and cook about 25 minutes, until internal temperature of the chicken reaches 165 degrees F.
Taste and season with salt and pepper as desired.
Serve with starch of choice.
7.6.4
839
https://www.eazypeazymealz.com/skillet-garlic-chicken-white-wine-sauce/
Follow Wines of Garnacha on Facebook, Instagram, or Twitter for upcoming events at the vineyard, wine pairing tips, and other inspiration. And let me know what you think here or on social. You can share your Garnacha Story on September 16th through @WinesofGarnacha Facebook page. Winners will receive a $35 value swag bag including bottle coolers, Wine USBs, corkscrews and other goodies!
Pin to your CHICKEN board:

Get EZPZ Updates In Your Inbox!