Incredibly easy and delicious Slow Cooker Chicken Fajitas! This recipe is a set-it-and-forget-it meal your whole family will love.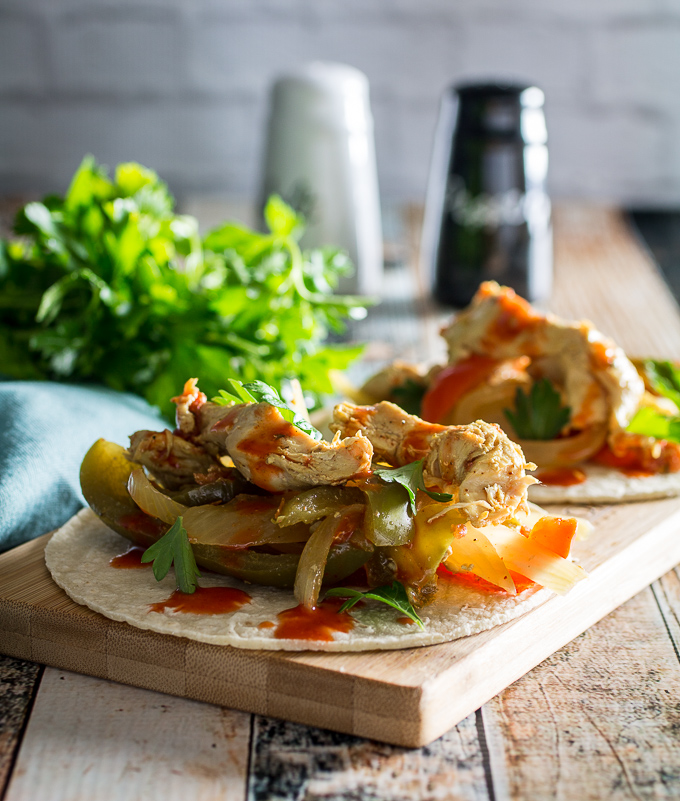 Hello, I'm Jacqui from DishingDelish.com! I'm a fun-loving gluten free cook who's passionate about sharing easy homemade recipes. During the day I work as a full-time food scientist in Tampa, but at night I'm a chef, food photographer, and writer.  I hope you stop by and visit me at DishingDelish.com, where you'll find recipes of all kinds that I know you're going to love!
Alright, let's get down to business. And by business, I mean Fajitas. And by Fajitas, and I mean slow-cooked melt-in-your-mouth unbelievably delicious goodness that can only come from a crock pot. That's right. While it might not sizzle, it will definitely score a place in your kitchen repertoire.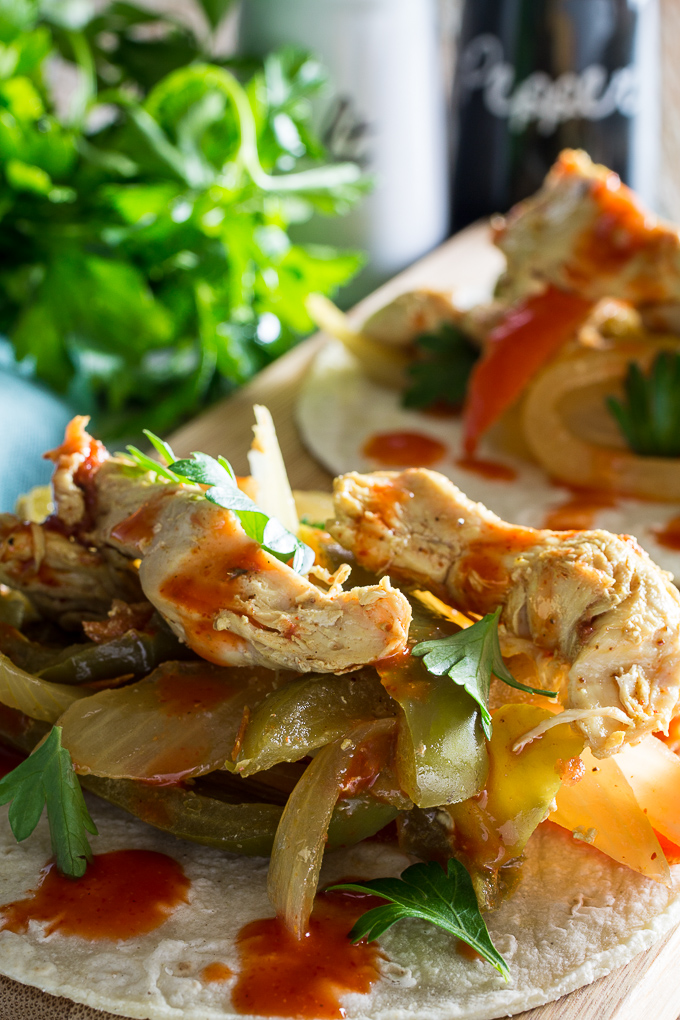 So, how do you like your slow cooker chicken fajitas? Personally, I like to serve them on a corn tortilla with plenty of hot sauce, sour cream, and about a mountain of fresh cilantro.
I'll admit it! I love cilantro, and I don't care who knows it!
Did you know that a taste for (or against) cilantro is actually genetic? Some people carry a gene that makes cilantro taste soapy. No, really, it's true!
These slow cooker chicken fajitas are also great served over a salad with some tortilla strips crumbled on top. Delicious, AND low carb! Does it get any better?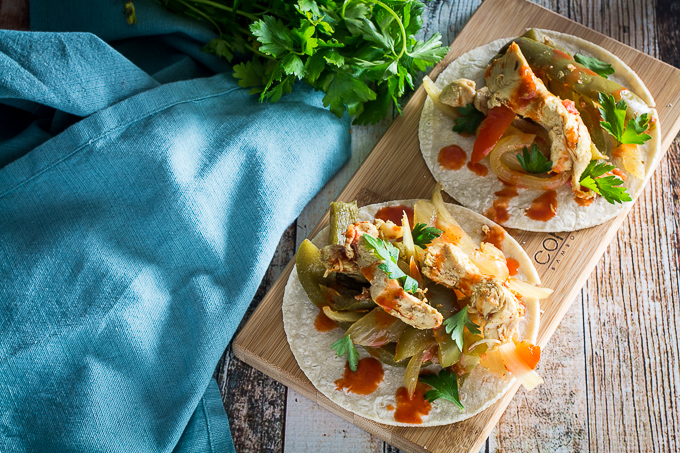 You can also easily sub out the chicken in this recipe for steak. Just follow the same directions for the vegetables, but I would recommend leaving the steak whole and cutting it up last minute. Feel free to throw additional vegetables in the slow cooker, too!
Personally, I like mushrooms, poblano peppers (spicy!), or zucchini. These aren't totally traditional, but I'm on board with using as many vegetables as possible.
You can also use your favorite fajita seasoning packet for this recipe, but I highly recommend checking out my own Homemade Fajita Seasoning Mix.
First, you can be confident that spices and corn starch are the only ingredients you're using.
Second, you'll have plenty left over for other recipes!
Third, it's just plain tasty.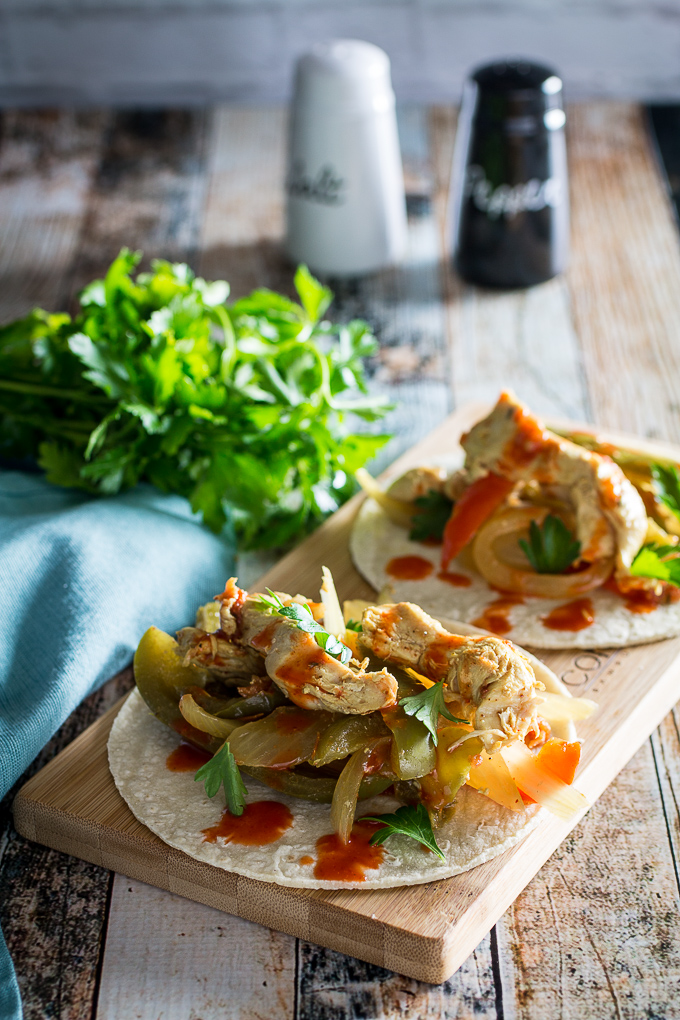 Slow Cooker Chicken Fajitas
Prep time: 10 mins
Cook time: 4 hours
Total time: 4 hours 10 mins
Incredibly easy and delicious Slow Cooker Chicken Fajitas! This recipe is a set-it-and-forget-it meal your whole family will love.
Ingredients
3 lbs chicken, cut into 1-2 inch slices
2 tbsp olive oil
2 tbsp soy sauce
1 large green bell pepper, sliced
1 large red bell pepper, sliced
1 medium white onion, sliced
1 large tomato, chopped
2 tbsp fajita seasoning
Instructions
Add sliced vegetables (peppers, onion, tomato) to slow cooker and top with soy sauce.
Rub olive oil and fajita seasoning into chicken slices until evenly coated. Add chicken to slow cooker.
Cook on HIGH for 3-4 hours, OR on LOW for 7-8 hours, or until chicken is cooked through and vegetables are soft.
Notes
Use your favorite, or check out my [url href="http://www.dishingdelish.com/fajita-seasoning-mix/" target="_blank"]fajita seasoning[/url] for this recipe!
3.4.3174
PIN to your SLOW COOKER board:
Get EZPZ Updates In Your Inbox!