Tender, flavorful, and gosh darn delicious, these sheet pan flank steak fajitas are low on mess and big on flavor. Fajitas make a great meal, but one pan, baked, and easy to make turn an ordinary meal into an extraordinary one. And the marinade makes these the BEST fajiatas ever! Just ask my husband.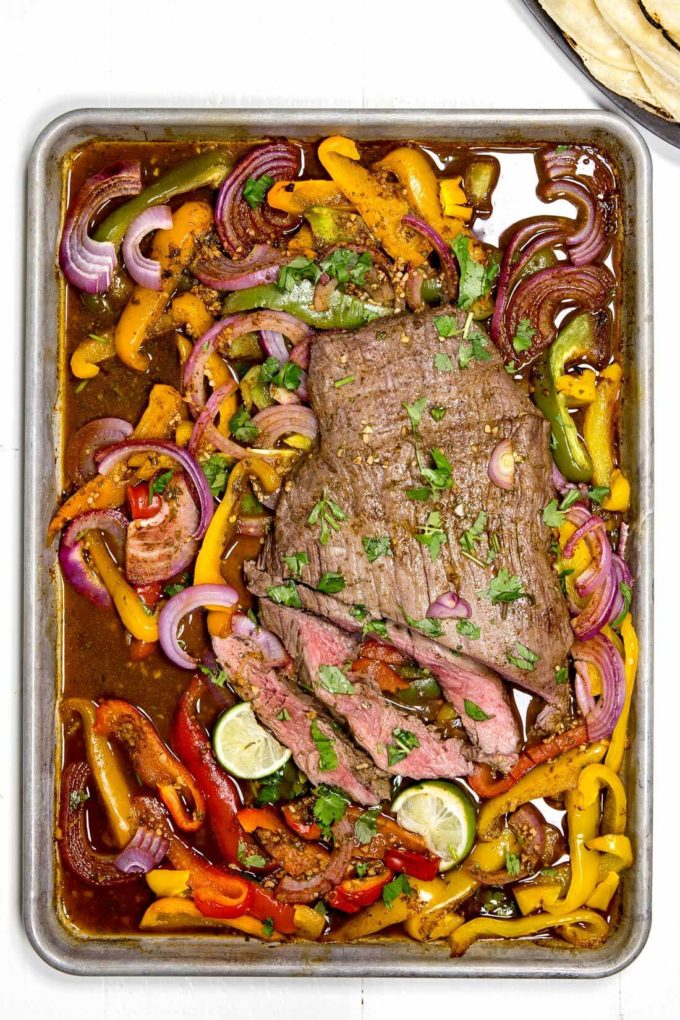 You guys, I am food obsessed, and I can tell you right now it is hard to choose a favorite recipe from the blog. They are kind of like my children. But these, well they are a very strong contender, and for my husband they take the cake! He told me that they were literally the best thing he had ever eaten. High praise! I won't lie I was totally flattered.
However, I feel like now your expectations are going to be so super high that you are sure to be let down. Kind of like when a good movie comes out, and everyone tells you over and over how much you are going to love it, so you are just sure that the ticket to it will be made of gold, and you will have a chocolate lounge chair to both recline in and eat through the show. Because seriously, it is a movie, is it really "that" great??? And so you go, and it is great, but you just expected so much of it you can't help but be a little bit let down. And maybe there was one scene you would have like to see a change to, or one line of dialogue that should have been tweaked, and since those hopes of perfection were set, you hyper focus on that, and find yourself let down.
Yeah….
I don't want that to happen with this recipe. So let's just say it is packed with flavor, easy to make, has minimal clean up, and is a no brainer for the weekly dinner rotation. I think you will like it. I hope you will love it. But there is no accounting for taste. Hahahaha.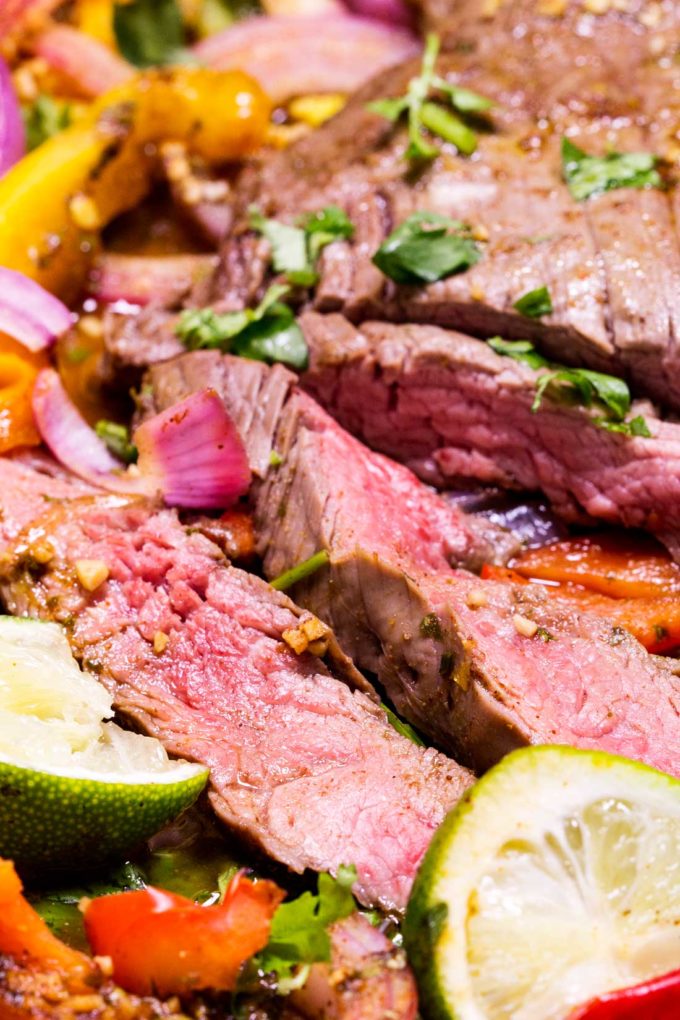 The key to this great recipe is the marinade, which infuses the beef with flavor, as well as helps to break down some of the muscle fibers so you get a nice, tender steak. It is a flank steak, so it tends to be a little chewier than other options, so marinating it for at least 30 minutes, and up to 12 hours is important, so plan a little ahead. I love this for midweek meals because I can throw the marinade together while the kids are getting ready for school, and pop it in the fridge, then I don't have to think about it again until 25 minutes before dinner!
And did I mention it has great flavor? Well it does. I pour it all over the veggies too so I can have a burst of flavor in every bite I take!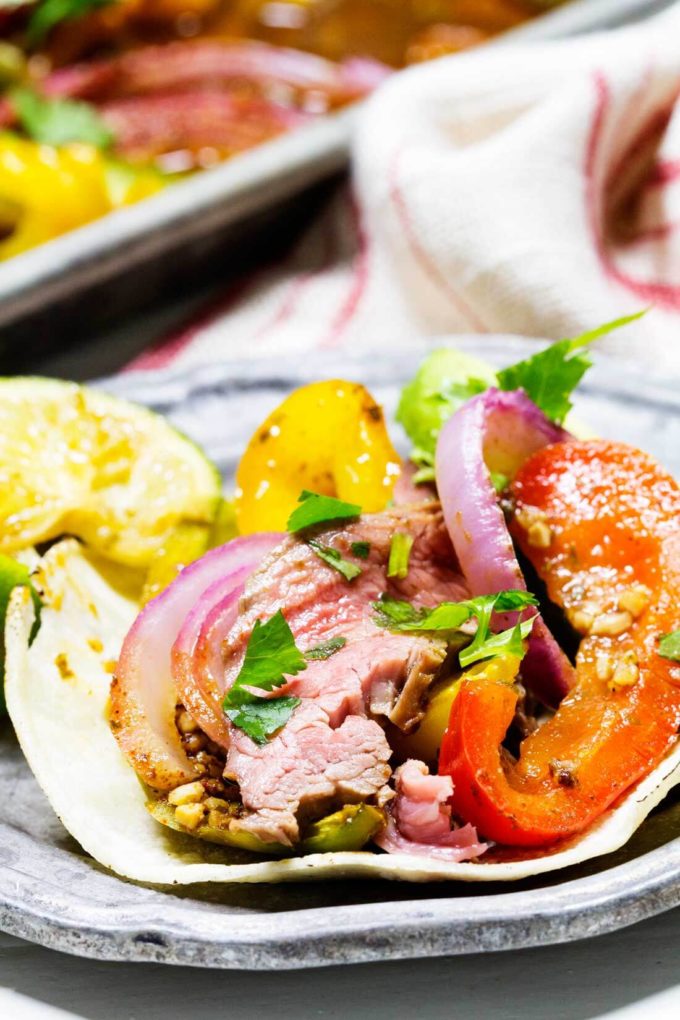 Keep in mind that not every butcher cuts their meat the same way, so you will want to adjust cooking time to the thickness of your flank steak, and your preferred doneness. I wish I could account for every variation in cut, oven temp, etc. but I can't, so just recognize that the general guideline is it will take about 20 minutes for your dinner to cook. But if you want a little more singe on your veggies, a little more caramelization on the steak, then cook a little longer, just keep an eye on it, you don't want to overcook the steak.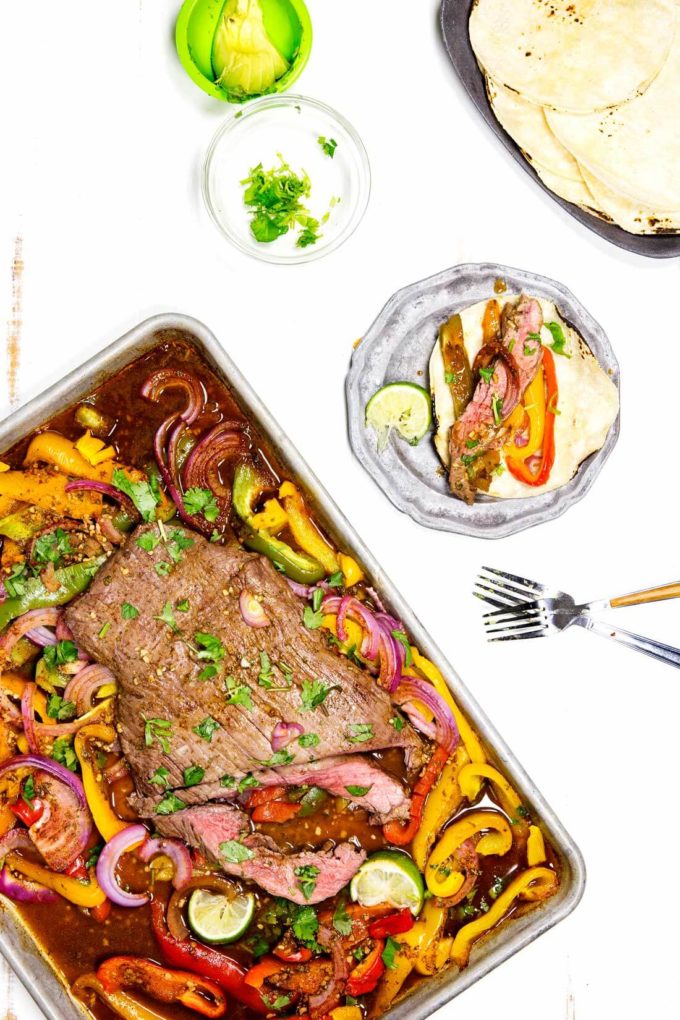 And let it rest 5 minutes before slicing into it so it has a chance to reabsorb some of the juices. Mmmmm, anyway, let me show you just how seriously simple this is to make, so you too can enjoy the ease and deliciousness of sheet pan flank steak fajitas.
Rachael Yerkes
Yields 4
Sheet pan Flank Steak Fajitas
Crazy flavorful and tender sheet pan flank steak fajitas, with a killer marinade you won't be able to get enough of.
40 minPrep Time
20 minCook Time
1 hrTotal Time
Ingredients
4 bell peppers
1 large red onion
2 lbs flank steak

To serve

Corn tortillas
Avocado
Limes for garnish
Additional chopped cilantro

Marinade

1 cup lime juice
2 Tbs brown sugar
1/3 cup soy sauce
2 Tbs minced garlic
2 tsp cumin
1 tsp paprika
1/2 tsp coriander
1 tsp onion powder
1/2 cup chopped cilantro
1/4 cup olive oil
Instructions
In a large bowl combine all the marinade ingredients, and stir well.
Add flank steak to the bowl.
Marinate for at least 30 minutes, up to 12 hours
Preheat oven to 400 degrees
Meanwhile, slice peppers and onions into strips
Place peppers and onions on a sheet pan, spread out so they are in one layer
Place flank steak on center of pan, and dump marinade over top of the veggies to season
Bake at 400 degrees for 10 minutes.
Leave pan in oven and turn heat up to 450 degrees, and bake another 10 minutes. It should just get to 450 right before the ten minutes are up. This is to finish the flank steak and veggies and get a little caramelization.
When done cooking, remove from oven, sprinkle additional cilantro over the top and rest for 5 minutes to allow juices to reabsorb.
Slice flank steak on a bias, against the grain, to form thin, tender pieces that are easy to eat.
Assemble fajitas with peppers, onions, and steak. Add avocado, and squeeze some lime over.
Enjoy!
Notes
Adjust cooking time based on thickness and preferred doneness of the flank steak. Marinate for at least 30 minutes, but up to 12 hours. Rest steak before cutting Cut on the bias, against the grain into thin strips to help it be tender as flank steak can be tough.
7.6.4
908
https://www.eazypeazymealz.com/sheet-pan-flank-steak-fajitas/
Flank Steak Beef Fajitas Serving Suggestions
I love serving this with Guacamole, homemade tortillas, and a great drink!
Pin to your DINNER IDEAS board on Pinterest: