I received some complimentary activities to facilitate this post, all opinions are my own.
Kauai is a dream island, with lush landscapes, tons of fun activities, and an engaging and loving community that will welcome you with open arms and make it so you never want to leave! Here is how to spend a week in Kauai when there are so many fun options!
To get the inside scoop on where to eat in Kauai, check out this Kauai Dining Guide.
The good and bad news is there are a ton of options for how to spend your time. So that is why I thought I would help you sort through the options, and plan a week of fun, where you can explore all the island has to offer with the time you have!
Day One: Take a Helicopter Tour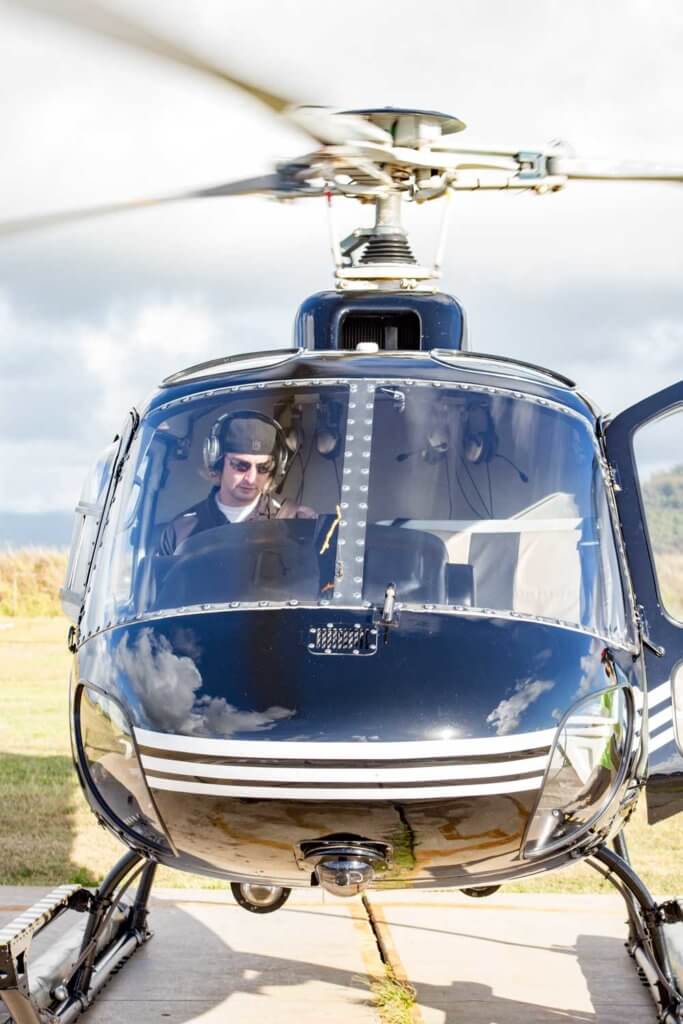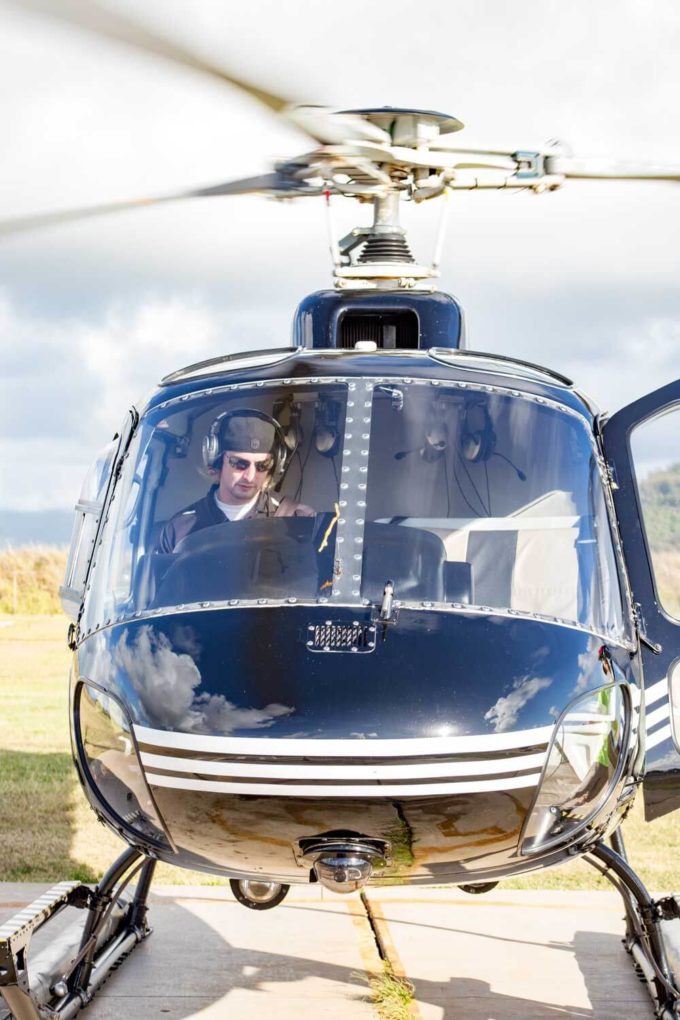 Do you want to feel like you are in Jurassic Park? Do you want to see some of the most pristine landscapes in the US? You will be on top of the world, above the clouds, and with the best views of the island up in the air. A helicopter tour on day one will not only help you appreciate where you are and how beautiful it is, but help you get a good idea of what there is to see, and where to go to see it!
The Nitty Gritty:
Cost: Around $200 pp if you book the earliest morning flight on SunshineHelicopters.com and take a doors on flight. The flights with the doors off cost closer to $300 pp. I booked through KauibyStephanie.com and she was a dream to work with.
As a frugal traveler I wasn't sure I would get my value at the $200 price tag. But let me just say that it was the best $200 I spent all week. Spend a few less dollars on souvenirs, eat in your room a few extra times, donate plasma…do what it takes to make this happen. It is majestic, magical, and you will see parts of the island you can't see any other way. My only regret: Not going door-less!
Time: The flights are usually about an hour, give or take a few minutes. We took off from Lihue and had to be there about 7 AM and finished around 9 AM.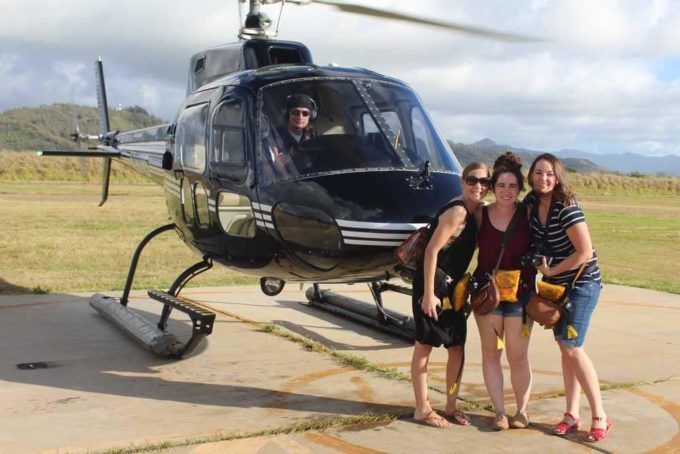 Things to know:
The morning is a great time to go because the rains from the night before will make the waterfalls extra full.
Don't stress out about taking video or pictures, you can purchase the whole helicopter ride video with footage from both inside and outside the helicopter for about $60. Worth it to be able to not fuss over getting your shot, and just enjoy the view and commentary. The footage provided is not copyrighted and is raw, so you can pull still images, and you can share in any way you want.
If you are doing doors on: Wear dark colored clothing, if you can wear long sleeves and pants. Your skin and light colors will reflect off the glass and obstruct your view.
Day Two: Hike to Queens Bath and explore the North Shore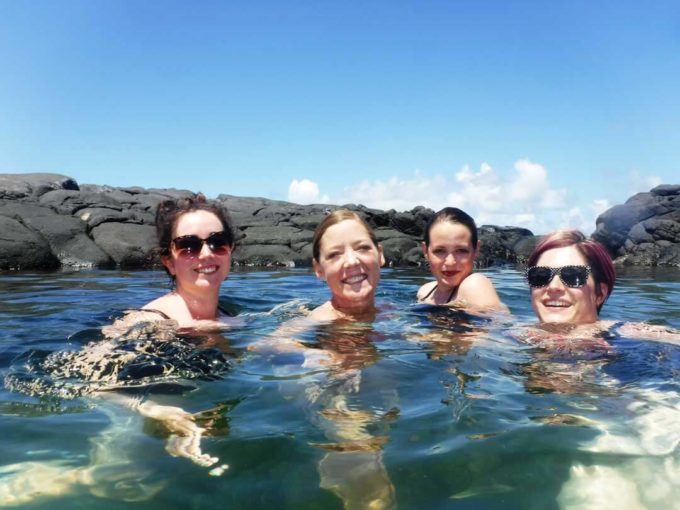 If you really want to enjoy the insane beauty of Kauai, take a drive up the North Shore, and visit Queen's Bath and Tunnels Beach!
The Nitty Gritty:
Disclaimer: Many people have drowned at Queens Bath. Go when the tide is low, and do not push your limits. Large waves could smash you against the rocks, or drag you out to sea, so be careful.
This activity is free of cost.
A short, but treacherous hike will take you to the gorgeous Queen's Bath area. This natural pool borders the ocean, and is filled with water from the waves, but is a fun place to take a swim. The views are incredible, the black lava rock a MUST SEE, and the experience magical. Just be careful!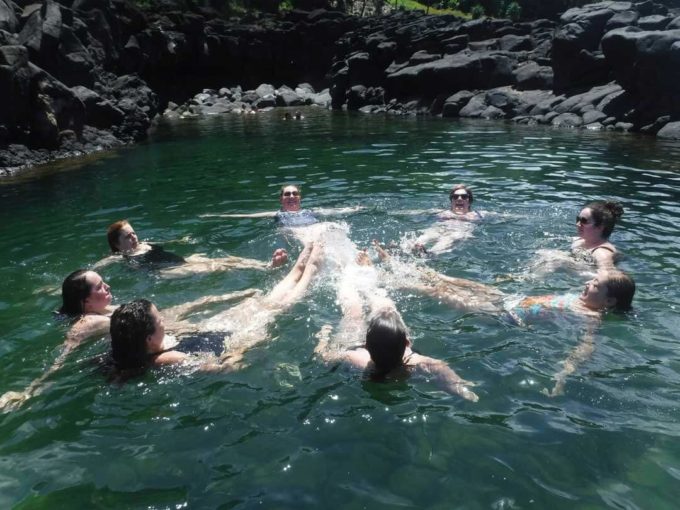 Things to know:
The first spot when you get off the trail and hit the coast, is not Queen's Bath, but take a moment to check out the gorgeous scenery, and look for turtles. There is a lot of kelp in that area, so the turtles like to hang out in the surf there. Be careful on the rocks.
To get to Queen's Bath walk down to the third little inlet. You will know it when you see it! It is amazing. The water is beautiful blue, there may be some small fish swimming in it. You can swim in it too. The high salt content makes it a fun place to float because you don't have to work too hard.
Park at the golf course, there is very limited parking at the trail head for Queen's Bath. It is not a far walk.
Wear good shoes with good traction. Sandals, flip flops, and water shoes are NOT advised. The trail is often muddy and in some parts it is steep. If you have bad knees, or are really old or really young, this is probably not the activity for you.
Take a camera that can get wet! This is the one I took with me.
What is a trip to Hawaii without a snorkeling trip? We went on the Niihau + Napali Super Tour. This is the one to take. It goes to both Niihau, also know as the Forbidden Island, and the Napali Coast.
The Nitty Gritty:
The tour is about 7 hours. It went up the Napali Coast, and was amazing. The views were absolutely spectacular. You even get to go into a cave and under a waterfall! After the ride up and down the beautiful Napali Coastline, the tour headed over to Niihau where it anchored off shore, and we got to spend an hour snorkeling at the reef there. There were tons of fish for the viewing, an we even saw a few eel.
You get to eat breakfast and lunch onboard, and the food, while simple fare, was absolutely delicious. They also serve drinks, including alcohol, but no alcohol until after the snorkeling.
You won't be anchoring on NiiHau, but you will be able to see it.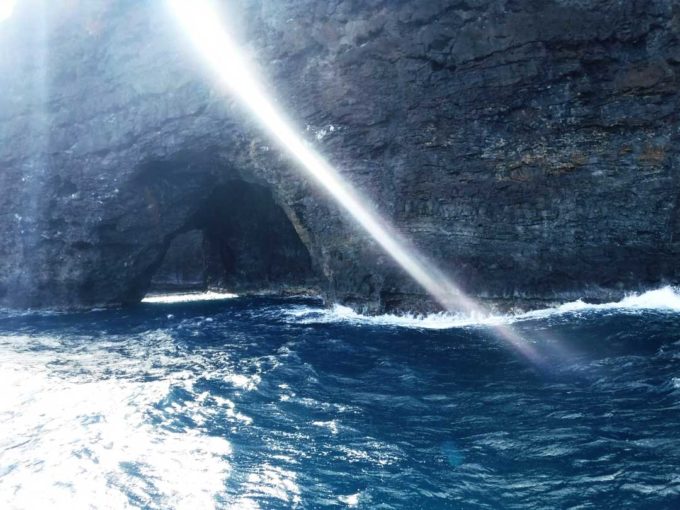 Things to know:
Do not do this tour if you have a bad back, or are pregnant. The water is very choppy, and you fly through it. It is a several hour long tour, so they have to make good time, which means you will feel like you are on a roller coaster for much of the ride. Very fun, but not easy on people with bad backs.
There will be about 50 people on each sailing.
You won't be wearing your shoes aboard, so don't worry about what footwear you bring, and consider something easy to take off and put on.
Bring an underwater camera if you can. The water is beautiful and the fish plentiful, it is a great place to get some fun video and photos.
Bring a lot of sunscreen, preferably one that has a high SPF, and stays on well, or sticks even when you are wet. This one is 100 SPF and only 3 ounces so you can take it in your carry-on. Despite reapplying several times, we got a lot of sun and a bit burnt. You can sit inside, so if you are really fair skinned plan to sit indoors.
You will get wet if you are outside. No avoiding it. If you don't want to be in wet clothes, feel free to strip down to your bathing gear as soon as you get on, or wear something that dries quickly. The stuff you put inside the boat should stay relatively dry. So you can bring a good camera for shots of the gorgeous coastline.
There is parking specific to the tour, it is just past the shopping center the office is in, so look for it and park there.
Day Four: Beach Day, Poipu Beach, Spouting Horn Blow Hole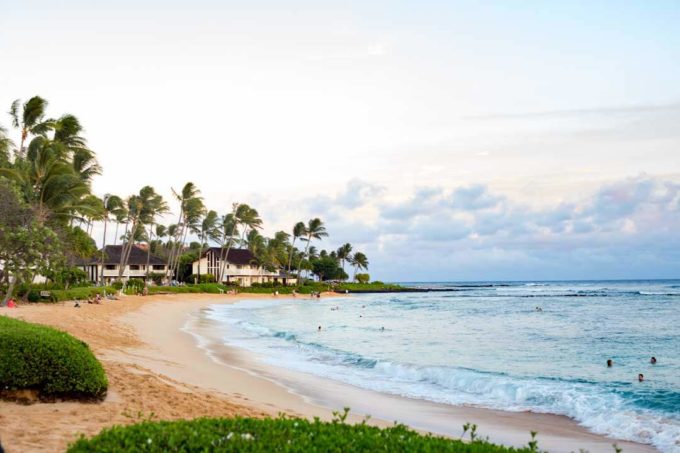 While you will likely want to spend more than one day at the beach, a visit to Hawaii should include a great beach day. And an amazing beach to visit is Poipu Beach. From where we stayed at The Villas at Poipu Kai (details below), the beach is about 2 minutes drive or 5 minute walk.
The Nitty Gritty:
The beach is great for playing in the water, surfing, snorkeling, sun bathing, and more. There is one small inlet that is great for hanging out enjoying the water. You may even see turtles. Not far down you will see a rocky area, and this is great for viewing fish. A little further down the beach, and you will be in a great place for surfing and boogie boarding. There is even one area where the waves kind of butt up against each other, and you can walk between them to a little sandbar in the sea.
Just a bit further down is the Spouting Horn Blow Hole, a fun thing to witness while visiting Kauai. This blow hole is a fun naturally occurring attraction. You don't need to plan much time for this, 15-20 minutes will be plenty to see it and even snap a photo or two.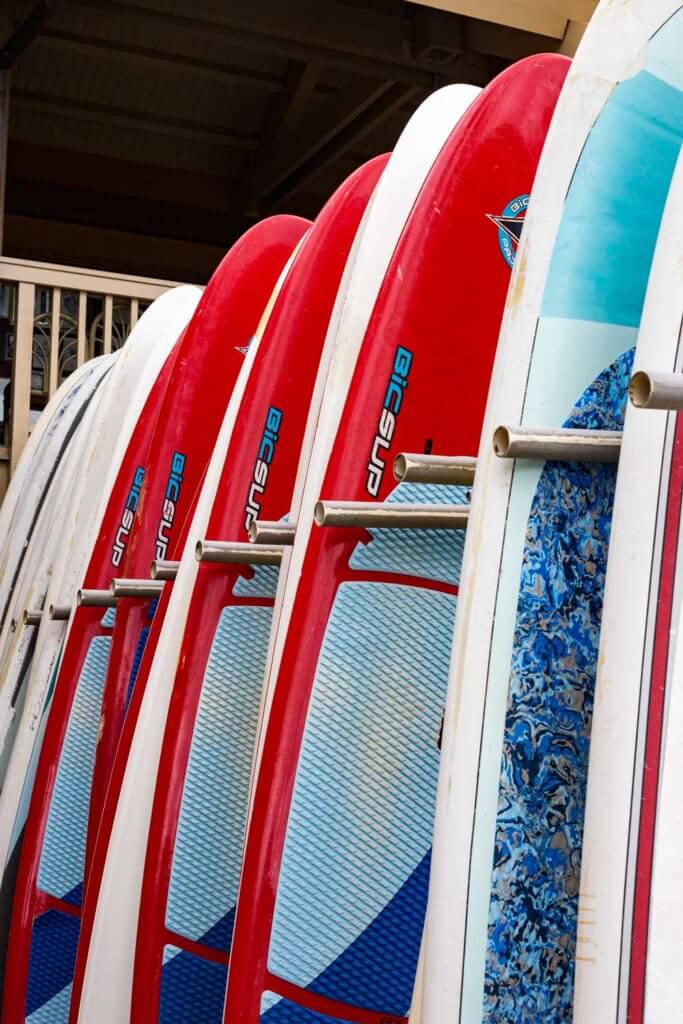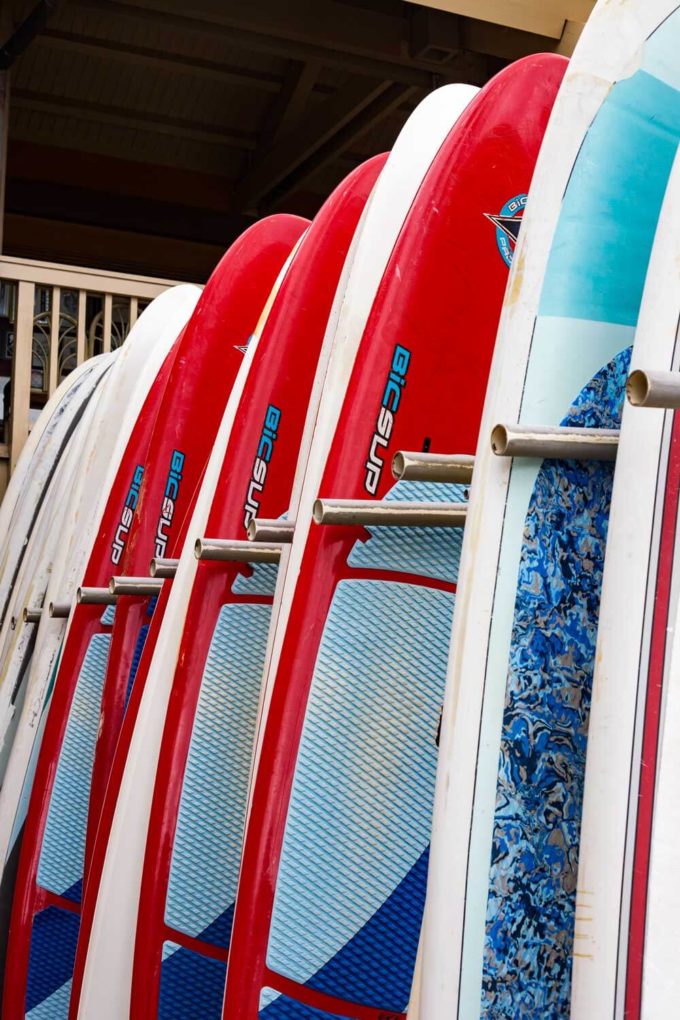 Things to know:
There are bathrooms at this beach.
There are picnic tables.
There are some trees that can provide shaded areas.
There are plenty of restaurants and food places nearby if you want to take a midday break. I recommend Keoki's Paradise. Try the hummus, the Thai Grilled Shrimp, and the Chicken Sandwich. Yum!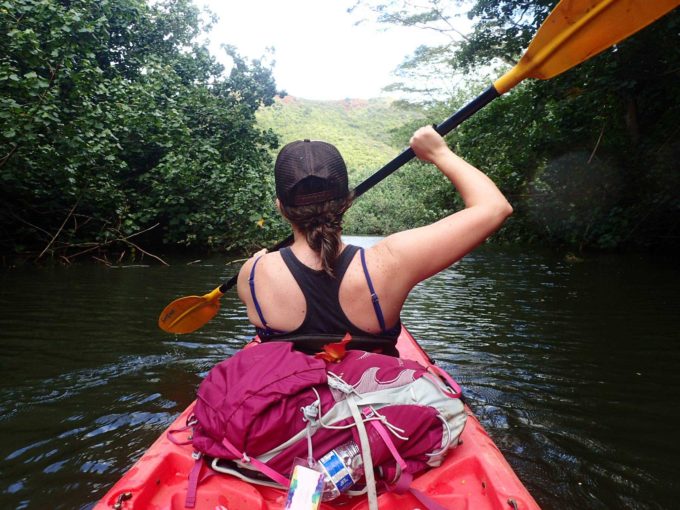 It is hard to say what my favorite activity was during my visit to Kauai. So while it changes day to day, and the helicopter ride was insanely amazing, the kayak tour always rates in my top 3.
It is one of those activities you can't help but love. It is beautiful. It is active. It is amazing. I learned a ton. Had so much fun. Felt like I was on a movie set. And knew this was one activity I would recommend over and over.
The Nitty Gritty:
You kayak about 5 miles, and hike about 2 miles in order to get to a magical waterfall, often called Secret Falls, where you can take a dip in the pool, and eat a lunch.
Your guide will tell you all about the plants, the views, and the history while you hike. You will be sure to love it.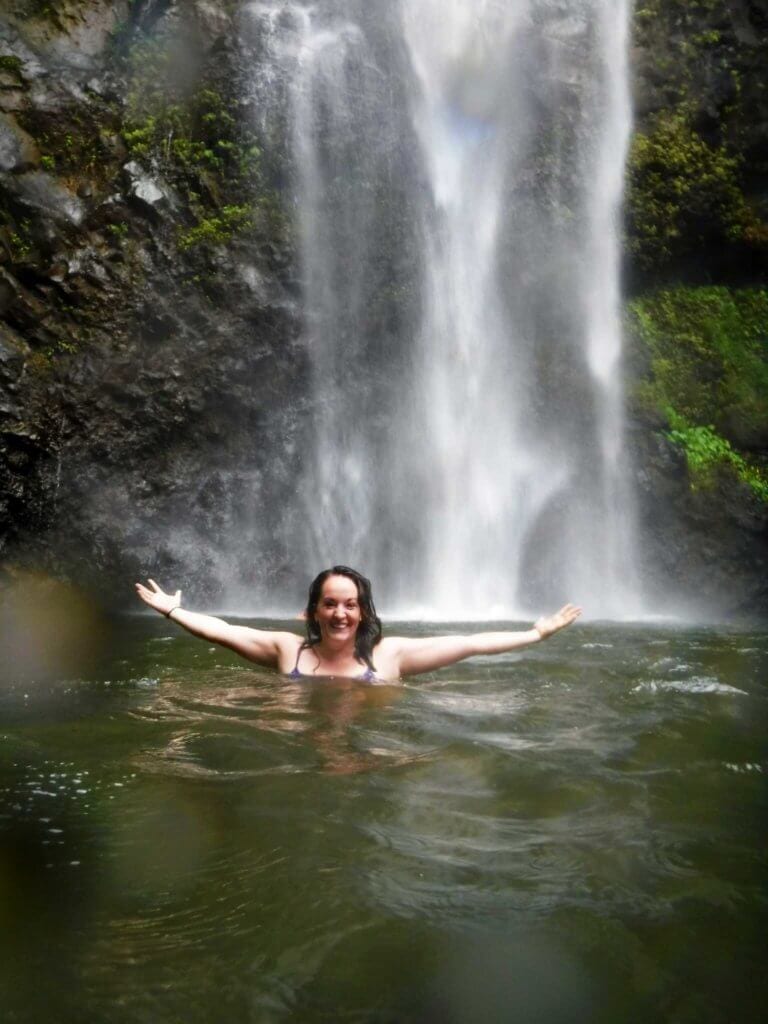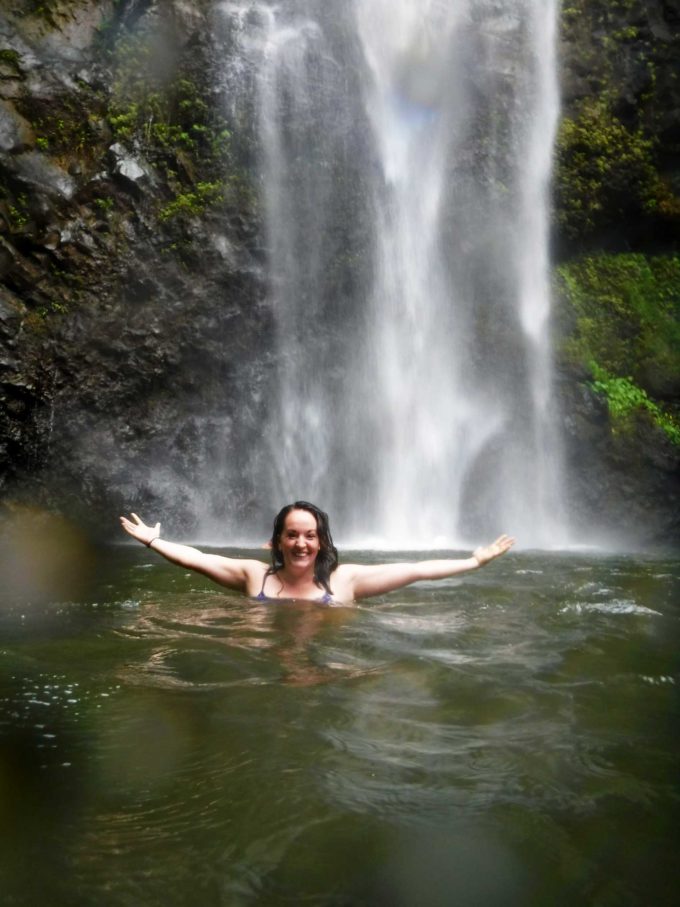 Things to know:
Ask for Thomas, he was an absolutely fantastic guide who knew everything you could imagine about Kauai. He was patient, quiet spoken, and such a fantastic guide.
You will eat a simple lunch of sandwiches and fruit at the waterfall. It can feel like a long hike, so be sure to eat breakfast or you may find yourself pretty hungry.
While the hike is only a mile, it feels a lot longer because it is pretty muddy. You will forge a river, and be stepping over tree roots. Wear good shoes that you don't mind getting wet and dirty. You need traction. Don't wear water socks. You will be miserable if you do.
You will get a wet bag to put your things in so they do not get wet while on the river. But remember, you will be carrying anything you bring during the hike, so plan accordingly. But bring a towel if you want to swim in the waterfall pool. The area is fairly overgrown, so you won't get much sun to dry off with.
While you may be able to use single kayaks, typically you will be buddied up, so try to pair weaker paddlers or newbie's with someone who knows what they are doing.
The views are absolutely stunning. You will feel like you are in a movie set, because you are! Bring a waterproof camera so you can capture it all
While there are not a ton of bugs on the island, we did get some mosquito bites during this hike, so wear some bug spray, and bring some. You will want sunscreen for the river, but probably won't need it for the hike.
Day Six: Drive up Waimea Canyon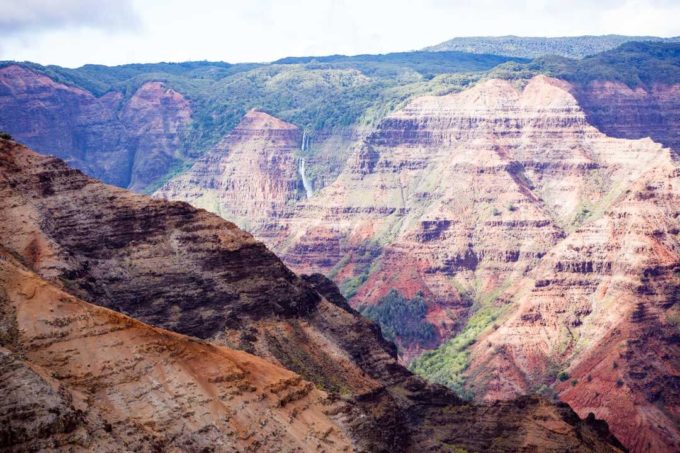 Waimea Canyon is a must see while on the island. It is the island version of the Grand Canyon. You do not want to miss it. Drive to the very end and walk up to the look outs. It is absolutely beautiful. You will be standing with your head in the clouds, and some of the most majestic views known to man.
The Nitty Gritty:
Waimea Canyon is known as the Grand Canyon of the Pacific.
Itis a large canyon that is lush, has waterfalls, and many layers of rock and lava. It is approximately ten miles long and up to 3,000 feet deep.
Waimea canyon is located on the western side of Kauai. .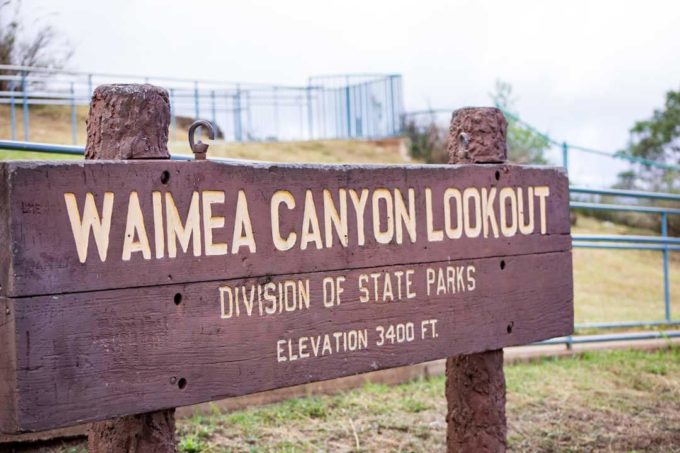 Things to know:
There are many hikes available in Waimea Canyon, but if you are tired from a long day, or not physically fit enough to hike, you can still enjoy the beauty of the canyon by driving.
A panorma or wide angle lens is best for capturing the beauty.
This is a Hawaiian classic, am I right? And what an amazing way to cap off your vacation than with a literal taste of the islands, and entertainment featuring the history, story, and custom of the people.
When visiting Kauai you have a few options. Might I suggest Aulii Luau? It operates on Thursdays and Mondays, and is one of the best. It takes place on a beautiful beach. The dances are awesome, you will get to see 9 total dances. The food is fantastic, plenty of island fare, including Ono, Pineapple, and more! It is both fun and tasty.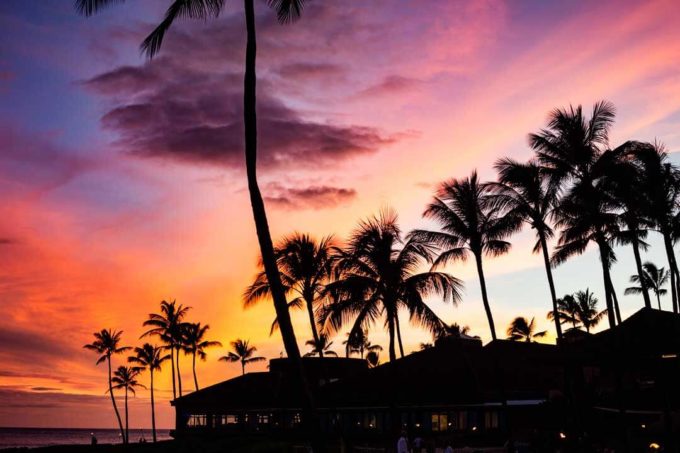 Things to know:
If you do not purchase premium seats, arrive early for the best seating option.
Parking is onsite at the hotel.
There will be vendors there selling handmade crafts, jewelry, and wood carvings, so you could bring money and plan to purchase souvenirs there.
Bring a camera, you will get a chance after dancing to take photos with the dancers. You will also be on the beach during a lovely sunset, so you could get photos of that too!
Where to Stay: Villas At Poipu Kai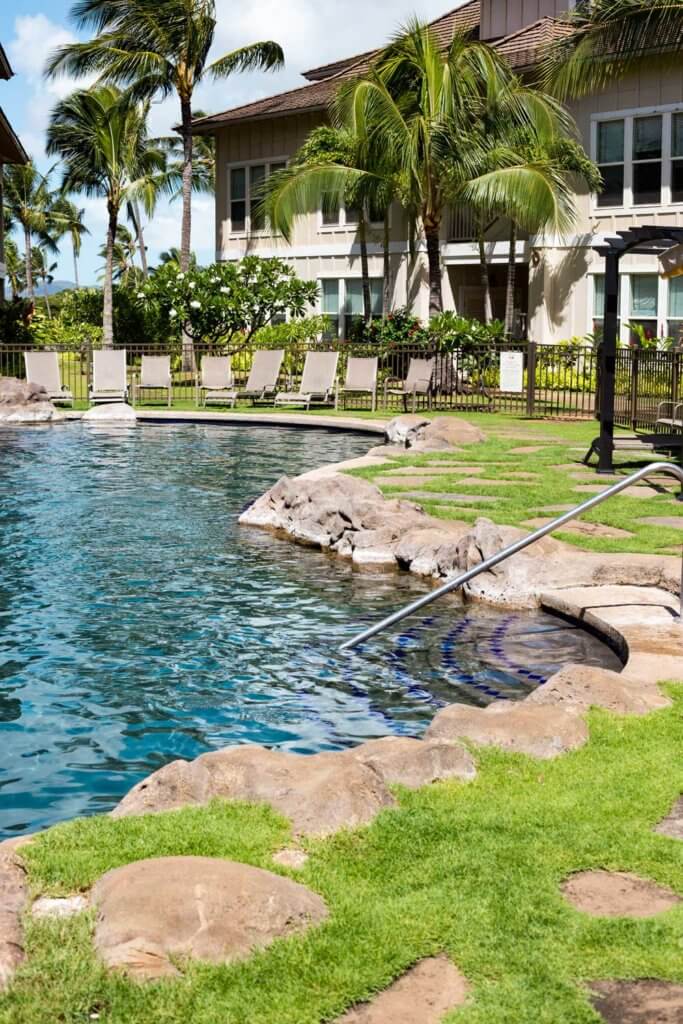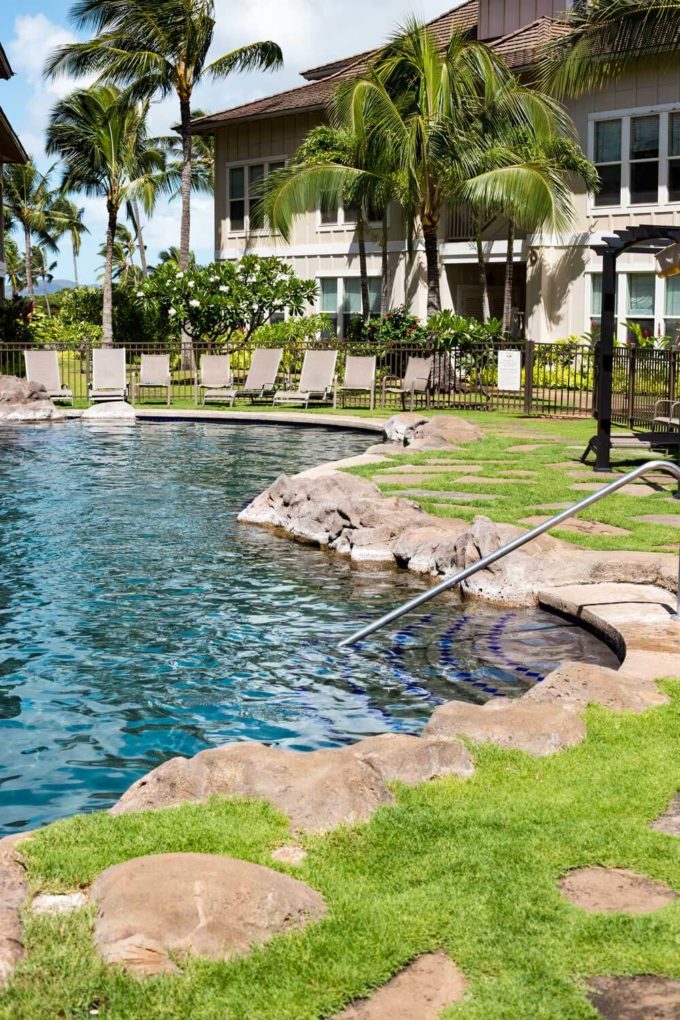 If you need somewhere amazing to stay during this week of adventure, check out the Villas at Poipu Kai. They are spacious villas complete with a great lanai (doors open all the way giving you a great indoor/outdoor space),  fully equipped kitchens to help you save money, several bathrooms in each villa, towels, coolers, and everything you need for a week of enjoying the island. Including WIFI so you can brag about it to your friends! I was there with a lot of bloggers, and it held up well to our internet usage. I even streamed a couple television shows.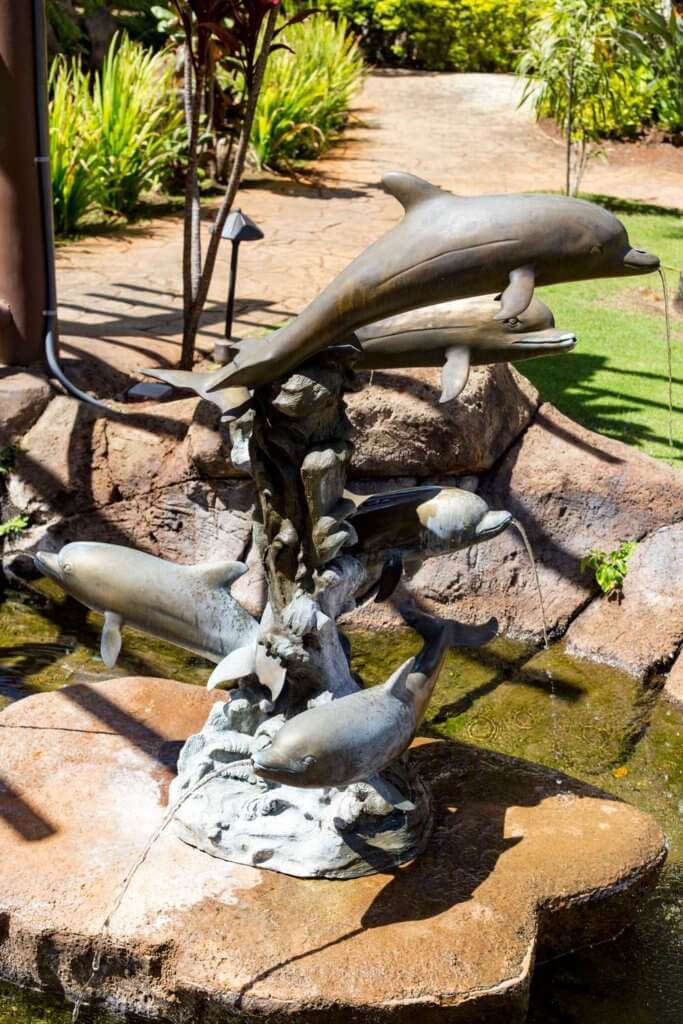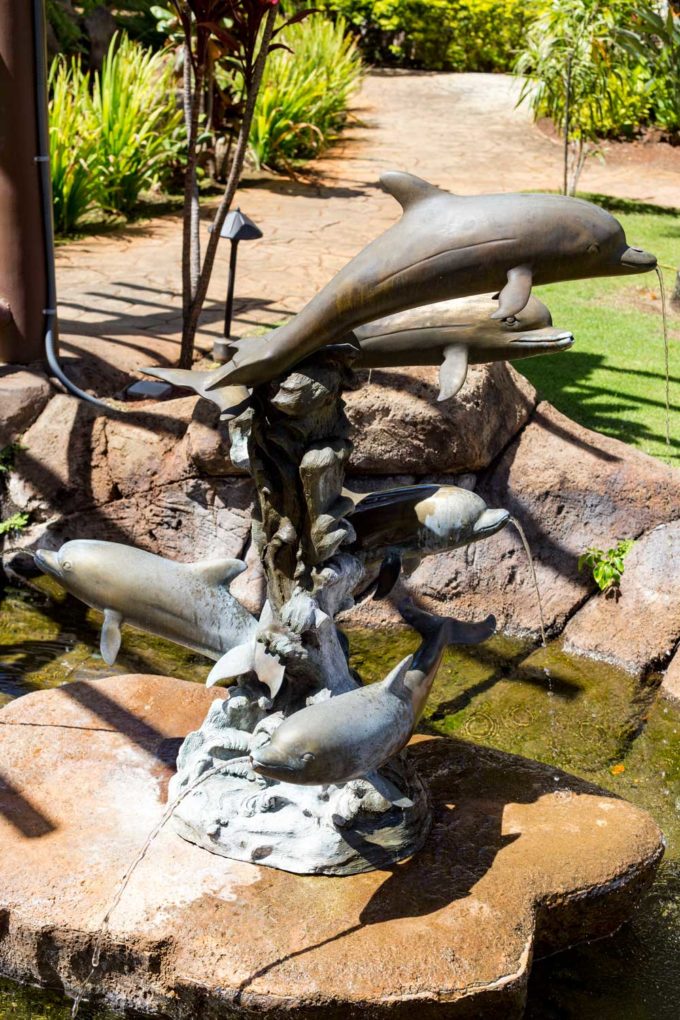 Things to know:
The Villas at Poipu Kai have both a kitchen and washer and dryer. This means you can pack light, save money, and go home with less work (aka laundry).
The pool and hot tub are amazing, and wonderful after a long day hiking, or playing nearby.
The Villas are in Poipu, which is in South Kauai, and are close to everything you need, great beaches, a great luau, beautiful scenery, and amazing restaurants.
The Villas at Poipu Kai have a room full of boogie boards, beach chairs, etc. for your use.
The kitchens are beautiful and stocked with everything you need to eat in during your visit.
The owners at the Villas of Poipu Kai are giving my readers a special discount! You can get 20% off a booking in May, or anytime from September 1- November 15, 2015 and 2016 by calling 1-866-407-0249 and mentioning "Blog Kauai"!
Mahalo! Enjoy your stay!