I received complimentary meals and a stay in order to facilitate this post, all opinions are my own.
Where to Eat In Kauai
When you think of Hawaii you probably think lush landscapes, beautiful beaches, and plenty of time on the water.
But one thing you do not want to overlook when visiting the islands is the food. The diversity in flavors, the freshness of the fish, and the love of culture demonstrated through the food is not to be missed.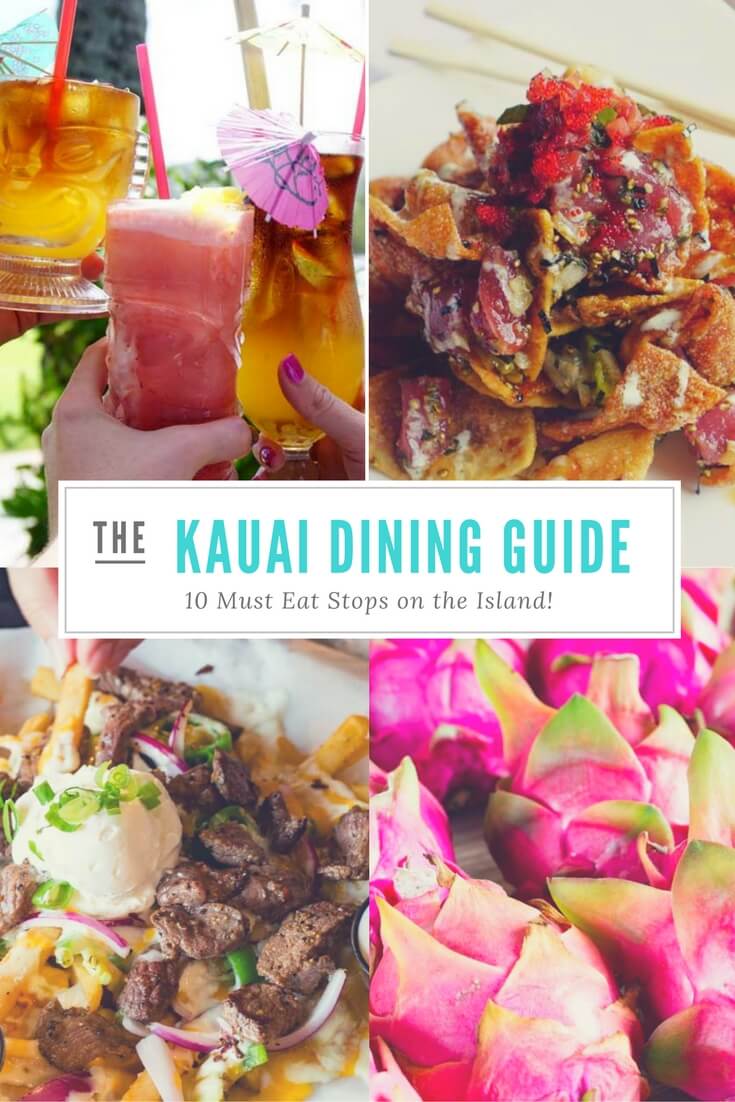 The island offers a lot of places to eat, so I wanted to share some of my favorites so you would not miss them should you visit.
I will include some menu recommendations based on what we tried and loved during our stay.
10 Suggested Places to Eat
Dukes
When it comes to a great place to eat in Kauai, Dukes is it! Get the Tacos and the Hula Pie, and any of the fun cocktails!
Eating House 1849
Ramen, Ribeye, and Goat Cheese Mashed Potatoes are must eat foods at the Eating House 1849 in Kauai.
Wailua Shave Ice Or The Fresh Shave
Our favorite Shave Ice on the island of Kauai is Wailua Shave Ice on the North side, and The Fresh Shave on the South. Get the Love Potion No 9, or really anything on the menu.
The Beach House
Go with a Kauai classic, the Loco Moco for breakfast.
Hukilau Lanai
Don't go to Kauai without getting these Ahi Poke Nachos!
Kalapaki Joe's
Classic sports bar feel with amazing food. Get the coconut shrimp, the carne asada fries, and any fish that is macadamia nut encrusted.
Keoki's Paradise
Best crab cakes I have ever had! And don't forget to order the Thai Grilled Shrimp Appetizer.
Merriman's
Order the beets and goat cheese and any steak or fish option. Delicious food.
Aulii Luau
Eat all the pineapple, and the beef. Try everything.
Monkey Pod
Get the Tahitian Lime Bars, and the pepper jellies!
1- Dukes
www.dukeskauai.com – (808) 246-9599 – 3610 Rice Street, Lihue, HI 96766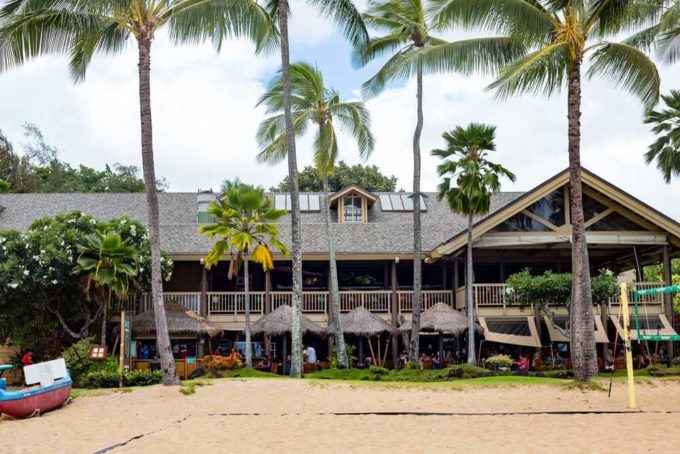 Duke's- Make this your first stop on the island. It is a mere 5 minutes from the Lihue airport, and offers free Valet Parking, making it the ideal place to grab a drink and some food after a long flight.
The atmosphere at Duke's is laid back and so much fun.
You will feel like you are in the middle of a lush rainforest, with a gorgeous coi pond, and plenty of tiki fun!
The sand and water are only a few steps out the door.
For great food, great service, and an awesome atmosphere and welcome, this is the place to go.
Menu Suggestions:
La Pina (drink)
Korean Tacos or Fish Tacos- Basically order a taco and you won't be disappointed, but also the Pork Sandwich. Holy crap! Any fresh fish on the menu is going to be amazing, and their salad bar is top notch!
Okay, seriously you can't really go wrong with anything on their menu so order food, consume food, and be happy!
Original Hula Pie (dessert)- To. DIE. For.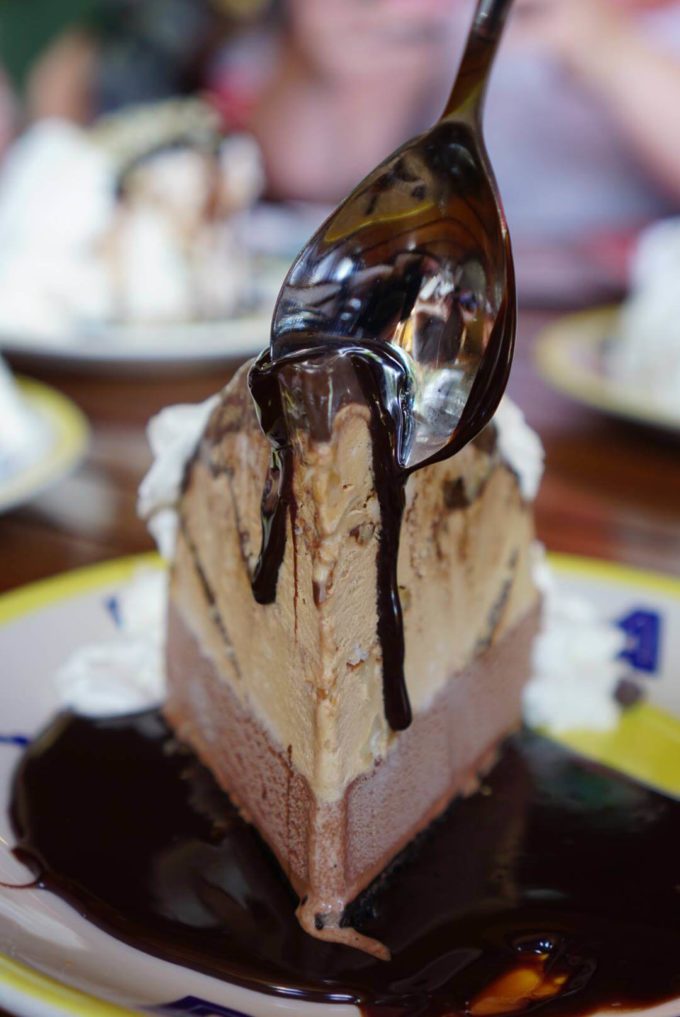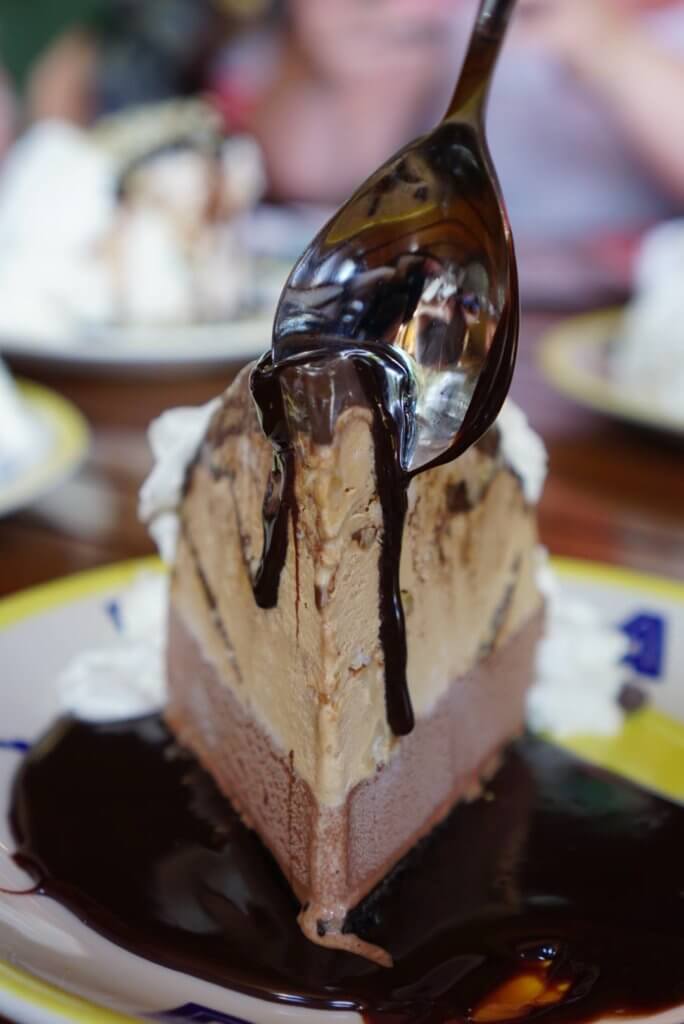 Update: Since first writing this post, I have eaten at Duke's several more times. It is my favorite place! If you want to sit in the dining room, instead of Barefoot bar, make sure you call ahead for reservations, and ask for an ocean view table!
2- Eating House 1849
www.eatinghouse1849.com – 808-924-1849 – 2829 Ala Kalanikaumaka Rd A-201, Koloa, HI 96756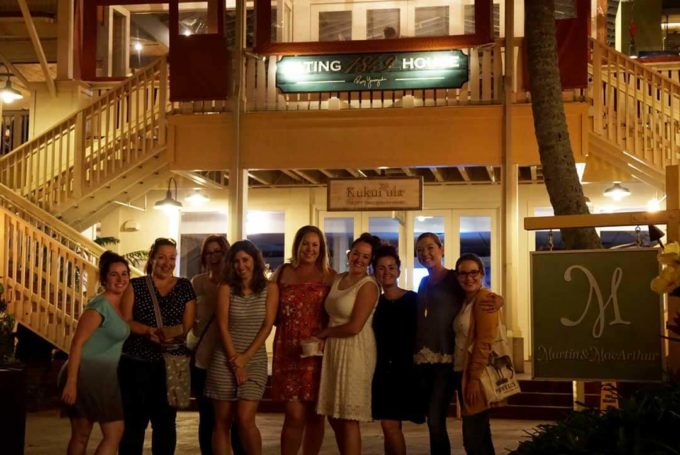 When you are on vacation it is imperative that you go out for at least one semi-fancy meal, and if you are visiting Kauai it would be an absolute tragedy if you didn't go to Eating House 1849.
Every mouthful is blissful. The decor is so fun. the kitchen is visible, which I always think is neat, and there are amazing views.
Combine that with food by award-wining Chef Roy Yamaguchi and you can't miss it.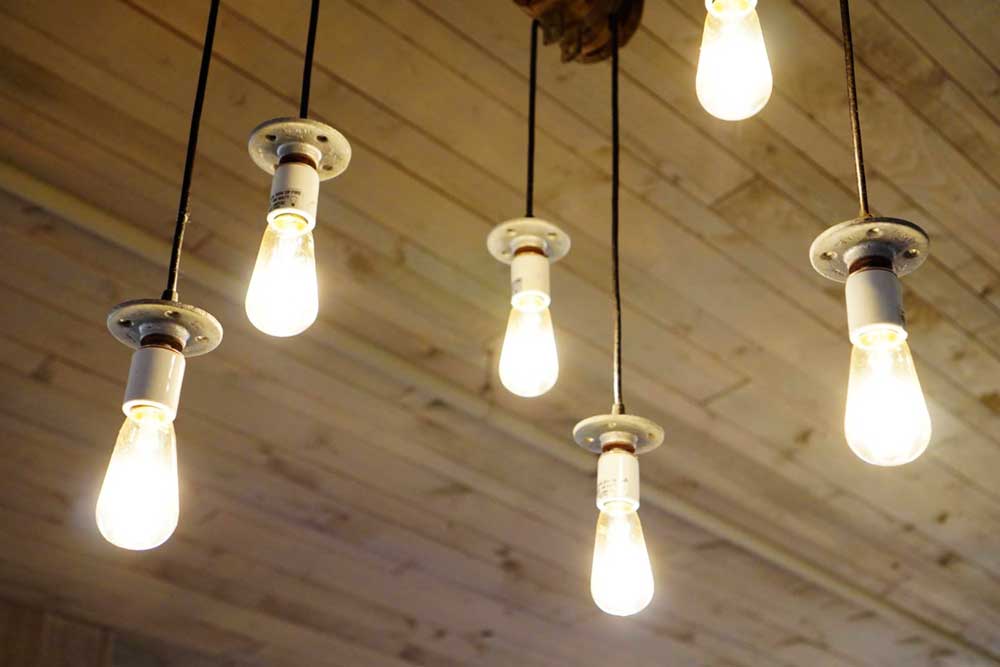 Menu Suggestions:
Goat Cheese Mashed Potatoes- Whatever you do, order these, and eat them all! You may even want to ask for a second side of them. They are literally that good. Yum!
The Ribeye was also freaking amazing, as was the Ramen. The Boar Burger is the best burger evah, and the beef tartine appetizer was sizzling, hot, delicious, and insane.
I am a huge fan of brussel sprouts, so I also super duper loved the cauliflower and brussel sprout appetizer. And the short ribs. If it is on the menu, it will probably be amazing. So eat your heart out.
As for drinks, I stuck with water that night, but the other girls in my party loved the Mango Plantation! In their words, "It was freaking amazing!"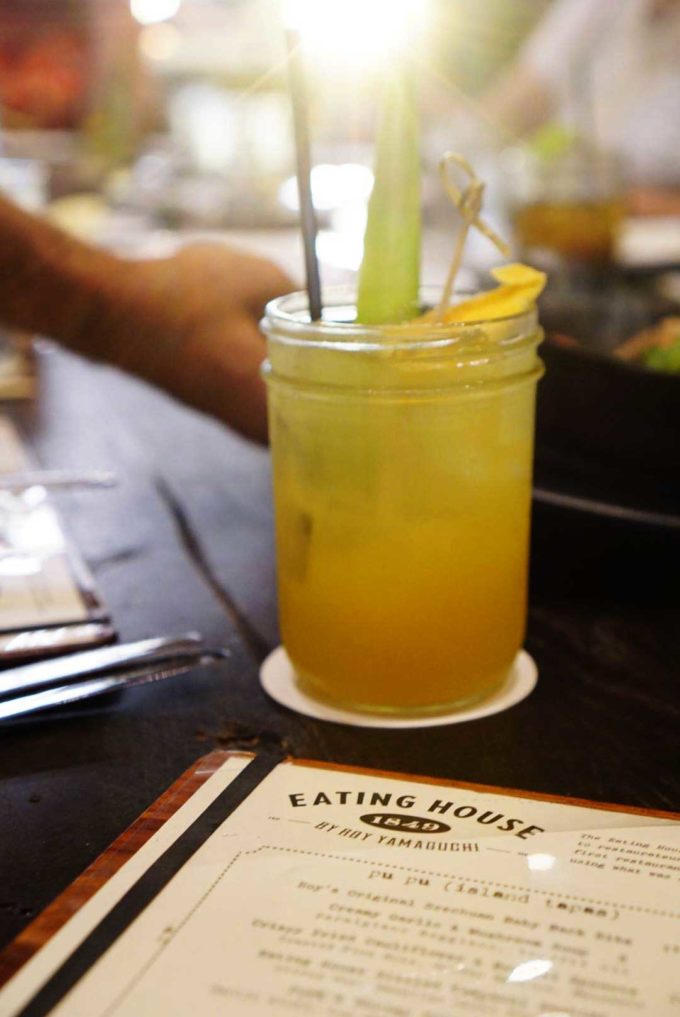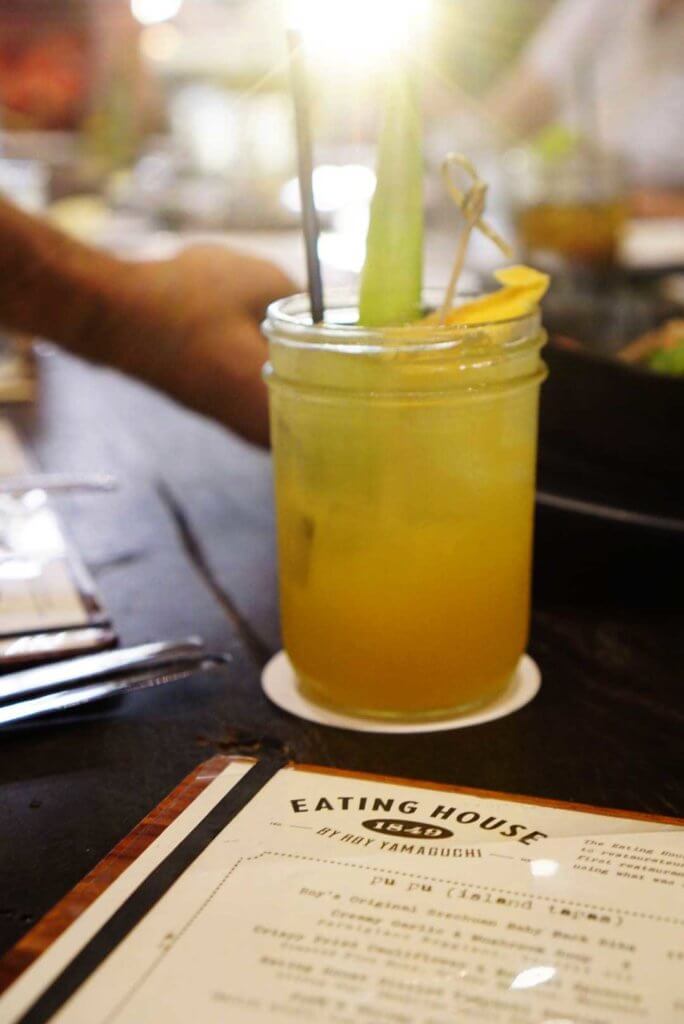 3- The Fresh Shave
www.thefreshshave.com – 808.631.2222 – 3540 Koloa Rd, Lawai, HI 96741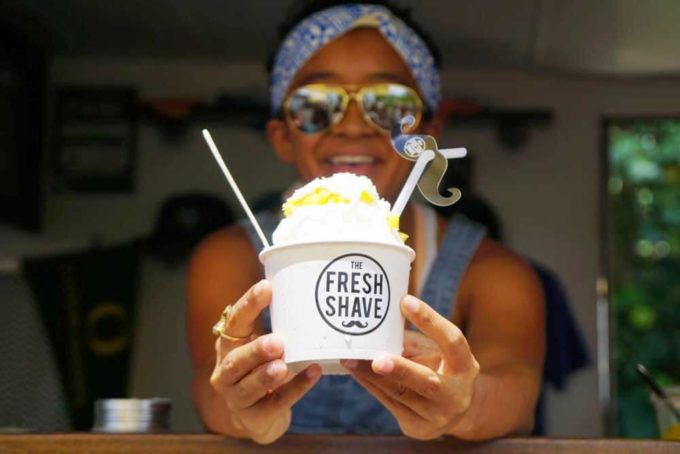 If you want a good shave ice, hit up The Fresh Shave mobile. It is fresh, it is tasty. And it is super cute too. My favorite was the Whiskers. It was a lime and mint syrup and yummy! But their daily special was pretty great too. Honestly, you probably can't go wrong with an order from here. The fresh fruit, and fun toppings are awesome. And they are fun too, you get a sticker mustache on a straw, and you can get other stickers too!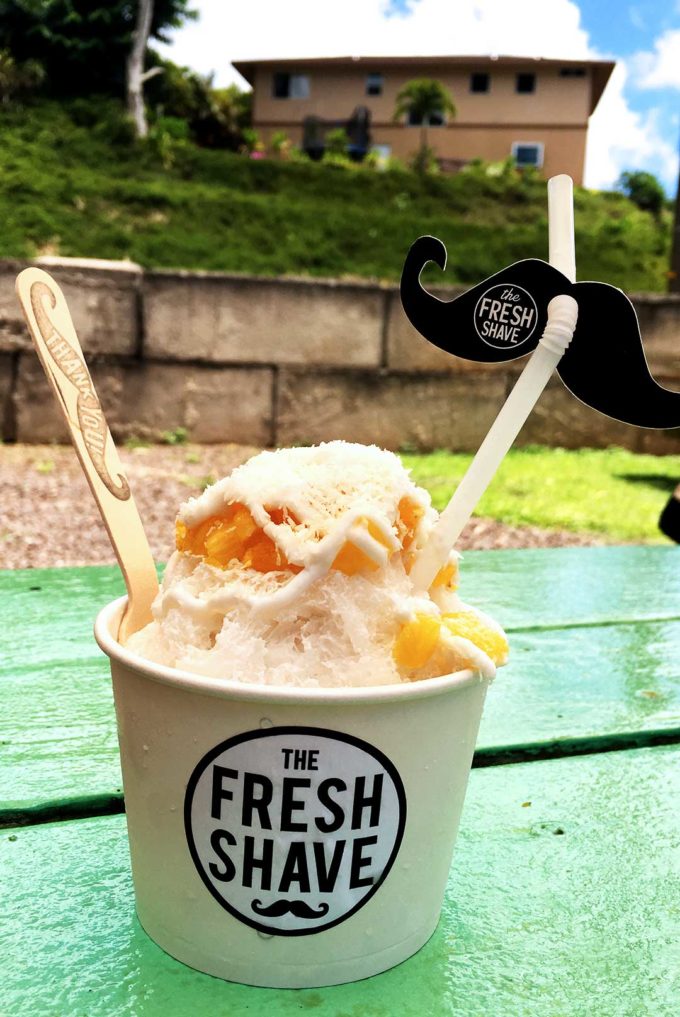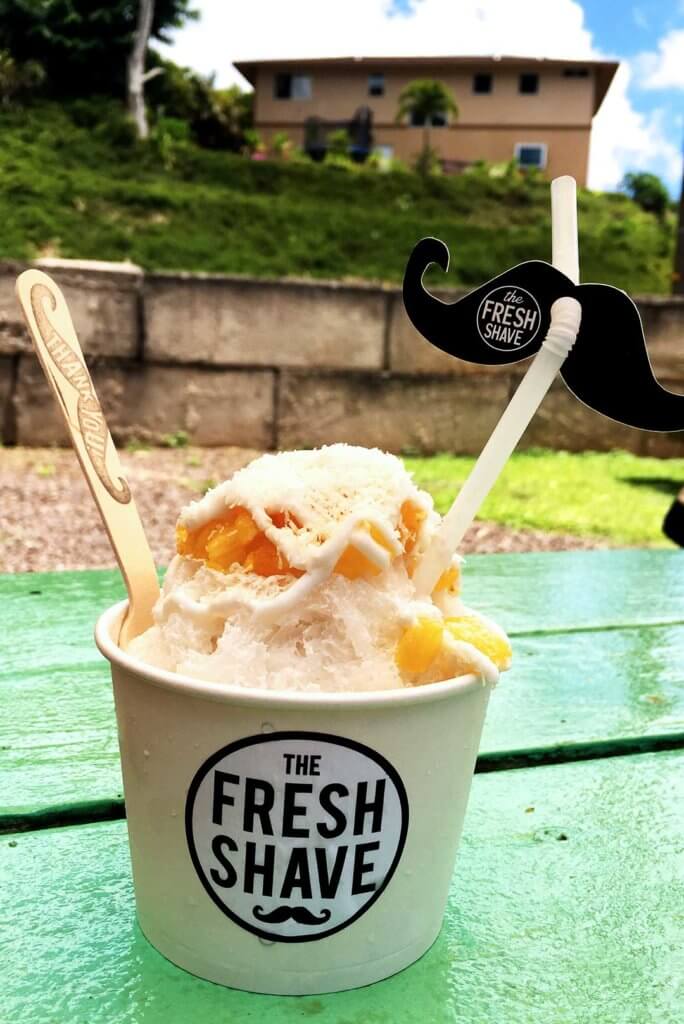 Menu Suggestions: Anything!
4- The Beach House
The Beach House is located near Duke's on Rice Street, and was not actually on our planned dining itinerary.
But we stopped in late one night to grab a bite. I ordered an Aloha Burger which had pineapple and teriyaki sauce. And it was insane. I scarfed it. So good. Another day we went on a Helicopter Tour, and the pick up spot was right next to it, so we stopped in again for breakfast.
If you want a Hawaiian classic get the Loco Moco. Basically it was a tasty place that was under $10 and exactly what you'd want from a beach hut serving food!
Unfortunately, every time I ate there I was so hungry I went straight for food, and left the camera in the bag!
5- Hukilau Lanai
www.hukilaukauai.com– 808.822.0600 – Kauai Coast Resort, 520 Aleka Lp, Kapaa HI 96746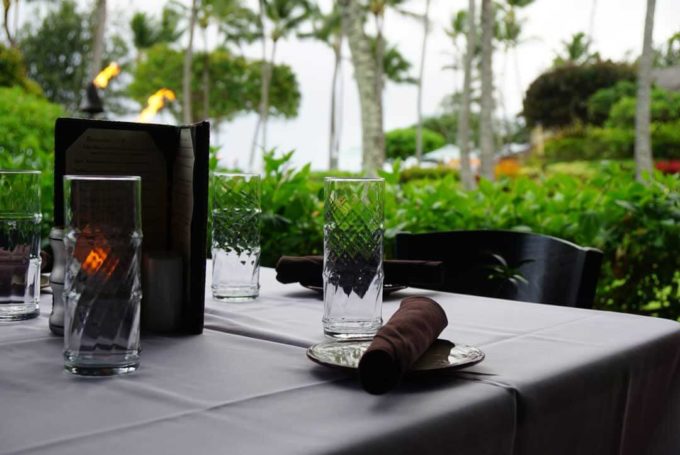 I loved the Hukilau Lanai, it was tasty stuff, and a little bit of a spin on the traditional.
Plus they have a great history. This restaurant opened in 2002 and was purchased by two employees (The Millers) nine years later.
They still employ some of the same people who started with the restaurant 14 years ago. They use local ingredients, and fun flavor twists. And the views are seriously incredible.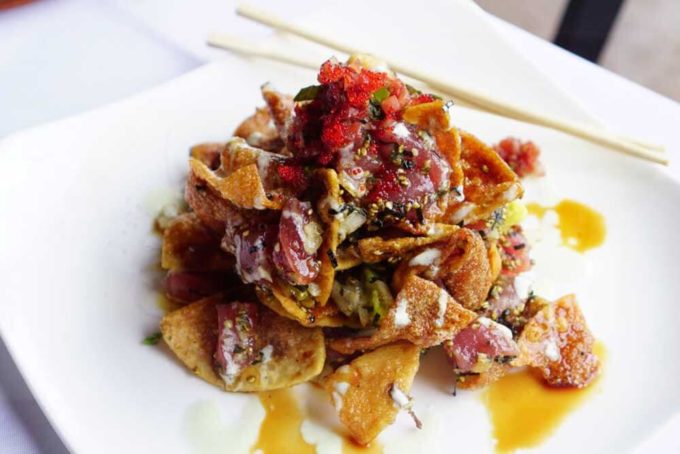 Menu Suggestion:
Ahi Poke Nachos: A fun and absolutely flavorfully delicious twist on nachos. The sauce was super yummy. The ahi super fresh!
Sweet Potato Ravioli: This may have been my favorite bite of the night. The lemongrass sauce is insane. The purple sweet potatoes sweet. I probably should have ordered a whole plate for myself!
Opah with Kombacha pumpkin curry and pineapple chutney: Who knew pineapple and pumpkin could pair so well?
Vanilla Bean Crème Brulee- Mmmmm mmmm mmmm is all I can say to that.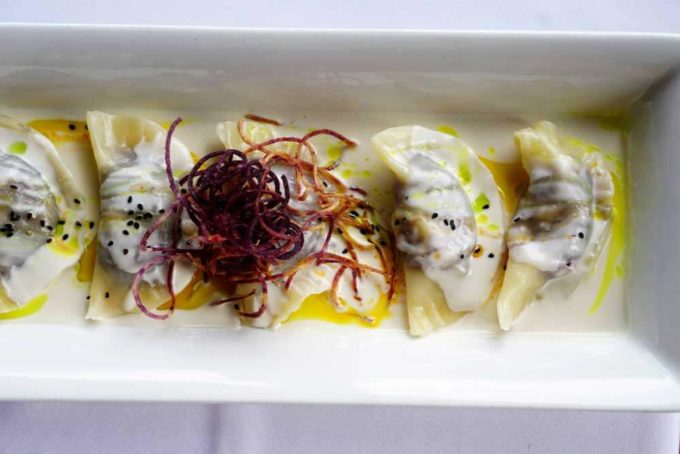 6- Kalapaki Joe's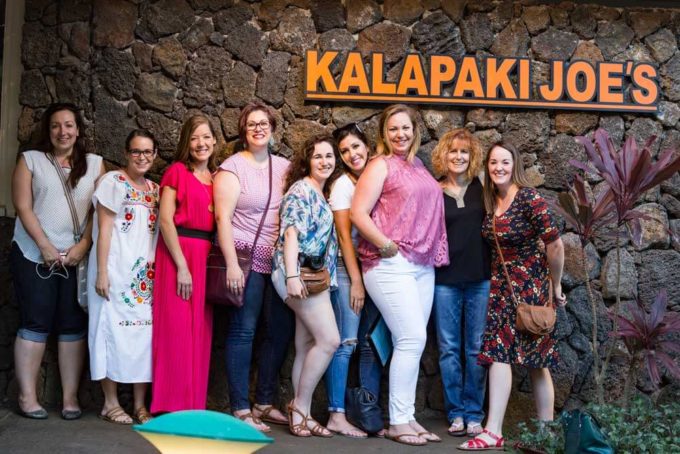 If your favorite sports team has a game, or you just want a fun atmosphere, stop in at Kalapaki Joe's. They offer live music, and you will feel like family with hug greetings, and plentiful food.
Menu Suggestion:
Carne Asada Fries- The jalapenos were so hot, but the rest…amazing! I haven't stopped thinking about this plate of fries since I ate it. So yummy. The beef was so flavorful. Just order it.
Coconut Shrimp- Crispy, and with a fantastic dipping sauce. They also have a coconut shrimp salad, this is what I wish I had ordered for dinner. I loved what I got, but the coconut shrimp was so yummy.
Macadamic Nut Crusted Fish- Hands down, fantastic. Flaky, scrumptious, and perfectly prepared. Loved this!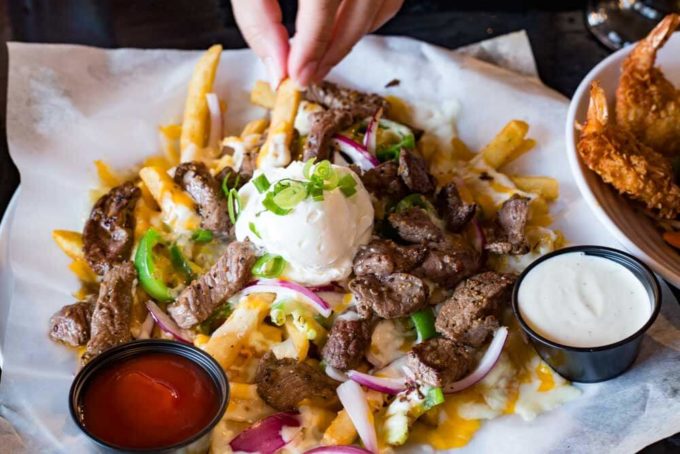 7- Keoki's Paradise
www.keokisparadise.com – (808) 742-75342360 – Kiahuna Plantation Drive, Koloa , HI 96756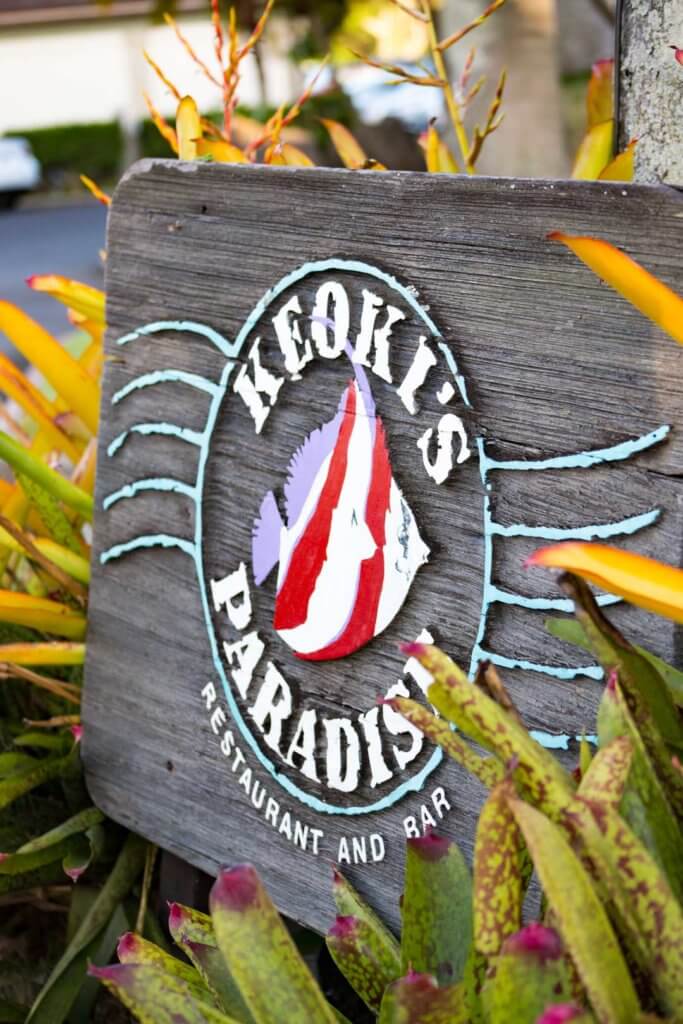 Keoki's will always hold a special place in my heart.
During our visit to Kauai we got to go on a farm tour with the staff of Keoki's. They took us to O.K. King Farms to see where much of their fresh produce is grown right on the island.
It was an amazing day. We ate food fresh in the fields, and got to learn a lot about the agriculture and see where our dinner comes from.
Beyond the amazing day, we also enjoyed the food.
The Thai Grilled Shrimp appetizer was awesome. The Crab Cakes were fantastic. The hostess and chef and servers were accommodating, and they served my favorite drink on the whole island–The Poipu Pina! Mmmmm.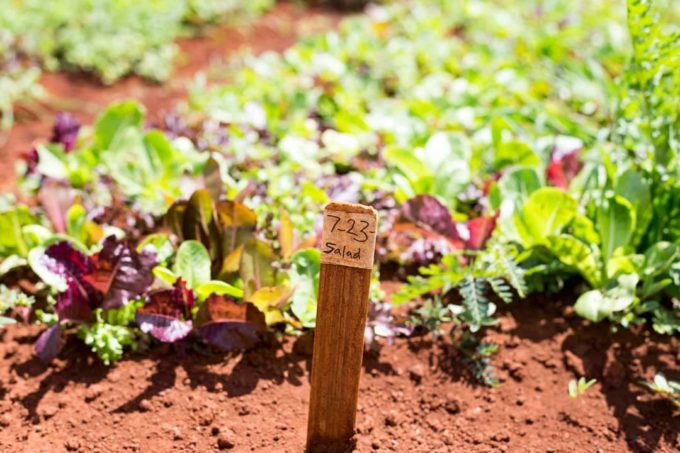 Menu Suggestion:
Crab Cakes, the aioli was so good I wanted to lick the plate clean.
The Poipu Pina was my favorite drink of the whole trip.
The Jerked Chicken Sandwich was intense and amazing.
The Hula Pie is a must.
8- Merriman's
www.merrimanshawaii.com – (808)-742-8385 – 2829 Ala Kalanikaumaka Street #G-149 Koloa, Kauai, Hawaii 96756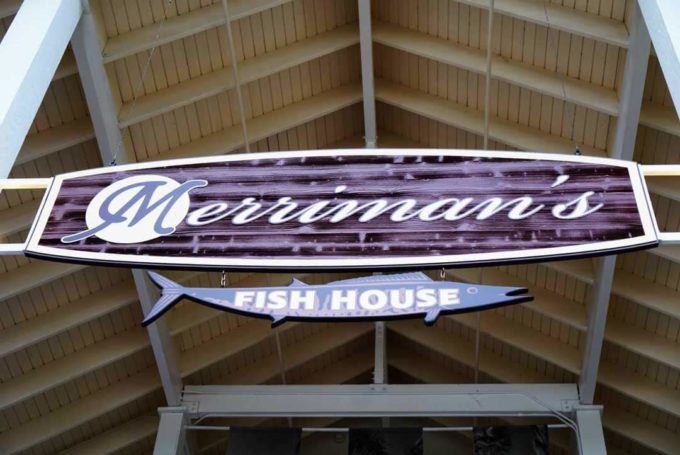 While planning our trip to Kauai I read a lot of reviews about where to eat. Merriman's was consistently on the list. Merriman's Fish House offers a fantastic view, fresh fish, live music, and beautiful decor. We loved the cork board menus! The servers were accommodating. And the location was fantastic.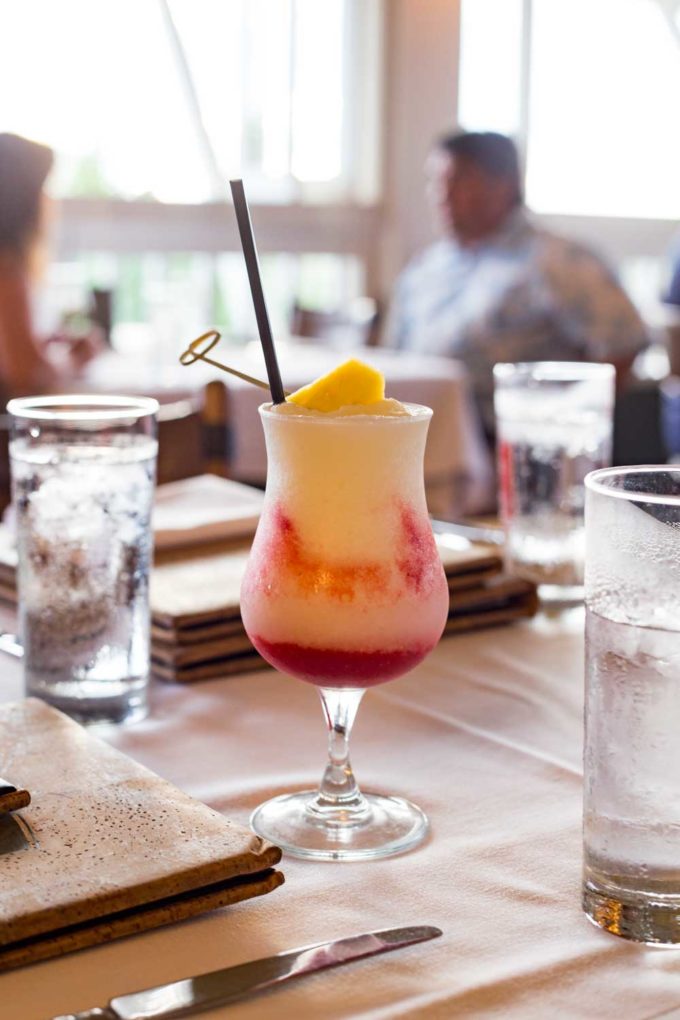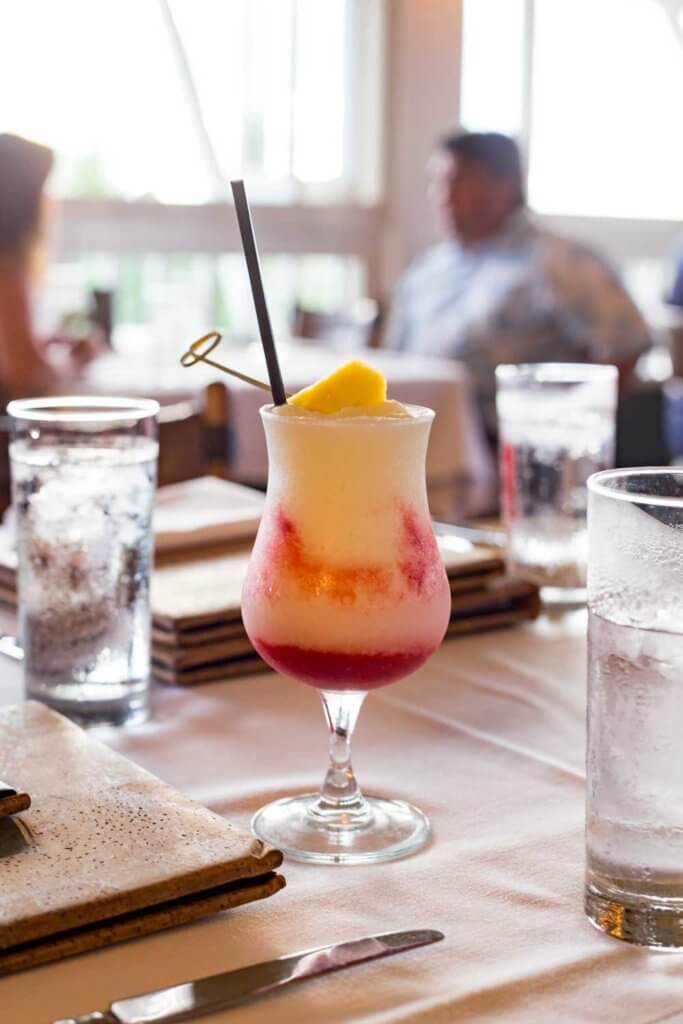 Menu Suggestions:
The filet: I ordered a fish entree which was delicious, but a few in our group ordered the steak, and the raving that occurred meant I had to take a bite. It was tender, flavorful, and amazing. If you want an awesome steak, this might be the best one I have ever had.
The beets with goat cheese: I love beets, and the ones are Merriman's were delicious!
The lobster: Buttery, rich, and delicious. You really can't go wrong with lobster.
9- Aulii Luau
www.auliiluau.com – (808)-634-1499 – Sheraton Kauai 2440 Hoonani Rd, Koloa, HI 96756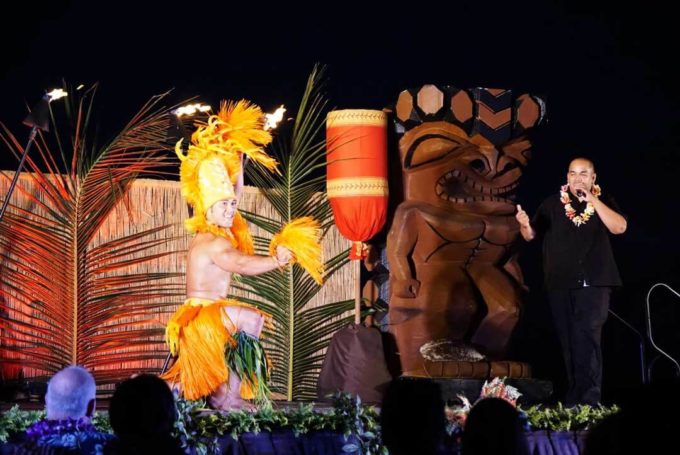 What is an island visit without a Luau? If you are on Kauai the Luau to visit is Aulii. Not only is it in a beautiful beach location, with awesome dancers, the food is great.
I have been to several luaus, and usually I am not very fond of the food.
But I was impressed with the offerings at Aulii. The show was awesome, and the sunset (pictured above) was incredible. It was definitely a night to remember.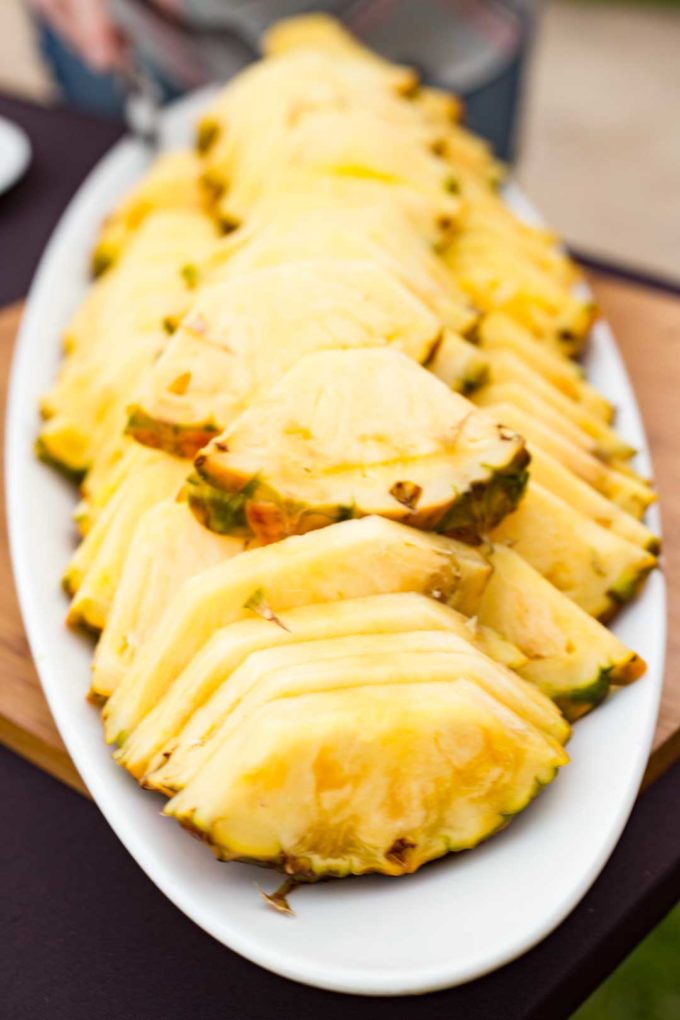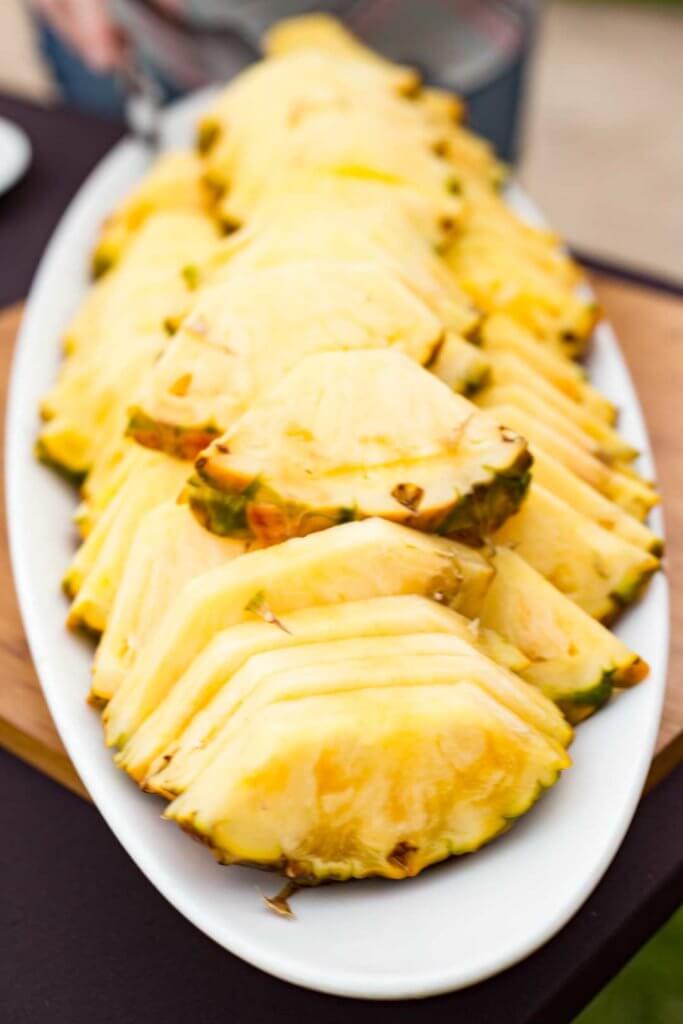 Menu Suggestions:
The beef and hot pepper appetizer was super flavorful.
The drinks were strong and plentiful
The beef on the main course line was superb.
And while the desserts were standard luau fare, many in our party raved about the pineapple upside down cake, which I didn't try because I was so full by then.
The pineapple was my favorite! Probably because it was so sweet.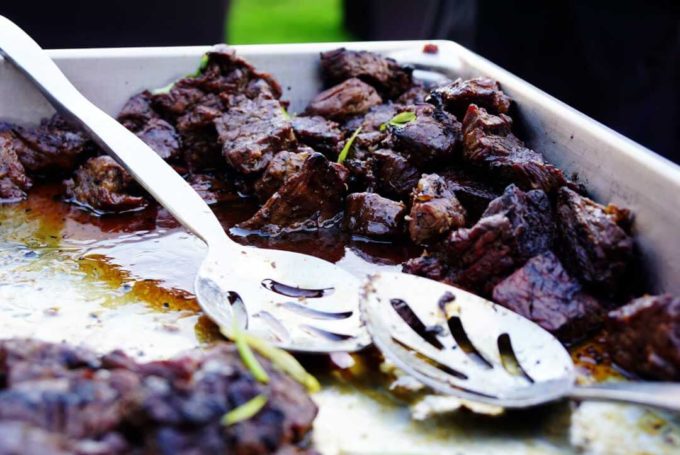 10 – MonkeyPod Jam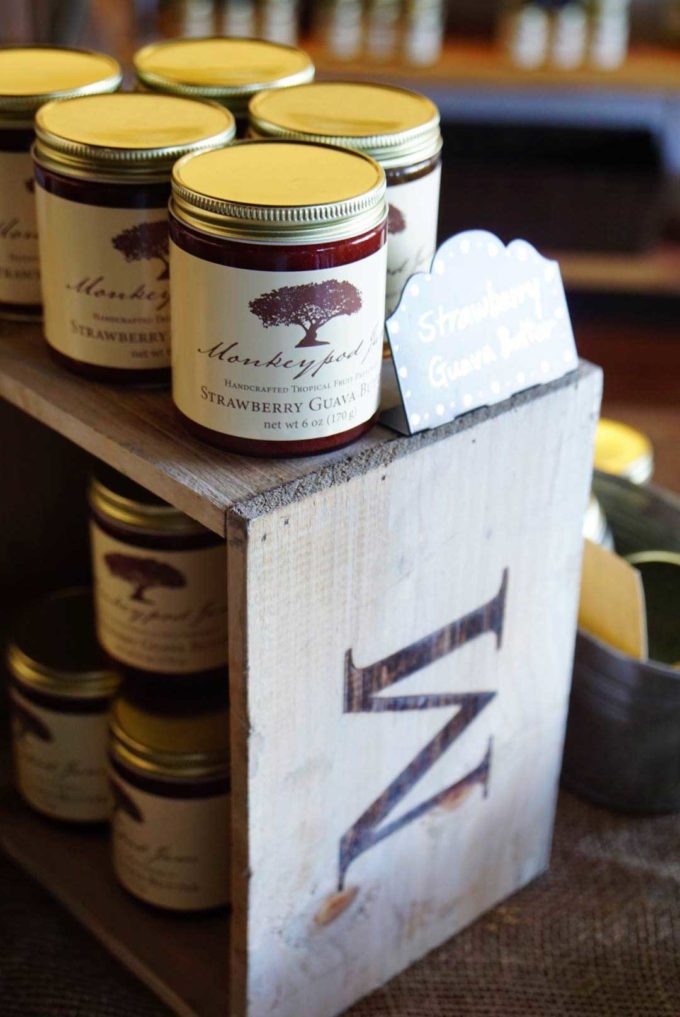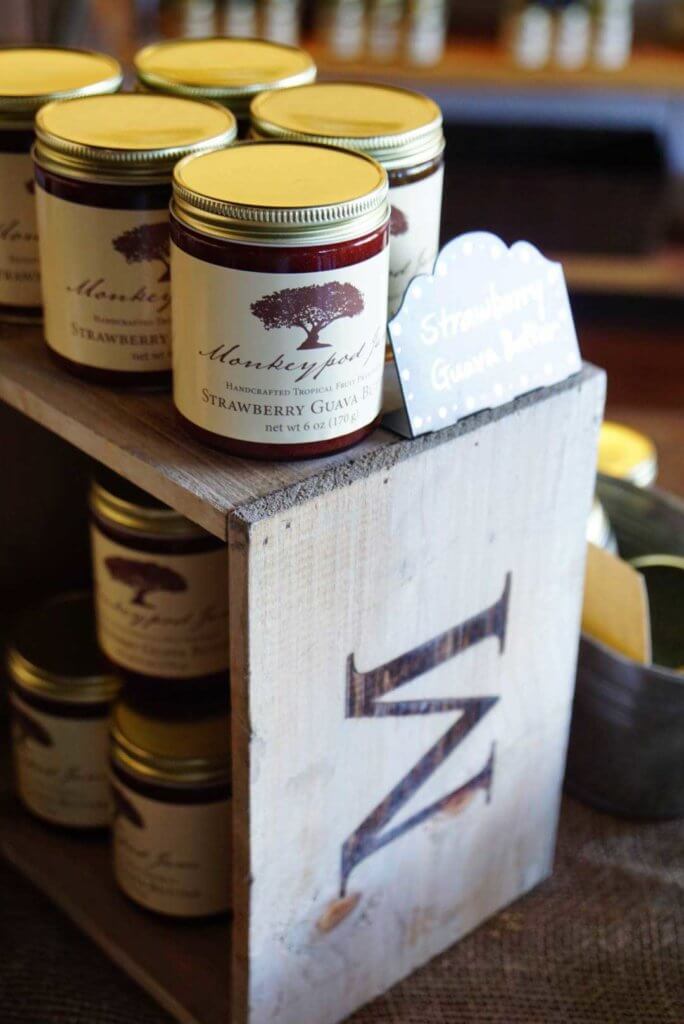 This is not a sit down restaurant. It is a jam shop that serves pastries and things as well. This would be a great place to stop in for breakfast. Or a dessert. You can taste all of their homemade jams, and come with an appetite, but leave room in your checked bag because you will definitely want to take some jam home!
The owner is friendly, and happy to share suggestions for the best places to visit and best things to eat on the island, so stop in early on in your stay!
Menu Suggestions:
Tahitian Lime Bar- Think lemon bar with a lime twist, and some delicious crunchy, almond and coconut topping. I can't even accurately describe it, other than mouthwatering. It was absolutely delicious.
Lemon Curd
Apple Pepper Jelly
There you have it! My favorite places to eat in Kauai! Just writing this post made me super hungry, and now all I want to do is dive into a mountain of pineapple, fresh fish, and mashed potatoes! Send help!