Spudnuts: Potato Doughnut
These homemade donuts are not ordinary doughnuts. They are made with mashed potatoes, giving them that legendary spudnut goodness, while staying pillowy soft, and oh so delicious. They are fried, then glazed, then coated with the most mouthwatering chocolate glaze for the perfect treat.
Trust me, when it comes to a homemade donut, these potato donuts, are where it is at. Whenever I make them I get comments like, "Best donut I have ever eaten." "Seriously so good." "How do you make magic like this?" I am telling you, these are the deep fried confections you dream about.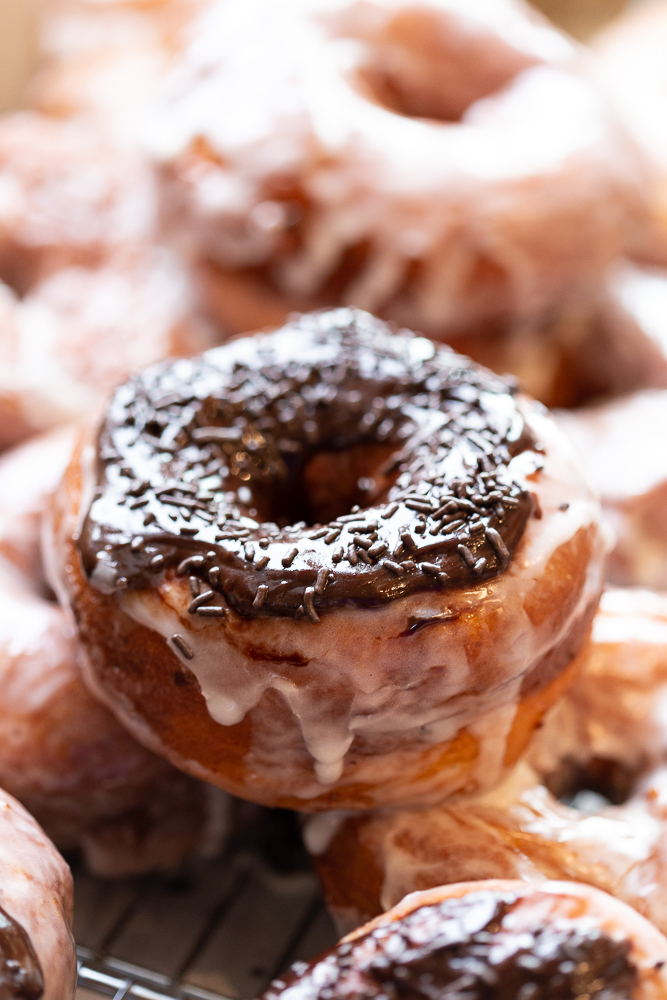 One of my favorite Halloween holiday traditions is making homemade donuts. And I have made A LOT of donuts in my life, but these are the favorites. They take a little work, but are totally worth the effort.
The mashed potatoes are the secret, along with the potato cooking water, which adds starch, and structure to these donuts that you won't get otherwise. And because they are made with potatoes, they are called–Spudnuts! Fun right?
What You Need to Make Spudnuts
While this recipe seems involved because you have to allow time for rising, and you are going to be working with yeast, it is not actually as complicated as it seems, and only requires some basic ingredients, things you probably already have on hand, like milk, oil, sugar, eggs, and flour. The glaze and chocolate glaze (a must, trust me), add some extra steps, but HOLY MOLY, they are worth it.
DONUTS:
Russet potatoes: I tested this with other mashed potatoes, including instant, and the results were far inferior. I highly recommend just using russet potatoes, no other kind. I bought a bag of larger ones, and it was like 2 potatoes to get my pound. I used a small kitchen scale to make sure I had the right amount.
Active dry yeast: Don't be scared of the yeast in this recipe, it is what makes your donuts light and fluffy. The trick is letting it activate by combining it with warm water that isn't too hot. You do not want to kill your yeast. So use a kitchen thermometer to make sure your liquid is 110° to 115° and you should be good. And then take a look at the yeast. Did it foam? Then you are good to go!
Milk: In traditional yeast donuts, the yeast has to be warmed up to 110° to 115° F, but we use a fun little trick to use it to cool the potatoes and the potato water, and skip the step of warming the milk. You're welcome!
Canola oil (1/2 cup for dough, 6 cups for frying): Do NOT substitute for another oil. You need an oil that is good for frying, and oils have different burning points, this is the best option for these donuts.
Sugar: A staple in a doughnut recipe.
Eggs: A quick tip, let them come to room temp before adding them to the dough for even better results.
Salt: Yep, helps with flavor.
All-purpose flour: Because these are a little labor of love, I like using a high quality flour, like a "00" flour, but you can use whatever all-purpose flour you have on hand.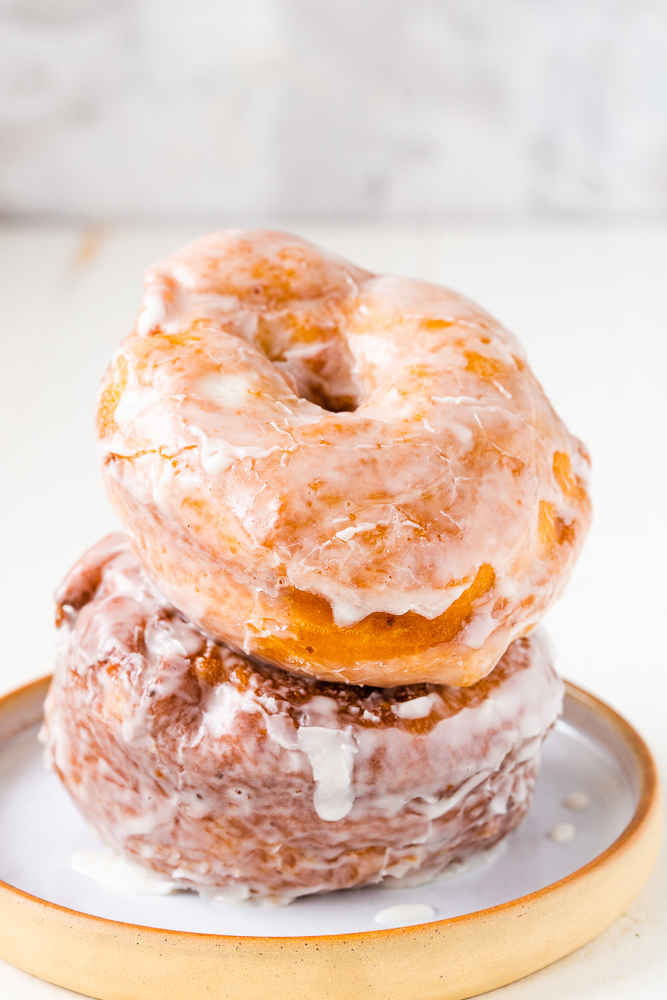 Recommended Equipment
As you know, making any recipe starts with having the right tools, here is what I suggest for making these spudnuts as easy as possible.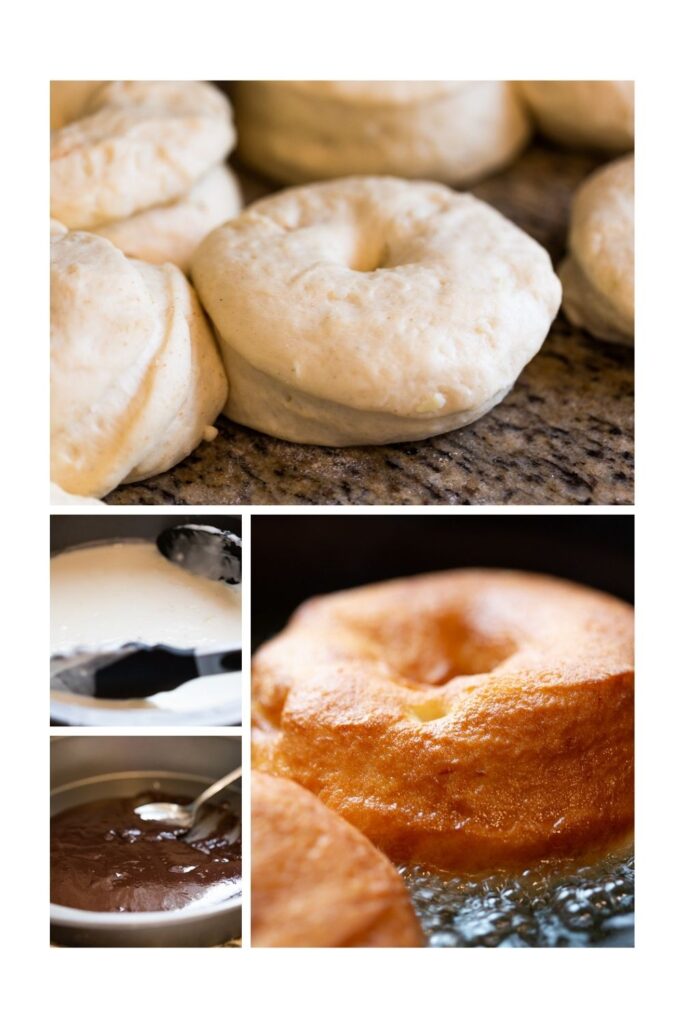 How to Make Potato Doughnuts
Making these potato donuts is not as complicated as it seems. It is basically a few simple steps:
Make Mashed Potatoes
Make Dough
Let Dough Rise x 2
Cut out and Fry Donuts
Glaze and Cover in Chocolate
Eat and Enjoy!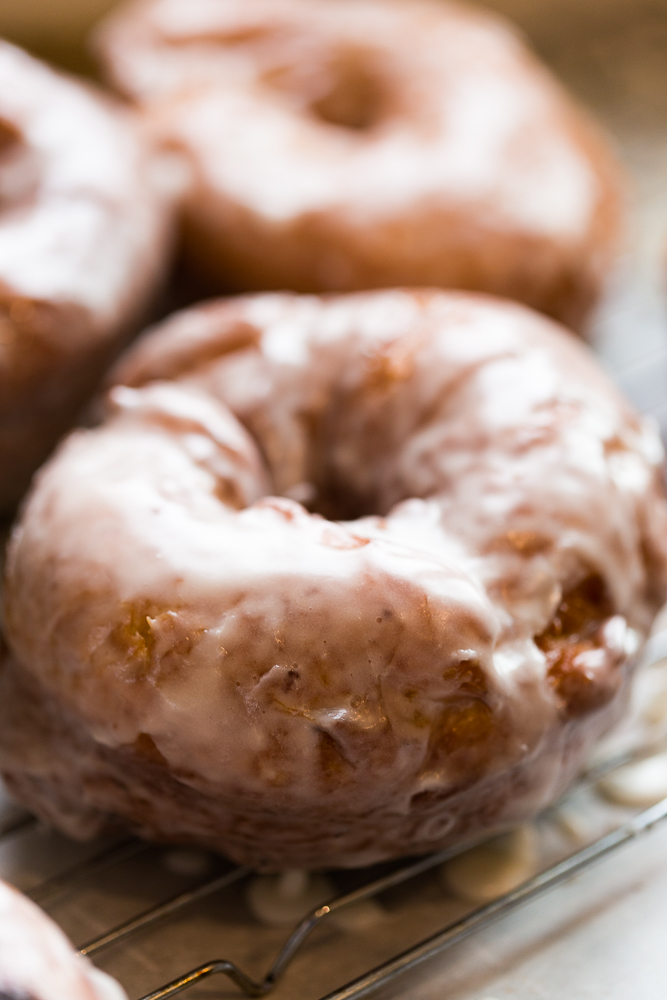 Make Mashed Potatoes
You want to use Russet Potatoes, and peel them, then cook until soft. Make sure you mash them well so you do not get lumps of potatoes in your finished donuts. Your donut is not meant to taste like a potato, the potato gives it structure and heft, and makes it delicious.
Make Dough
This is a basic dough, which means it has all your normal players: yeast, flour, sugar, eggs, oil. The dough will be fairly soft, but should be firm enough to handle well. I skipped the rolling pin and used my hands to roll it out and form it. But you definitely want to flour your surface so you can avoid the dough sticking. And depending on how sticky your dough is, you may need to flour your donut cutter too.
Let Dough Rise x 2
This is soooo important for nice and fluffy donuts, and trust me, these spudnuts get huge and fluffy. So give it time to let them fully rise to double. A warmer kitchen will help with this, as well as covering the bowl with a dish towel. If you are in a big hurry, you can also use your Instant Pot on the yogurt setting and let the dough rise there.
Cut Out and Fry Spudnuts
Now is the time to cut these donuts out and fry them. So get your oil heated, and PLEASE USE A THERMOMETER. The oil temperature is very crucial to this recipe turning out, too low and they won't brown, too hot and they will overcook on the outside and be doughy on the inside. It is worth the $12 or so to buy a thermometer.
A donut cutter is helpful and nice, and can speed the process along, but is not totally necessary. I used a biscuit cutter and cut the center hole by using a chopstick to poke a hole, then my fingers to enlarge it. Get creative. It doesn't really matter what you use to cut your doughnuts, but try to make them about 3.5 inches across.
You should have about 12 donuts when cutting them this size.
When frying your donuts it can be super helpful to simply set a timer. This way you know you have cooked them thoroughly. But also go on color, they should be a nice deep golden brown.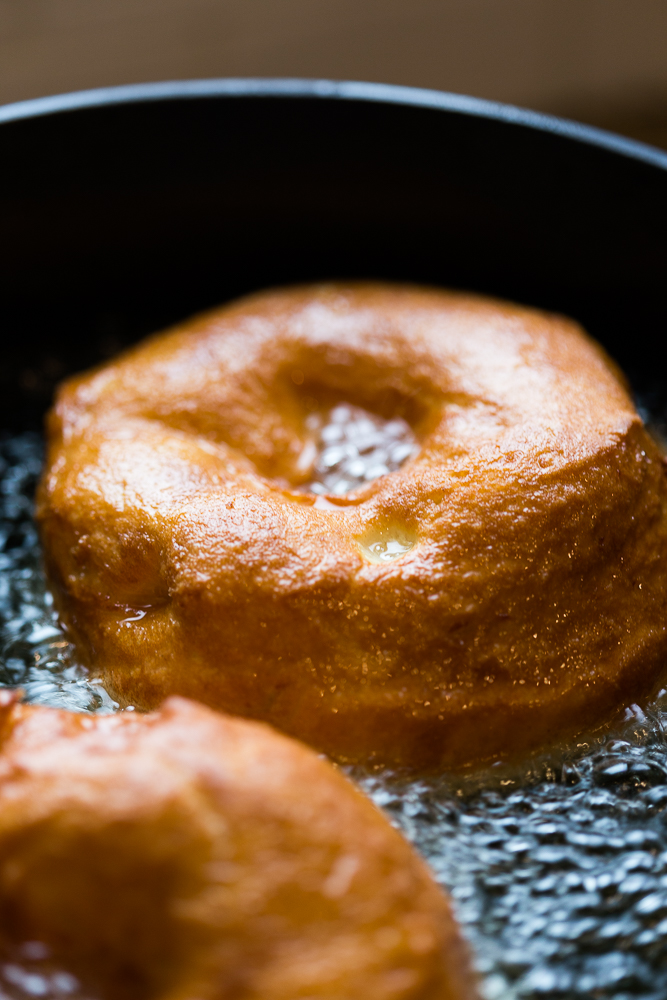 Glaze
Ok, once you cook your doughnuts, put them right into the glaze. I used tongs to move them around in the glaze and get them nice and covered. Start with the powdered sugar glaze, then top with the fudge sauce and sprinkles. Soooo good. Then put them on a wire rack with some parchment under so you don't make a huge mess on your counter, as some of the glaze will drip off.
Eat and Enjoy!
Do I really need to explain this part????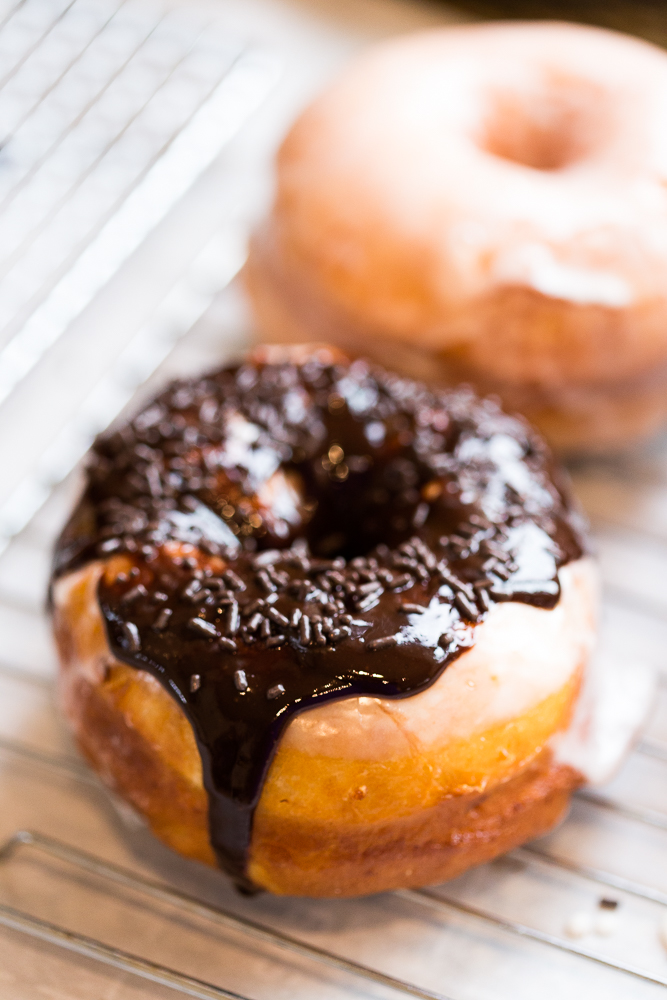 Serve With
This recipe is so perfect for a Saturday morning, or a fun weekend brunch and I love pairing it with:
Tips and Tricks
Making this recipe is Eazy Peazy, and I have included tons of tips and tricks in the post, so read it carefully, but her are a few to keep in mind:
Mash Those Potatoes: You want to make sure your mash your potatoes well, you do not want lumps of mashed potatoes in your donuts. Hahaha. Well mashed will incorporate into the dough nicely, and leave you with a great dough. Lumpy will means bites of potato inside your doughnuts, not what you are going for.
Temperature matters: The temperature of the ingredients as well as the oil. With the ingredients the main concern is not killing your yeast. Yeast is sometimes scary to work with because if you kill it, it won't rise. So avoid that by keeping ingredients around 110-115 degrees F.
Invest in a deep fry and instant read thermometer. It is worth it. If the oil is too hot when cooking your donuts will be raw on the inside and over cooked on the outside. And if it is not hot enough it will dry your donuts out. So trust me, it is worth paying attention to the temperature.
Have Fun with these Spudnuts. Having tried a number of glazes and frostings, I can honestly say you can't go wrong with these donuts. I love the simple vanilla glaze, but the chocolate really takes it over the top. Try adding apple cider instead of milk to get an apple cider glaze, or use frosting. Just have fun!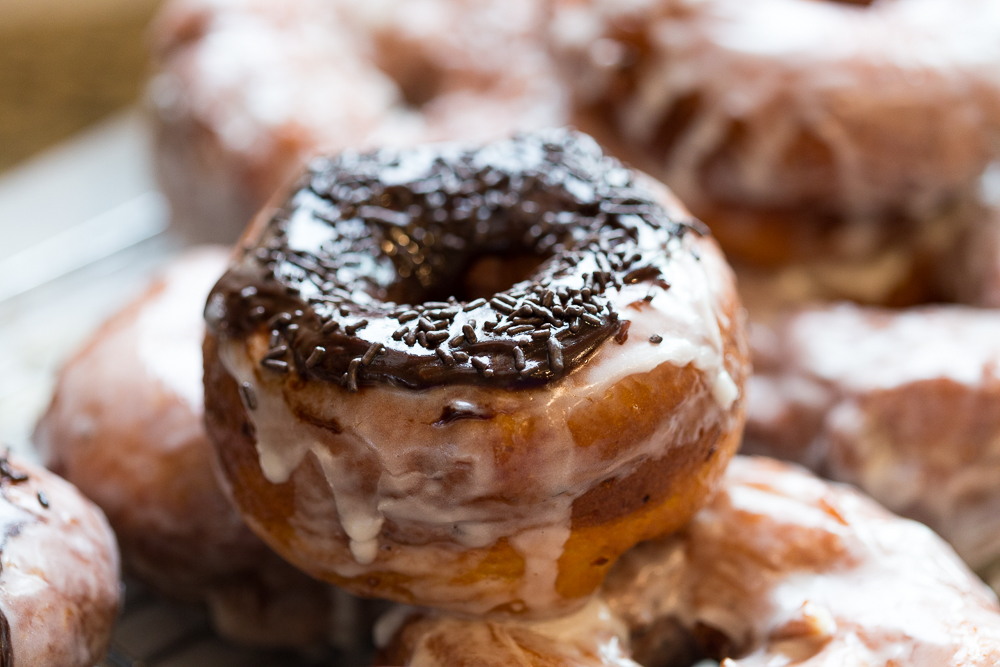 Make Ahead and Storage
How to make this recipe ahead of time: This recipe can be made ahead in a couple of ways. You can either make the donuts and simply store them in an airtight container. They will stay good for 3-5 days. But truthfully, they are better fresh, as all fried foods are.
So, if you want to make your dough ahead, here is what you need to know.
Make Dough the Night Before then Let Rise
Yes! Simply follow all of the steps to make the dough, but instead of letting it rise, put it in the refrigerator. Then the next day, remove it from the refrigerator, and let it rise until double in size. This will take more than an hour since the dough is chilled. Once it is risen to double, punch it down, let it rise about 20 more minutes until doubled again, then cut out and go from there as stated in recipe.
Both glazes can also be made ahead of time and stored in an airtight container.
Other Great Recipes:
WANT MORE EZPZ? Follow along on Facebook, Pinterest and Instagram for all of the latest updates.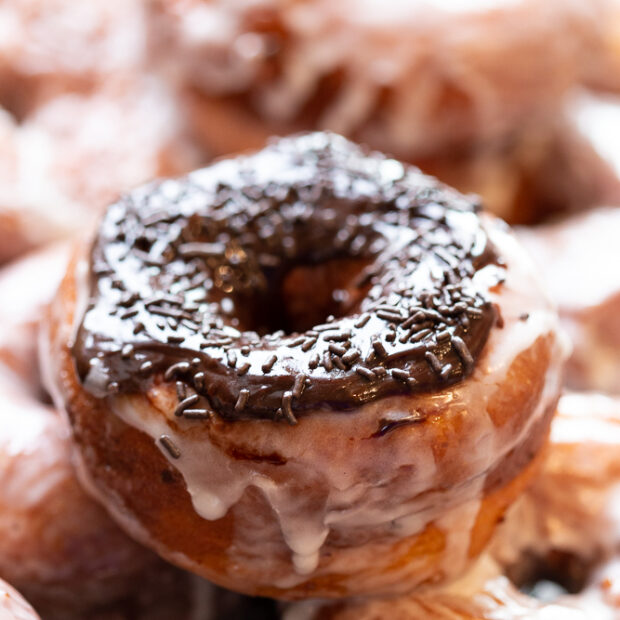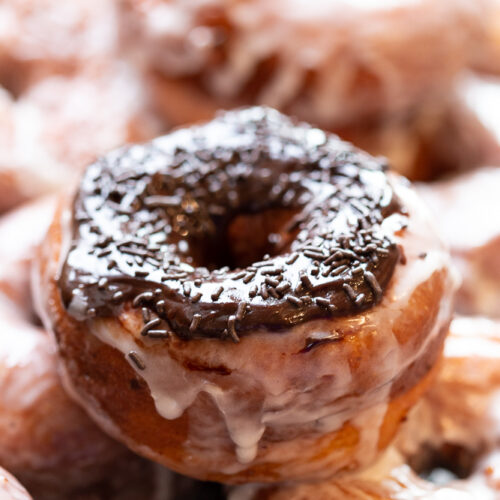 Spudnuts
Big, delicious, potato doughnuts, with a fantastic glaze, perfectly fried to light, perfection. These homemade donuts are amazing.
Print
Pin
Rate
Ingredients
Donuts
1

pound

russet potatoes

peeled and cubed

2

packages active dry yeast

or 4 1/2 teaspoons

1 1/2

cups

milk

warmed to 110° to 115°

1/2

cup

canola oil

1/2

cup

granulated sugar

2

eggs

large

1

teaspoon

salt

7 1/2

cups

all-purpose flour

6

cups

canola oil for frying
Glaze
8

cups

confectioners' sugar

1/2

cup

heavy cream

1

cup

milk

1

Tablespoon

vanilla extract
Chocolate Sauce
½

cup

brown sugar

¼

cup

cocoa powder

¼

cup

unsalted butter

¼

cup

heavy cream or milk

1/2

Tbs

vanilla extract

a pinch of salt
Instructions
Peel and cube potatoes, then place potatoes in a large saucepan and fill with water until potatoes are completely covered by an inch.

Bring to a boil, then reduce heat and cook for 15-20 minutes, covered, until potatoes are tender.

Reserve 1/2 cup cooking liquid; discard remaining liquid.

Mash the potatoes with a potato masher, making sure to get rid of as many lumps as possible, but not over mixing. And set aside.

Get your kitchen thermometer out, and add your milk to your reserved liquid, adding until temperature reaches 110° (Note 1)

Pour liquid into the bowl of a stand mixer, and add your yeast. Dissolve yeast

Add the remainder of the milk to the mashed potatoes to help cool them. Use your kitchen thermometer to check the temp, and when it reaches 110 °, add the mashed potatoes, milk, 1/2 cup of canola oil, sugar, eggs and salt to the yeast mixture in your stand mixer bowl.

Using a stand mixer fitted with the dough hook, mix flour into the dough, a cup at a time to form a soft dough.

(Note 2)

Once mixed, place dough in a bowl greased with cooking spray or oil, turning once so the whole dough has a light coating of the oil. Then cover with plastic wrap. Place a dish towel over the plastic.

Let dough rise in a warm place until doubled, about 1 hour.

Punch dough down, then let the dough rise again until doubled, about 20 minutes.

Flour a work surface, and using your hands, tip dough out, and form a round of dough that is about 10 inches in diameter, and 1 1/2 inches thick.

Cut with a floured 3 -4 inch donut cutter. You should get roughly 12 large doughnuts (Note 3)

Put 6 cups of oil into a heavy bottomed pot or dutch oven, and heat to 350° F. Use a liquid/candy thermometer to check temp, and keep it at 350° F. (Note 4)

Fry donuts, two at a time, until dark golden brown, about 4 minutes per batch, rotating the donuts half way through. Do not allow the heat to exceed 350° F, the outside will cook too fast and leave the inside doughy. (Note 5)
Glaze
In a large bowl, combine the confectioners' sugar, milk, heavy cream and vanilla until smooth.
Chocolate Sauce
Stir brown sugar and cocoa powder together in a small bowl, and set aside.

In a small sauce pan, over medium-high heat, add unsalted butter and heavy whipping cream together, and bring to a soft boil.

Let boil for 2-3 minutes, stirring occasionally.

Stir in brown sugar and cocoa powder mixture and whisk until smooth.

Remove from heat, add vanilla and salt.

Whisk, and let sit a minute to thicken.
Assembly
Dip warm donuts in glaze.

Place glazed donuts on a wire rack with parchment under it, excess glaze will drip off, and they will cool on wire racks.

Spoon chocolate sauce over hot glazed, donuts, sprinkle with sprinkles (if desired) while still wet/hot, and let glazes set up while donut cools.
Notes
Note 1: If temp is still not at 110°, let liquid sit until it reaches that temp, you do not want it to be too hot or it will kill your yeast.
Note 2: When mixing in the flour, you may not need the last half cup, check your dough, you want it to be soft, and not too sticky.
Note 3: If you do not have a doughnut cutter, use a biscuit cutter, and use a chopstick to poke a hole in the middle, then use your fingers to gently stretch that hole out. Works great!
Note 4: As you add doughnuts to the oil the temp will drop some, but will come back up. Just try to keep it between 325-350° F, and don't let it get too hot or the doughnuts will burn and still be doughy on the inside. I find a medium heat is best for maintaining temp.
Note 5: Set a time for 2 1/2 minutes for the first side, then flip, and set a timer for 1 1/2 minutes for the second side. They will turn out awesome.
Recipe adapted from Female Foodie.
Our recipe card software calculates these nutrition facts based on averages for the above ingredients, different brands, and quality of produce/meats may have different nutritional information, always calculate your own based on the specific products you use in order to achieve accurate macros for this recipe.
Want to use this recipe in a meal plan?
Try PrePear, my FREE Meal Planning App that allows you to save your recipes, plan meals, shop for groceries, and cook simply in one place. Join Here!
Pin to your Dessert board on Pinterest: