Copycat Krispy Kremes
Not Quite Krispy Kreme, but Dang Good Doughnuts are a copy cat Krispy Kreme Doughnut: These doughnuts mimic the light and fluffy, glazed doughnuts that can be bought at Krispy Kreme Doughnuts. They are delicious and only require a few basic ingredients: flour, sugar, milk, butter, yeast, and oil. If you are craving a yummy, airy glazed treat, then this doughnut is for you.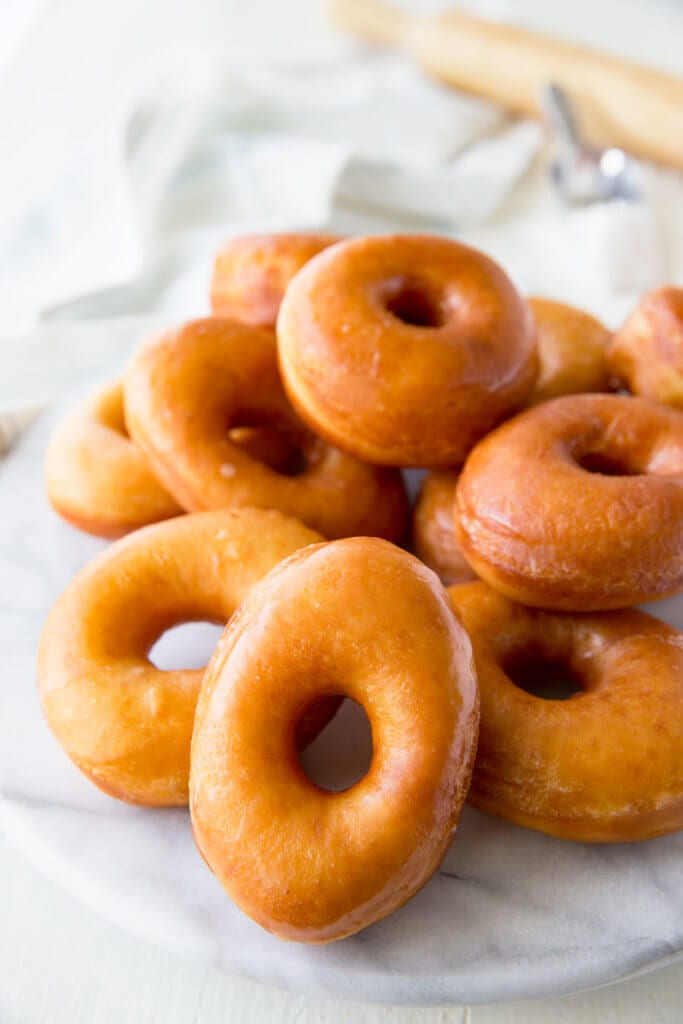 Not Quite Krispy Kreme, but Dang Good Doughnuts Confession: I LOVE doughnuts! And when I say love doughnuts, I pretty much mean if you offer me a doughnut, I'm never going to turn it down.
It doesn't matter if I've already eaten one, two, or five servings of dessert. I will always take a doughnut. I love how this delicious treat is not only classified as a dessert item, but also masquerades itself as a source of breakfast. Any dessert-like food that I can make in the morning and is considered socially acceptable to eat before noon is my type of treat.
I have to admit I have spent a lot of trips to the bakery getting doughnuts, opposed to just making them myself, even though the ingredients have been right in my cupboard.
I particularly love Krispy Kreme glazed donuts, and I kept seeing recipes for copycat Krispy Kreme. I tried a few, but none where exactly right. Obviously no one is going to have a perfect recipe, because even if the dough and glaze are right, there are raising times, and cooking times, and other things to consider.
Frankly, those commercial donut making places just have the right tools, but that doesn't mean you can't make an amazing donut at home. It took me a while to realize this.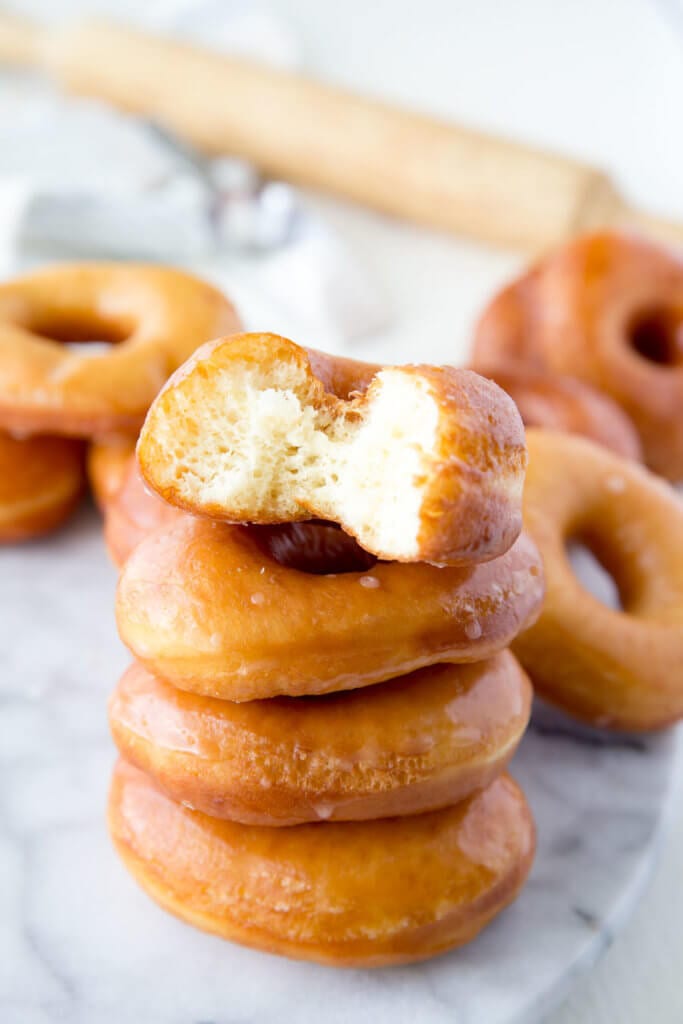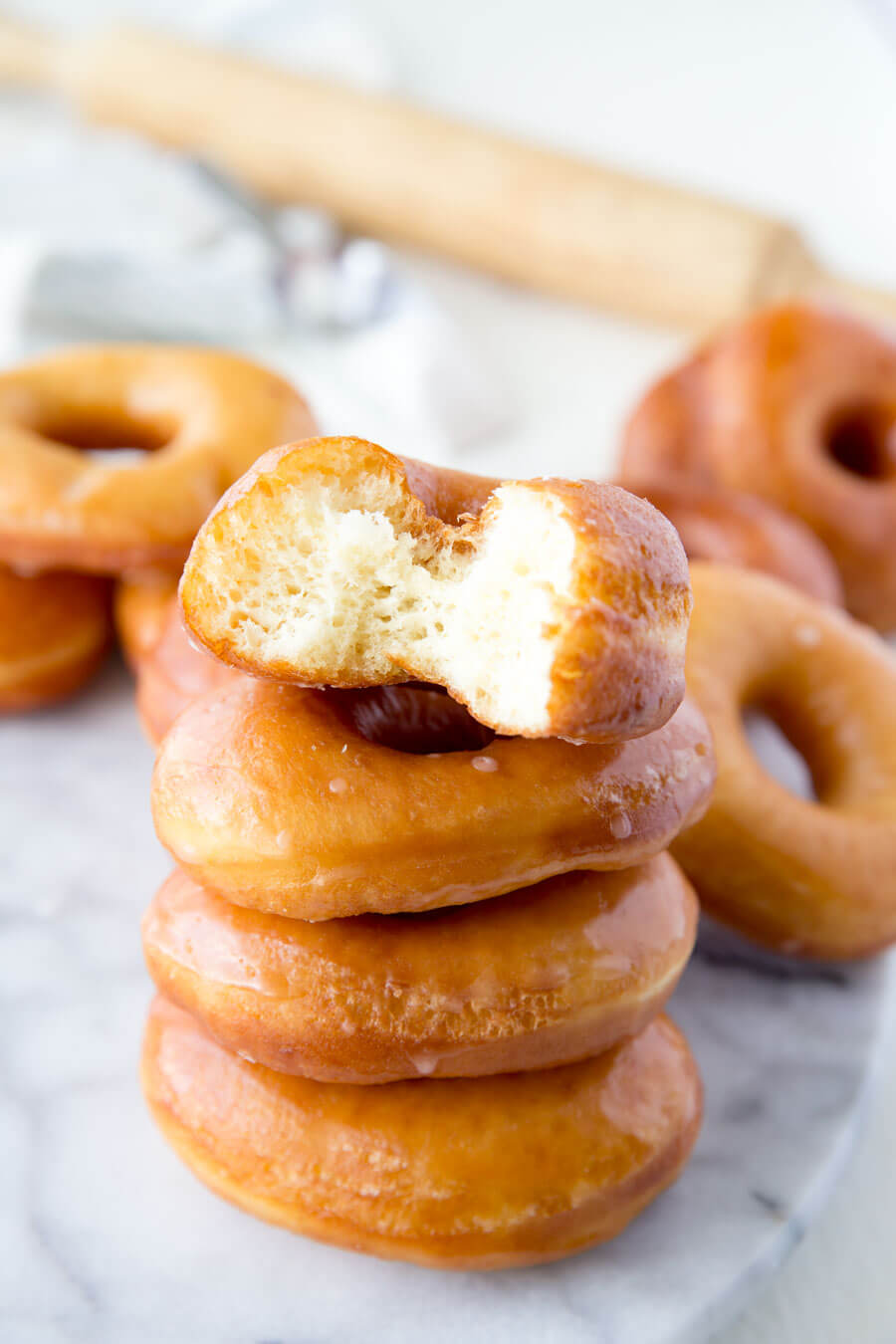 Doughnut Making Pitfalls
I was a little bit nervous to make doughnuts myself. But you can learn from my mistakes, and make these tasty treats. They aren't too labor-intensive and the pitfalls or deterrents can be easily rectified.
No Fryer? No problem
A fryer does make the process slightly easier, but you can easily heat your oil on a stove and use a thermometer to make sure the oil is the right temperature.
No Donut Cutter? No problem.
You can use a jar lid as a cutter and a soda cap to poke a hole in the circle. Also, for an additional option, make doughnut holes. Roll the dough in a ball and once risen, throw it in the oil.
Not Super Experienced? No problem.
Working with yeast can definitely be tricky.  I was worried about making sure the milk and butter mixture cooperated with the yeast, meaning the mixture wasn't too hot or too cold, preventing the yeast from activating.
This step caused me a slight hiccup my first time, but you can learn from my mistakes:
Make sure the yeast begins foaming seconds after being added to the butter and milk mixture. If the milk and butter combo is too hot or too cold, the yeast won't activate and foam.
Wait for the right temp so you don't kill your yeast, I can be impatient, but it is crucial to wait for the right temperature. After scalding the milk and adding the butter, it may take several minutes for this mixture to cool down and become lukewarm. Good rule of thumb is that if you touch the bowl and the level of warmth that is being emitted through the bowl is cause for concern if a child were to touch it, then the mixture is too hot.  If you want to use a thermometer, check the temp and make sure it is below 120 degrees.
If you mess up it is okay. If you mistakenly add the yeast and it is still too warm, resulting in the yeast not foaming, the milk and butter blend does not have to be wasted. Simply scoop the yeast out and add new yeast to the milk and butter combination, once the mixture is the appropriate temperature.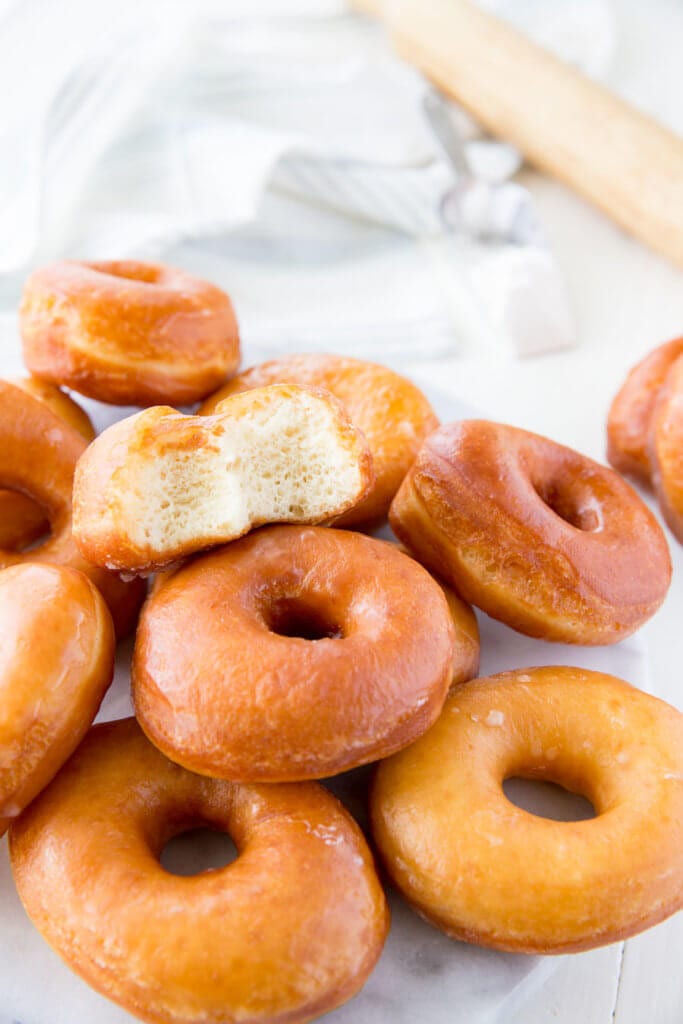 Once I realized my concerns about making doughnuts didn't really need to be issues, I have enjoyed this treat in the comfort of my own home many times since.
Plus, the great thing about Not Quite Krispy Kreme, but Dang Good Doughnuts is that it makes A LOT of doughnuts.
Being a mother of four, treats go fast in my house.   I don't know what it is about kids, but they can be outside or engrossed in a movie, but once I begin eating something that contains sugar, their radar is up. They find me with a mouth full of food and the interrogation begins. What are you eating? Is there any left? The questions persist and persist, unless I relinquish.
Fortunately with these doughnuts, I don't have to shove them in my mouth as quickly as possible in order to prevent any evidence remaining that I had a delicious treat and didn't share. This recipe makes plenty. So, I can be a nice mom and share, while not sacrificing satisfying my sweet craving.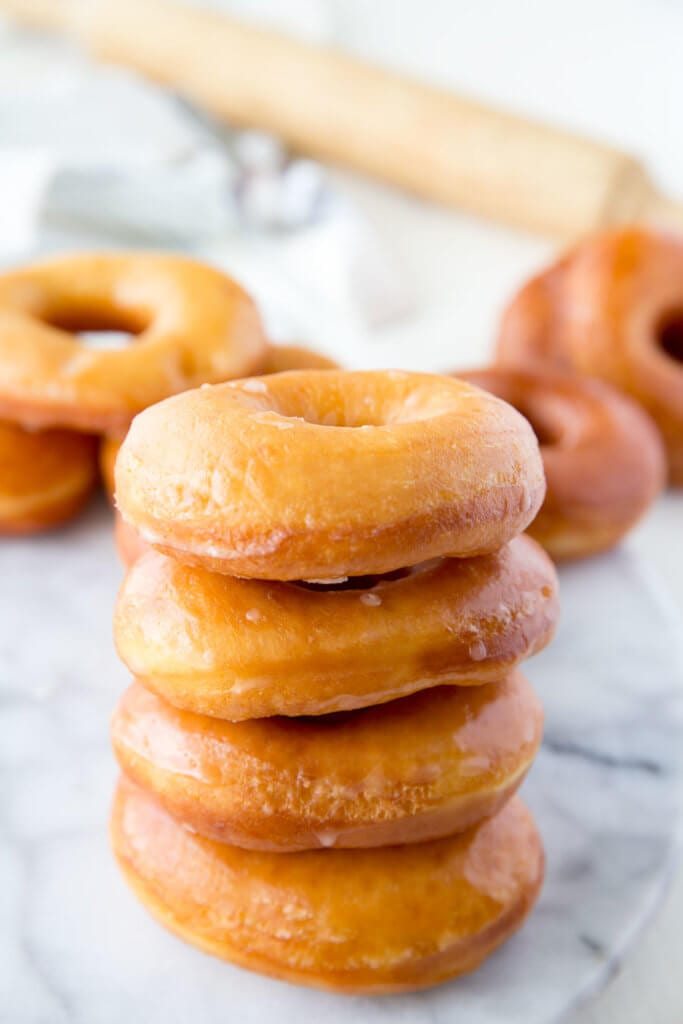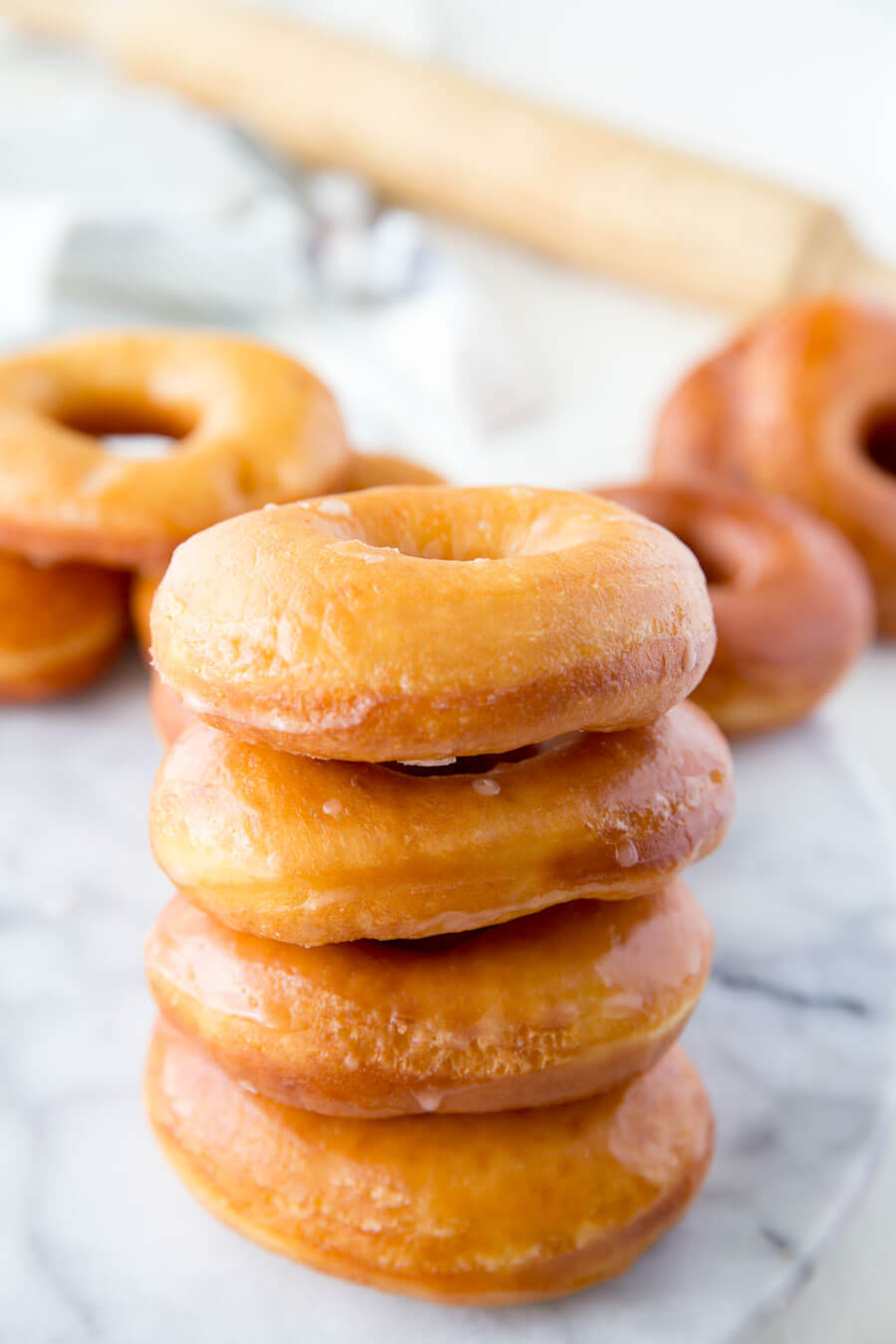 In addition to this Not Quite Krispy Kreme, but Dang Good Doughnuts being a yummy treat to eat throughout the day, I really like how doughnuts can be incorporated into life beyond just a casual dessert, snack, or breakfast.
Five Creative Ways to Eat Doughnuts:
A Doughnut Cake. Stack the doughnuts in a tower formation, drizzle caramel and hot fudge or add some cake toppers, and you have a delicious cake for birthdays or any special occasion.
Holiday Doughnuts. Add festive colored frosting, pastels for Easter, orange for Halloween, green and red for Christmas, or any other color combination or holiday that gets you excited. You get the idea.
Doughnut Kabobs. Great for any time of year but particularly inspired by the barbecue season. Make some doughnut holes, put them on a skewer, and add marshmallows or any other embellishment to the skewer that compliments the doughnut.
Doughnuts and Fondue. Doughnut holes or doughnuts are a great add-on to any dessert, fondue tray. Doughnuts dipped in white chocolate or chocolate fondue is a delectable combination.
Doughnut Ice Cream Sundae. Instead of just putting ice cream in a cone or directly in a bowl, mix it up a little bit. Place a yummy doughnut on the bottom of the bowl, carefully stack a scoop or two of ice cream on top, and drizzle with fudge, caramel, and whip cream. Wow, that's what I call a great ice cream sundae.
Now for the really fun part, go off and whip up a batch of these delicious, Copy Cat Krispy Kreme Doughnuts and eat! Also, if you happen to have the will power not to eat these doughnuts immediately after they are done, you can always eat them cold or heat the doughnuts up in a microwave for about eight seconds. Enjoy!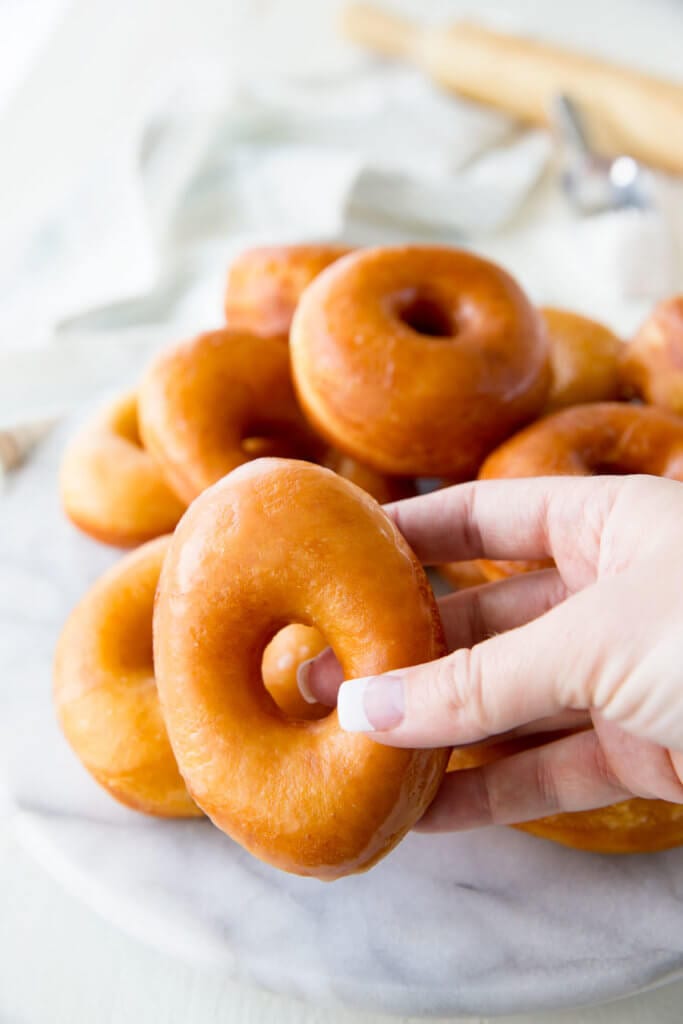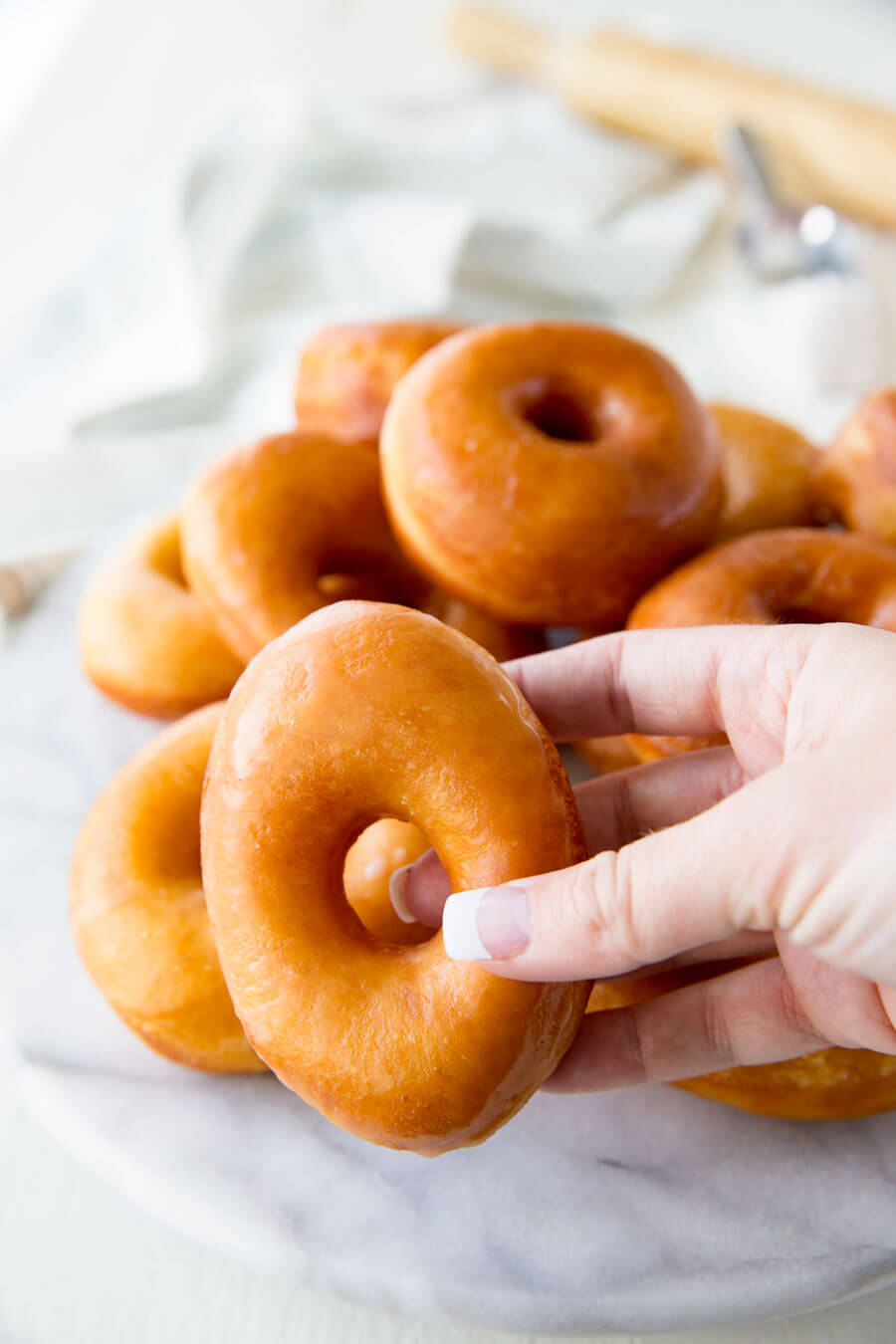 Making Krispy Kreme Copy Cat Doughnuts
Heat your milk and melt your butter in it. I forgot to set my butter out, and I was worried it was too hard to melt before the scalded milk cooled, so I just used my handy dandy cheese grater to grate the cube of butter, then dumped it in with the milk. So fast and easy!
Add in some sugar and salt and stir. (I dumped it into a bowl to make it easier)
Add in your yeast (your milk should still be a little warm, but not so hot it kills the yeast).
Beat in eggs, sugar, and some flour (about half).
Add in the last 4 cups of flour and knead for 5 full minutes. I put it in my Kitchen Aid to do this, as it means I can start clean up while it is being kneaded.
Cover and let rise until doubled. This takes 1.5-2 hours. Once doubled, put on rolling surface with a little flour.
Roll the doughnut dough out and cut it out with whatever you have. You could use a donut cutter, or cup and a cap to a soda bottle, or whatever you want
Let the doughnuts rise again until doubled in size.
Heat your oil, and test your donut holes first to make sure your oil isn't too hot or too cold. I had trouble the first time, too many cooks in the kitchen (kids). A fryer can help with this because you can just set the temperature and let it do its job. But it isn't necessary.
Fry to a light golden brown.
Let cool on cooling rack.
Mix up your glaze, and dip the donuts into it, coating both sides.
Enjoy!
Other desserts that you might love: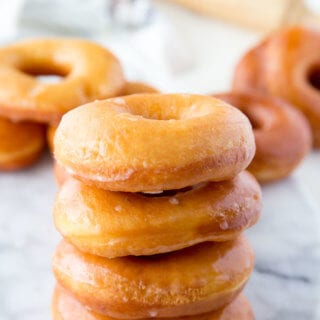 Not Quite Krispy Kreme, but Dang Good Doughnuts!
Light, fluffy, sweet, delicious donuts!
Print
Pin
Rate
Ingredients
Doughnuts
2

cups

milk

scalded

1/2

cup

butter

2/3

cup

sugar

divided

1

teaspoon

salt

2

tablespoons

yeast

4

eggs

beaten

7

cups

sifted flour

divided
Glaze
3

cups

powdered sugar

1/2

teaspoon

salt

1/2

teaspoon

vanilla

1/2

cup

cold water
Instructions
Scald milk on the stove top over medium high heat, by pouring milk into a sauce pan, and stirring continuously until edges start to form bubbles, and steam starts to come off the milk. Be careful not to burn the bottom, and remove from heat.

Add butter to the scaled milk, and melt butter in hot milk. Then let mixture cool down some. You want it warm to the touch, but not over 120 degrees.

Once milk is cooled some, add 1 teaspoon sugar, the salt and all of the yeast. And let sit for 3-5 minutes, to let yeast foam and activate.

In a stand mixer, beat 4 eggs until just combined. Then add the yeast mixture, remaining sugar, and 3 cups flour. And mix it all together.

Add rest of flour, the dough will be sticky.

Knead for 5 minutes with kneading hook or by hand (this is very important)

Allow to rise for 1-1 1/2 hours until double in size (varies based on room temp)

Roll out dough

Cut into doughnut shapes using a

doughnut cutter

or lid to a jar, or coffee mug, or whatever you have.

Allow to rise until doubled (about 30-45 minutes, again it depends on room temp)

Heat oil to 350° with a

thermometer

and fry 1 - 2 minutes on each side until golden. It is best to cook the doughnut holes first, to make sure your temperature is right, and to insure you do not burn, undercook, or ruin these amazing donuts. Every stove is different, if too hot the doughnut will be gooey on inside, if too cold, the doughnut will get oily. This is the trickiest part, but if you get it right you will love it.

Once temperature is good, proceed with cooking the donuts. About a minute on each side

Let them cool on a paper towel or cooling rack- helps get the glaze to stick.

Mix together all the ingredients for the glaze, heat a little, then dip in warm glaze.

Eat and enjoy!
Nutrition
Calories:
135
kcal
|
Carbohydrates:
24
g
|
Protein:
2
g
|
Fat:
2
g
|
Saturated Fat:
1
g
|
Cholesterol:
19
mg
|
Sodium:
99
mg
|
Potassium:
39
mg
|
Sugar:
10
g
|
Vitamin A:
95
IU
|
Calcium:
17
mg
|
Iron:
0.9
mg
Our recipe card software calculates these nutrition facts based on averages for the above ingredients, different brands, and quality of produce/meats may have different nutritional information, always calculate your own based on the specific products you use in order to achieve accurate macros for this recipe.
Want to use this recipe in a meal plan?
Try PrePear, my FREE Meal Planning App that allows you to save your recipes, plan meals, shop for groceries, and cook simply in one place. Join Here!
Pin to your Dessert board on Pinterest: