This post is sponsored by the California Avocado Commission, all opinions are my own.
Super Moist Texas Sheetcake! This sheet pan of chocolate cake offers a surprising swap, moist, rich cake, and a frosting that is to die for delicious. You are going to love it.
I have always been more of a cookie and pie than cake kind of girl, but if there is one cake I can't resist it is a good Super Moist Texas Sheetcake. There is something about that tender, chocolate cake, frosted with that shiny, pretty, insanely yummy chocolate-y frosting that I cannot resist.
This particular Super Moist Texas Sheetcake is my favorite. And no, it is not just because of that frosting. Which, for the record, I could eat with a spoon. I love the cake because it is simple, flavorful, and has a surprising swap! Now don't think I am crazy when I tell you what it is.
I swapped out the butter for a California avocado.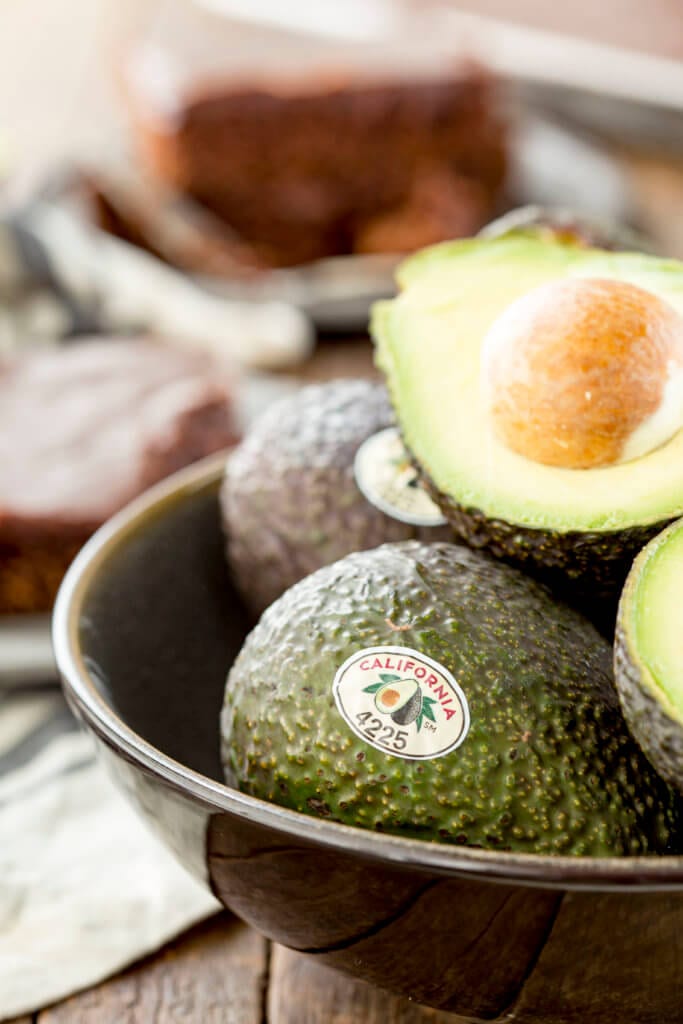 Whaaaaaat???? You read that right, I left the butter out of the cake mixture, and used a California avocado instead. And it turned out amazing. Super Moist Texas Sheetcake is moist, flavorful, and nicely textured. And trust me when I say you won't miss the butter, the avocado is the perfect substitution.
You still get a rich, delicious, and moist cake, but with a better fat choice. I love butter, and will never turn my nose up at it. But when I can make a choice that gives me a better fat source without the loss of flavor, I will take it!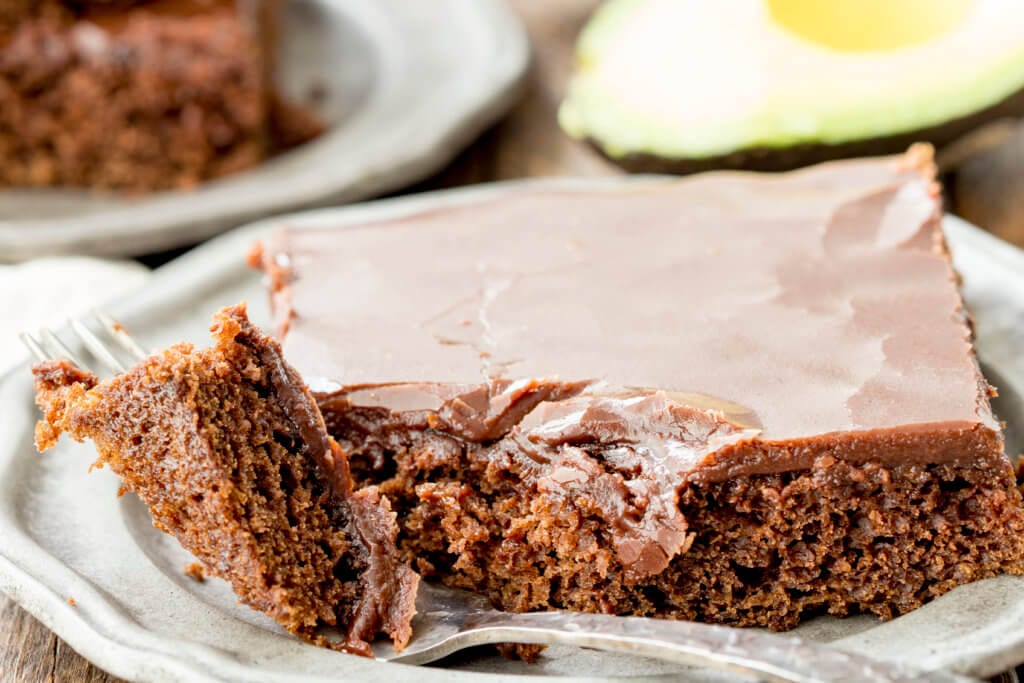 California avocados are a good source of fiber, have lots of vitamins and minerals, and are a good source of fat. I love swapping them in baking recipes to decrease saturated fats, and increase the nutrient quality of my meal, while maintaining those flavors and textures I love.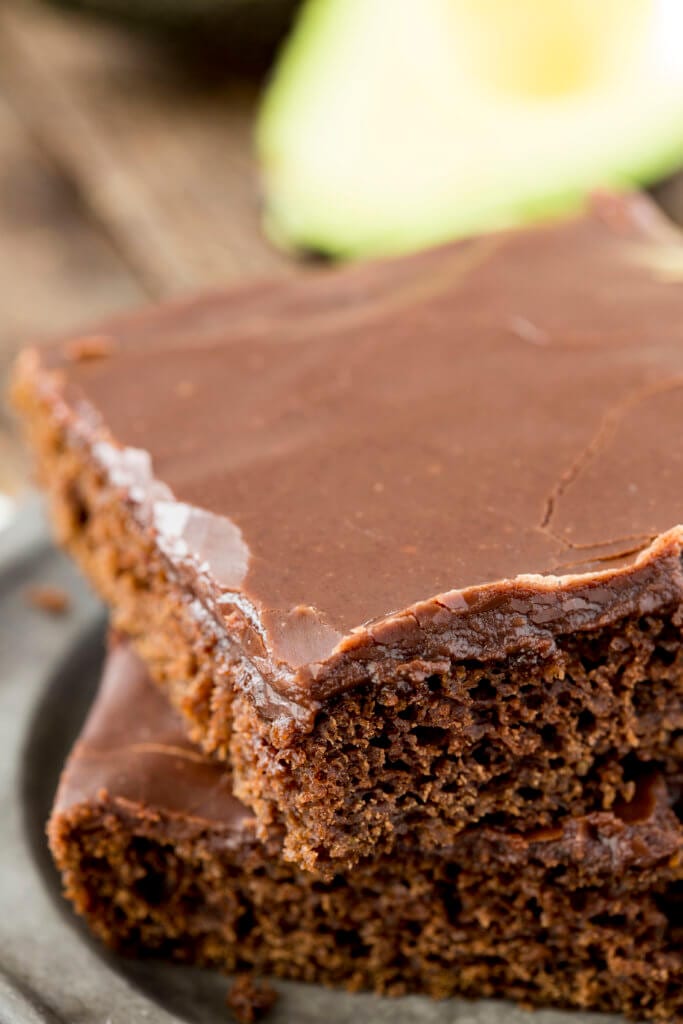 Now I am not saying that this Super Moist Texas Sheetcake is a super food or anything, but we could make a case for that…if we really wanted to! But I don't actually need an excuse to eat more chocolate cake, or avocado for that matter!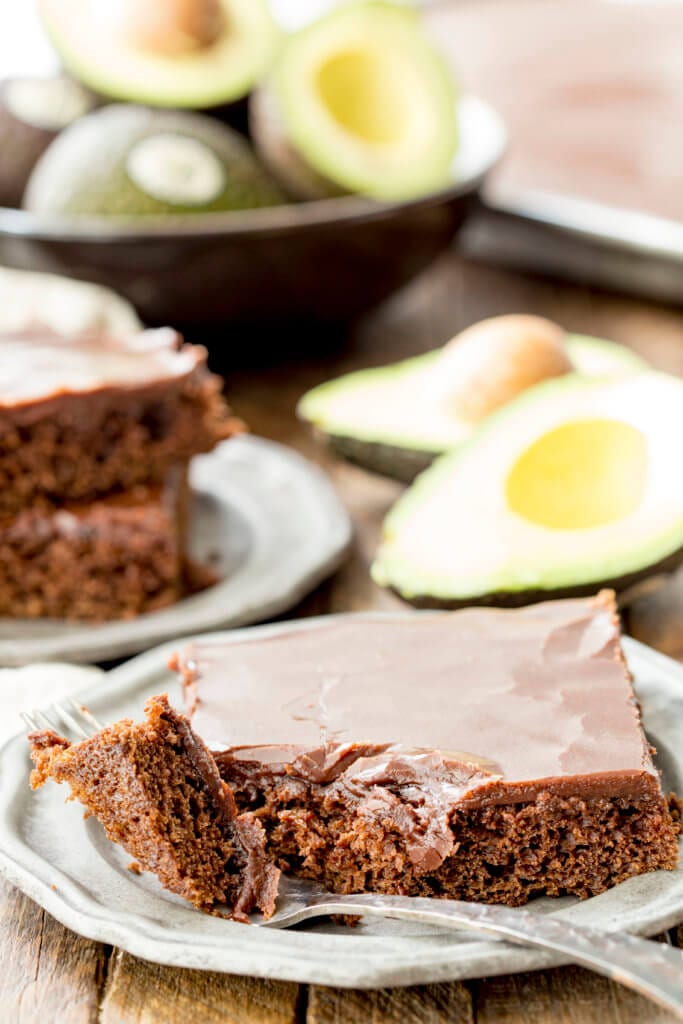 And neither do you. So here is the recipe to Super Moist Texas Sheetcake…enjoy!
Avocado Substitution options:
Use CA avocado instead of mayo or other spreads in wraps and sandwiches and dressings
Use CA avocados instead of butter when baking ( 1 cup mashed avocado for 1 cup butter, reduce oven temp 25% and increase baking time)
Use CA avocados instead of yogurt in smoothies
Other Avocado Recipes you may enjoy:
Rachael Yerkes
Yields 12
Super Moist Texas Sheetcake
15 minPrep Time
45 minCook Time
1 hrTotal Time
Ingredients
Cake

3 cup all-purpose flour
6 tablespoon unsweetened cocoa powder
2 teaspoon baking powder
2 teaspoon baking soda
½ teaspoon salt
¼ cup vegetable oil
1 ripe CA avocado, mashed until very smooth
2 teaspoon vanilla extract
1 cup buttermilk
2 cup granulated sugar
1 cup water

Chocolate Frosting

14 Tbs butter
4 Tbs cocoa powder
6 Tbs milk
1 tsp vanilla extract
1 pound powdered sugar (Minus 1/2 cup)
Instructions
Preheat oven to 350.
In a large mixing bowl, whisk flour, cocoa powder, baking powder, baking soda and salt together.
Set aside.
In a separate bowl, whisk together the vegetable oil, mashed avocado, vanilla, and buttermilk. Whisk until well combined.
Add sugar into the wet mix, and whisk until smooth.
Add water and whisk again.
Add the wet mixture to the flour mixture and whisk until smooth.
Pour cake batter into a greased sheet pan. I
I use Nordic Ware Baking Sheet because they don't rust, they bake evenly, and they are made in the USA.
Bake for 45 to 55 minutes until center is baked through.
Meanwhile, make frosting (instructions below)
Let the cake cool in pan for 15 - 20 minutes on a cooling rack.
Pour frosting over, and use a spatula to even it out.
Let the frosting set, then cut and enjoy!

Frosting

Melt butter in a saucepan.
Add cocoa and whisk it until it is smooth.
Bring to a boil. Then remove from heat, add the milk, vanilla, and powdered sugar.
Whisk until smooth.
Notes
You need about 3/4 cup to 1 cup mashed avocado, adjust according to size of avocado.
7.6.4
958
https://www.eazypeazymealz.com/super-moist-texas-sheetcake/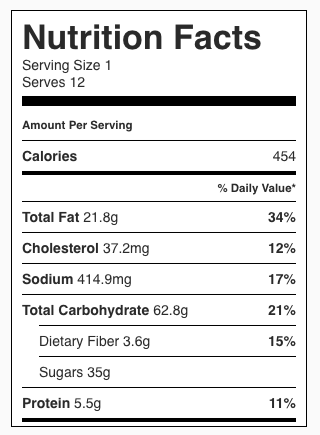 Pin to your DESSERT board on Pinterest:

Get EZPZ Updates In Your Inbox!