Tilapia Fish Tacos: Easy to make, mildly flavored, delicious, flaky, and loaded with flavor.  These tilapia fish tacos are healthy, easy, and delicious.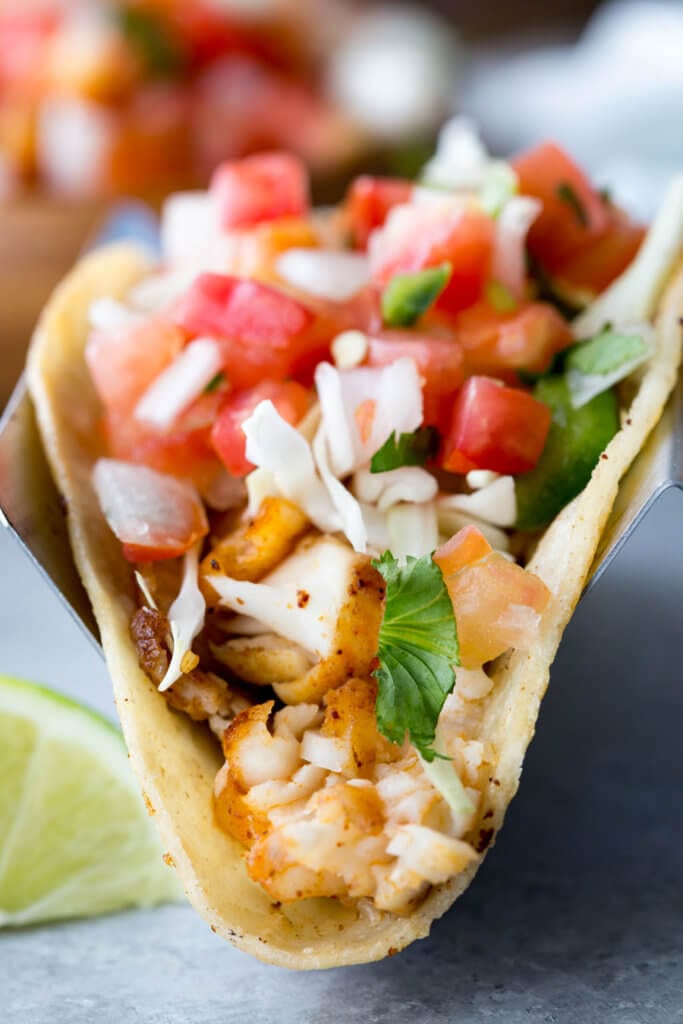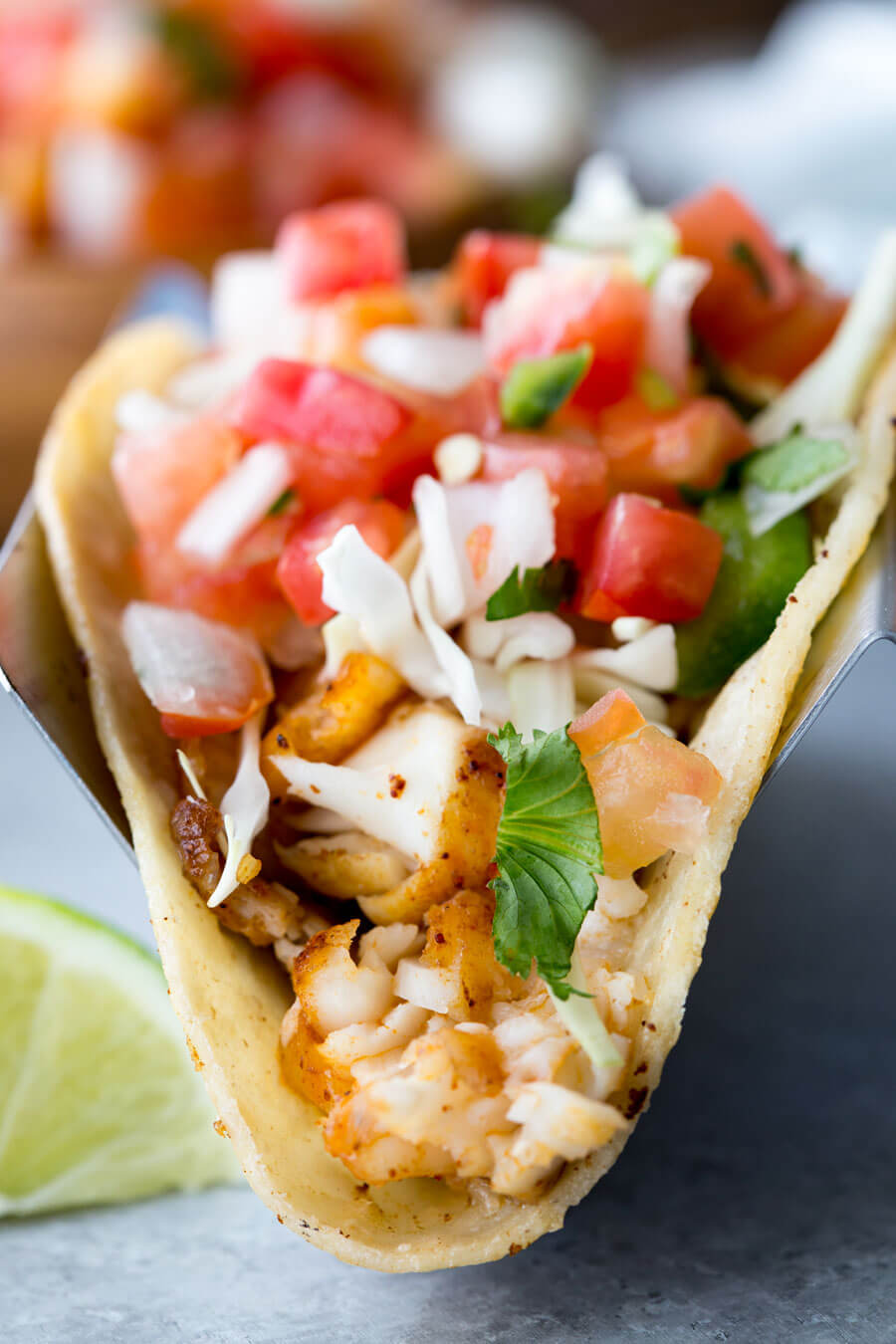 Guys, I am taco obsessed with Tilapia Fish Tacos. I am telling you, Taco Tuesday is alive and well in our house. Wanna taco bout it? Hahahaha Me neither. Let's just say my taco fetish means I need lots of options and variety. And these fish tacos…mmmmm. Fish tacos are usually fried fish, so you are going to love this easy, healthy version that still packs a flavor punch, but doesn't have the added calories of frying.
Tilapia is a low cost, quickly cooking, mild tasting fish. And it is super easy to come by, at least in the US. One of the reasons I love buying Tilapia is that it is super easy to prepare, and mild enough that even my picky eaters will eat it.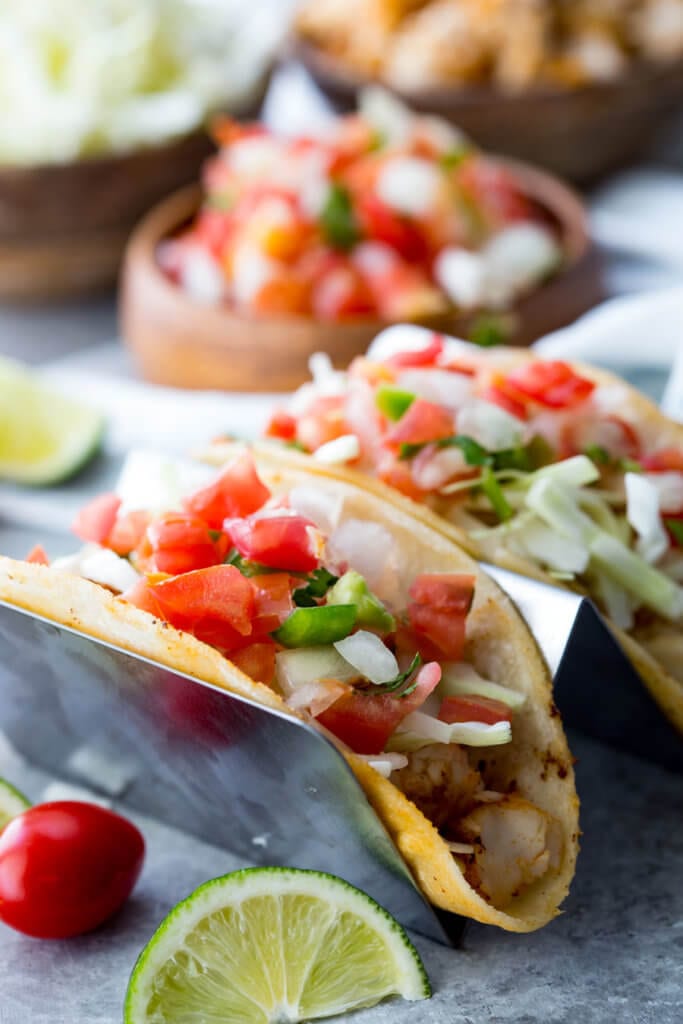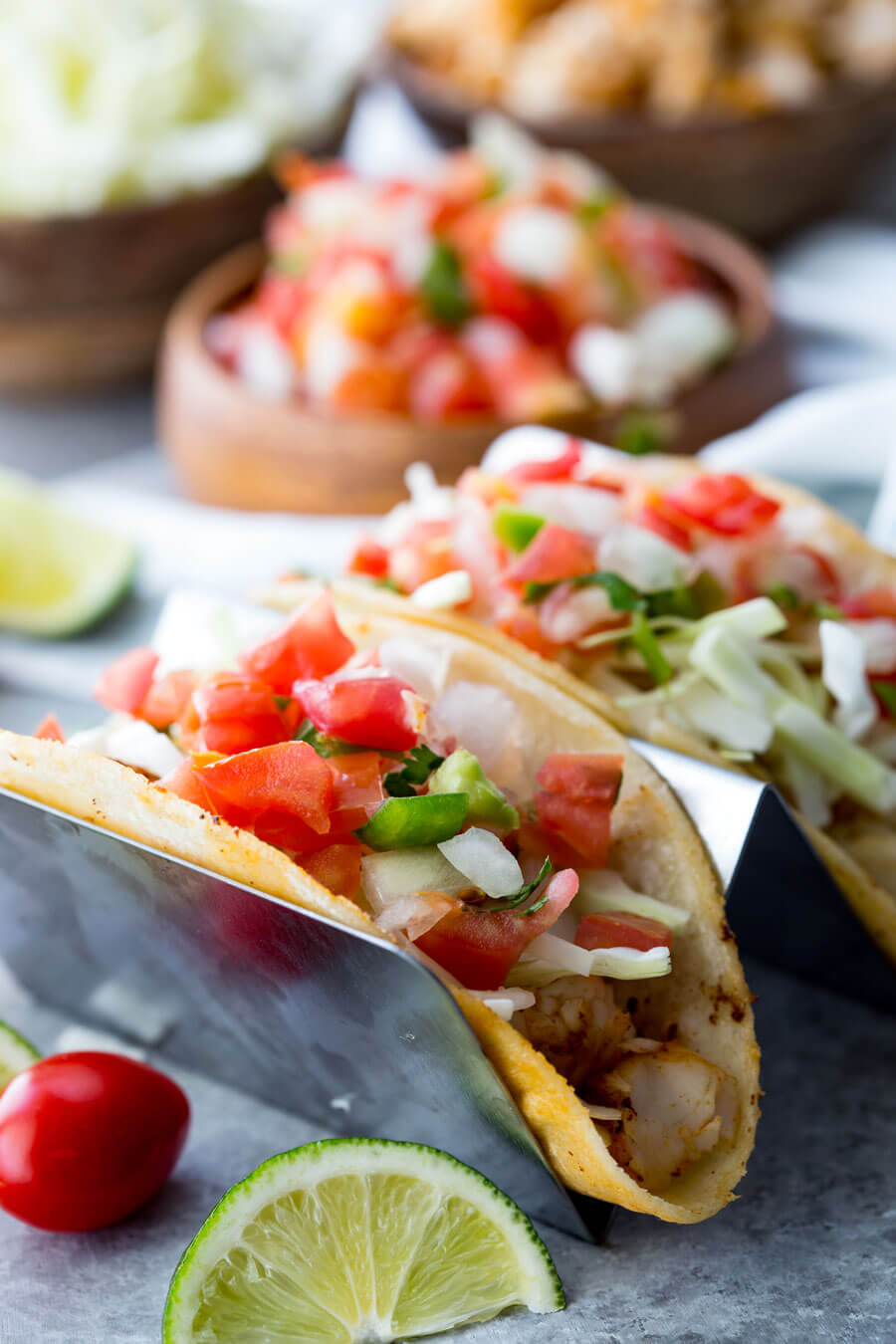 (BTW: This is the taco holder I use, LOVE it)
Tilapia Fish Tacos: Not all of my kids are huge on fish, I mean, they like to go fishing, and will usually eat what they catch. But when I make Salmon, or Mahi Mahi, I usually only plan on one piece for me, one for my daughter who can't get enough of it, and one for the rest of my kids to share because they just don't eat a lot of it.
Tilapia however, is one fish all of my kids will eat with abandon. Especially when I make tacos with it. I have found that tacos work wonders for getting my kids to eat stuff, and so this is my Tilapia fish Taco recipe. It is not a battered and fried fish taco, rather cooked in a fry pan with just a bit of oil.
After cooking the filets, I just use a fork to flake them up, that way they are easy to spoon into tacos!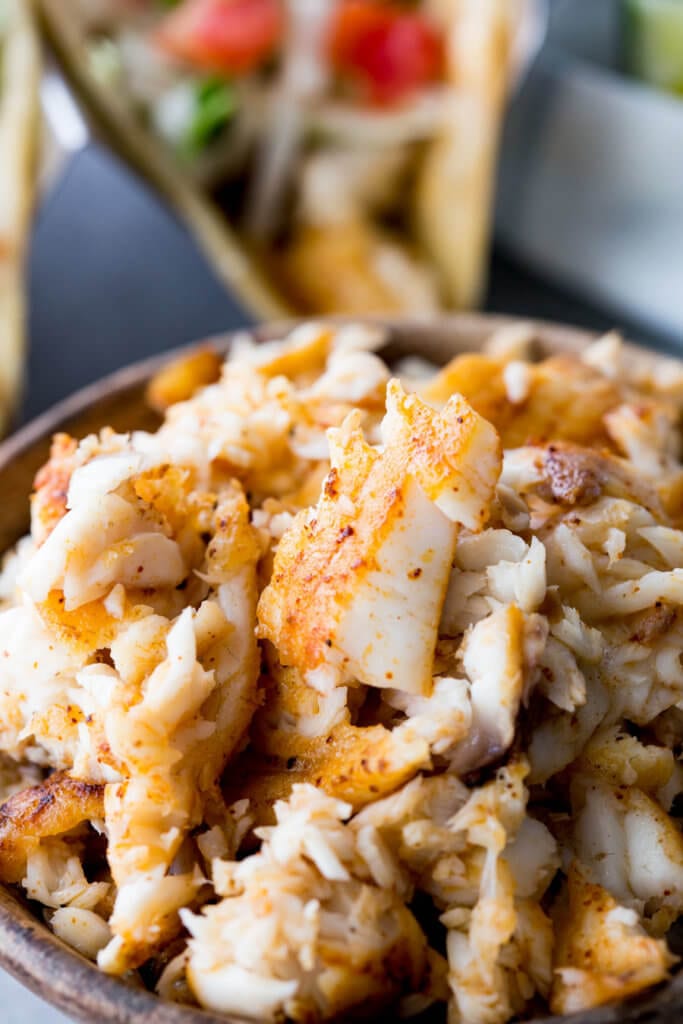 Tilapia Fish Tacos includes the ingredients for making Pico de Gallo, but to make life even easier, and dinner even faster, you can buy the kind they sell at the store. That way all you have to prepare is the fish, and chop up some cabbage. If you don't want to even chop cabbage, buy a coleslaw mix. It really can't get simpler since Tilapia takes like 5 minutes to cook.
Then assemble, squeeze on some lime, and enjoy!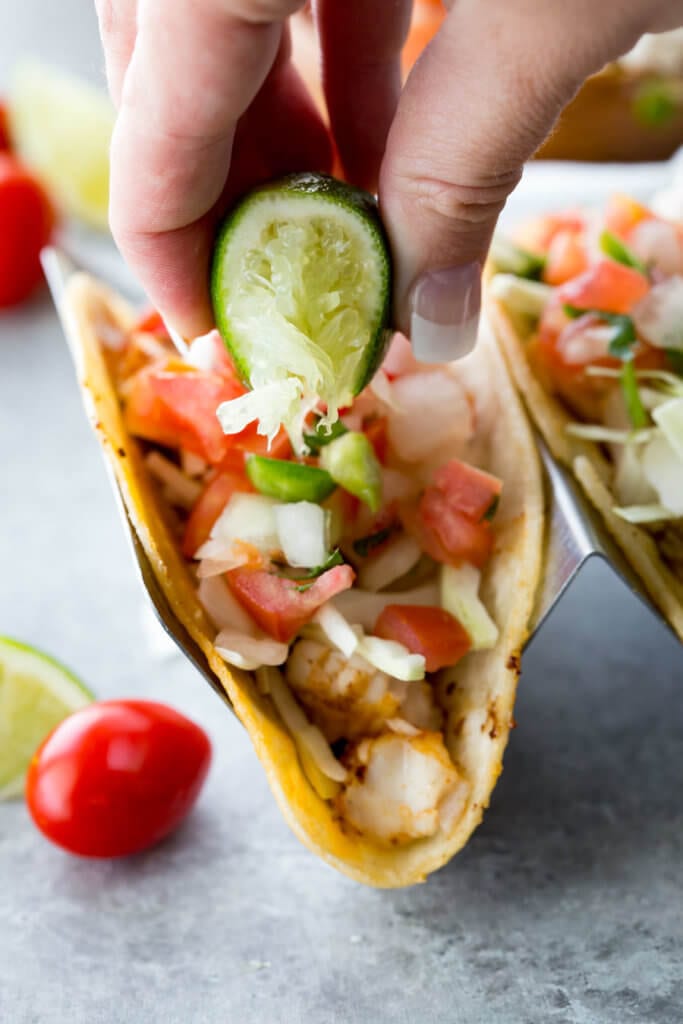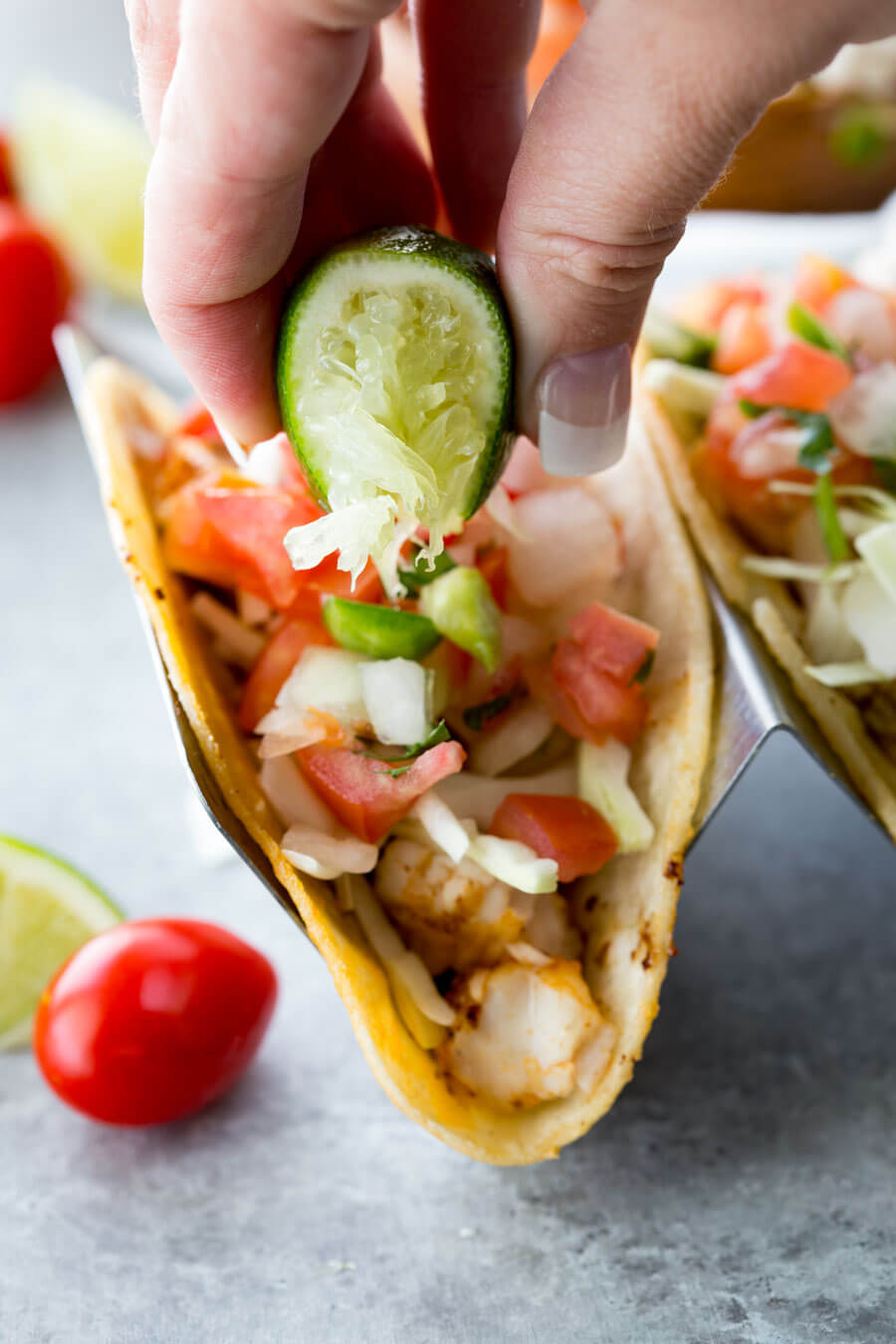 Tips for Tilapia Fish Tacos:
Season the fish well, it is a mild fish, so most of the flavor will come from the seasonings.
Cook until it flakes easily, depending on the thickness of the filet, this is usually 2 minutes or so per side.
Top your fish tacos with all your favorite ingredients: guacamole, pico de gallo, jalapenos, sour cream, etc.
Crisp your taco shells on a griddle with a little butter to add crunch and texture.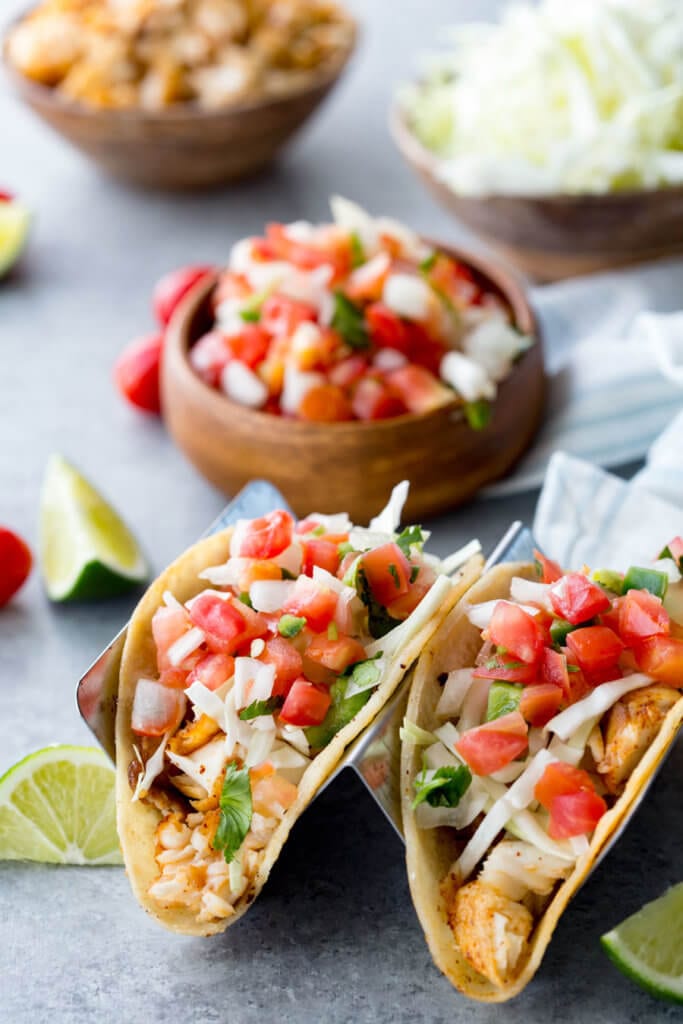 Rachael Yerkes
Tilapia Fish Tacos
15 minPrep Time
8 minCook Time
23 minTotal Time
Ingredients
1 lb Tilapia fillets
1/2 tsp chili powder
1/2 tsp cumin
1/4 tsp coriander
Salt and pepper for seasoning fish
1 tbs olive oil
Finely chopped cabbage
12 Corn tortillas, warmed
Sliced Avocado

Pico de Gallo

1/4 cup Red Onion, diced
1 cup Tomato, diced
1 Jalepeño, finely diced
1 tsp minced Garlic
1/4 cup cilantro chopped (optional)
Juice of 1 Lime
Dash of Cumin
Dash of Coriander
Dash of Chili Powder
Instructions
If making your own pico, rather than using a store bought version, start by mixing together Pico de Gallo ingredients, and seasonings, refrigerate for 15 mins.
Meanwhile, mix the chili powder, cumin, coriander, and salt and pepper together and season tilapia fillets by rubbing it onto both sides.
In a Heavy Bottom Frying Pan , heat olive oil, and pan fry the tilapia for 2-3 mins per side depending on thickness of filet.
After cooking, flake with a fork and set aside
Chop cabbage finely
Warm tortillas in pan that you used to cook the tilapia.
Assemble into corn tortillas, use sour cream, and other taco toppings to liking
Serve warm
7.6.4
43
https://www.eazypeazymealz.com/tilapia-fish-tacos/
Other great fish recipes: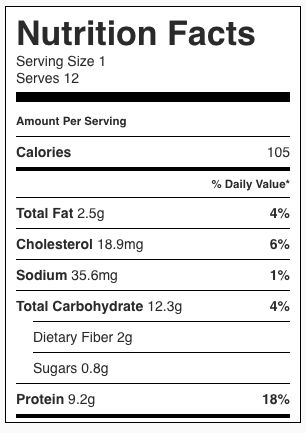 Pin to your DINNER board on Pinterest:

Get EZPZ Updates In Your Inbox!