Tilapia is a low cost, quickly cooking, mild tasting fish. My kids are not huge on fish, I mean, they like to go fishing, and will usually eat what they catch. But when I make Salmon, or Mahi Mahi, I usually only plan on one piece for all of my kids to share because they just don't eat a lot of it.
Tilapia however, is one fish my oldest will eat. My daughter pretty much hates it. But I keep trying with her because when prepared well, fish is soooo good. I have found that tacos work wonders for getting my kids to eat stuff, and so this is my Tilapia fish taco recipe. It is not a battered and fried fish taco, which is how I usually prefer fish tacos, but in an attempt to cut down on the fat and oils, I just cook it in a regular fry pan with just a bit of oil.
This recipe includes the ingredients for making Pico de Gallo, but to make it even easier, you can buy the kind they sell at the store. That way all you have to prepare is the fish, and chop up some cabbage. If you don't want to even chop cabbage, buy a coleslaw mix. It really can't get simpler since Tilapia takes like 5 minutes to cook.

Yields 12
Tilapia Fish Tacos
15 minPrep Time
8 minCook Time
23 minTotal Time
Ingredients
1 lb Tilapia fillets
1 tbs olive oil
salt and pepper for seasoning fish
1/4 tsp cumin
1/4 tsp chili powder
12 Corn tortillas, warmed
Finely chopped cabbage
Sliced Avocado
Pico de Gallo:
1/4 cup Red Onion, diced
1 cup Tomato, diced
1 Jalepeño, finely diced
1 tsp minced Garlic
1/4 cup cilantro chopped (optional)
Juice of 1 Lime
Dash of Cumin
Dash of Coriander
Dash of Chili Powder
Instructions
Mix the chili powder, cumin, salt and pepper together and season tilapia fillets
Cook in olive oil on medium heat in fry pan for 2-3 minutes on each side.
After cooking, flake and set aside
Mix together Pico de Gallo ingredients, and seasonings, refrigerate for 15 mins.
Chop cabbage finely
Assemble into corn tortillas, use sour cream, and other taco toppings to liking
Serve warm
6.8
http://www.eazypeazymealz.com/tilapia-fish-tacos/
If you like fish tacos, and want to try another great tilapia taco recipe, try
Sweet Tilapia Fish Tacos
.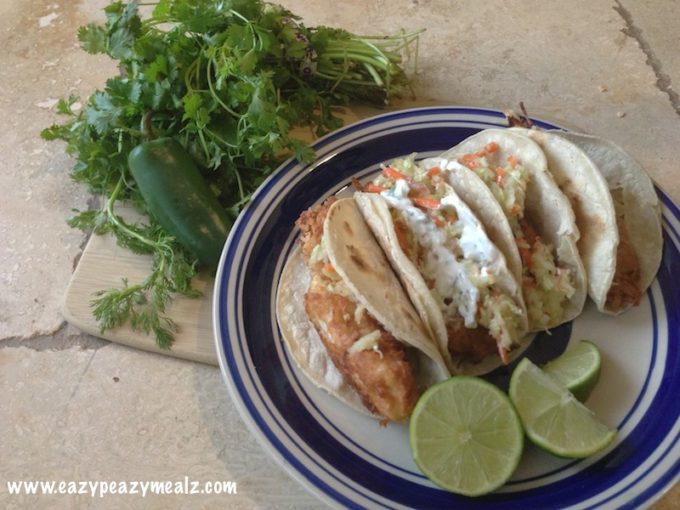 Or how about this Creamy Mint Tilapia?