This post is sponsored by Yummy Dino Buddies, but opinions expressed are my own.
Bento Boxes For Kids
Delicious and nutritious bento boxes for kids are a must around here! And these Yummy Dino Buddies inspired bentos are a totally tyranno-iffic meal, perfect for ensuring kids have a healthy start to the new year, while still having some fun with their food!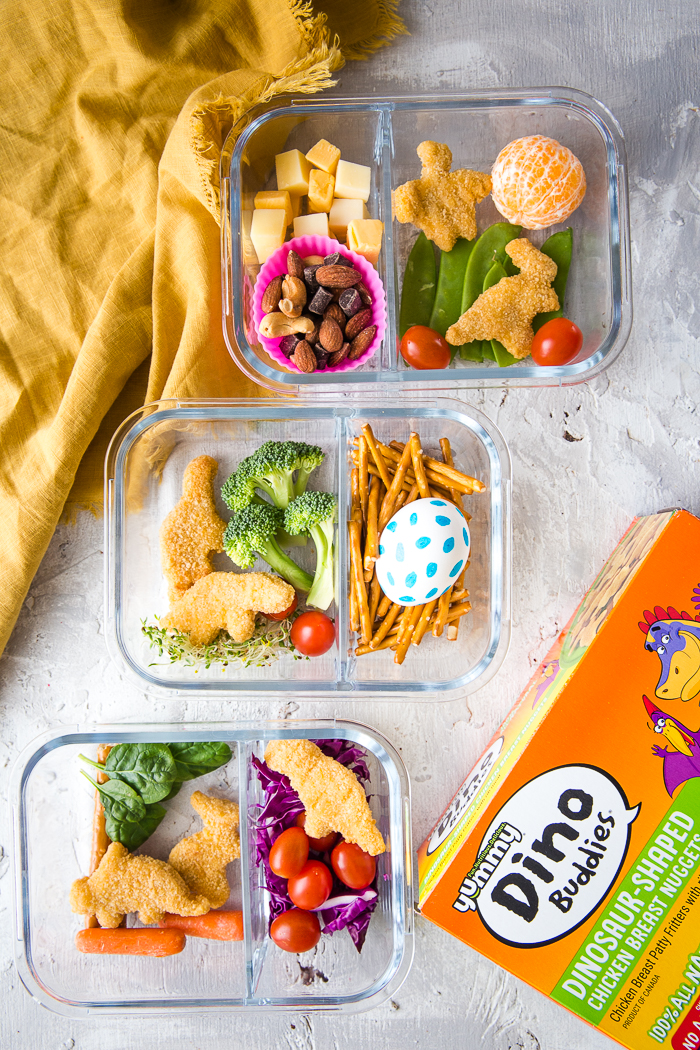 Play with Your Food
One of my favorite ways to get my kids to eat healthy is to make it fun, and there is nothing more fun than playing with your food. Especially when it is shaped like dinosaurs, and you get to create prehistoric worlds from simple, wholesome ingredients, for those dinos to enjoy! 
As a mother, I have discovered one of the keys to setting myself up for success with my kids' nutrition is offering lots of wholesome choices and keeping things fun. 
These Dino Bento Boxes, or "Bronto Boxes" as we like to call them, check all the boxes for easy, fun, and nutritious.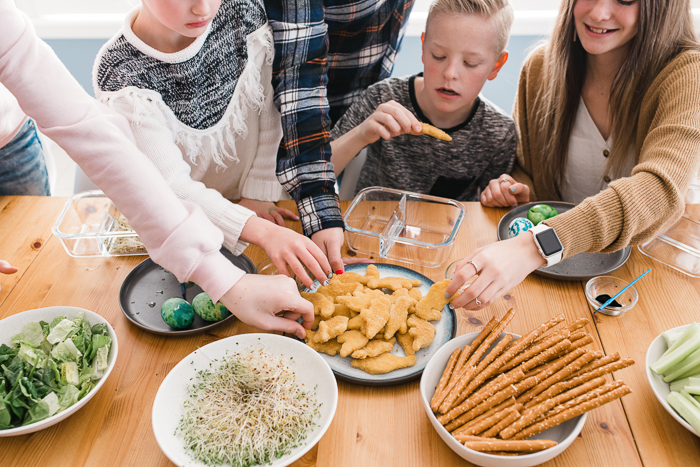 And I can keep things stress free by letting the kids assemble their own:
I set up a selection of wholesome ingredients and let my kids create their own boxes filled with their favorite ingredients. Like "Dino Egg" blackberries, or "nests" made of pretzel sticks. And of course they got to choose their favorite dinosaur shape for the main course. 
The only requirements:
Have fun. 

Make your bento colorful.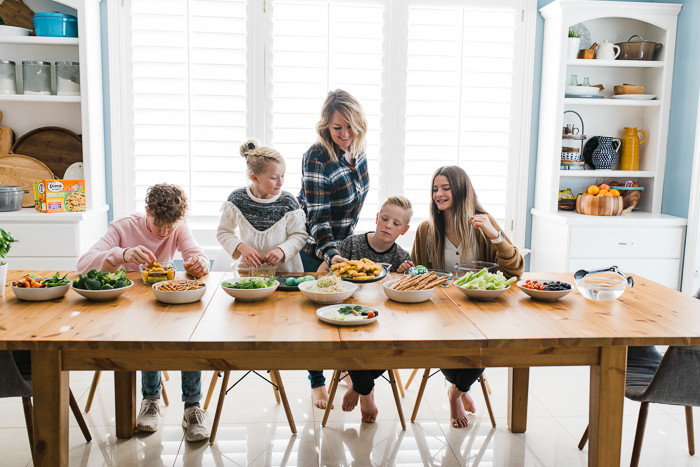 My bigger kids even got in on the action, and enjoyed the fun!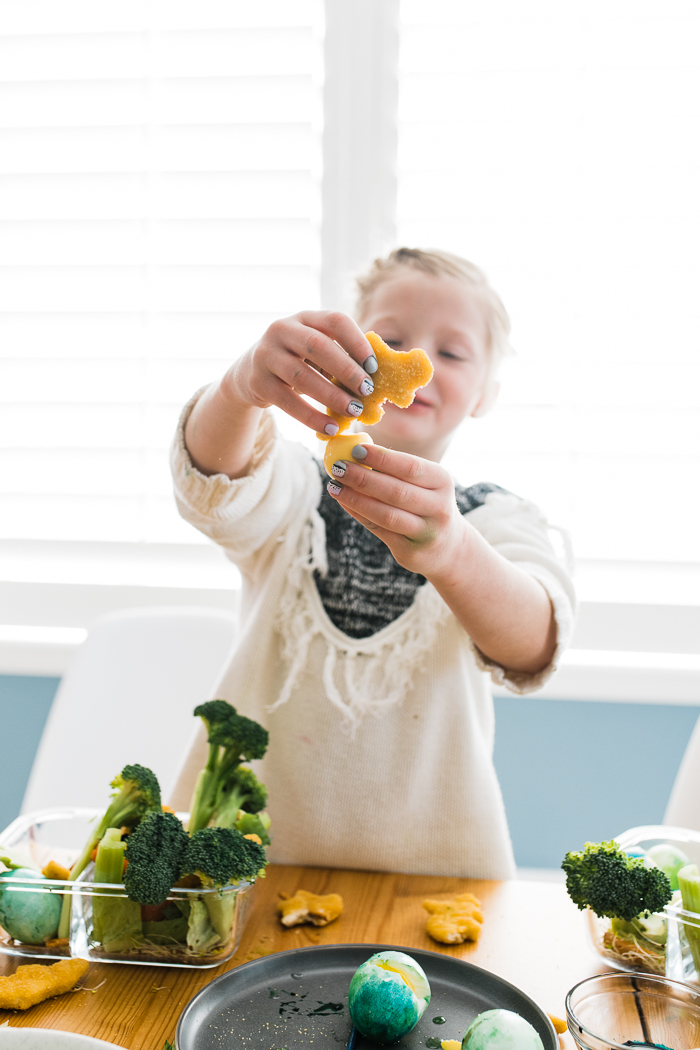 What can I put in a kids bento box?
These bento boxes are so fun and help fill hungry bellies with healthy foods so your family can not only just start the year off healthy but keep it that way. 
And the great thing is the sky is the limit. What foods do your kids enjoy? What do you have on hand? Use that to make a cute and fun Bento Lunch. 
Here are some ideas to get you started: 
Yummy Dino Buddies:

nugget shapes make the perfect main course for your bento! Use this handy link to find out where to buy them near you:

Where to buy! 

Hard Boiled Eggs:

Let kids paint spots, cracks, and more with food coloring on the shell of their hard-boiled egg to make it a dino egg

Pretzel Sticks:

Surround that hard-boiled egg (or other fun egg shaped foods) in a nest of small pretzel sticks, or use the big ones to make tree trunks!

Berries:

these make great rocks or boulders, as well as dino eggs for your dinosaur themed bento box. 

Grape or Cherry Tomatoes

: More fun rocks and boulders, or dino eggs! 

Greens & Sprouts:

These, as well as other green veggies are the perfect solution for making your forest, bushes, grass. Think broccoli trees! 

Spinach Leaves:

The ideal tree topper, lettuce works well too! 

Carrots:

Cut them to look like the sun or stars. 

Celery

: This makes a great ground, tree trunk, or log. 

Sugar Snap Peas:

Use a knife and make a zig zag shape to give your Dino Buddies a ridged back! 
Even a Picky-saurus will roar for more with these fun bentos. And keep in mind, Yummy Dino Buddies aren't just fun and delicious, but also nutritious.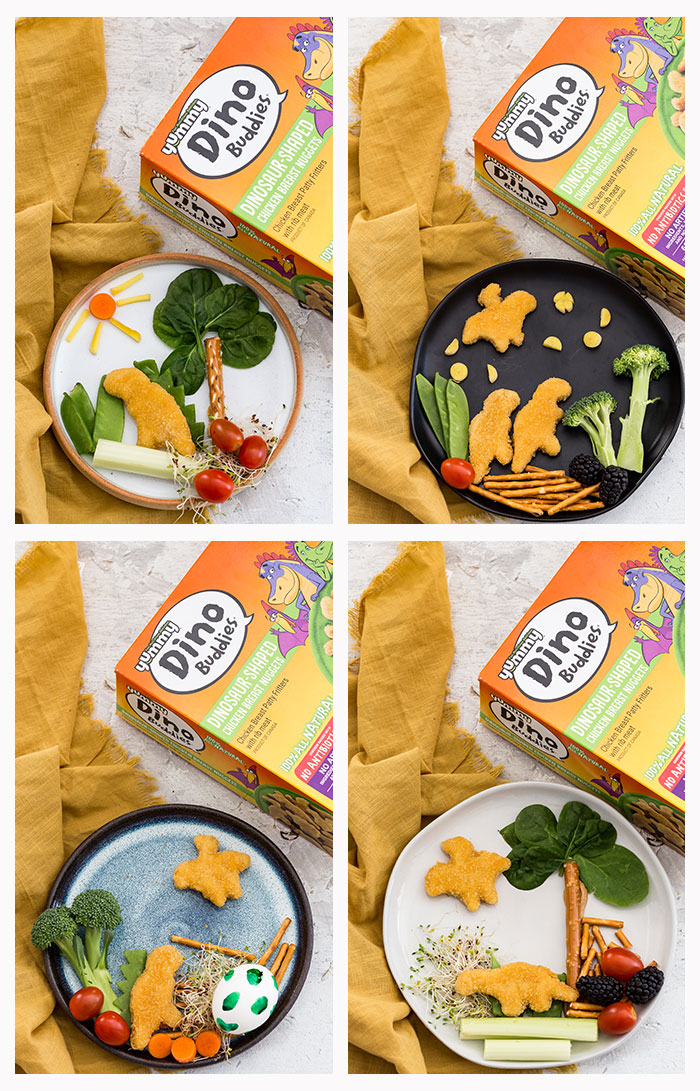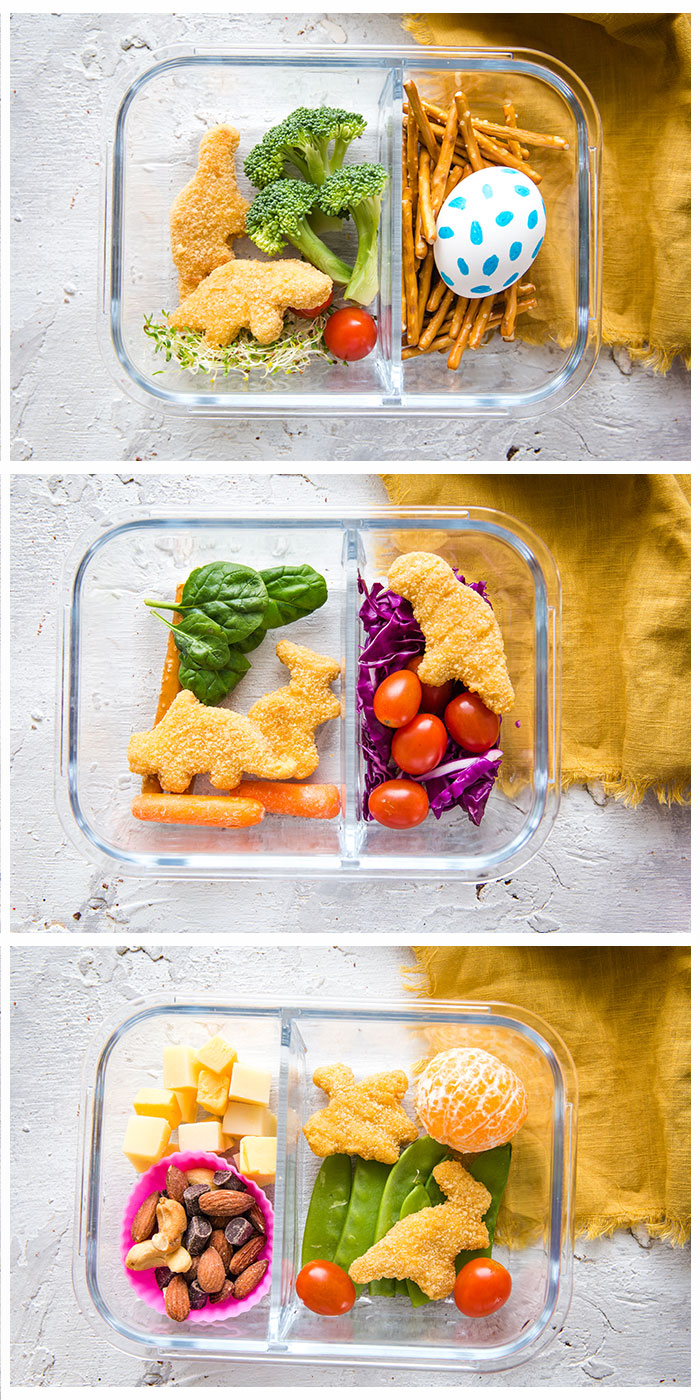 Yummy Dino Buddies Nuggets
Dinosaur-Shaped Chicken Breast Nuggets are the perfect way to make mealtime more fun, while keeping things easy for mom, and nutritious. 
Often times opting for a convenient meal means sacrificing nutrition. But with Yummy Dino Buddies, this is not the case. They can go from the freezer to the dinner table in minutes, and are packed with protein and Omega-3s.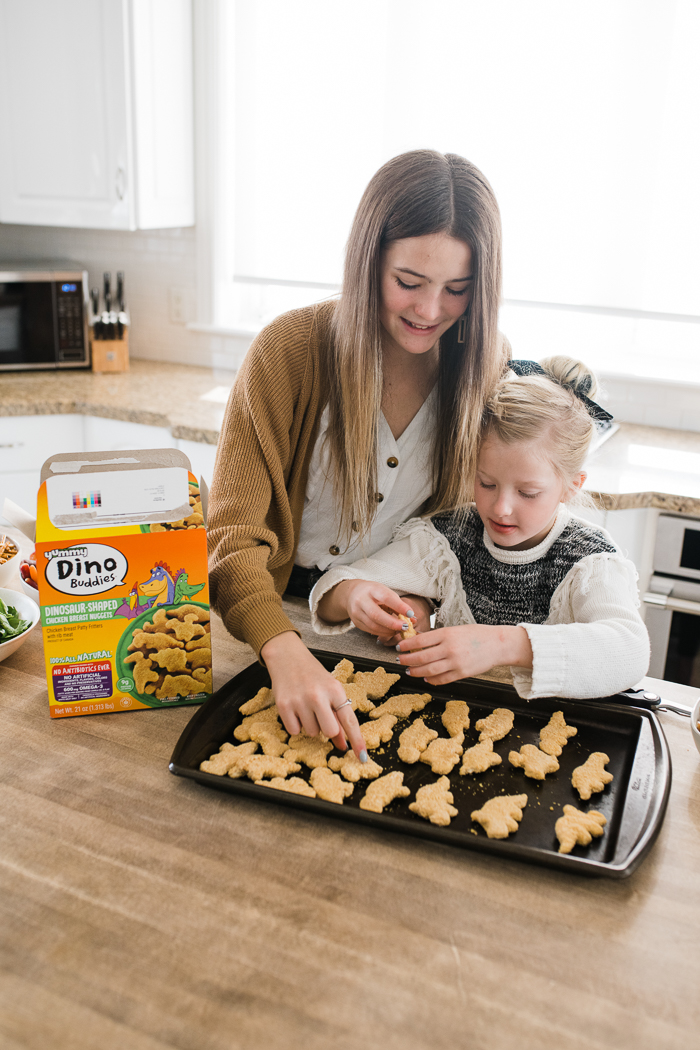 Here is why we love them:
Convenient:

They are in the freezer, which means I have them on hand for when I need them and they don't need any defrosting time. If I don't have anything ready, I can always count on Yummy Dino Buddies. 

Fun + Variety:

 These original dinosaur-shaped chicken nuggets that have been a family favorite since 1998 and come in 7 super cute and fun dinosaur shapes. My kids love picking out their favorite dinosaurs for their bento box lunches!

White Meat Only:

They are made with white meat only–chicken breast and rib meat. 

100% All Natural:

Minimally processed no artificial ingredients. Plus, the chicken is raised with no antibiotics ever, and without hormones. 

Omega-3s:

There are 600 mg Omega-3 fatty acids per serving from canola oil & flax. 

No preservatives.

 

Easy:

They are fully cooked and microwaveable, which makes them easy for busy moms like me. My kids can make them for themselves even. 

9g of Protein.
Find Yummy Dino Buddies near you: Locator

Tips for Cute/Fun Bento Boxes Made Easy:
You do not have to be super creative to make a fun bento box lunch for your kids, just keep these simple tips in mind when creating your Bronto Boxes:
Shapes

: Kids

LOVE

shapes, which is why chicken nuggets shaped like dinosaurs are so fun. But don't stop there, cut something into a shape with a cookie cutter. Ex: flowers made from cheese slices, or a sunshine made from carrots. Cute and fun! 

Stacks

: One of the fastest, easiest ways to make the food in a bento lunch box look nice and appealing to kids is to make stacks. Line your food up or give it some kind of order so it looks intentional, not haphazard. You can sneak extra veggies into a bento box by making them look like they are meant to be there. Ex: Lining up different sized pieces of broccoli so they look like bushes and trees for your Dino Buddies. 

Fill it:

Bento boxes need to be visually appealing, so if you send them to school with your child, chances are they are going to get tossed around a bit. Help them keep their shape by filling the box completely. This way things won't have room to shift as much. Start with your main ingredients, then fill in any extra space with small bites like grapes, berries, cheese cubes, cherry tomatoes, etc. 

Set the Scene:

I took everything out of the bento to create a fun little scene on the plate for my kids to enjoy, since we were eating at home the day we made these. But you can set the scene inside the Bento Box as well. Make it cute and fun! 

Get the Right Tools:

A bento lunch box is a great place to start, and another great tool are silicone baking cups. They are reusable and environmentally friendly, but also they are a great way to contain small ingredients like berries, or keep wet foods away from dry.

Let the Kids Have Fun!: It is easy to get bent out of shape if their creative side takes a messy turn, but it is so fun to see what their imaginations will create. So just let them make their own and have fun with it.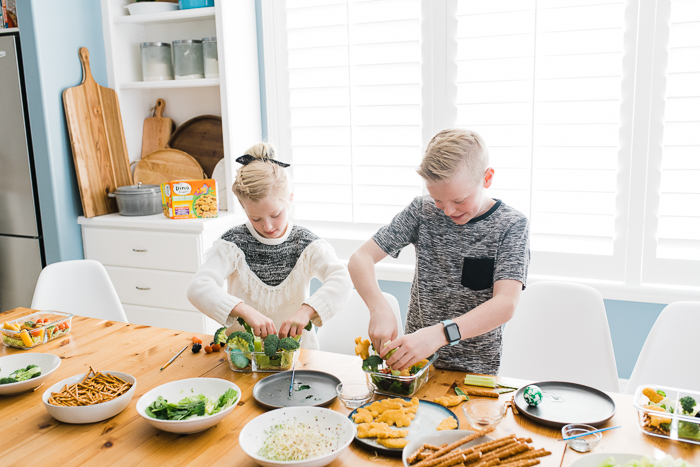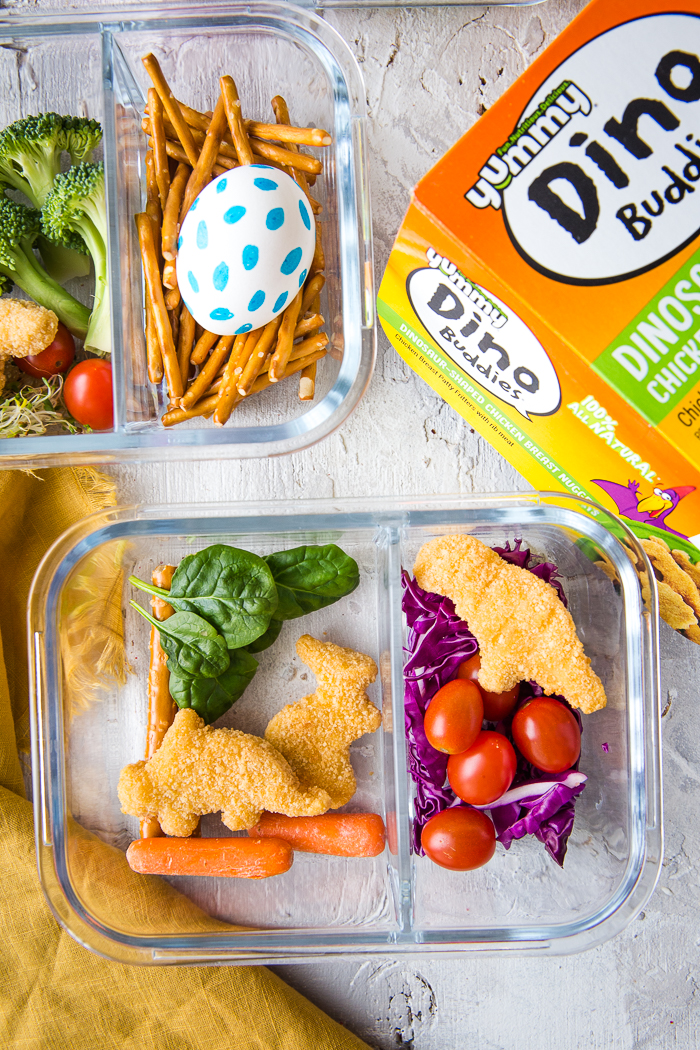 I would love to see what fun ideas you come up with for Bronto Boxes! What will you add to your prehistoric world?
Be sure to follow Dino Buddies on Facebook and Instagram
Share your photos on Instagram and tag me @ezpzmealz or leave a comment with your favorite additions to kid friendly bento boxes!
Other Recipes: