Beach + Vacation, they just go hand in hand, and with the right products, your beach vacation can be paradise! Having the Perfect Beach Vacation starts with a great destination, but you can make any beach the "best beach ever" with the right tools!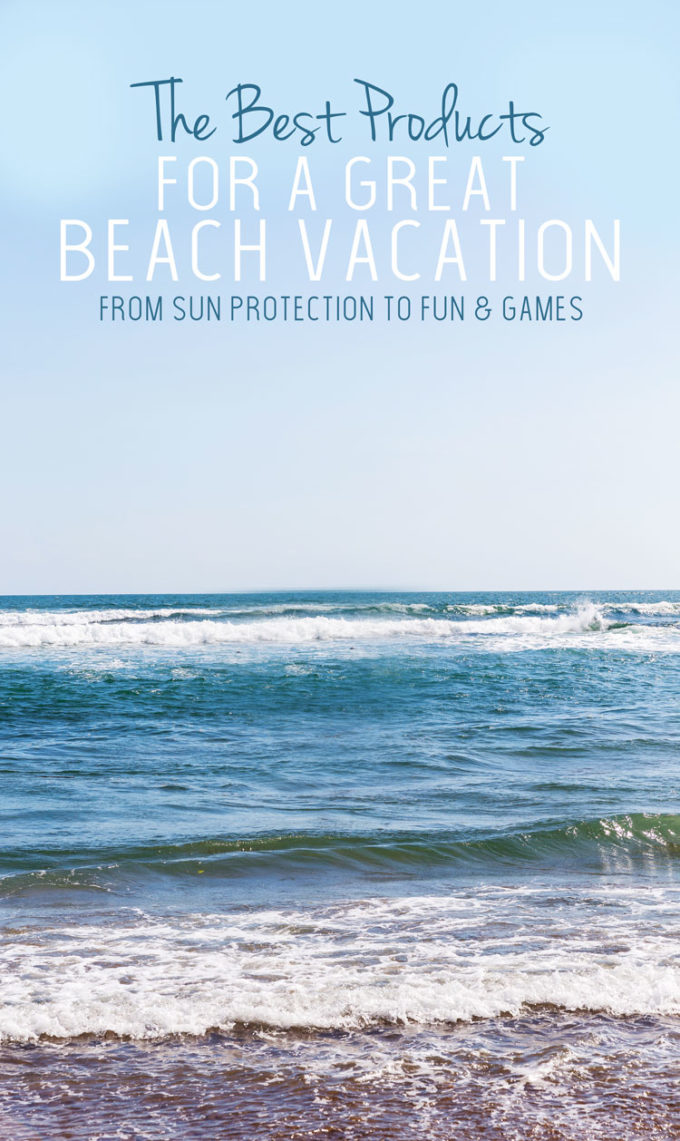 I just got back from a magical week in Bali, Indonesia, where the weather is warm, the water is turquoise, and the sand is fine. We played in the sun, we surfed, we boogie boarded, and we had an amazing time. But I realized that we have had better beach vacations in the past when we have been better prepared and equipped for our time on the beach. While I really enjoyed myself, and so did my family, I did not plan or pack the right gear to get the most out of the beach, which meant short lived moments of fun. Which is why today I want to share my best tips and favorite products for an excellent beach vacation.
Sun Protection
A spray and lotion sunscreen
After spending over a week near the equator I can't tell you how valuable a quality sunscreen is. Nothing ruins a beach vacation faster than a painful sunburn. Having kids, I also know how important it is to have a quick spray option to get them covered before they hit the water, but also a lotion option for their faces. Kids hate being sprayed in the face.
My favorite face sunscreen that doesn't leave the skin burning, and that offers great coverage is La Roche-Posay. You are supposed to put it on 15 minutes before you hit the beach and reapply every 80-120 minutes. I love it because it doesn't leave my skin feeling gross or greasy, and does an awesome job.
My favorite spray is Neutrogena Wet Skin Kids Sunscreen Spray, for the most obvious reason because it can go on wet skin. Have you ever tried to get a kid to towel off so you can reapply sunscreen before? Nearly impossible. But I also love it because I can find it with a 70 SPF. I want my kid's fair skin protected.
Swim Shirts
No matter how great your sunblock is, nothing beats actually covering up the skin. I know many people go to the beach to get a tan, but after years of burning and peeling, I have given up, and if my kids are playing in the water, I want to protect those little shoulders. A great swim shirt combined with sunscreen is my best defense. When we were in Bali, I forgot to pack them and ended up buying new ones for the whole family. That is how much they matter! Amazon has a huge collection, from long sleeved, zip up, or standard, check them out here.
Added bonus: Swim shirts or rash guards can in fact also help protect you from a scraped up stomach if you wipe out into the sand.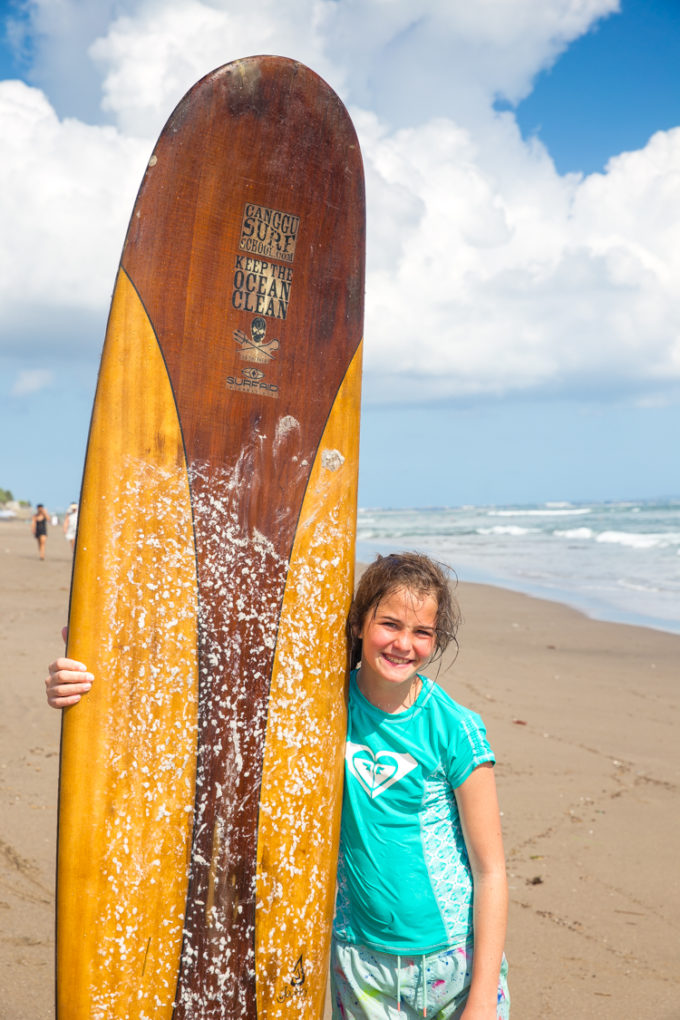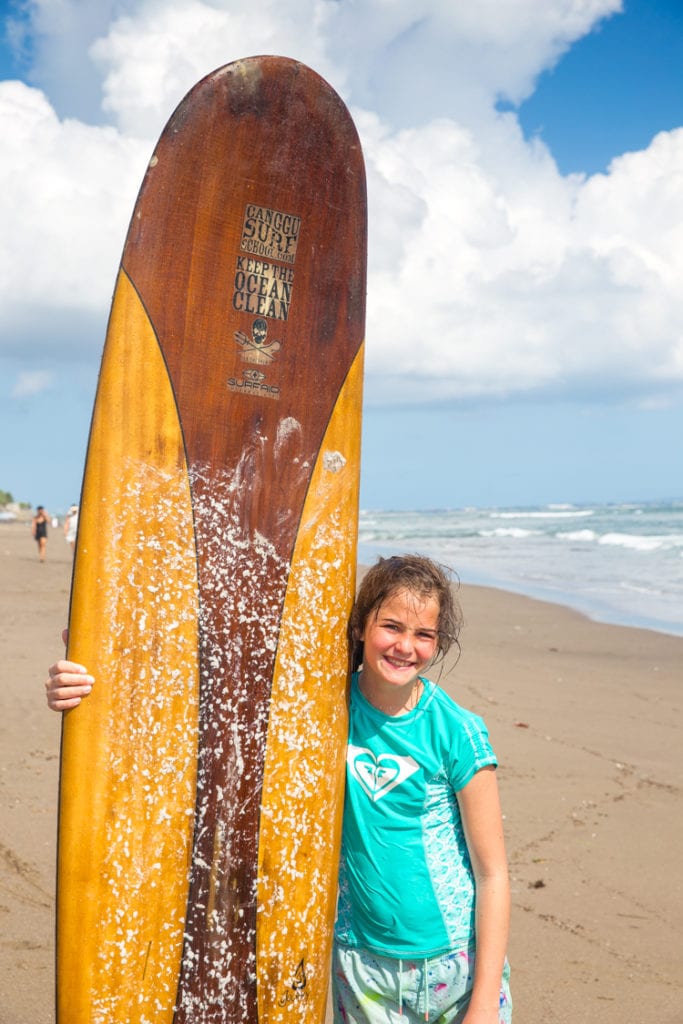 Beach Umbrella
A beach umbrella is the perfect way to guarantee yourself protection from the harsh rays of the sun when lounging on the beach all day. I love being able to soak in some of the sun, but a day spent at the beach requires some shade. This Tommy Bahama Sand Anchor Beach Umbrella is my recommendation. 
This is the umbrella of all umbrellas, it has UV protection, a sand anchor and wind vent that helps secure your umbrella, it is easy to transport, and offers flexibility in getting shade where you need it with an easy to tilt pole.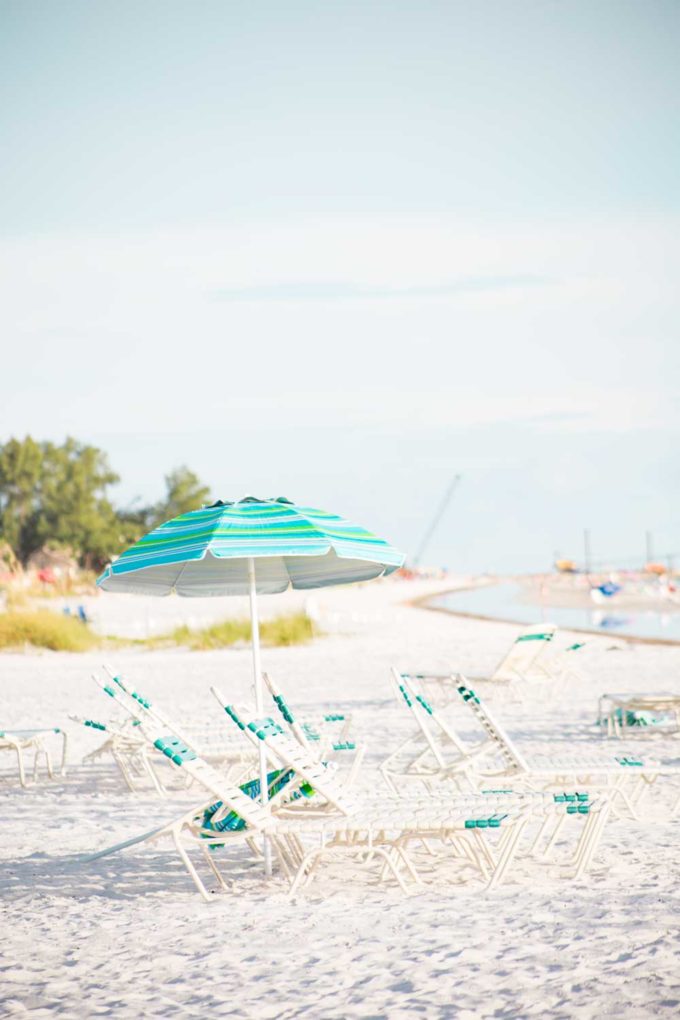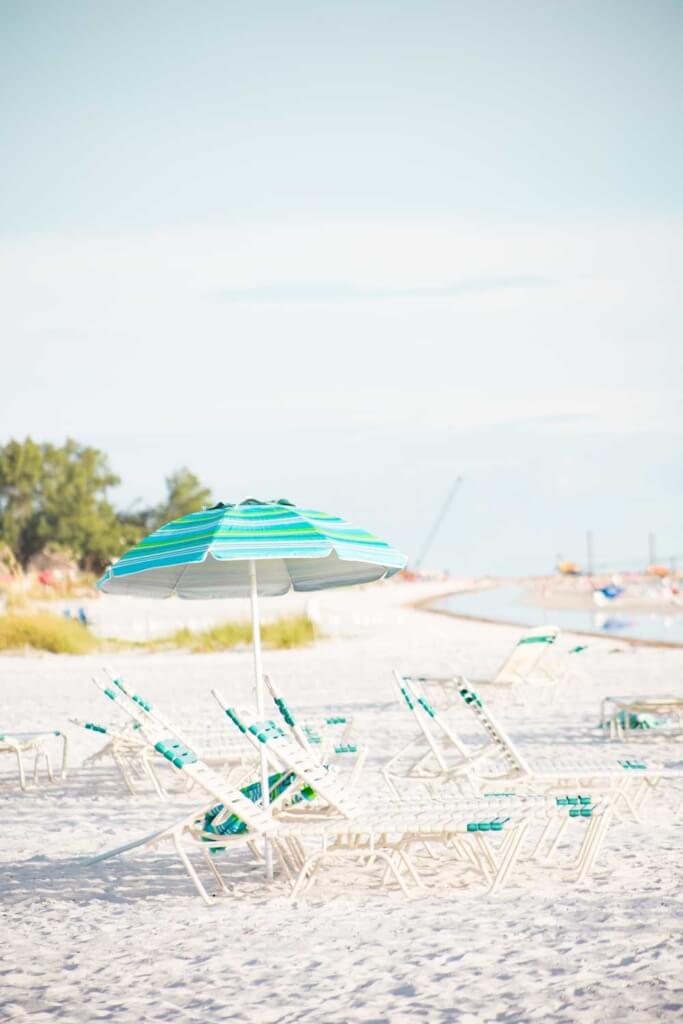 Beach Entertainment
While the water and waves can provide plenty of entertainment, especially for kids, I know I like having a few additions to make our time there even more enjoyable, and to add some variety. I have also found that by bringing along a few boards, sand toys, games, and a book can mean spending 8 hours at the beach instead of an hour. This saves me money in entertainment, and usually ensures my kids sleep soundly from being totally tuckered out. Here is what I recommend for beach entertainment.
Over the years we have amassed a collection of boogie boards for fun at the beach. No matter what age my kids are, or skill level, they can find a way to enjoy these boards. My advice when picking one is to make sure it is big enough for whomever is going to use it, that it has a slick bottom, and it has a leash so it doesn't get lost in the ocean. From there you can find ones with different features like handles for kids to grip, different core materials, etc. You can find a huge selection on Amazon of body boards for around $35, or pick one up near whatever beach you are going to. You can also often rent them. In Bali we could rent them for about $3 an hour. I am sure it is more expensive in other places.
There are also surf boards and stand up paddle boards, and skim boards, and all kinds of boards to make your time in the waves more fun.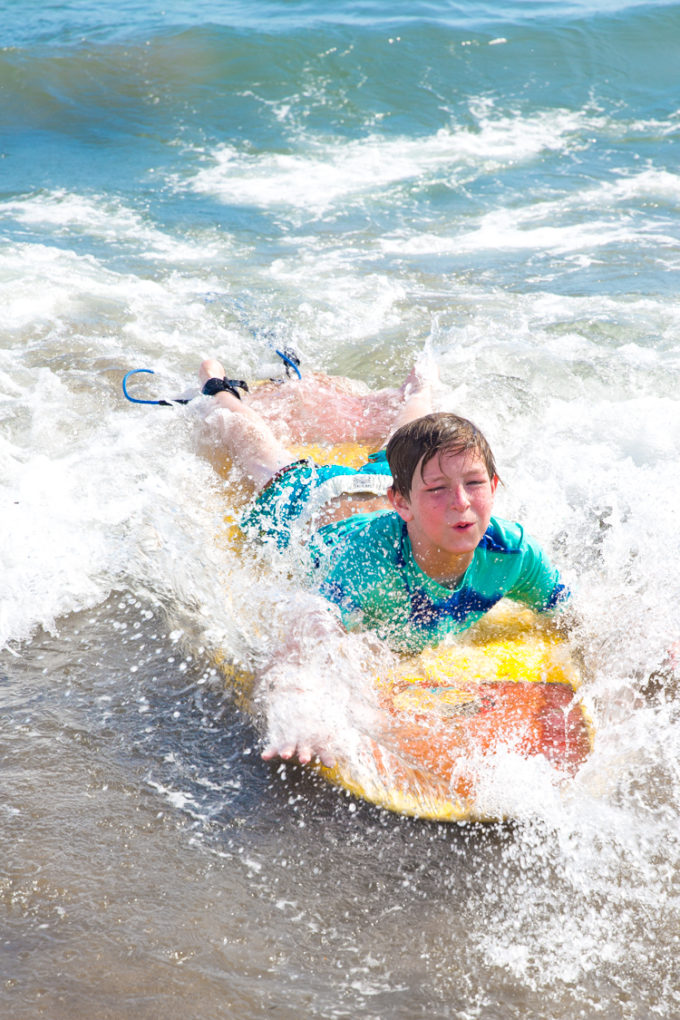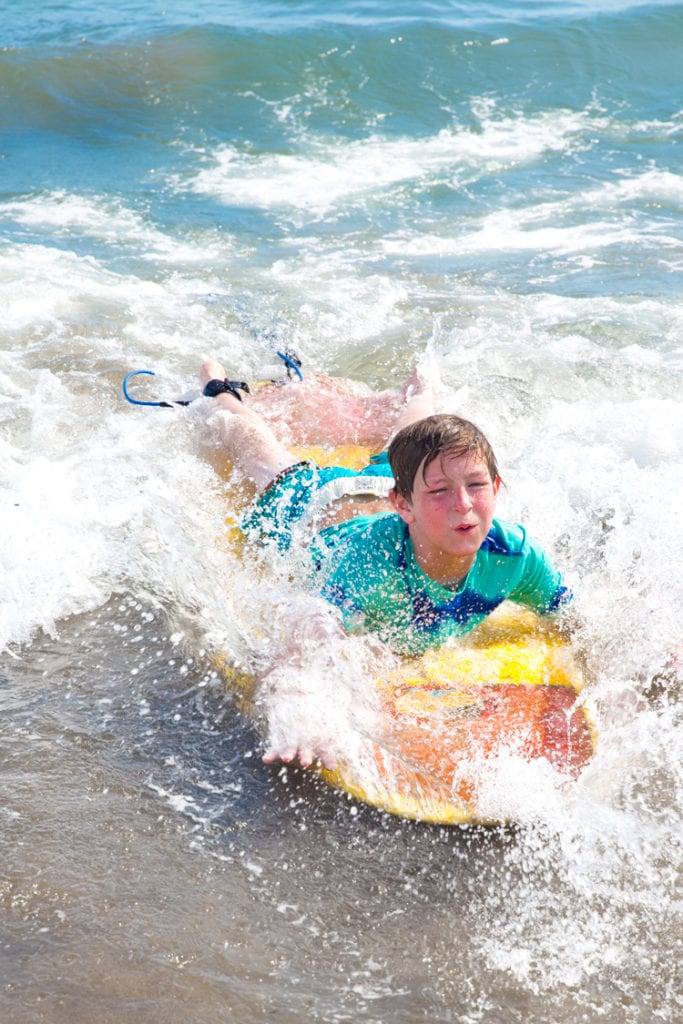 Sand Toys
My kids love to play in the sand, and use their imagination, whether they are burying themselves in it, building a castle, or just searching it for treasures, the sand is definitely one of the perks of a beach vacation. But it is amazing to me the difference having a sand shovel or a few sand toys can make in how much time my kids are willing to play in the sand. even a simple set of sand toys can provide hours of fun. I recommend when shopping for a set you get one with a bucket, a shovel, and something that pours water. Everything else is great, but those three things are a necessity. And if possible, a set that comes with a mesh bag so you can keep everything contained while letting excess and fall off. This sand toy set from Amazon is perfect!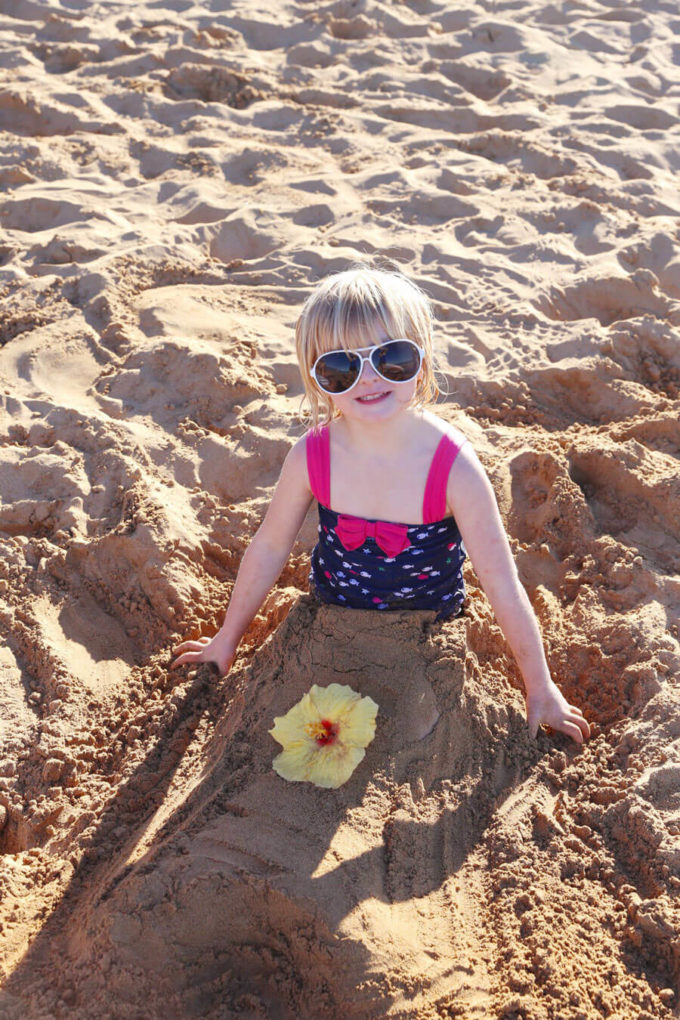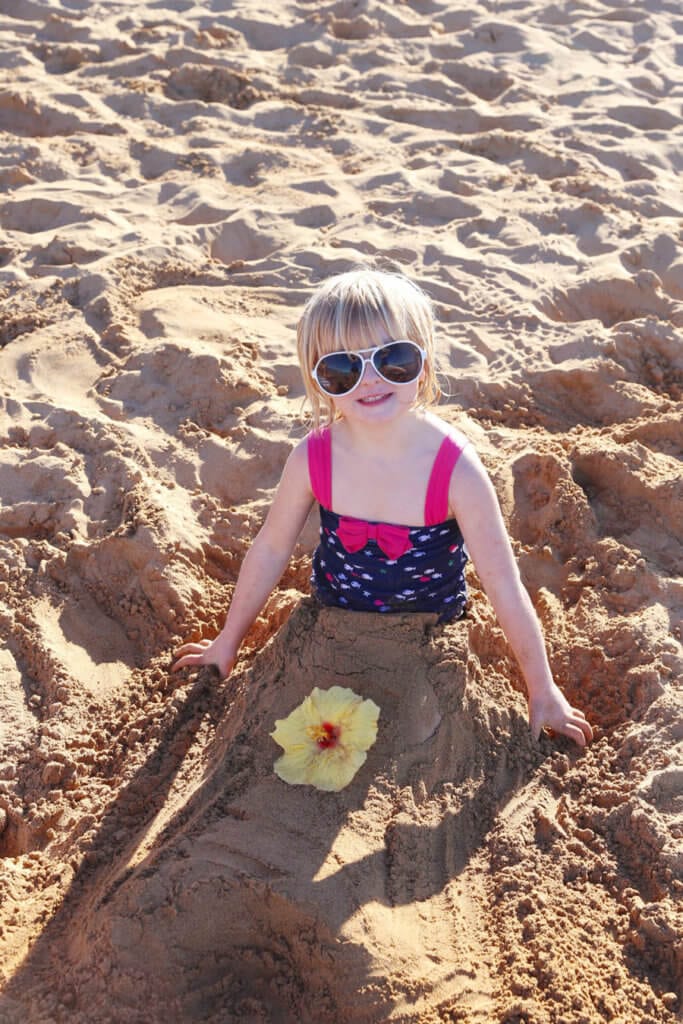 Books
I am a HUGE fan of reading on the beach, which I know is not uncommon. There is something so peaceful about a great book, a little sun, and the sound of crashing waves, along with the scent of salt water. The thing is, I don't want to carry around a stack full of books in order to have variety.  Also, I worry about my phone or electronic device that stores books getting ruined by the water and sand. A friend of mine from Japan told me about a great solution, The Kobo Aura H20. It is an e-reader that holds a large amount of novels and has a waterproof design. It was designed specifically for beach reading! You can find it here. 
Other Fun Things For the Beach
Beach Cooler
If you are anything like me, a day at the beach is not complete without cold drinks, and lots of snacks to fuel little bodies. Something about water and sunshine make us a hungry, so I love having fresh cut fruits, crackers, and other snacks on hand, along with ice cold water, sodas, and juices. An easy to transport collapsible cooler is a must for a great beach day. This one is my favorite, it has a hard top and bottom, is water resistant, but still collapses down for easy storage. Plus it holds enough for an afternoon at the beach.
Phone Case/Waterproof pouch
I love being able to capture the memories of our days at the beach, but sand and water are not exactly a great combo with technology. I always feel stressed about my camera. But purchasing a low cost cell phone pouch or water housing means I can enjoy the day without the fear of ruining my phone. I just leave my big camera at home. For just a few dollars you can protect your phone and sand and water no longer have to be a deterrent. Check out these low cost pouches.
Beach Mat
A good beach mat to keep your bum off the sand, but also to help you relax is priceless. I love the Picnic Time Beach Comber Beach Mat because it is fun and comfortable.  It is definitely a step up from your typical beach mat. This portable mat has a non-obtrusive metal frame and adjustable back rest that reclines, providing luxury and comfort for the casual beach goer, but with the convenience of a basic mat.  This padded beach mat offers a relaxing element to your day at the beach.
Foldable Waterproof Picnic Blanket
This blanket goes with us everywhere! It is lined and waterproof, and a great size, it gives a great place to set up, keep the sand off, and it folds up into its own self contained pouch with a strap for easy carrying. I love this thing so much!
The beach is great, but with these items great can become even better.