This post is sponsored by Smithfield, all opinions are my own.
Delicious Carnitas Tostadas: crispy tortillas, topped with black beans, and the best ever Slow Cooker Carnitas, and all your favorite toppings.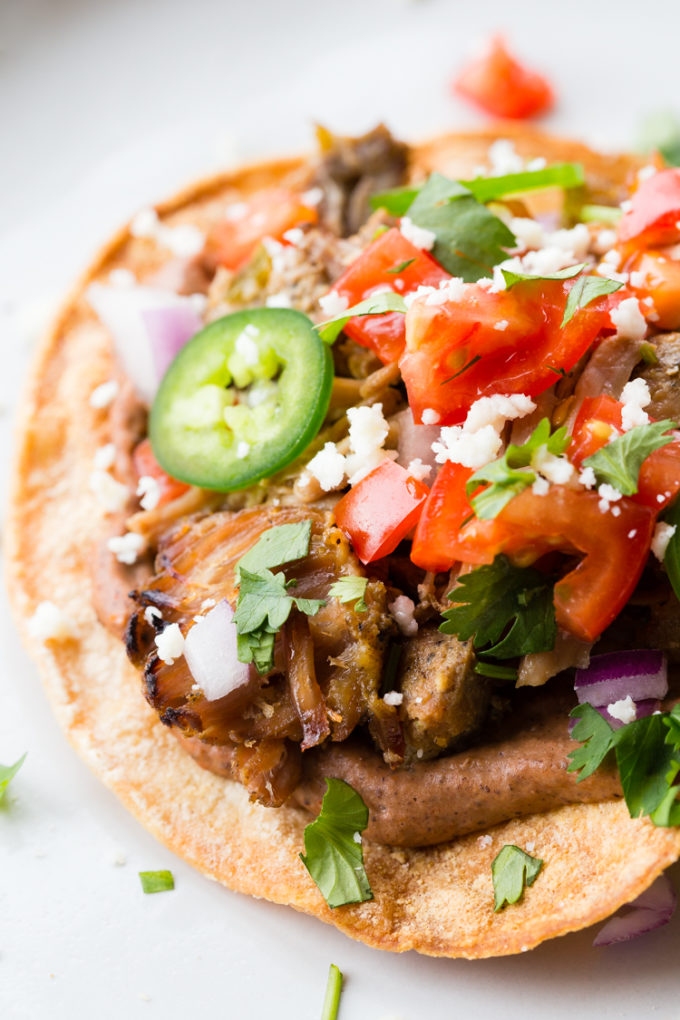 These slow cooker carnitas tostadas are absolutely addicting. My whole family loves these carnitas tostadas. We are all obsessed, and I have made them so many times now I can't even count. The crunchy tortillas are topped with creamy beans, the best crispy carnitas (so much flavor), and all my favorites like tomatoes, cojita cheese, cilantro, etc. The perfect bite in every bite. Plus did I mention they are ridiculously easy to make? 
Slow Cooker Carnitas Tostadas
Like this recipe? Pin it to your Slow Cooker pinboard!
Follow Eazy Peazy Mealz on Pinterest

MY LATEST RECIPES
The reason these are so easy to make is you start with a pre-seasoned Smithfield Boneless Pork Shoulder Seasoned Carnitas, and then add a few simple ingredients and let the slow cooker do all the work. Then everyone assembles their own. So it is minimal cooking, and maximum flavor.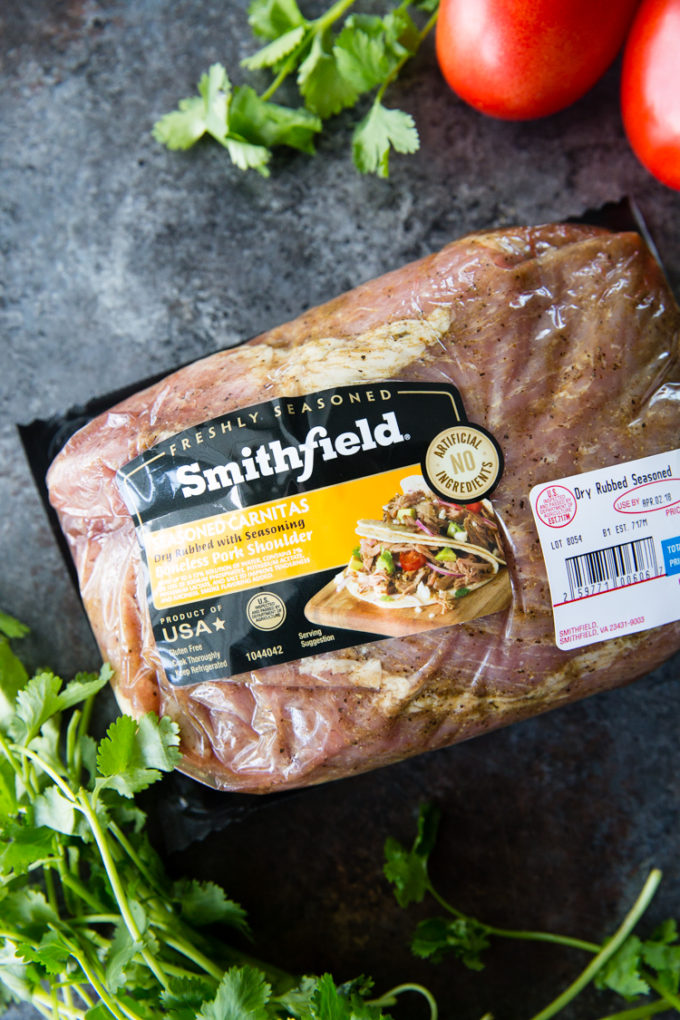 Why Smithfield Marinated Fresh Pork
Smithfield Marinated Fresh Pork is my go-to for those mid week busy nights when all I want is a hassle-free dinner ready in about 30 minutes or less. Most of the prep work is already done for you, so you simply slow-cook, grill, roast, or sauté and you are done. I like easy, and Smithfield makes it both easy and tasty.
You don't have to wait to marinate. I absolutely love that I don't have to wait for my meat to marinate. When you purchase Smithfield Marinated Fresh Pork, it is already slow-marinated and perfectly seasoned. This makes my busy days easier, and my family loves the flavors: Roasted Garlic & Cracked Black Pepper, Slow Roasted Golden Rotisserie, Sweet Teriyaki, or Applewood Smoked Bacon.
Variety is also awesome. I love the Seasoned Carnitas for this dish, but Smithfield Marinated Fresh Pork is also available in other fresh cuts, including pork roasts, loin filets, chops, ribs, sirloins, and tenderloins, and can be sliced or cubed for even faster cooking.
Smithfield Marinated Fresh Pork products are available at Walmart and select grocery stores/retailers nationwide.
For more product information and recipe inspiration, visit www.Smithfield.com.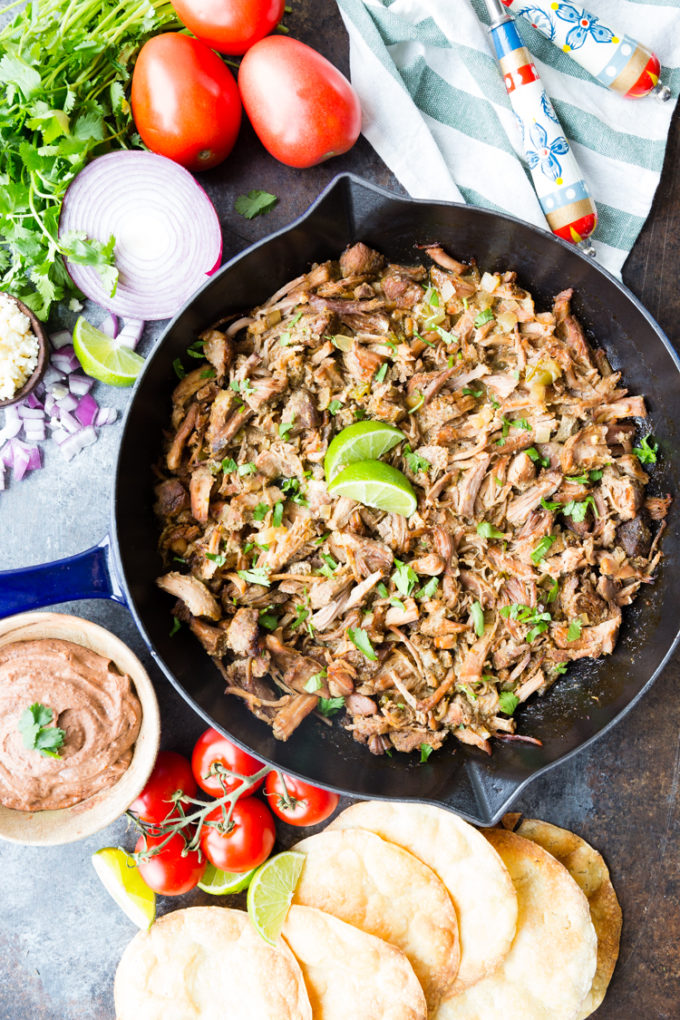 The best part of these tostadas are the Carnitas, and they are soooooo Eazy Peazy to make and the flavor is unreal. You will be absolutely obsessed with them. I mean, I know I am. Here is why:
They could not be easier to make. I start with Smithfield Boneless Pork Shoulder Seasoned Carnitas. They are pre-seasoned, and perfectly portioned. You can toss them in the slow cooker with orange juice, some jalapeños, and onions, and set it and forget it. Besides the slow cooking time, you can get dinner on the table in under 30 minutes. Everything else is just toss together, for example, chop up some tomatoes, onions, and cilantro, use your favorite salsa and beans. So easy.
They are really flavorful. Your whole house is going to smell amazing while the carnitas slow cook, and you know how sometimes things smell good, but don't taste nearly as good as they smell? That is NOT the case here. They taste awesome.
The pork is top notch: Smithfield Marinated Fresh Pork is 100% fresh pork, and packed with protein. It comes in a bunch of different cuts and seasonings making them great for any night of the week. Obviously for this recipe I used the Smithfield Boneless Pork Shoulder Seasoned Carnitas.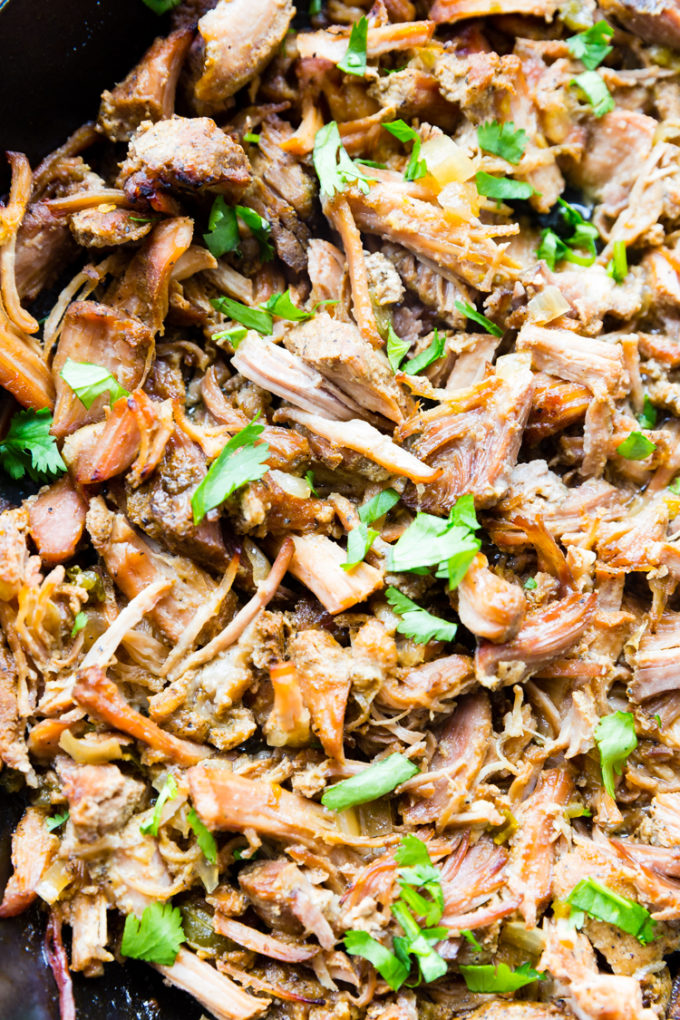 Sear up the pork, then toss it all into the crock pot with a couple extra ingredients. Then walk away. This is hands free, hassle free cooking! Perfect for a busy weeknight, but good enough for friends. I made these for a group of ladies, and they all raved about them.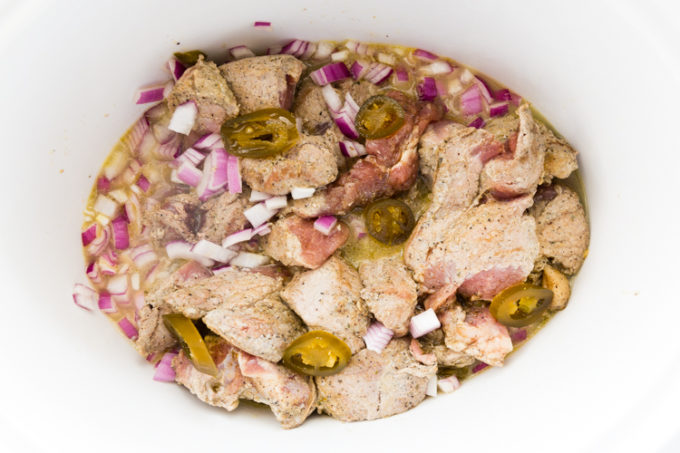 Slow Cooker Carnitas Tostada Notes, Tips, Cooking Short Cuts
Sear your carnitas meat before putting it into your slow cooker.
Use canned black beans, or a black bean dip or make homemade beans.
Bake or Fry your Tortillas- The trick is you want them to be crispy, so if you bake them, make sure you bake long enough that they get crispy all the way to the center, otherwise they will be chewy. I usually start with baking at 400 degrees F for 10-12 minutes, flipping them once, then I check them, and bake longer if needed.
Layer the crispy tortilla with not too many toppings. You want just enough toppings so that you can take a bite without everything toppling off. I tend to over-top mine. But you don't eat these with a fork, you use your fingers, so top, and enjoy!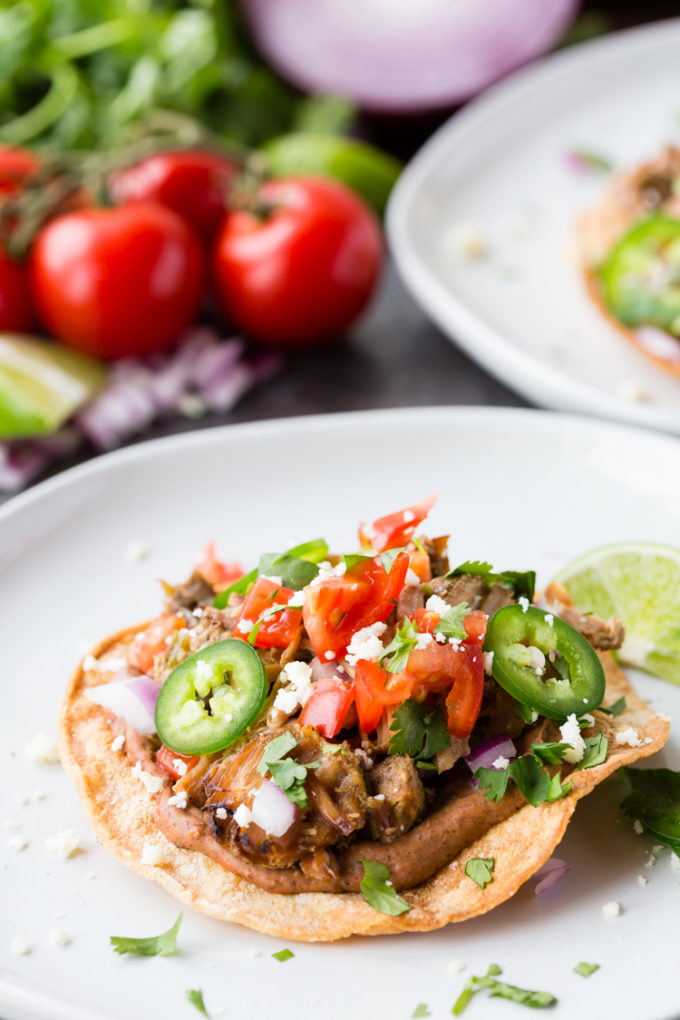 Ingredients
Tostada Shell

6 Corn tortillas
1-2 Tbs Olive oil
Salt and Pepper

Carnitas

1 Smithfield Boneless Pork Shoulder Seasoned Carnitas
1 cup fresh squeezed (if possible) orange juice
2 Tbs fresh lime juice
1 Jalapeno, deveined, deseeded, and diced small
1/2 cup red onion, diced small
2 Tbs vegetable oil (divided)

Toppings

Black beans
Tomatoes
Cilantro
Red onion
Cojita cheese
Limes
Instructions
Carnitas

In a large skillet, add 1 Tbs vegetable oil, and heat over a medium-high heat.
Sear Smithfield Boneless Pork Shoulder Seasoned Carnitas on all sides.
Add to a slow cooker along with orange juice, onion and jalapeño
Cook on low for 8-10 hours or on high for 4-5 hours.
Once fork tender, remove the pork from the slow cooker, remove any fat, then shred the meat. Save the juices.
Add the carnitas to an oven safe pan and broil for 3-4 minutes until crispy bits form. Then remove from oven. Keep a close eye so they do not burn.
Toss with 1/2 cup of slow cooker juices

Tostadas

20 minutes before serving preheat oven to 400 degrees F.
Place tortillas on a baking sheet, and generously brush both sides with olive oil, and sprinkle with a little salt
Bake for 10-12 minutes, flipping once half way through.
Bake until entire tortilla is crispy, add time if necessary so it is crispy not chewy.
Remove from oven, and top immediately and serve.

Assembling Tostadas

Spread black beans on baked tostadas, then add the carnitas and toppings of your choice such as diced onion, tomatoes, fresh cilantro, salsa, queso fresco, guacamole etc.
7.8.1.2
1117
https://www.eazypeazymealz.com/carnitas-tostada-slow-cooker-mexican-pulled-pork/
Pin to your Dinner board: 

Get EZPZ Updates In Your Inbox!