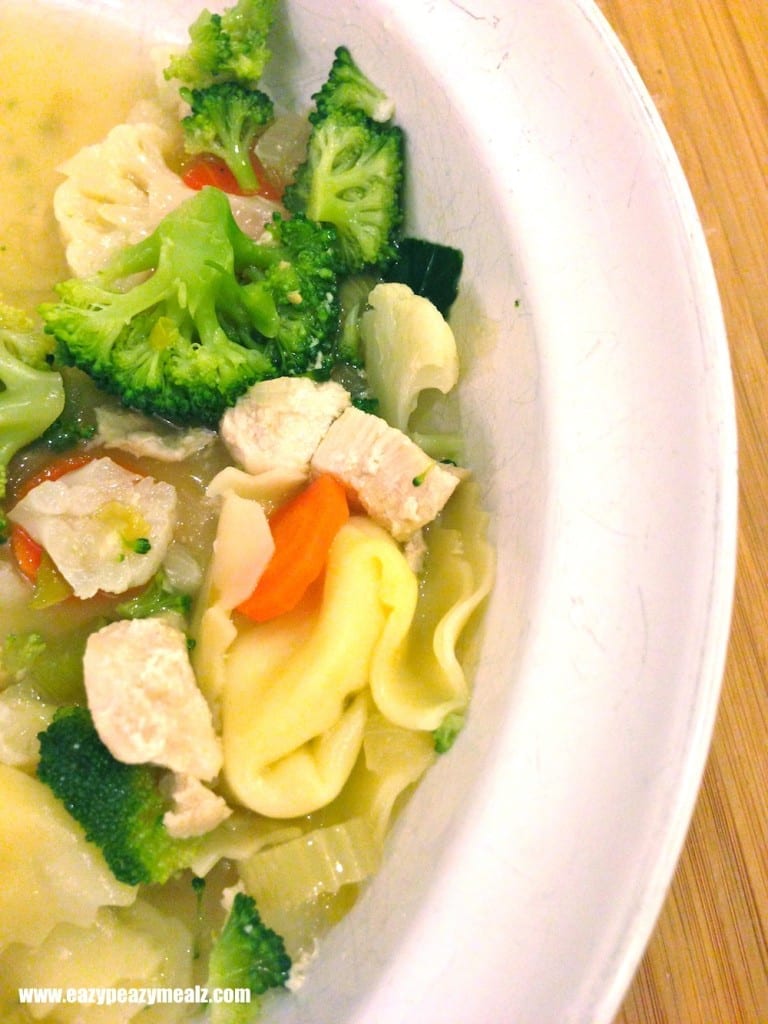 Aren't soups in the winter just so nice? I don't know about you guys, but it is sure cold where I am. I love a great hearty bowl of soup and some fresh bread when I am cozy inside on a winter evening. This soup was a real winner. My mom shared it with me. It is her basic chicken noodle soup recipe, but instead of noodles, she tossed in some premade tortellini from Costco. They were fresh and stuffed with cheese. The combination of a great broth and the cheesey goodness of the fresh tortellini really hit the spot. Yum! And it was so easy.
Ingredients
3-4 carrots, peeled and chopped
1 medium onion, diced
3-4 stalks celery, chopped
8 cups chicken stock
2 cups cauliflower chopped small
1 large (or 2 small) chicken breasts, cubed and cooked
2 cups broccoli florets chopped into bite sized pieces
2 tsp better than bouillon chicken
1-2 Tbs cooking oil
Salt and Pepper to taste
1 lb precooked cheese tortellini
Instructions

MY LATEST RECIPES
Put 1 Tbs of cooking oil in bottom of soup pot, add onions, carrots, and celery, saute for 3-5 minutes.
Add in chicken stock. Make your own, or use premade. Enhance flavor by adding in the better than bouillon chicken flavoring, taste at this point to make sure your broth has enough flavor. Season accordingly.
Cook vegetables in stock until almost tender.
Cook chicken in separate pan, season with salt and pepper to taste.
Add chicken to soup pot.
When vegetables are tender and chicken is mixed in, bring pan to a slow boil.
Add in cauliflower and let cook about one minute.
Add in tortellini (The Costco Tortellini only requires 2 minutes of cook time, but consult packaging to make cook your tortellini long enough).
With about one minute left until Tortellini is cooked fully, add in broccoli.
Let cook the final minute, remove from heat, and serve!
7.8.0.1
226
https://www.eazypeazymealz.com/chicken-tortellini-soup/
This recipe feeds about 8 people, so feel free to cut it down some. The trick is cooking the soup and then in the final few minutes adding in the tortellini, broccoli and cauliflower. That way you still get the beautiful flavors of broccoli and cauliflower without them turning to mush, and your tortellini will be perfectly cooked as well.
I was amazed how quickly this meal came together and how yummy it was. Everyone really enjoyed it, and the addition of the tortellini made it filling enough that we weren't back in the kitchen an hour later looking for snacks.
I recommend serving it with Garlic Bread Twists, as they are the perfect compliment to this meal. I also want to note that there are not a lot of seasonings in this soup, the Better than Bouillon adds great flavor, but if you find the broth is lack luster, please season accordingly. I often go a little light on the salt, and while the cheese tortellini adds a punch of flavor, you don't want the broth to be bland!
Get EZPZ Updates In Your Inbox!