Crispy edges, sugary flavor, and plenty of room for your favorite icing, this perfectly easy cut out sugar cookie recipe is a no fail classic sugar cookie you need in your Christmas Sugar Cookie arsenal.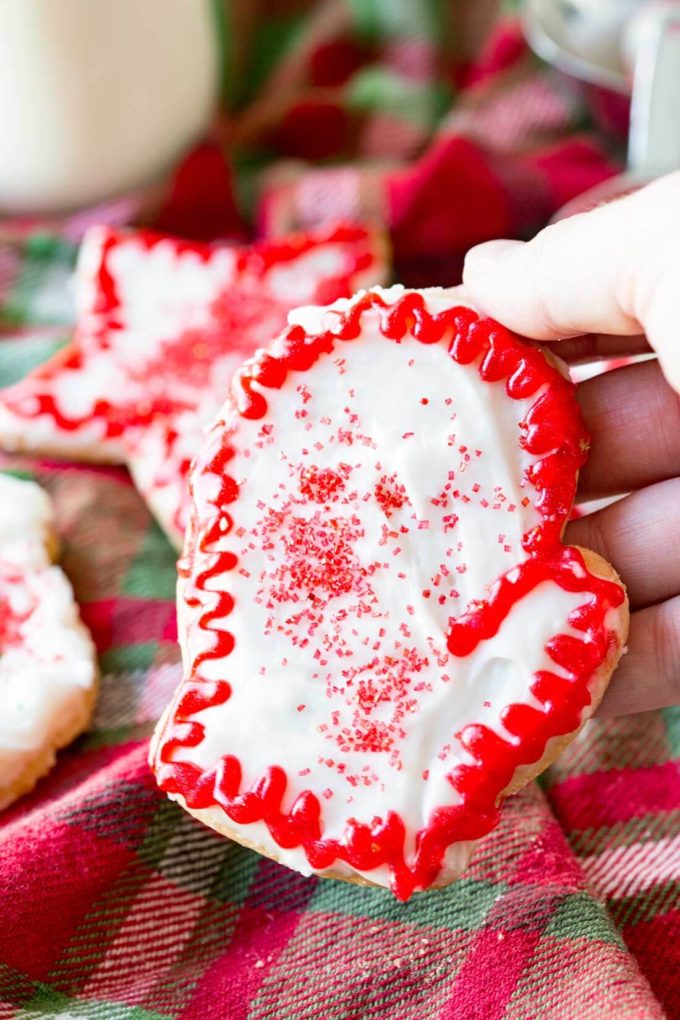 Everyone needs a classic sugar cookie recipe. But really, everyone needs two. The soft and chewy sugar cookie, and the crispy, cut-out, hold your shape sugar cookie. When it comes to Christmas Sugar Cookies, the crispy, cut-out is the way to go. They hold their shape, and you can dress them up in all sorts of ways, with fun icing and sprinkles. And this recipe is the best!
When my husband and I first got married, one of the things he told me was his mom makes great cookies. And her Christmas Sugar Cookies are the best. And that is the recipe I am sharing with you today. And take a look at these pictures because they just show you how easy these are to customize, and how fun they can be.
Use your favorite sugar cookie cutters. Use your favorite icing recipe. And go to town! You know I did.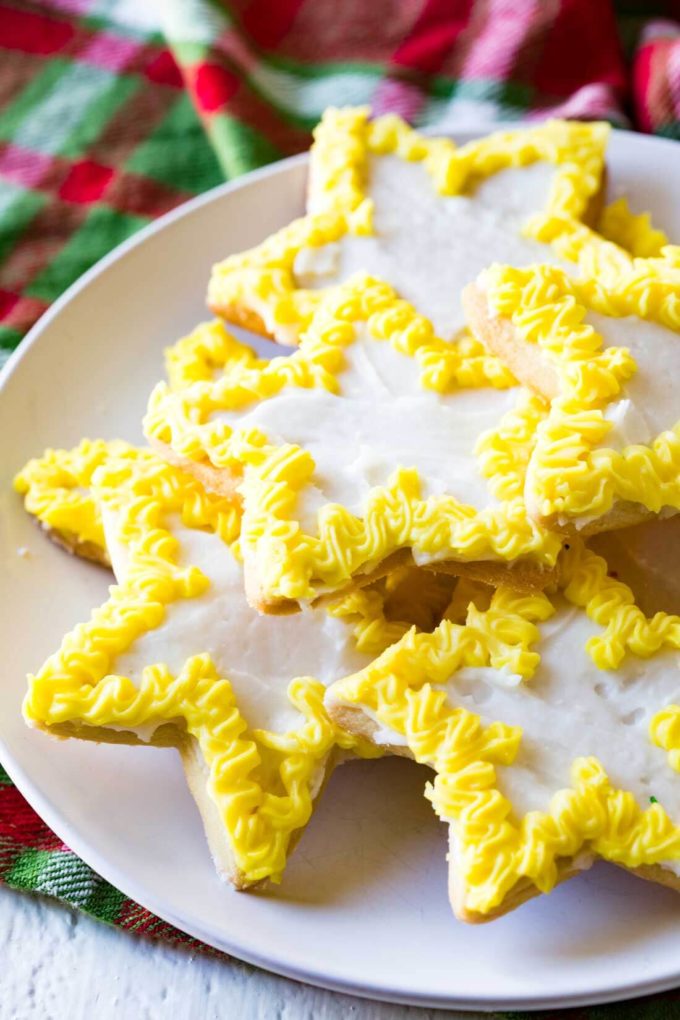 These cookies are part of our family tradition now. Not only do my kids love decorating and icing sugar cookies around the holidays, but every year on Christmas Eve, when we go to visit Nana and Papa, they talk about bringing home a plate of these cookies for Santa. If they rate high enough to share with Santa, then you know they are the kind of cookies you want to be making.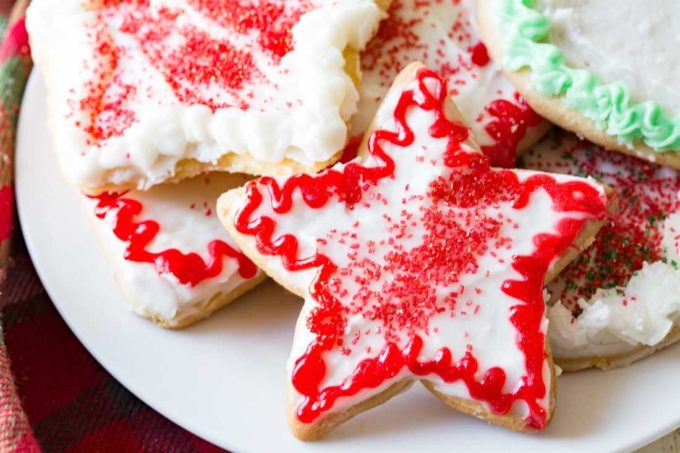 This recipe came from my mother in law, and while I love a good soft sugar cookie, like these Cutler's Famous, I won't pretend I don't go crazy for these cookies every year right alongside my kids and husband. They taste like Christmas to me, and are always so fun. We tend to cut them out in the shapes of mittens and stars, but you can do candy canes, snowmen, and anything else. Just be sure to keep an eye on the cookies. I know the first time I baked candy canes I burnt the batch because I did not alter the cooking time, and they were smaller, thinner cookies.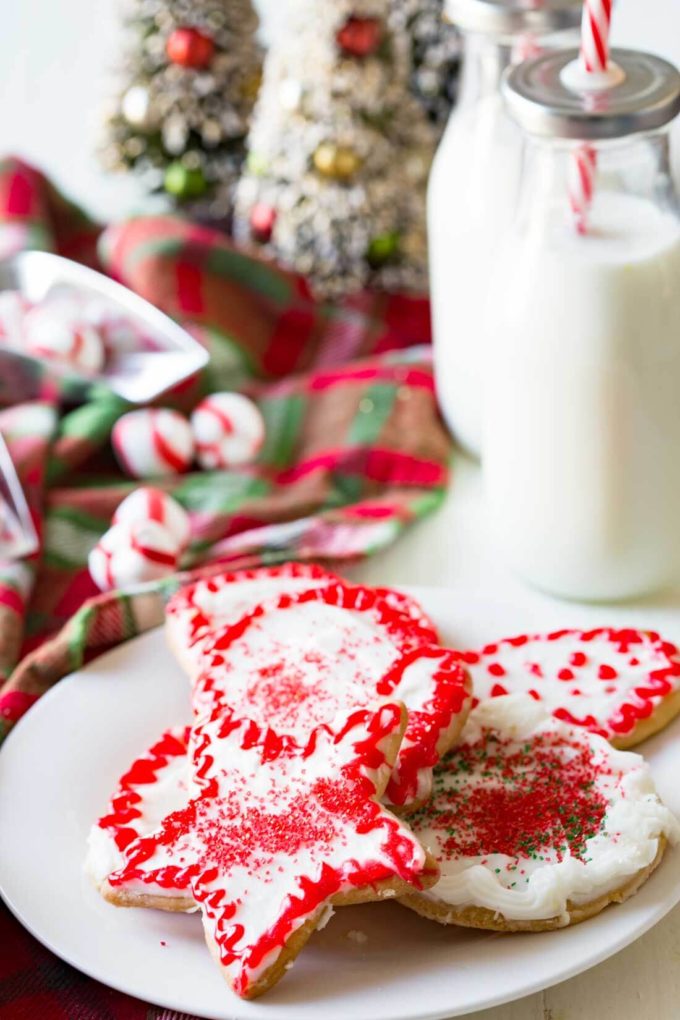 Let's talk about Christmas traditions for a minute… What kinds of things do you like to do to get in the Christmas spirit? What traditions does your family do every year? We love to visit the reindeer. I love making gingerbread houses, and I love turning off all the lights except the Christmas tree and cuddling up on the couch to drink cocoa and listen to Christmas music. We also try to do a little bit of service each year. Whether that is adopting a family and acting as Secret Santa's, or making some kind of donation to a charitable organization, or cleaning up the side of a road. I have to admit I am not always the best at it, but as my kids get older, I really want to help them focus on the giving instead of receiving and on promoting more love.
I would love your ideas for how to do this more effectively!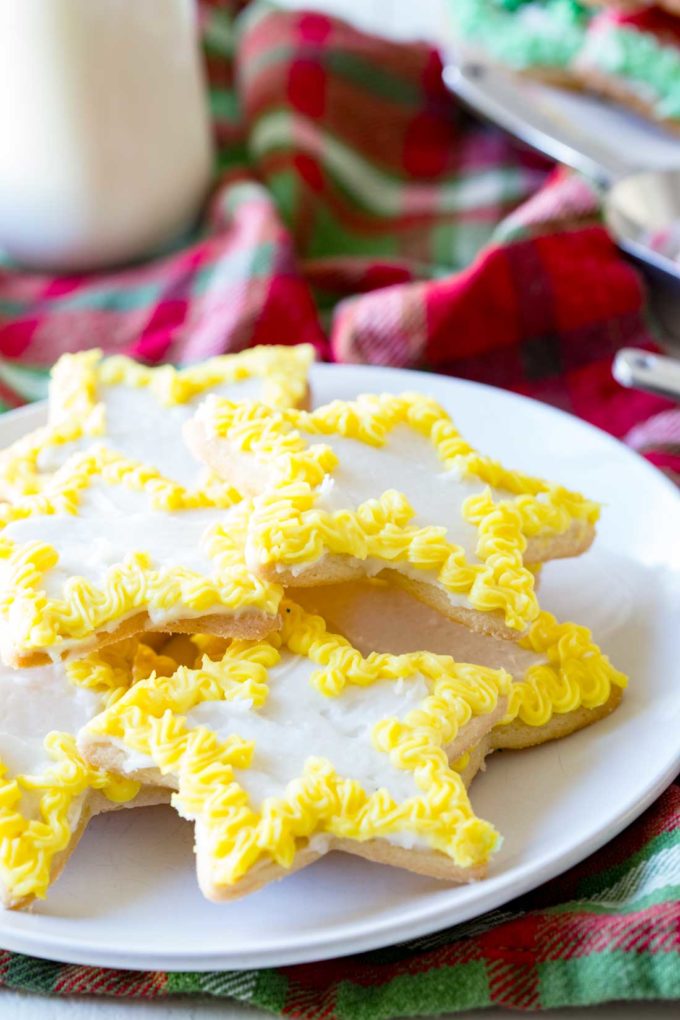 Ingredients
1 1/2 cups powdered sugar
1 cup butter, softened
1 large egg
1 tsp vanilla
1/2 tsp almond extract
2 1/2 cups all-purpose flour
1 tsp baking soda
1 tsp cream of tartar
Granulated sugar to sprinkle on top

Your favorite Sugar Cookie Icing
Instructions
In a large mixing bowl, mix powdered sugar, butter, egg, vanilla, and almond extract together with a hand mixer.
Sift in flour, baking soda, and cream of tartar.
Stir together.
Cover and refrigerate at least 3 hours.
Preheat oven to 375 degrees Fahrenheit
Divide down into two even balls, and roll out, one at a time into 3/16 inch thickness.
Use Christmas shaped cookie cutters, and cut out cookies (2-21/2 inch cookie cutters are best)
Sprinkle a little granulated sugar over the top of each cookie, and place on a lightly greased cookie sheet.
Bake 7-8 minutes until the edges are just starting to brown.
Remove from tray, and cook on cooling rack.
(makes approx 5 dozen depending on cookie cutter size)
7.6.4
878
https://www.eazypeazymealz.com/christmas-sugar-cookies/
Pin to your Christmas Cookie board:

Get EZPZ Updates In Your Inbox!