This post is sponsored by Tums, all opinions are my own.
Coleslaw
Crispy, refreshing coleslaw with a sweet and tangy creamy dressing. The perfect summer side dish, great for BBQs, picnics, and potlucks. 
With this coleslaw recipe you get the crunchy, fresh cabbage and carrots and the creamy delicious dressing. A perfect combo of flavors for a light, refreshing, delicious dish. It is easy to make. Goes perfectly with all your summer favorites. And is a low-cost side everyone loves.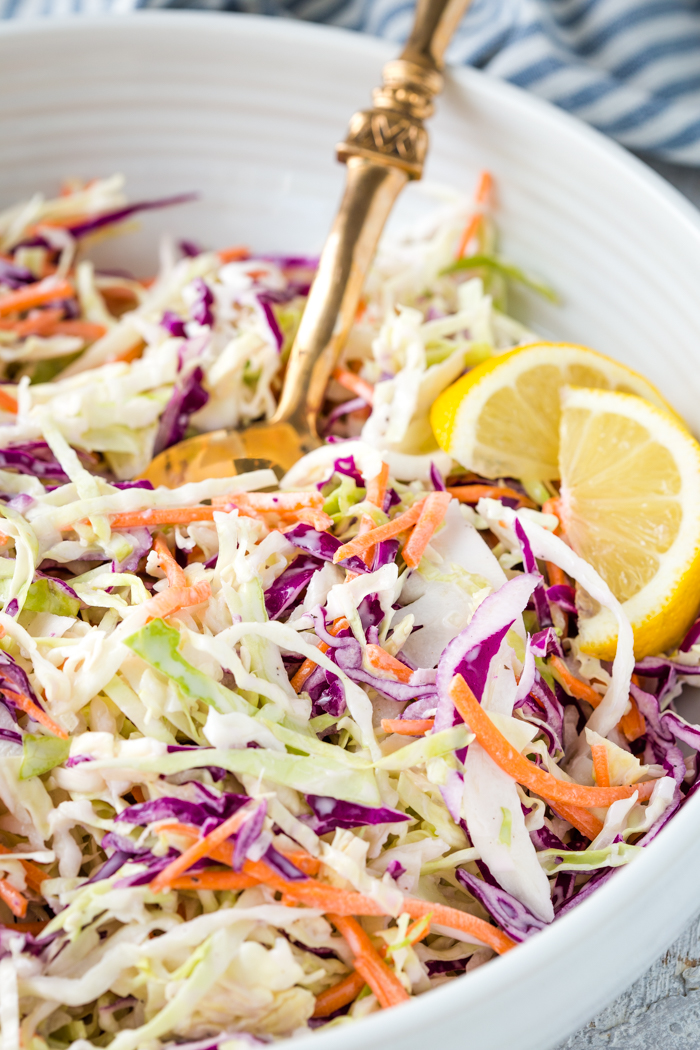 Summer Picnic and BBQ Sides
Summer is here, BBQ season is in full swing, and those tasty side dishes of sweet, vine ripened fresh fruits, savory grilled veggies, and crunchy, refreshing salads like this coleslaw are gracing our tables. 
Don't let pesky heartburn stop you from enjoying your summer favorites.
If you are anything like me, you can't get enough of all the bold, fresh flavors of summer. But sometimes they just don't sit well. And you can end up with that unpleasant burning feeling of acid reflux and heartburn. 
Even when you eat healthy, fresh foods, you can get heartburn. It isn't about how good the foods are for you, it is how they react with your esophagus and stomach.
Heartburn is often caused by the foods we eat, as some foods can relax the lower esophageal sphincter, which allows food to escape into the esophagus and cause heartburn. 
Since food can be one of the causes of heartburn, many would advise you avoid those heartburn triggering foods. 
But that would be such a bummer. 
Especially since so many of them are so good: Pineapple, lemons, mint, citrus juices, onions, chocolate, coffee, soda, and more! Half of my favorite summer foods have heartburn triggering ingredients. 
Instead of skipping delicious, but heartburn inducing foods, I have looked for other solutions. And I am excited to share them with you! 
TUMS® is here to help!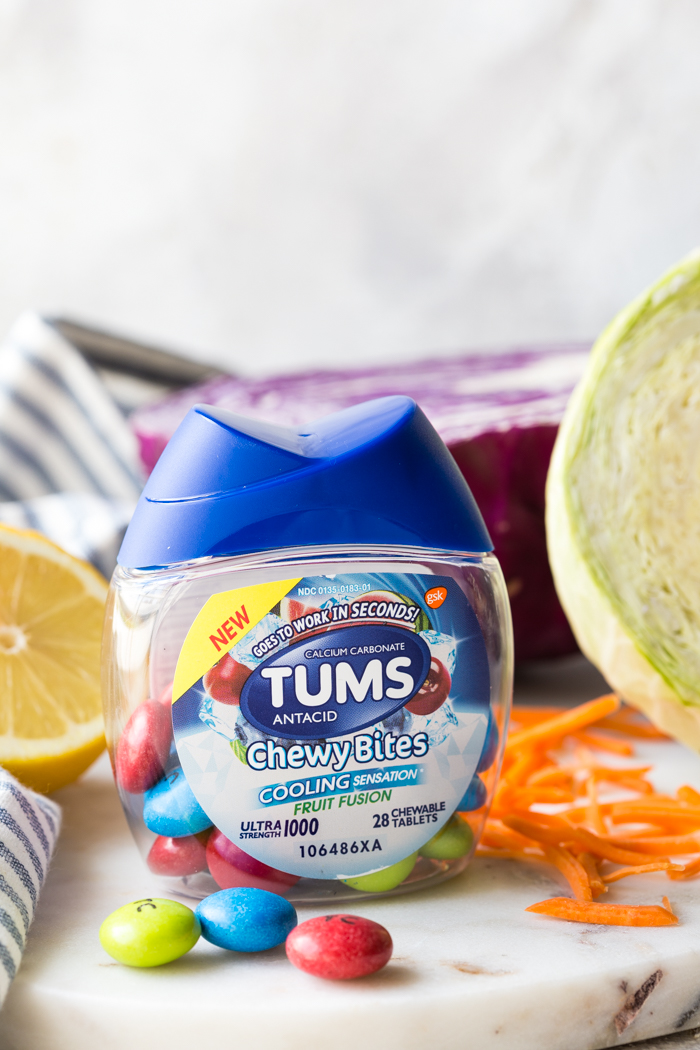 I was at my local Walgreens and saw this package of TUMS® Chewy Bites® Cooling Sensation, and decided to give them a try. 
I loved that they actually taste good. Not chalky, or horribly flavored. 
They work! I was able to enjoy my BBQ, with all of the vinegar bbq sauces, and tasty side dishes.
Basically, with TUMS® Chewy Bites® Cooling Sensation, you can enjoy all your favorites, like this tasty summer coleslaw.
Next time you are at Walgreens, pick yourself up a package of these TUMS® Chewy Bites® Cooling Sensation and see for yourself how great they taste and how well they work!
 
Coleslaw
Let's talk about coleslaw for a minute…
I feel like it is the most under-appreciated side, and one that has so much potential for deliciousness. 
Don't let ideas of purchased, days old, soggy, mayonnaise soaked cabbage from a deli stop you from making this amazing coleslaw recipe. It has been a potluck favorite of mine for years, and it always disappears fast. 
So many people have asked me for this recipe. And I have never had a complaint when I show up at a picnic with this in tow. 
It has all the best parts of coleslaw with thin, crunchy, tasty strands of fresh cabbage, crunchy carrots, and a sweet and tangy creamy sauce that elevates both of these simple vegetables to new heights.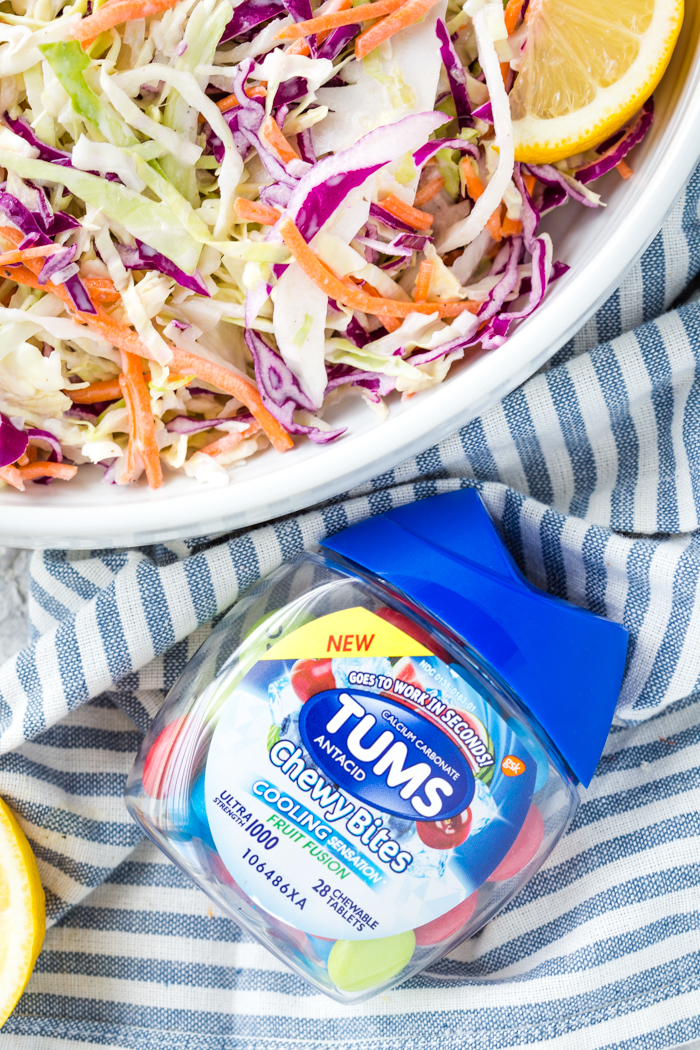 How to Make GREAT Coleslaw: 
Start with the best coleslaw ingredients.
I keep it simple with red and green cabbage and carrots as my base. 
Green cabbage is the traditional or classic slaw base, though I love adding some red cabbage for the peppery flavor and pretty color it adds.  
Both are smooth-leaved, dense, and crunchy, which is key if you are making your coleslaw ahead, and want it to maintain that crunch.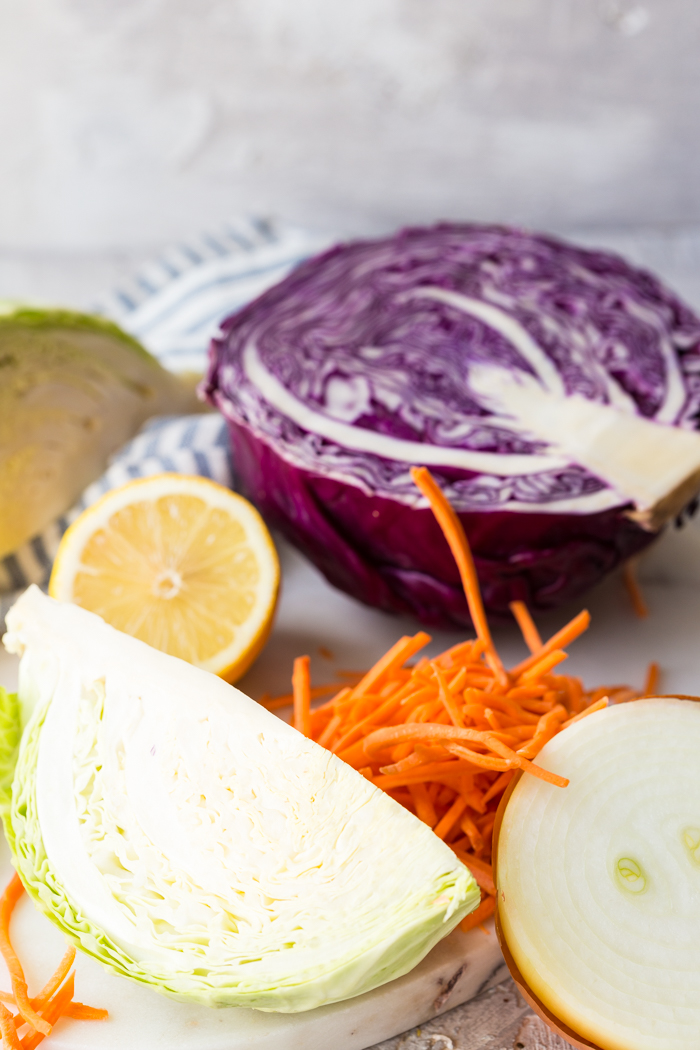 To find the best cabbage, consider these tips:
How to Pick Out a Cabbage
Size:
Firm and heavy. 

Not too large. 
Leaves:
No blemishes

Crisp 

Nice Luster
Look for a cabbage that is heavy and firm, not too large, and that looks fresh and good! Then bring it home and store it whole in your refrigerator until you are ready to use it. 
Did you know you can store a whole head of cabbage in a plastic bag in the crisper of your fridge for a month? Sometimes green and red cabbage will stay good for as long as 6 weeks. 
Leave the heads whole, and don't wash or cut them until you're ready to prep. 
Shred Your Cabbage and Carrots Well
One of the main complaints I have about a store bough coleslaw is you end up with confetti like pieces that are inconsistent in size. This can mean some stay crunchy, some get soggy, etc. 
The best way to shred your cabbage and carrots is to use a mandolin or grater. It will give you consistency and control, and the end results will be thin, crisp, strips that are perfect in a coleslaw. 
To shred by hand:
Peel off a couple of the outer layers of cabbage leaves, and discard them. 

Cut the cabbage in half

Cut each half into two parts and cut out the core. 

Slice as desired: Mandolin slicer, by hand, using a grater. 
If you want to use purchased pre-cut coleslaw mix, that will work, and no one is going to be upset with you about it. 
I love keeping things easy peasy. 
However, if you have the time to spare, cutting the cabbage yourself is worth the effort, as it can result in a fresher  tasting coleslaw, and often have better texture as well.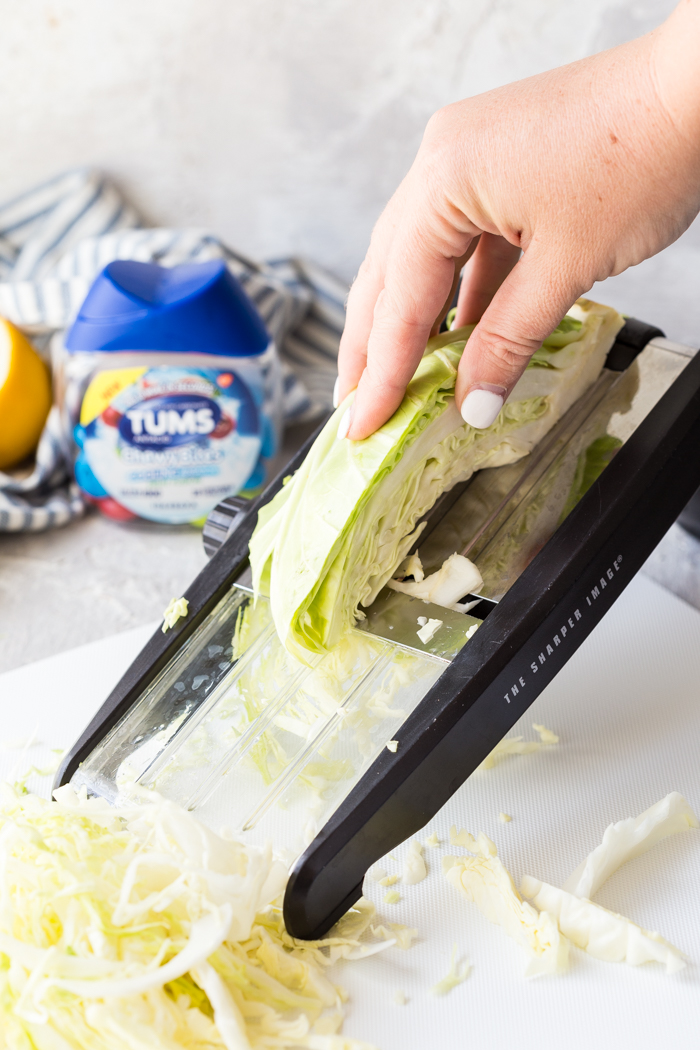 Coleslaw Dressing
What is in coleslaw dressing? 
I love a good dressing made with buttermilk, but I also love a little vinegar and lemon juice. Some might say it is overkill and you don't need all 3. But after testing this and several other recipes, this is my favorite combo for a nice tangy dressing that isn't too puckery or vinegar-y!
1/4 cup white sugar (adjusted to preference)

1/2 teaspoon salt

1/8 teaspoon ground black pepper

Dry mustard

1/4 cup milk

1/2 cup mayonnaise

1/4 cup buttermilk

1 1/2 tablespoons white wine vinegar

2 1/2 tablespoons lemon juice

Remove Excess Liquid:
This is an optional step, and can be skipped if you are planning to eat your coleslaw within about 5 hours. However, if you are making it ahead for a barbecue, picnic, or potluck, consider this step for removing excess moisture so your slaw stays crunchier longer.  
After shredding cabbage, toss in about a tablespoon of salt

Let sit for 5 to 10 minutes 

Draining off the excess moisture. Pat dry. Taste. If too salty, rinse the salt off and pat dry again. 

Now it can be dressed and refrigerated, and the cabbage itself won't give off a ton of extra liquid. 
The longer your coleslaw sits, the runnier it will get because the cabbage leaks out water when it is mixed with the dressing. This can be good for flavor, but not as good for consistency. So don't store it more than about 3 days. And drain off the excess juices before serving if needed.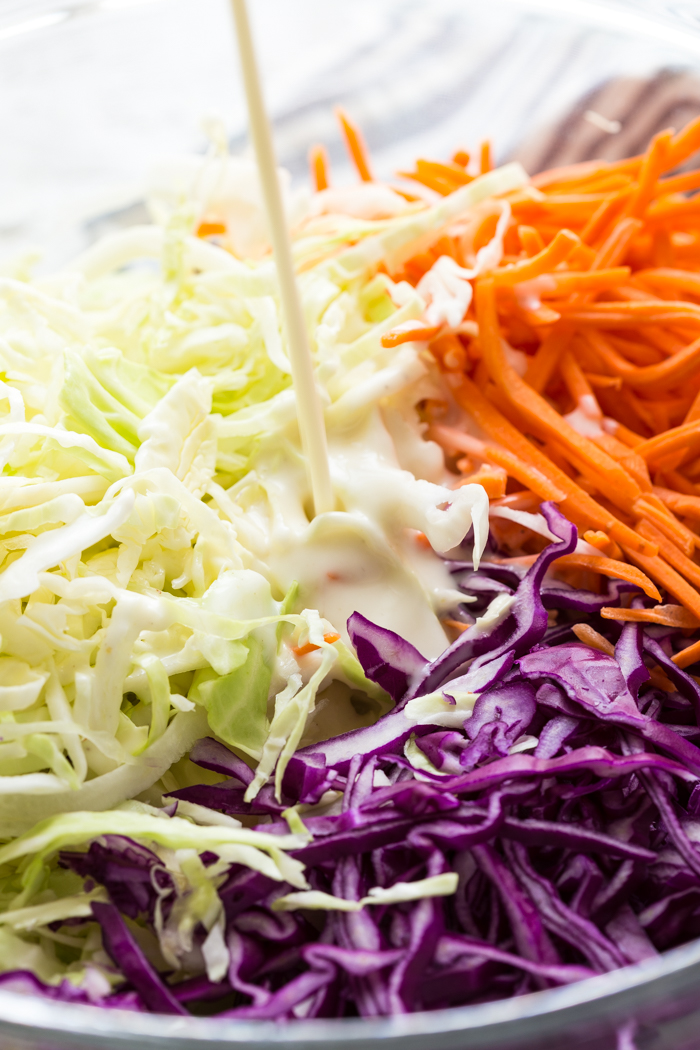 Dressing to Slaw Mix Ratio
One of the problems with many coleslaw recipes is simply too much dressing, which leaves you with a soupy, soggy mess. But you also don't want to error on the side of too little dressing either, as this can leave you with a pile of raw cabbage as your side. 
So how can you get it right? 
I recommend mixing your dressing separate and adding it a few tablespoons at a time to the shredded veggies until you reach the right consistency for your preference. 
You want the coleslaw to be moist and clump together without being drippy. 
Usually for 8 cups of slaw mix this is 1 cup of dressing. But it depends on the cabbage and carrots and how much liquid they have. So gradually mix in your dressing to get the right balance.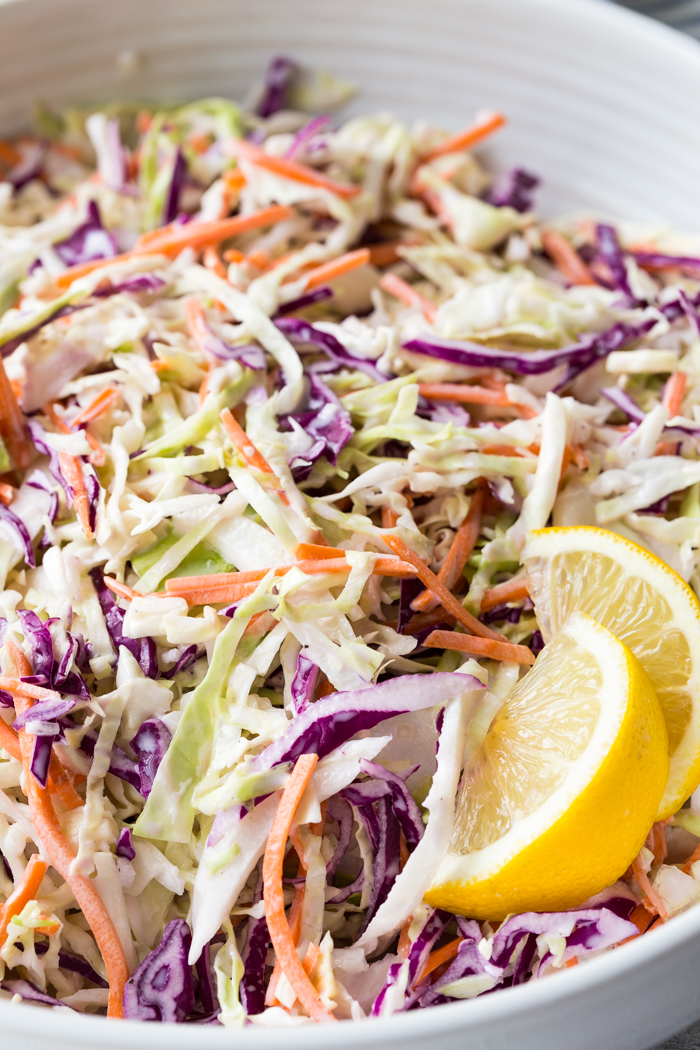 Fun Twists
Start with this great basic  recipe, then have some fun with it adding your favorite mixins. 
Shredded broccoli, or other veggies,

Apples with the skin on, for color and texture

Raisins or other dried fruits

Pineapple

Sliced peppers
Sliced onions
For years I avoided adding pineapple to my coleslaw even though I love the sweetness it adds. But it gave me heartburn. Now, with TUMS® Chewy Bites® Cooling Sensation I can add whatever I want. 
Make-Ahead Instructions
Mix your dressing together and put in an airtight container. Keep the dressing and veggies separate and mix together on the day you're serving the slaw for a crunchy, fresher tasting slaw. Or mix it together and refrigerate for up to 3 days for more flavor, but less crunch. 
Dressing keeps well for about 5-6 days if not mixed with slaw. 
If you want to mix it all up before hand, it only keeps for about 3 days, And you may want to pour off the excess water before stirring and serving.  
Can coleslaw be frozen? 
Nope. Raw cabbage does not freeze well.
However, the dressing can be made ahead and frozen. 
How long does it last? 
About 3 days in the fridge, then it starts to go downhill where the ingredients start to break down, and it will get soggy and watery. 

Other Delicious Sides
Enjoy  all of these sides and more this summer using TUMS® Chewy Bites® Cooling Sensation from Walgreens.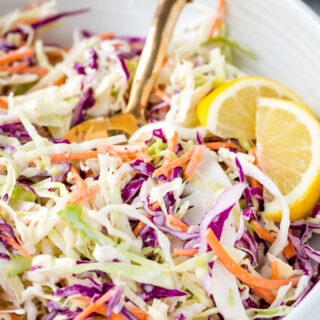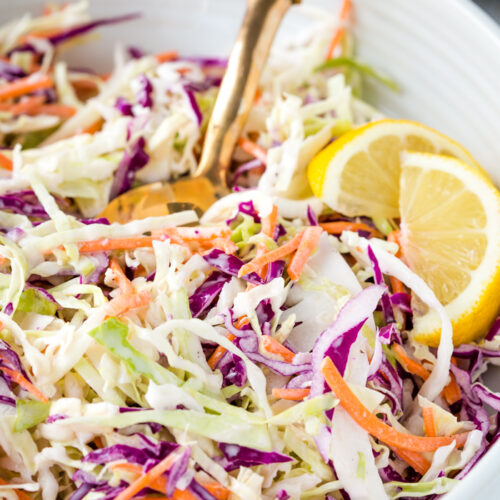 Coleslaw
This crispy, refreshing coleslaw, with sweet and tangy dressing, is the perfect summer side dish, great for BBQs, picnics, and potlucks.
Print
Pin
Rate
Ingredients
8

cups

chopped cabbage

combo of red and green is my favorite 6 cups green, 2 cups red

1/4

cup

shredded carrots

2

Tablespoons

minced onion

1/4

cup

milk

1/2

cup

mayonnaise

1/4

cup

buttermilk

1 1/2

tablespoons

white wine vinegar

2 1/2

tablespoons

lemon juice

1/4

cup

white sugar

1/2

teaspoon

salt

1/8

teaspoon

ground black pepper

1/4

teaspoon

Dry mustard
Instructions
Shred your cabbage using a mandolin slicer, or use a pre-cut cabbage coleslaw mix.

Shredded carrots, or use matchstick carrots.

Mince onion into very fine pieces.

Combine the mandolin sliced cabbages, carrots, and onion in a large bowl.

In a separate bowl, whisk together milk, mayonnaise, buttermilk, vinegar and lemon juice, add in sugar, salt, ground black pepper, and dry mustard. Mix until smooth.

Pour mixture over the coleslaw veggies mix.

Stir well and chill for at least 1 hour before serving.
Notes
Dressing keeps 5-6 days in fridge.
If pre-mixed, coleslaw will keep for 3 days in the fridge before getting soggy.
Our recipe card software calculates these nutrition facts based on averages for the above ingredients, different brands, and quality of produce/meats may have different nutritional information, always calculate your own based on the specific products you use in order to achieve accurate macros for this recipe.
Want to use this recipe in a meal plan?
Try PrePear, my FREE Meal Planning App that allows you to save your recipes, plan meals, shop for groceries, and cook simply in one place. Join Here!
Pin to your BBQ sides board on Pinterest: