Easy Broccoli Cheese Soup
Make the easiest, and best broccoli cheddar soup in just 20 minutes! This is creamy comfort food that is not only easy, but oh so flavorful with tender broccoli, and a rich cheesy flavor. With only a few ingredients, a dutch oven, and 20 minutes, you can get a comforting, fantastic soup on the table in no time.
Post includes instructions for making this easy soup with Velveeta or real cheddar. 
When it comes to cozy comfort food, this is the pinnacle. Perfect for a quick lunch, or a nice dinner served with dinner rolls and a nice simple salad.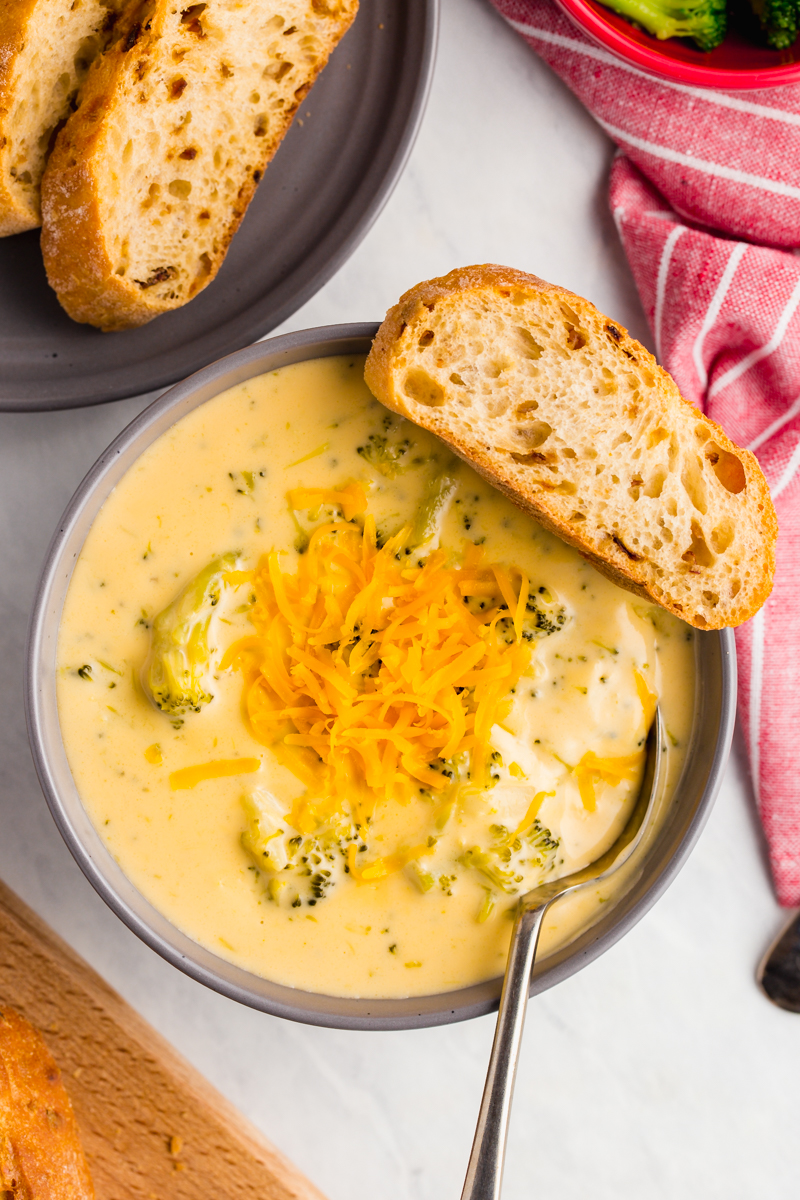 Super creamy and cheesy this version of Broccoli Cheese Soup is ready in just 20 minutes start to finish.
This recipe uses a processed cheese like Velveeta, which means you get all the cheesy flavor, but you do not have to worry about the cheese curdling or getting lumpy. But in case you want a version using cheddar, don't  you worry–I am sharing instructions for how to replace the Velveeta with cheddar if you want!
Have you ever eaten at Panera? Their broccoli cheese soup is touted as the best, and it is certainly hard to resist with the creamy consistency, and richly cheesy flavor. Sadly, there isn't a Panera very close to me, so I knew I needed to come up with  yummy homemade version of Panera's Broccoli Cheese Soup.
And this is it.
I know there are a million broccoli and cheese soup recipes out there, so let me tell you why you should make this one:
Easy to make
Won't clump or curdle
Easy to store
Easy to reheat
Creamy and loaded with flavor
What You Need for Easy Broccoli Cheese Soup
Broccoli Cheese Soup doesn't take a ton of ingredients, you basically need
Flavor Adders: These are things like onions and seasonings. For this soup I kept it super simple with garlic powder and a dry mustard which really helps the cheese flavors stand out. Of course you may also want to add salt and pepper.
Broccoli and Cheese: It wouldn't be a very good broccoli and cheese soup without the broccoli and cheese. However, I skipped the cheddar cheese and instead opted to use a processed cheese (Velveeta). Now why would I do this? Not only does it keep things easy, but it greatly reduces the likelihood of screwing up the recipe. Real cheese will clump, or get greasy and gritty if the temperature is wrong, or if added too quickly. By using Velveeta, you get all the cheese flavor you crave, with the perfect melt and no stress over whether or not you are doing it right.  I do add real cheddar at the end as a garnish!
Liquid: This soup uses chicken broth, half and half, and water. So you will get a creamy, delicious soup that is just the right consistency. And you can add corn starch to thicken it if needed, or add more liquid to get it to the consistency you want.

Broccoli Cheese Soup From Scratch
This Broccoli Cheese soup is one of our favorite quick weeknight meals from scratch!  I have started replacing the chicken stock with vegetable stock so it is vegetarian for my daughter who is a vegetarian. And it is a meal the whole family can enjoy together.
So even though it is a from scratch recipe, it comes together so quickly it might as well be a pre-packaged meal.
But here is why it is so good to make it from scratch:
I have been working on  this recipe, trying to make it perfect for literally years.
I knew I wanted a broccoli cheese soup anyone could make. I have my kids make dinner several times a week, and like to arm them with recipes that are simple enough to make, and super difficult to mess up.
This soup checks all the boxes. It has a great cheesy and broccoli flavor, a the perfect consistency for a creamy soup. Not too thick, and not too thin. Kind of like me. 😂

How To Make Broccoli Cheese Soup
Making this broccoli cheese soup is simple, and doesn't take too much effort. You can reference the video that is right above the recipe further down in this post, but here are the basic steps:
Get a nice thick dutch oven to cook everything in, and saute the onions until they are nice and fragrant.
Then add in your broccoli and chicken stock. I use a frozen broccoli because it keeps things quick and easy. This is a go to quick meal. But if you want to use fresh, feel free, just adjust the simmer time to the thickness of the broccoli. You don't want to overcook it.
Then you add the cheese! And melt!
Once the cheese is nice and melty, you are going to add in your liquids and your seasonings. Tip: I advise tasting it at this stage, and adding salt and pepper if needed.
Adjust thickness with cornstarch  and liquid to get desired consistency.
Customize Your Easy Broccoli Cheese Soup
I love this easy  and cheesy broccoli soup just as it is, but one of my favorite things about it is you can customize it to your preference.
Love bacon? Add some!
Want some potato chunks? Add them!
Here are a few of our favorite customizations to this soup:
Adding some extra spices like paprika and parsley. This soup is a great base, so amp up flavor with your favorite spice combination.
Load it up with extra vegetables. It is especially good with: cauliflower, potatoes, a few fresh tomato chunks on top, bell peppers, additional onion.
Add protein. We love keeping it vegetarian. But you can add chunks of succulent chicken, bacon bits, etc.
Use "real" cheese instead of Velveeta! How to do this will be explained below.
Tip: be careful when adding salty food like bacon. I do not add salt to this recipe because the stock and the cheese already add a nice salty flavor. You don't want it to get too salty.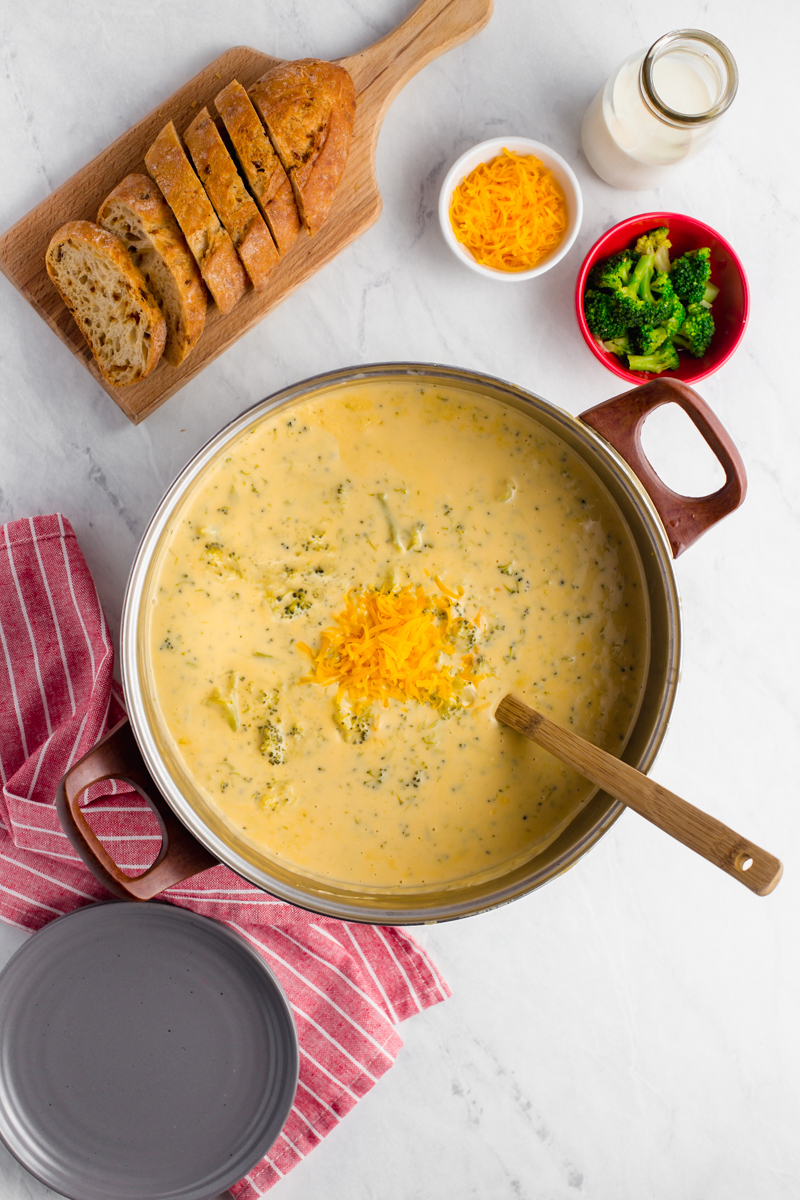 How Do You Make Broccoli Cheese Soup with Real Cheddar Cheese?
If  you want to make this broccoli cheese soup without Velveeta and instead use lots of real cheddar here is what you need to know.
Use a sharp cheddar. This is really important as it adds extra cheese flavor to this recipe that you won't get without the Velveeta. The Velveeta is really concentrated cheese flavor, so you will need to replace it with something sharp. A nice blend of good melting cheese would work too, but at least have some sharp cheddar.
Remove the soup from the heat before you add the cheese. One of the biggest risks with adding real cheese is that if it is added when the heat is too high, it will separate, and the results will be a greasy, gritty, clumpy mess. You do not want that.   Avoid this by removing the pot from the heat, then adding the cheese, a little at a time. The soup itself will be hot enough to melt the cheese to a nice consistency without separation.
Add cheese a little at a time and grate the cheese. The cheese needs a large surface area so it can melt without too much effort. And you should add it just a little at a time so that there aren't any clumps. Take your time for the best results.
Add cheese before extras. It will be easier to get the cheese to melt and not clump  if there aren't other chunks of stuff floating around in the soup. Use a slotted spoon to remove the broccoli, stir in the cheese, then return the broccoli to the pot.
Tips for adding cheese and milk to soup without curdling?
If you do not want your milk/ half and half and cheese to melt without curdling, follow these simple steps:
Turn down heat, or take soup off heat. Excessive heat is the usual culprit for curdling. The technical explanation is the heat cooks the protein strands, which causes them to separate from the fat. The result, curly protein (curdle), and greasy soup.
Avoid sudden temperature change. Set your cheese and dairy products out on the counter and allow them to come up to room temp before adding them to the soup. Or, if you are short on tie, just make sure you grate the cheese. This will sllow more surface area, which means it will heat quicker, and result in a more even melting.
If it curdles, here is how you can try and fix it: 
Strain the mixture through a fine mesh sieve and throw out the curdled parts.
Process or blend until it is smooth again. A food processor or immersion blender is good for this.
Why is my broccoli cheese soup grainy?
How To Thicken Broccoli Cheddar Soup
Ok, so you usually don't need to do too much to thicken the broccoli cheddar soup because the cheese is a natural thickener. And the liquid will reduce as you cook.
However, fi the consistency is not as thick as you want, then you can certainly thicken it with a quick cornstarch slurry.
What is a cornstarch slurry? 
Cornstarch slurry is a cornstarch mixture that mixes a little cornstarch with the cold liquid then is added to the soup as a thickening agent.
When you want to thicken hot liquids, first mix corn  starch with a little cold water until it's very smooth. I  usually just put it in a bowl with cold water and use a fork to whisk it smooth. Then, gradually stir the corn starch/water mixture into the hot liquid until it's blended.
Be sure to stir constantly so you do not end up with any clumps.
Corn starch is gluten free, which means this soup can easily be gluten free for those that need that!
If you want REALLY thick broccoli cheddar soup, try these methods:
Here are a few options for thickening your broccoli cheese soup:
Add more cheese. The easiest option is  to add more cheese. Just remember how to do that in a way that it will thicken and not get greasy or clumpy.
Puree it. The broccoli is in chunks, but if you want, you can puree it to form a thicker soup. Just use an immersion blender or food processor.
Use more corn starch thickener. The cornstarch thickener already included in the recipe should suffice, but if you want it even thicker, you can add more. Just be careful as too much can change the flavor and texture.
Simmer it. The liquids will cook down. You can also let it cool some.
Mashed Potatoes. Another option is to add in some mashed potatoes. This won't change the flavor much, but will add a nice thickness to your soup.
Can you Use Frozen Broccoli for Broccoli Cheese Soup?
Yes! In fact, this is my go to soup for when I do not know what to make. I simply keep broccoli in the freezer, and Velveeta in the pantry, and I can make this anytime. But it is just as good, and sometimes even better with fresh broccoli, as the texture can be better.
So go ahead and sub them out as you see fit. Just remember to adjust your simmer time so you do not overcook your broccoli if you use fresh.
How Long Can Homemade Broccoli Soup Last in Fridge?
This soup can be made ahead and is great as leftovers as the flavors have even more chance to meld together.
Once cooked, and cooled, cover and refrigerate for up to 3-4 days.
If you want to make ahead and freeze, store in an airtight container in the freezer for up to 3 months. Just keep in mind, dairy does not always freeze very well, and can become grainy or have a not so pleasant texture after. So I would not try and make ahead and freeze this one unless it is leftovers, and unless you are using the Velveeta.  And even then, it only takes 20 minutes to make, so maybe don't make ahead. Or let it thaw completely before reheating.
To Reheat In the Microwave: Microwave loosely covered on high for 2-3 minutes, stirring part way through.
To Reheat on the Stove Top: Put soup in a large sauce pan, and heat over medium heat, stirring continuously until reheated thoroughly.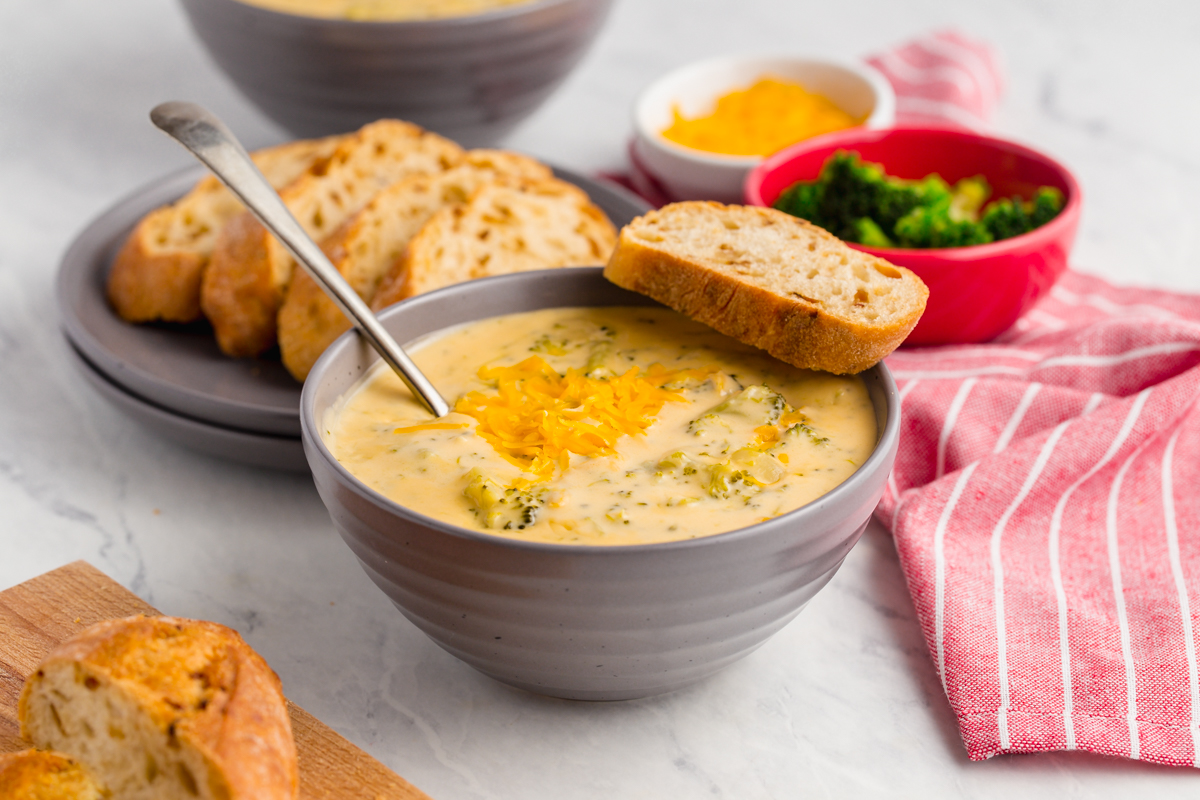 What Goes Well with Broccoli Cheese Soup?
Broccoli cheese soup is best served with a nice bread or a tasty salad.
Other Great Soups
Video for How to Make Broccoli Cheddar Soup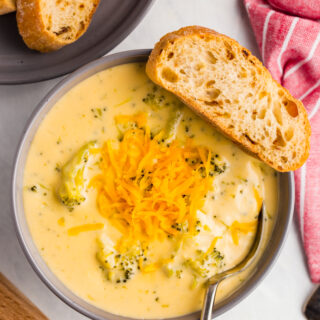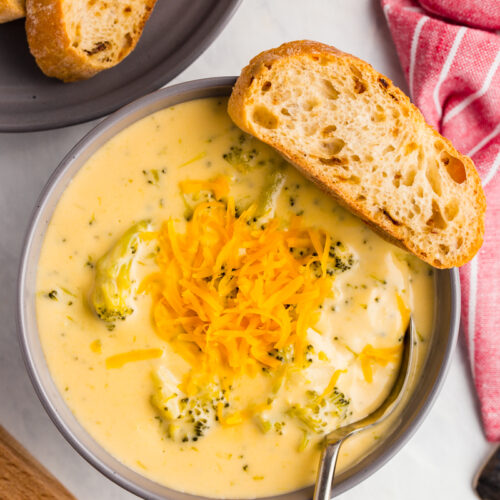 Easy Broccoli Cheese Soup
A creamy and delicious broccoli cheese soup that won't get lumpy or clumpy. It is flavorful, easy to make, and comes together in under 20 minutes.
Print
Pin
Rate
Ingredients
½

cup

butter

1

onion

chopped

32

ounces

frozen chopped broccoli

4

cans

chicken broth

14.5 ounces each

32

ounces

processed cheese

cubed (Velveeta)

2

cups

milk or half and half

1

teaspoon

garlic powder

½

tsp

dry mustard

⅔

cup

cornstarch

1

cup

water
Instructions
In a dutch oven, melt butter over medium heat.

Add onions and cook until softened about 3-5 minutes.

Stir in broccoli, and pour chicken broth over broccoli.

Simmer until broccoli is tender, about 10 minutes.

Reduce heat, and stir in processed cheese cubes, and continue to stir until melted.

Turn heat to low, and stir in milk or half and half, garlic powder, and dry mustard.

Taste and adjust with seasonings to taste preference.

Thicken soup by combining water and corn starch in a small bowl, and stirring until cornstarch is dissolved. Slowly, stir mixture into soup; cook, stirring over low heat until thick.
Notes
To make with real cheddar cheese see instructions in post copy. 
Nutrition
Calories:
695
kcal
|
Carbohydrates:
26
g
|
Protein:
27
g
|
Fat:
55
g
|
Saturated Fat:
32
g
|
Cholesterol:
166
mg
|
Sodium:
2611
mg
|
Potassium:
731
mg
|
Fiber:
3
g
|
Sugar:
5
g
|
Vitamin A:
2347
IU
|
Vitamin C:
113
mg
|
Calcium:
1317
mg
|
Iron:
2
mg
Our recipe card software calculates these nutrition facts based on averages for the above ingredients, different brands, and quality of produce/meats may have different nutritional information, always calculate your own based on the specific products you use in order to achieve accurate macros for this recipe.
Want to use this recipe in a meal plan?
Try PrePear, my FREE Meal Planning App that allows you to save your recipes, plan meals, shop for groceries, and cook simply in one place. Join Here!
Pin to your soup board on Pinterest: