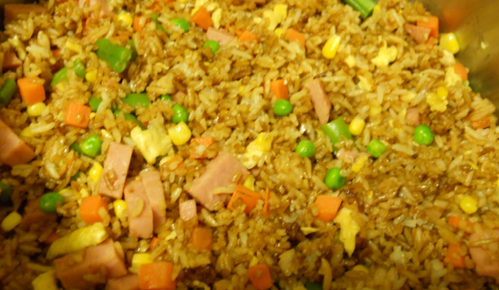 Fried Rice is an easy meal to go to when I have extra rice and no time. It takes minutes to whip up, tastes yummy, and can use fresh or frozen veggies, so really, you can have it almost anytime. I like to put kits together to have this as a freezer meal. Anytime I make rice to accompany dinner, and we have leftovers, I make a freezer meal kit for fried rice. I serve it with egg rolls, or crab and cream cheese wantons, or just plain. Also, seriously, you can add ANY veggies you want, so if you have a few baby carrots, or just a part of a head of broccoli, use it!
Ingredients
1cup diced ham
1 cup frozen peas and carrots (thawed)
1 small onion, chopped
2 tsp minced garlic
2 eggs, slightly beaten
3 cups cooked white rice (day old or leftover rice works best!)
3 tbs sesame oil
1/4 c Braggs Liquid Aminos, or Soy Sauce
Instructions
Put 1 tbs of sesame oil in a wok and heat on medium heat
Add in veggies, ham, onion, and garlic
Wok until tender, move to side of pan
scramble 2 eggs in same pans
Add in rice
Add in rest of sesame oil and soy sauce
Stir fry until well heated
Notes
You can use a mixed veggie selection from the frozen foods section at your grocer, or use fresh vegetables. We like to use the selection with corn and lima beans as well for extra veggies!
7.6.9.1
22
https://www.eazypeazymealz.com/fried-rice/
Get EZPZ Updates In Your Inbox!