Orange Chicken
This Orange Chicken is easy to make, has a freezer friendly version making it a quick option for busy nights, and is a family favorite for good reason!  Better than take out any day!
If you like orange chicken, check out my Orange Chicken recipe. My whole family loves it!
I find that it is a fast dinner, and even my children enjoy it.
I used to buy the orange chicken sauce that was the Panda Express brand because we liked orange chicken so much.
But it was full of things like preservatives, and was a bit costly, so I figured it was time to make my own. I did my research, and tried tons of different recipes.
Orange chicken is becoming a weekly favorite for us because of how Eazy Peazy it is to make and everyone loves it! Win-Win for me!
Another orange chicken that we like is a little lighter version is this Kickin' Orange Chicken that uses Sunkist TEN, also love this Lemon Chicken that is really simple or one of my most popular recipes on my site, Asian Lemon Chicken.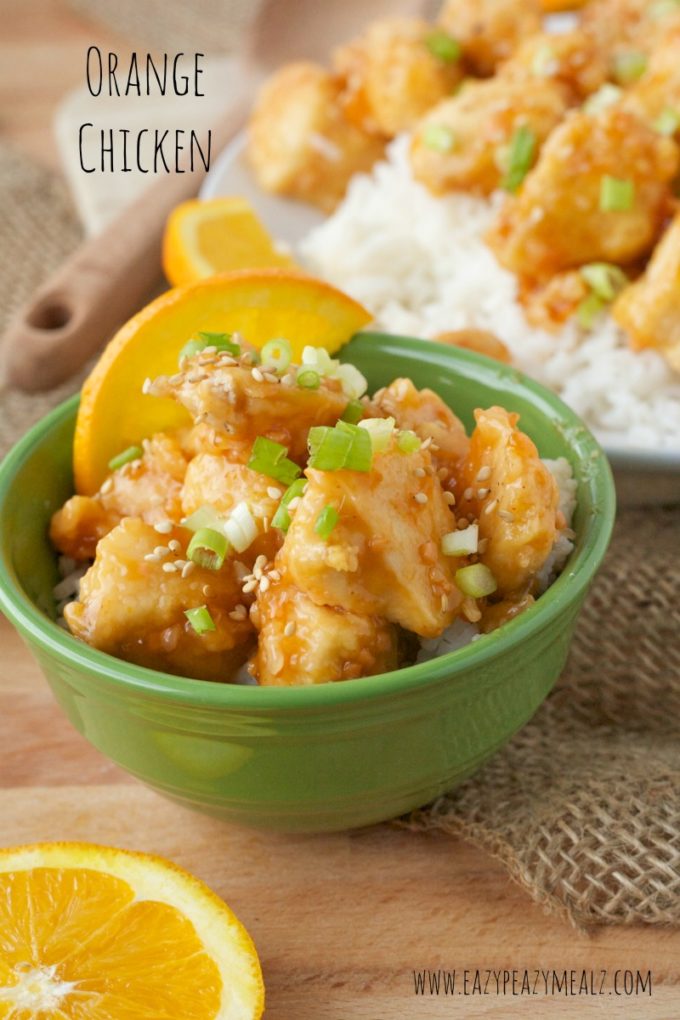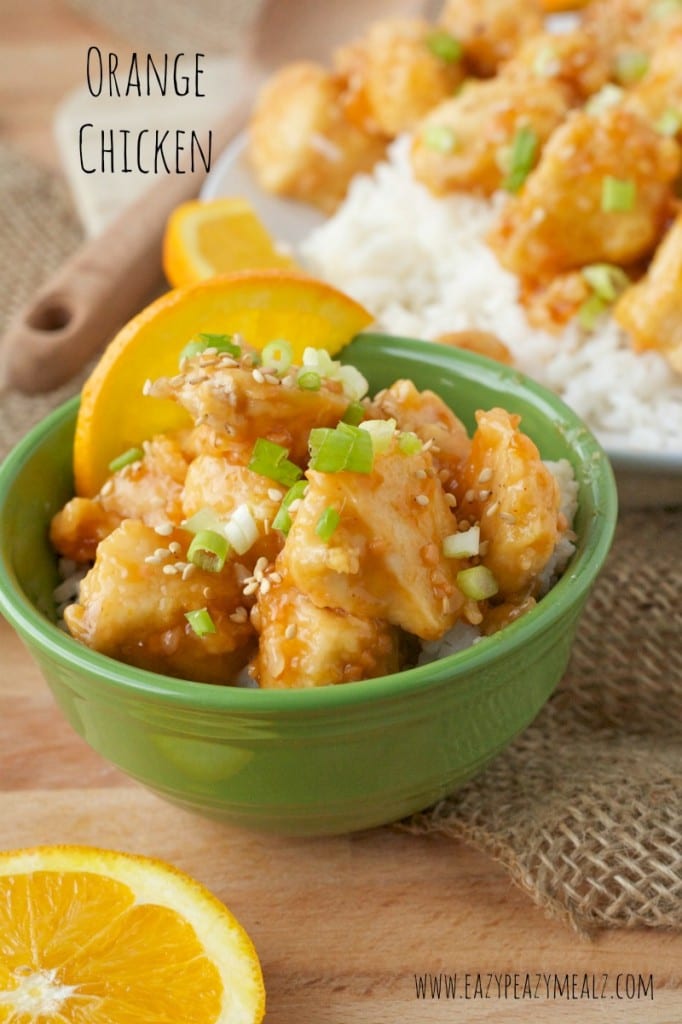 Orange chicken is a love in our home and I am totally okay with that!
The flavors, crispy-breaded chicken all fried together reminds me of being in a Chinese restaurant.
It is an easy meal that comes together quickly and tastes like a million bucks!
I love making my own rendition on meals that we love to go eat out on. It saves money as well as time to get there and get home.
We can enjoy the comfort of our home with a meal that we all love!
What you need to make orange chicken
We tried a crock pot version, a semi-homemade, and more. However, they never seemed to work for everyone in the whole family.
So I took what we liked from each recipe and kind of mish-mashed it all together to make my own Orange Chicken. And this one is a winner.
Chicken- chicken breast is best and cut into 1 inch thick chunks.
Flour- to coat the chicken
Oil- for cooking chicken
Garlic- minced
Red hot chili peppers- crushed
Green onion- sliced
Rice wine- I like a sweeter red wine but you are welcome to choose what wine you prefer.
Soy sauce-

 

this is an ideal all-purpose added flavor that is a little salty and some sweet.

Water- this helps cooking and
Orange juice-
Sugar- sweeten up the chicken.
Orange-

 

add to the orange juice and flavor.
How to make orange chicken
Chicken: start by cutting the chicken into bite sized pieces. Pat them dry. Coat in flour and place in a skillet on medium high heat with 1 tablespoon of oil. When cooked through, set aside.
Stir Fry: Add garlic, crushed red chili peppers, green onions, and rice wine (Rice wine, not rice vinegar) to the pan that you cooked the chicken in, stir fry for 30 seconds to a minute
Sauce Ingredients: Add in sauce ingredients: soy sauce, water, OJ, sugar, orange zest. Bring to boil. Add chicken to the pan.
Simmer: Heat on low, and simmer until sauce thickens.
Serve: over rice with steamed broccoli or other vegetables of choice. We love Garlic Roasted Broccoli too.
Make this a complete meal
If you are going to make Orange Chicken as a
meal, then create three basic bags, one with the stir fry stuff (green onion, rice wine, garlic, and red chilli pepper flakes); the second with the sauce ingredients; the last with the chicken all cut up. This makes it really fast and easy to make a yummy dinner, and it is already prepped, so it takes about 10 minutes to make, and no mess.
Tips for making orange chicken
For this Orange Chicken, make sure you use rice wine, not rice vinegar. You can find it at any oriental type market. If you can't find it, leave it out, the recipe works without it.
Can you freeze orange chicken? Yes!
I make it as a freezer meal, and keep it stocked. It is my go-to meal when I am not sure what to make.
Freezing Orange Chicken:
Cook your chicken and let cool completely. When cooled place in a gallon sized freezer bag.
Place uncooked sauce into labeled gallon sized bag. Remove all the air.
Add the sauce bag into the chicken bag to help prevent them from getting separated. Place in your freezer for 3 to 4 months.
Reheating: 
Place frozen orange sauce mix into a pot of boiling water. Stir continuously, then reduce heat to low and simmer 1 to 2 minutes or until sauce thickens up.
Preheat oven to 350°F. Place frozen chicken on a greased or parchment lined baking sheet.
Bake for 12-15 minutes until chicken is fully heated through.
Pour sauce over chicken and serve with chopped green onions if using.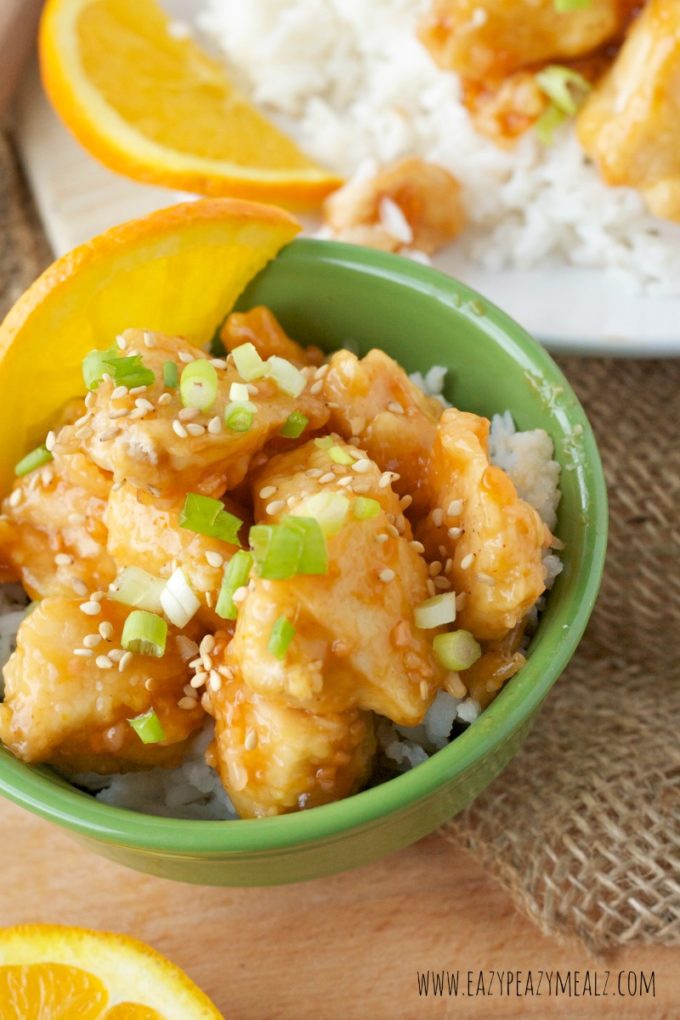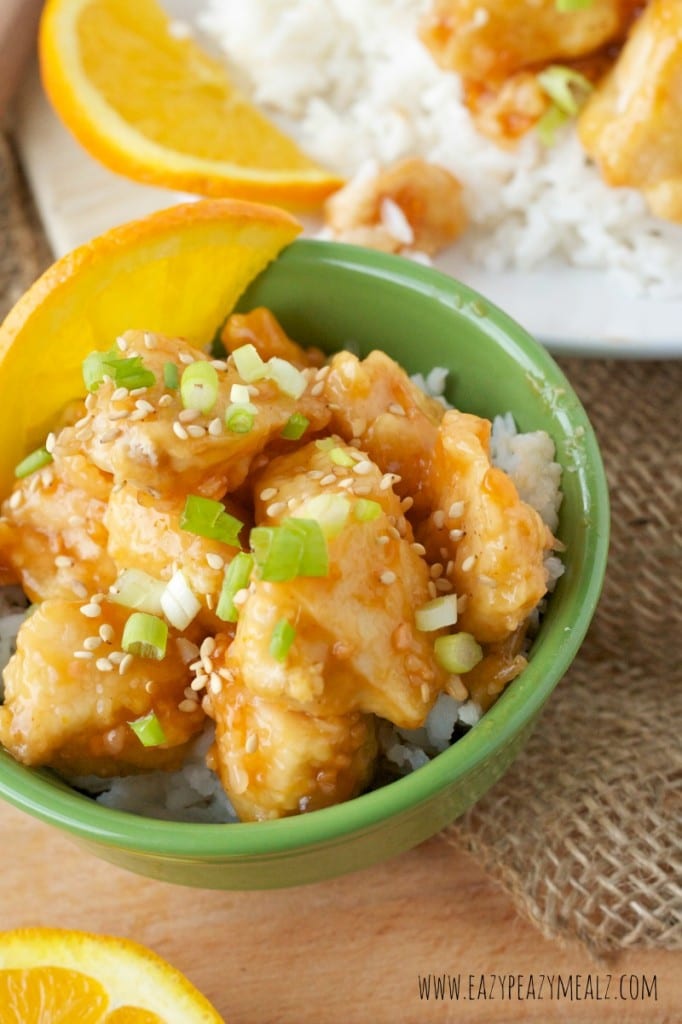 Looking for more asian inspired recipes?! Try these ones from my site!