This post may contain affiliate links, see disclosure for details.
Lemon Chicken that is delicious and easy to make! Note: This recipe has been remade several times and adjusted after reader comments about it being too much vinegar, and too thin of a sauce. Apparently I like a stronger vinegar flavor than most. Hope you love it as much as we do!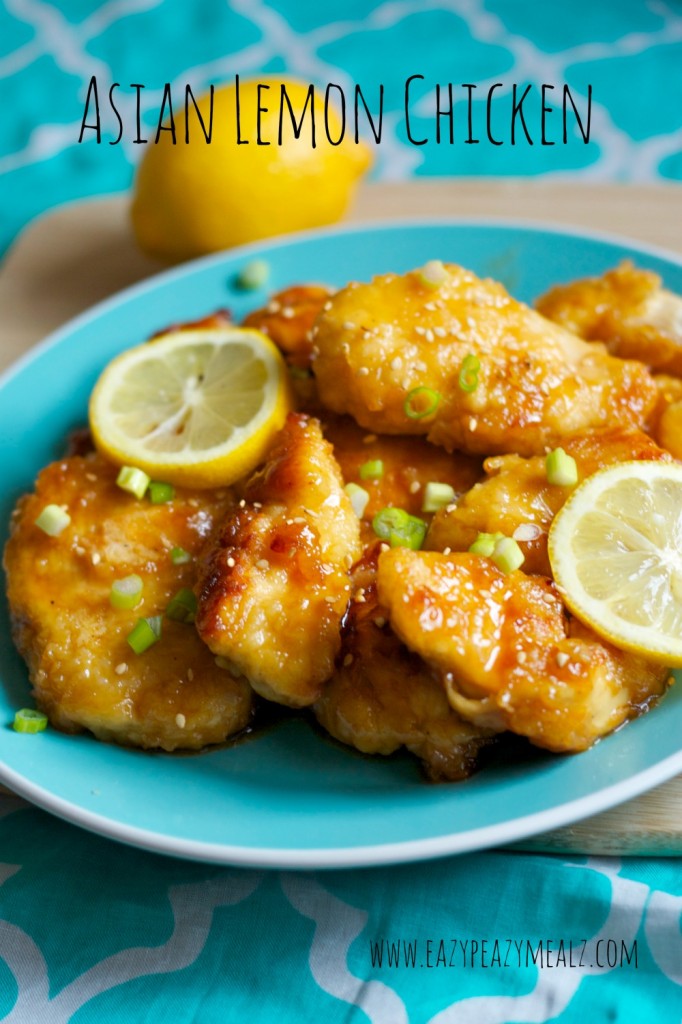 I am a huge fan of the fast, tasty, and take-out inspired Asian dish.
One of our favorite menu items at the local chinese place we visit is their lemon chicken. They make this amazingly tangy, but still sweet enough to want to drink lemon sauce that they use on both their lemon chicken and their fried wontons. I love it. Love it.
But at about $16 a plate, it is not very economical to take the family out for lemon chicken as often as we want it. Thus I searched out recipes and tried a million, my favorite one, and the inspiration for the creation of this version was from Damn Delicious.  I make some alterations, and make it fit what our family likes, and what I typically have in my cupboard. It is super good, comes together in under 30 minutes, and costs way less than $16 a plate.
If you want to speed things up with this dish, feel free to just dredge your chicken in flour, and skip the second dredging. That just makes it nice and crispy, and gives it a good crust to catch the yummy, tangy, tasty lemon sauce.
Also, I purchased a small kitchen fryer a few years ago, and get a ton of use out of it, and I like that it feels less scary than heating oil in a pan. Is it just me, or is popping grease scary? You can find some great options for fryers here.
Don't use bottled lemon juice, fresh is best!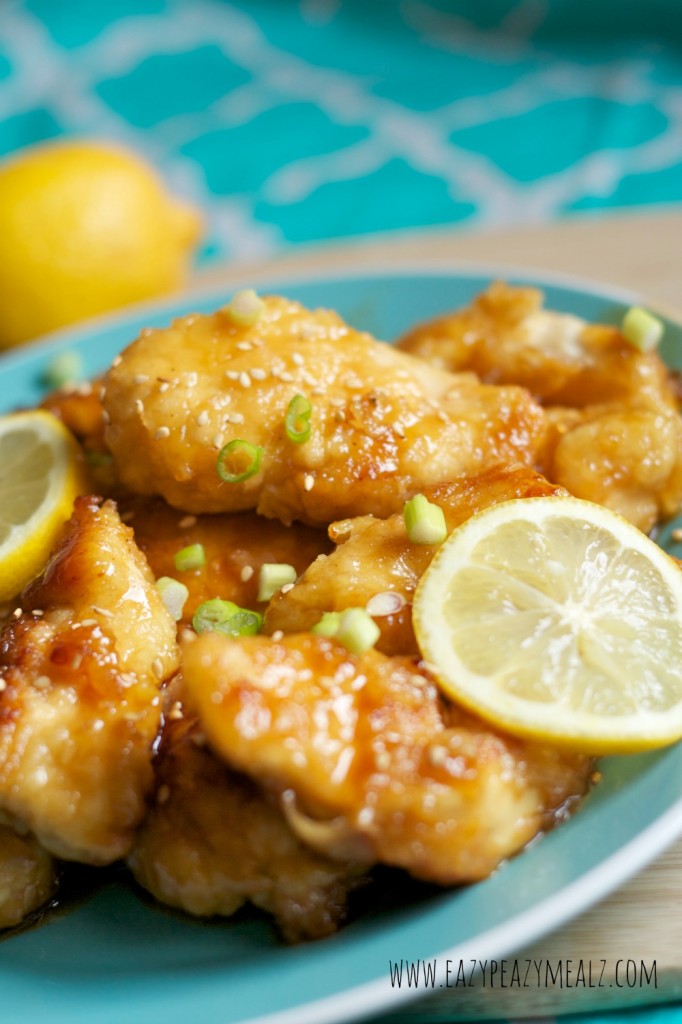 If you have smaller kids, feel free to cut your chicken into bite sized pieces and prepare it the same way. This is how we prepare our Orange Chicken, which is a similar dish and another family favorite. I like doing this because it means more surface to catch the sauce. I also sometimes double the sauce so I can use it for fried wontons, crab and cream cheese wontons, or just to serve over brown rice. Yum!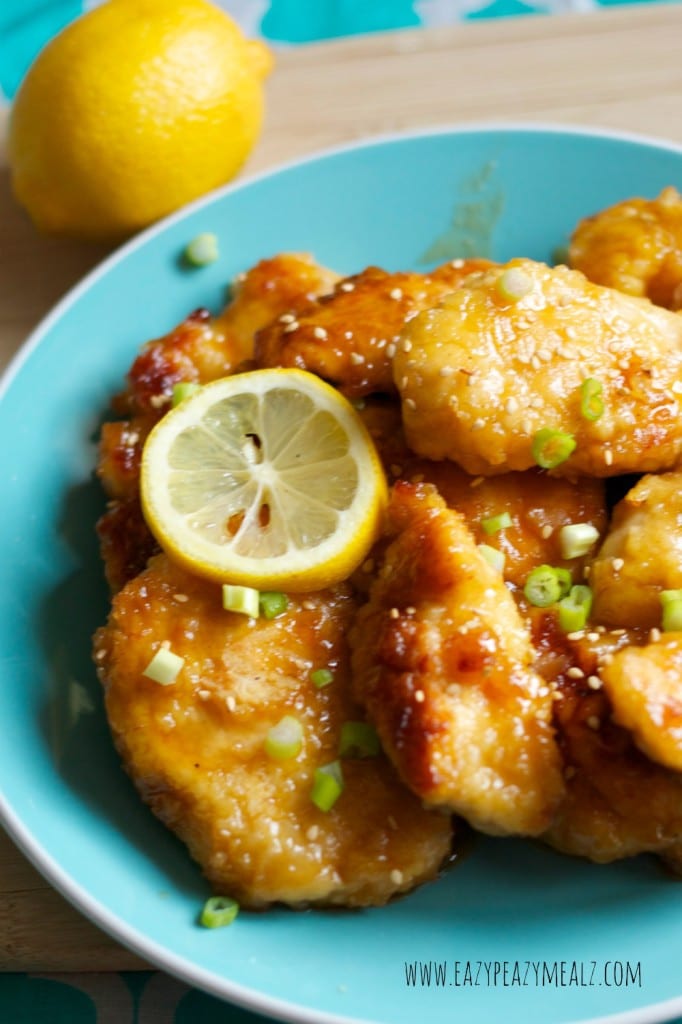 Yields 4
Asian Lemon Chicken
10 minPrep Time
10 minCook Time
20 minTotal Time
Ingredients
1.5 lbs boneless chicken breast, cut into tenders
1 cup all purpose flour (or if you are going gluten free, any gluten free flour works, I love potato flour when cooking asian themed)
1/2 cup vegetable oil
Salt and pepper
1 egg
1 cup milk

Lemon sauce

1/4 cup honey
1/2 cup brown sugar
1/3 cup soy sauce
1 pinch of chili pepper flakes (optional, adds a slight kick)
1/3 cup pineapple juice
1 cup fresh squeezed lemon juice
1 tsp garlic powder
2 tsps apple cider vinegar
1 Tbs corn starch
zest of one lemon

Garnish

1 tbs toasted sesame seeds
1/4 cup sliced green onions
Instructions
In a small sauce pan over medium heat mix together all sauce ingredients, except corn starch, and stir until sugar melt.
Bring to a boil, and let cook for 1-2 minutes, stirring frequently.
Remove from heat, whisk in corn starch.
Then set aside.
Next, prepare chicken by cutting chicken into tender, then pat them dry.
Then mix together salt and pepper (a few shakes of each) with the flour, and dredge your tenders
Mix together milk, egg, and take dredged chicken, and dip into the egg, milk mixture
Then dredge in flour again
In a medium size skillet, heat oil until it sizzles when you flick water into it, but not so hot that steam is coming off. Fry your chicken tenders on each side until nice and brown. Or use a fryer heated to 375 degrees. Cook 3-4 minutes.
Set on paper towels to catch excess oil
Then toss with lemon sauce, which will be thin, but should have thickened up some while sitting.
Garnish with toasted sesame seeds and fresh green onion
Serve hot
Notes
***After comments from readers, I have remade this recipe several times, and adjusted it, reducing the vinegar, making it a little easier to make, and thickening the sauce.
7.6.4
280
https://www.eazypeazymealz.com/asian-lemon-chicken/
I hope you enjoy this dish as much as we do! I sometimes try to make things fun for my kids and we eat with
chopsticks
and on bamboo mats. We are just so festive like that.
And be sure to check out some of the other Asian Inspired Dishes: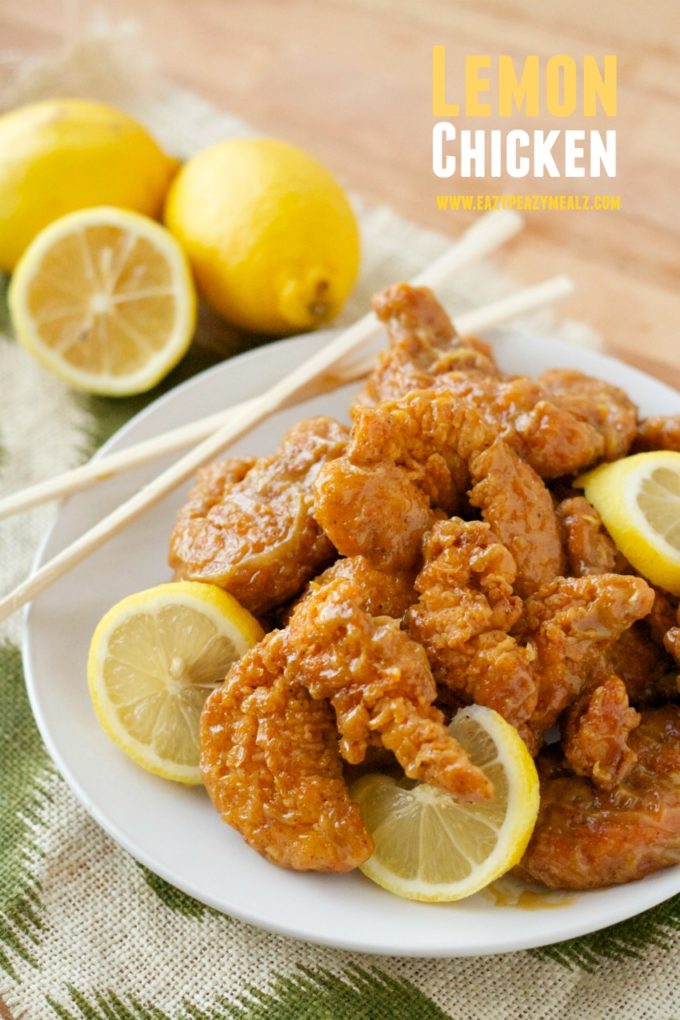 Orange Chicken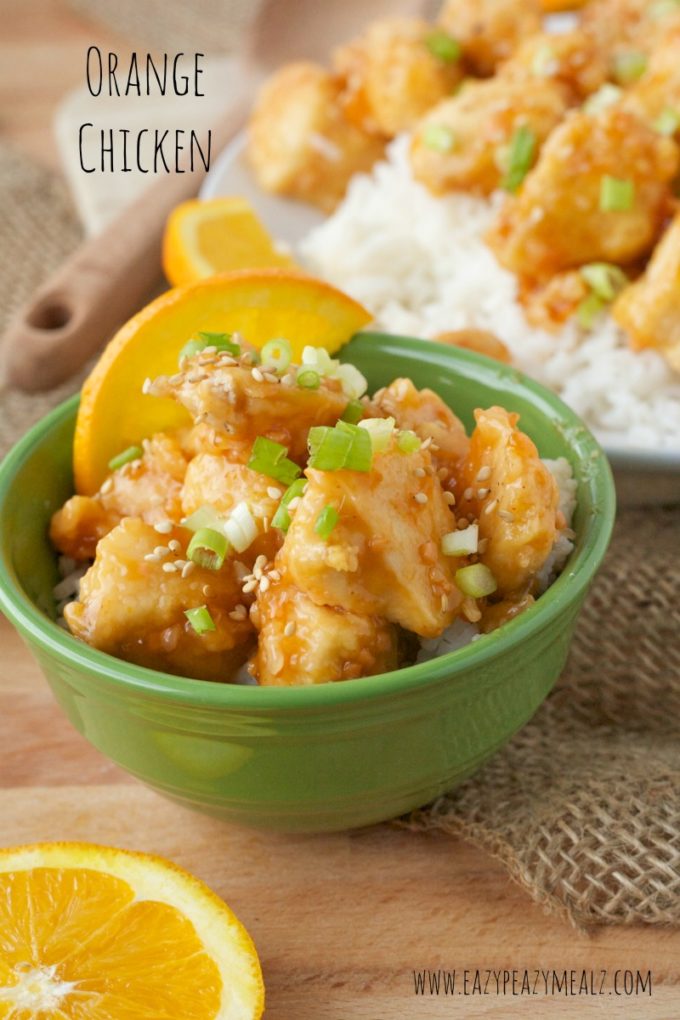 Beef and Broccoli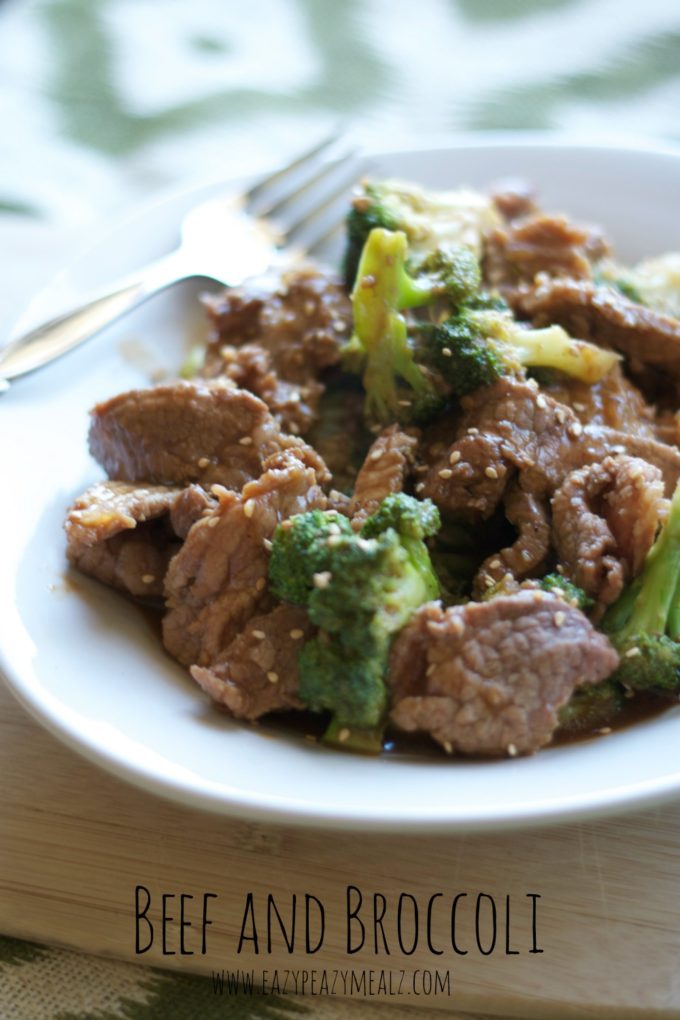 Mongolian Beef
Get EZPZ Updates In Your Inbox!