Mongolian Beef Meatballs:
The best ever Mongolian beef meatballs, these are saucy, sticky, sweet, and delicious, and can be the perfect dinner or appetizer. You get all the amazing flavor of mongolian beef, with no cutting up the meat. Plus you can cook them in the pressure cooker or the slow cooker! 
 Mongolian Beef Meatballs take it up a notch from your basic meatball recipe by bathing the meatballs in an easy, but very flavorful sweet and savory Mongolian beef sauce that uses easy to find  ingredients like soy sauce, Sriracha, brown sugar, and ginger. Think of it as your favorite Asian take-out in a fun appetizer form. Or the easiest way to make mongolian beef, that kids will love too! 
And take these up a notch with homemade meatballs. Or keep it simple with store bought frozen meatballs.
Serve with other appetizers like Crispy Oven Baked Chicken Wings, or Buffalo Chicken Dip, for a fun party spread!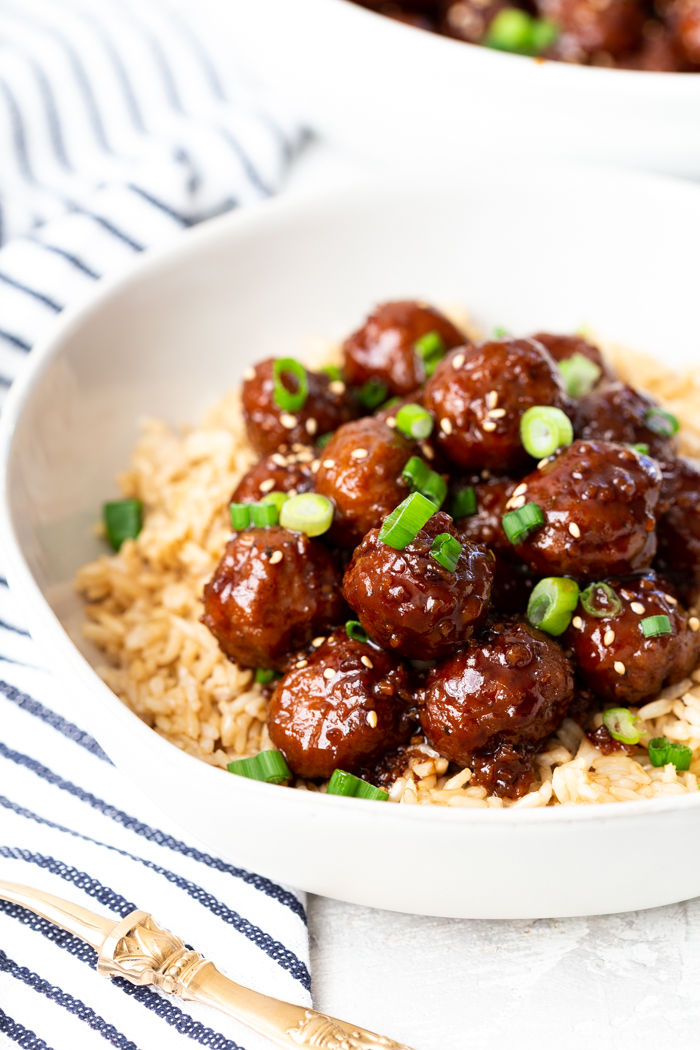 I am obsessed with the flavors in Mongolian beef, from the ginger to the sweetness from the brown sugar, I love the layers and complexity. This is why I am so excited about this recipe.
The Mongolian Beef Meatball recipe requires minimal prep while still offering a very scrumptious dish.  You get all the flavors with a fraction of the effort. Even when compared to Easy Mongolian Beef or Instant Pot Mongolian Beef. 
Make this Mongolian Beef Meatball recipe on a night when you want a dish that is different from every other night of the week, but you also want something you can make when you are pressed for time to prep. Or serve it at a party as an appetizer. Or when tailgating. The possibilities are endless. It is even great as a non-classic meatball sub filling. 
How Long Does It Take To Cook Frozen Meatballs In A Crockpot?
Are your meatballs frozen?
The first question you have to ask when determining how long it takes to make meatballs is which meatballs are you using, and are they frozen?
I love that you can cook frozen meatballs in a crockpot or slow cooker.  Most of the time it is unsafe to cook from frozen in a slow cooker, and meatballs seem to be the exception. However, I don't always think ahead enough to cook my meatballs in a crock pot, which is why I love using the pressure cooker for this recipe. When I am busy I want to just be able to get my food cooking and not have to worry about an extra step like thawing my meat or planning enough time.
In my Mongolian Beef Recipe I use frozen meatballs, which makes life easier.  
You can:
Make homemade meatballs, and store them in your freezer

Simply buy a bag of homestyle frozen meatballs and use those.

The meatballs are already made and you don't have to take time thawing them.
When cooking in a crock pot, it can be unsafe to cook from frozen, depending on the slow cooker, and the size of the meatballs, the meatballs could sit in the "unsafe zone" for temperature too long, and allow bacteria to grow. To avoid this I will partially thaw them, or use my pressure cooker. 
Pressure Cooker:
If using an instant pot, just pop your frozen beef meatballs into the pot with the easy sauce recipe and let those flavors meld.  In the crockpot, thaw or slightly heat meatballs first, then pop them in with the sauce and don't think about them again until dinner time, or game time, or party time, which may be hard to do because these Mongolian Beef Meatballs are so mouthwatering good.
I like to warm my meatballs in the microwave or stove top before getting them into the crock pot to ensure safe cooking. However, another option when cooking frozen meatballs in a crockpot is to bring the marinade or sauce to a bubbly rumble and then slow cook the frozen meatballs in the already warmed sauce. The already hot sauce helps speed up the thawing, and avoids being in an unsafe temp zone for too long. 
You can generally plan on cooking crockpot meatballs on low for about 6 hours, but I'll explain later exact cooking instructions for these meatballs.
This Mongolian Beef Meatball recipe is a great meal or appetizer for when you don't have a lot of time to prepare, which to be honest can feel like most nights.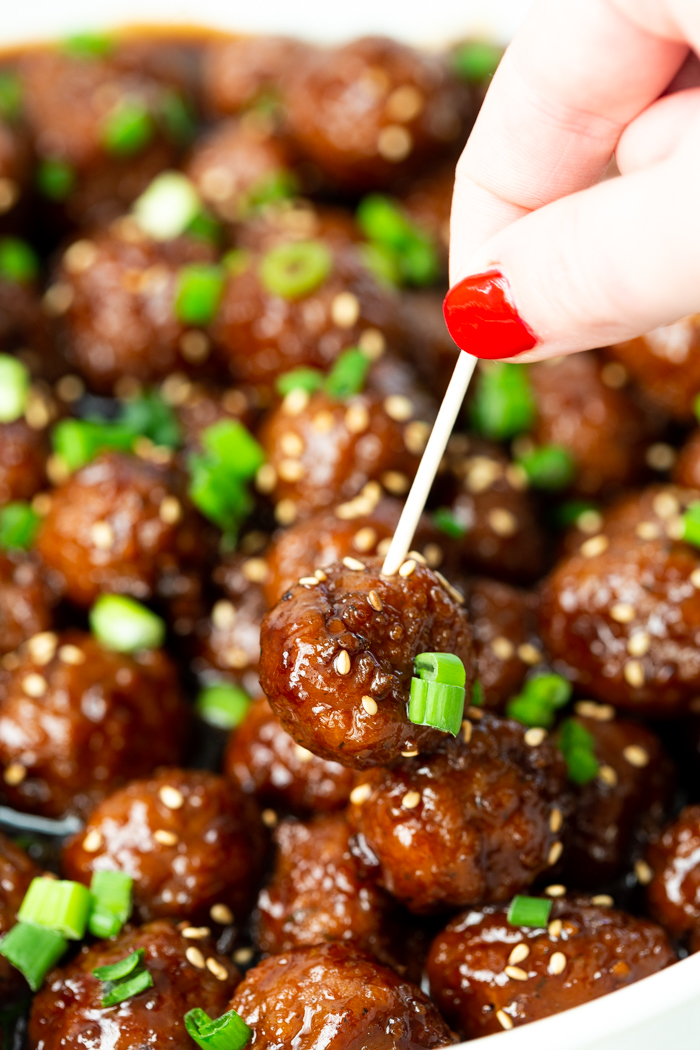 How Long Do You Cook For?
If your meatballs are already cooked through, then frozen, you can cook crockpot meatballs on high for about 1.5 hours to 2 hours, or on low for as long as 4 hours, typically. Obviously factors like how well your slow cooker heats, and the size of the meatballs you are working with come into play. I use about 1 inch meatballs for this time frame. 
If you are in a time crunch, thawing the meatballs first can help you get from point A to point B faster. Or using the pressure cooker! One of the perks of an Instant Pot is quick cooking from frozen.
Do You Have To Cook Meatballs Ahead?
For this recipe, I use already cooked, frozen meatballs, but you don't have to have already cooked meatballs prior to putting them in a crockpot.
You can use a crockpot or slow cooker to cook raw meatballs. But you will want to make sure they are mostly thawed, or that you add time. And it can be wise to check the internal temp to make sure they are cooked through before consumption. 
Again, I like to use a bag of pre-cooked or at least partially cooked meatballs to make things easier and faster. Already cooked meatballs make this Mongolian Beef Meatball recipe simple, and quick. Especially in the Instant Pot. 
How Do You Crockpot Meatballs?
If you want to make homemade meatballs you can for my Mongolian Beef Meatball recipe.  
You can mix the ingredients for making meatballs in a bowl and then with your hands form them into meatballs.  
Once meatballs are ready you can put them in the crockpot to cook.
Steps for Homemade Meatballs:
In a bowl mix meat and other ingredients

Form meatballs with hands

Cook in crockpot on low for about 6 plus hours with sauce. 
With a great sauce like this Mongolian beef meatball sauce, you don't need the meatballs to be homemade to enjoy the dish.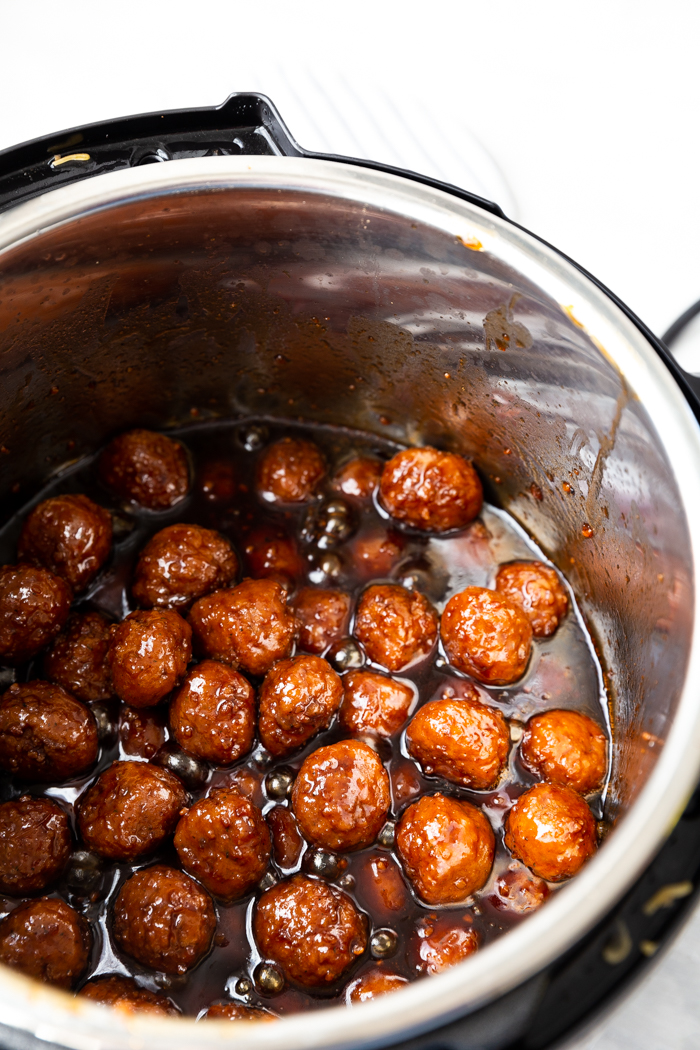 How to Cook In The Instant Pot:
Whether you prefer a crockpot or pressure cooker, you can use either to make this Mongolian Beef Meatball recipe. The pressure cooker speeds things up considerably, so it is a great option if you don't plan ahead! Or if your slow cooker is already busy with something like this artichoke dip. 
How Long Do You Cook Meatballs In The Instant Pot?
In order to thoroughly warm the meatballs and allow time for the sauce to blend the flavors, and really soak into the meatballs you need 10 minutes to cook the Mongolian Beef Meatballs from frozen once the Instant Pot reaches accurate pressure. Plan on 5-10 minutes of time to allow the pot to come to pressure. And another 2 minutes or so to release pressure. Then 5-10 minutes to thicken the sauce by reducing it on saute. So about 20 minutes in total time. 
And just in case you don't have an Instant Pot… here is a link to order your very own Instant Pot. If you don't have one, I really do recommend it. I have found that my favorite perk is cooking from frozen, or taking something like a roast that typically would take 8 hours for the connective tissue to break down and become tender, and cooking it in a fraction of the time.
Why My Mongolian Beef Meatballs Recipe Is A Favorite:
There are so many amazing recipes you can cook for dinner or to use as appetizers for a big game or party, so why bother with these Mongolian beef meatballs?
Easy and Fast Prep: If you pick up a bag of already prepped meatballs, you are essentially just making the sauce, which means it is very simple. 

Instructions are available for both Instant Pot and Crockpot, which means no matter what your preference or timeframe, you can make this recipe work.

The Marinade is Amazing. The flavors are bold and delicious, and this is an appetizer everyone loves and is familiar with, but with a great twist. 
I hate when I find a dish and I want to use the crockpot instead of a pressure cooker or vice versa, but there are no instructions for the other.
For this meatball recipe I have included instructions for both the Instant Pot and crockpot so you don't have to spend time trying to convert the recipe to the crockpot or Instant Pot.  You can just choose whatever method of cooking you prefer.
Make crockpot Mongolian Beef Meatballs or use the Instant Pot.  Either method will result in the same thing: Delicious meatballs!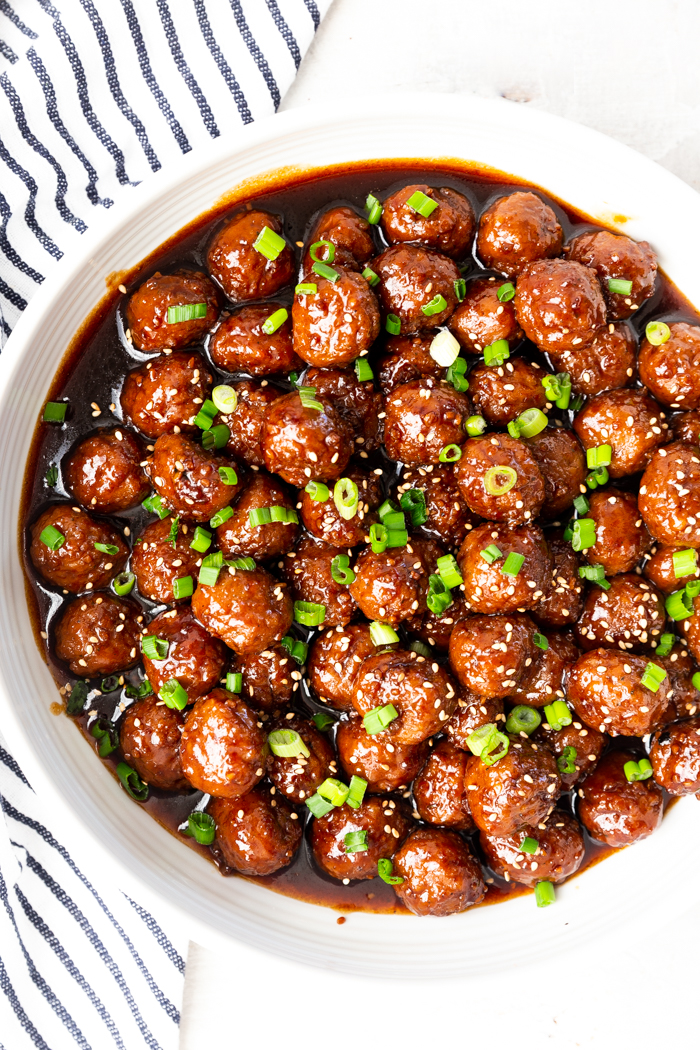 Want Some Other Great Meatball Dishes?
I love cooking with meatballs.  There are so many fun dishes that showcase our friend the meatball.
Try my BBQ Bacon Cheeseburger Meatballs recipe.  It's another fun play on the well-known food, the meatball.  Or, try my Swedish Meatballs for another delicious meatball dish.
Once you see how delicious my Mongolian Beef Meatball recipe is you will be dying to try other great meatball recipes as well.
Favorite Appetizers: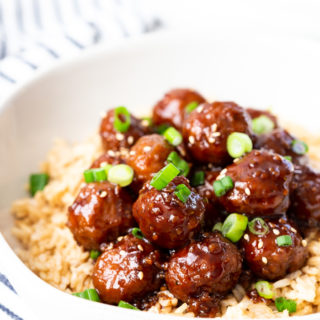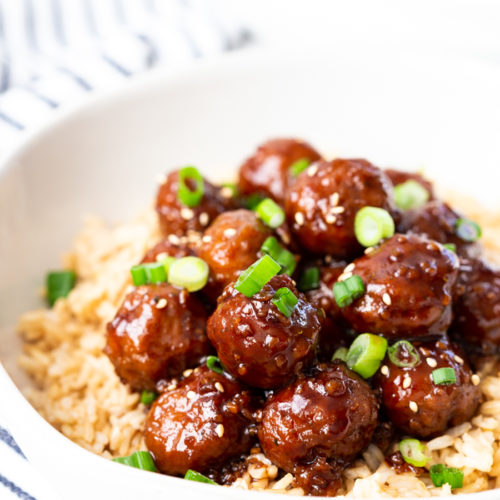 Instant Pot Mongolian Beef Meatballs
Mongolian beef meatballs are your favorite flavors of Mongolian beef, but in meatball form. Perfect for parties.
Print
Pin
Rate
Ingredients
Sauce:
2

teaspoon

sesame oil

2

Tbs

garlic

minced

2

Tbs

ginger paste

1

cup

low sodium soy sauce

2

tsps

sriracha

1 1/2

cup

water

1

cup

brown sugar

¼

cup

hoisin sauce

3

tablespoons

oyster sauce

½

tsp

black pepper
The Rest
60

homestyle meatballs

1

cup

green onions

sliced

2

Tbs

toasted sesame seeds
Instructions
Instant Pot Directions
In a large bowl mix all sauce ingredients together, and stir well.

Add frozen meatballs to an instant pot liner, and pour sauce over the top.

Place lid on instant pot and lock into place, set valve to sealing.

Cook on manual pressure for 10 minutes

Quick release pressure

Remove lid, and hit the "cancel" button, then hit the "saute" button

Cook on "saute" mode, stirring regularly, to reduce the sauce, cook until it reaches desired thickness, 5-10 minutes

Once desired thickness is reached for the sauce, remove from instant pot to serving dish, and garnish with toasted sesame seeds and green onions

Serve immediately over cooked brown rice.
Slow Cooker Instructions
Add all sauce ingredients to the slow cooker, and stir well.

Thaw pre-cooked meatballs, or partially thaw them. Or use fresh (raw) meatballs.

Add meatballs to the slow cooker, and cover with a lid.

Cook on high 1.5 - 2 hours (for thawed cooked meatballs) or low for 4 hours. If using raw meatballs, increase cooking time to 2-3 hours on high and 5-6 hours on low.

If when cooking time is up, sauce has not reached desired thickness (unlikely), reduce sauce by cooking it over medium-high heat on a stove top.

When done cooking, garnish with sesame seeds and green onions.
Nutrition
Calories:
361
kcal
|
Carbohydrates:
29
g
|
Protein:
16
g
|
Fat:
19
g
|
Saturated Fat:
6
g
|
Cholesterol:
60
mg
|
Sodium:
1187
mg
|
Potassium:
366
mg
|
Sugar:
23
g
|
Vitamin A:
105
IU
|
Vitamin C:
3.5
mg
|
Calcium:
67
mg
|
Iron:
1.9
mg
Our recipe card software calculates these nutrition facts based on averages for the above ingredients, different brands, and quality of produce/meats may have different nutritional information, always calculate your own based on the specific products you use in order to achieve accurate macros for this recipe.
Want to use this recipe in a meal plan?
Try PrePear, my FREE Meal Planning App that allows you to save your recipes, plan meals, shop for groceries, and cook simply in one place. Join Here!