Rich, molasses and spice gingerbread cake, topped with fresh whipped cream. This classic gingerbread is a family traditional recipe that has been passed down from generations so your Christmas can be complete with gingerbread.
Can something taste like Christmas? Because this soft, spicy, cozy, rich, delicious, traditional gingerbread has all the flavors that make me feel like the season is here, and Christmas is coming.
Have you ever tried a gingerbread before? Not the cookie, or the stuff you use to make a gingerbread house, but the cake version? I did not grow up eating it, and so when my mother in law told me she had a gingerbread recipe that has been passed down through many generations of her family, and I should use it on my blog, I thought she was talking cookies. I told her I already had a gingerbread recipe on my blog that I love (Find the cookies here), but she assured me I needed to try hers.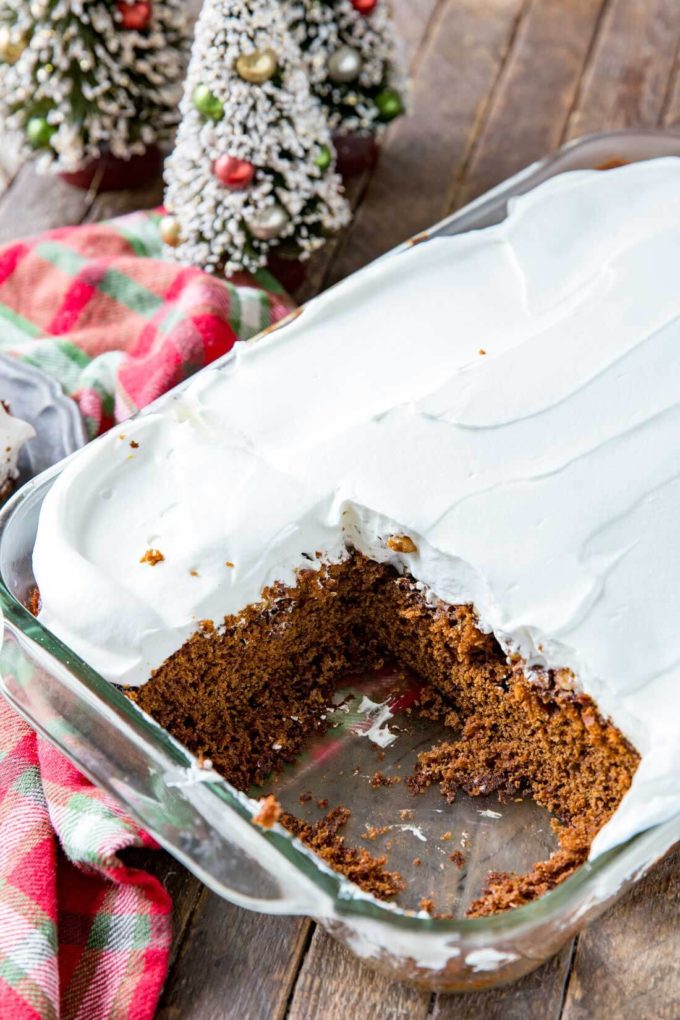 And guess what. I did not have anything like it on my blog already. This gingerbread, is more like cake. And wowzers! It is seriously delicious. The richness from the molasses and spices are offset with a light and delicious fresh whipped cream. The cake is dense, and moist, and has crunchy bits of deliciousness. It is a classic recipe that my mother-in-law got from her mother, who got it from hers. I tis a traditional gingerbread, that screams Christmas with the cozy notes of molasses, and the rich, comforting, deliciousness of it.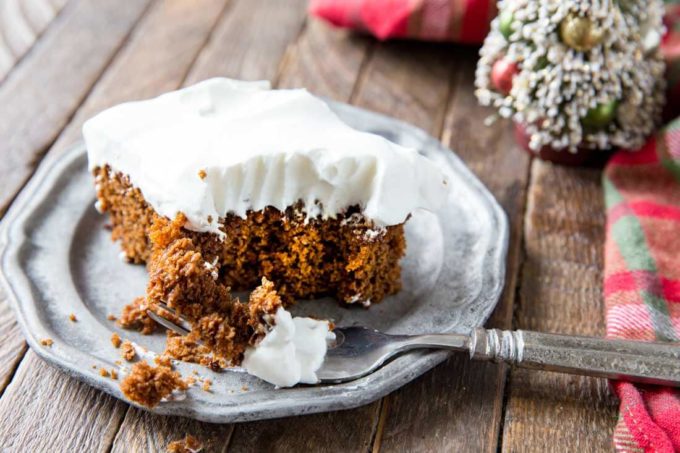 Basically I could wax on all day long telling you about it because after just one bite I was hooked. And I vowed to make it part of my children's Christmas tradition because I recipe this good needs to be passed on.
You guys, the first time I tried the gingerbread, I could not stop eating it. I had a slice of gingerbread cake for breakfast. At lunch I pulled it back out and had another slice. Then after dinner, when my kids asked for dessert, I covetously told them to pick something else, the gingerbread was mine! Hahah, okay, that last bit was not true, but I did consider it.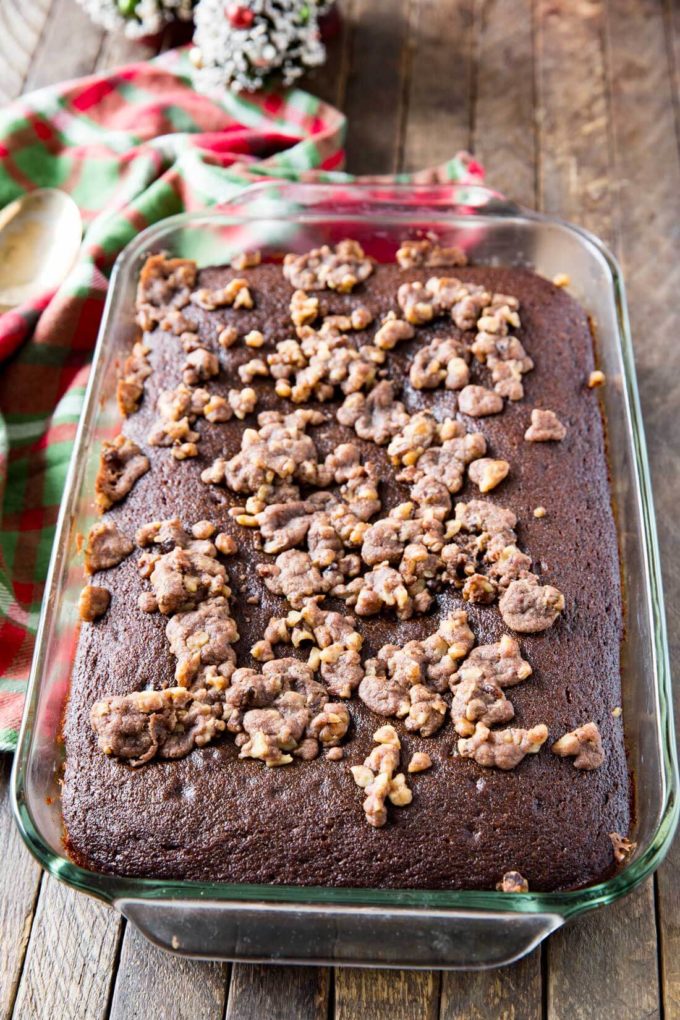 During a recent visit to Poland, I visited the Christmas Markets, and you could find delicious gingerbreads in many of the vendor stalls. They were cut into different shapes, and decorated with icing, sugar, chocolate, and more. And they were rich, soft, and delicious. This cake tastes as good, but is cake! And that my friends is a win.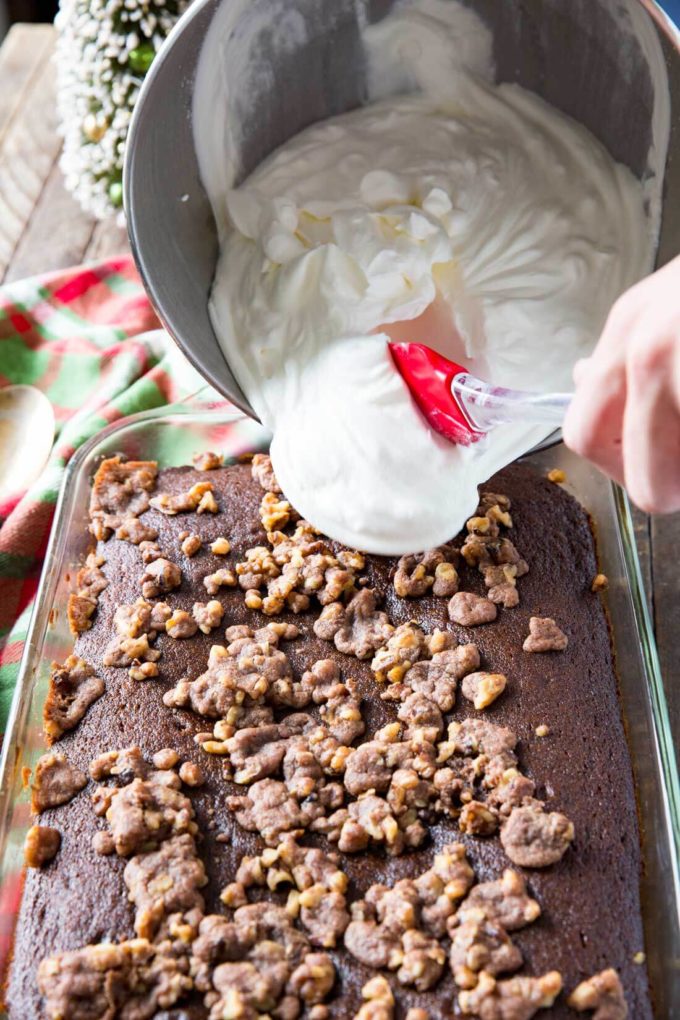 And just look at the whipped cream frosting! Delicious. While I was walking the stalls at the Christmas Market, I kept trying to think how I could get the gingerbread home with me without it getting crushed and broken. Then I realized I really didn't need to because I already had a great gingerbread recipe at my disposal, and I could simply recreate those cozy flavors in my kitchen at home! And have a delicious whipped cream topping too.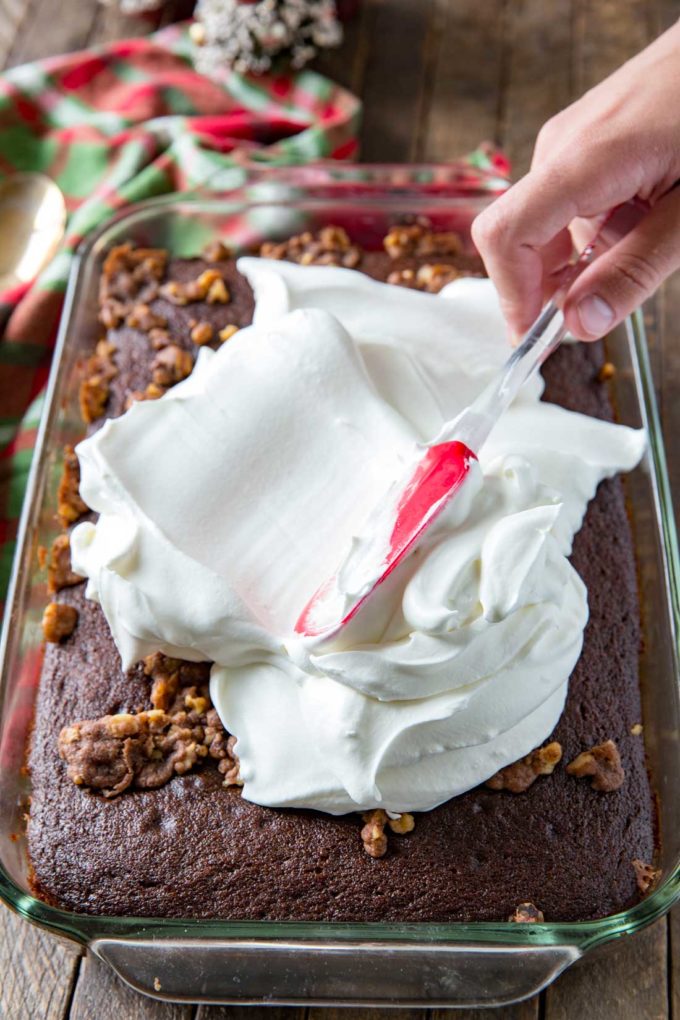 The fluffy freshness of the whipped cream is perfect for the spicy sweetness of the cake. So there you go, awesome gingerbread flavor in an easy form.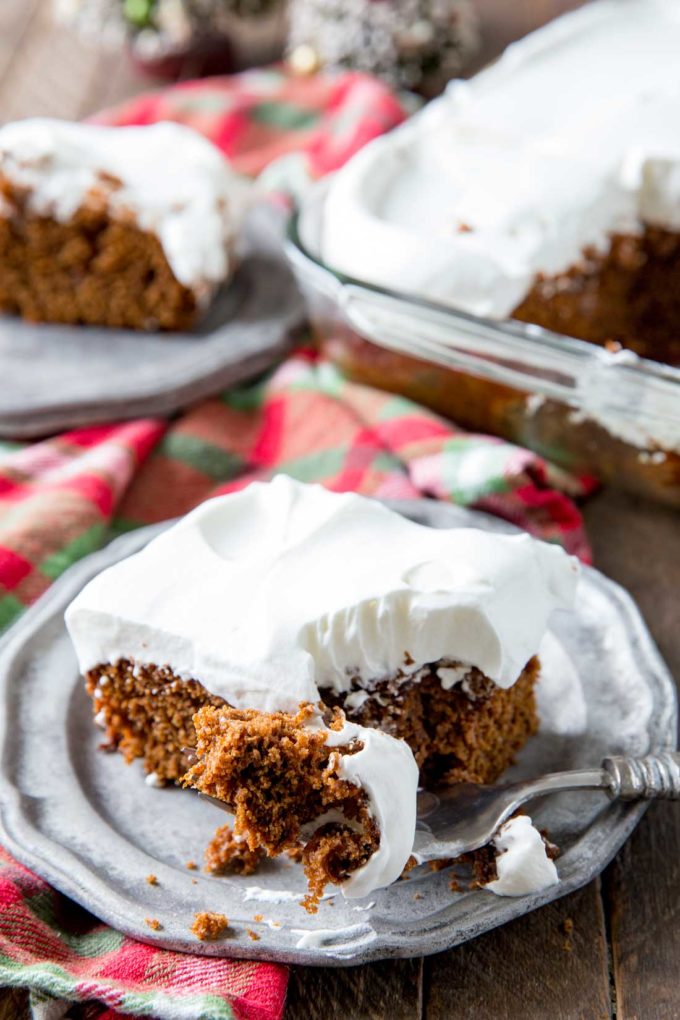 Ingredients
2 1/2 cups flour
1/2 cup sugar
3/4 tsp salt
1 tsp cinnamon
1 tsp ginger
1/2 tsp cloves
1/2 cup crisco, shortening
1 cup water
1 cup molasses
1 large egg, room temp

Topping

1/4 cup brown sugar
2 Tbs flour
2 Tbs butter
1 tsp cinnamon
1/2 cup walnuts chopped
Instructions
Preheat oven to 350 degrees.
In a large mixing bowl, mix together the gingerbread ingredients.
Pour into a greased 9 x 13 baking dish.
Bake at 350 degrees for 35 minutes.
Mix the topping together in a bowl
After 35 minutes, sprinkle the topping over, and bake an additional 10 minutes.
7.6.4
891
https://www.eazypeazymealz.com/gingerbread/
Pin to your CHRISTMAS DESSERT Board: