4 fun Halloween Cupcake Ideas:
These cupcake ideas are super simple, very fun, and perfectly Halloween.
When it comes to Halloween Cupcake Ideas, there are a million of them, from goblins and ghouls, to witches, pumpkins, and more. Of course, I wanted to share them all, but settled for my top favorite. These Halloween Cupcake Ideas are easy to make, only require a few simple ingredients, and are just too fun!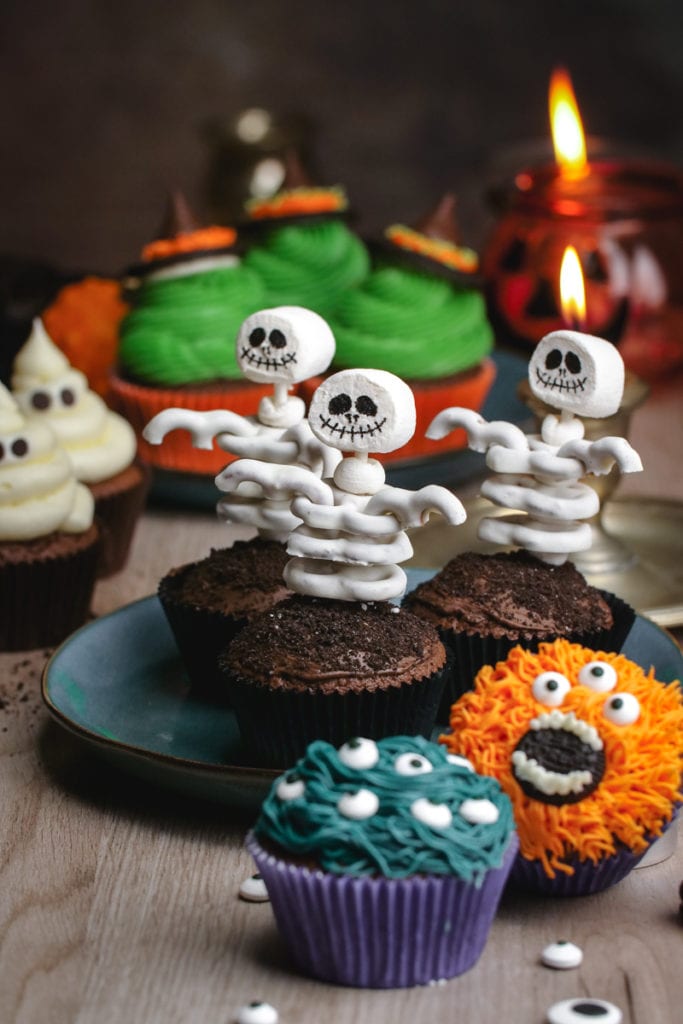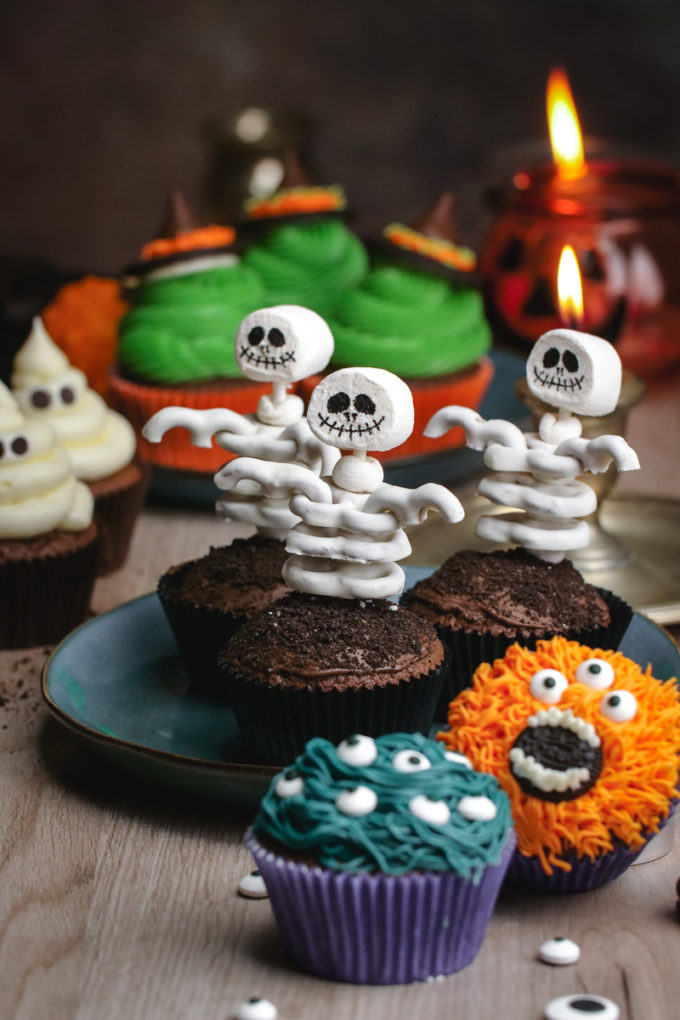 The four cupcakes I am sharing today are:
Halloween Cupcake Idea Tips
When making fun Halloween Cupcakes, there are a few things you want to keep in mind:
Kid-friendly– In my world, while I would love a blood covered, totally scary, grim reaper type cupcake, I have four kids, so the cupcakes need to be fun, and Halloween themed, but have that lighter side of Halloween. The cute and darling, the adorable more than the horrible. These four ideas take the cake (or ummm cupcake) for adorably cute, and scarily delicious ideas!
Not too messy – Blood and gore is certainly a thing with Halloween cupcakes, but since many moms are using these fun cupcake ideas for things like class parties, we want to keep the disaster to a minimum. Most of these cupcakes use only 5 ingredients or less, and there is nothing messy or runny about it.
Short Ingredient list– I chose these 4 particular cupcakes because beyond the cupcake itself and the icing, the ingredient list is usually 2-3 things. OREOS, chocolate, and sprinkles is basically all you need to make these fun cupcakes with the exception of the skeletons which need marshmallows and yogurt pretzels. I like things simple.
Halloween Cupcake Ideas
Here is where you can find instructions for these 4 Halloween Cupcake Ideas.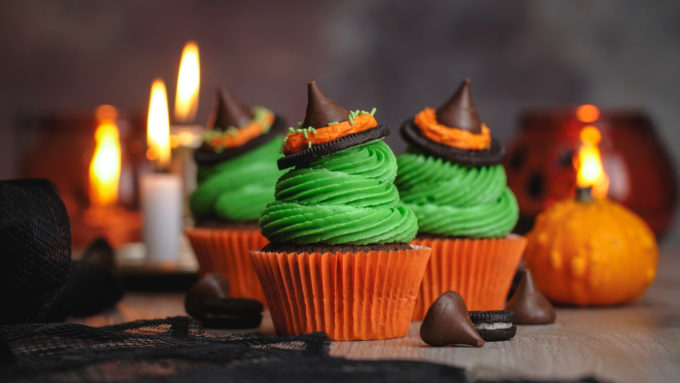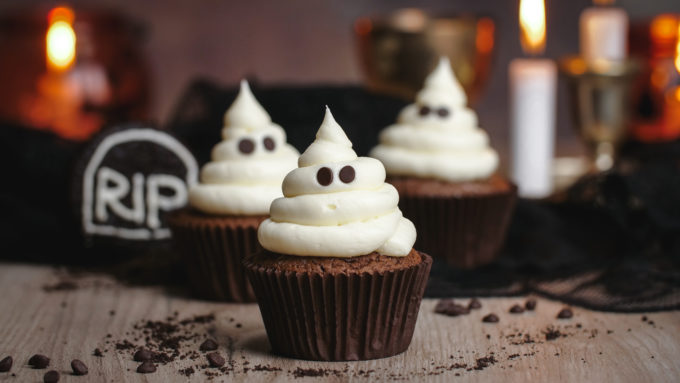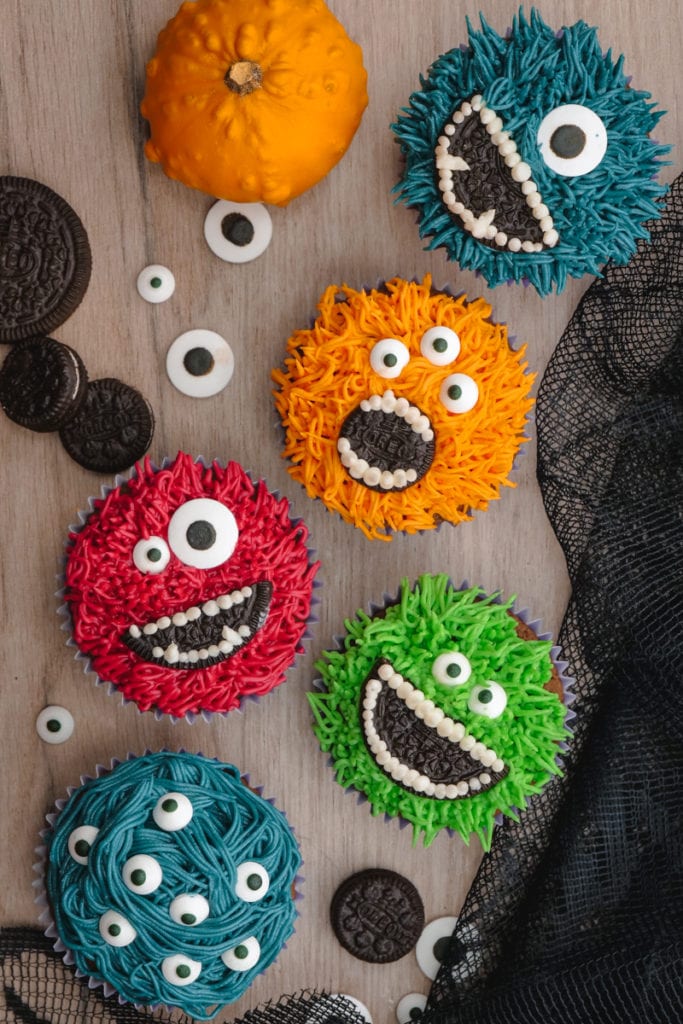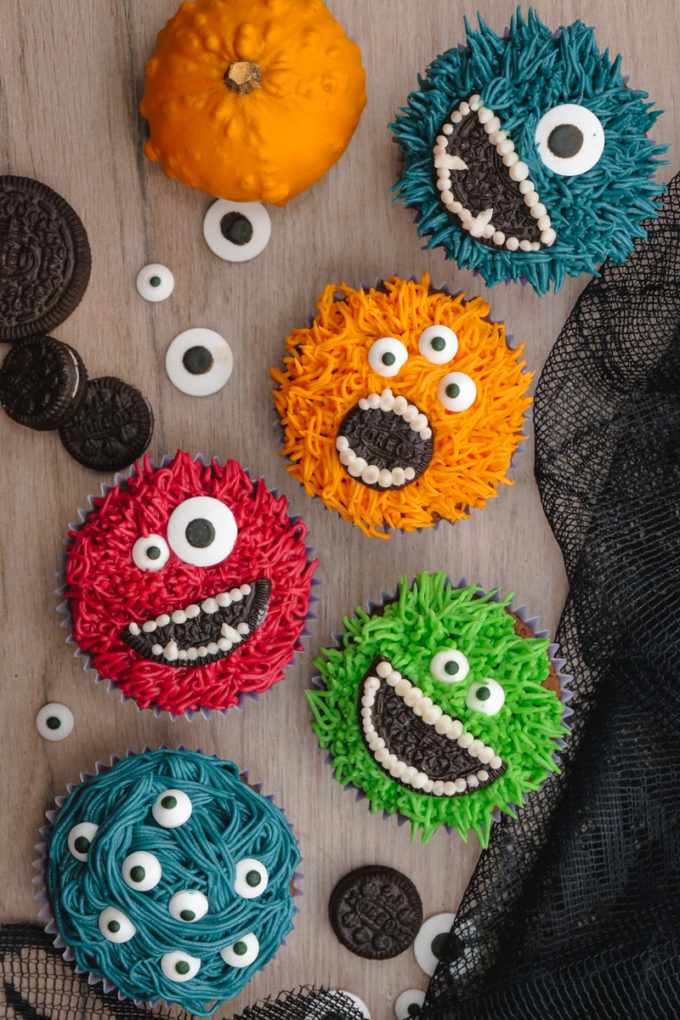 The Cupcakes
No matter which of these fun Halloween Cupcake Ideas you choose to make, or all of them, you are going to need some cupcakes.
The cupcakes can be store bought, homemade, or from a box mix. It really doesn't matter.
I love using this chocolate cake recipe and adjusting it for cupcakes for a super delicious classic chocolate cupcake that is perfectly moist, and can handle the icing.
If you want to buy cupcakes from your local bakery here are a few tips:
Call ahead and ask for them without icing. Most bakeries are happy to sell you unfrosted cupcakes.
If you forget to call ahead, or don't have time ask at the counter. They may tell you they only have frozen options, let them know you are okay with it.
Or look for cupcakes with a flat single color icing, and just assemble your decorations on top of it.
A boxed mix is a great as well, and there are tons of varieties and flavors to choose from. Get the kids involved and have fun.
Pin to your Halloween Board on Pinterest: