How to Perfectly Roast a Rack of Pork: juicy, tender, and super flavorful anyone? Following this method will help you get the best rack of pork you have ever eaten. Compliments guaranteed.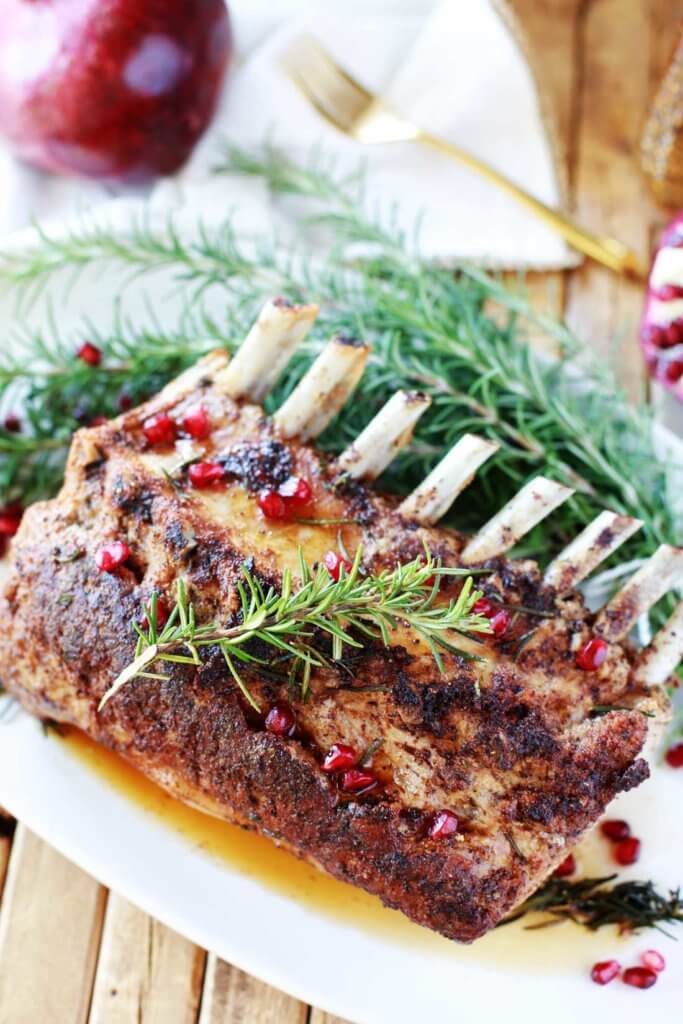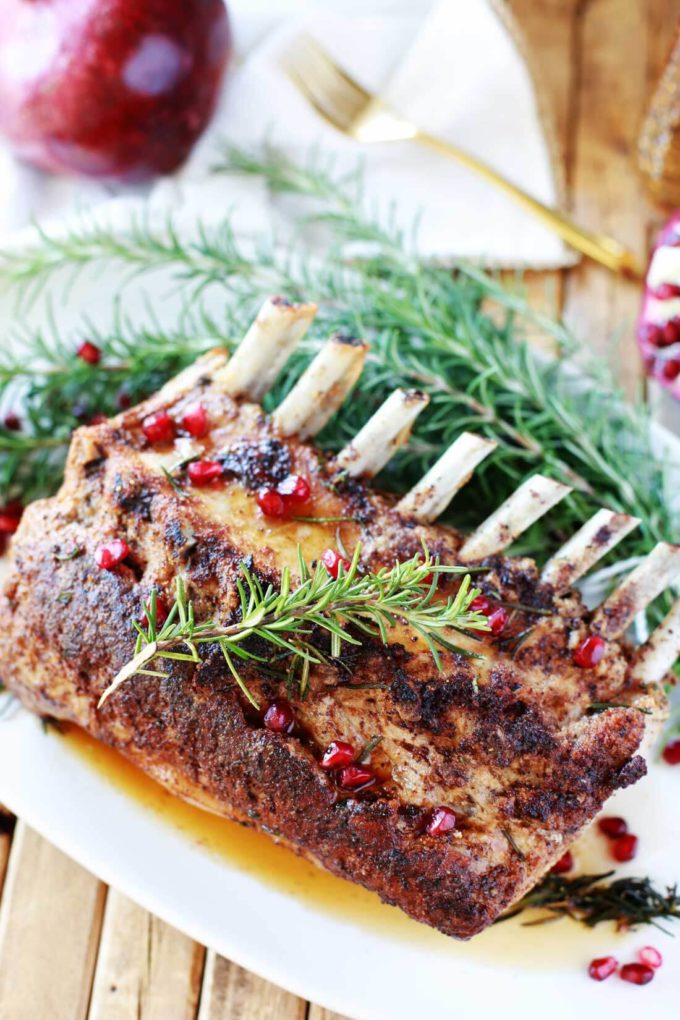 How to Perfectly Roast a Rack of Pork
©Eazy Peazy Mealz by EazyPeazyMealz.com
Pin it to your Holiday board to SAVE it for later!
Follow Eazy Peazy Mealz on Pinterest for more great tips, ideas and recipes!
Whether you are cooking the perfect turkey, a prime rib, a ham, or a rack of pork for the holidays, knowing how to get the most flavor out of your cut of meat is key to success. In today's post I am sharing the 8 Steps on How To  Perfectly Roast Rack of Pork.
I teamed up with Flirting with Flavor to bring you the best pork roast ever. So, I will share the essential tips for getting a beautifully cooked roast, and she will share her amazing recipe. You can get the recipe by clicking here.
But understanding the method is important too, because it means you can change up the flavors you use, and still get amazing results.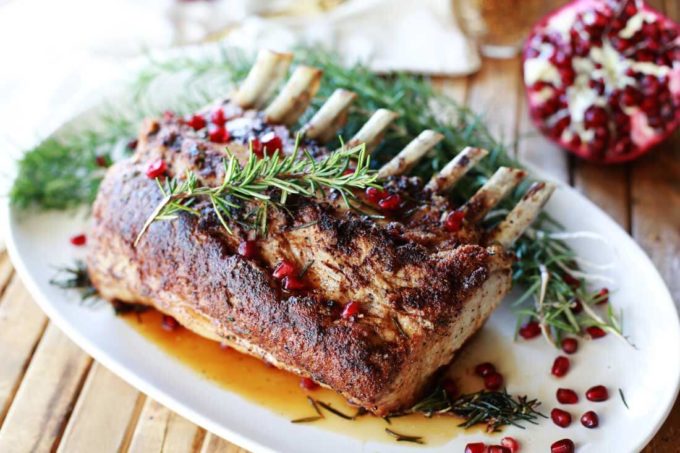 Step One: Brine the Rack of Pork
You may think I am getting a little repetitive with the brine, especially if you looked at this insanely popular post for how to cook the perfect turkey, but there is a reason. Brining adds a tremendous amount of both moisture and flavor to pork. No one wants a dry roast, so by planning ahead, and brining it in the refrigerator for 24 hours, you get a ton of moisture and flavor and allowing you to Perfectly Roast a Rack of Pork.
Get an awesome pork brine recipe at FlirtingwithFlavor.com
Step Two: Dry and Rest the Pork Roast
Once your rack of pork has brined for about 24 hours, rinse it off, and pat it dry. Then stick it on a baking tray lined with a cooling rack, and let it sit for a couple hours. You want it to air dry, and you want it to come to room temperature.
Air drying it will allow you to get a better sear, and a nice golden crust. If it is wet, it will steam instead. Blech.
Letting it rise to room temp will help it cook evenly so you don't have overcooked or undercooked areas.
Step Three: Score the Roast
Once your meat has rested and is dry and at room temp, you want to take a sharp knife and score the fatty side of the rack with it.  I have a Calphalon Knife Set that has everything I could need in a knife set in it.  I love my knives because of the self-sharpening feature so my knives are always sharp and ready to go when I need them.
Score into a cross hatch pattern.
Make sure you only cut the fat, not the meat. Shallow scores is best, but do not skip this step.
This step is really important. It does a couple of different things, it helps with moisture and flavor, just like the brine. Every step in our method is going to result in additional flavor and moisture.
Scoring the fat exposes more fat to the heat, which will mean more fat is rendered during the cooking process. This will add more flavor to the meat, as well as keep it moist. And by scoring it, your seasonings will be able to more easily reach the muscle. Again, this means big flavor!
Step Four: Season the Rack of Pork
The best end results come from layering flavors. We have been adding flavor all along as we brined, and now as we season with a rub. If you want the best ever rub for a pork roast, now is the time to head over to FlirtingwithFlavor.com to grab the recipe.

Step Five: Sear the Roast
Remember, we let our roast air dry so we could get that nice golden crust sear on our meat. This will add flavor, as well as help lock moisture in! When the meat hits your scorching hot pan, the exterior will begin to caramelize. This results in that golden color, and a whole lot of delicious flavor. Mmmmm. Are you drooling yet?
Step six: Add fresh herbs and roast
Now it is time to Perfectly Roast a Rack of Pork. Adding some fresh herbs will just add another dimension of flavor.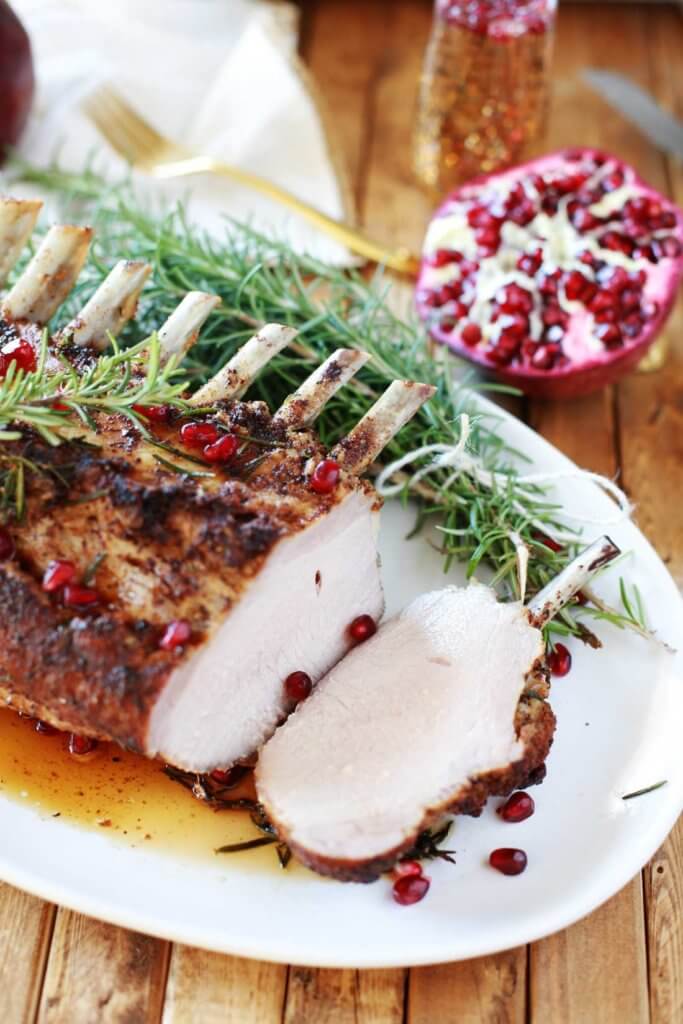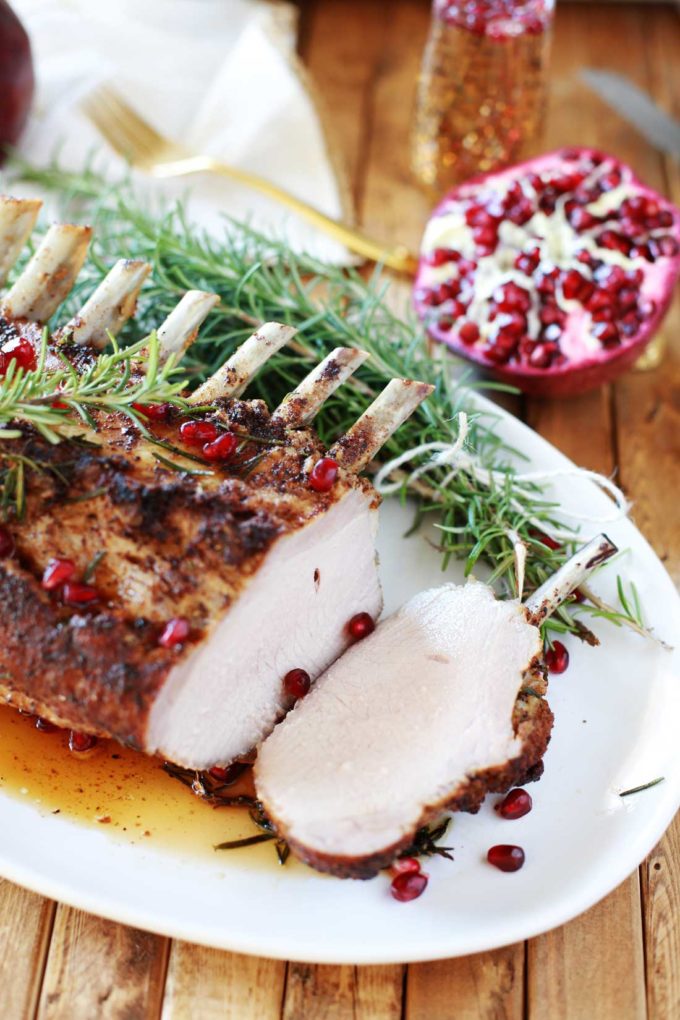 Step seven: Baste and Cook to the Right Temp
I tend to be a lazy cook, so I am not a huge fan of basting in general because it feels like a lot of work. However, with this roast I make an exception because the extra effort is very worthwhile, giving you a huge flavor kick, and keeping that roast beautifully moist.
This baster  is a great one because it also comes with a marinade injector needle and a brush for easy clean up. 
Thus, throughout the roasting time, baste your rack of pork every 10-15 minutes, using delicious herby pan juices, and layering on the flavor.
You want to make sure you cook your roast to the right temperature to Perfectly Roast a Rack of Pork.  For a pork roast the final temperature should be about 145 degrees. So you want to pull it out a little before that because during the final step you let it rest, and it will continue to rise in temp about 5-10 degrees.

Step Eight: Rest
After your rack of pork reaches an internal temperature of 138-140, remove it from the oven and let it rest 15 minutes before serving. During the resting period, the temperature will continue to rise, getting it to the perfect temp for safety and deliciousness.
Learn more about recommended cooking temperatures on the USDA website.
Resting not only helps you get to the perfect temp, it also allows the moisture in the roast to reabsorb, and redistribute so every last bite is juicy, tender, and delicious.
If you cut into it too soon, all those lovely juices will run all over your plate, and leave you with dry meat.
You can tent your roast with foil if it is cooling too quickly and you don't want it to be cold before serving. Make this decision based on the temperature inside your house.
Now you know How To Perfectly Roast a Rack of Pork!
Okay, now isn't that easy?
Head over to FlirtingwithFlavor.com to get her recipe for Rosemary Roasted Rack of Pork with Pomegranate Au Jus.
And be sure to pin to your HOLIDAY board:

Other Holiday Food Tips
Let us know what else you would like to see! We travel the world, visiting open markets, restaurants, and top chef schools!