Keto Pizza
This Keto Pizza is the best low carb alternative to pizza.  No soggy  cauliflower, this crust is made with cheese! With only 3 net carbs per slice, this keto pizza dough recipe is the perfect meal option if you are on a keto diet or simply want to cut carbs.
Made with a delicious fathead pizza dough, this keto pizza produces a crispy, low carb pizza crust that is topped with a flavorful keto friendly marinara, and finished off with gooey mozzarella cheese and some parmesan for zest. No need to feel restricted on a keto diet when you have fantastic low carb pizza recipe options like this one.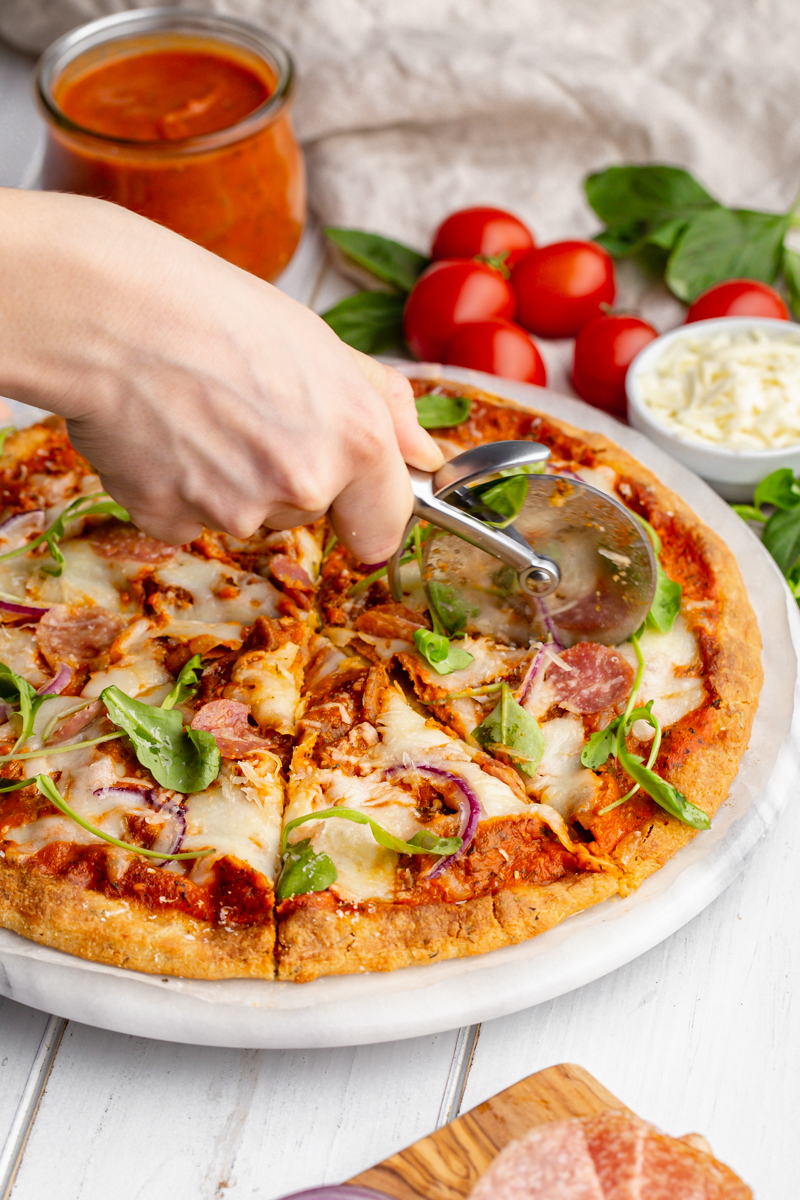 Cooked in just a short 10-12 minutes, this Keto Pizza recipe will be a family favorite, even if you aren't worried about carbs.  It also goes great with creamy Alfredo sauce too. Make Keto Pizza for a family friendly dinner that keeps you in ketosis.
When it comes to keto dinners, this pizza ranks right up there with  keto lasagna and keto meatballs skillet for cozy comfort food that still keeps you diet friendly.
How Do You Make Keto Pizza?
Keto Pizza is about to become your new best friend. Why? Becaues it is…
Easy

Flavorful

Low Carb Heaven
Whoever said counting carbs is the worst hasn't had this Keto Pizza.
How To Make Keto Pizza:
Make Your Crust.
It takes 3 simple steps:
Microwave Cheeses.

Add in Eggs, Almond Flour, and Seasonings, and Mix.

Roll the Dough.
Bake
.
Bake in Preheated Oven on Baking Sheet or Pizza Stone.
Add Toppings.
That's it!  It really is that easy.
Note: For more detailed instructions, see recipe at the end.

All of the ingredients are simple and keto-friendly. And it doesn't take any  special gear, tools, or cooking implements to make this  possible. A microwave, a rolling pin, and a few simple ingredients.
Is This Cauliflower Pizza? 
No.  This pizza is not the same as cauliflower pizza.  While many cauliflower pizza crusts are keto friendly too,  you may have already guessed it, this is not cauliflower pizza.
One main difference is that the crust does not have cauliflower in it.  This Keto Pizza is made by using a fathead dough, which has become one of my favorite types of pizza doughs.
What Is Fathead Dough?
Fathead dough is a game changer.
Fathead dough is a keto friendly dough, which means it is a low carb dough.  Yay!
It mimics traditional flour based doughs, but instead uses nut flour and cheese!
It has a few different cheeses in it, like cream cheese and mozzarella.  Doesn't that just sound yummy?!
It also uses a low carb flour like almond flour and then egg and baking soda or baking powder are used.
Fathead Dough Ingredients For This Recipe:
Cheeses:

  Mozzarella, Pepper Jack Cheese, and Cream Cheese

Keto Friendly Flour: 

Almond Flour or Coconut Flour

Eggs: 

One Large Egg

Leavening Agent:

 Baking Powder

Seasonings: 

Italian Seasonings and Garlic
With the delicious blend of cheeses and the perfect amount of Italian seasonings and garlic, this fathead dough gives just the right amount of flavor without overpowering the rest of the dish. Plus you get that bread like crust you want!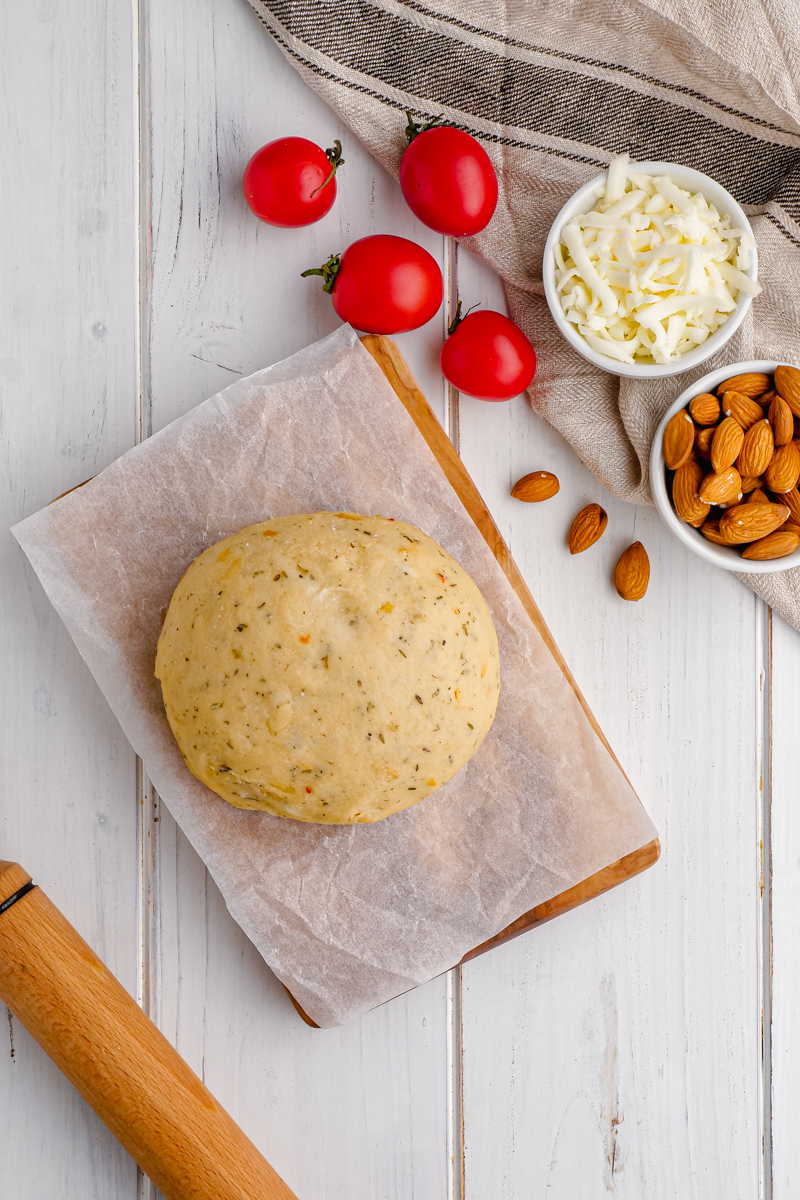 Tips For Making Great Keto Pizza Dough:
Tip 1:  Subbing Out Flour Requires Changing Ratio Of Ingredients
Just making a simple change in flour can affect consistency.
If you prefer to use another keto friendly flour like coconut flour, go for it.  Just know it isn't a straight across trade.
Warning: For the right consistency, ratio of ingredients will need to be adjusted.
For example, if you use coconut flour instead, then less flour will be used and you will need to double the amount of eggs. Coconut flour is denser, and the results will be a denser crust. So lessen the flour, up the eggs, for optimal results. 
Tip 2:  Oven Times Will Vary
Although this recipe says the pizza cooks in 10-12 minutes, use this as an approximate rather than a hard and fast rule.
I have tested this recipe time and again. I am at high altitude, and my ovens have been recently calibrated. So keep in mind, this is a time range, and you should look at the actual crust, rather than the clock.  Different ovens may cook a little bit differently and depending how thick or thin you roll out the dough will affect cook times as well.
A thinner crust will take less time to cook than a thicker one.
Tip 3:  Mixing The Dough Equals Kneading The Dough
You will need to knead the dough to make sure the ingredients are all blended together or you can of course use a food processor if you don't like getting your hands in the mix.
Just be prepared when using a food processor, some dough may stick to the  bowl.
Note:  Dough Is sticky.  I will talk about how to work with the sticky dough in the next section.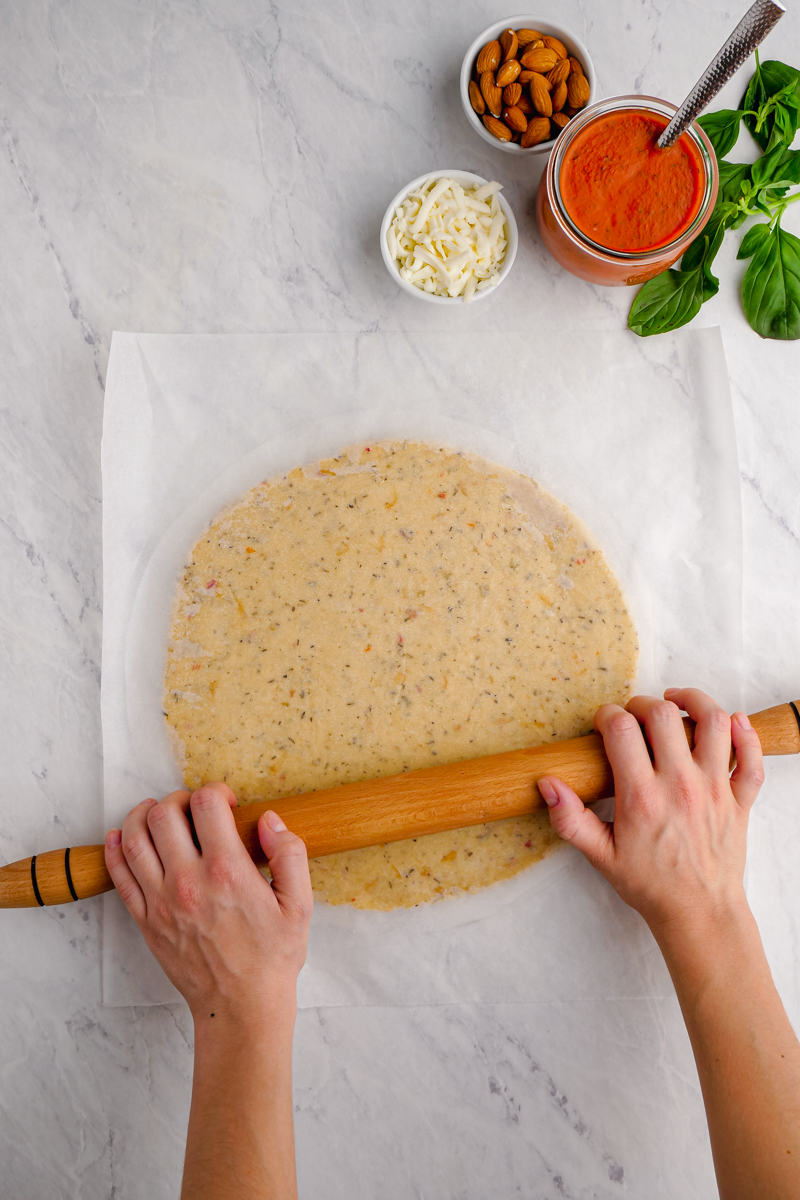 How To Roll Out Fathead Dough:
This dough is both sticky and soft.   I know you just saw the word sticky and that never conjures up a good image.  I always think of children with sticky fingers running though the house, nightmare.
Don't worry sticky does not have to equal one hot mess.
If you don't want a mess and my assumption is you don't, make sure to follow these tips for rolling out the dough, so you won't be frustrated.  
2 Stress Free Ways To Roll Out The Dough:
Before Rolling, Grease Your Hands Or Get Them Wet.
Sticky dough can become a mess or disaster fast.  Prevent dough sticking to your hands and not rolling easily, by wetting your hands with water or getting them nice and greasy with the use of some butter or cooking spray.
Then get the dough ready to roll by flattening it with your hands that are now protected from our enemy, the sticky dough.  Just kidding. We love you dough.  
But to make it easier to roll, the grease is necessary, but the next option is my favorite.
Place Dough Between Two Sheets Of Parchment Paper And Roll
Maybe greasing up doesn't sound all that appealing.  Some people love to knead and get their hands dirty, getting right in the thick of it.  
Doesn't sound like you?  There's another way.
Put the dough between two sheets of parchment paper.  Parchment paper has become a staple in our kitchen. If you don't have it, get it.
Once there is that nice barrier of parchment paper between you and the dough, it's time to flatten and roll baby.
Sticky dough does not have to be your nemesis. Let the parchment be a barrier, and roll it out, then refrigerate to make it easier to work with.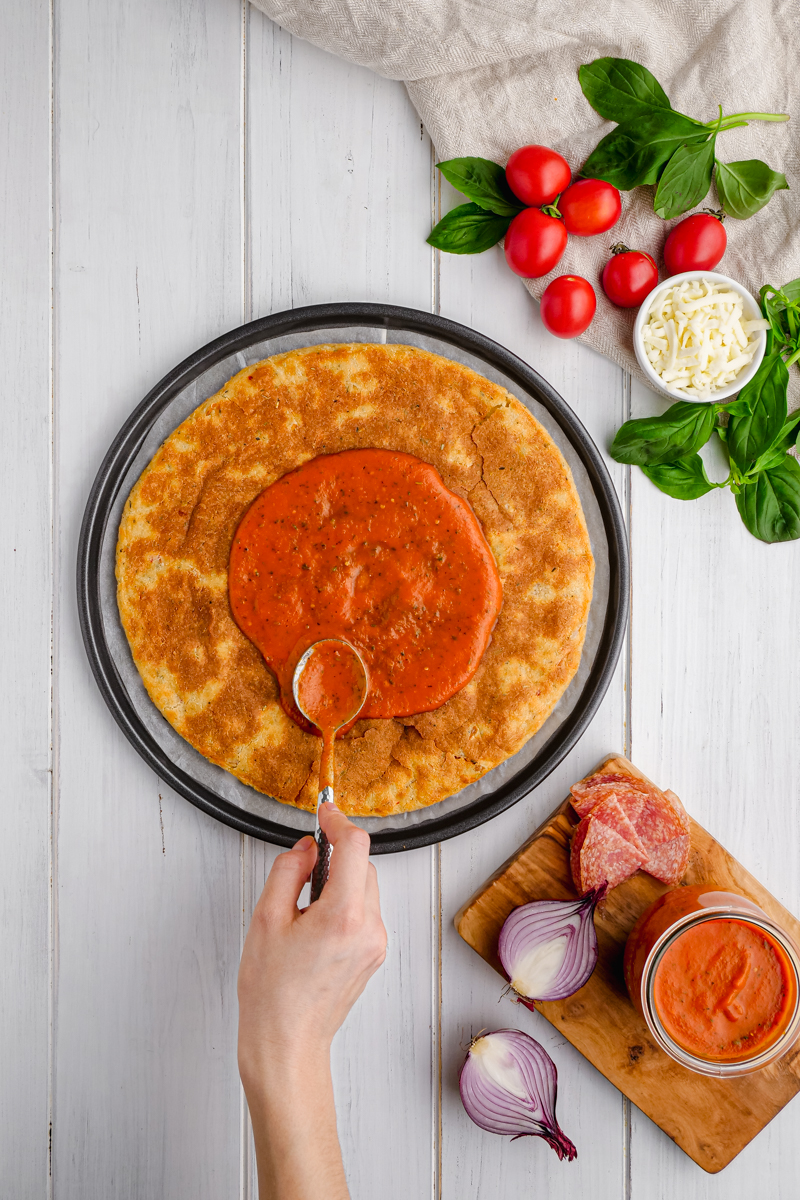 How To Store Keto Pizza For Later:
Want to make this low carb pizza ahead of time and store for later?  Go for it.
Make your dough and roll it between parchment, then refrigerate until ready to bake and use.
OR,
Complete the pizza, and freeze the finished product.
This Keto Pizza recipe is a great store for later dish.
Bake as usual.

Then, be patient and let pizza cool first.

Cut pizza into slices and then wrap

entire

pizza in plastic wrap or in large ziplock bag.

Place wrapped pizza in freezer.

Reheat in over at 400 degrees until warmed all the way through and the crust is crispy.
Note:  You can also make small individualized pizzas, and freeze those, which can be easier than slices.

How To Top Low Carb Pizza:
It's about to get really fun here, so get ready for it.
Sauce Options:
What would pizza be without some sauce.  Just because you are counting carbs does not mean you don't have some great sauce options.
Creamy Alfredo Sauce (butter, heavy cream, and parmesan- sounds keto friendly to me)

Keto Friendly BBQ Sauce for BBQ Chicken Pizza, you can get this online. 

Mayo for a BLT PIzza
Cheese:
For this recipe I used mozzarella and parmesan.  However with cheese, pick what speaks to you.
I like the gooeyness of mozzarella, which is a cheese you typically will find on a traditional pizza.  I think a blend of fresh and shredded mozzarella make for a great pairing for the perfect texture.
Parmesan is a fave too.  While I would never rely on it for the one and only cheese on a pizza, it adds a great zing of flavor to a cheesy pizza. It is a little saltier than mozzarella. 
A few favorites:
Mozzarella, fresh and shredded

Parmesan

Cheddar

Provolone
Add whatever cheese that makes your mouth water.  The above are just some ideas.
Keto Friendly Toppings:
Keto is just the diet you want to be on when considering what toppings to put on your pizza.  There are so many choices.
Meat:

  Chicken, Beef, Pepperoni, Turkey

Keto Friendly Veggies:

  Onion, Pepper, Jalapeño, Olives, Spinach

After Baking Herbs:

  Parmesan, Crushed Red Pepper Flakes
Have some fun and throw your favorite combination of toppings onto this Keto Pizza or keep it simple and enjoy just a classic cheese pizza. 


How Many Carbs Are In Fathead Pizza:
The carbs in fathead pizza will differ depending on ingredients, like the flour used. Here are some basic numbers, 
Fathead Pizza with Almond Flour
144 calories

12g fat

3g total carbs

2g net carbs

8g protein
Fathead Pizza with Coconut Flour
117 calories

8g fat

4g total carbs

2g net carbs

7g protein
No Excuses, It's Time Keto Pizza Time!
Dinner doldrums don't need to be a thing with a Pizza recipe like this.  Crispy, low carb pizza crust made with an easy fathead dough, smothered with a simple yet tasty keto marinara, and then topped with gooey mozzarella cheese, makes for a perfect low carb treat. Top it your favorite way. 

Other Keto Favorites: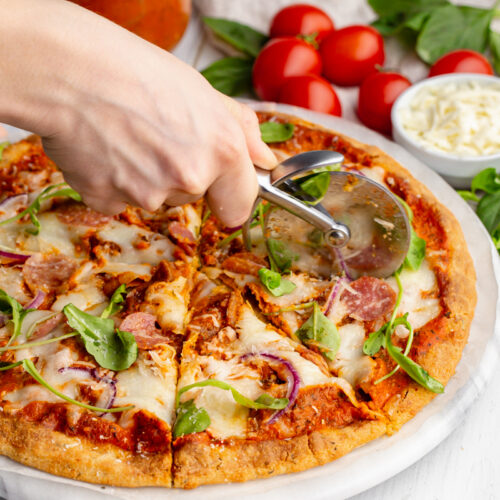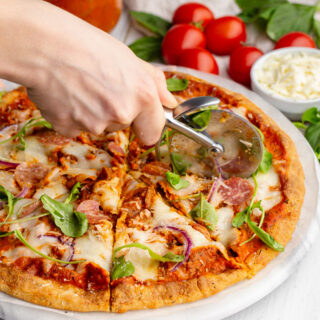 Keto Pizza
A delicious low carb pizza made with fathead dough, a low carb marinara, and all the cheese. Delicious pizza.
Print
Pin
Rate
Ingredients
1

cup

Shredded Mozzarella Cheese

1

cup

Pepper Jack Cheese

1

oz

cream cheese

2 tablespoons

1

cup

Blanched Almond Flour

1

egg

large

1

teaspoon

baking powder

1

teaspoon

Italian seasoning

1

teaspoon

garlic powder
Toppings
Cheese
1 cup

shredded mozzarella

or fresh mozzarella, parmesan, etc
Meat
1/4

cup

chicken

beef, pepperoni, turkey (cooked)
Keto friendly veggies
Onion

Pepper

Jalapeno

Olives

Spinach
After baking
Herbs

Parmesan

Crushed Red Peppers
Instructions
Pre-heat oven to 450F.

Add mozzarella, pepper jack cheese, and cream cheese to a large microwave-safe bowl. Microwave for 45 seconds.

Take cheese mixture from microwave, and add egg, blanched almond flour, baking powder, Italian seasoning, and garlic to the bowl. Then mix it with a spoon.

Continue to mix until smooth. It takes a minute, but it will come together.

Once smooth, lay a piece of parchment paper out on the counter, and spray with cooking spray. Transfer the dough onto parchment paper and cover with a second sprayed piece of parchment paper.

Use a rolling pin to flatten out the dough until it is ¼ inch to ½ inch thick.

Remove the top piece of parchment paper and use greased hands to shape into desired shape.

Transfer the pizza dough on parchment paper to a baking sheet or a pizza stone.

Bake for 10 minutes to 12 minutes.

Remove from oven, and top with keto marinara, cheese, and toppings of choice.

Bake topped pizza for 5-8 minutes, until cheese is bubbly.
Our recipe card software calculates these nutrition facts based on averages for the above ingredients, different brands, and quality of produce/meats may have different nutritional information, always calculate your own based on the specific products you use in order to achieve accurate macros for this recipe.
Want to use this recipe in a meal plan?
Try PrePear, my FREE Meal Planning App that allows you to save your recipes, plan meals, shop for groceries, and cook simply in one place. Join Here!
Pin to your Low Carb/Keto Friendly board: