Keto Waffles
Keto Wafles are delicious, easy low carb waffles that can be ready to eat in a quick 20 minutes, including cook time! These simple keto, paleo waffes made with almond flour are not only quick to make, but use natural ingredients too. No sugar. No grain. Just everything you want in a breakfast waffle. Crispy, flavorful, delicious.
Make these Keto Waffles ahead of time or freeze for later.  Either way these low carb waffles will add a new and exciting dish to your breakfast rotation.  Customize with different toppings and make these Keto Waffles a simple yet different dish for every day of the week.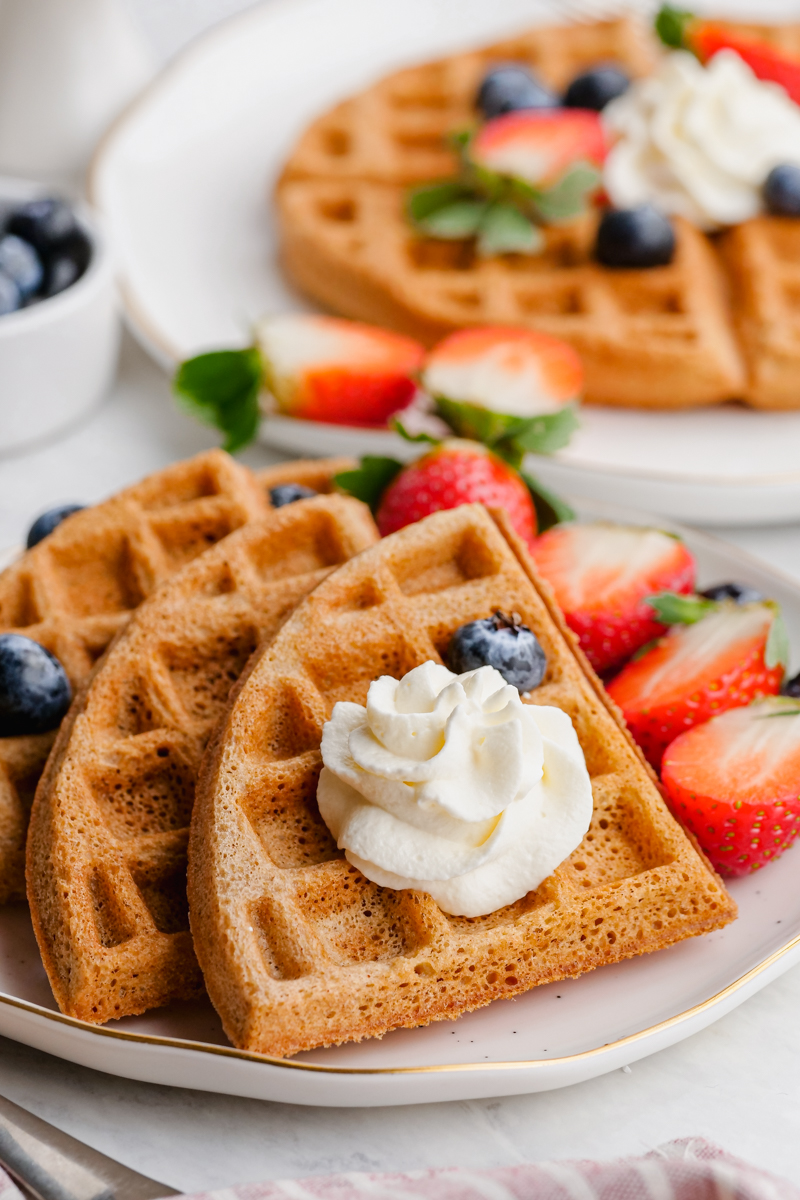 One of the hardest parts of the keto diet is the cravings for things that aren't keto. No one wants to eat crustless quiche, or egg muffins, or keto hash for breakfast every day. Sometimes you just want comfort food. Like waffles or pancakes. Today I am going to show you how to make keto waffles using low carb alternatives so you can have waffles without the sugar and the grain.
This Keto Waffle recipe is the perfect no sugar and no grain dish.  Whether you are on a gluten free or low carb diet or simply just want an easy waffle recipe that produces a waffle with just the right amount of crisp on the outside, this keto waffle recipe is for you.
How To Make Waffles Low Carb Or Keto?
Once you have tried a low carb favorite like this, you are going to wonder why you ever felt you needed all those loaded, high carb dishes in the first place.  These Keto Waffles are just that good.
When looking to make waffles or any high carb dish keto, you first want to identify the high carb culprits and then come up with a similar low carb alternative for those ingredients.  For some dishes, like waffles, it isn't too hard.  
Proportions may differ but with a little experimenting, you can have a high carb favorite transform into a low carb treasure.
Don't feel in the mood for a little trial and error?  No need to worry about. I've already done it for you.  
How To Make Waffles Low Carb Or Keto:
Replace Traditional Flour With A Low Carb Nut Flour.
Traditional white or wheat flour is not keto friendly.  However, waffle recipes typically call for flour.
Sub out the traditional flour for a low carb flour like almond flour.  Problem solved.
Well almost solved.  There is another ingredient that needs to still be handled.
Replace Sugar With A Low Carb Sweetener.
Sugar is a great sweetener, but it is not low carb.  What a shame. Don't stress you have options.  
You don't want to just omit the sugar.  Where's the fun in that?
We want waffles with a little sweetness.  We don't want bland waffles. Bland equals I'm not making those again.
Some Low Carb Sweeteners:
Monk Fruit Sweetener

Stevia

Xylitol

Erythritol
Of course in my opinion some of these sweeteners are better than others.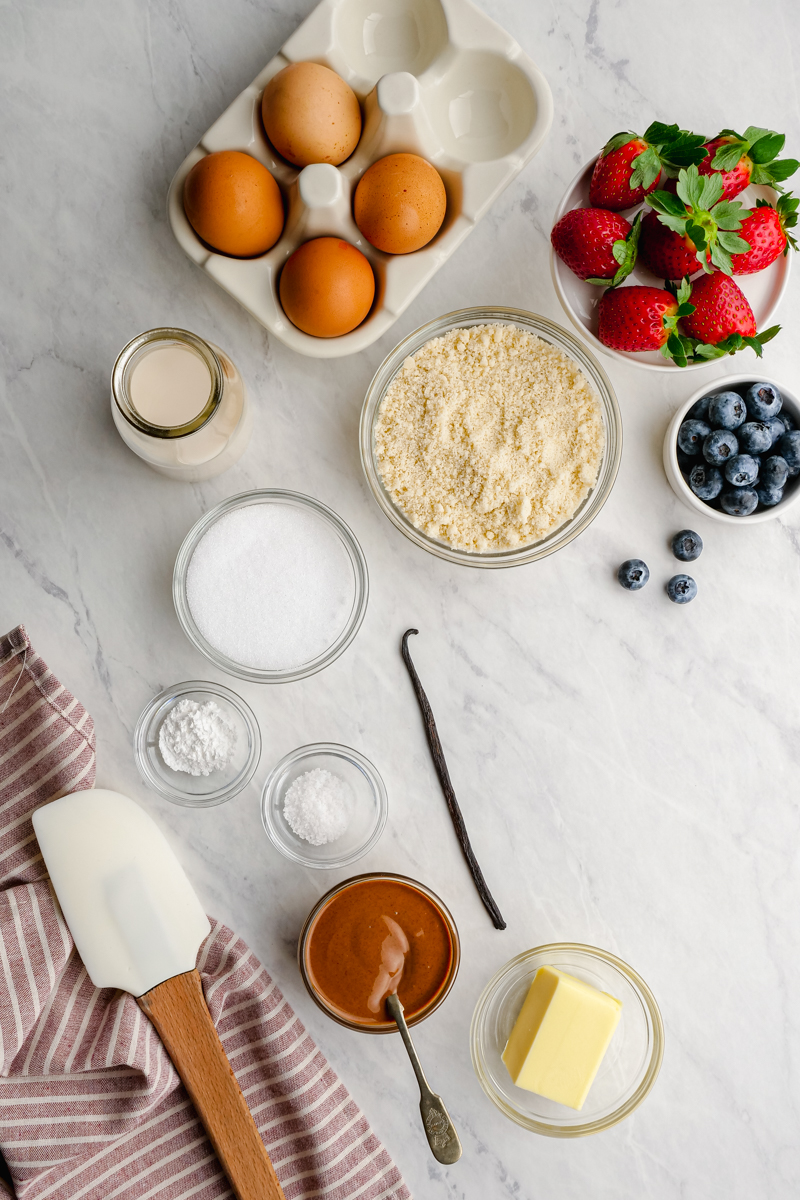 What Sweetener Should I Use?
Use the sweetener that you like best.  Stevia and monk fruit are both natural sweeteners.  However you need to watch to make sure that they aren't partnered with artificial ingredients.
As for natural sweeteners, I am partial to monk fruit sweetener, which comes from monk fruit.  I think it mimics the taste of sugar, whereas Stevia has a specific taste I recognize when used in recipes.  Monk fruit blends in better like sugar, in my opinion.
However, if you prefer a different low carb sweetener go for it.  There are a variety out there.  
Just make sure the sweetener is low carb.  There are alternatives to sugar that are not low carb.
If you are worried do a little research on the low carb sweeteners and pick the one that fits your dietary needs best.
Make sure that it is a low carb sweetener though if you are doing keto.  There are many sugar substitutes out there that are great, but not necessarily low carb, if that's your goal.
Watch Out!  Sugar Alternatives That Are NOT Keto Friendly:
Honey

Agave

Maple Syrup

Dates
Although many healthier recipes may use things like dates or maple syrup instead of sugar, that does not mean they are low carb.  Check carbs when looking for a low carb sugar substitute.

How To Choose The Right Almond Flour:
Now that we have talked about the necessary keto substitutes for waffles, let's talk about the ever so important almond flour.  The almond flour you choose matters.
Blanched and Finely Ground:
Blanched basically means that the almond skins have been removed by boiling them in water.  You want this and the more finer the flour is ground the better. If the flour is more finely ground the food will rise better.
For these waffles a blanched, finely ground almond flour is best.
Almond Meal:
Almond meal on the other hand is more coarse, but it is cheaper, making it a great choice for saving money and for food items that don't need a finely ground flour, like muffins.
For this recipe make sure to use a blanched almond flour for best results.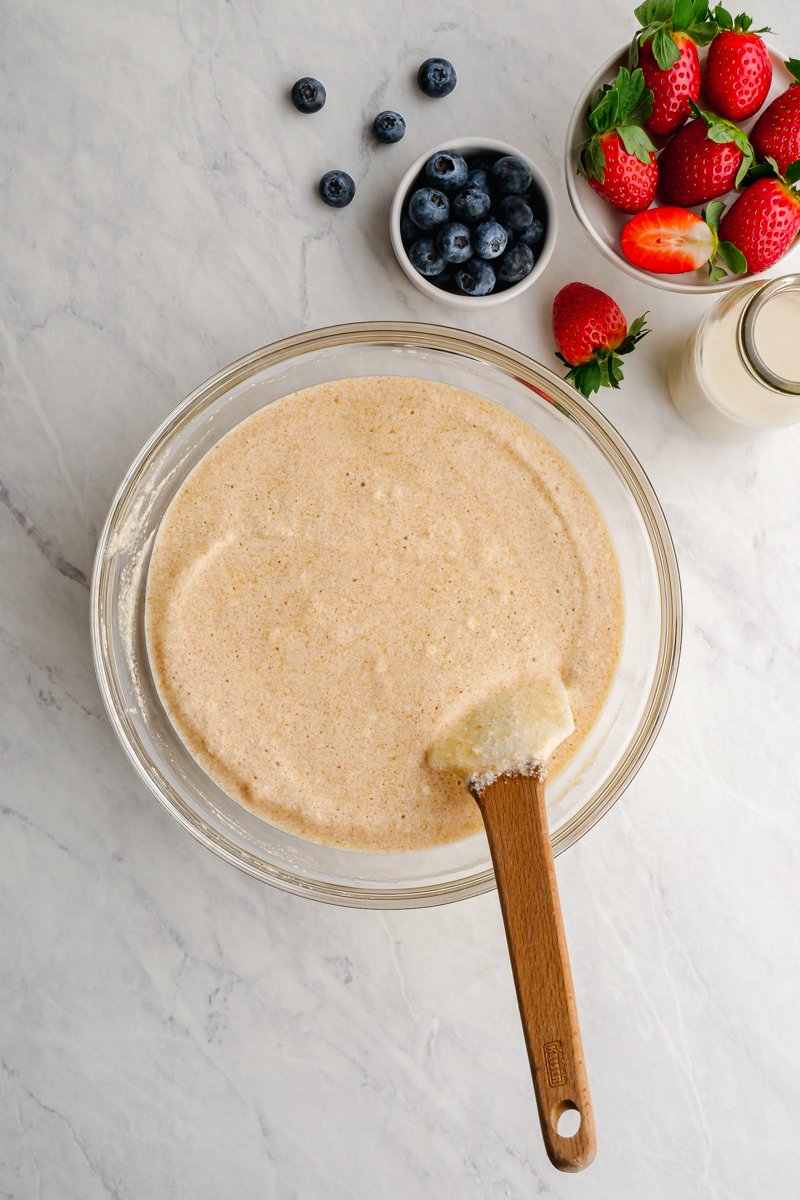 How To Make Waffles Light?
Crispy on the outside, light and airy on the inside, sounds like the perfect waffle to me.  So let's choose to make those kinds of waffles, shall we.
Secret To Making Waffles Light:
First, beat the egg whites to stiff peaks.

Then, stir in the rest of the ingredients.

Finally, fold in the egg whites.
Do these three things and the result is a light, fluffy batter.  Mission accomplished.
Do I Need To Whip The Egg Whites?
Absolutely.  That is part of the secret to making waffles light.  Don't skip this step.  
Whipping the egg whites will incorporate more air to your waffles, making them super light and fluffy.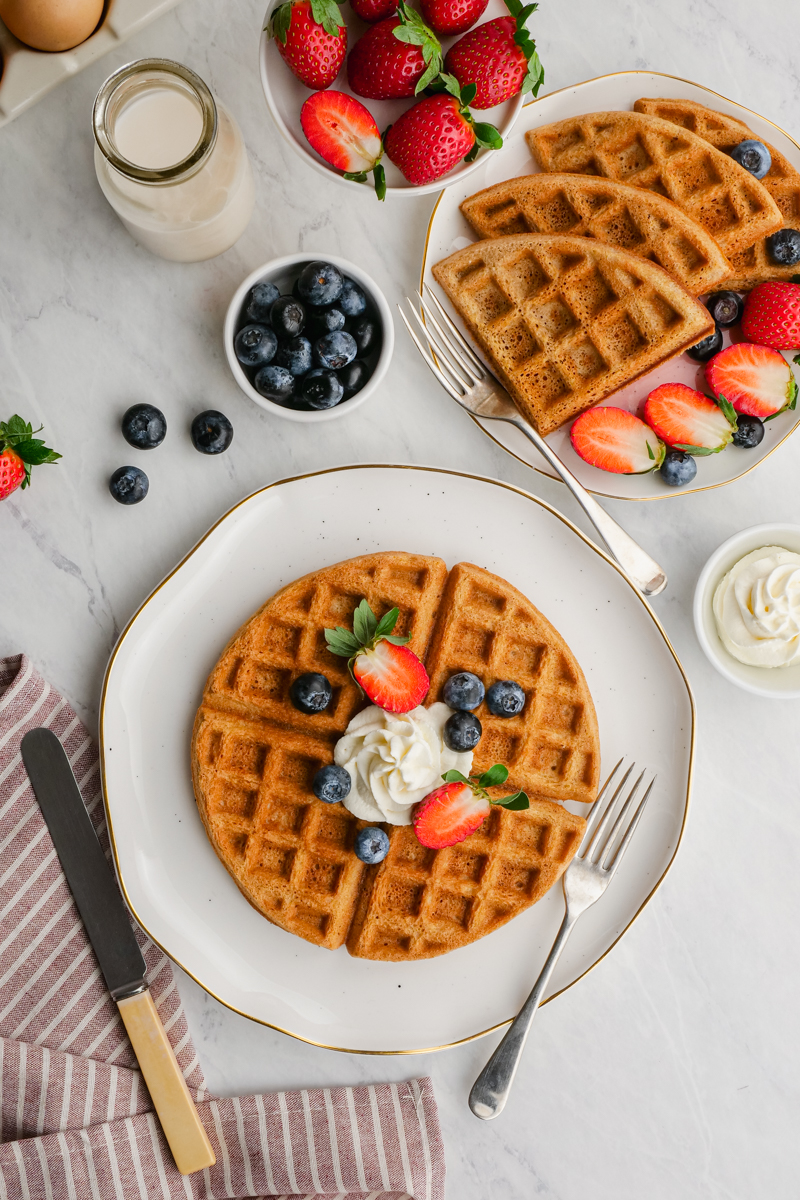 How To Get Crispy Keto Waffles:
Elephant in the room, I know that when you sub out ingredients sometimes the concern is that textures will change, making it an inferior dish.
Don't worry I took that into consideration when making this dish.  You can have a low carb waffle and still have that crispy, crunch on the outside that we all want.
How To Get Crispy Keto Waffles:
Use nut butter for the added oil.

Let them sit in the hot waffle iron after they are done cooking.

Use a toaster oven to crisp them after cooking.
These three steps are my secret weapon and will help you get the desired crisp you want.  So do these simple 3 steps and you will have crispy, Keto Waffles. You're welcome.

Can I Use A Different Nut Butter?
If you have already glanced at the recipe, you may have noticed that the ingredients call for a nut butter and I so boldly decided to recommend almond butter as the nut butter of choice.
However, you should be able to use whichever nut butter you prefer.  It's mostly a matter of taste.
Can I Use Peanut Butter Instead?
Absolutely!  Pick the nut butter you want.  I am not stopping you.
Note:  Just make sure there is no added sugar.
So pick the nut butter you have on hand or just the one that you personally like best and then get cooking.
Can I Use A Different Nut Milk?
Okay now you have crossed the line.  Just kidding. Of course you can use a different nut milk.
However, it may impart flavor.  Just saying.
Best Toppings For Low Carb Waffles:
I love toppings!  Toppings for ice cream, toppings for hot chocolate, toppings for waffles, toppings is where you can really let your creativity shine.
And just because we want a low carb dish does not mean we don't have a plethora of fun toppings to choose from.
Low Carb Toppings For Keto Waffles:
Sugar Free Versions Of The Classics.
Maple Syrup

Chocolate Syrup

Jam
Use a low carb, sugar free version of any of these classic toppings and you won't feel like you are missing out.
Butter.
Butter

Peanut Butter

Almond Butter
Keto diet is one of those diets where you can eat butter, say what?!  Go ahead and enjoy some rich butter melted over your low carb waffles.  Yummy.
Or, add some protein to the mix and top with peanut butter or almond butter and then add some decadence to the dish with some sugar free chocolate syrup.  
Let's pause a moment while I wipe the drool off my face.  Now my mouth is really beginning to water.
Berries.
Be selective and careful of portion sizes with this topping.  Berries in moderation.
Blackberries

Strawberries

Raspberries
Avoid blueberries on keto.  Even though you still need to eat the above mentioned berries in moderation, blueberries have more carbs than blackberries, strawberries, and raspberries, making them not an ideal choice for keto.
Heavy Whipped Cream.
I love a dollop of heavy whipping cream on top of a waffle, makes me feel like I just got room service or something.
No one can accuse you of a bland or boring breakfast with waffles and heavy whipped cream on top.  Delicious! 

Can These Be Made Ahead And Frozen?
Yes they can!  A dish that can be prepped ahead of time when it is convenient for me and reheated for later is totally speaking my language.
How To Freeze Waffles:
Cool and transfer waffles to a baking sheet lined with parchment paper.

Freeze waffles for 30 minutes or so.

Then, put waffles in a gallon sized freezer bag and seal it shut.

Return to freezer.  Waffles can last for about 2 months in the freezer.
That's it!  Just cook the waffles like normal and then follow these steps for freezing. 
It's really super simple and then you have Keto Waffles waiting for you any day of the week, looking like you slaved in the kitchen when really you didn't. 
Simplifying life while looking like an over achiever, awesome.

No Sugar, No Grain- Keto Waffles!
No sugar, no grain, no problem!  This Keto Waffle recipe will prove that carbs are unnecessary for a delicious breakfast treat.  This low carb, gluten free dish will become a staple in your breakfast rotation.  
 Other Keto Breakfast Favorites: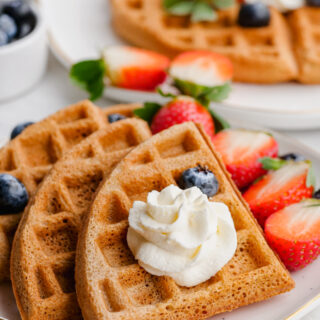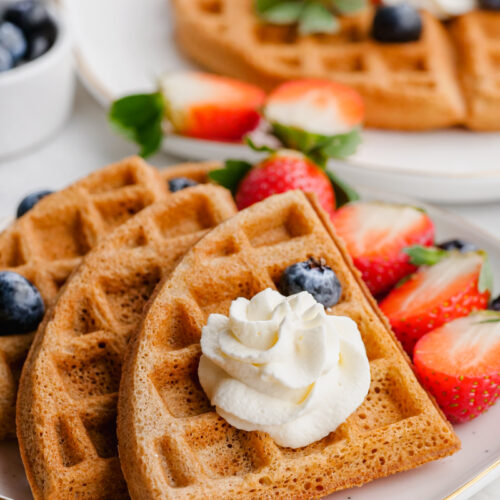 Keto Waffles
No sugar, no grain, crispy, delicious keto waffles, these waffles check all the right boxes for your breakfast cravings while remaining low carb.
Print
Pin
Rate
Ingredients
4

Eggs

large, separated

1

cup

Blanched Almond Flour

¼

cup

Erythritol

or any keto sweetener

1

teaspoon

Gluten-free Baking Powder

½

teaspoon

Salt

¼

cup

nut butter

almond recommended

¼

cup

unsalted Butter

(or coconut oil for dairy-free)

1/2

cup

Almond Milk

Unsweetened

1

teaspoon

Vanilla Extract

Belgian waffle maker
Toppings:
Fresh whipped cream

sugar free

Fresh berries
Instructions
Preheat the waffle iron to high heat. It is very important it is hot BEFORE you add batter.

Grease the waffle iron well with cooking spray, before, and between each waffle.

In a medium bowl, use a hand mixer to beat the egg whites to stiff peaks. Set aside.

In a separate large bowl, combine almond flour, erythritol, baking powder, and salt. Set aside.

Add butter and nut butter to a small bowl, and heat in the microwave for 30 seconds, then whisk together. If it isn't melted together well enough, return to the microwave in 15 second intervals until it can easily be whisked together.

Add butter and nut mixture to your dry ingredients, and stir to combine. Then add in egg yolk, almond milk and vanilla.

Stir until smooth, then carefully fold egg whites in, be careful to combine, but do not overmix as this will cause the waffles to not rise when cooking.

Pour about ½ cup to ¾ cup batter into the greased waffle iron. Close and cook until brown and crispy, about 5 minutes. A simple trick is to wait until the steam stops coming out of the waffle iron.

To make it easier to remove waffle, and get a crispier outside, without overcooking, once steam stops coming out, unplug and let cool slightly in the waffle iron.

Repeat with the remaining batter.

Top with sugar free whipped cream and fresh berries.
Our recipe card software calculates these nutrition facts based on averages for the above ingredients, different brands, and quality of produce/meats may have different nutritional information, always calculate your own based on the specific products you use in order to achieve accurate macros for this recipe.
Want to use this recipe in a meal plan?
Try PrePear, my FREE Meal Planning App that allows you to save your recipes, plan meals, shop for groceries, and cook simply in one place. Join Here!
Pin to your keto breakfast board: