Broccoli Cheese Breakfast Egg Muffins
Broccoli Cheese Breakfast Egg Muffins:  A mouth watering, delicious egg muffin recipe that combines the classic winning flavor of broccoli and melted cheese cleverly into little egg muffins.  
These muffin tin eggs conveniently bake right in the muffin tin, providing you with a dozen protein packed breakfast muffins for you and your family. Try them with a tasty fruit salad and a green smoothie for a nutrition packed breakfast.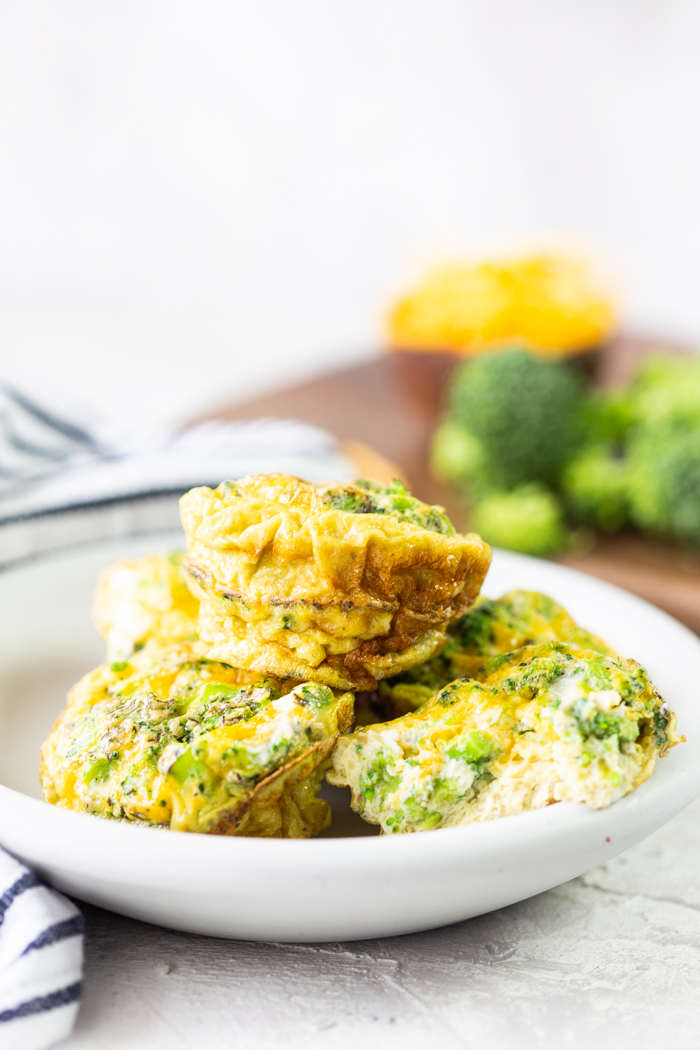 Broccoli Cheese Breakfast Muffins are the perfect muffin tin eggs.  They bake right up in your oven in just a short 15 minutes. They don't require a plethora of ingredients to equal goodness, and they can provide breakfast all week long.  
This breakfast egg muffin recipe is flavorful, filling, and is perfect for the family that is almost always on the go.
Broccoli Cheese Breakfast Egg Muffins is the perfect on the go treat.  
I personally love to make a double batch of these favorites and store one of the batches in the freezer for another week in the future.  Not only are they so easy to make and delicious, I love that they store so well.
How Many Calories Does An Egg Muffin Have?
Great news here.  Not everything that tastes good has to be loaded with tons of calories.  
For example these Broccoli Cheese Breakfast Egg Muffins, while packed with protein are low in calories.  
Plus, if you are worried about the calorie count, you can always adjust the amount of cheese used.
Egg muffins in general will vary on the amount of calories depending on the recipe and ingredients used.  A basic egg muffin with only one egg and nothing else in it will be around only 70 calories, depending on the size.
How Many Calories In An Egg And Cheese Muffin?
Egg and cheese muffins can range around 100 calories.  
A tablespoon of cheddar cheese is about 30 calories. Obviously the amount of cheese used is going to affect the calorie count.  
An egg and cheese muffin usually will be relatively low in calories unless you choose to go crazy with the cheese.  
However, most likely you won't do that because the portion size of the muffin tin, invites you as the baker to not overload the tin.
Plus you want a good ratio of egg to cheese and not let the cheese become the main ingredient to the dish.  It should be the garnish.
In general egg muffins can be a very satisfying dish without an over exertion of calories.
When egg muffins can start to contain a higher calorie count is when you load them up with a lot of fattening ingredients like bacon and sausage.
However, what is great about the egg muffin is that it is cooked in a muffin tin which encourages a limit on the amount of ingredients.  
I mean there is no way you can pack one serving size muffin spot with 1 cup of sausage, followed by one 1 cup of bacon.
Egg cups or muffins
You are going to love the simplicity, ease, and fabulous flavor of this breakfast egg muffin recipe. Broccoli Cheese Breakfast Egg Muffins is just the right recipe when you want an easy yet tasty and hearty breakfast choice.
Once you try these breakfast egg muffins you are going to want to try more and more.  In addition to these Broccoli Cheese Breakfast Egg Muffins, I've got some other great egg muffin recipes for you.
Before you get all excited about all the breakfast egg muffin varieties, be sure to try Broccoli Cheese Breakfast Egg Muffins.  They will become a staple in your breakfast rotation.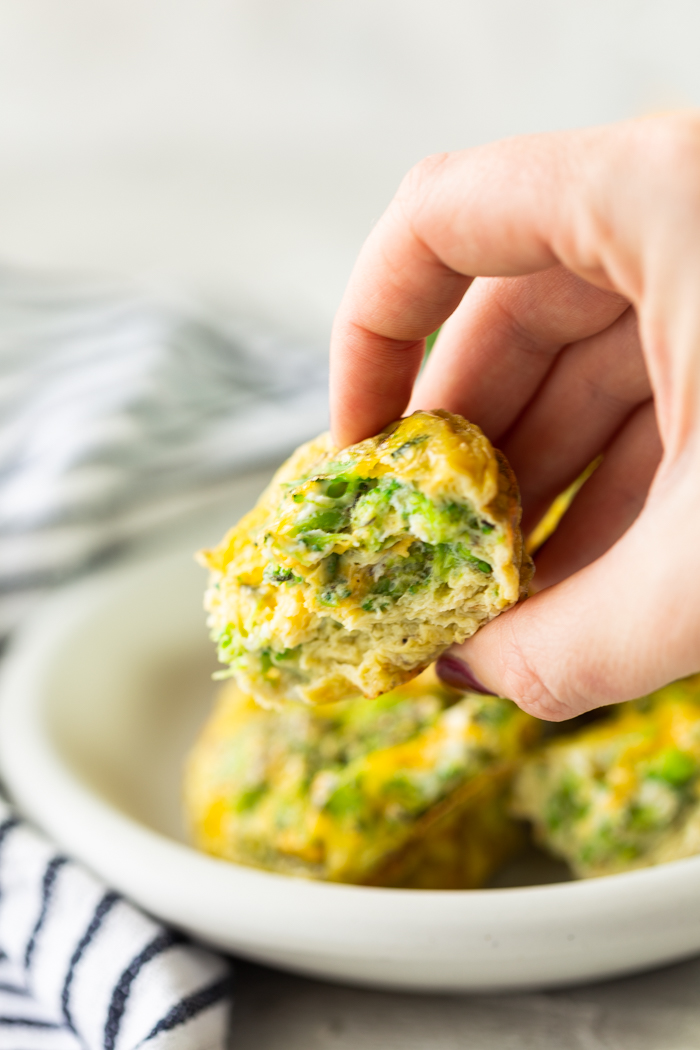 Most likely your topping portions will naturally lend themselves to being smaller, helping you not get in trouble with toppings and keeping true to a lower calorie breakfast choice, hopefully.
As a whole Broccoli Cheese Breakfast Egg Muffins, as well as breakfast egg muffins in general tend to have a conservative calorie count.
As always though if you are worried, be conscious of ingredients and portion size.
How Do You Get Baked Eggs Out Of A Muffin Pan?
Okay so now what no one likes to talk about, the reality of clean up after a scrumptious meal.  Fortunately, egg muffins do not have to leave a huge mess behind.
Getting cooked on eggs out of a muffin tin or pan does not have to be a daunting task.  Clean up from muffin tin eggs can be easy if you just keep a few things in mind.
How To Get Baked Eggs Out Of A Muffins Pan:
Use nonstick cooking spray on the muffin tin before pouring egg batter on the muffin tin, to prevent eggs from sticking.
Don't try to clean the pan immediately.  Let the pan soak in water for a few hours to loosen up left over egg that is stuck on.
After soaking, if eggs are still hard to clean off, make a paste with baking soda and water and scrub with a scouring pad.
Another option for scrubbing, sprinkle the area that has baked on eggs with salt and then start scrubbing.
Baked on eggs do not have to be a deal breaker with this dish.  Just be patient, allowing the pan to soak in water, and combine one of the above mentioned cleaning agents with a scouring pad to scrub.
Lastly, don't forget to use a nonstick cooking spray on the pan before putting the ingredients in.  
That key step can make all the difference. You may still have some stuck on egg, but without greasing the pan or using nonstick cooking spray, you will definitely have a lot of stuck on egg.

How Can I Use Excess Eggs?
In my home eggs are used in so many things I never feel like I have too many.  
However, if you are one of those people that I admire who have chickens and eggs coming out of their ears, I can see where you may feel like you have an overabundance of eggs and now are wondering what you should you do with them.
Fortunately eggs are a pretty versatile food that have so many uses for them.
Truthfully, if  you have a lot of eggs, make a huge batch of these and freeze them for busy days.
What To Do With Excess Eggs:
Become Your Neighbors' New Best Friend And Share.
If you have so many eggs that you don't know what to do with them, consider sharing some eggs with some of your neighbors.  I am sure many people will feel like fresh, organic eggs that they didn't have to pay for is a nice and welcomed surprise.
Really get on their good side by sharing them with this recipe.
Incorporate Eggs Into Your Breakfast More.
Eggs are such a great low calorie, protein packed food.  I know having eggs all the time may seem boring, but there are so many different ways to eat eggs that go beyond the basic scrambled egg dish.
Breakfast Egg Dishes:
Add Some Sweet Cooking To The Kitchen.
There are tons of sweet items or desserts that have eggs in them.  
There are also tons of other baked breakfast foods that have eggs in them as well.  The options are endless for using eggs to create sweet food masterpieces.
Deliciously, Sweet Foods Made With Eggs:
The possibilities of sweet options that require eggs as one of the ingredients are endless.  So, if you need to use up some eggs, make some of these treasures. In fact muffins and cookies are great sweet food items to freeze.
There are so many dishes that need eggs.  Having an excess of eggs does not have to be problematic.
What Should A Vegetarian Eat For Breakfast?
Some are choosing to eat meat less and less and that is not a problem with this recipe.  There is no meat in these Broccoli Cheese Breakfast Egg Muffins, making this a great protein filled meal for someone who is on a vegetarian diet.
Someone who is a vegetarian needs protein and healthy food just like everybody else.  The difference though is that a vegetarian is not going to eat meat in order to get protein.
Therefore, while there are tons of breakfast foods a vegetarian can eat, vegetarians won't choose breakfast options with meat.
Now obviously there are healthy and not so healthy breakfast foods that vegetarians can eat just like everyone else.  However as for being worried about a small amount of breakfast choices for a vegetarian, that is not really a concern.
Pancakes, French toast, muffins, omelets, yogurt, they can have all of that.  Now, bacon, sausage, ham, that's a no go.
Vegetarian breakfast foods really aren't that limiting.
What Can You Eat On A Plant Based Diet?  
In a nutshell, vegetarians can basically eat food items that are not meat.  A plant based diet is more strict than that because technically not only will someone on a plant based diet not eat meat, he or she will also not eat animal products, meaning no eggs or dairy.
Some people on plant based diets may eat a small amount of animal products, depending how strict they are being.
So, while a vegetarian can choose to enjoy these delicious Broccoli Cheese Breakfast Egg Muffins, an individual on a plant based diet may choose to have very little or no eggs and cheese.
Serving Suggestions:
The three objectives for this muffin tin egg recipe, is flavor, simplicity, and nutrition.  When in a hurry it can provide a complete meal that you can just grab and go.
With that said, I love bringing fruit into my meals.  So, if we aren't actually just rushing out the door and have a chance to sit down for breakfast, I love serving this dish with Summer Fruit Salad.  
Don't worry it does not have to be Summer to make this refreshing fruit dish.
This colorful fruit salad is loaded with pineapples, strawberries, blueberries, kiwis, and mandarin oranges, accompanied with a special glaze consisting of mandarin orange juice and lime juice.  This fruit salad offers a symphony of flavors and adds a great balance to the savory Broccoli Cheese Breakfast Egg Muffins dish.
This breakfast is a winner.  Eat these egg muffins cold or warm and you can enjoy them up to five days if stored in the refrigerator.  
If you take the egg muffins out of the refrigerator and prefer them warm just reheat them in the microwave.  Start out at about 20 seconds and check them. If they still aren't warm enough for you, throw them back in the microwave for a few seconds more or until they are warm enough for you.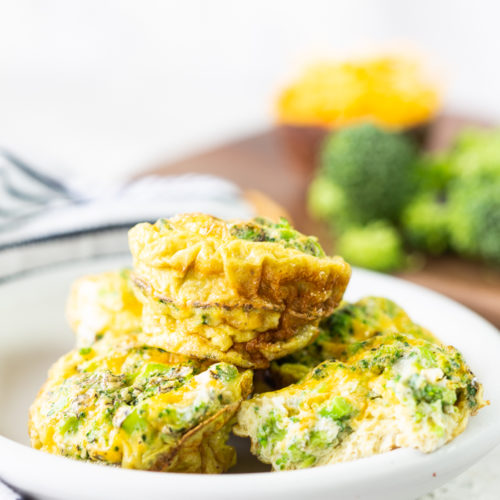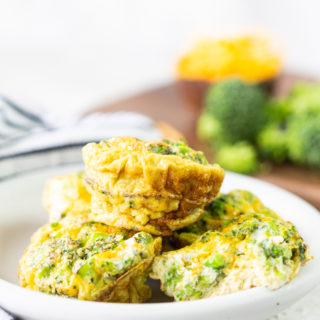 Broccoli Cheese Breakfast Egg Muffins
These delicious egg muffins cleverly combine the winning flavor of broccoli and melted cheese into little muffins.
Print
Pin
Rate
Ingredients
10

large eggs

1

teaspoons

sea salt

or to taste

1/4

teaspoon

black pepper

or to taste

1/2

teaspoon

dried oregano

1/2

teaspoon

garlic powder

1 1/2

cups

broccoli

steamed and chopped

3/4

cup

cheddar cheese

shredded
Instructions
Preheat oven to 400 F.

Get a 12 count muffin tin, and line with silicone liners, or use a silicone muffin pan. Or coat a regular muffin pan with non-stick cooking spray. Set aside.

In a large mixing bowl, crack in eggs and whisk together with salt and black pepper.

Add in all other ingredients

Divide evenly into muffin tins filling each about 2/3 full. Top with cheese.

Bake in preheated oven for 12-15 minutes, or until set.
Nutrition
Calories:
85
kcal
|
Carbohydrates:
1
g
|
Protein:
6
g
|
Fat:
5
g
|
Saturated Fat:
2
g
|
Cholesterol:
143
mg
|
Sodium:
293
mg
|
Potassium:
93
mg
|
Vitamin A:
340
IU
|
Vitamin C:
10.1
mg
|
Calcium:
78
mg
|
Iron:
0.8
mg
Our recipe card software calculates these nutrition facts based on averages for the above ingredients, different brands, and quality of produce/meats may have different nutritional information, always calculate your own based on the specific products you use in order to achieve accurate macros for this recipe.
Want to use this recipe in a meal plan?
Try PrePear, my FREE Meal Planning App that allows you to save your recipes, plan meals, shop for groceries, and cook simply in one place. Join Here!