Mexican Corn Salad recipe made with just 6-Ingredients for a fresh, healthy and flavorful salad to serve at the next cookout.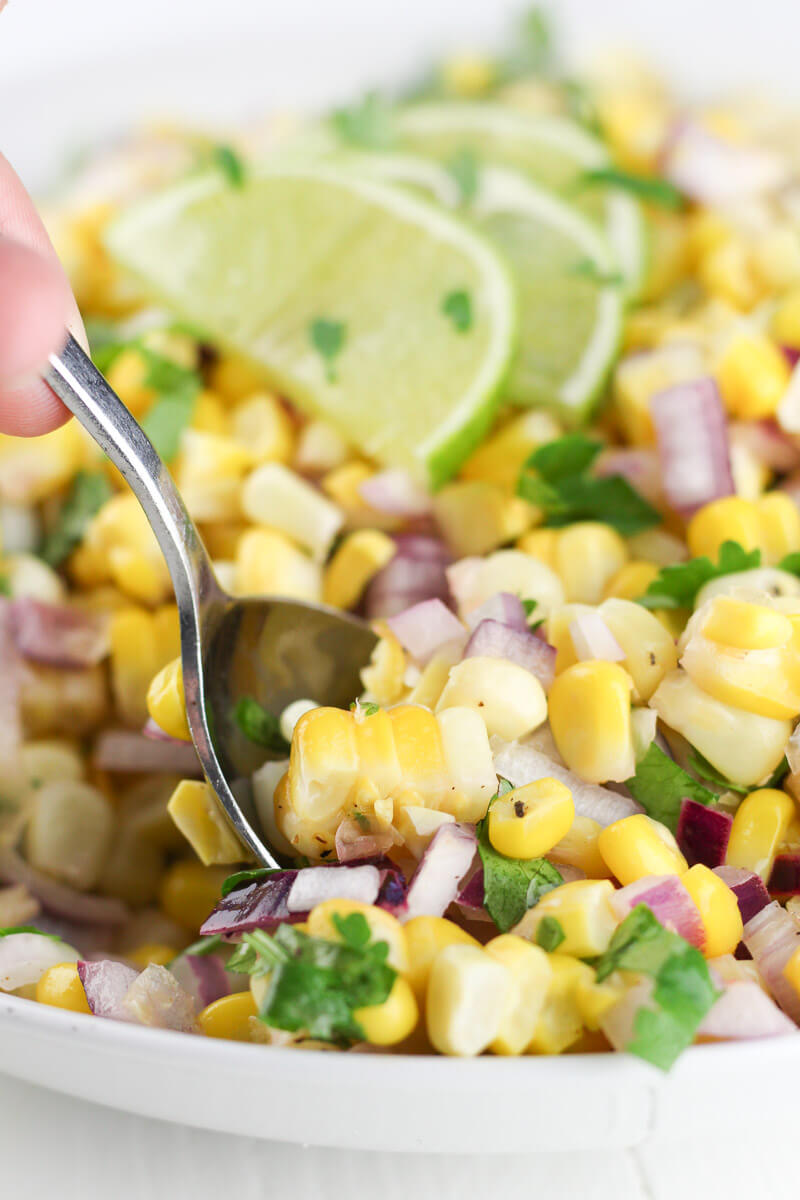 Mexican Corn Salad
©EAZY PEAZY MEALZ BY EAZYPEAZYMEALZ.COM
PIN IT TO YOUR COOKOUT BOARD TO SAVE IT FOR LATER!
FOLLOW EAZY PEAZY MEALZ ON PINTEREST FOR MORE GREAT TIPS, IDEAS AND RECIPES!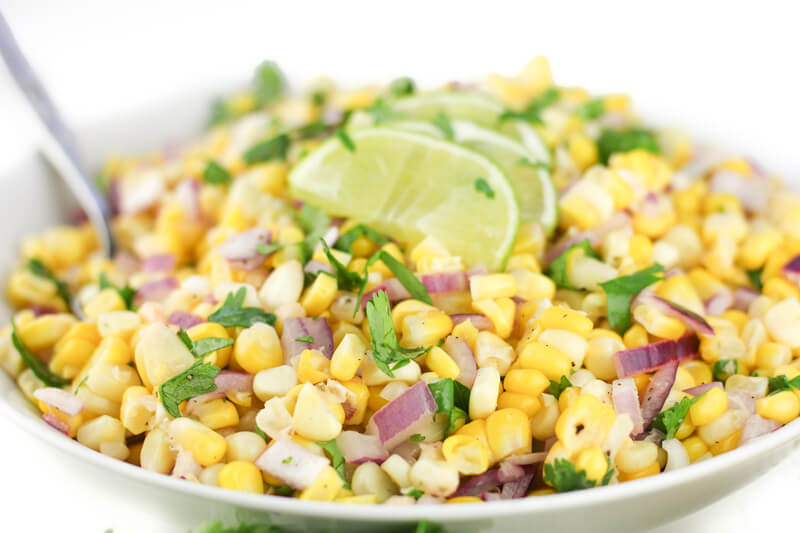 Lindsay here again from Veggie Balance! I'm back this month to share an extremely easy, but epically flavorful Mexican Corn Salad recipe with you.
This time of year in Michigan there is a ton of local, fresh sweet corn at every road corner and in the grocery stores. It would be fitting to say we have corn coming out of our ears (no pun intended).
I'm perfectly ok with that. It's that time of year when the corn is so flavorful and perfectly sweet, you can't help but buy a bushel at every farmers market.
We don't have very long summers here, so you have to go overboard and dive headfirst into, well, this Mexican Corn Salad is definitely a great example.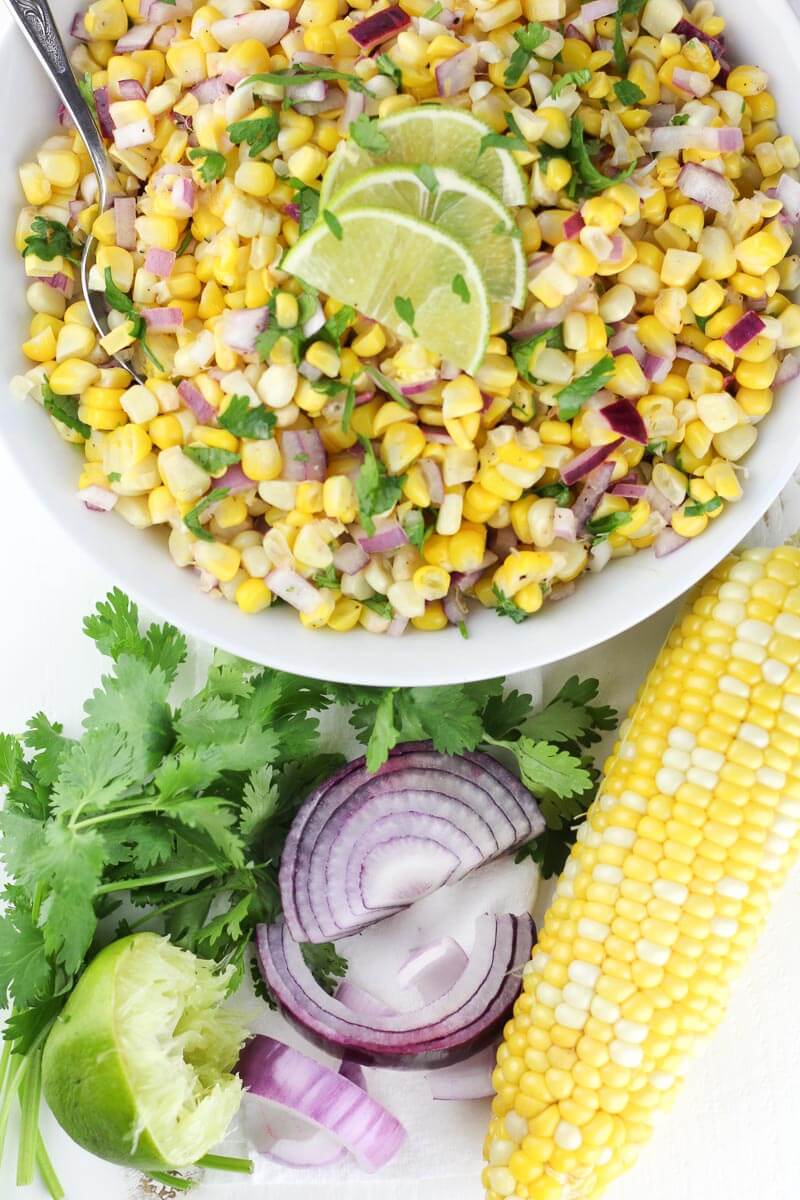 You'll need just 6 all-natural ingredients: Fresh Corn, Red Onion, Fresh Cilantro, Olive Oil, Vinegar and Juice of a Lime.  
Truly one of the easiest salads out there. The best part? Compared to other salads, this one is perfect for leftovers, though doubtful there will be any if you take this salad to a cookout. However, for meal prep Sundays, it is perfect!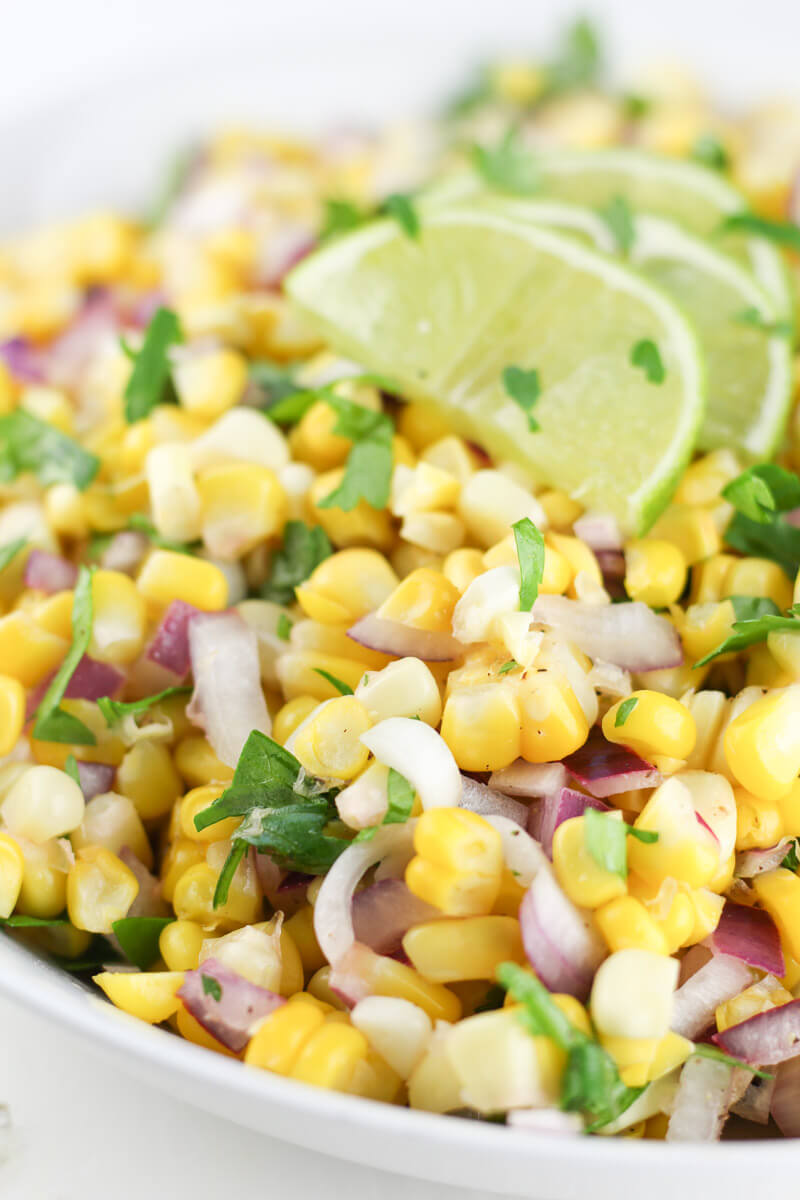 In my house we've been diving into all things salads and pasta salads with a side of summery sweets.  
You can't blame us though. Here in Michigan, almost seven months out of the year fresh produce is very hard to come by. Before we know it, we'll be making hefty batches of Meatloaf Muffins and Crockpot Potato Soups.
In the meantime, we'll sip on some delicious summer drinks, eat umpteen batches of this Mexican Corn Salad, and top it off with some cold treats.
That is what summer is all about. 😉
Ingredients
4 1/2 cups fresh corn, cooked (apprx 5-6 ears)
1 small red onion, chopped (apprx 1/2 cup)
1/3 cup fresh cilantro, diced
2 Tablespoons olive oil
2 Tablespoons apple cider vinegar
Juice from 1 lime
Instructions
In a large bowl, toss together corn, onion, cilantro, olive oil, vinegar and lime juice.
Store in an airtight container in the fridge.
7.6.4
800
https://www.eazypeazymealz.com/mexican-corn-salad/
Pin to your Summer Appetizers board:
Similar Recipes You May Enjoy
Get EZPZ Updates In Your Inbox!