Easy, cheesy, and oh so seriously delicious! This single skillet rice and beef dish is one of the easiest dinners ever, and only makes one messy pot, making it a great option for a busy night.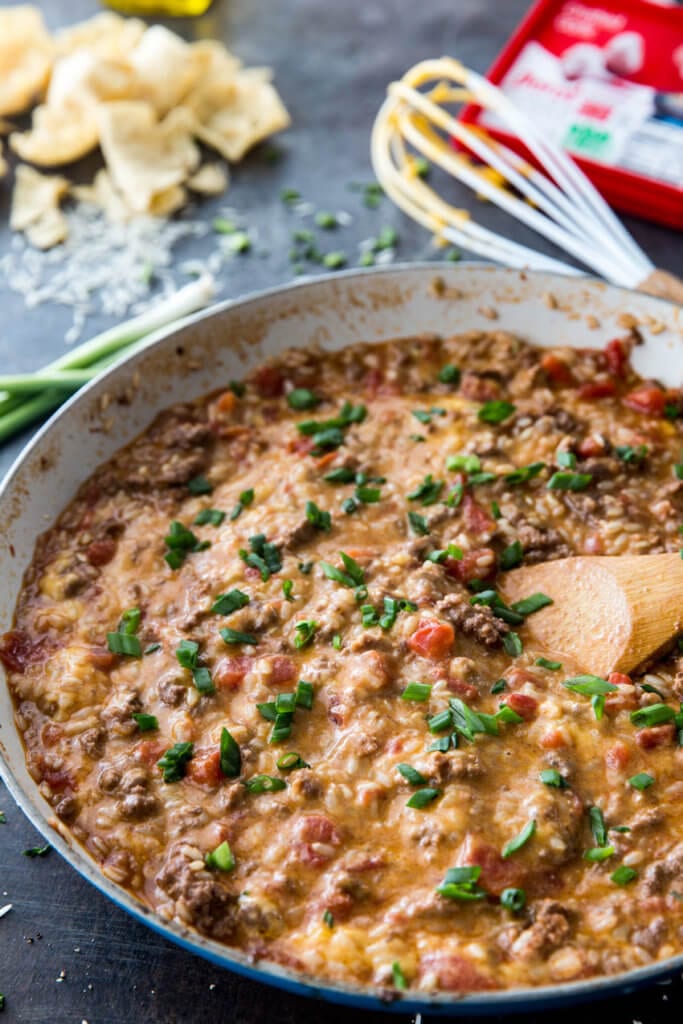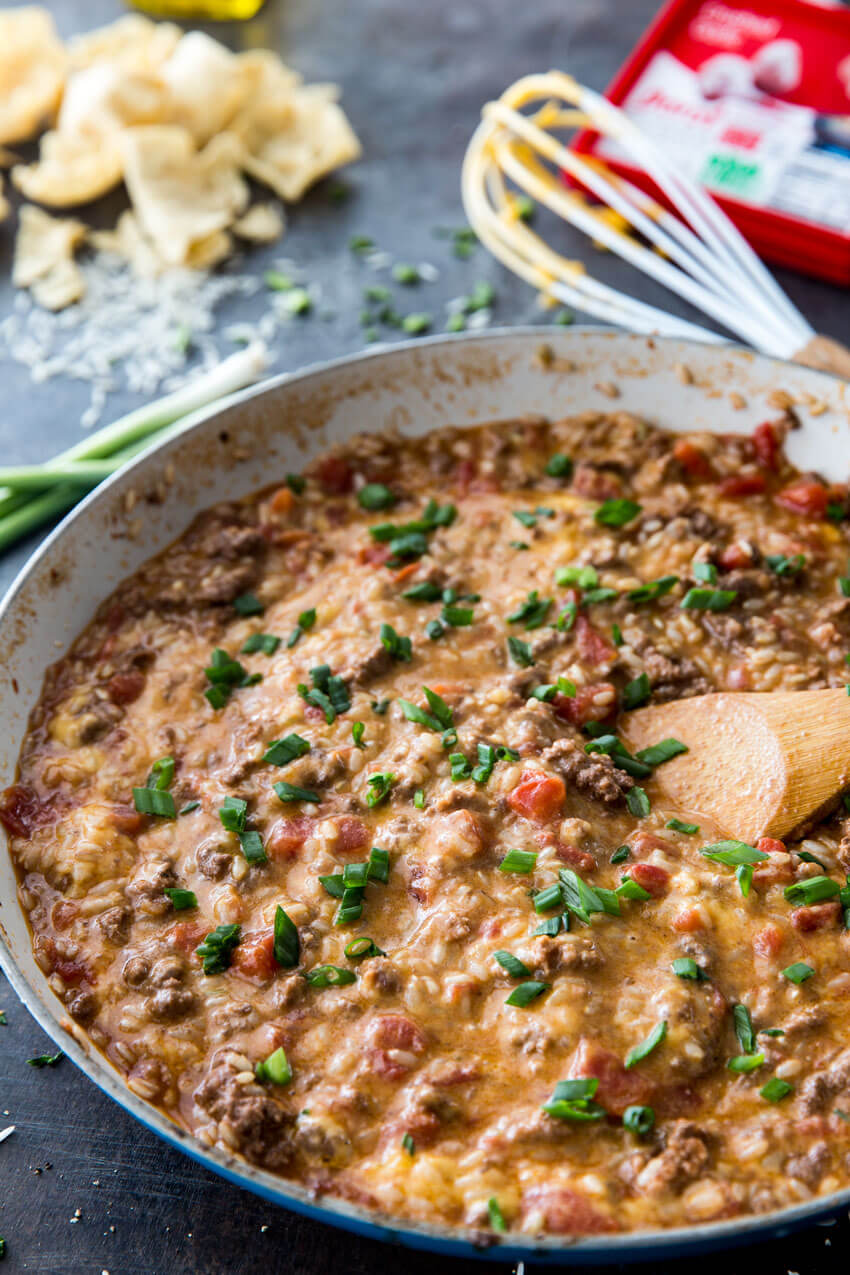 I promised myself this year would be about balance and simplifying. But so far I am just trying to balance a to go cup, keys, my laptop, and the billion other things, while I juggle signing school planners and doing science fair projects. When it comes to sticking to that particular resolution I have failed pretty hard! But I take my wins where I can, and simplify where I can.
One area I have been trying to simplify is meal preparation. One pot, single skillet, crock pot, and freezer meals are slowly becoming my jam again, and the revolution of sheet pan meals has helped that along as well.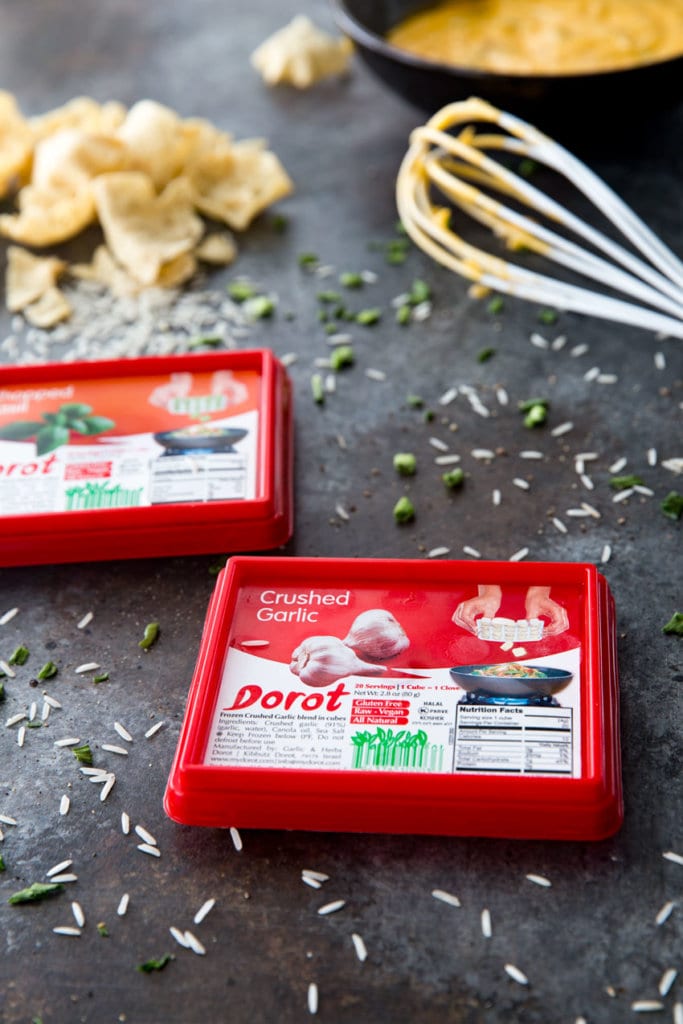 When it comes to simplifying in the kitchen, one of the best things I have ever done for myself is buy DOROT herbs. They are found in the freezer section of Whole Foods and Trader Joe's, and are these little cubes of already prepared herbs. Like garlic, which I used in this recipe.
Dorot is a unique product, and one of my favorite kitchen hacks.
It is squares of herbs that are already prepared and ready to go. They are grown by the company, harvested, and flash frozen within 90 minutes of harvest to ensure freshness. And it shows.
You keep it in the freezer, so you always have what you need on hand. And they have a 2 year shelf life, so you can stock up with confidence.
I love that they are fresher than fresh, and pre-portioned so I don't have to chop, measure or anything else. So easy. Just the way I like it.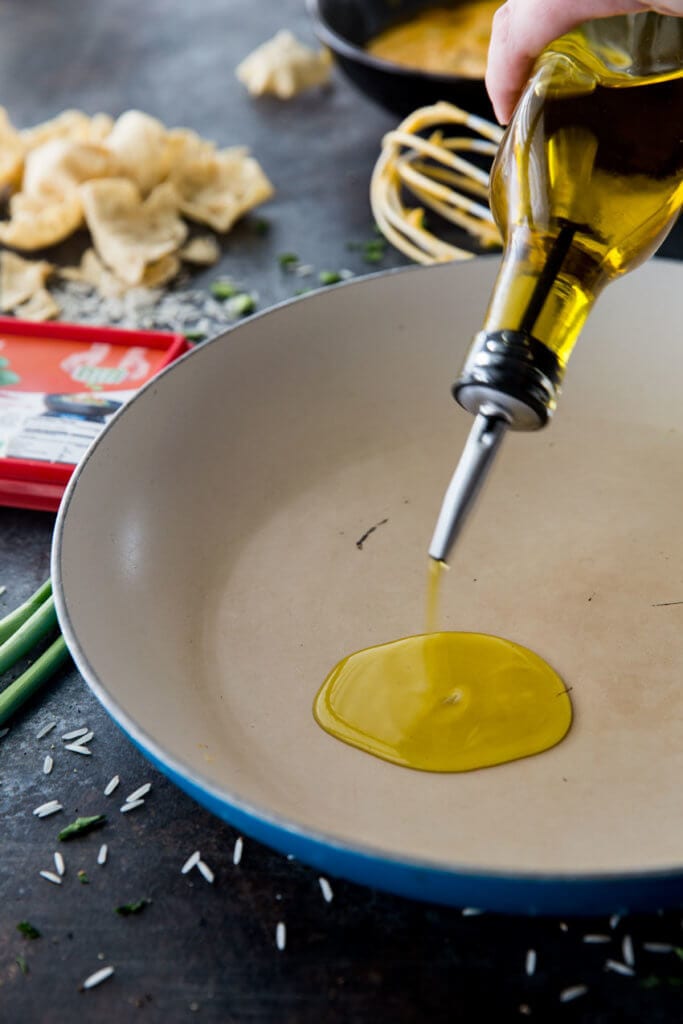 I just put a little olive oil in the, pan. Then followed it up with the Dorot crushed garlic. I love that I could pop it out of the freezer, get a few cubes out, and then pop it back into the freezer, so it is ready to go, and so convenient any time I need them.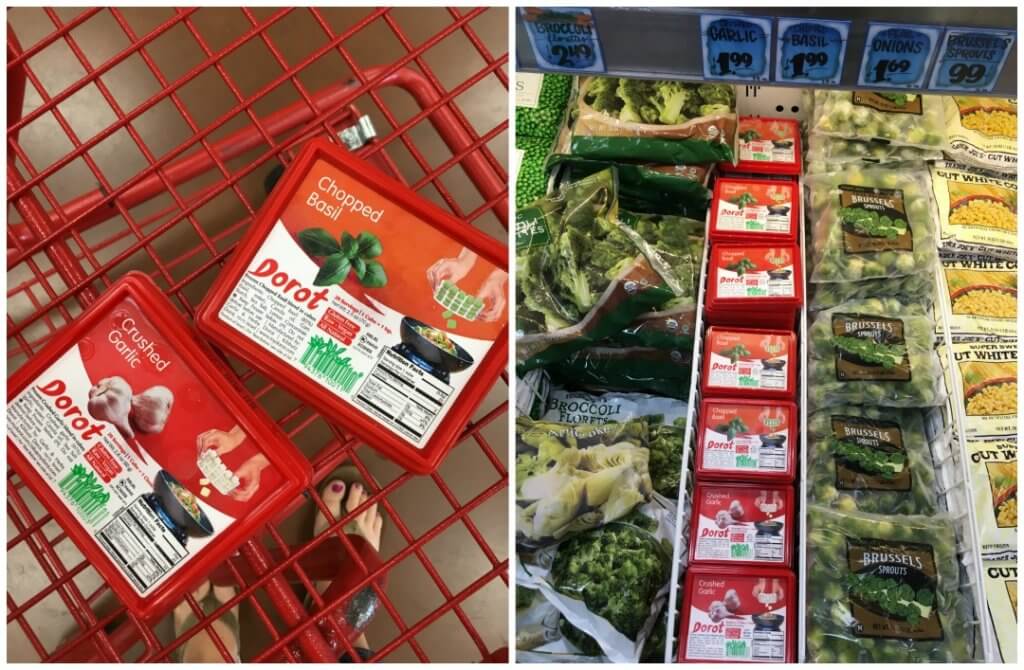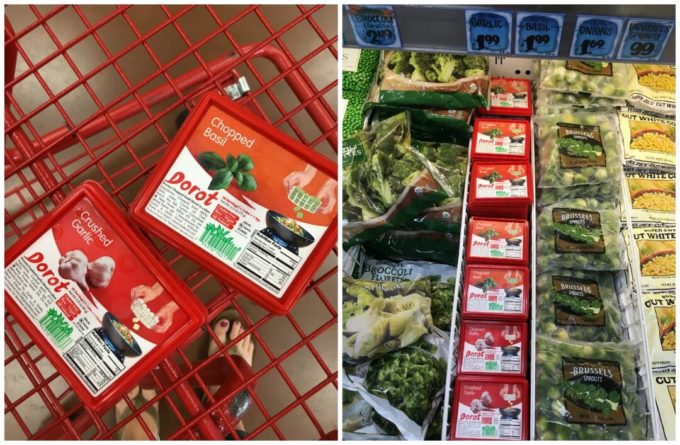 I shopped for them at Trader Joe's, but other retailers carry them as well, like Whole Foods.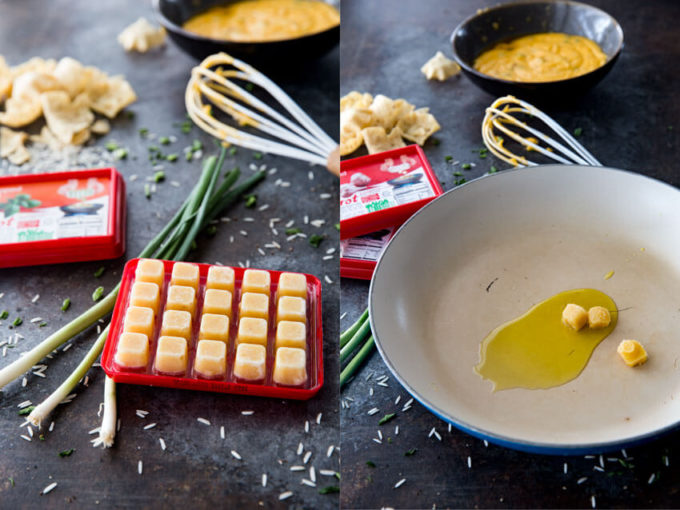 Anyway, then I browned some ground beef, and stirring in some spices, and added rice, chicken stock, and petite diced tomatoes. They simmered, cooking the rice, and getting everything infused with the delicious taste of the crushed garlic from the Dorot!  After it came to a boil, I stuck a lid on and let it simmer for 30 minutes to let the brown rice I used get soft.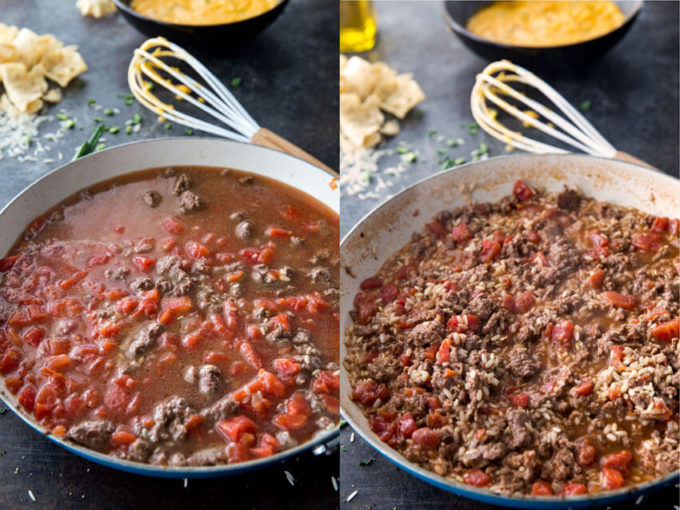 Then I stirred in some cheese. I used a leftover cheese sauce I had made, but it is essentially cheese and some cream, heated up so that it gets soft. So if you have some nacho cheese sauce add it, but if you don't, do not dispair, you can just add 2 cups of sharp cheddar, a little salt and pepper, and a touch of milk or cream, and you will be golden!  Then stir away!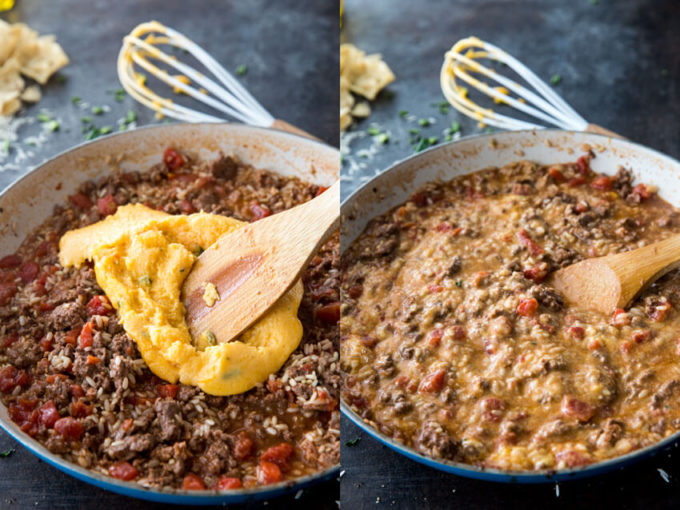 And then eat and enjoy! We ate it like a casserole, but it was sooooo good, I also just dipped chips into it and ate it like a dip. I loved that it worked either way. And it made a wholesome, filling dinner. I literally had no idea what I was going to make for dinner the night I made this up, so I opened my freezer, and when I spotted the Dorot Herbs, and some ground beef, the recipe was born. I tossed what I had into the pot, and hoped for the best. and was oh so pleased with the results.
I also added some green onion so I could feel say I served the kids some greens. I'm cool like that!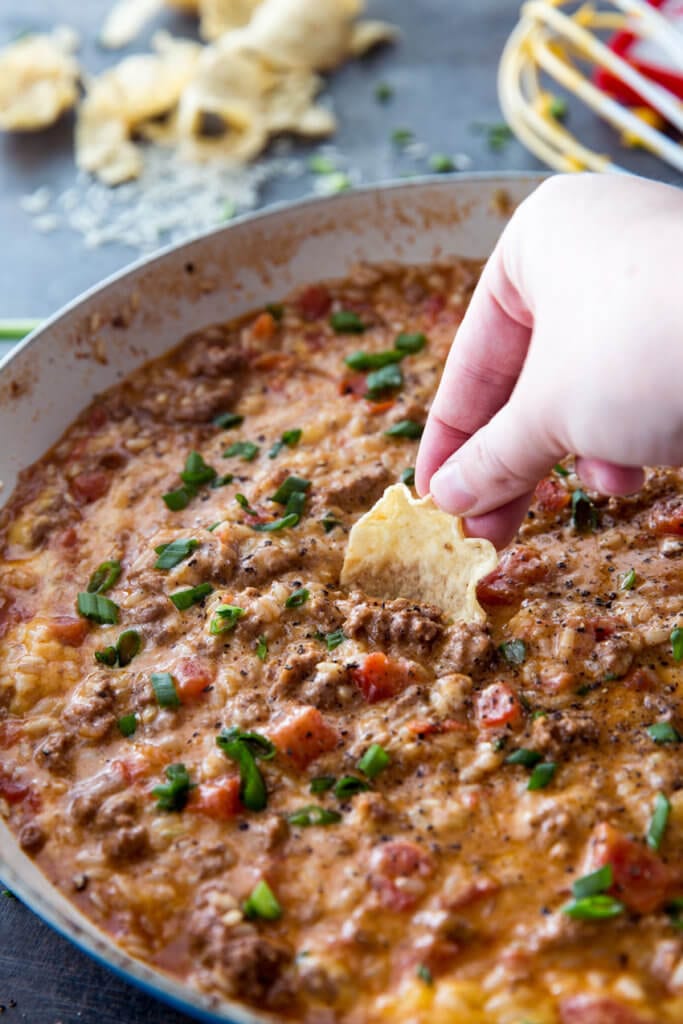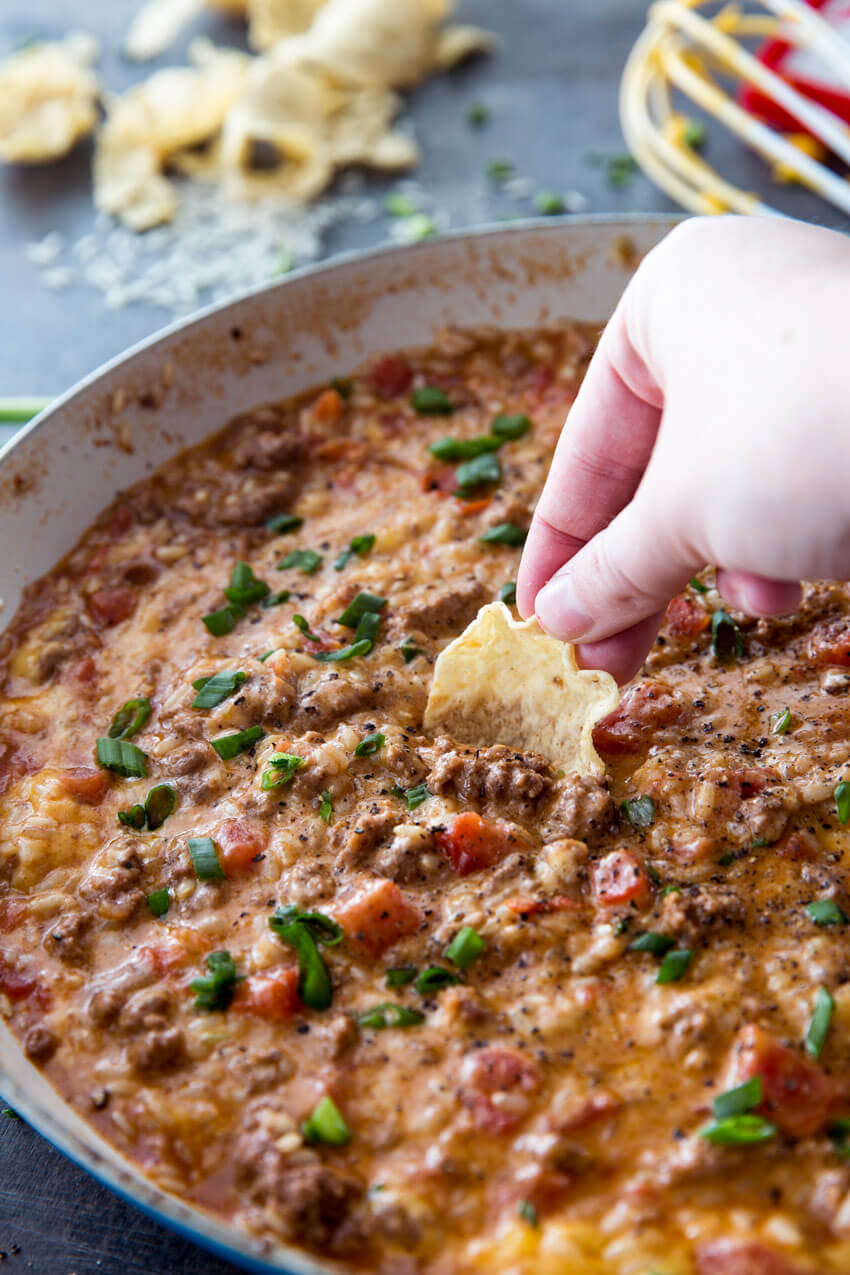 You really need to give these herbs and garlic a try. They are such life savers, and right now you can get a coupon for $1 off, and if you are lucky that may make them only a $1 for a tray.
Easy Mexican Rice Skillet
Ingredients
1 Tbs olive oil
3 cubes Dorot crushed garlic
1 lb ground beef
1 tsp cumin
1 tsp chili powder
1 tsp onion powder
salt and pepper to taste
1 can (14.5 ounces) petite diced tomatoes
2 cups chicken stock
3/4 cup brown rice
2 1/2 cups cheese
1/3 cup milk or heavy cream
Green onion for garnish
Instructions
In a skillet, heat 1 Tbs of olive oil over medium high heat
Add Dorot crushed garlic, and saute for 1 minute.
Add ground beef, and seasonings (cumin, chili powder, onion powder, salt and pepper), and brown the beef.
When the beef is browned add brown rice, tomatoes (with liquid), and chicken stock.
Bring to a boil.
Once boiling, turn down to let simmer, and cook for 30-35 minutes, to let the rice cook fully.
Once rice is cooked. stir in cheese and milk.
Once cheese is melty and distributed, remove from heat, garnish with green onion, and season with salt and pepper.
Then enjoy! Great with fresh tomato, avocado, and cilantro too!
7.6.4
924
https://www.eazypeazymealz.com/easy-mexican-rice-skillet/
Pin to your Dinner board on Pinterest: